Funfetti Cookies are cake batter cookies with colorful sprinkles baked inside. You'll love these pillowy soft cookies for any birthday party or festive occasion.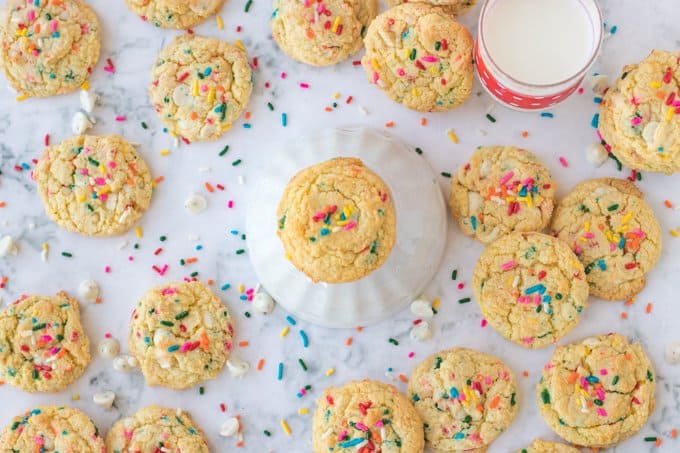 It's birthday cake meets cream cheese cookies!
*This post contains an affiliate link(s), and is not sponsored. I added a picture so it will be easy for you to find the ingredients you'll need.
This Funfetti dessert recipe is packed with classic birthday cake favor and not one but TWO kinds of sprinkles.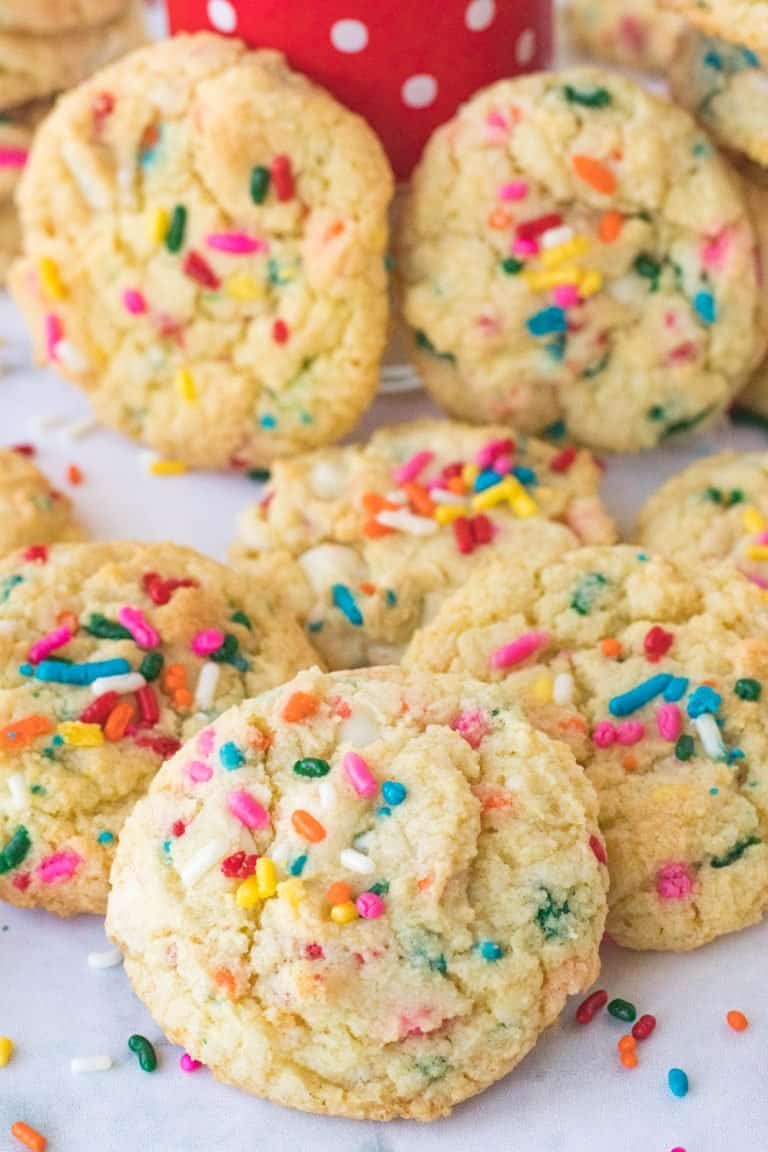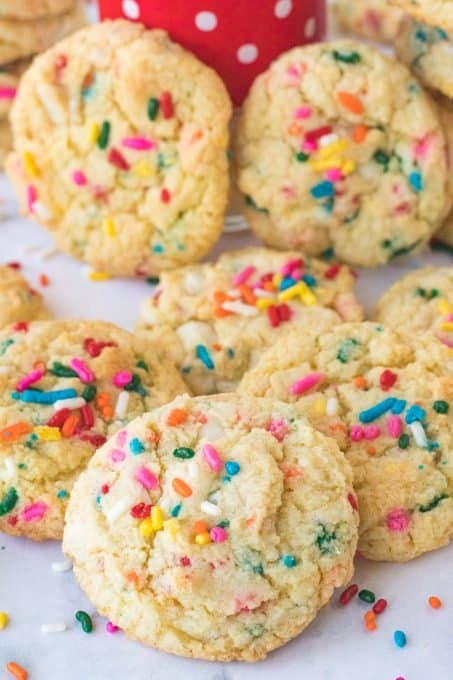 If you loved eating Funfetti cake on your birthday as a kid, you're going to adore making (and eating) these Funfetti Cookies.
I love them because they have all the softness of my favorite Cream Cheese Cookies with the added bonus of cake batter flavor. Plus sprinkles! Fact: everything is better with sprinkles!
Funfetti Cookies are so easy too. You can make them in under 30 minutes without any special equipment or hard-to-find ingredients. Unlike funfetti cake, these sprinkles cookies are a handheld dessert. No slicing, plating or forks required.
Just pass around a tray of cookies and keep the party going!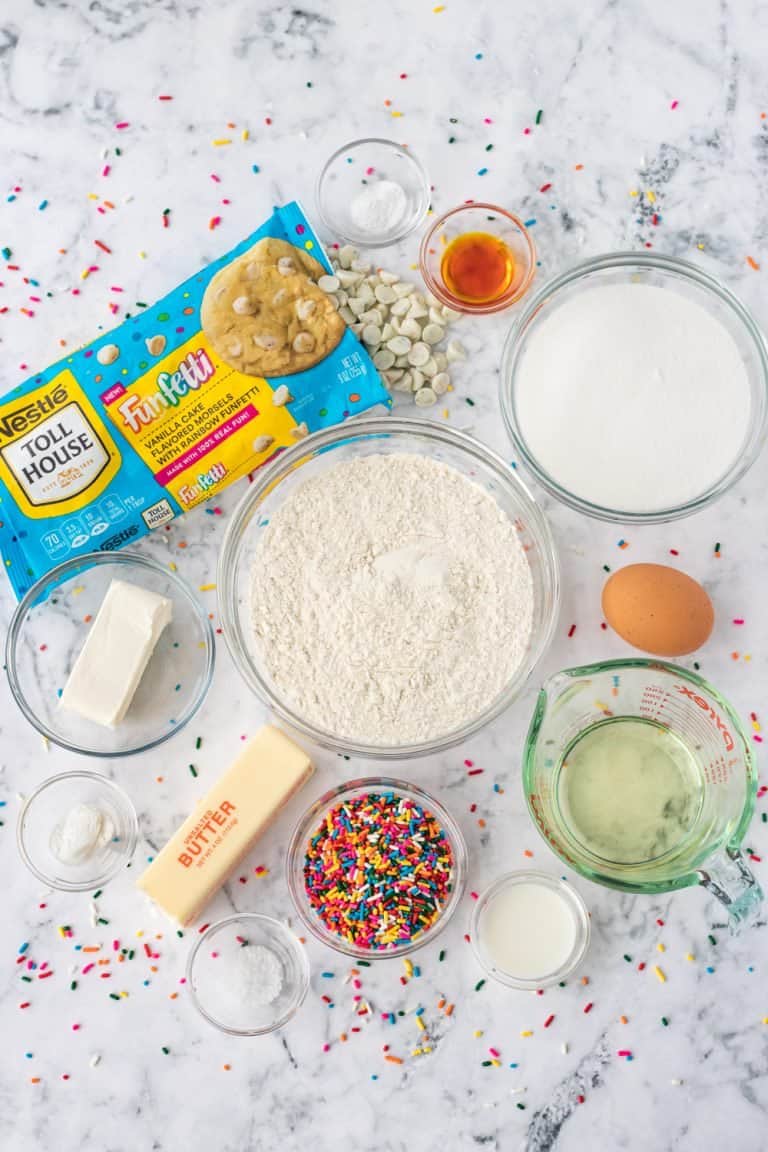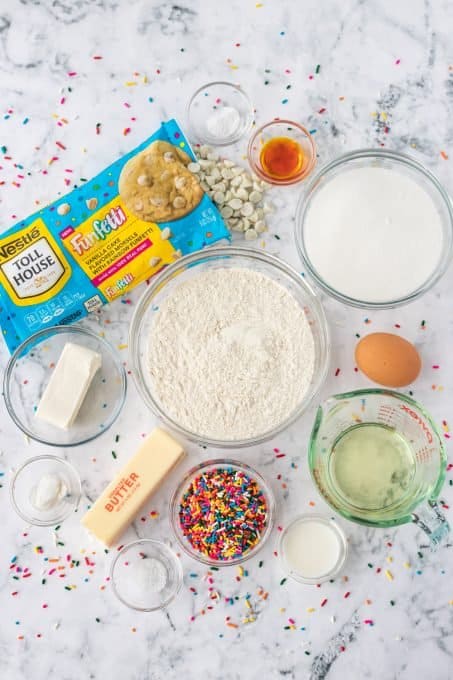 What do I need?
Here's everything you need to make easy birthday cake cookies: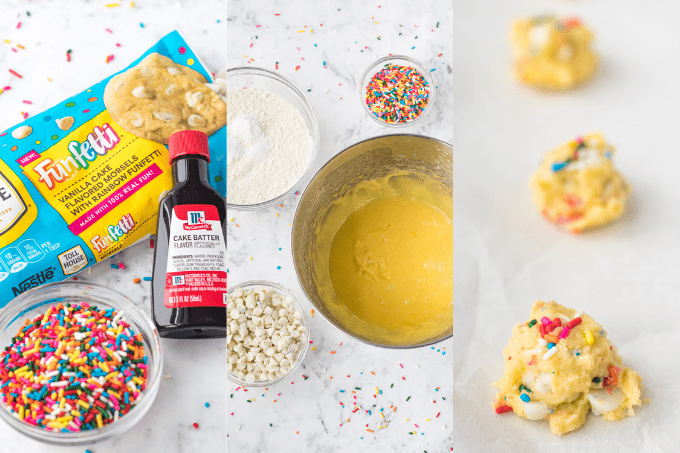 What can I substitute for cake batter extract?
Cake batter flavor extract gives these cookies that familiar "birthday cake" flavor, but don't fret if you don't have any.
Vanilla extract makes a perfect substitution. The flavor won't be identical but the Funfetti Cookies will still be amazingly delicious!
How do I make Funfetti Cookies?
Funfetti Cookies are as easy to make as any drop cookie recipe with sprinkles! You don't even need to chill the dough.
STEP 1. Mix together all the dry ingredients. I whisked the flour, baking powder, and salt together in a small bowl.
STEP 2. Combine wet ingredients. Use an electric mixer to beat together the cream cheese and sugar. Then add the milk, eggs, melted butter, vegetable oil and flavor extract.
STEP 3. Make the dough. Combine the dry ingredients with the wet. Now fold in the sprinkles and cake batter morsels.
STEP 4. Bake. Drop the Funfetti cookie dough onto a lined baking sheet by the tablespoon. Bake at 350°F for about 10 minutes, until the edges begin to turn golden brown.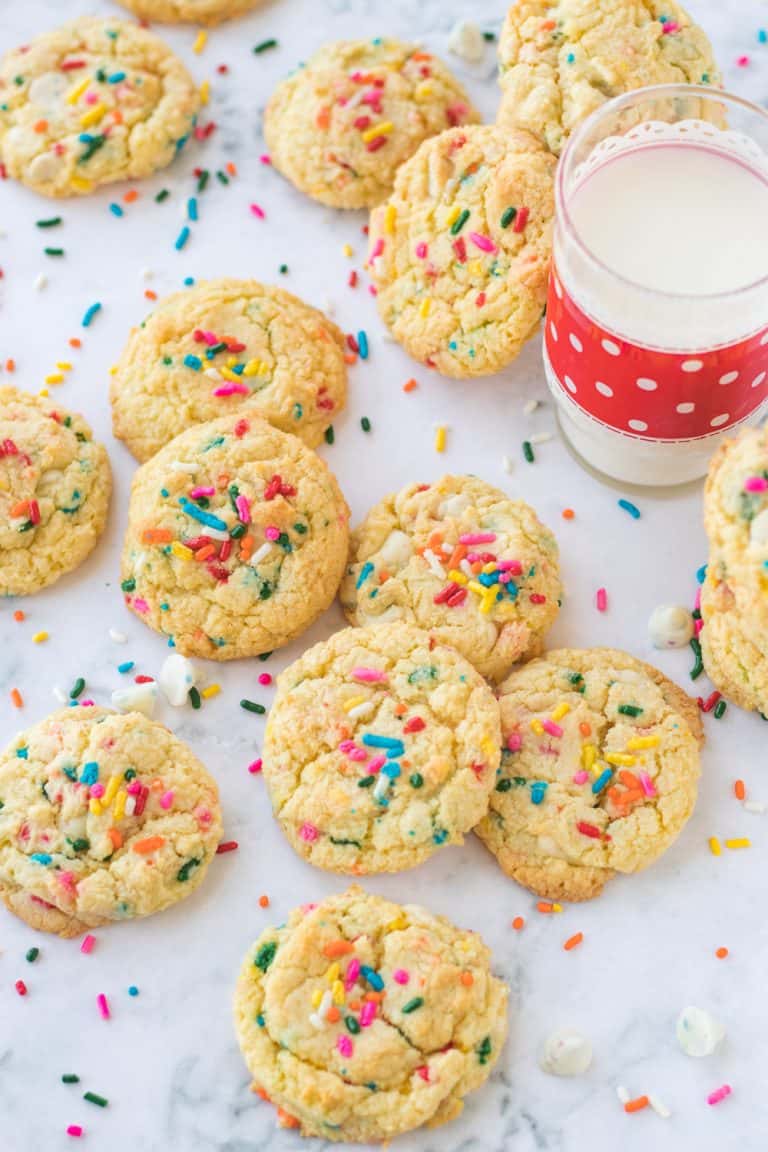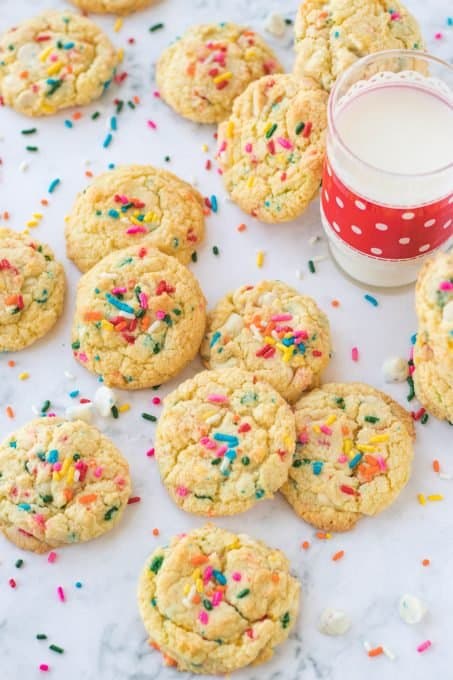 Can I freeze Funfetti Cookies?
You CAN freeze funfetti cookies but I don't necessarily recommend it. As sprinkle cookies thaw the color from the sprinkles "bleeds" into the cookie creating a messy appearance. Instead, store the cookies tightly covered at room temperature and enjoy them within 5 – 7 days for best flavor.
Although the entire batch didn't last more than two days here at our house!
The good news is that these Funfetti treats are so delicious you'll have no problem eating them up long before they lose their fresh, soft baked taste.
Cookies
Like any baker with a sweet tooth, I'm a little bit obsessed with cookies. Show up anywhere with a tin of homemade cookies and you're instantly everyone's best friend. It's like magic!
After you make these Funfetti Birthday Cake Cookies, check out these other awesome made-from-scratch cookies my readers love.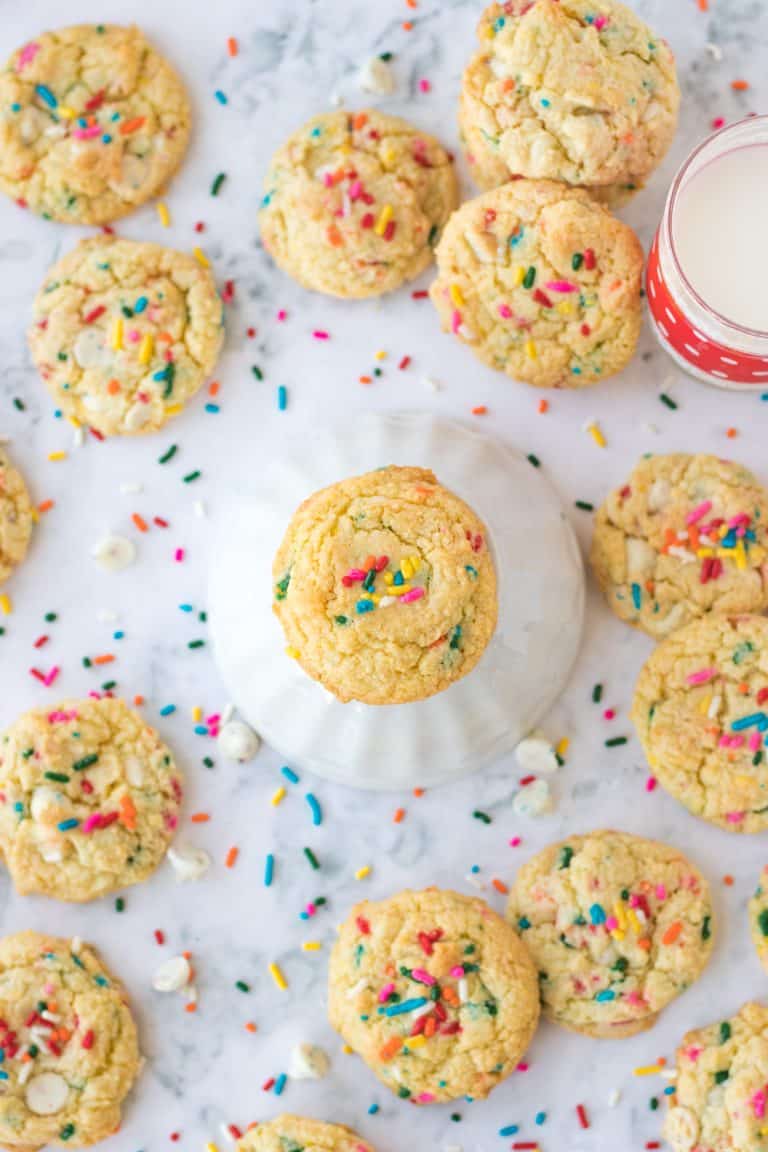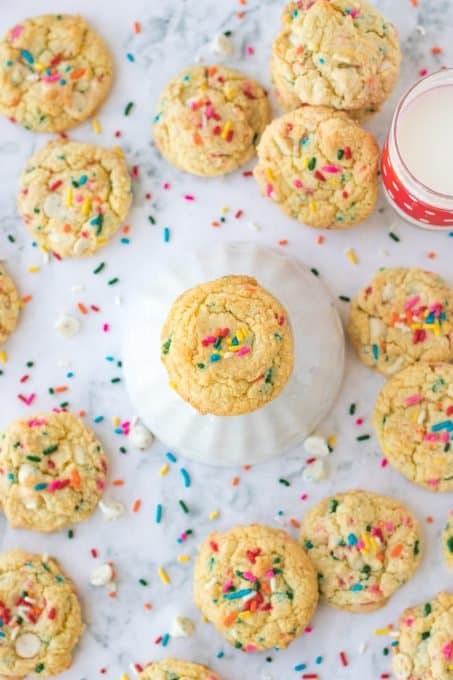 Kid-Friendly Desserts
Kids always love brightly colored desserts! This Lucky Charms Bark Recipe is a great one to whip out for St. Patrick's Day but it's a welcome addition to the dessert spread any time of year.
If you love the birthday cake flavor of these Funfetti Cookies, you'll adore this Cake Batter Ice Cream Recipe. Homemade ice cream + cake batter + sprinkles = a dessert adults love as much as kids!
When I was a kid, every birthday party seemed to include a yellow cake made from a boxed mix with canned chocolate frosting. This Yellow Cake with Chocolate Buttercream brings up all those fun memories, but the cake tastes even better because it's made from scratch!
In case you still need a little more inspiration, here are even more amazing desserts your kids will rave over!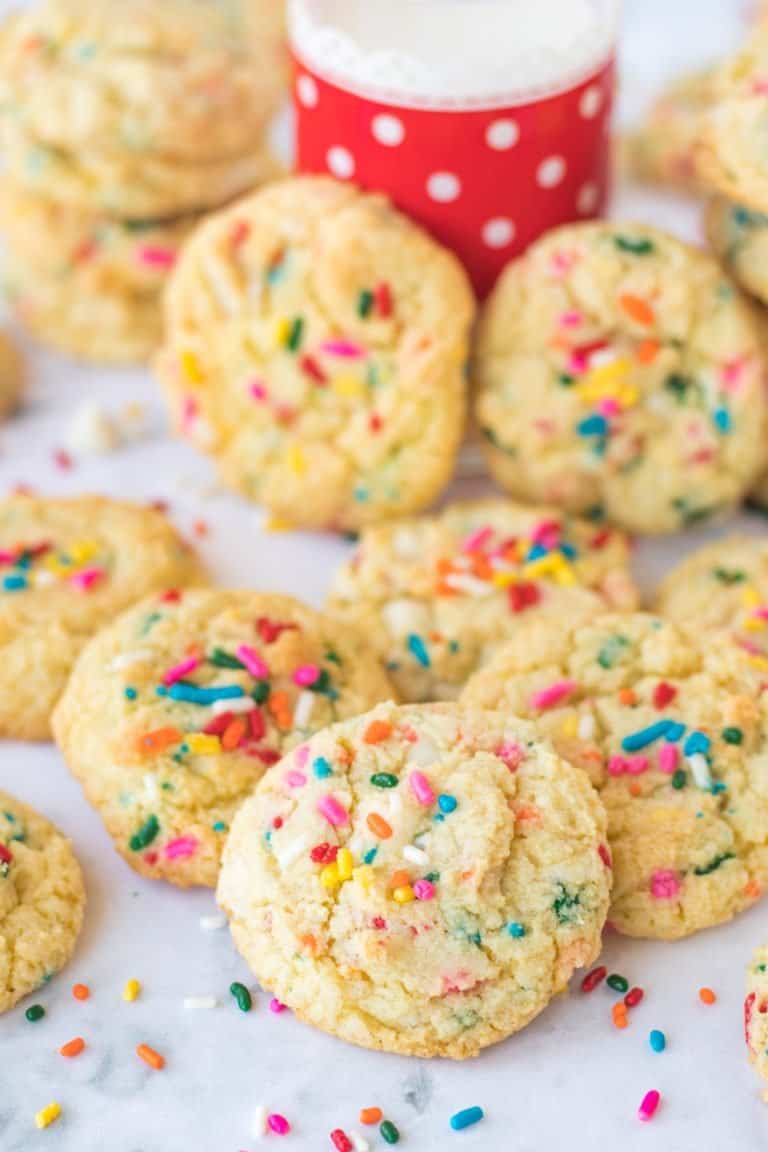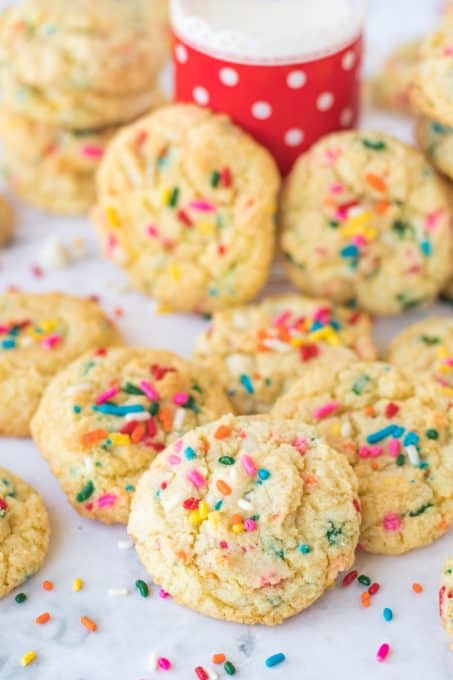 Rainbow sprinkles and cake batter flavor make this Funfetti Birthday Cookies recipe a hit for any celebration!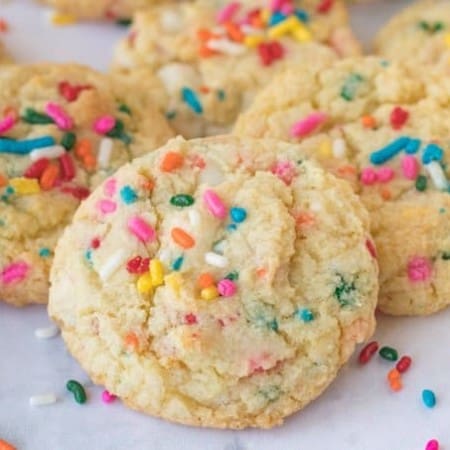 Funfetti Cookies are cake batter cookies with colorful sprinkles, cake flavored morsels, and cake batter flavor. You'll love these pillowy soft cookies for any birthday party or festive occasion.
Equipment
parchment paper

small cookie scoop or tablespoon
Ingredients
2 ¼ cups all-purpose flour
¾ teaspoon baking powder
½ teaspoon baking soda
½ teaspoon kosher salt
1 ½ cups granulated sugar
2 ounces cream cheese room temperature
7 tablespoons unsalted butter melted
¼ cup vegetable oil
1 egg
1 tablespoon milk
1 teaspoon cake batter flavor extract can substitute pure vanilla extract, if desired
9 ounces Nestle Toll House Funfetti Morsels Look for the blue bag with yellow label
⅓ cup rainbow sprinkles
Instructions
Preheat oven to 350°F, and line a baking sheet or sheets with a sheet of parchment paper.

In a small bowl, whisk together the flour, baking powder, baking soda, and salt.

In a mixing bowl, beat the cream cheese and sugar until smooth and well combined, about 3 minutes.

Add the melted butter, vegetable oil, egg, milk, and cake batter flavoring. Mix thoroughly. Batter should be smooth and creamy.

Gradually add the dry ingredients until just combined. Add the Funfetti morsels and sprinkles and mix completely.

Using a cookie scoop or tablespoon, place scoops of dough onto prepared cookie sheet(s) about an inch apart. They will spread slightly, but not too much.

Bake cookies for 9-11 minutes or until just slightly golden. Allow to cool on baking sheet for a couple minutes before transferring to a wire rack.
Nutrition
Serving: 1cookie | Calories: 78kcal | Carbohydrates: 21g | Protein: 1g | Fat: 7g | Saturated Fat: 5g | Polyunsaturated Fat: 1g | Monounsaturated Fat: 1g | Trans Fat: 1g | Cholesterol: 7mg | Sodium: 45mg | Potassium: 37mg | Fiber: 1g | Sugar: 18g | Vitamin A: 58IU | Calcium: 17mg | Iron: 1mg
Did you make this recipe?
Share it with me on Instagram and make sure to follow me on Pinterest for more recipes.
*We are a participant in the Amazon Services LLC Associates Program, an affiliate advertising program designed to provide a means for us to earn fees by linking to Amazon.com and affiliated sites as well as ShareASale.
These are links that can take you to a product (or products) that I recommend. I do receive a portion of the sales or credit for my future purchases from any items purchased through those links. Your purchases encourage my baking, cooking and butter habit, and contribute to the life of this blog. I thank you so very much for your support. Let's keep having fun in the kitchen!!
Reader Interactions