Chicken Nachos – crisp tortilla chips layered with shredded BBQ chicken, diced tomatoes, chopped green onions and lots and lots of cheese. These are a great item to munch on while watching any game or are a great dinner for a busy weeknight.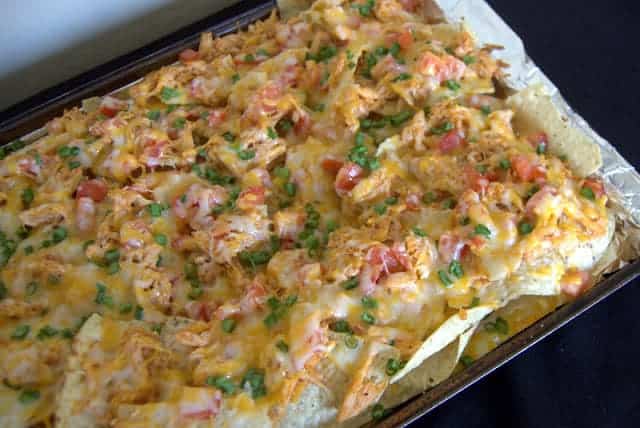 Get out the chicken, the chips, and the toppings, and you have yourself a deluxe version of chicken nachos.
Nachos can be a perfect, easy dinner for when things in other areas in your life become too much, or you could just have a lump of cheese over your chips like at so many concession stands. The latter is really not appetizing. So, inspired by tacos, I figured you could have all of that with chips, and boy did I hit the jackpot. The chips were cheesy and the tomato and green onions added some great flavor, too. (I only put the tomato on 2/3 of the chips because our youngest doesn't like tomatoes, so if you want to cover all of it, I would suggest using two tomatoes.) If you're looking for a quick, tasty dinner mid-week or nachos for the big game, this is the way to go!
Right out of the oven, these chicken nachos really hit the spot. It's a total 180 from your heavy, Thanksgiving meals which I find great if I'm not that hungry, and the rest of the family can chow down on it. The salt and crunch of the chips. the shredded chicken (which you can season to your liking) are perfect together. Maybe I should have called 'em shredded chicken nachos. Mhmm…
Do you ever feel like you're dancing around the kitchen? Ok, no. I don't mean dancing like to Brittney Spears or Beyonce. I mean while making dinner you enter "the kitchen zone", knowing exactly what ingredients or utensils you need to make your dish, where they are, not having one misstep and your movements are so fluid that it's as if you're dancing. It's incredible, really. This happened the other night as I was making dinner. I kind of felt like I was floating and everything was so graceful. Even when Mr. 365 stepped into the kitchen to get a drink from the fridge, I didn't miss a beat and moved around him with such ease that it seemed our kitchen had increased in space. Definitely not so, but that was the feeling I had.
SAVE THIS CHICKEN NACHO RECIPE TO YOUR FAVORITE PINTEREST BOARD!
Have I lost you? Or are you now thinking that I've lost it? Have you ever experienced this? It wasn't a first for me, but I have to say that it's been happening more frequently. In the tiny spaces between the island and our counters, I find myself doing the Kitchen Waltz. Ok, I'm not saying. "1, 2, 3, 1, 2, 3…" in my head, but I'm moving as if there's nothing in my way and like nothing's going to stop me. Kinda like when I'm driving down I-17 south from Flagstaff to Phoenix between Sunset Point and Black Canyon City where it's a steep downhill and the road is windy (wine-dy, not whin-dy. Ugh, ok, curvy!) and I'm going 90 miles an hour. I'm invincible!

Ok, no. I definitely do not drive 90 going down that part of the highway. Too dangerous! But that's what being in the Kitchen Zone feels like. Crazy, I know.
Use these items to make your own Chicken Nachos – George Foreman Grill, and baking sheet.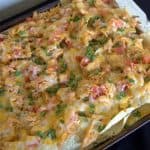 Day 187 – Chicken Nachos and In the Kitchen Zone
Nachos loaded with BBQ Chicken, tomatoes, green onions and lots of cheese!
Ingredients
2

chicken breasts

cooked

1/2

cup

Frank's Red Hot Wings Sweet Heat BBQ Sauce

1 13

oz.

bag restaurant style tortilla chips

1 to

mato

diced

2

cups

shredded Mexican Style cheese

1/3

cup

green onions

chopped
Instructions
Preheat oven to 400ºF.

Prepare a rimmed baking sheet by covering it with tin foil and spraying the foil with cooking spray.

Shred the chicken with two forks and put into a medium bowl.

Add BBQ sauce and coat chicken completely.

Place tortilla chips on prepared sheet and spreading to edges.

Spread chicken evenly over tortilla chips.

Place diced tomato on top of chicken.

Distribute cheese evenly over tortilla chips.

Scatter green onions over cheese.

Bake for 7 minutes or until cheese is melted.
What a yummy and quick dinner. Everyone liked it and there were barely any leftovers which is good because leftover nachos become soggy which is never a good thing. Blech!
I rate everything I bake on a scale of 1-4 with 4 being the best and these Chicken Nachos earned 4 rolling pins!!
The BBQ sauce had just the right amount of kick to it and was a sauce that we had never had before, so it was good to try something new. I was going to use Frank's Red Hot Buffalo Sauce, but my eldest and I don't do spicy too well, so this was a really good choice.
If you like these Chicken Nachos, you're going to love…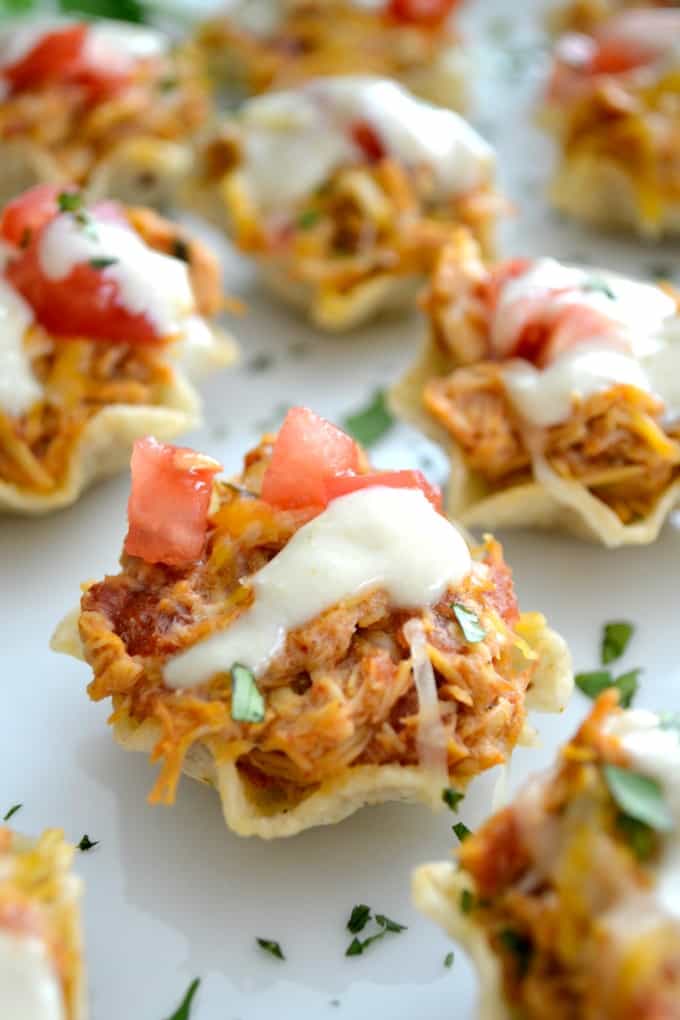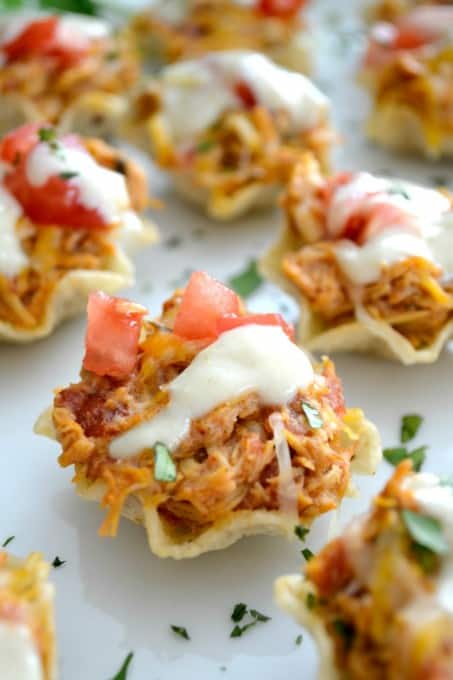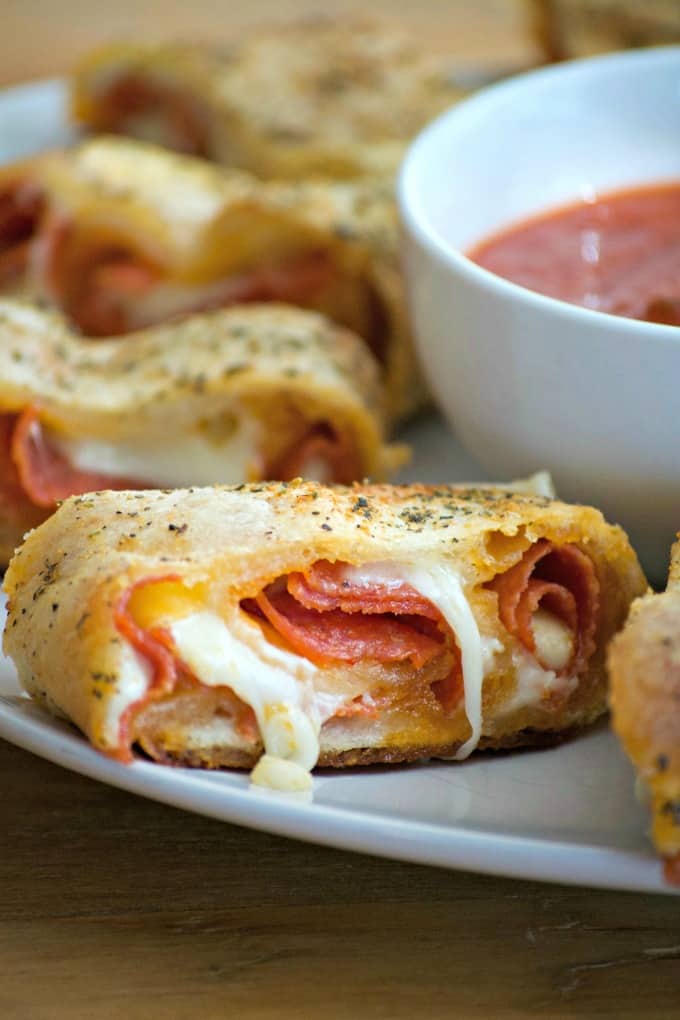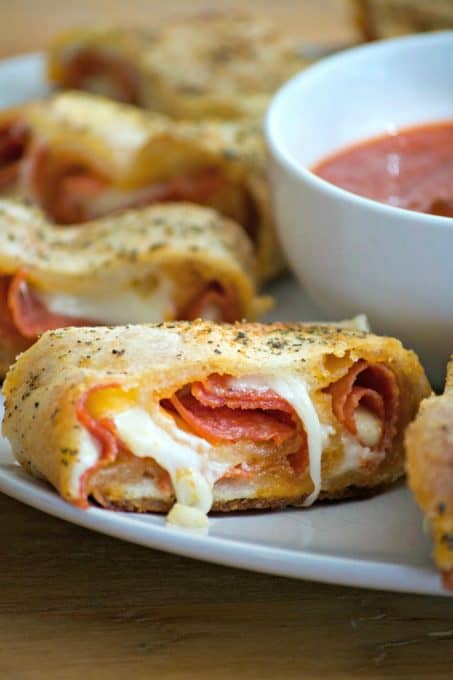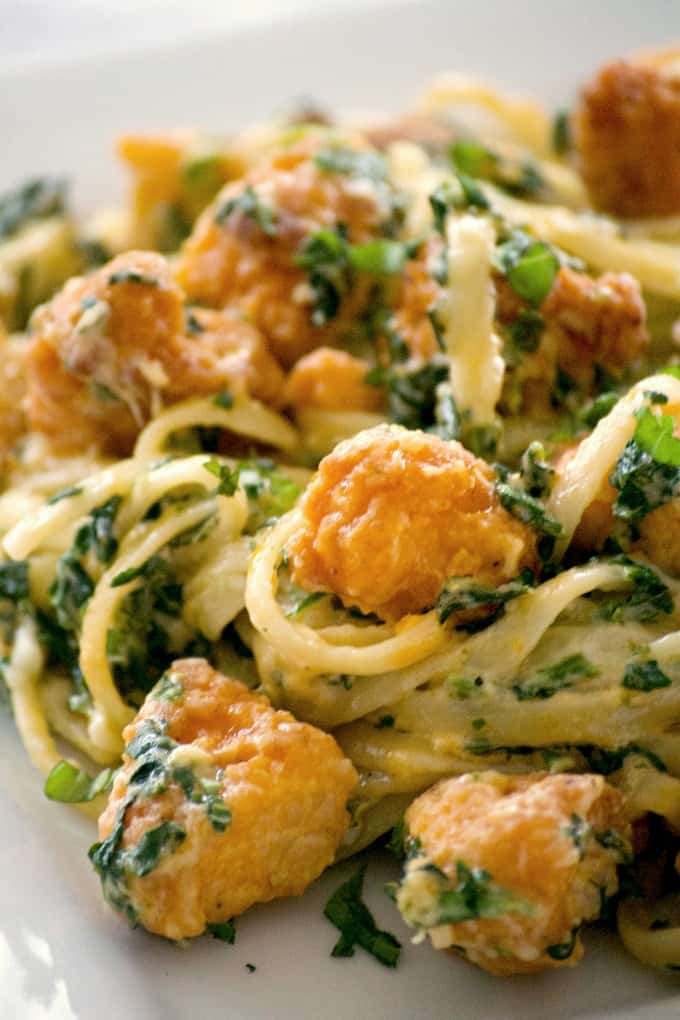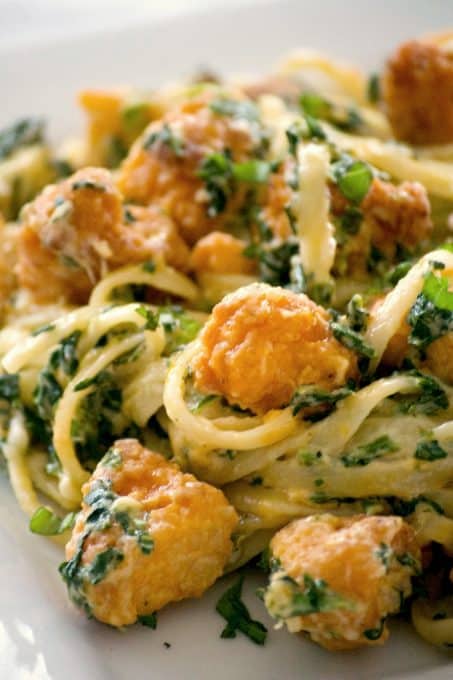 Take a look at these videos for other great Nacho ideas…