This Slow Cooker Buffalo Chicken Dip is a great appetizer for your next game day tailgate party, and you'll master your tailgate faster when you purchase all of your Hellmann's® condiments and party items from Walmart with NextDay Delivery. Everyone will love this super easy, cheesy no-bake Buffalo chicken recipe!
I am proud to be partnering with Mirum to bring you this post. As always, all opinions are 100% my own.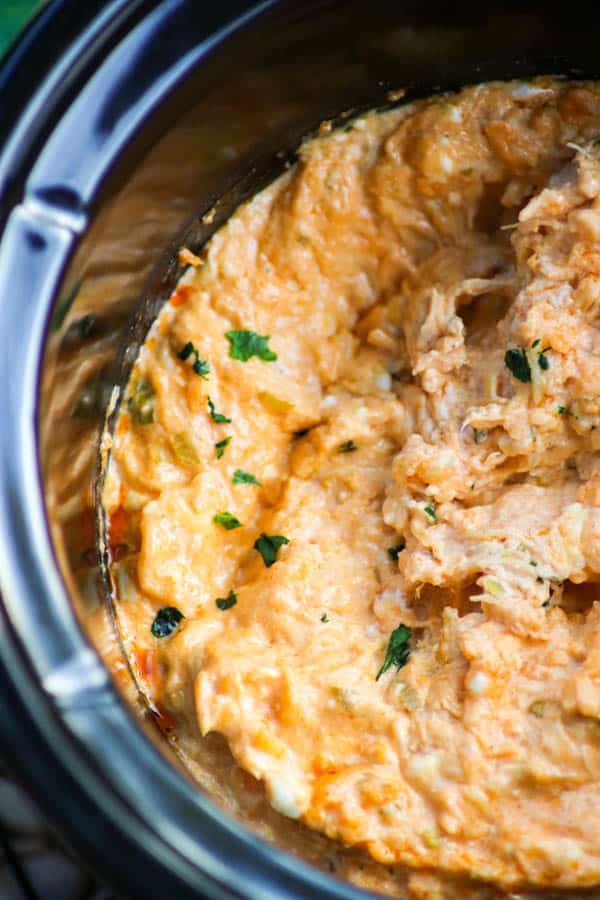 Are you ready for some football???
I most certainly am!!
Baseball season has been great (said with MUCH sarcasm!).
Our beloved team fell from first to practically worst yet again, so we're on to bigger and better things.
Which means…
FOOTBALL!!!
Yes! It's that time of year for tailgating, game day parties and all around good fun!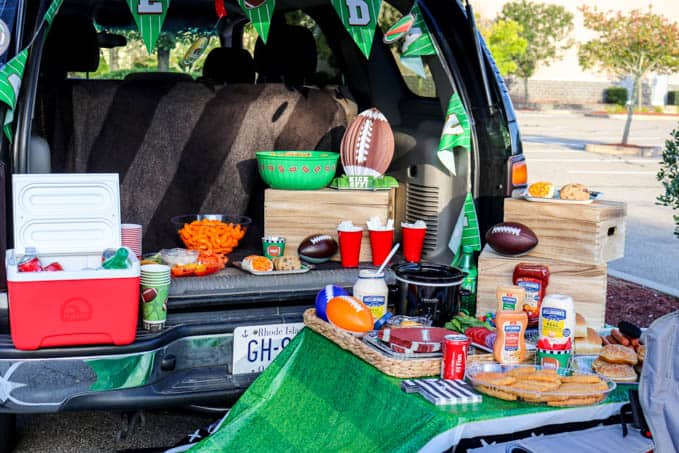 Our tailgating parties and game day gatherings always include Hellmann's Real Mayo Squeeze 20 oz..
Whether it's spread on burgers, used in dips, or in my favorite Macaroni Salad, you can bet that it's always stocked in my fridge and pantry.
Mom passed her love of Hellmann's on to me so naturally, it's been part of my family for years, too.
SAVE THIS BUFFALO CHICKEN DIP TO YOUR FAVORITE PINTEREST BOARD!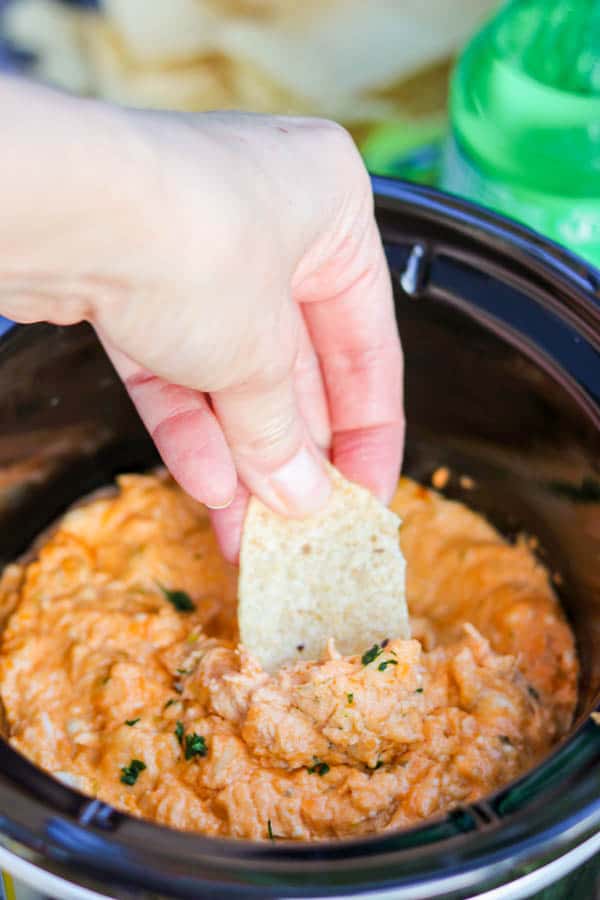 I am SO ready to tailgate this season, especially since we are now HOME in our native Rhode Island.
Our favorite football team's stadium is just an hour away!!
Planning a game day party can be daunting, especially if you'll be taking it to the actual game.
You need to come up with tailgate food ideas, coordinate who's bringing what, make a list of items you need to bring, and pack everything.
Whoa, I'm tired just thinking about it!
BUT, there's no need to stress about that now.
I found out just how easy it is to order all of my tailgating gear online AND have it delivered with NextDay Delivery through Walmart.com.
I didn't even have to hunt for a parking space or go out in the rain!
With Walmart's NextDay Delivery, there is no membership fee.
You can easily order online or by using the Walmart App on your phone and choose from thousands of products.
What's better than that?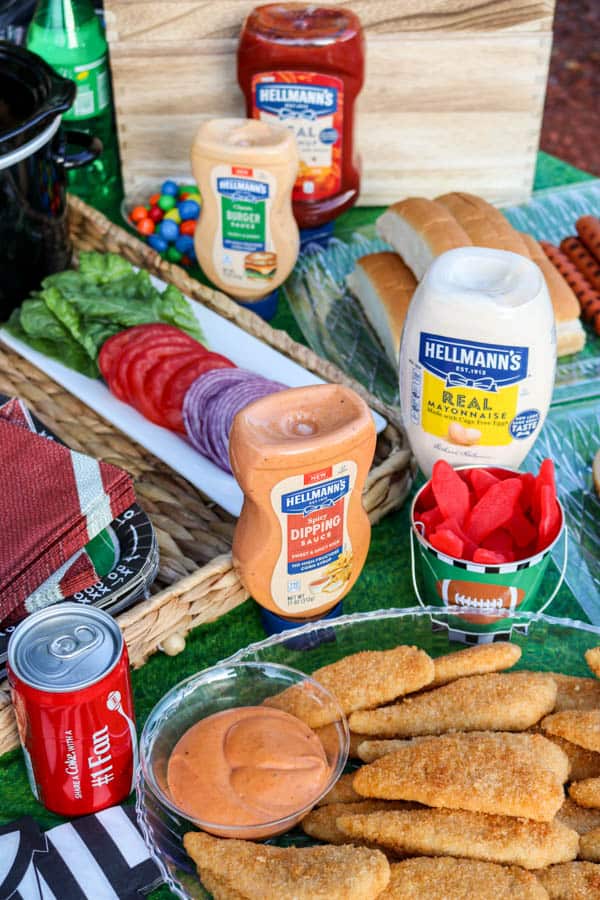 Seriously, it's GENIUS!!
I ordered all the Hellmann's condiments I needed for our upcoming tailgate party.
The squeeze bottles are easy to hold, super convenient, and the perfect size for a party.
There's also a lot less clean up – no extra utensils or bowls needed as when using jars.
I feel good about having Hellmann's condiments on hand for family meals and gatherings with friends because they're made with real ingredients and contain no high fructose corn-syrup.
There isn't even any refined sugar in Hellmann's Real Ketchup! It's sweetened with honey and doesn't contain any artificial ingredients or preservatives.
You'll be proud to serve them as well.
I put the Hellmann's Real Mayonnaise that I needed for this easy Buffalo Chicken Dip recipe into my shopping cart. I bought the 30 oz. jar so that I'd have enough for the recipe, to spread on burgers, and for additional recipes like my Avocado Tuna Salad Lettuce Wraps.
Hard to believe, but I was out of ketchup. So, I bought Hellmann's Real Ketchup 32 oz. . A football party without ketchup? No way!
The Hellmann's Burger Sauce 11oz. was a no-brainer and it will make these Cheesy Spiced Pork Burgers even better!
I also couldn't pass up purchasing Hellmann's Spicy Dipping Sauce 11oz. because it's perfect for some homemade chicken strips.
And since Logan put a hole in our football, I ordered one of those as well. Can't go to a football game without a football to throw around, right?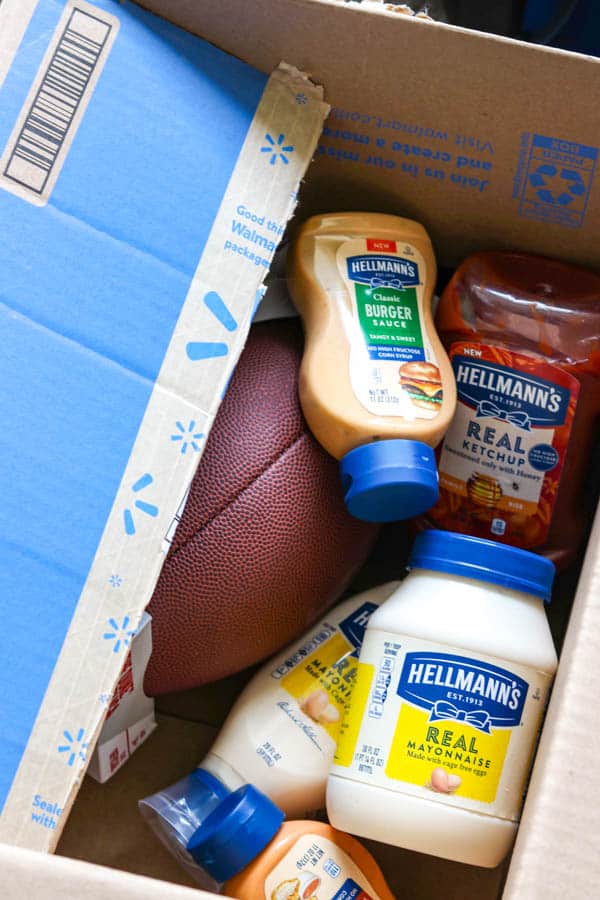 What equipment do I need to make this Slow Cooker Chicken Dip?
First and foremost, I think it goes without saying that you'll need a slow cooker or Crockpot.
I have a 2.5-quart Crockpot. I've found that it's the perfect size for dip recipes, like my Beer Cheese Dip and Homemade Pretzel Bites.
To shred the cheese, I use a cheese grater or food processor.
Use a spatula to stir the ingredients once in the Crockpot. It makes it so easy to scrape down the sides of the slow cooker and mix all of the ingredients together.
SIGN UP FOR THE
365 DAYS OF BAKING & MORE
NEWSLETTER
BELOW!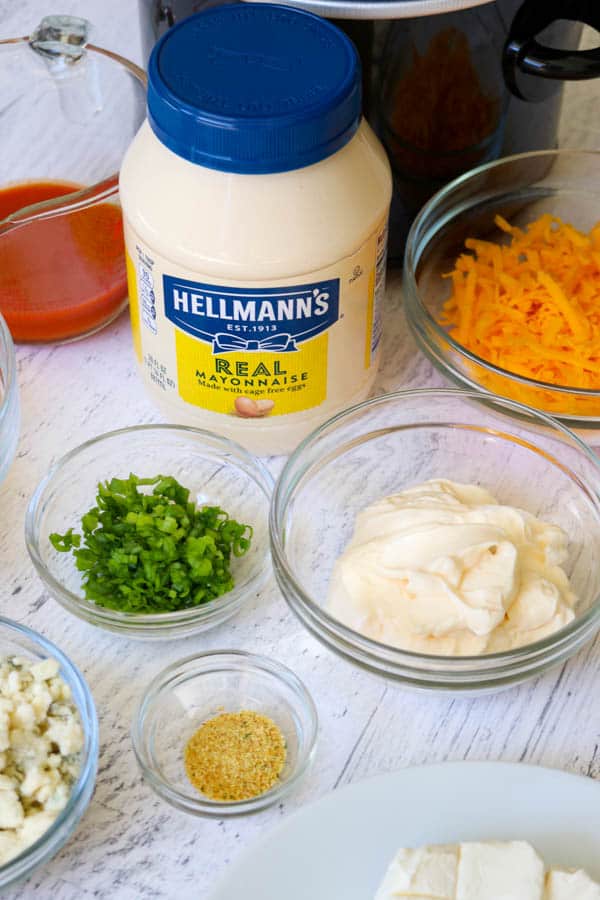 What ingredients do I need to make this Crockpot Buffalo Chicken Dip –
Hellmann's Real Mayo Squeeze 20 oz. – it will make this no bake buffalo chicken dip recipe extra creamy and flavorful!
Be sure to purchase the 30 oz. jar from Walmart.com, use 1/2 cup for this recipe, and use the rest for burgers, wraps, salads, dips and even chicken dinners!
Made from simple ingredients like 100 % certified cage-free eggs, oil and vinegar, it's easy to see why it's so delicious. It's also rich in Omega-3's!
Shredded Chicken –
What kind of chicken should I use in this shredded chicken dip recipe?
I used the canned white chunk chicken breast that I also ordered online on Walmart.com.
You can also use poached chicken, leftover chicken, or even a rotisserie chicken like I used for this Buffalo Chicken Cheese Ball.
Blue Cheese –
Can I substitute Ranch in this Blue Cheese Buffalo Chicken Dip?
Yes!
I used 1/2 cup of blue cheese crumbles for this easy dip recipe, but if that's not for you then go with the Ranch dressing and just use the same amount.
Buffalo Chicken Sauce – seriously, you can't have a Buffalo chicken dip without the Buffalo sauce now, can you?
It would just be a chicken dip. Not that there's anything wrong with that, but that sounds kind of boring to me.
So, elevate your game day party with more flavor! That way the food will be just as exciting as the game!
Use the sauce to make some delicious Buffalo Chicken Meatballs and serve those as appetizers as well.
Shredded Cheddar Cheese – I purchased a block of cheese and shredded it myself.
Why shred your own cheese? It will melt better and taste better, too and doesn't have all the additives.
Cream Cheese – it gives the dip a real creamy texture.
Green Onions – use them for extra flavor, and you can also sprinkle some on the top as well.
You can also use some flat leaf parsley for garnish.
Garlic Powder – it enhances the taste, too!
Can I bake this Slow Cooker Buffalo Chicken Dip in the oven?
YES! You can make this Buffalo Chicken Dip in the oven.
Just preheat your oven to 350°F.
Mix all ingredients in a large bowl and pour into a shallow 1-quart baking dish.
BAKE for 20 minutes until mixture is heated throughout.
Sprinkle with chopped parsley and additional green onions.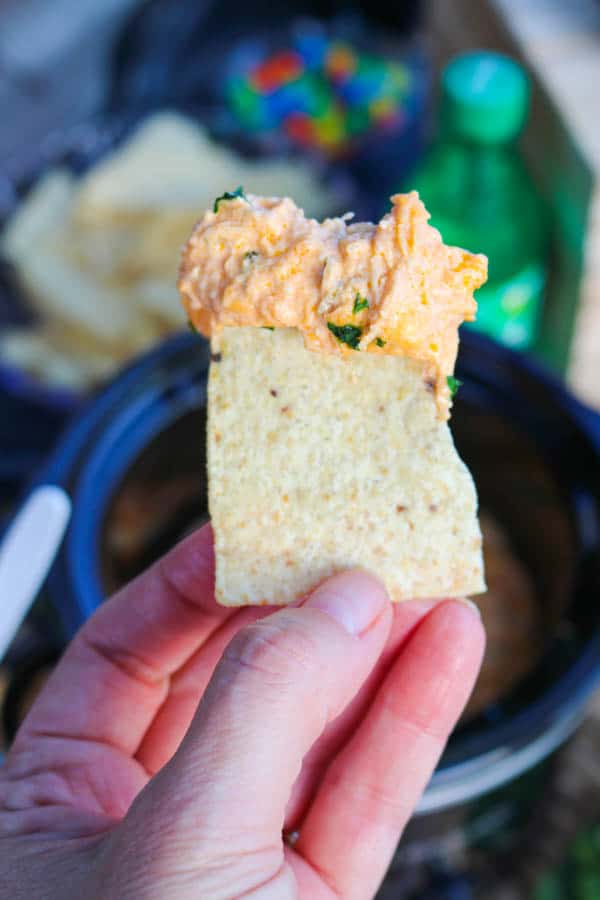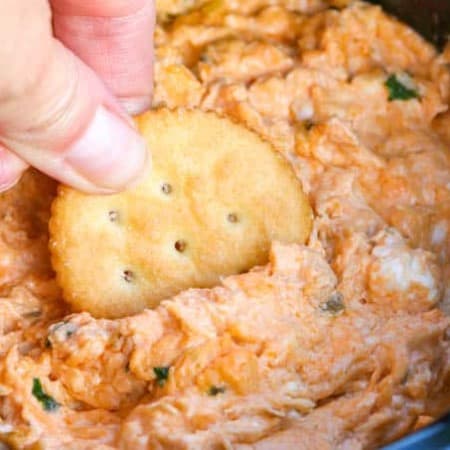 Slow Cooker Buffalo Chicken Dip
This Slow Cooker Buffalo Chicken Dip is a great appetizer for your next game day tailgate party. It's a super easy, cheesy, no-bake Buffalo chicken recipe everyone loves and goes perfectly with chips, crackers, sliced veggies, and bread!
Ingredients
1 ½ cup shredded cooked chicken
8 ounces cream cheese room temperature
1 cup shredded cheddar cheese
½ cup Hellmann's Real Mayonnaise 30 oz.
½ cup crumbled blue cheese
⅓ cup Buffalo sauce
2 green onions chopped
½ teaspoon garlic powder
fresh Italian parsley, chopped for garnish, if desired
Instructions
In a 2-quart slow cooker, combine the chicken, cream cheese, shredded cheddar cheese, Hellmann's Real Mayonnaise, blue cheese, Buffalo sauce, green onions, and garlic powder.

Cook on low for 1½ hours.

Serve with crackers, tortilla chips, carrots, celery, and/or a sliced baguette.
Nutrition
Serving: -42g | Calories: 324kcal | Carbohydrates: 2g | Protein: 14g | Fat: 29g | Saturated Fat: 12g | Cholesterol: 78mg | Sodium: 712mg | Potassium: 143mg | Fiber: 1g | Sugar: 1g | Vitamin A: 636IU | Vitamin C: 1mg | Calcium: 179mg | Iron: 1mg
Did you make this recipe?
Share it with me on Instagram and make sure to follow me on Pinterest for more recipes.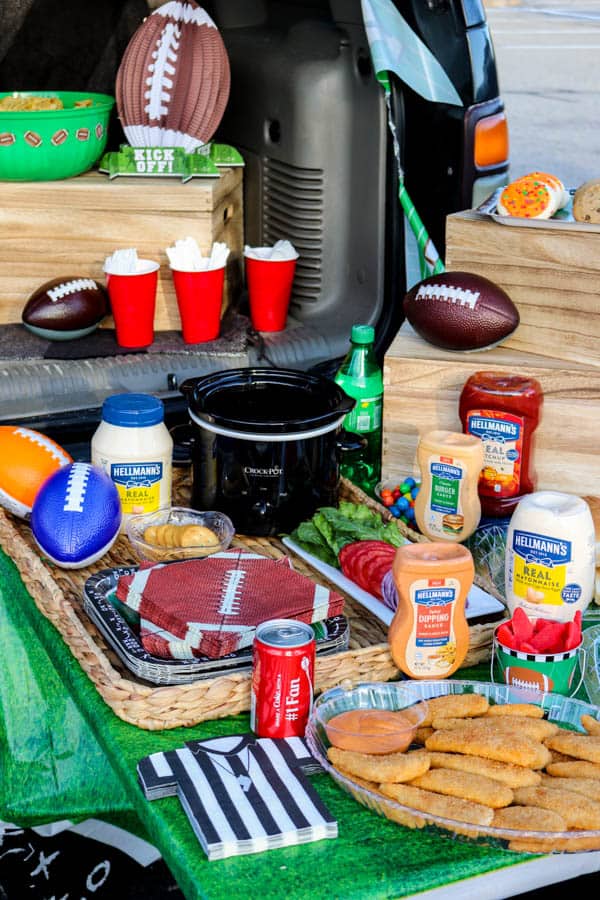 Of course, you'll need more appetizers and desserts so I've got more tailgate food recipe ideas…
Take this Taco Dip and make sure you bring LOTS of tortilla chips for it AND the Buffalo Chicken Dip! No one wants to run out of chips!
A fan favorite at our house are these Ham and Cheese Party Sandwiches. They're so easy to make and super convenient to transport, too.
Tailgate parties need plenty of finger foods, too so remember to put those on the menu.
All parties need desserts!
Cookies are my go-to dessert. they're easy to make, easy to take anywhere and even easier to eat. You can never go wrong with a Chewy Chocolate Chip Cookie. Who wouldn't like one of these?
Reader Interactions