Buffalo Chicken Meatballs – flavorful meatballs made with ground chicken, buffalo sauce and Panko bread crumbs. They're the perfect game day party appetizer or in a roll topped with your choice of blue cheese or ranch dressing.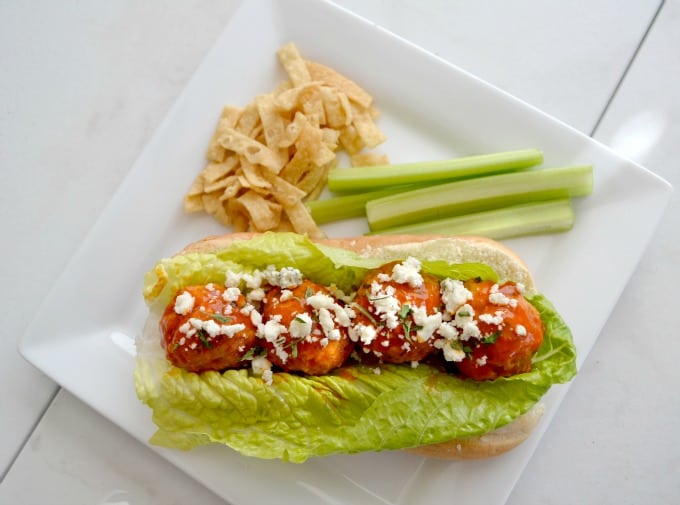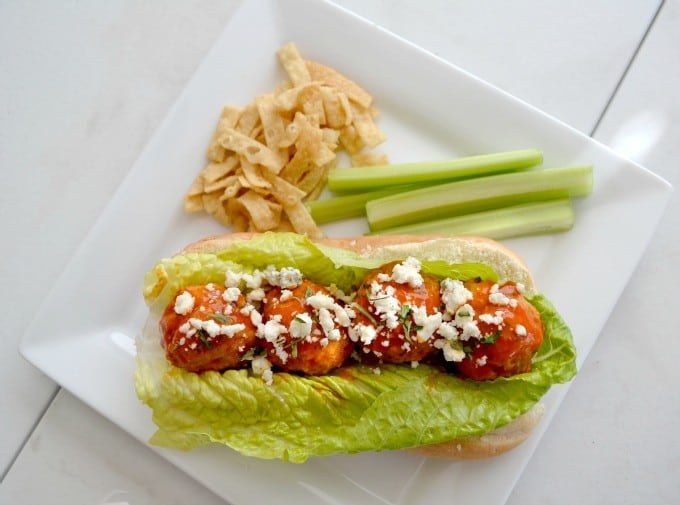 Can you believe it's already February?
I mean, WHERE is the time going?? I've had a busy month of January, so maybe that's why it went by so very quickly….or I'm just getting older. I know that to be true, but just humor me here, please.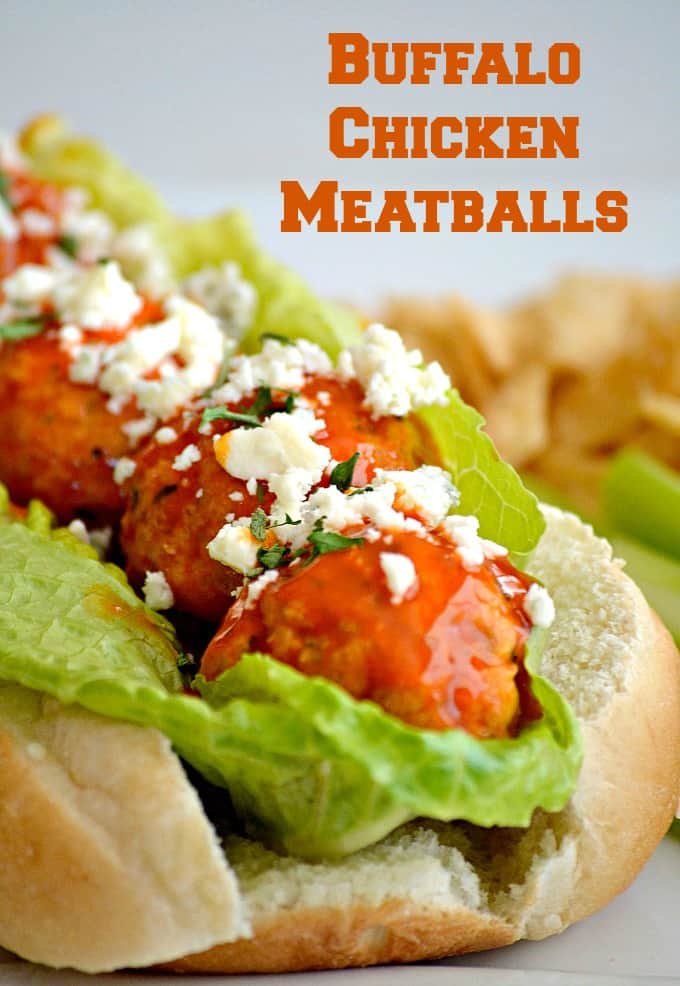 On January 22, I was honored to be interviewed by my good friend and fellow food blogger, Sara DeLeeuw and her fellow food blogger co-host, Gary House on Food Blog Radio! It was so much fun talking to them both. They're such great hosts and made me feel so at ease. I was SO nervous! haha
We had lots of fun, quite a few laughs and talked about all things blogging. You can listen to the interview here.
Also, be sure to visit Food Blog Radio on Facebook so that you stay up to date on everyone they're interviewing and see who they've talked to in the past.
It's a great way to get to know the food bloggers you follow and actually hear what we sound like (even when we laugh!). 🙂
SAVE THIS BUFFALO MEATBALL SANDWICH TO YOUR FAVORITE PINTEREST BOARD!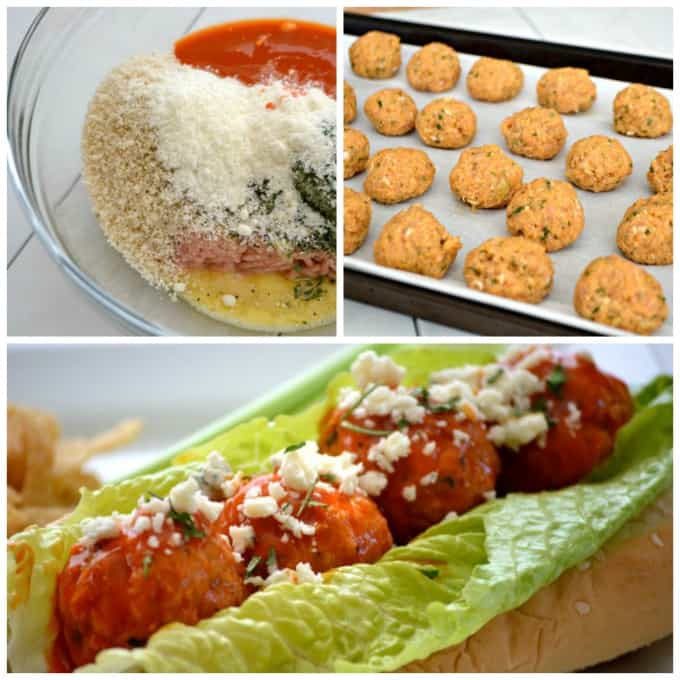 Another reason why I've felt so much busier this month is that I added some regular exercise to my schedule, and I mean like everyday exercise. It's not like it takes up half of my day, it's just that it's something more on the schedule that I'm making time for.
I've exercised in the past sporadically, but right around the beginning of January, I hit bottom so to speak, with the way I was both feeling and looking. So, I've really made a concentrated effort to do this every day and sometimes twice a day.
The exercise that's sending me over the edge are the trail runs I've been doing with Mr. 365. They have been kicking my butt!! We have this perfect trails, behind our house with some pretty steep hills and mountains. Granted they're a wee bit rocky and gravelly (you can see the result of my getting up close and personal with the ground here on Instagram – OUCH!!), but they're great for becoming fabulously fit.
There are times when I dread going, but over the course of the past four weeks, I have definitely noticed that I physically feel better. I can run farther for longer periods of time than I think I ever have before and I'm finally not gasping for that precious oxygen as I was the first few weeks.
I'm not gonna lie, this has been anything but easy! Gaining the weight on the other hand, was a different story. It's funny that I didn't have any problem doing that. In high school, I was underweight, and this is the most I've weighed since I was pregnant with each of our three kids.
While some people would say that I'm still thin and question why I need to lose anything, I know that I'm not happy with the way I feel or what I see when I look in the mirror. Ultimately, I'm the one who needs to be happy with myself and I wasn't.
It's been a blessing, really.
I've been more productive, feel better, am happier, and now like the reflection that I see. I haven't lost any weight yet, but I'm definitely becoming more toned and know that the weight loss will come as I incorporate some better eating habits.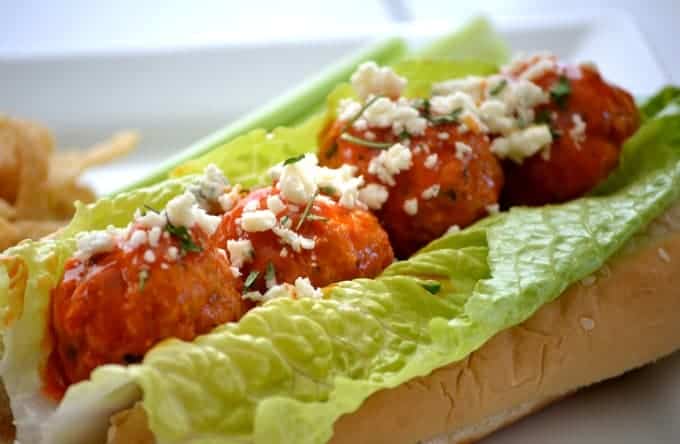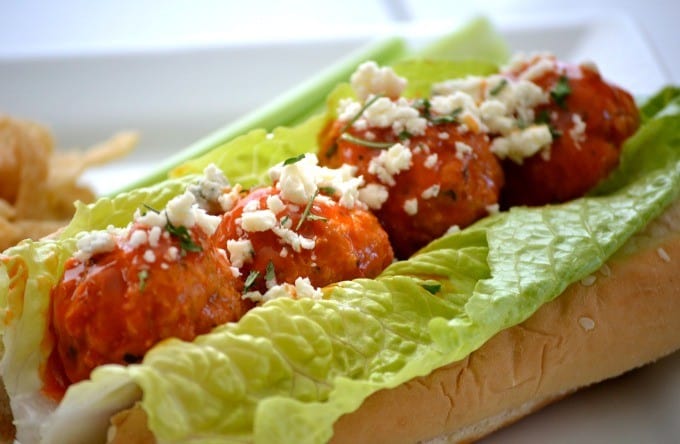 The family has noticed the changes as well and they've been a great source of support.
Exercising has become a great habit and something that I now actually look forward to because I am seeing results.
So, if you're thinking about exercising or are just toying around with the idea, take the first step. Go for a walk, do a beginner yoga video on YouTube, or go for a bike ride. I know how hard it is to get going, but I know that it's even harder to keep it going.
It's SO easy for me to sit here on the couch each day typing on my computer and think, "ah, I'll do it tomorrow" or "later". NO! I'm not allowing myself to use excuses anymore and regardless of how badly I don't want to do it.
I do it….no matter what.
I've set my alarm to get my butt out of bed every morning (even on weekends) at 5:30 am to get it done. No one's up and I have some quiet time to myself. If I do it first thing in the morning, I'm good to go for the day.
Exercising first thing in the morning also gives me the time later in the day to do the trail runs with my husband or other exercises three days a week.
Believe me, I'm no fitness guru and no personal trainer. I'm a food blogger, and I'm just sharing what's worked for me and what is working for me. It takes commitment, but it's for Y-O-U!!! And if you don't love and take care of yourself first and foremost, who will?
Now onto the Buffalo Chicken Meatballs!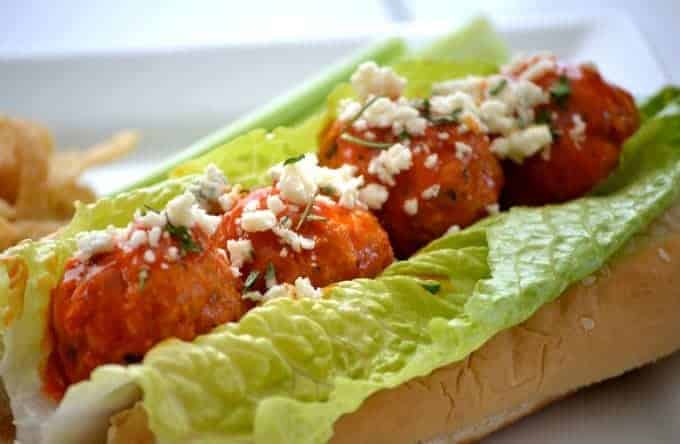 Buffalo Chicken Meatballs
These flavorful meatballs made with ground chicken, buffalo sauce and Panko bread crumbs are the perfect game day party appetizer or in a roll topped with your choice of blue cheese or ranch dressing.
Ingredients
1 lb. ground chicken
1 cup Panko bread crumbs
⅓ cup plus 1/2 cup buffalo wing sauce plus additional if desired
¼ cup chopped onion
¼ cup grated Parmesan cheese
1 tablespoon parsley
½ teaspoon garlic powder
¼ teaspoon kosher salt
¼ teaspoon black pepper
¼ teaspoon oregano
1 egg beaten
Use the following when serving as an appetizer for dipping
blue cheese or ranch dressing
Use the following when serving in a sandwich
rolls
romaine lettuce
blue cheese crumbles or ranch dressing
Instructions
Preheat oven to 350 degrees F. and prepare a baking sheet by lining it with parchment.

In a large bowl, combine the chicken, Panko bread crumbs, 1/3 cup of the buffalo sauce, onion, Parmesan cheese, parsley, garlic powder, salt, pepper, oregano and egg. Mix together until well combined.

Shape into 1-inch diameter meatballs and place onto the prepared baking sheet.

Bake for 25 - 30 minutes until cooked through.

In a medium bowl, place the 1/2 cup of buffalo sauce. Add the meatballs and toss to coat.

Serve as an appetizer with blue cheese and ranch dressing for dipping or serve in sandwiches with romaine lettuce, blue cheese crumbles or dressing and ranch dressing.
Did you make this recipe?
Share it with me on Instagram and make sure to follow me on Pinterest for more recipes.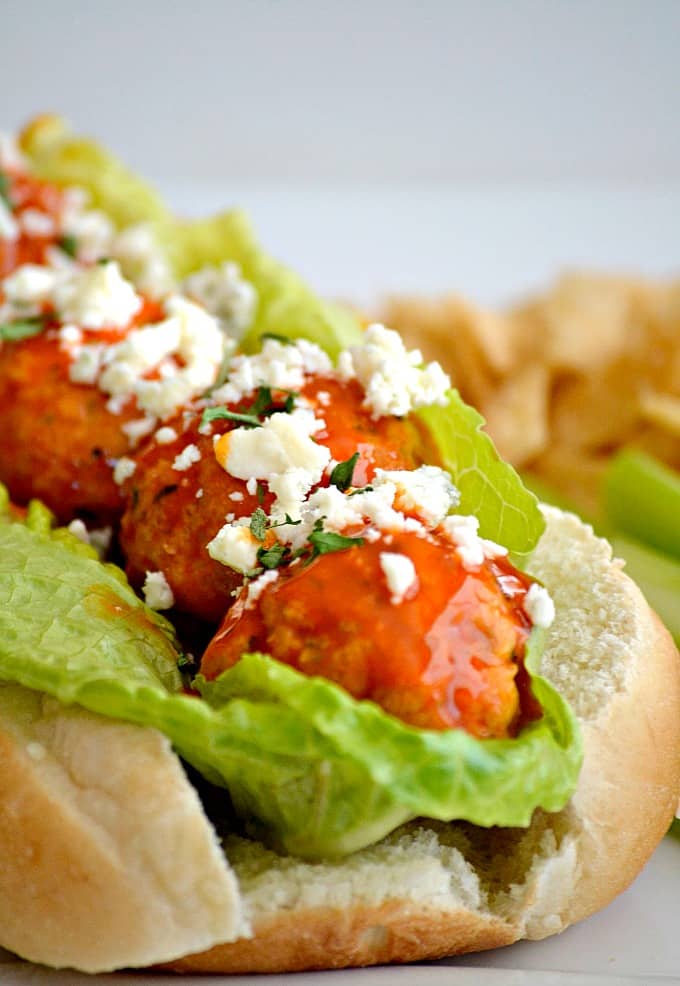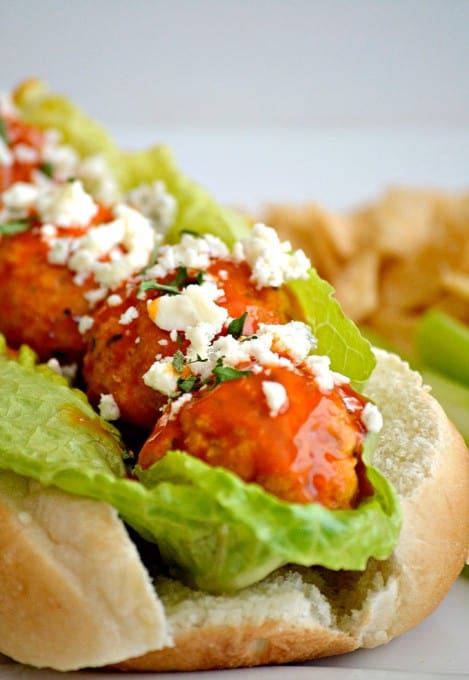 If you like these Buffalo Chicken Meatballs, then you'll love…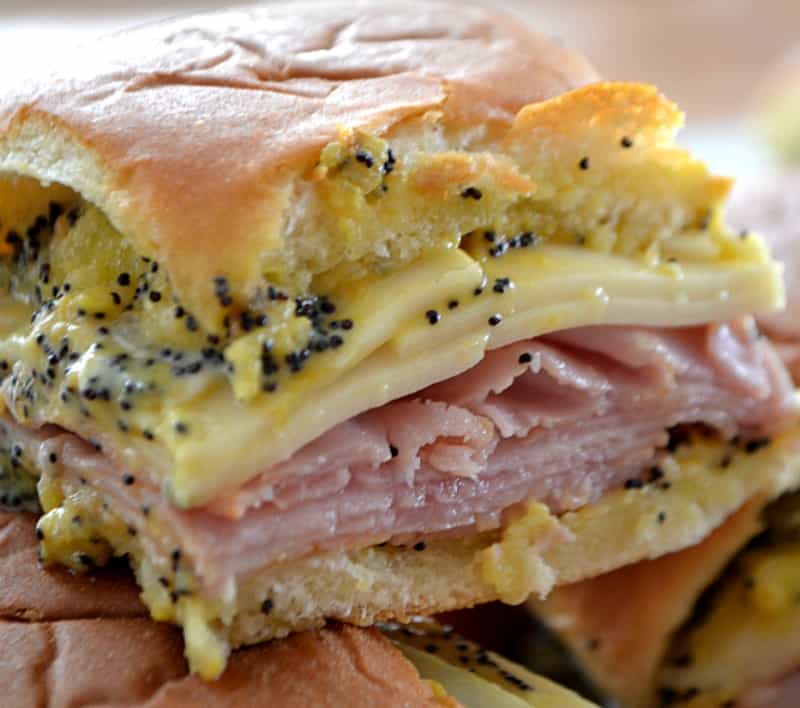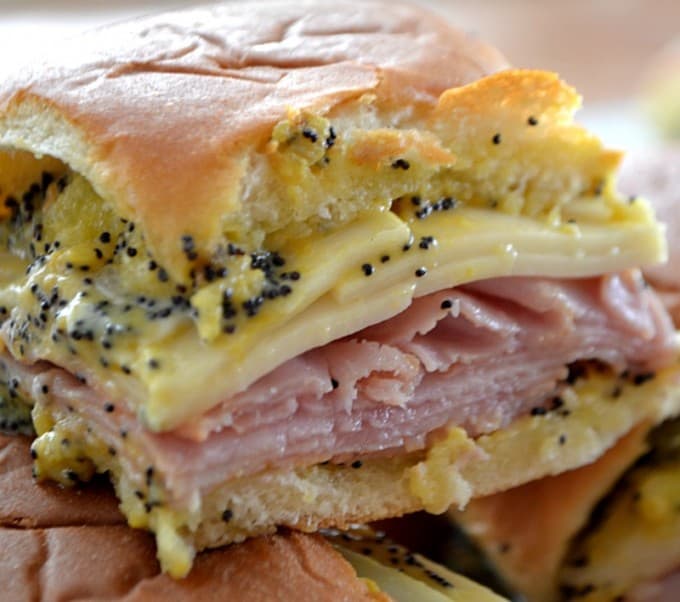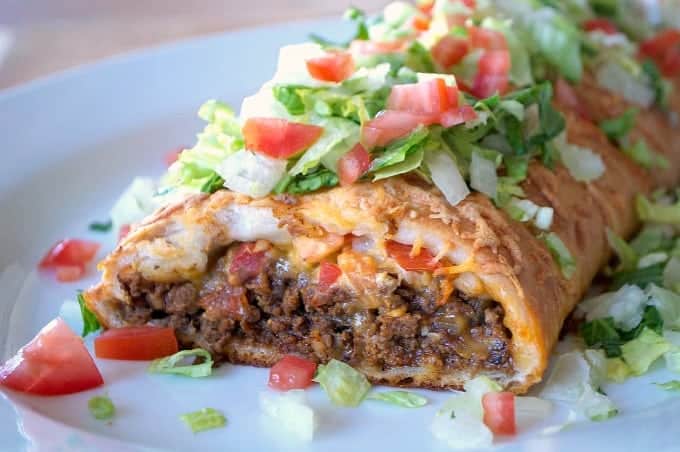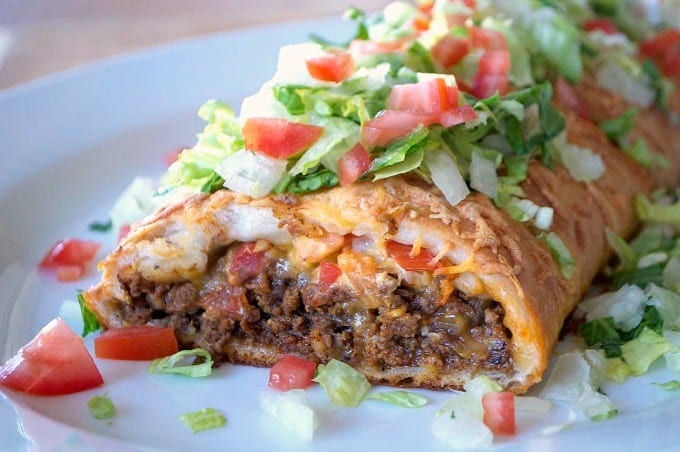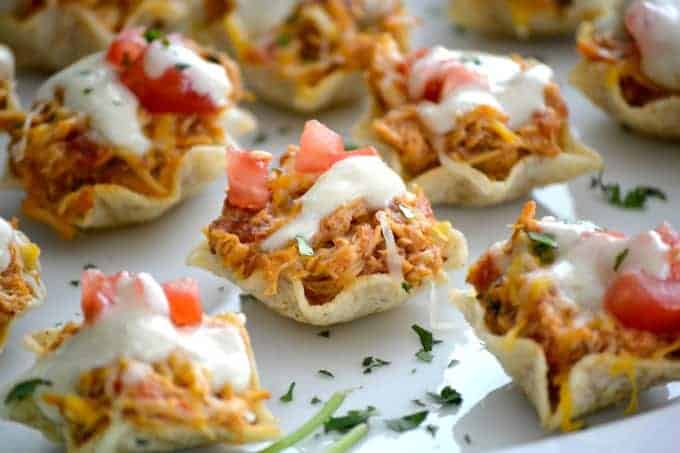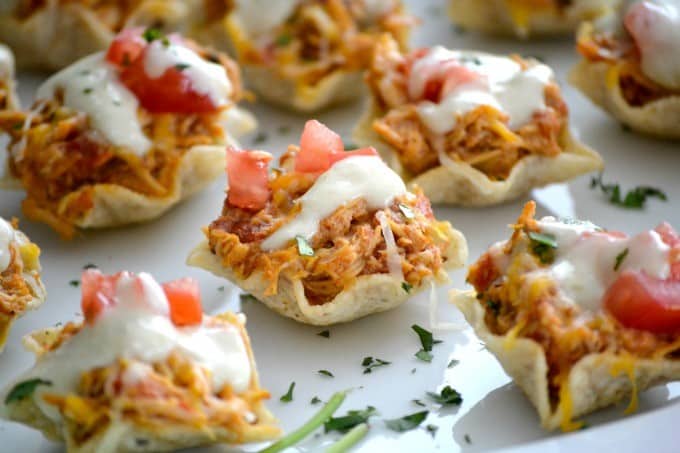 Oh, I SO want to make this for our Superbowl get together…or just because.
Reader Interactions