This Baked Spaghetti recipe turns a box of pasta into a delicious dinner! Packed with ground beef, peppers and plenty of gooey cheese, it's an easy dinner idea that everyone in the family loves.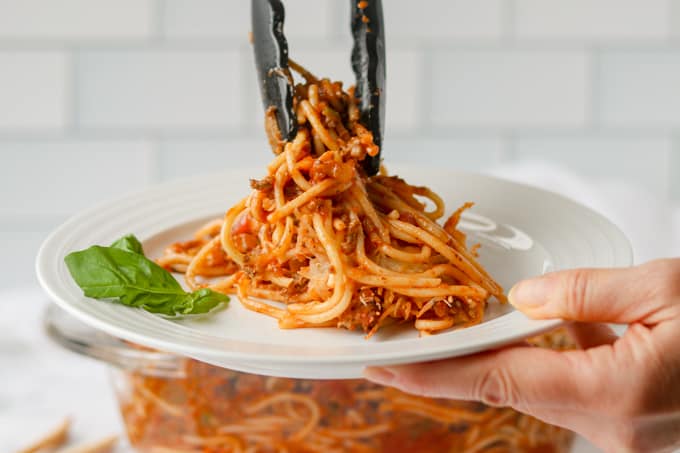 Spaghetti and meat sauce is the ultimate quick and inexpensive family dinner. But eating the same ol' spaghetti dish every week gets boring.
Today's Baked Spaghetti recipe puts the excitement back in pasta night!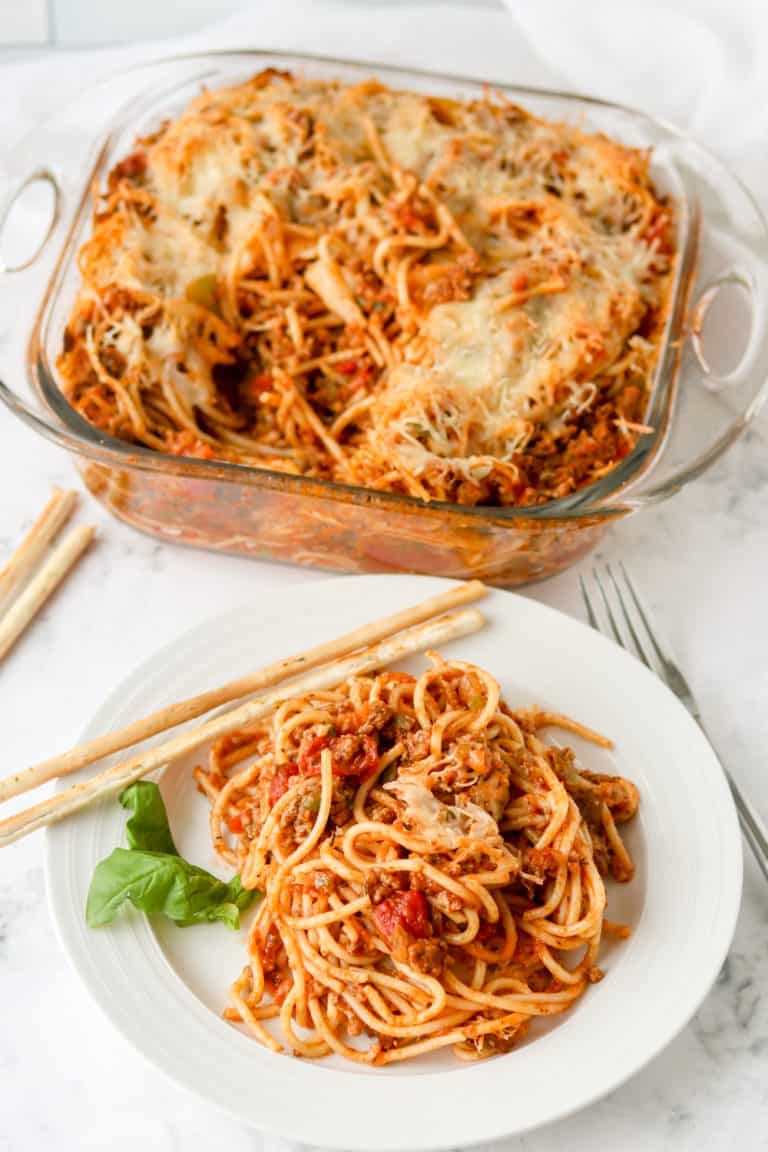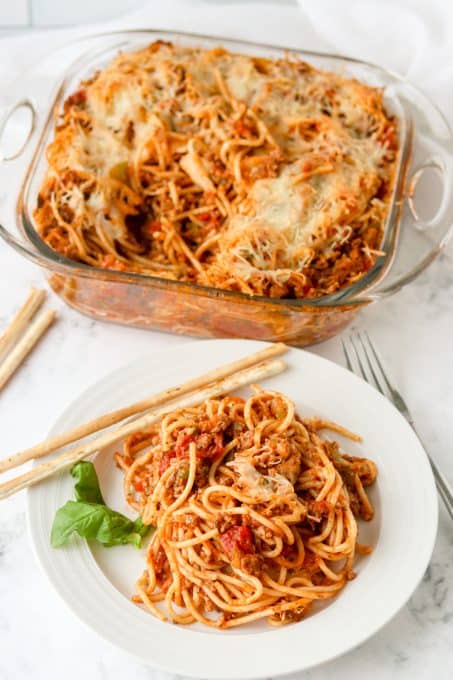 Oven Baked Spaghetti
It takes just a little more effort to make this cheesy spaghetti recipe. But the results are AMAZING!
You only need 9 ingredients.
Peppers, onions, garlic and a little bit more Italian seasoning add pizzazz to jarred spaghetti sauce.
It's covered in mozzarella cheese.
Easy to prepare and bakes in just 25 minutes!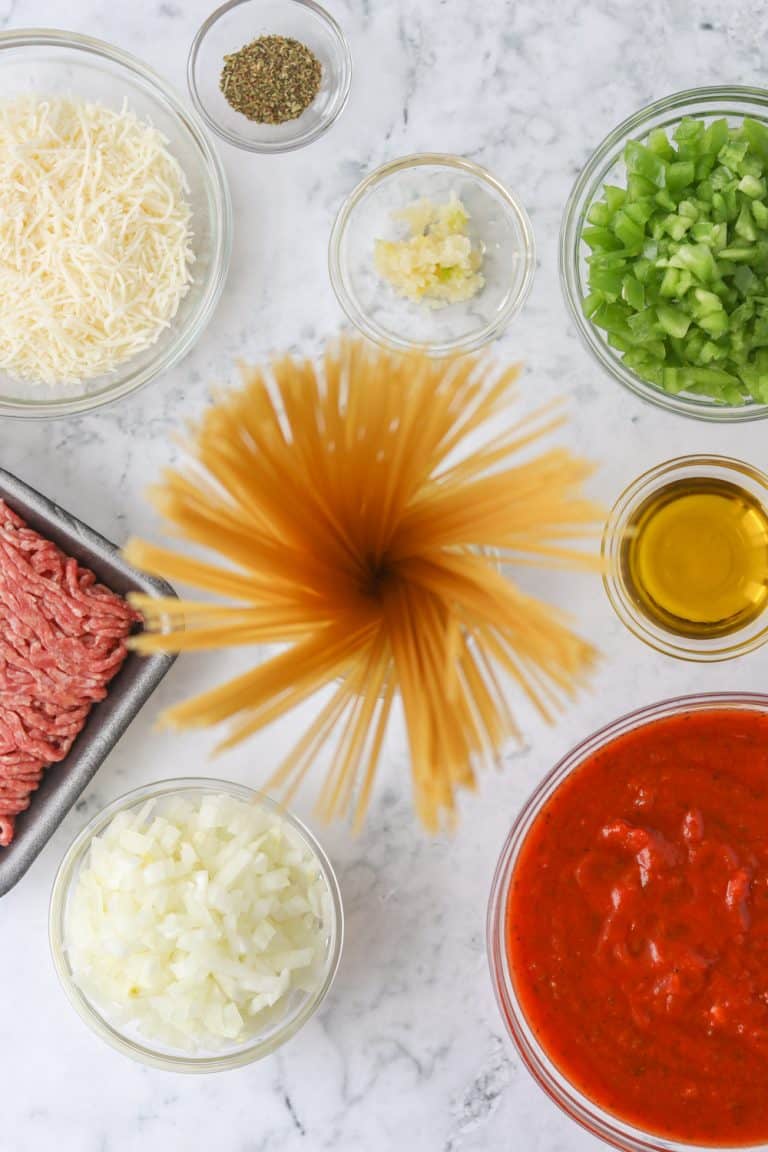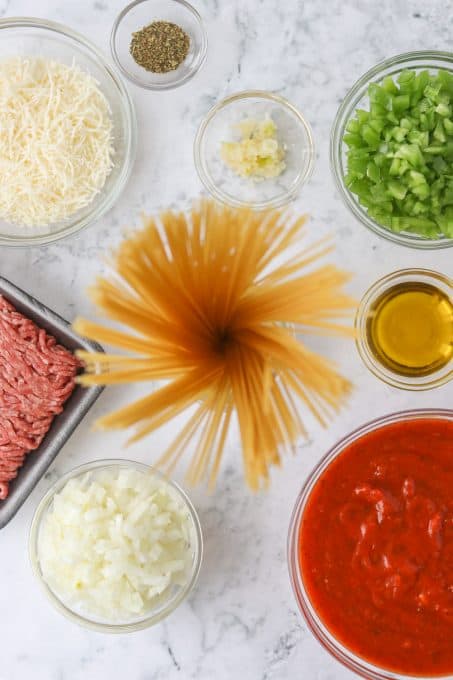 How do you bake spaghetti?
For this baked spaghetti, start by cooking your pasta according to package directions. Cook it just until "al dente"–meaning it stays a bit firm when you bite into it. Drain the noodles and set them aside.
Next, sauté some peppers, onions and garlic in olive oil. Add ground beef and cook until brown. Now, open a jar of your favorite tomato sauce. Pour it into the pan, add the Italian seasoning, and let it heat on the stove until warm.
Gently toss the spaghetti with the sauce to combine. Transfer it to a baking dish, then sprinkle with mozzarella cheese. Bake until hot and bubbly!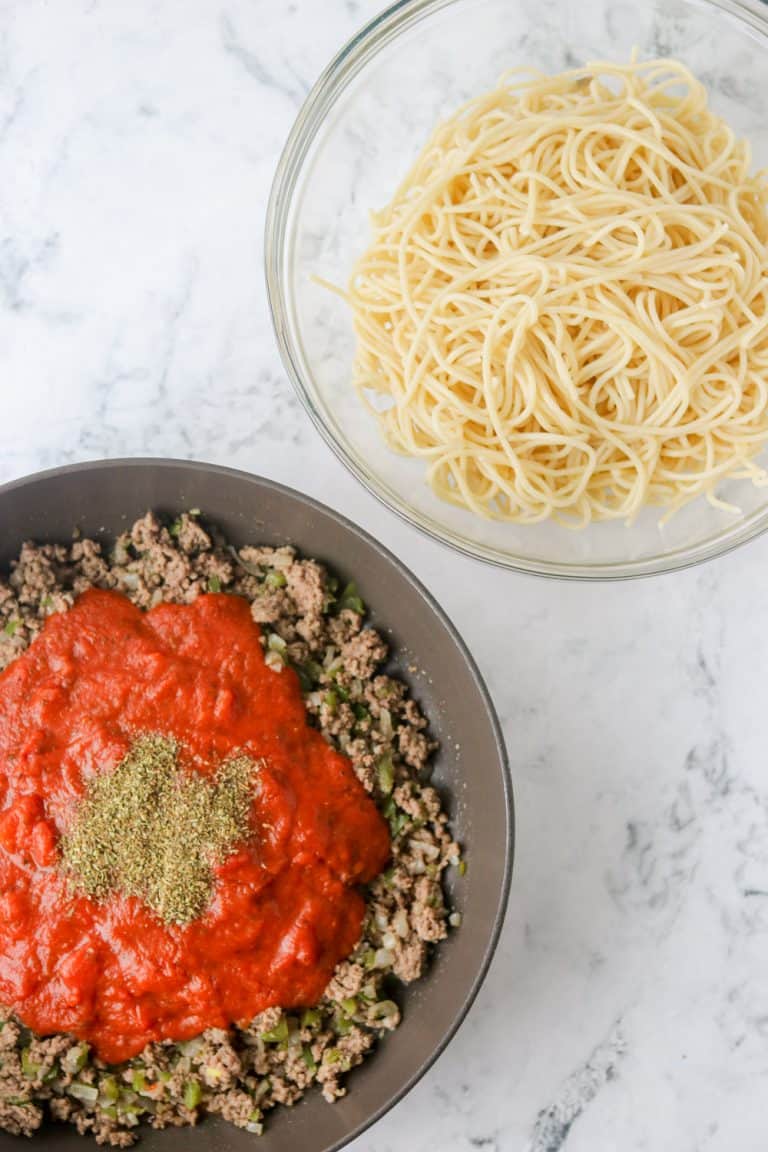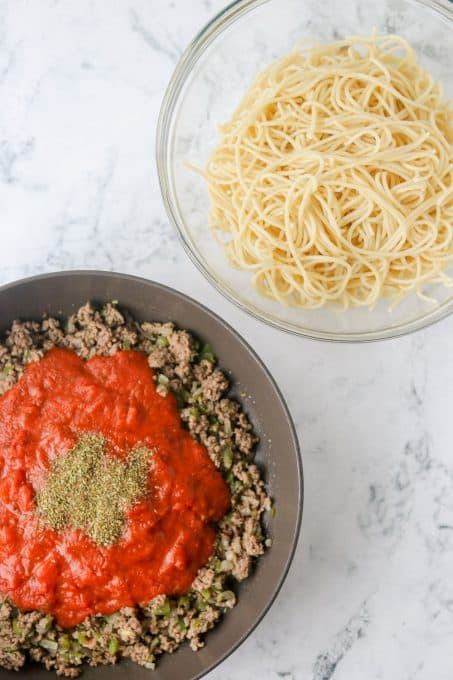 Serving Suggestions
Another thing I love about this easy spaghetti? It's a complete meal all on its own.
Get your daily veggies in by serving it with a simple salad of mixed greens tossed with Homemade Italian Dressing or our favorite Strawberry Spinach Salad.
These Easy Parmesan Bread Bites pair beautifully with baked spaghetti, too, as does a slice of two of my grandmother's Homemade Italian Bread.
Speaking of Parmesan, cheese lovers will love this baked pasta even more with a little grated Parmesan on top!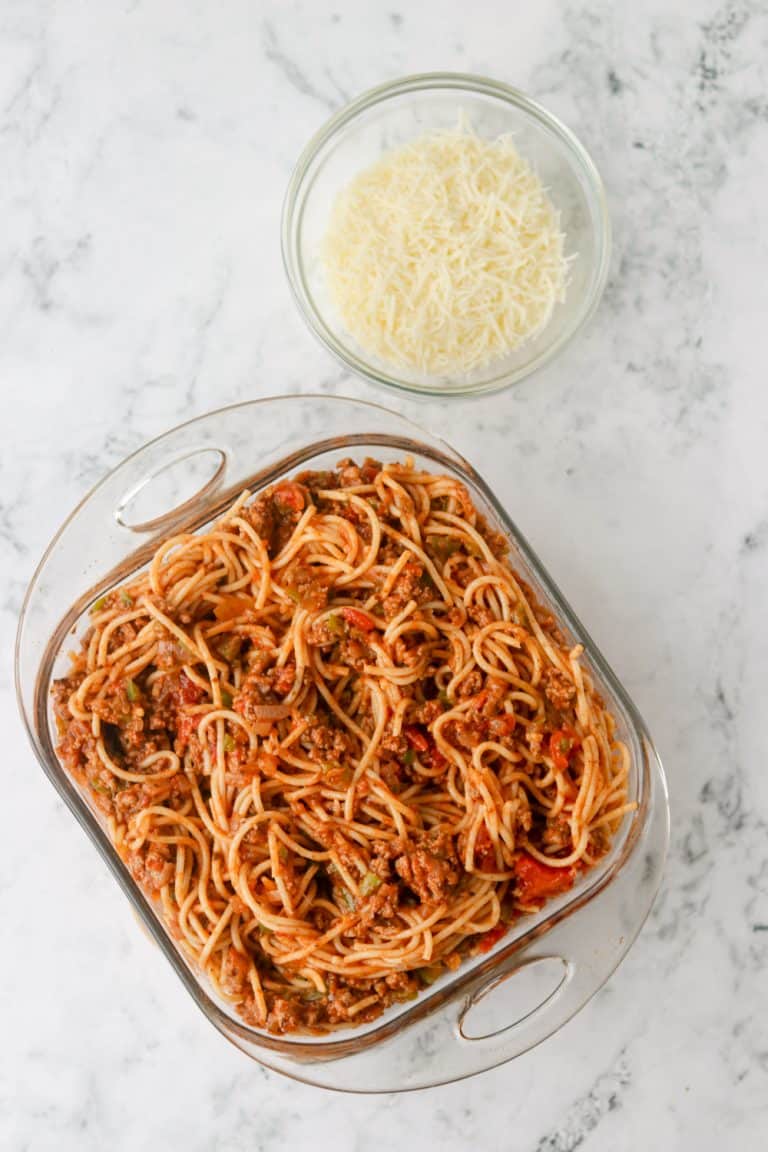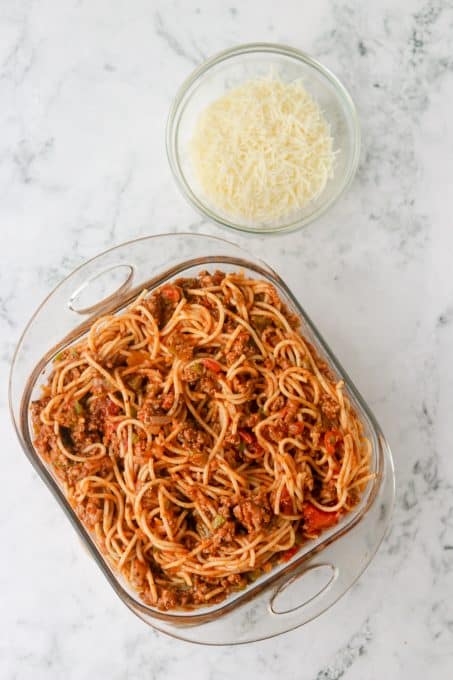 Tips and Tricks for Baked Spaghetti
Feel free to mix up this recipe with other kinds of pasta shapes. Penne, linguine and shells are all great choices.
You could even make it into some Baked Ziti!
Check your pasta frequently while boiling to ensure it doesn't get overcooked . It shouldn't be crunchy but should be slightly firmer than your typical cooked noodle because it will cook some more in the oven.
Lighten up your Baked Spaghetti by swapping ground turkey for the beef. Or make it vegetarian by leaving out the ground beef entirely or using a plant-based substitution.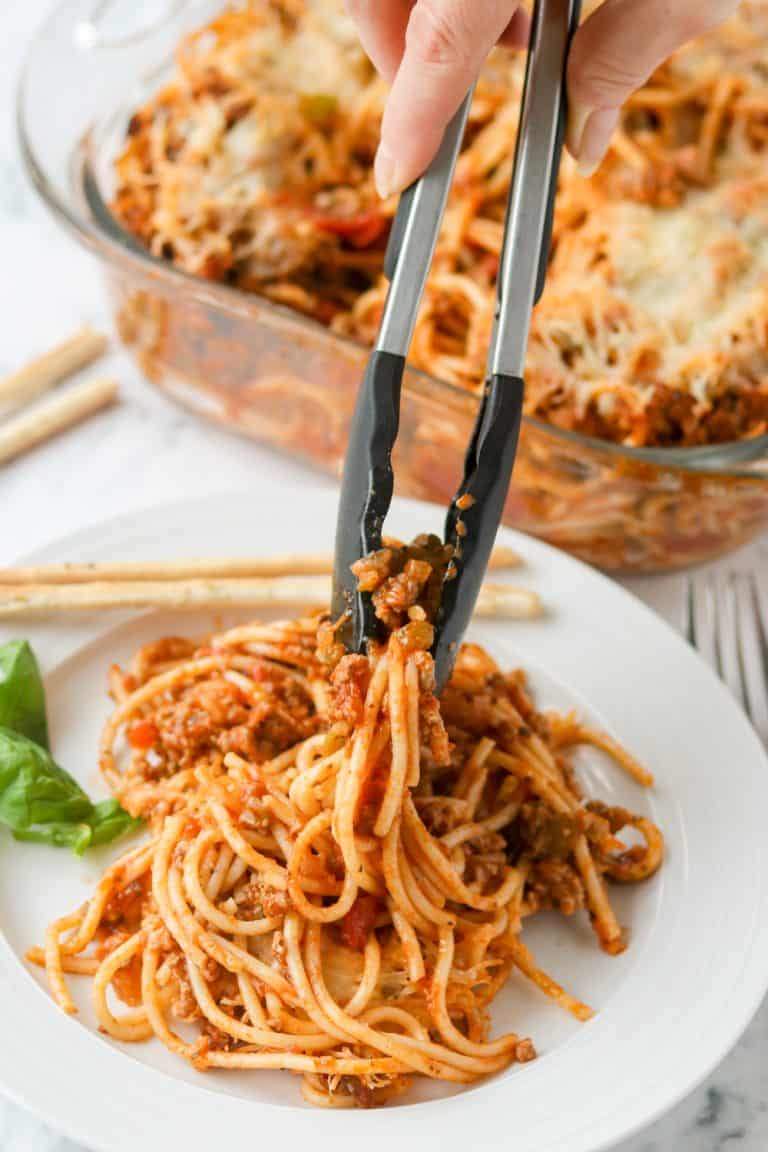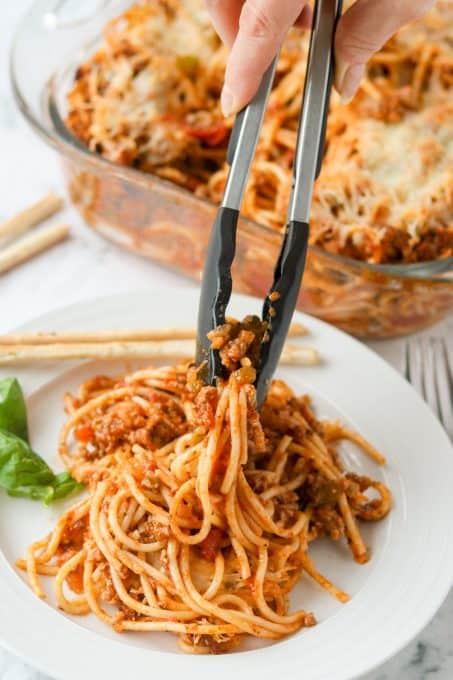 Pasta Recipes
I'll never turn down a steaming hot plate of pasta. Especially when it's covered in gooey melted cheese!
This Chicken Mozzarella Pasta was so good I could have eaten it by the barrel full. Like baked spaghetti, this Spaghetti Pie puts a new twist on the familiar Spaghetti and Meatball dinner.
Here are a few more kid approved pasta recipes to add variety to your family meal planning.
~ FOLLOW ME ~
~ FACEBOOK ~ PINTEREST ~
~ INSTAGRAM ~ TWITTER ~
SIGN UP FOR THE
365 DAYS OF BAKING & MORE
WEEKLY NEWSLETTER BELOW!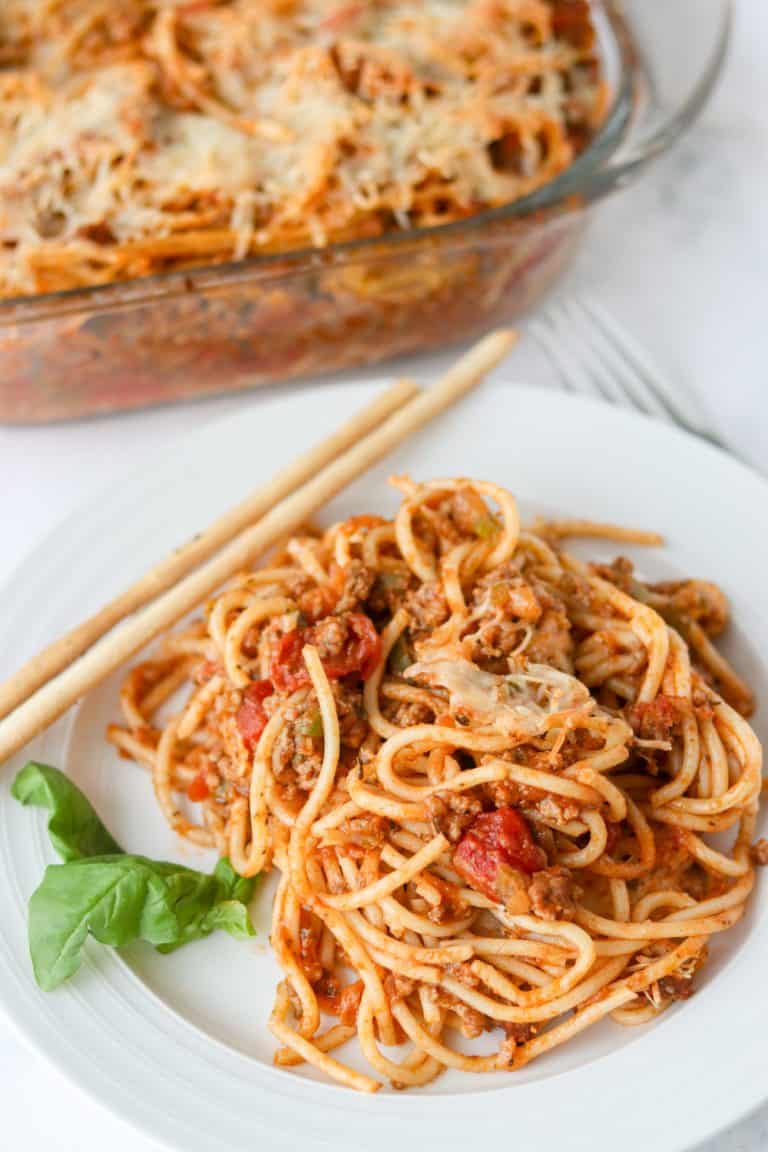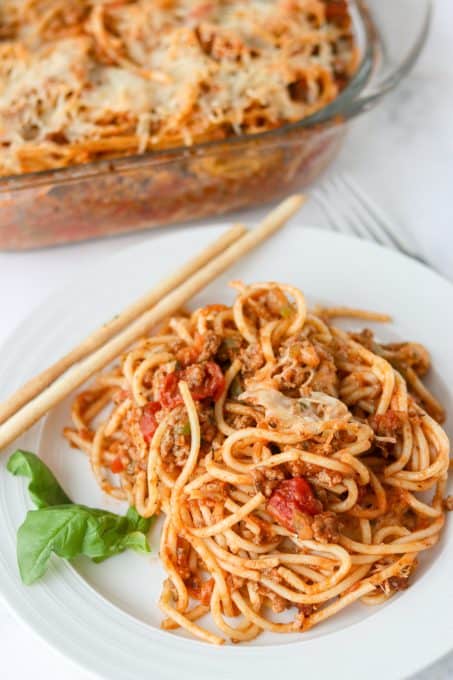 Spaghetti and meat sauce is even better baked into a cheesy casserole!
Try Baked Spaghetti next time you need an easy dinner that even picky eaters will love.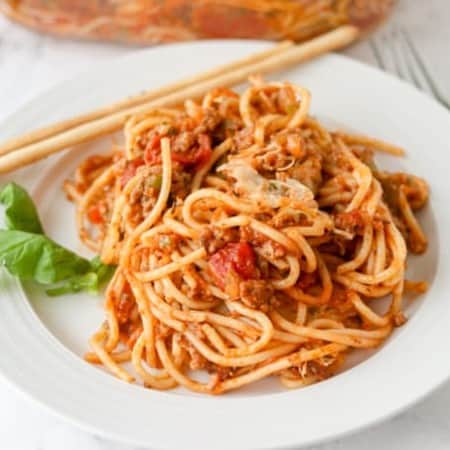 This Baked Spaghetti recipe turns a box of pasta into a delicious dinner! Packed with ground beef, peppers and plenty of gooey cheese, it's an easy dinner idea that everyone in the family loves.
Equipment
1 Large skillet

1 Large pot

1 8 X 8-inch baking dish

1 pair of tongs
Ingredients
8 ounces spaghetti
2 tablespoons olive oil
1 green pepper diced
1 onion chopped
2 cloves garlic minced
1 pound ground beef
24 ounces spaghetti sauce use your favorite!
1 teaspoon Italian seasoning
1 cup shredded mozzarella cheese
Instructions
Preheat oven to 375 degrees F.

Prepare an 8 X 8-inch baking dish by spraying it generously with cooking spray.

Cook spaghetti to al dente based on the package directions, drain and set aside.

Heat a large skillet over medium-high heat. Add the olive oil.

Put the diced pepper, chopped onion and minced garlic into the skillet and sauté until pepper softens and onion is translucent, about 4 minutes.

Add the ground beef and cook until brown.

Stir in the spaghetti sauce, and Italian seasoning. Mix well, and cook until warm. Add the spaghetti to the skillet and toss gently to completely mix

Pour into the prepared baking dish.

Sprinkle with shredded mozzarella.

Bake for 25 minutes.
Nutrition
Serving: 1person | Calories: 706kcal | Carbohydrates: 57g | Protein: 36g | Fat: 37g | Saturated Fat: 14g | Polyunsaturated Fat: 2g | Monounsaturated Fat: 17g | Trans Fat: 1g | Cholesterol: 103mg | Sodium: 1149mg | Potassium: 1122mg | Fiber: 6g | Sugar: 11g | Vitamin A: 1045IU | Vitamin C: 38mg | Calcium: 216mg | Iron: 5mg
Did you make this recipe?
Share it with me on Instagram and make sure to follow me on Pinterest for more recipes.
This post was originally published 2/22/14 and has been updated with pictures and in format on 1/3/22.
Reader Interactions