With a family doing so many things in a day, let alone a week, this Caprese pasta is something to keep note of. Not only is it super easy, but there's more than one way to have it!

You've heard of a Caprese salad, but what about a Caprese pasta salad?
This isn't a baked recipe, but it is just so delicious and easy that I can't wait to share it with you! Easy is good. Everybody loves easy! My family EATS this up and if there happens to be any left, makes sure that it's GONE the next day!
I make this at least four times a month and I have no idea why it took me so long to figure it out. It would have been a wonderfully quick dinner to make when the kids were little and I needed dinner in a split second.
Oh well. Everything happens in due time. I put it together over the summer after we had a Caprese salad – you know, tomato, mozzarella, and fresh basil.
SAVE THIS CAPRESE PASTA SALAD TO YOUR FAVORITE PINTEREST BOARD!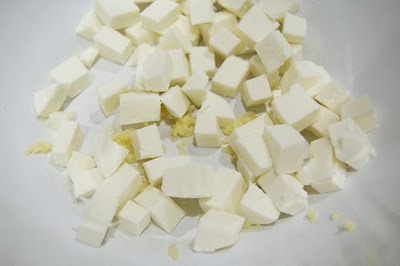 We were wanting pasta the following night, but I really wanted to serve it differently. I have to say it was a wonderful surprise the way it turned out. I'm sure I'm not the first one to come up with this, but the following is how I put it together.
To capture the perfect night, let this banana pudding by the amazing spaceshipsandlaserbeams to the trick for you. Or, a dinner by barefeetinthekitchen with her meatloaf with balsamic glaze. You can't go wrong with it!
With even more benefits for this dish, you can add some chicken in it and make it a chicken Caprese Pasta. Has a nice ring to it, right? And, if you get tired of a certain type of pasta, switch it up in order to please all those hungry eaters.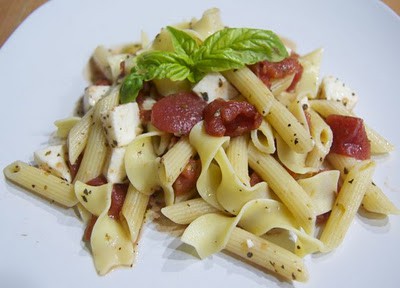 Ingredients
1 lb. pasta
2 tablespoons olive oil
1 lb. fresh mozzerella, diced
2 cloves garlic, minced
2 14.5 ounce can dried tomatoes seasoned with garlic and basil, undrained
2 teaspoons dried basil
Instructions
Cook pasta according to directions. Drain, and toss with olive oil.

While pasta is cooking, in a large bowl, combine garlic and mozzarella.

Add both cans of tomatoes. Add basil and mix well.

Add the pasta and toss to coat. Garnish with fresh basil if desired.
Nutrition
Calories: 1943kcal | Carbohydrates: 341g | Protein: 59g | Fat: 34g | Saturated Fat: 5g | Sodium: 30mg | Potassium: 1064mg | Fiber: 15g | Sugar: 12g | Vitamin C: 1.9mg | Calcium: 151mg | Iron: 7.7mg
Did you make this recipe?
Share it with me on Instagram and make sure to follow me on Pinterest for more recipes.
* 5/20/12 – I've made this recipe quite a few times since I posted it and have found a better way to keep it warm than throwing all the ingredients into a bowl at the end which tends to cool it quicker.

Boil pasta as directed and drain. Place diced mozzarella and chopped basil in a large bowl.

Then, in a medium to large pot (depending on how much pasta you have), sautee garlic in 2 tablespoons of olive oil until fragrant. Add tomatoes and bring to low simmer. Pour pasta into the pot and combine.
Cook until heated throughout. Pour contents into the bowl with mozzarella and basil and mix.*
I rate everything I bake…ok, this wasn't baked, but it still deserves a rating and the 365 family unanimously gives it 4 rolling pins.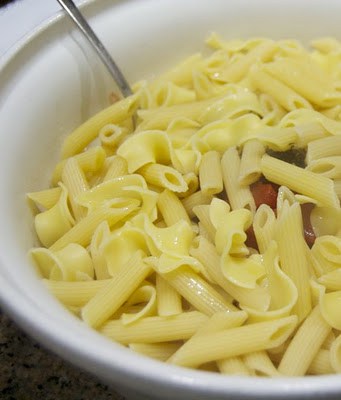 This dish is so absolutely deliciously yummy (that's not easy to say) and so very, very easy peasy!! It can be made in under 10 minutes depending on which pasta you use.
I didn't have enough penne, so I had to use the rest of the noodles that were on hand. Pasta's pasta and none of the family members really even cared.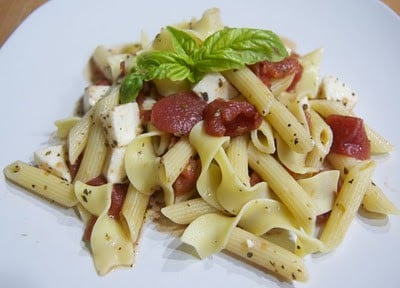 I like to pour the tomatoes from the can into the bowl and not drain them because the sauce is absolutely wonderful when soaked up with a piece of garlic bread. Oh, YUM!!
And trust me when I tell you that you really should use the fresh basil, and not dried. Dried really doesn't do it justice. It doesn't taste the same. Believe me.
Here are some other dinner ideas to combat that "What am I going to cook for dinner tonight?" thought.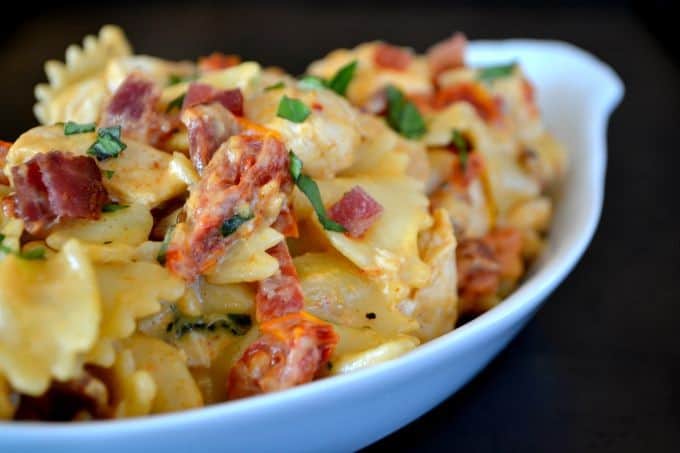 Israeli Couscous Chicken Salad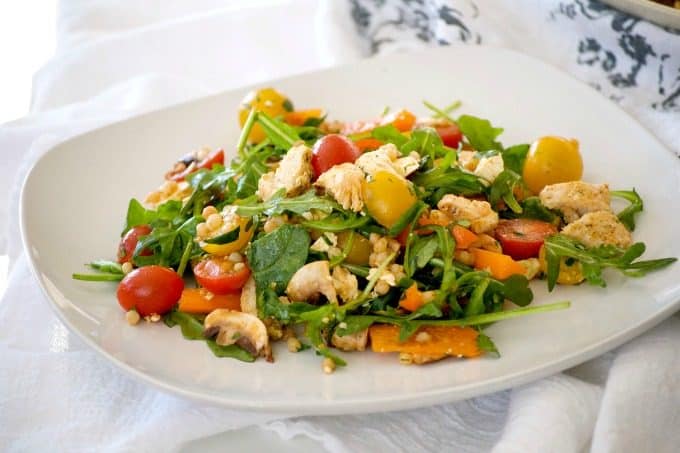 And of course, the fresher the mozzarella, the better. Like the kind floating in the water and really white. Not the shredded, yellowish mozzarella in a bag. Unh-un. I could eat this stuff at least once a week.
I think once our second daughter goes off to college in the Fall, we may be doing just that. The man and the boy who'll be living here with me, I know wouldn't mind it one bit. They're my pasta monsters.
Reader Interactions