Chicken Mozzarella Pasta – Farfalle pasta tossed with some seasoned cooked chicken tenders, sun-dried tomatoes and bacon in a creamy mozzarella sauce. An easy and delicious weeknight dinner.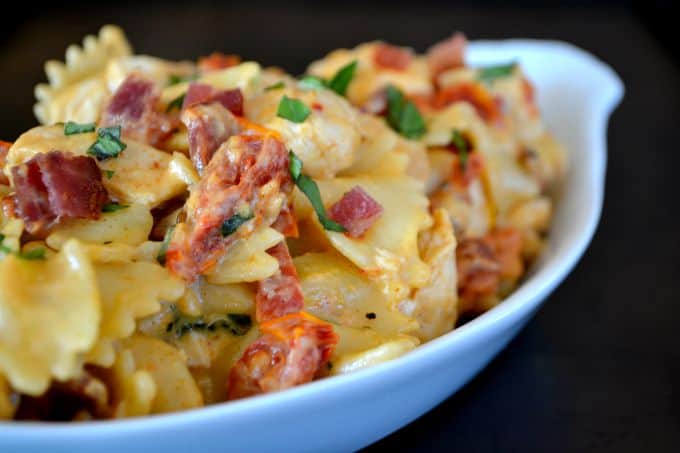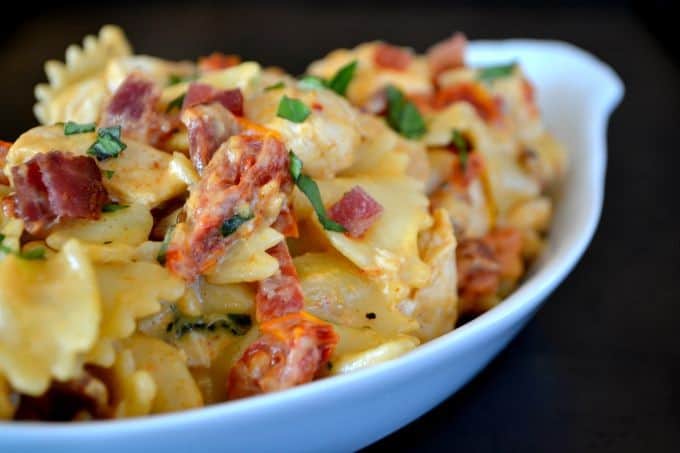 How's the end of your summer going?
Have you adjusted to the back-to-school routine or is it still a struggle to get the youngin's up in the morning? And how's the afternoon homework going?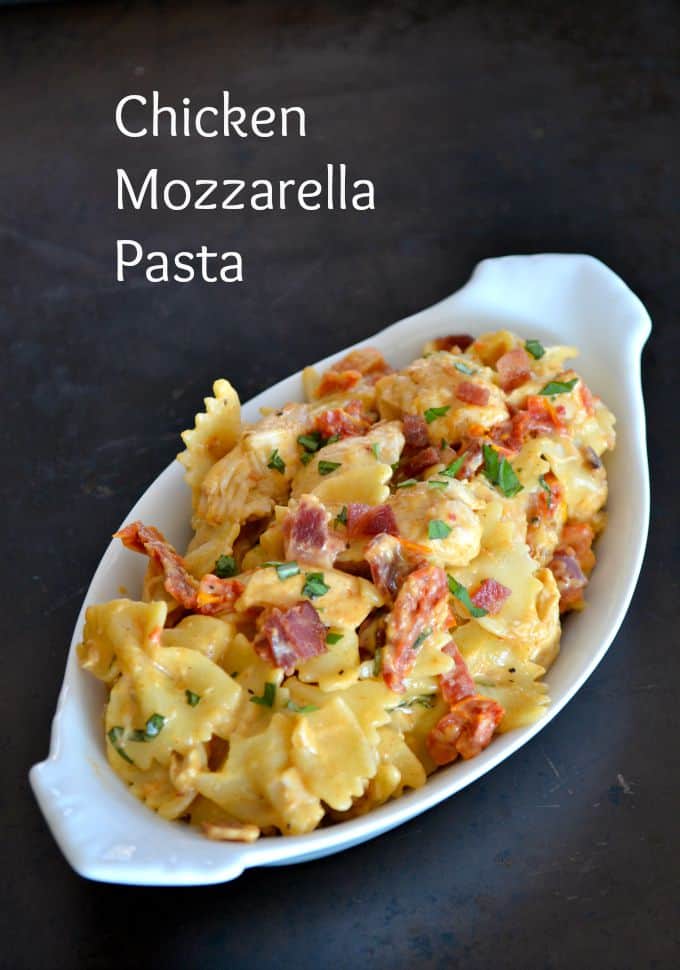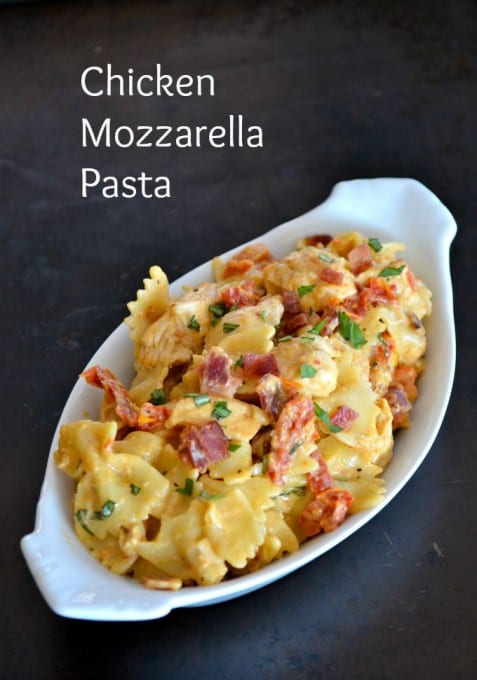 SAVE THIS PASTA RECIPE TO YOUR FAVORITE PINTEREST BOARD!
As you may know, our son graduated high school in June. I must say that it's really odd to not have to deal with the drop-off line in the morning, the homework deadlines, and the shuttling to and from practices, games, etc.
Although the one thing I really miss is seeing him and his friends running on the cross country and track teams. It was so much fun to go to all the events and see kids from across the state and even country competing. There are so many talented children out there, it just amazes me.
Take a look at these great chicken recipes from my fellow bloggers…

Chicken Mozzarella Pasta Recipe
I was browsing Pinterest the other day for dinner ideas when I came across this incredible looking recipe and just knew I had to make it that night. I also added a little bacon to it because everything's better with bacon, right?
It just looked oh, so good as it was all coming together!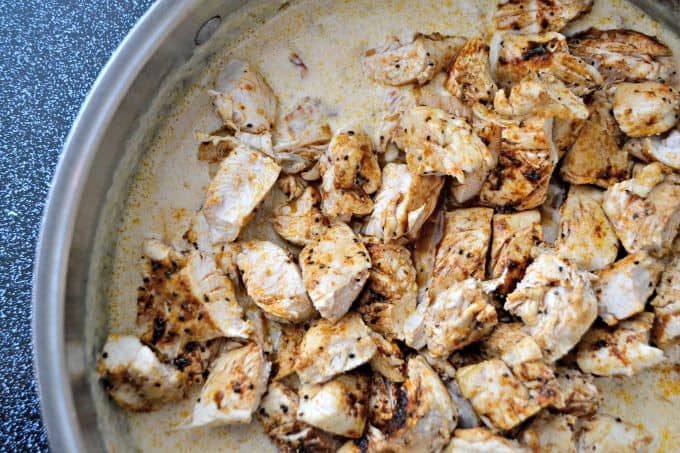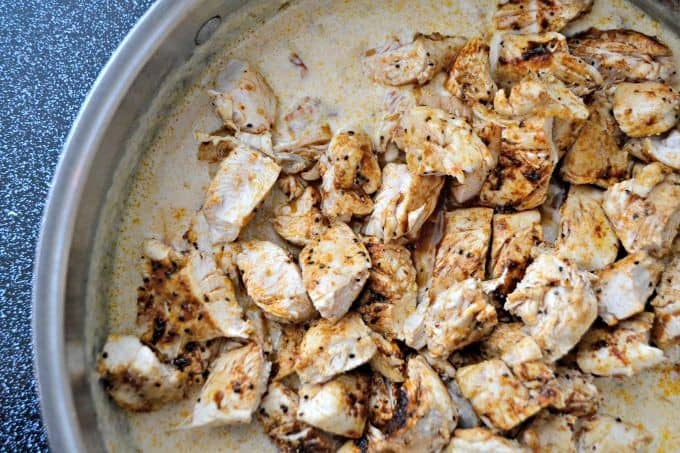 We're past that busy school weeknight stage but I'm still always on the hunt for homemade dinner ideas that don't take hour and hours of prep. This chicken pasta recipe is kid-friendly but full of flavor from Italian seasonings, sun dried tomatoes and garlic.
And bacon. Did I mention the bacon?
This chicken pasta recipe comes together in just one pan (plus the pot you use the cook the pasta). This means I didn't have a ton of dishes to do after dinner, which is always a plus for a recipe!
The tangy sun-dried tomatoes, seasoned chicken and creamy cheesy mozzarella sauce make this just about the perfect weeknight pasta recipe. The smoky crispy pieces of bacon just made it that much tastier.
Needless to say, the family wasn't disappointed. This recipe will be making a regular appearance in our menu rotation. 🙂
Use these items to make your own Chicken Mozzarella Pasta – skillet, sun-dried tomatoes, and slotted spoon.
How to Make Chicken Mozzarella Pasta
Chop a 4 ounce jar of sun-dried tomatoes into small pieces and sautee them in a pan with garlic and the oil from the sun-dried tomato jar.
Season the chicken tenders with salt, pepper and paprika then cook them in the pan for a minute on each side. Remove the chicken from the pan and cut it into bite sized pieces.
Add the chicken back to the pan along with the sun-dried tomatoes and pour in half and half and sprinkle in mozzarella cheese. Stir everything together until the cheese gets nice and melty and forms a thick sauce.
Meanwhile, cook a pot of farfalle pasta according to the directions on the box. Set aside about one cup of the pasta water before you add the cooked pasta to the cheese sauce.
Add in a little of the pasta water to the sauce at a time, just to thin it out. The starch from the water helps make this sauce amazingly creamy. Be careful not to add too much water at once. Remember you can always add more if the sauce is still too thick for your liking.
Add red pepper flakes and basil, then crumbled strips of bacon.
Serve and enjoy!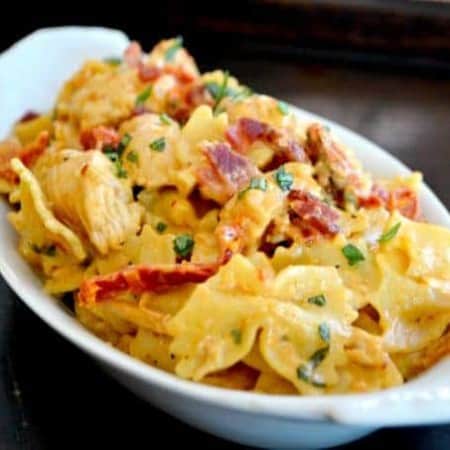 Farfalle pasta tossed with some seasoned cooked chicken tenders, sundried tomatoes and bacon in a creamy mozzarella sauce.
Ingredients
4 cloves garlic minced
1-4 oz jar sun-dried tomatoes in oil drained and oil reserved
small amount of olive oil if necessary
1 lb. chicken tenders
salt and freshly ground black pepper
1 tablespoon paprika
1 cup half and half
1 cup shredded mozzarella cheese
8 ounces Farfalle pasta
1 tablespoon basil if using dry basil, if using fresh basil you can add more
¼ teaspoon crushed red pepper flakes at least, add more to taste
½ cup reserved cooked pasta water or more
salt to taste
6 slices cooked bacon crumbled
Instructions
Drain the sun-dried tomatoes from the oil and reserve 2 tablespoons of the oil for sautéing.

Chop the sun-dried tomatoes into smaller pieces.

In a large skillet over high heat, sauté the minced garlic and sun-dried tomatoes in the 2 tablespoons of reserved oil for about a minute.

With a slotted spoon, remove the sun-dried tomatoes from the pan.

Season both sides of the chicken tenders with salt and pepper, and evenly distribute the tablespoon of paprika among them.

At this point, it may be necessary to add a small amount of olive oil to the skillet. Add the chicken to the pan and with the heat on high, cook on each side for one minute. . Remove from heat and cut chicken into bite-size pieces.

Cook farfalle according to manufacturer's directions. Remove 1 cup of pasta water and drain the pasta.

Return the chopped sun-dried tomatoes and the chicken to the skillet. Gently pour in the 1 cup of half and half and add the mozzarella. Bring to a slow steady boil. Reduce heat immediately to a simmer and stir constantly until cheese melts forming the sauce.

Add the cooked pasta to the pan and mix until thoroughly combined.

Add the basil, and red pepper flakes (more if you like an extra kick!).

Slowly pour in approximately a 1/2 cup of the pasta water to thin the cheese sauce, making it creamier. Be mindful to not add all the water all at once, use your judgement as to how thick or thin you want your sauce. You don't want it to be too watery.

Add the crumbled bacon and mix to combine.

Season with salt to taste.

Allow the contents of the skillet to simmer for about 5 minutes.

Garnish with additional basil and red pepper flakes, if desired.
Did you make this recipe?
Share it with me on Instagram and make sure to follow me on Pinterest for more recipes.
Chicken Pasta Recipes
Chicken and pasta dishes make frequent appearances at my dinner table.
Chicken Parmesan Spinach Pasta Bake can turn anyone into a spinach lover and comes together so easily. You should also check out this Buffalo Chicken Spinach Alfredo if you love cheesy creamy pasta sauces and spinach.
Speaking of Buffalo sauce flavors, these Buffalo Chicken Meatballs are amazing served on their own as an appetizer or tossed with noodles for a different fun take on spaghetti and meatballs!
Don't forget to give my creamy and comforting Chicken Noodle Casserole a try, too! When you're in the mood for a rice based casserole, check out Cheesy Chicken, Broccoli and Rice Casserole a try. Both of these casseroles are family favorites and have never failed me once!
Looking for a great use for leftover cooked chicken? You can't go wrong with a simple Chicken Salad.
If you like this Chicken Mozzarella Pasta, then you'll love…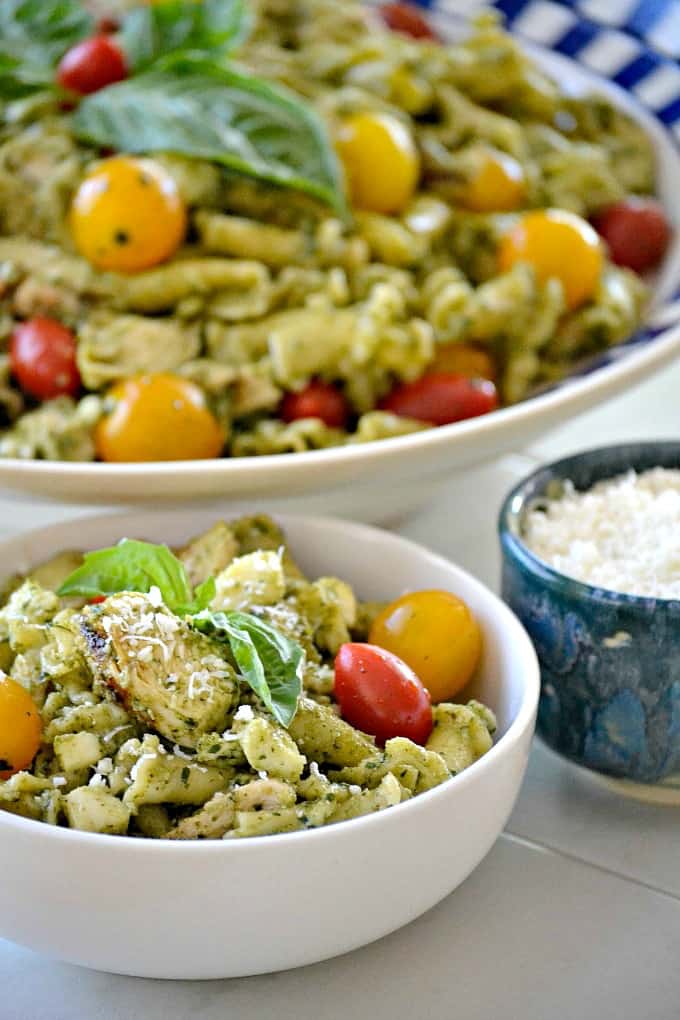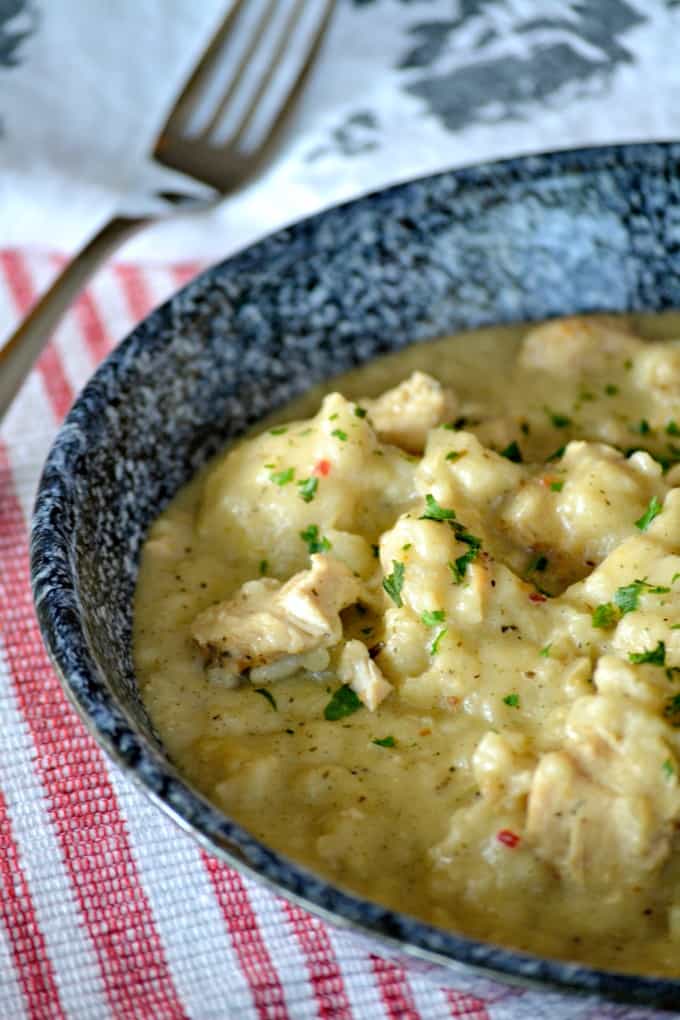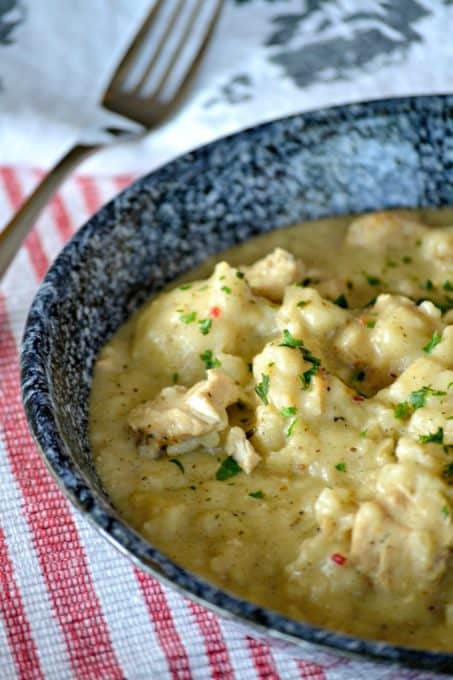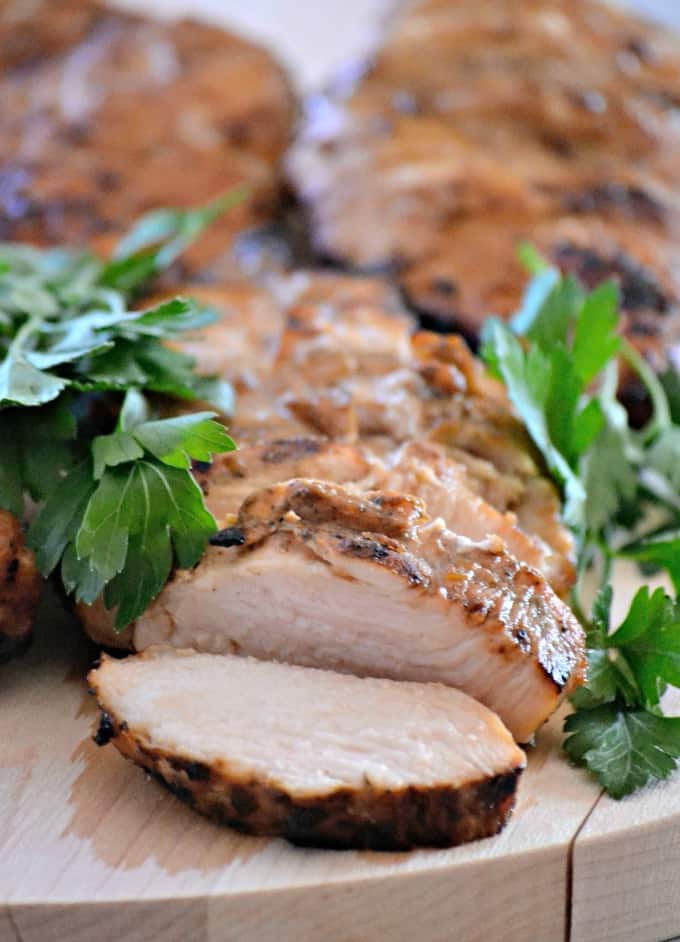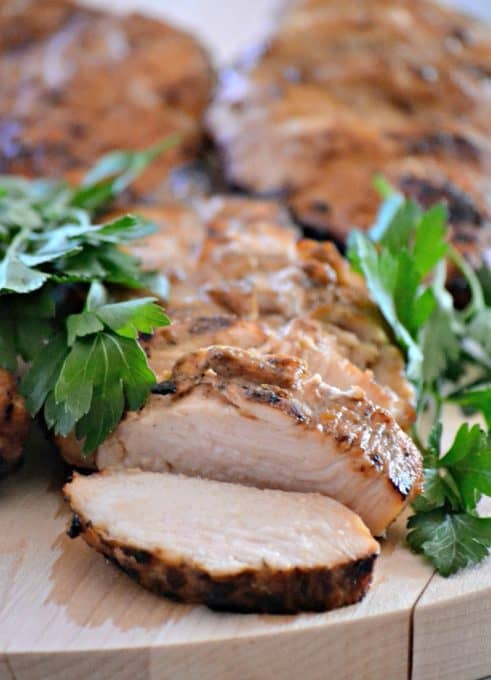 Reader Interactions