Cheesy Chicken, Broccoli and Rice Casserole – melted cheese, broccoli florets, rice and the use of a rotisserie chicken make this casserole a great dinner for a busy weeknight or when you you don't want to go to a lot of trouble preparing it.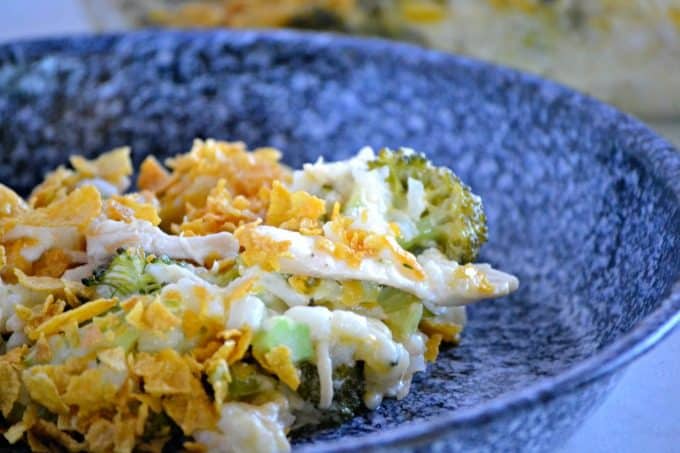 I love easy dinners.
But it's also super important that they taste good.
Because we all know that even though it might be easy, if it doesn't live up to the family standards then it's not going to be eaten.
Am I right?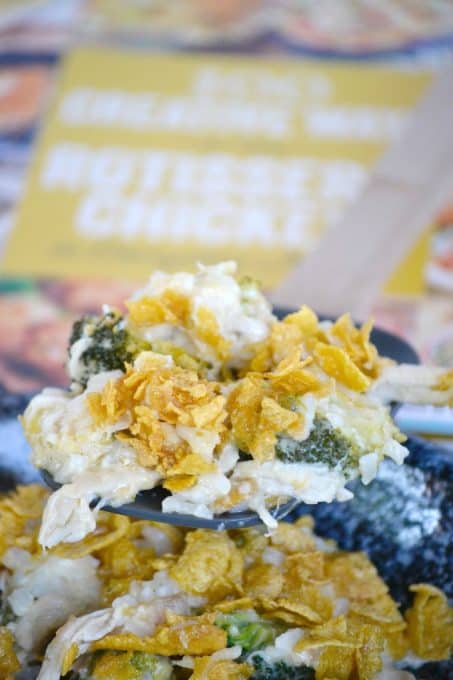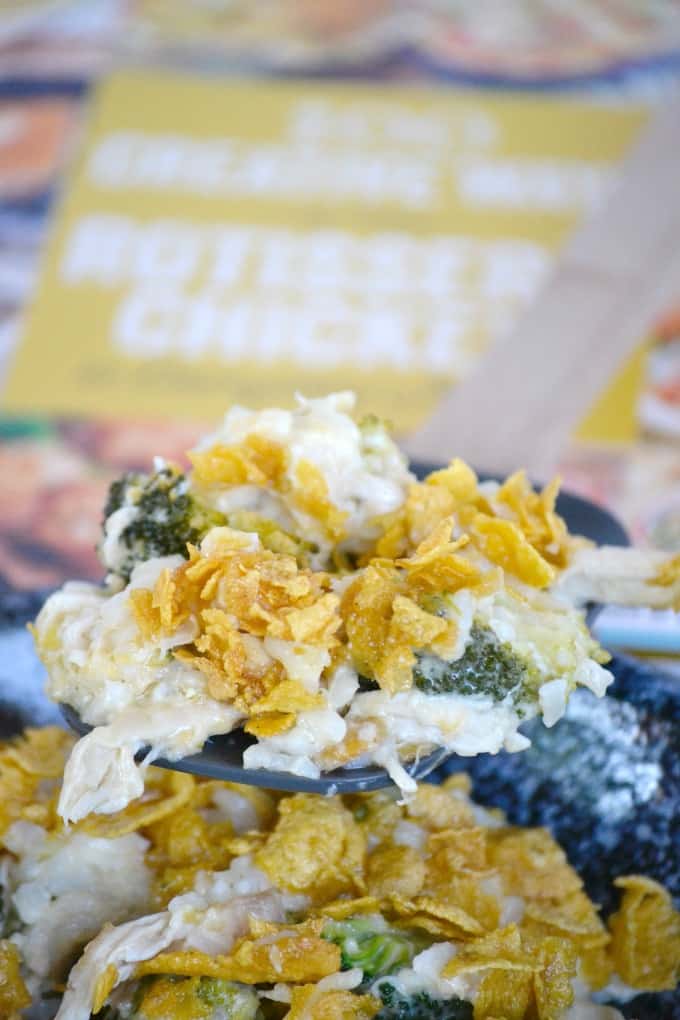 With this dinner and the other 99 recipes in this incredible cookbook, 100 Creative Ways to Use Rotisserie Chicken in Everyday Meals by Trish Rosenquist, you won't have to worry about either of those!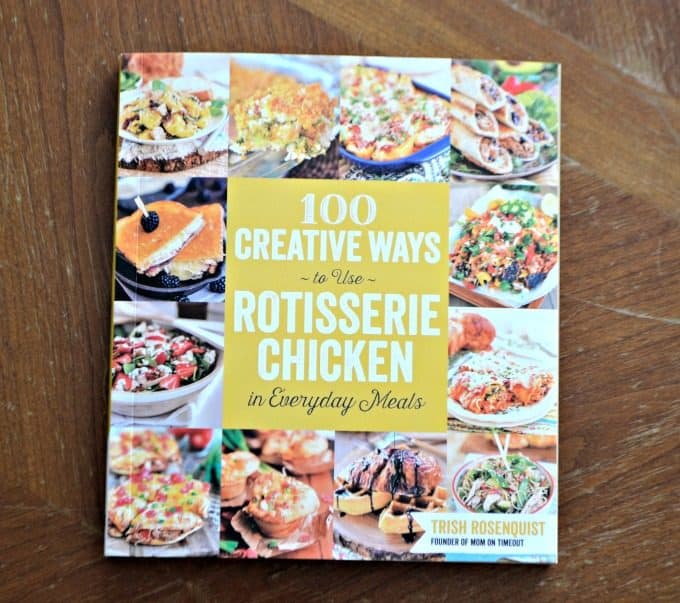 I was SO very excited when I received my cookbook for two reasons:
1) I love what a rotisserie chicken can do for my recipes. I don't have to cook them, they have lots of flavor, there's a lot of meat on the bird and they're versatile. I can use it in all sorts or recipes and know that they'll turn out really well with this great tasting chicken.
Ok, not desserts, but Mexican, American, Italian dishes and more come out tasting so well.
2) This cookbook is the baby of a dear friend. I had the pleasure of meeting Trish and spending time with her last February at a blog conference. It was one of those meetings where we became fast friends and I was sorry to see the weekend end. We talked, we laughed and it's been great to stay in touch with her.
If you've been following blogs (and that's ok, you can look at others besides mine. 😉 Really. ) then you may already be familiar with Trish's, Mom on Timeout. She is SO very talented and creative that I'm inevitably drooling whenever I see one of her recipes, especially her desserts. From her 20 Minute Skillet Monterey Chicken…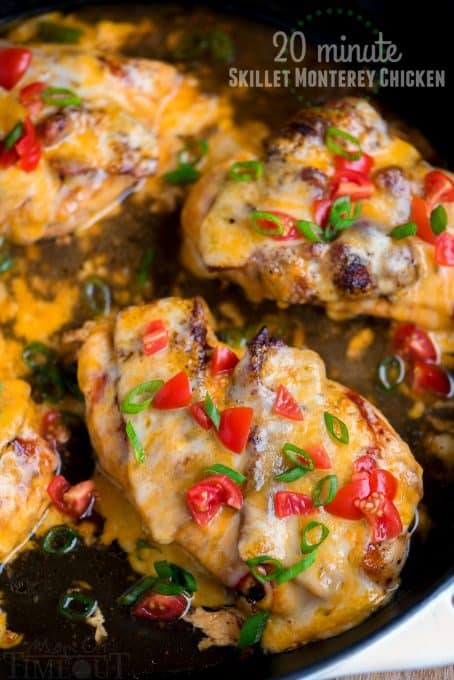 to her Tropical Fruit Salad with Honey Lime Dressing…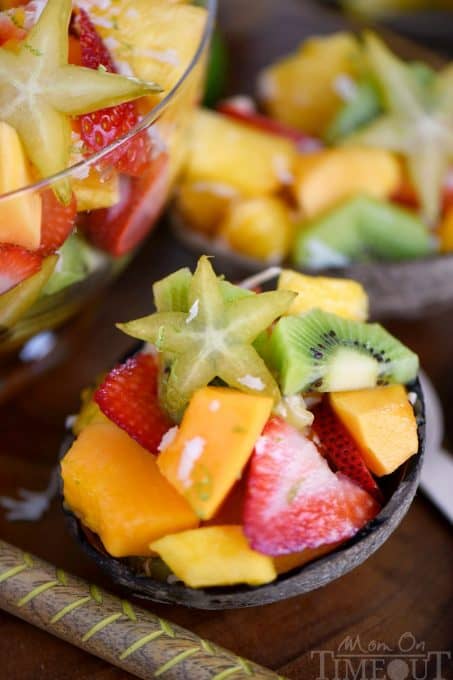 to her Coconut Cookie Cream Cookie Cups, she has recipes everyone will enjoy!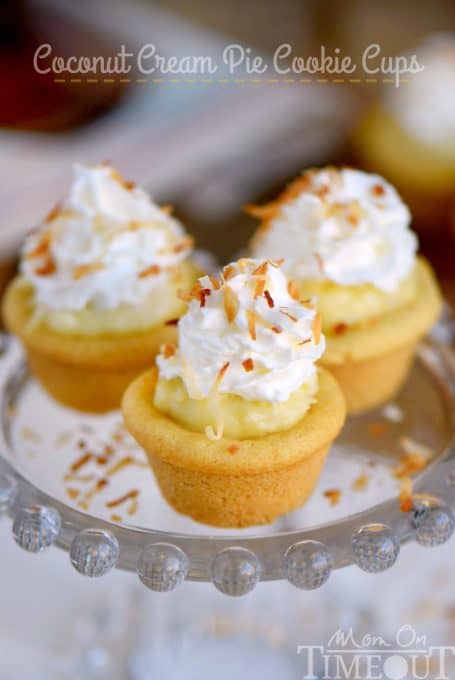 This girl is not messing around in the kitchen. She KNOWS her stuff!
Trish's cookbook is great. It like a lesson in Rotisserie 101 – where to buy it, how to store it, and she even talks about the drippings! She has recipes with 5 ingredients or less, 20-minute dinners, recipes for the slow cooker, salads, sandwiches and more. I know that this is one cookbook I'll be going back to again and again because I know I'm not restricted to using a rotisserie chicken in these recipes, I can also prepare the chicken myself.
The recipe I chose to make from Trish's cookbook was her Cheesy Chicken, Broccoli and Rice Casserole. I love a good casserole, know that my family will eat a chicken dish any night of the week and knew it was something you'd love as well. It also makes for a great recipe to start my Facebook Live Friday Night Dinner Series with! I'll be doing it at 8:30 EST tonight and if you can't be there, you can watch it on my Facebook page whenever you have a chance. It will be in the video portion of my page along with all of the other videos I've done.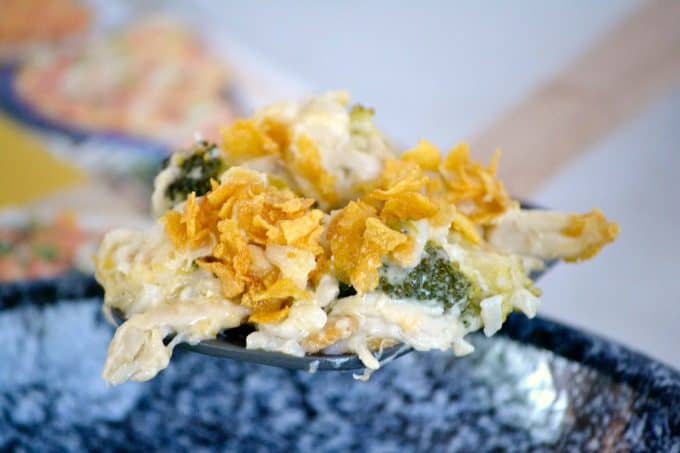 Cheesy Chicken, Broccoli and Rice Casserole
This Cheesy Chicken, Broccoli and Rice Casserole has melted cheese, broccoli florets, rice and uses a rotisserie chicken, making it a great dinner for a busy weeknight or when you you don't want to go to a lot of trouble preparing it.  From Trish Rosequist's (Mom on Timeout) cookbook, 100 Creative Ways to Use Rotisserie Chicken in Everyday Meals.
Ingredients
3 cups diced rotisserie chicken
3 cups broccoli florets, chopped
1 10 3/4-ounce can Cream of Chicken condensed soup mixed with 1 can of water
2 cups cooked rice
1 cup shredded Cheddar Jack cheese
1/2 cup mayonnaise
2 cups corn flakes
2 tablespoons unsalted butter, melted
Instructions
Preheat the oven to 350 degrees F. and prepare a 9 X 13-inch baking dish by spraying it with cooking spray.
In a large bowl, combine the chicken, broccoli, rice and cheese.
In a small bowl, whisk together the soup, water and mayonnaise.
Pour the soup over the chicken mixture and and with a large spoon, mix.
Place into the prepared baking dish and evenly spread the corn flakes.
Drizzle the melted butter over the cornflakes and bake for 30 - 35 minutes, or until heated through.
Notes
Trish's recipe said that you could mix everything together in the baking dish before putting it into the oven, but it was just easier for me to do things in bowls.
https://www.365daysofbakingandmore.com/cheesy-chicken-broccoli-rice-casserole/
If you like this Cheesy Chicken, Broccoli and Rice Casserole then you'll love…
Chicken Divan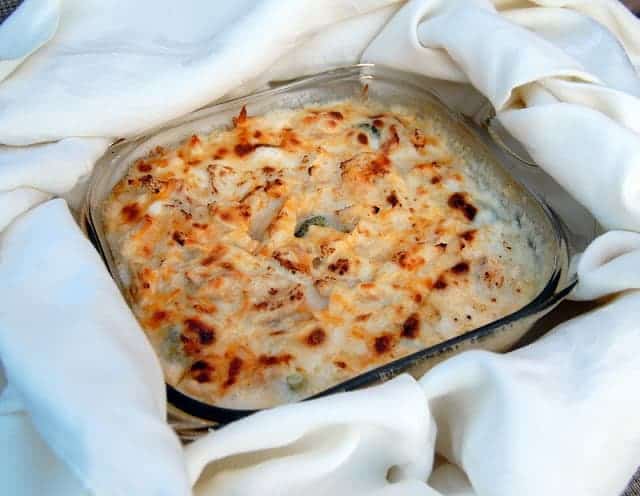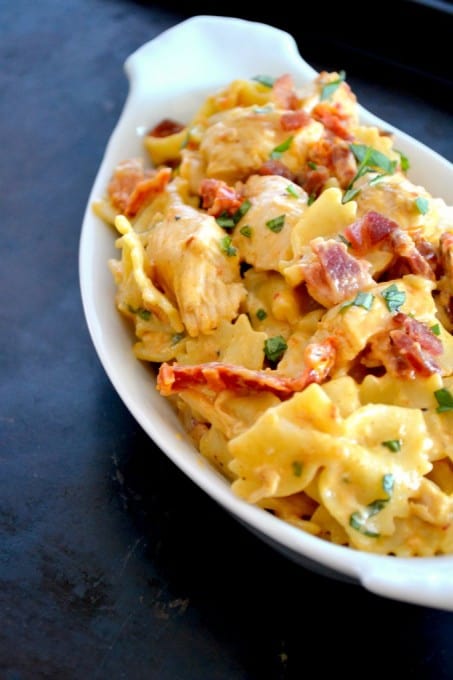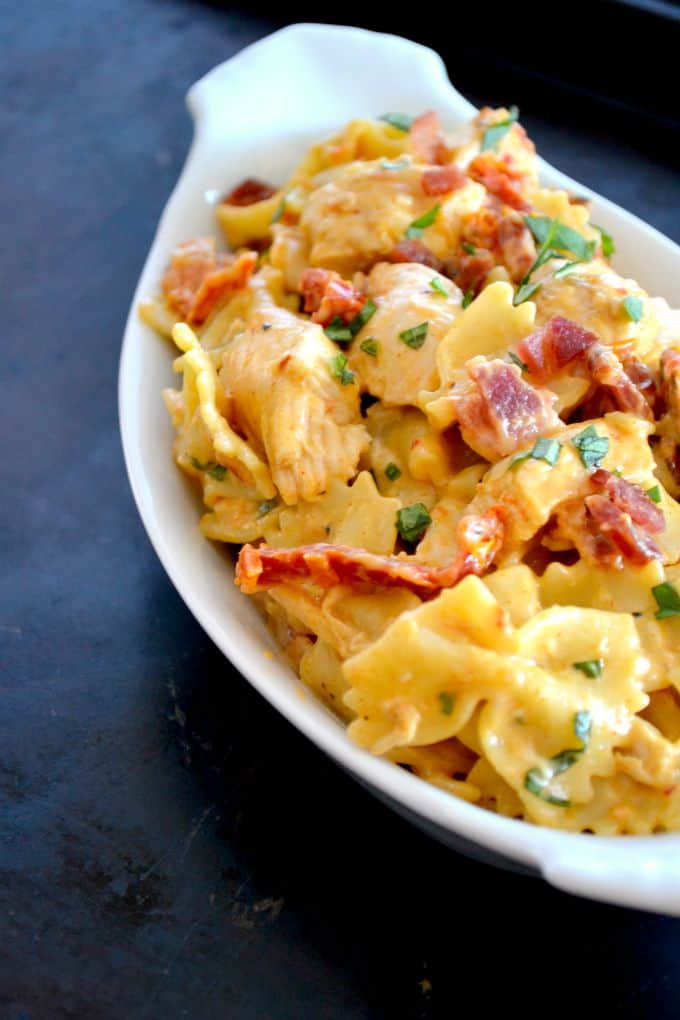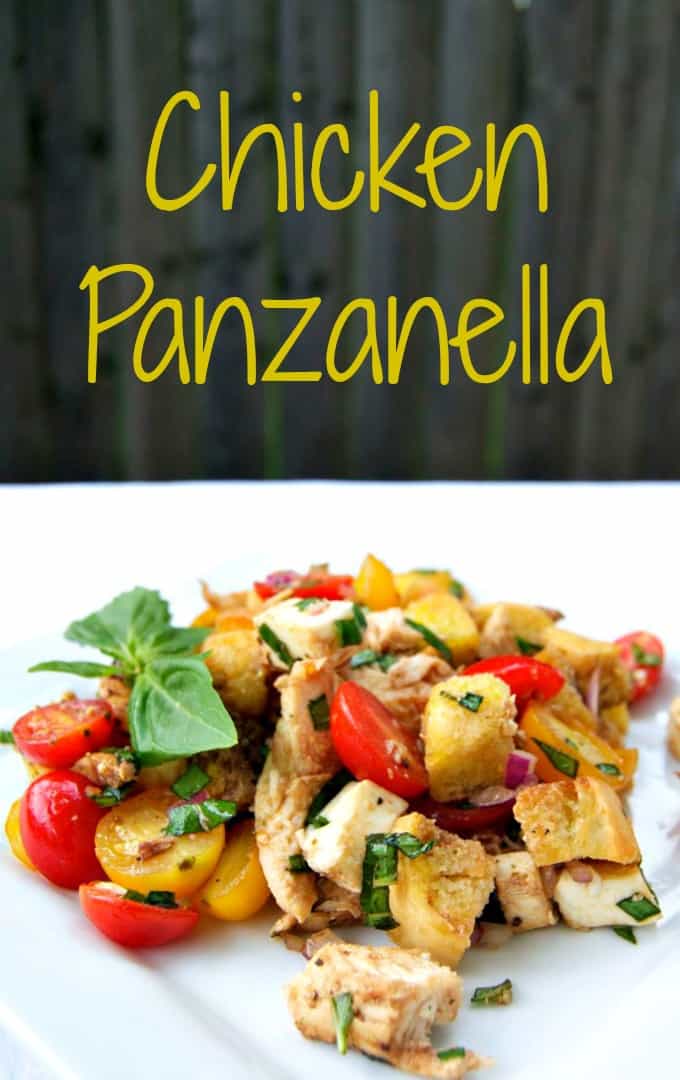 Take a look at these other chicken casseroles from some of my blogger friends:
'Cracked Out' Tater Tot Chicken Casserole from Plain Chicken
Chicken Noodle Casserole from Life in the Lofthouse
Fajita Chicken Casserole from Southern Bite
Cheesy Chicken Alfredo Casserole from Lil' Luna
Chicken Parmesan Casserole from The Recipe Critic
This post contains an affiliate link(s). These are links that can take you to a product (or products) that I recommend. I do receive a portion of the sales or credit for my future purchases from any items purchased through those links. Your purchases encourage my baking, cooking and butter habit, and contribute to the life of this blog. I thank you so very much for your support. Let's keep having fun in the kitchen!!
I volunteered to do a review of Trish's cookbook, and all opinions are 100% mine. Thanks for supporting us!
I give you BIG baking hugs and muffins!!