Chicken Divan is a hearty chicken dinner that's perfect for any night of the week! Broccoli and chicken are baked with a creamy white wine sauce in this easy casserole recipe.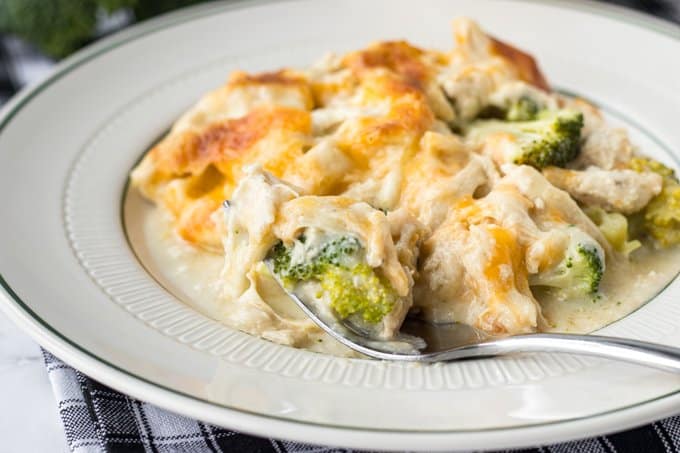 If you think casseroles are bland, you haven't tried Chicken Brococli Divan.
This Chicken Divan is on another galaxy compared to other chicken casseroles out there. There aren't many casseroles I find myself craving on a regular basis. Chicken Divan is a delicious exception!
SAVE THIS EASY CHICKEN DIVAN RECIPE TO YOUR FAVORITE PINTEREST BOARD!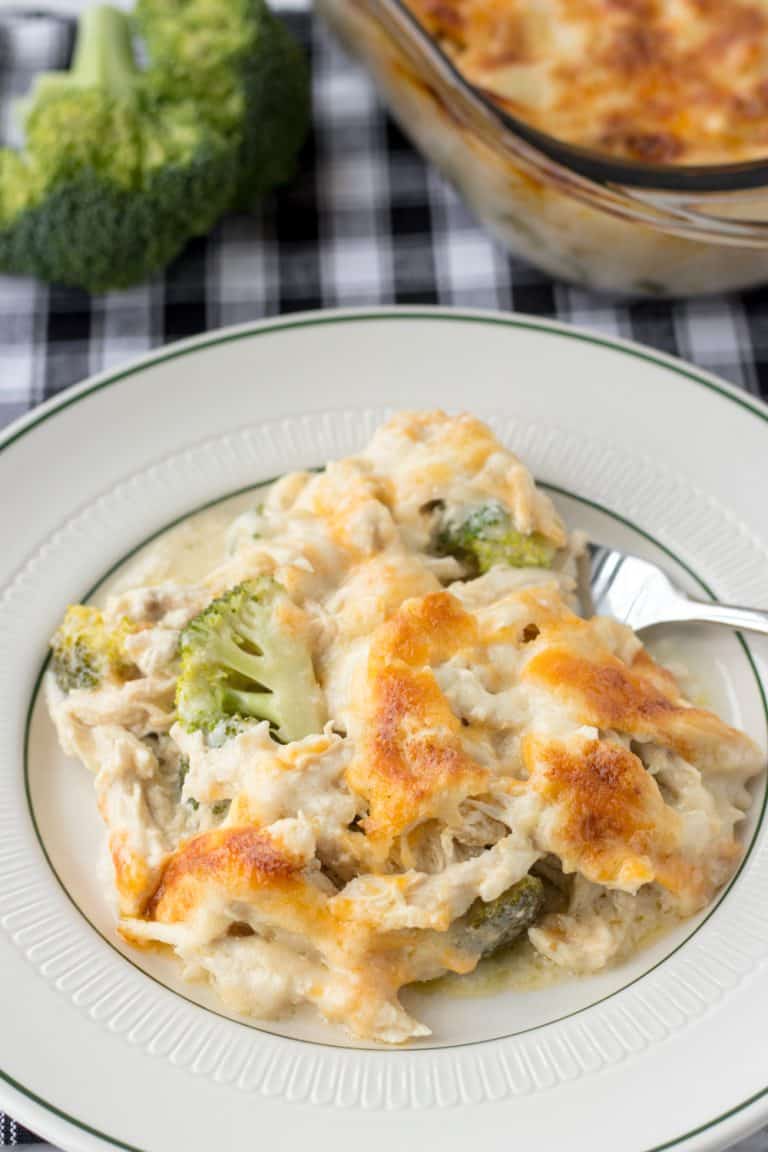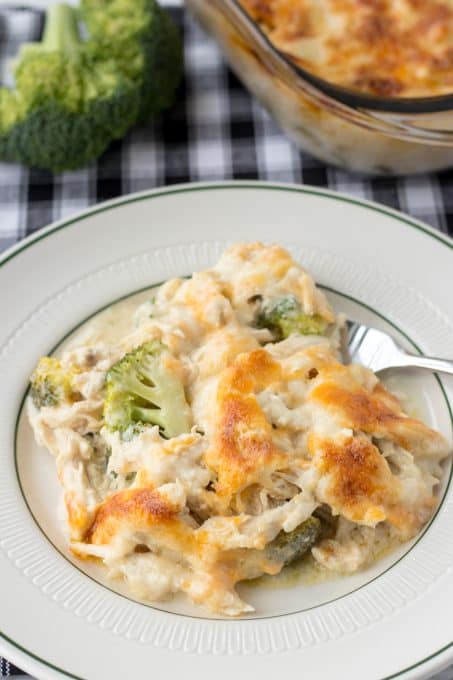 My family can't get enough of this chicken casserole which is good for me because I'd happily eat it every night of the week. I'm always surprised by how easy this chicken broccoli casserole is to make, considering how incredible it tastes!
The sauce has the perfect creamy consistency with a rich, cheesy flavor. It's so good I often find myself wanting to grab a spoon and eat it right out of the pan. Paired with the juicy shredded chicken and crisp broccoli, it'll leave your belly very happy indeed, and I love to serve it over rice.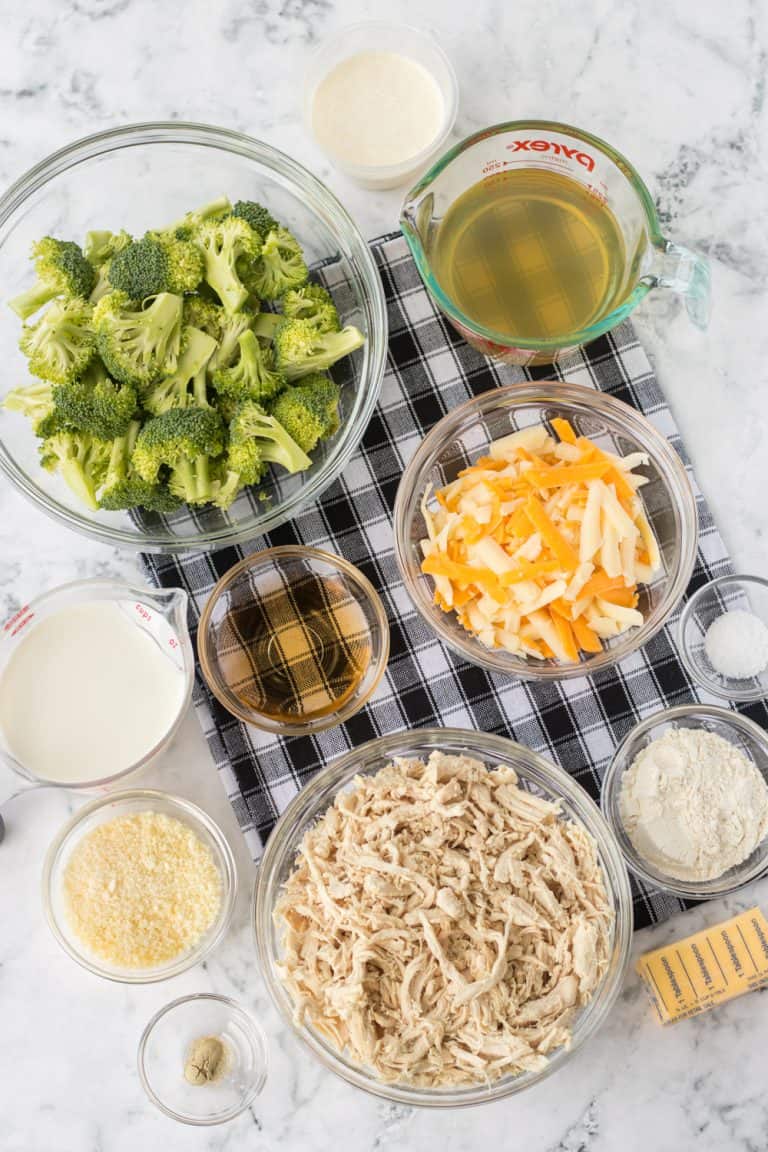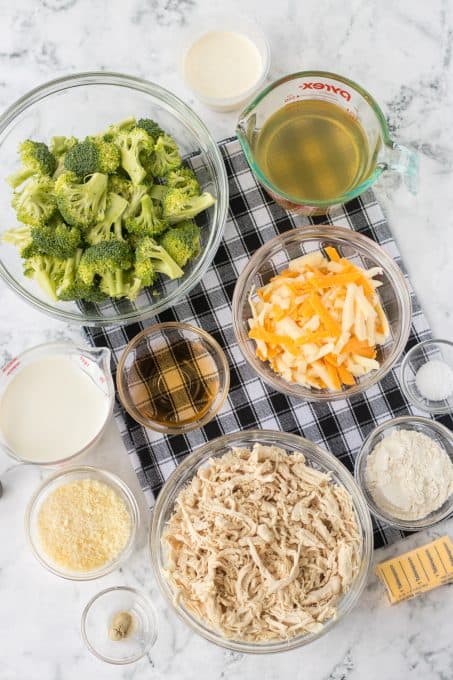 What do I need?
Cooked chicken breast – Rotisserie chicken from the grocery store is perfect!
Dry sherry – Or another dry fortified wine.
Flour
Chicken broth
Butter
Milk
Broccoli
Heavy cream
Shredded cheddar cheese
Grated parmesan cheese
Salt and pepper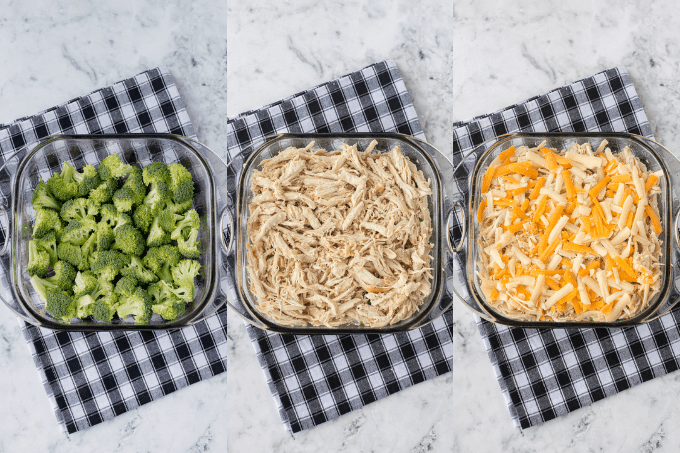 How do I cook chicken for Chicken Divan?
For this recipe and others that require cooked chicken, I use my George Foreman Grill. It cooks the chicken in about 7 minutes flat, leaving it tender and very juicy! It's also very handy to use when I want to make a very quick dinner.
If I'm in a hurry, I often grab a rotisserie chicken from the grocery store. Shred the rotisserie chicken and make sure you have 3 full cups. OR maybe you're lucky enough where you can buy the rotisserie chicken already shredded at your favorite grocery store. If you don't see it, ask them!
This Chicken Broccoli Divan recipe is also a great way to use any leftover cooked chicken you have stored in the fridge or freezer.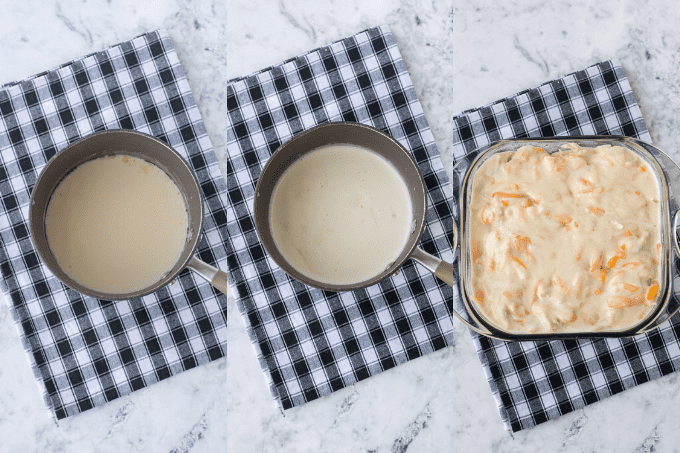 What can I use instead of sherry for cooking?
Sherry, a dry fortified wine, adds a delicious dimension of flavor to the white sauce. You can substitute other dry white wines like sauvignon blanc, chardonnay or pinot grigio in a pinch. The alcohol cooks off during cooking leaving only the crisp, complex flavor that perfectly compliments the heavy cream.
If you prefer not to cook with any alcohol, swap out the sherry for apple cider vinegar. The tartness of the vinegar functions similarly when combined with the cream base. Although the flavor won't be exactly the same as if you were using the sherry, this chicken recipe will still be delicious.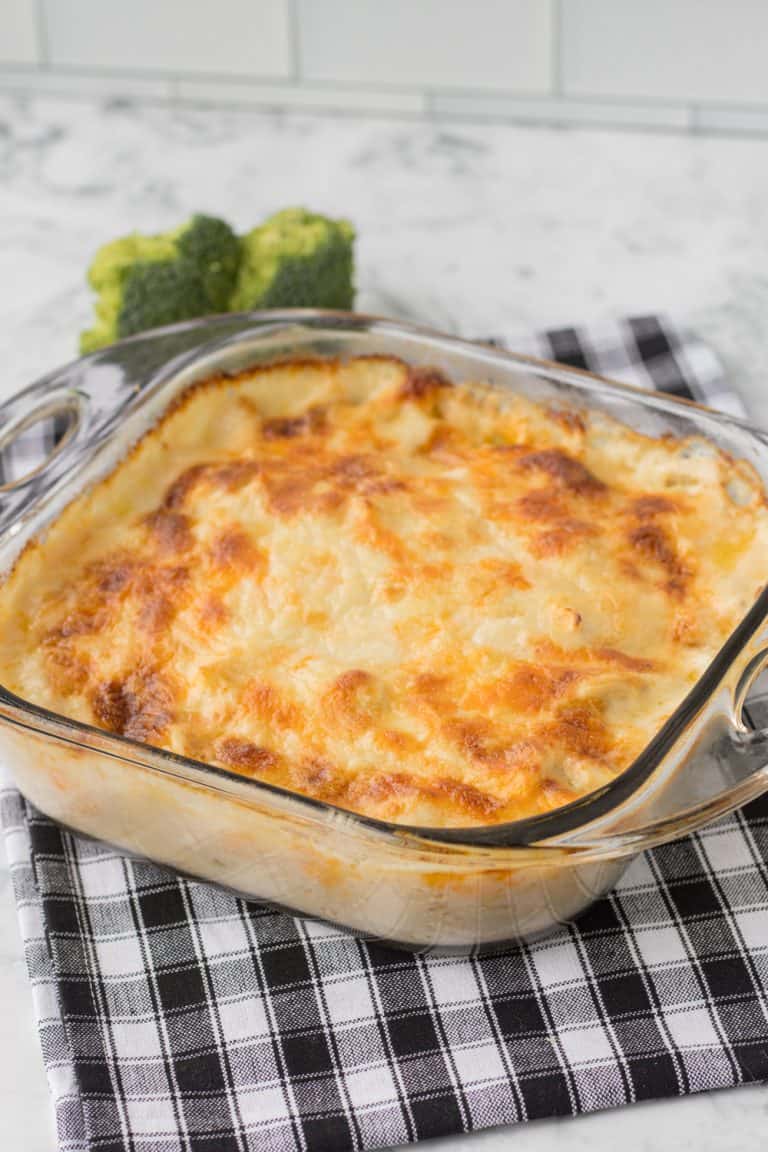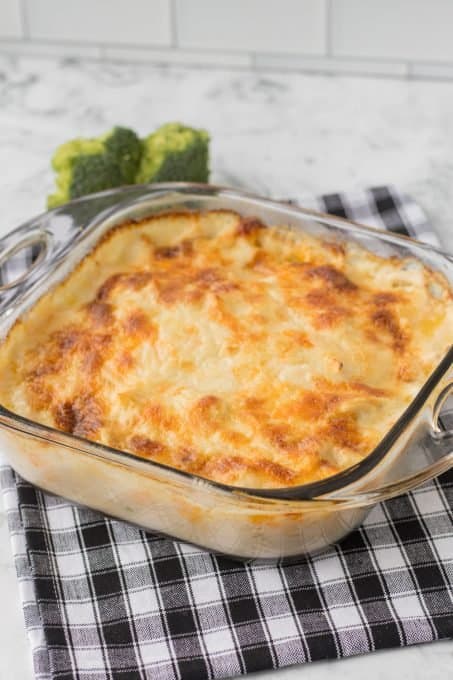 Can this be made ahead of time?
You can prep this chicken dinner ahead of time then pop it in the oven to bake about 30 minutes before dinner time.
Assemble the chicken and broccoli in your casserole dish, make the sauce and pour it over the chicken. Sprinkle the cheese over the whole thing, then cover and store in the fridge until ready to bake (up to 24 hours).
Baked Chicken Divan tastes best eaten fresh while still hot and bubbly from the oven. Leftovers store well in the refrigerator for about 3 days. Reheat in the microwave or oven before enjoying!
Can this be frozen?
Yes, this Chicken Divan recipe holds up well to freezing both before and after it's baked.
To freeze before baking: Assembling the casserole in a disposable foil baking dish. Double wrap it in freezer bags and place in the freezer. Bake frozen casserole and enjoy within one month.
To freeze after baking: Transfer leftover Chicken Divan to a freezer safe container. Store in the freezer for up to 3 months. Thaw frozen Chicken Divan in the refrigerator over night then reheat in the microwave or oven before serving.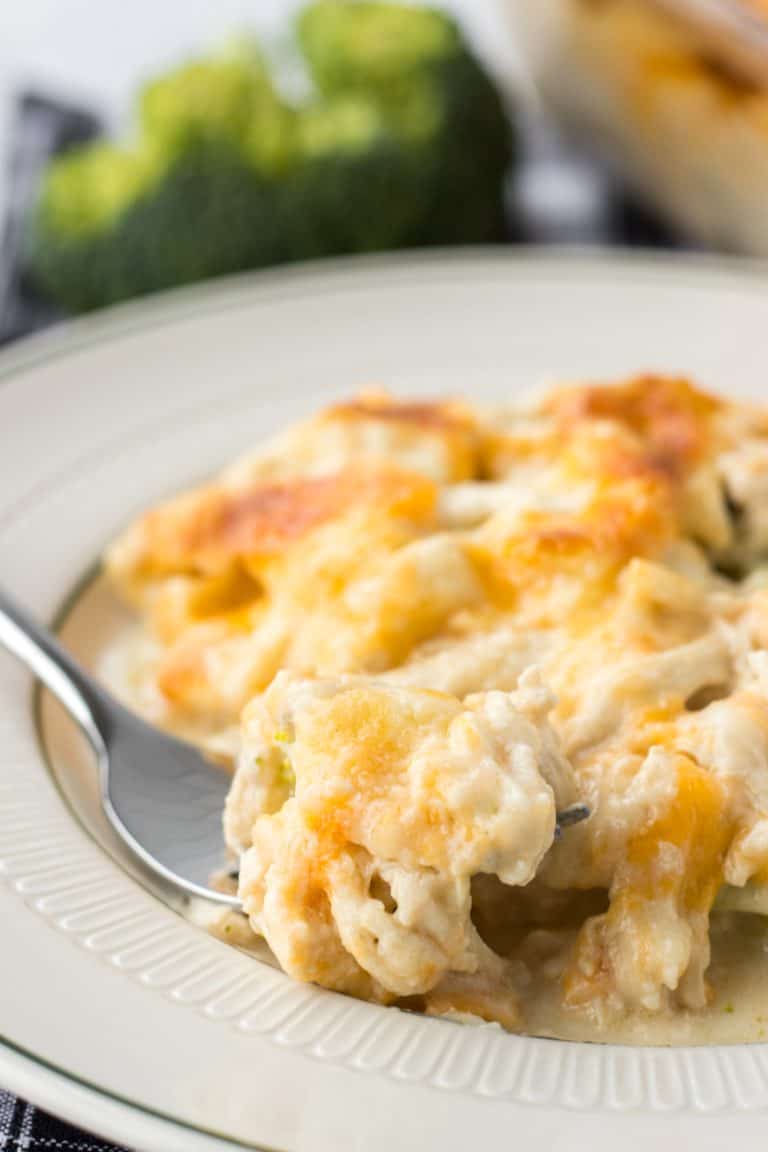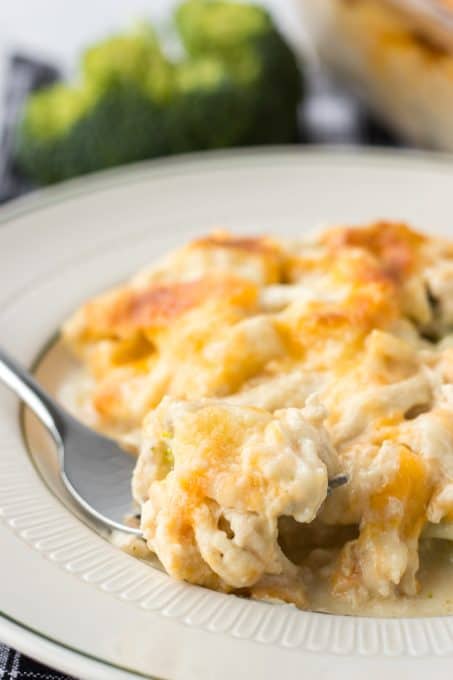 Chicken Recipes
Chicken is a regular fixture on my family's dinner table. There are seemingly endless ways to prepare it so you never get bored!
Along with Chicken Divan Casserole, we love other easy baked chicken dinners like this Cheesy Chicken, Broccoli and Rice Casserole and this comforting Chicken Noodle Casserole Recipe.
If you're looking for a chicken recipe with a little more heat, these Chicken Enchilada Bites are perfect! Or serve these Buffalo Chicken Meatballs on a hearty sandwich roll.
On the lighter side, I suggest trying our Greek Quinoa Chicken Salad recipe. It's a delicious lunch or light dinner for a warm summer night. You'll love this Chicken Taco Salad too!
For an easy chicken dinner that warms body and soul while filling your belly, you can't go wrong with Chicken 'N' Dumplins. I've made that dish about as many times as I've made this Chicken Divan recipe. For a good reason!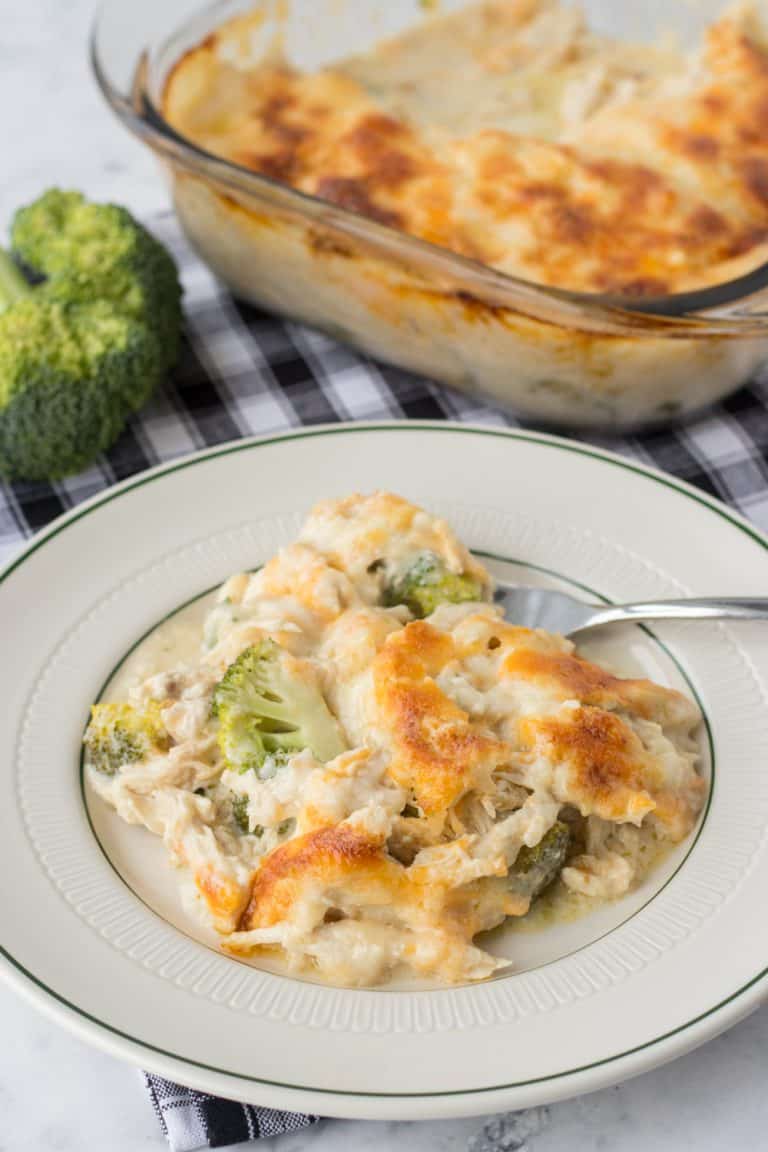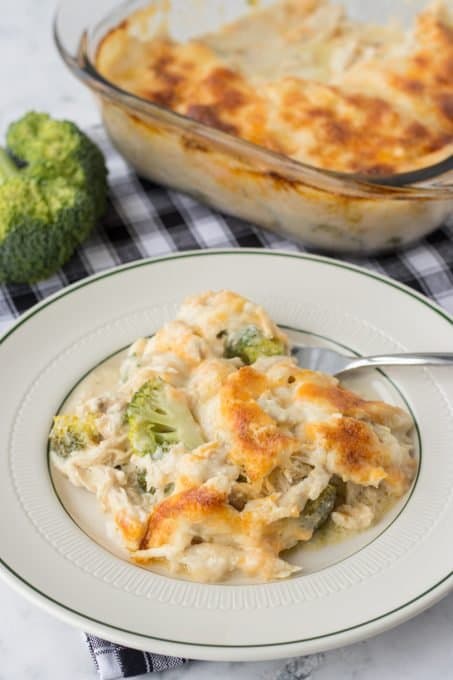 Dinner Recipes
Stop dreading the question "Mom, what's for dinner?"!
After you fall in love with this flavorful Chicken Divan Casserole, you'll want to try all the other quick and easy dinner recipes I've blogged about (and devoured) over the years!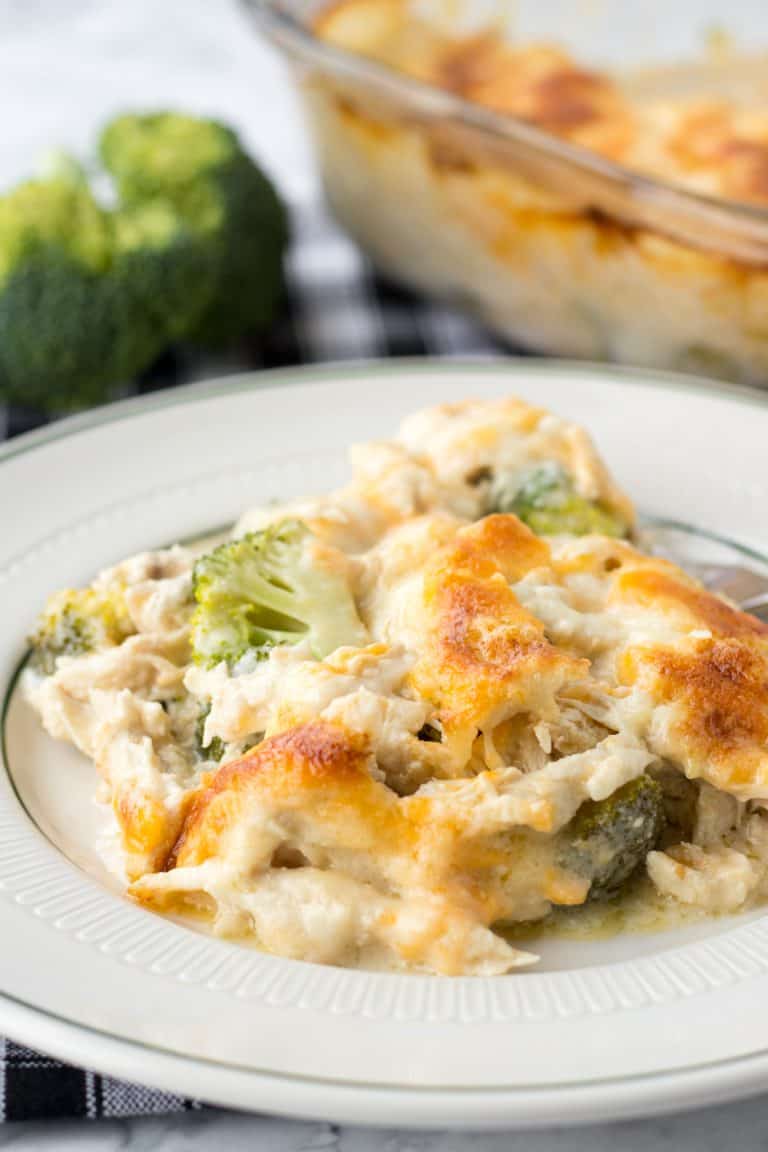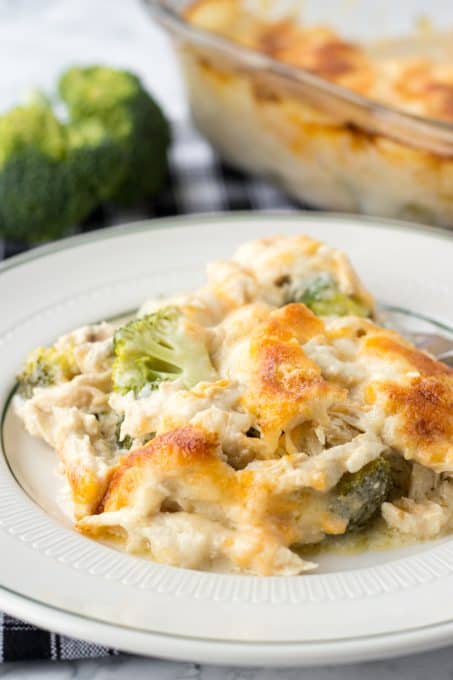 Creamy, nourishing and packed with flavor, Chicken Divan is the perfect easy dinner!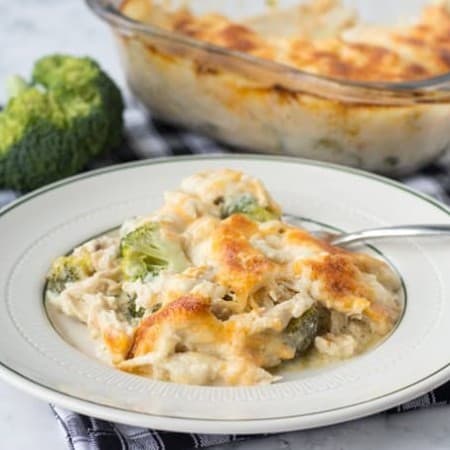 Chicken Divan is a hearty chicken dinner that's perfect for any night of the week! Broccoli and chicken are baked with a creamy white wine sauce in this easy casserole recipe.
Equipment
1 8 X 8-inch baking dish

1 medium saucepan
Ingredients
¼ cup butter
¼ cup sifted flour
1 cup chicken broth
1 cup milk
¾ teaspoon salt
⅛ teaspoon white pepper
¼ cup grated Parmesan cheese
3 tablespoons dry sherry or unfiltered apple cider vinegar if you prefer not to use the alcohol
3 cups trimmed and chopped broccoli
3 ½ cups cooked chicken I often use shredded rotisserie chicken.
1 cup shredded Cheddar / Monterey Jack Cheese
½ cup heavy cream
Instructions
Preheat oven to 350 degrees F.

Melt butter in a saucepan over moderate heat, blend in flour, slowly add broth and milk, and heat stirring until thickened; mix in salt, pepper, the ¼ cup Parmesan cheese, and the sherry.

Arrange broccoli in a single layer in a buttered 8 X 8-inch baking dish and top with chopped chicken. Spread shredded cheddar/jack cheese evenly over chicken.

In a mixing bowl, beat cream until soft peaks form and fold into sauce.

Pour evenly over chicken.

Bake, uncovered for 30 minutes until bubbly.

Broil quickly to brown and then serve.
Nutrition
Serving: 1person | Calories: 584kcal | Carbohydrates: 16g | Protein: 45g | Fat: 37g | Saturated Fat: 20g | Polyunsaturated Fat: 3g | Monounsaturated Fat: 10g | Trans Fat: 1g | Cholesterol: 176mg | Sodium: 1174mg | Potassium: 677mg | Fiber: 2g | Sugar: 6g | Vitamin A: 1480IU | Vitamin C: 61mg | Calcium: 322mg | Iron: 3mg
Did you make this recipe?
Share it with me on Instagram and make sure to follow me on Pinterest for more recipes.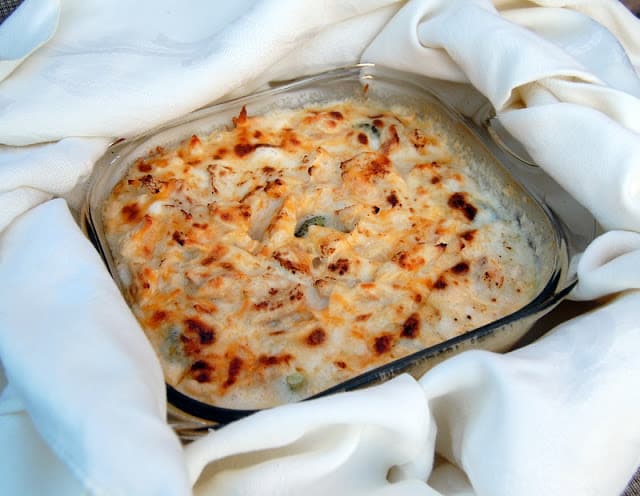 This post was originally published on May 10, 2011. It has been updated in format and with pictures on 4/27/22.
*We are a participant in the Amazon Services LLC Associates Program, an affiliate advertising program designed to provide a means for us to earn fees by linking to Amazon.com and affiliated sites as well as ShareASale.
These are links that can take you to a product (or products) that I recommend. I do receive a portion of the sales or credit for my future purchases from any items purchased through those links. Your purchases encourage my baking, cooking and butter habit, and contribute to the life of this blog. I thank you so very much for your support. Let's keep having fun in the kitchen!!
Reader Interactions