Turkey Gyro Pockets with Tzatziki Sauce – the great taste of a gyro made healthier with turkey in a bite-size crescent roll. These will be great to serve for the big game, at your next party, as the main course and fun for the kids to eat!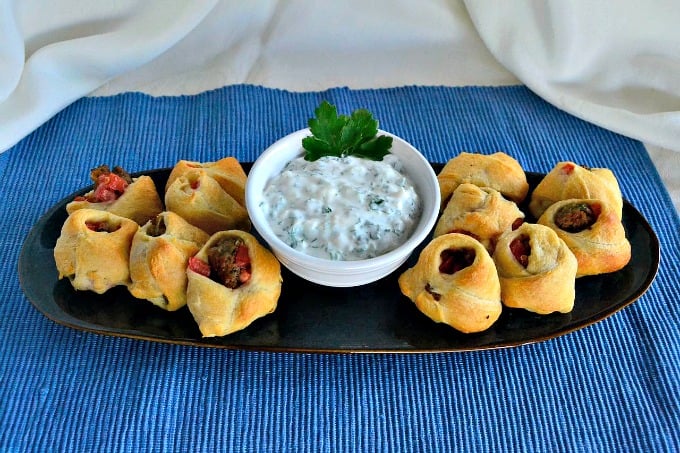 Who's ready for the game Sunday???
I know we are!
Being Patriot's fans, we're excited, nervous and everything in between that goes along with having your team in the Superbowl. We're also super stoked that it's happening here in Phoenix!
Hopefully, the outcome will be different than the last time they were here. That wasn't pretty.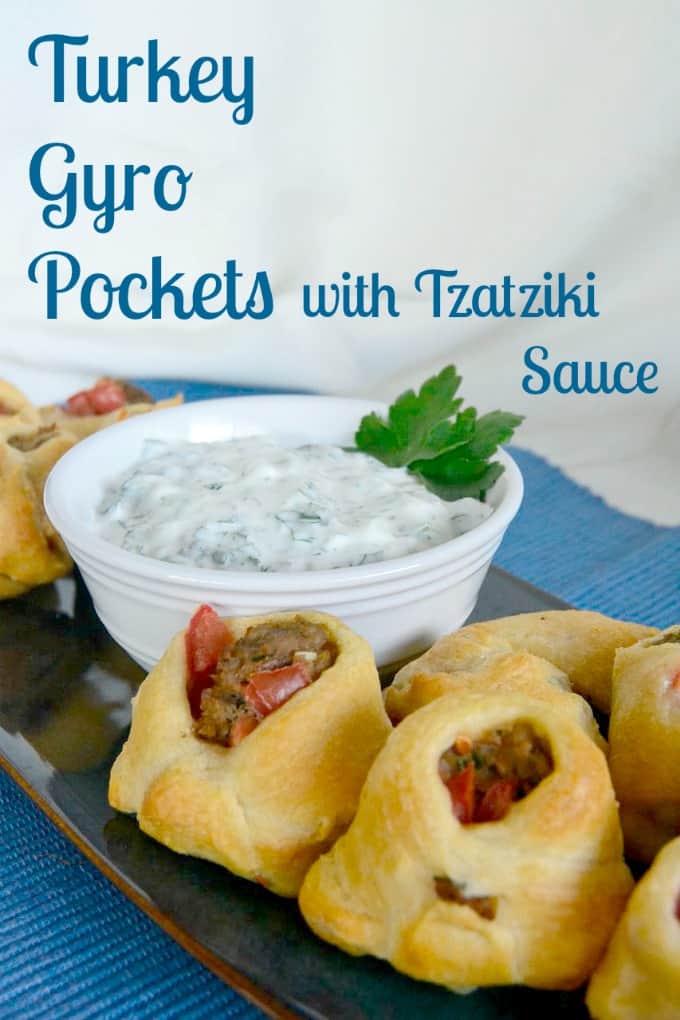 There are so many BIG things happening here in Phoenix this week! The Waste Management Phoenix Open in which the top golfers will be playing, including Tiger Woods, begins tomorrow. The NFL ProBowl was on Sunday. There are concerts, parties, events and major celebrity sightings all over town, AND you-know-what happens on Sunday, Sunday, SUNDAY!!!
SAVE THIS GYRO POCKET RECIPE TO YOUR FAVORITE PINTEREST BOARD!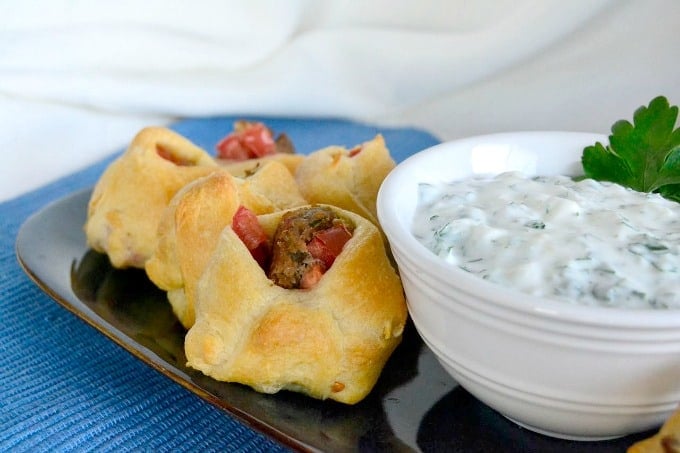 Mr. 365 went with a friend to the ProBowl this past Sunday. Tomorrow, our son and his friend will be going to the NFL experience while the Mr. heads off to Scottsdale to watch golf. I'm just dying to take a little trip to see the sights around the football stadium, but not sure when or if that will happen.
Ok, on to the FOOD! I made Taco Pockets a while back and continue to serve those quite a bit for dinners and on Game Days, but this year decided to go with a different nationality. These have now become a hit as well.
Here's the low-down on what you'll need to do.
First, you're going to mix all those great things with your turkey and form them into four loaves about 1/4 – 1/2 inch in thickness.
Raw meat. Yeah. It's never very photogenic.
Then you're going to brown the turkey in your skillet on top of the stove for a few minutes on each side. It won't be cooked all the way through, so we're going to pop it into the oven at 500 degrees F. for 5 – 7 minutes until it cooks through.
Make sure you're using an oven-proof skillet and REMEMBER when you remove that pan from the oven, it's going to be H-O-T, HOT – please use that oven mitt!! Also, don't be like me after you take it out of the oven and a few minutes later forget that the handle is STILL really HOT!! OUCH!!! Silly girl.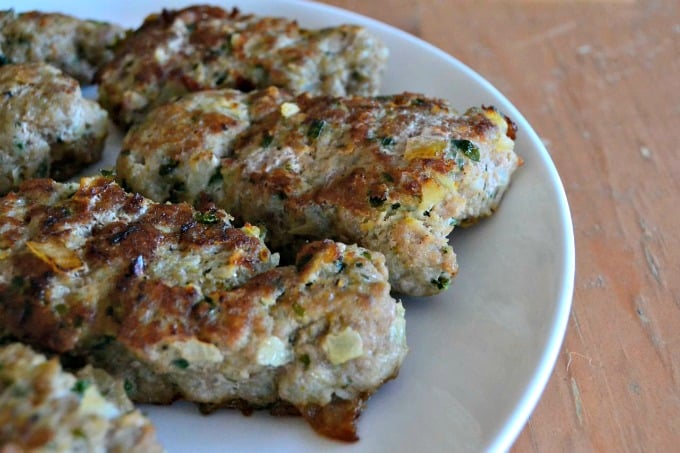 Slice those cooked turkey loaves so that each has 8 pieces for a total of 32.
Next, we're going to unroll those crescent rolls and divide each triangle into two smaller ones. They aren't all the same size, and to be honest, some might be harder to fold over and tuck, but it's no biggie.
Your guests or family aren't going to gasp and go, "Oooh, look! That little one isn't wrapped as nicely as that one. For shame!" Not gonna happen. Besides, they're all going to end up in the same place and there it doesn't matter what anything looked like in the beginning.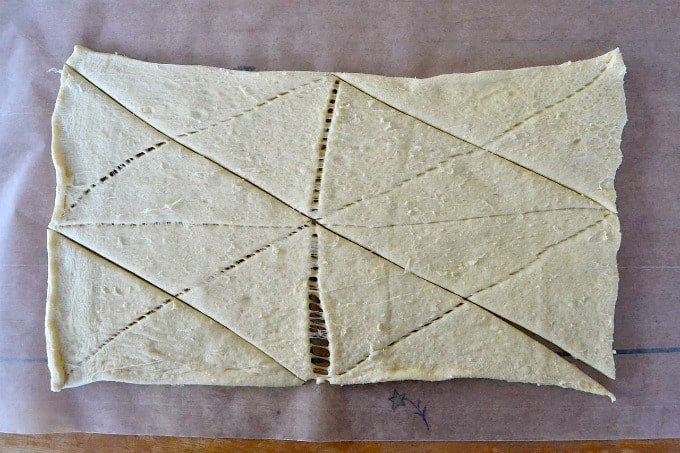 Then you're going to put a gyro slice and some chopped tomato on each crescent.
Below is the way you're going to fold the corners over so that it's all wrapped up. Also, if some pieces of tomato fall out, no biggie, just pop those babies back in.
I should also mention that in the photos below you can see the words, "Tri-butt" written. I need to explain because as much as I wanted to erase them from the picture, I also wanted to keep it real as I usually do here in my kitchen.
We have a tradition on our old, worn-out dining room table. For quite a few years now, when someone says something funny during our nightly meal, we've documented it…on the table. It is etched into the wood and written in with a black Sharpie. Our eldest daughter has competed in triathlons over the years, hence the writing you see above. The arrow is pointing to where she sits at the table.
Now, if you have young children who are eager to write on everything within arms reach this may not be something you want to encourage…or maybe you do. For our family, it has become a wonderful conversation piece and fun thing to do.
Perhaps one day that will be a post all on it's own and I'll show you the rest of the table.
The dough is just stretchy enough so that you can pull it up to tuck it. Some pieces may tear slightly, but as they bake, they might just surprise you and mend themselves!
Adapted from Pampered Chef's 29 Minutes to Dinner.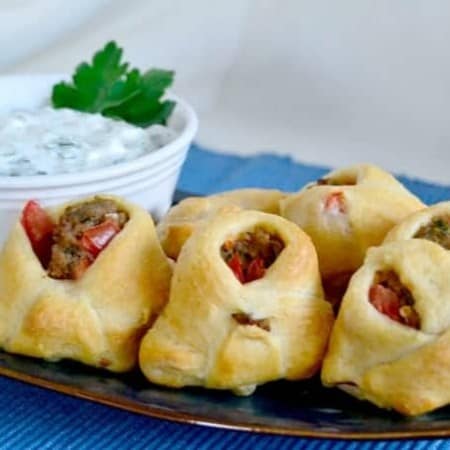 Turkey Gyro Pockets and Tzatziki
Ingredients
1 lb. 93% lean ground turkey
2 tablespoons fresh chopped flat leaf parsley
3 cloves garlic minced
½ small onion minced
½ teaspoon thyme
½ teaspoon Kosher salt
¼ teaspoon freshly ground pepper
¼ teaspoon curry powder
pinch of ground nutmeg
3 tablespoons olive oil
3 plum tomatoes diced
2 8- count packages Pillsbury Crescent Rolls
Tzatziki Sauce
1 cup plain Greek yogurt
½ English cucumber peeled, seeded and finely diced
4 tablespoons chopped flat leaf parsley
3 cloves garlic minced
¼ teaspoon Kosher salt
Instructions
Preheat oven to 500 degrees F.

In a large bowl, mix together the turkey, 2 tablespoons parsley, minced garlic, onion, thyme, salt, pepper, curry, and nutmeg. Use hands to mix completely.

Divide meat into four sections. Form each into a long rectangle about 1/4 - 1/2 inch in thickness.

Pour the olive oil into a large oven-proof skillet and heat on stove top over medium-high heat.

Place all four loaves of turkey into the skillet and brown on all sides, about 1 -2 minutes per side.

Transfer skillet to preheated oven and cook for 5 - 7 minutes or until a thermometer inserted into the middle of each reads 165 degrees F.

Reduce oven temperature to 350 degrees F.

Divide each loaf into 8 slices.

Prepare your work surface by laying a long slice of parchment paper on it.

Unroll one packet of the crescent rolls and divide each triangle into two smaller ones, so that there are 16 smaller triangles. They will not all be symmetrical, but in the end it won't matter.

Place one piece of gyro meat on each crescent triangle.

Put a few pieces of diced tomato on each gyro.

Fold the outer corners over the top, pinching them to the dough.

Bring the bottom corner up over the folds to make the final appearance of a diaper.

Place onto a baking sheet.

Bake for 13 - 15 minutes until golden.

Continue with remaining crescents, meat and tomatoes and bake.
Tzatziki Sauce
In a medium bowl, mix together the Greek yogurt, diced cucumber, 4 tablespoons parsley and garlic.

Serve with gyro pockets.
Did you make this recipe?
Share it with me on Instagram and make sure to follow me on Pinterest for more recipes.
I rate everything I make on a scale of 1 -4 with 4 being the best and these Turkey Gyro Pockets with Tzatziki Sauce earned 3 1/2 rolling pins!
The family really enjoyed them. They're a great finger food to serve at parties and the sauce definitely completes them. Besides, who doesn't like things wrapped up in crescent rolls?
If you like these Turkey Gyro Pockets, then you're sure to love these…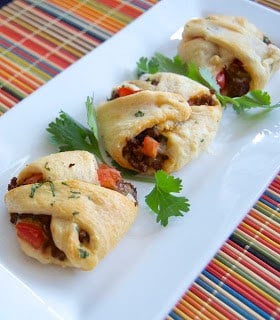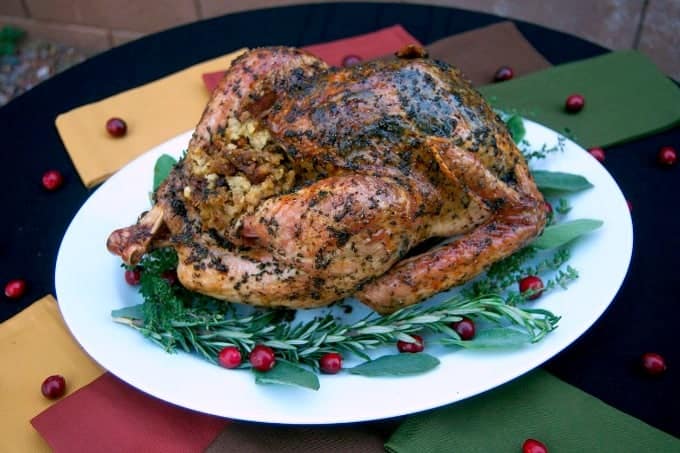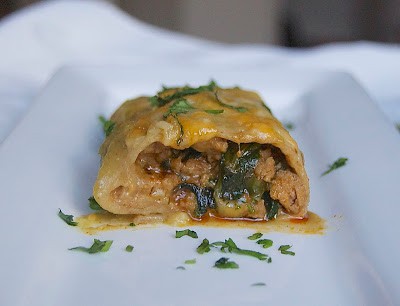 Reader Interactions