Deflated Footballs – these chocolate shaped footballs are great served by themselves, and as a cupcake or cake topper for this year's Superbowl party and you're guests will enjoy that you're up-to-date with the sports news.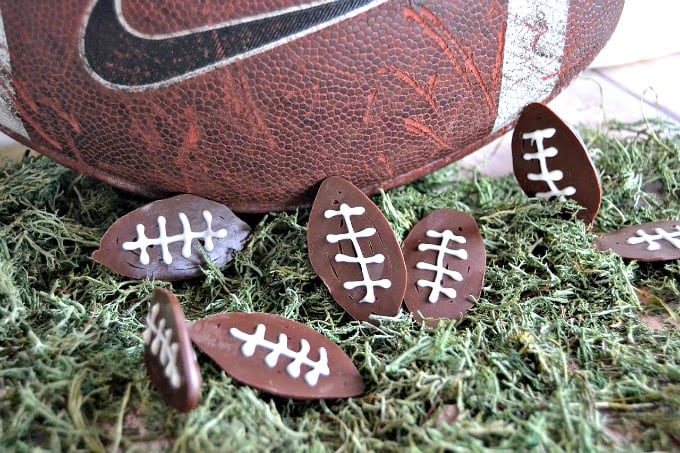 You've heard the rumors…
Unless you cut yourself off from the outside world this past week.
Is it true, is it not true? Did that team from New England purposely deflate 11 of the game balls so that they would have an edge over the Indianapolis Colts in last Sunday's AFC Championship game?
DEFLATEGATE, people! It's a first world problem when you come right down to it.
Seriously.
People are starving in America. There's domestic violence. Children are being abused. Innocent people are murdered every day.
Yet this latest hype about brown things that grown men get paid to play with and if they're filled with the correct amount of air to their sufficient capacity has changed our focus.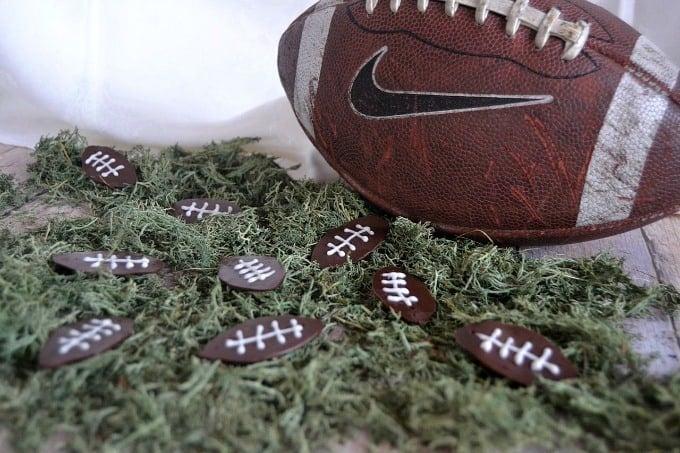 While I am an avid Patriot's fan, born and bred (for the most part) in Rhode Island, and remember the days of Steve Grogan, I would of course like to think "they" didn't do it, but I also know that there probably isn't one person living on the face of God's green earth who hasn't lied, cheated or stealed. No, I know… stolen – stealed just sounded better in the sentence.
I, for one, can't say I haven't done any of those and I'll be the first to admit it.
What was it momma said, "those in glass houses shouldn't throw stones" and "always make sure you have clean underwear on when you go out"?
Wait, the latter one really has nothing to do with this topic, unless…oh, never mind.

So, I don't know and frankly, I don't care. I wasn't present in the locker room, the equipment room, on the field, the sidelines, Kraft's luxury box or anywhere else in Gillette Stadium where I would have been privy to any information regarding ball inflating, deflating or what kind of hot dogs were being served that day. Although I would have liked to have been.
Yes, if cheating was involved then actions need to be taken to reprimand those involved. After all, the youth of America idolizes these players (as do some of us adults). Many of them are held in high esteem, and on pedestals, so it can be earth shattering when they fall from grace.
I know. I lived it. I was devastated when everything went (and at times, continues to go) down with Lindsay Lohan.
Ok, I digress. No judgement will I make. Now I sound like Yoda.
I know there are a bunch of you Patriot haters out there, so go on and hate. We can take it – New England sports fans are used to it. Now I've got Taylor Swift singing in my head, "and the haters gonna hate, hate, hate". I'm starting to ramble…
Anywho, now for some fun.
Hold on to your hats, folks, we're going to pipe some chocolate!
First, we'll need to start by drawing a football pattern.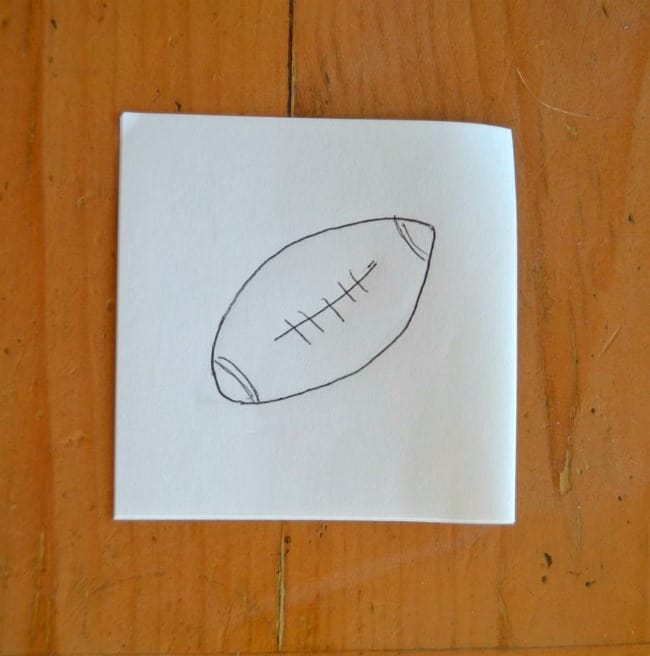 Next, we're going place the wax paper over the pattern and pipe the chocolate. It doesn't have to be perfect. The more wonky they are, the more deflated they'll look!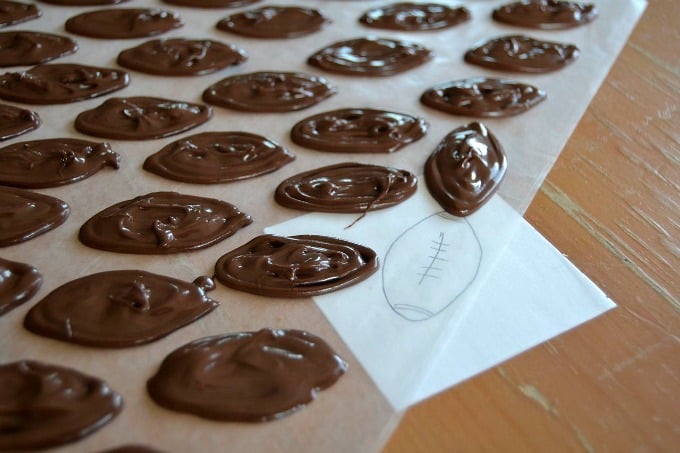 After they've cooled in the fridge, you'll remove them from the paper, turn them over and pipe on the laces.
Ta da!! Don't they look great?!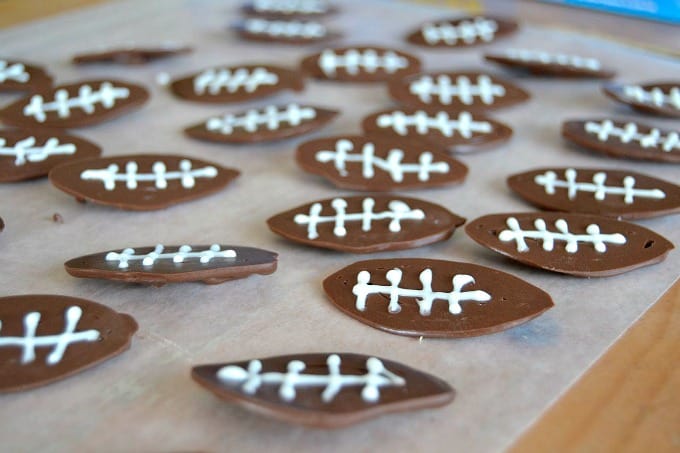 I found these over at Craftibilites, but of course, I had to change the name.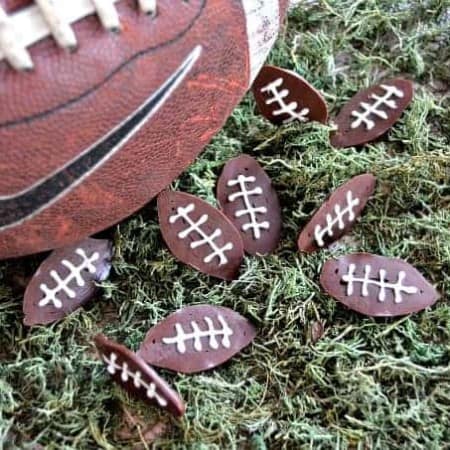 Ingredients
1 12- ounce package semi-sweet chocolate chips
1 ½ tablespoons shortening in small pieces
¼ cup white chocolate chips
1 teaspoon shortening
pen
Post-it note
wax paper
plastic sandwich bag
piping bag with couplet
Wilton #1 decorating tip
rimmed baking sheet
Instructions
Draw a football pattern on a post-it note.

Stick it to your work surface.

Tear a piece of wax paper off that will fit the back of the rimmed baking sheet.

Place the wax paper on top of the football pattern so that it is in one of the corners. You don't want to begin right smack dab in the middle of the paper because then it would be awkward.. Unless, of course you want to, then have at it.

In a medium microwavable safe bowl, pour the semi-sweet chocolate chips. Place in the microwave and melt for one minute. Stir, and if necessary, microwave for another 10-15 seconds, stirring again. When chocolate is completely smooth, add the 1 1/2 tablespoons of shortening. Stir until all pieces are completely melted and mixed throughout.

Pour the chocolate into a sandwich bag with one corner folded over. Seal the bag and cut a small opening in the folded corner of the bag.

Gently pipe the chocolate over the outline of the football and move into the middle until it is completely solid, being sure to fill in any gaps or holes.

Move the wax paper over the post-it to pipe another football.

Gently slide the wax paper with all of the footballs onto the upside down baking sheet. Place in refrigerator for about 10 minutes to set.

Meanwhile, melt the 1/4 cup of white chocolate chips in a microwavable bowl for 30 seconds. Remove from microwave and stir. Microwave for an additional 10 - 15 seconds if necessary. Stir. At this point, they should melt when stirred.

Add the 1 teaspoon of shortening and stir until completely melted.

Place the melted white chocolate into the piping bag fitted with the Wilton #1 piping tip.

Gently remove the footballs from the wax paper and turn over so that the flat side is face-up.

Pipe the laces onto the football.

Refrigerate the footballs until needed as they will become soft.
Notes
Adding the shortening to each chocolate will help prevent it from seizing, allowing for easy piping.
Did you make this recipe?
Share it with me on Instagram and make sure to follow me on Pinterest for more recipes.
These deflated footballs are going to be the talk of your Superbowl party. They're going to be great on top of some cupcakes, a cake or just served by themselves.
Oh, make some really funny lookin' ones and tell everyone that those were "Gronked"!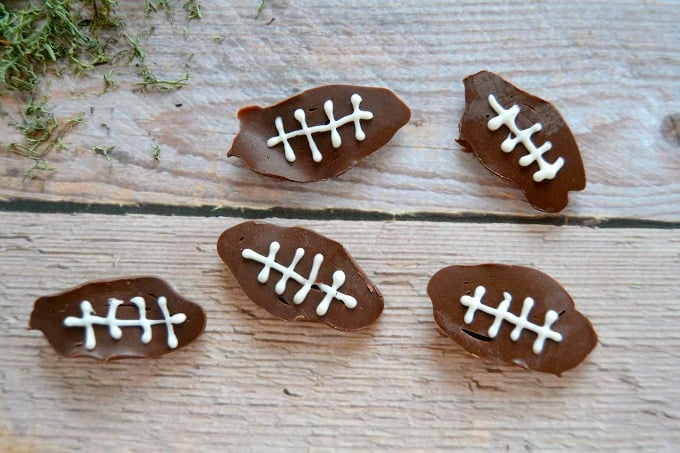 Oh, and what else was it momma said…
"Opinions and a$$holes, everyone's got one."
That's it for my snarky post today. It's been a few weeks since I've written, so I had to make up for lost time.
But… I'm BACK!!!! 😉
And if you like these Deflated Footballs, you'll love my…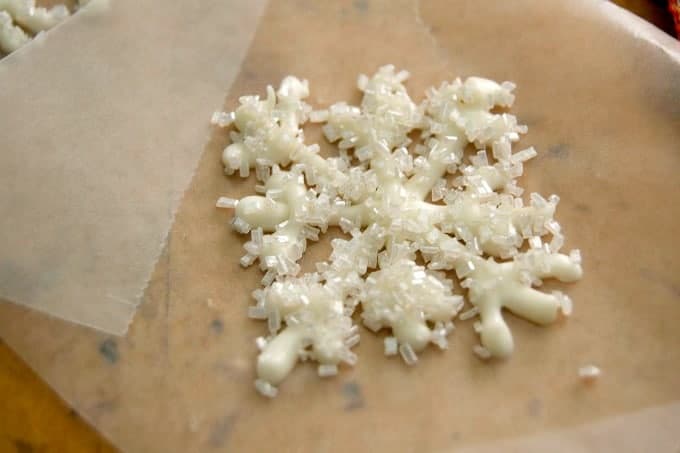 Reader Interactions