This is a sponsored conversation written by me on behalf of Albertsons. The opinions and text are all mine.
Tropical Quinoa Salad -this salad is loaded with pineapple, mango and Mandarin oranges, and it's also a great source of protein from the quinoa cooked in coconut milk.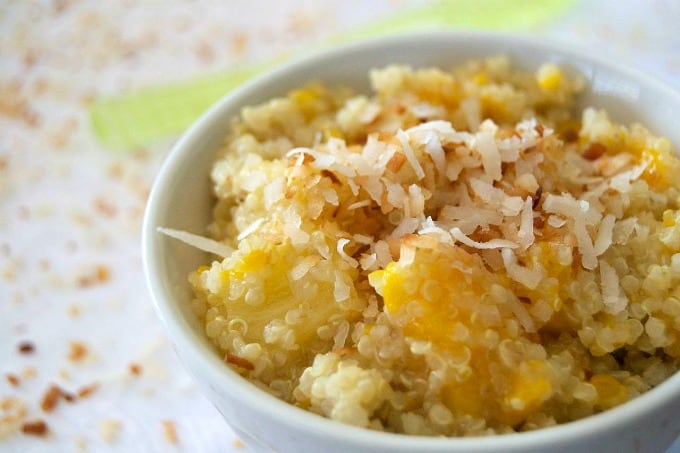 This salad couldn't come at a more appropriate time.
I am actually packing my bags and have my stuff all over my bedroom because I'm leaving for a cruise in the Tropics tomorrow and I am SO very excited!
I, along with a fantastic group of bloggers, will be cruising through the Caribbean Islands to learn, brainstorm and relax on a week long trip. Fun in the sun!
Oh, and don't worry, there will be pictures, pictures, pictures!! So keep stay tuned!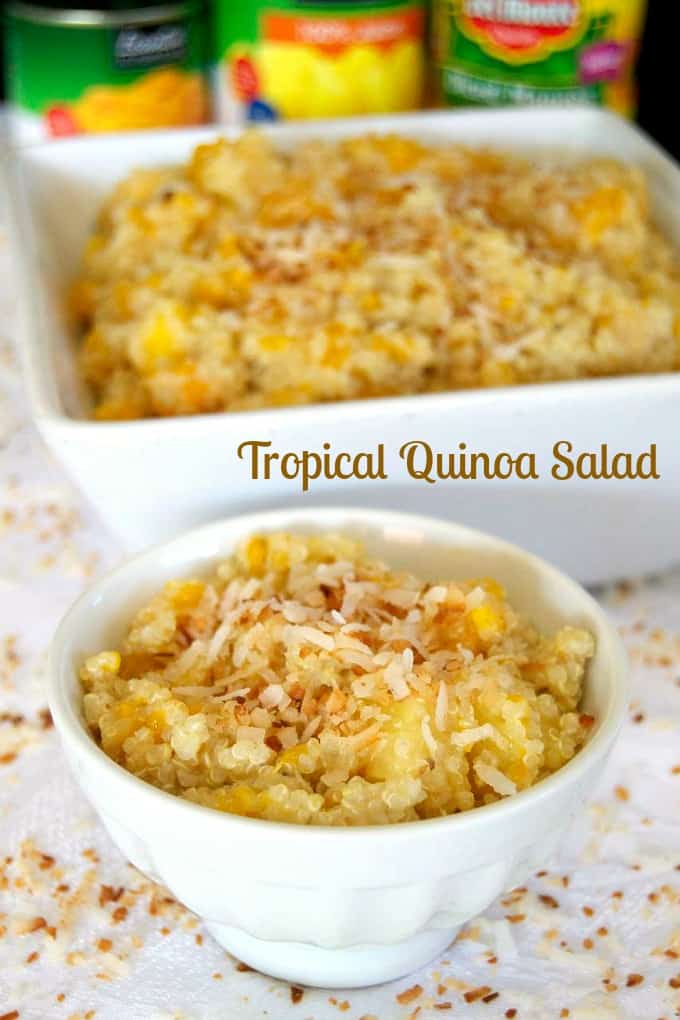 So, while thinking about my trip – a huge cruise ship, sandy beaches, clear skies, bright blue water and warm temperatures, I couldn't resist making up something to eat that would set the mood and already make me feel like I was there. This Tropical Quinoa Salad did all of that! I cooked the quinoa in coconut milk, mixed it together with some chunks of pineapple, diced mango, Mandarin orange slices, a touch of the juice and light syrups from the fruits and topped it with toasted coconut. Perfect!
The best part though is that it is so very easy to make this. Why, you ask? Well, I'm glad you asked.
See, the fruit is something you can keep for an extended time in your pantry because it's canned, so that when the urge comes to "go to the Tropics", you can whip up this salad!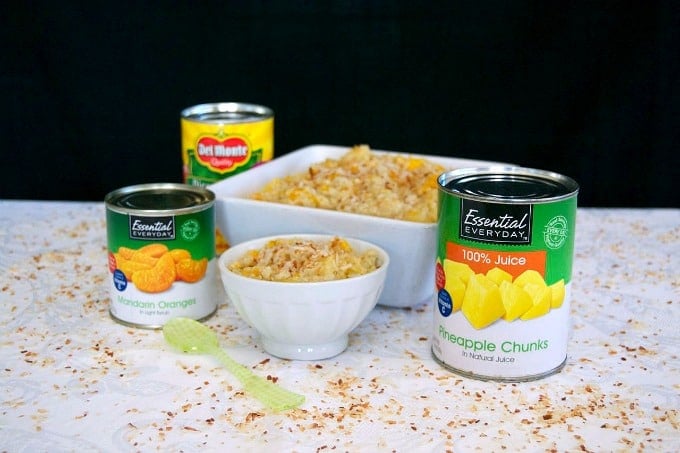 Did you know that February is National Canned Food Month? Yes, it is! So, pick up some cans to stock up that "cantry". That way you'll have plenty of food available to help you make nutritious meals you'll not only feel great about serving, but are delicious, too!
Canned foods are put on the shelf and forgotten about (haha – pun intended) as a great food source! We need to give canned foods their due!
Did you know that…
just hours after picking the food is packed into cans at the peak of ripeness and it's a great way to make sure the food from the farm gets to your table
you can add a variety of vitamins and minerals to your meals with canned fruits and vegetables
Cans are able to save you time on your meal prep which helps you serve a healthy meal to your family more often
Foods in cans usually cost half of what frozen foods do and can be 15 – 20% less than fresh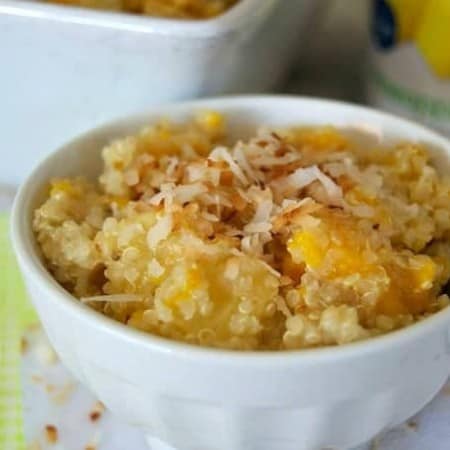 Ingredients
2 cups coconut milk
1 cup uncooked quinoa
1 20-ounce can pineapple chunks in natural juice, drained with juice reserved
1 15-ounce can diced mangos in light syrup, drained with syrup reserved
1 11-ounce can Mandarin oranges in light syrup, drained with syrup reserved
½ cup sweetened shredded coconut toasted
Instructions
Combine the uncooked quinoa and coconut milk in a medium saucepan. Bring to a boil. Lower heat and simmer for 15 minutes or until all milk is absorbed. Fluff with a fork and let sit for 5 minutes.

Into a medium bowl, drain the cans of pineapple chunks, diced mangos and Mandarin Oranges, allowing the syrups and juice to mix together.

In a large bowl, combine quinoa, drained fruit and ½ cup of the reserved liquid. Toss.

Top with 1 tablespoon or more of toasted coconut on each dish before serving, if desired.
Nutrition
Serving: 1g
Did you make this recipe?
Share it with me on Instagram and make sure to follow me on Pinterest for more recipes.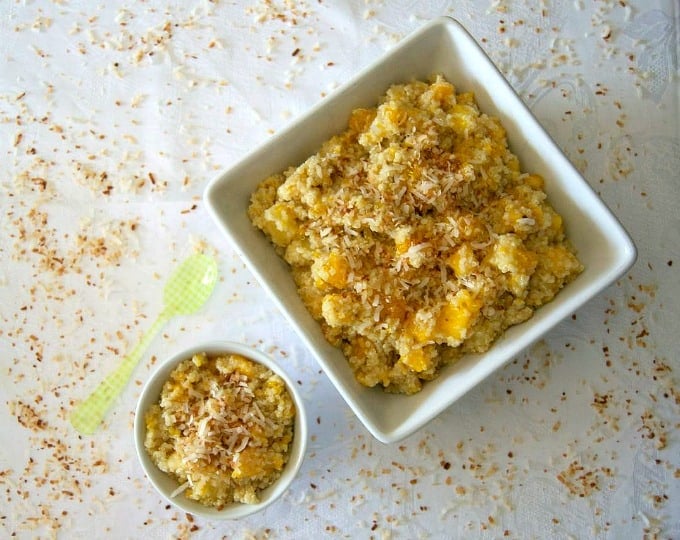 I rate everything I make on a scale of 1-4 and this Tropical Quinoa Salad earned 3 rolling pins.
There's no denying the great ingredients and a taste of sunshine in this dish! Now only if I could offer you a warm sea breeze and a hammock. You'd be golden.
In February, be sure to head to your local Albertsons, ACME Markets, Jewel Osco, Shaw's, Star Market, United Supermarket, Albertsons Market, Amigos, or Market Street to stock up that cantry and create nutritious and delicious meals!
I give you BIG baking hugs and muffins!!
Comments submitted may be displayed on other websites owned by the sponsoring brand.
This is a sponsored conversation written by me on behalf of Albertsons. The opinions and text are all mine.