I had so much to say earlier in the day about so many different things and now it's all gone from my head. I was going to start the blog, but was busy doing administrative stuff for it (haha – it sounds so official) and so many ideas started flying into my head. I'm so excited!
Today it was (drum roll)…Banana Cake with Portsmouth Frosting. I've always had an affection for banana cake; so much so that when I stopped working at the veterinary clinic last May one of our wonderful employees, Briana, asked what kind of cake I'd like as a going-away cake. She is a phenomenal baker and and made such beautiful cakes, especially at Halloween. They were always so decorative and it was obvious she put a lot of thought and time into them. I wanted something different than the typical chocolate or vanilla, so I told her banana. She had never made one before, so she was a little concerned about how it would taste and said it was the very first cake she had ever made from scratch. It was exactly what I requested and was absolutely delicious! Both the frosting and cake were perfect and I was very honored that she did that for me. Thank you again, Briana!
I have a recipe for banana cake from another book that I've made in the past, but it calls for chocolate frosting. While it was good, I really just wanted a sweet, buttery frosting today. This is awesome because I can bake whatever I feel like, whatever I'm in the mood for; if I'm PMSing, it'll be chocolate, if I'm overloaded on sweet baked goods it's going to be a main dish with veges. or protein. It's limitless! Ok, so here are the specifics about the book. It is the Fannie Farmer Cookbook Thirteenth Edition, pgs. 575 and 597; author, Marion Cunningham; publisher, Alfred A. Knopf, division of Random House; ISBN 0-394-56788-9.
Fresh Banana Cake
(hmm…fresh? If you're making it from scratch would it be anything but? Just sayin'.)
The Ingredients
¼ pound butter, or ½ cup shortening
1½ cups sugar
1 cup mashed banana (about 2 medium bananas)
2 eggs
1 teaspoon vanilla
2 cups cake flour (The grocery store I went to didn't have cake flour, so I wasn't going to look for it elsewhere. Besides, I've still got that 5lb. bag of flour that I have to use by the 19th (Saturday), so I'm using what I've got.)
1 teaspoon baking soda
½ teaspoon salt
½ cup sour milk (or sour cream) (I used milk made with ½ tablespoon vinegar.)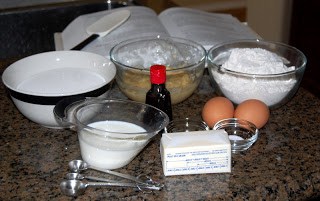 Preheat the oven to 350ºF. Butter and lightly flour a 9-inch square cake pan. Cream the butter or shortening, slowly add the sugar, and beat until light.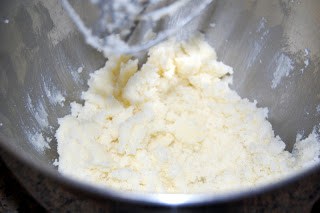 Add the bananas, eggs, and vanilla and beat well.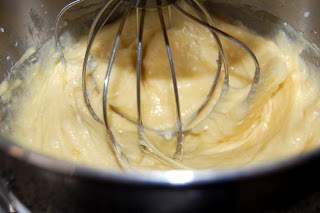 Mix the flour, baking soda and salt, add to the first mixture, and blend.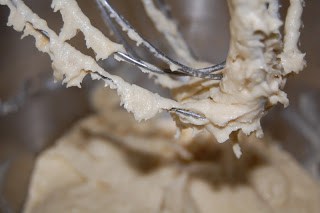 Slowly add the sour milk or sour cream and beat until well blended. Spread in the pan and bake for about 45 minutes, or until a toothpick comes out clean.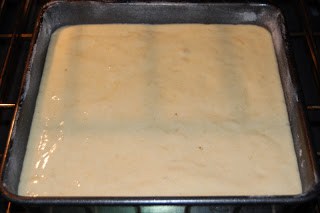 Cool in the pan for 5 minutes before turning onto a rack. Split the cake and fill with Banana Cream Filling (p. 604) and frost with Portsmouth Frosting (p.597). I didn't split or fill with filling.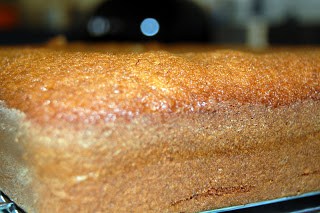 Portsmouth Frosting
¼ cup butter, melted
¼ cup cream
1 teaspoon vanilla or rum (no rum on hand, hardee har har)
About 3 cups confectioners' sugar (should've paid more attention to the about part of this ingredient)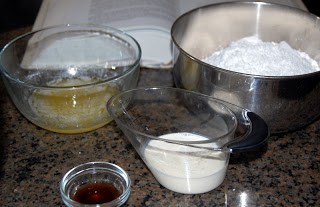 Mix the butter, cream, and vanilla or rum together in a bowl. I was concerned when I poured the cream into the melted butter. It wasn't hot, but as you can see, it curdled. It was fine, though – didn't make a difference in taste.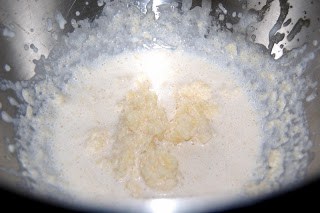 Slowly beat in the sugar until thick and creamy. This is enough to frost an 8- or 9-inch tow layer cake.
The lighting was off in this picture and it was the only one I took at this point. The frosting was definitely NOT that yellowish.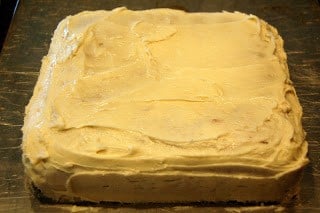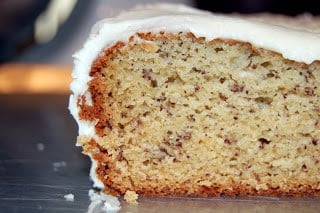 It wasn't a very good frosting job. I need more practice. As I'm writing this, I see on the opposite page of the frosting are directions on how to frost a cake. Weird I didn't see them when I needed them. From the movie, 'Wedding Singer', "Things that could've been brought to my attention YESTERDAY!" It says to frost the sides first and then the top. I, of course, did the opposite. I have a tendency to make things more difficult than they are. Is this something I'm ever going to outgrow?
Overall, it was delicious. As I said about paying more attention to the "about" 3 cups confec. sugar, I think exactly 3 cups was a bit too much. When I tested it before frosting the cake, it tasted a little gritty and confectionery. I added 1 tablespoon of cream cheese and that did make it creamier, but the frosting was sweeter than I would have liked it to be. My rating: 3 rolling pins!
Happy baking! (I need to come up with something better. I'll work on it.)