This easy Cheese Fondue recipe lives up to its name! It's one of the quickest and easiest ways to make Swiss fondue for any party or get-together. A creamy, flavorful crowd pleaser!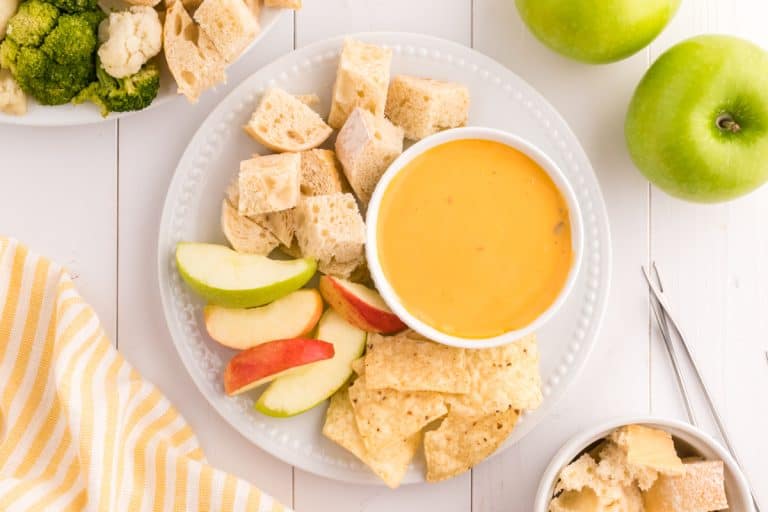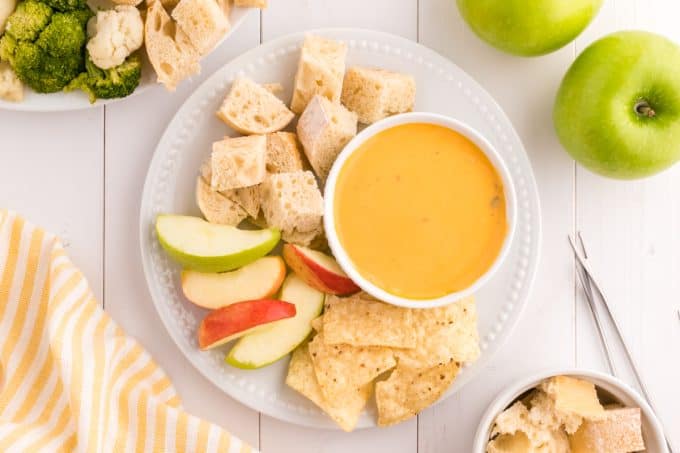 Do you love fondue as much as I do?
Growing up in the 70's, my mom made her fair share of it which inspired my love for these easy recipes. My most favorite was this French Toast Fondue with the sweet maple butter for dipping.
You might just want to take a look in some thrift stores for your own fondue set and keep your eyes peeled for more fondue recipes here in the future!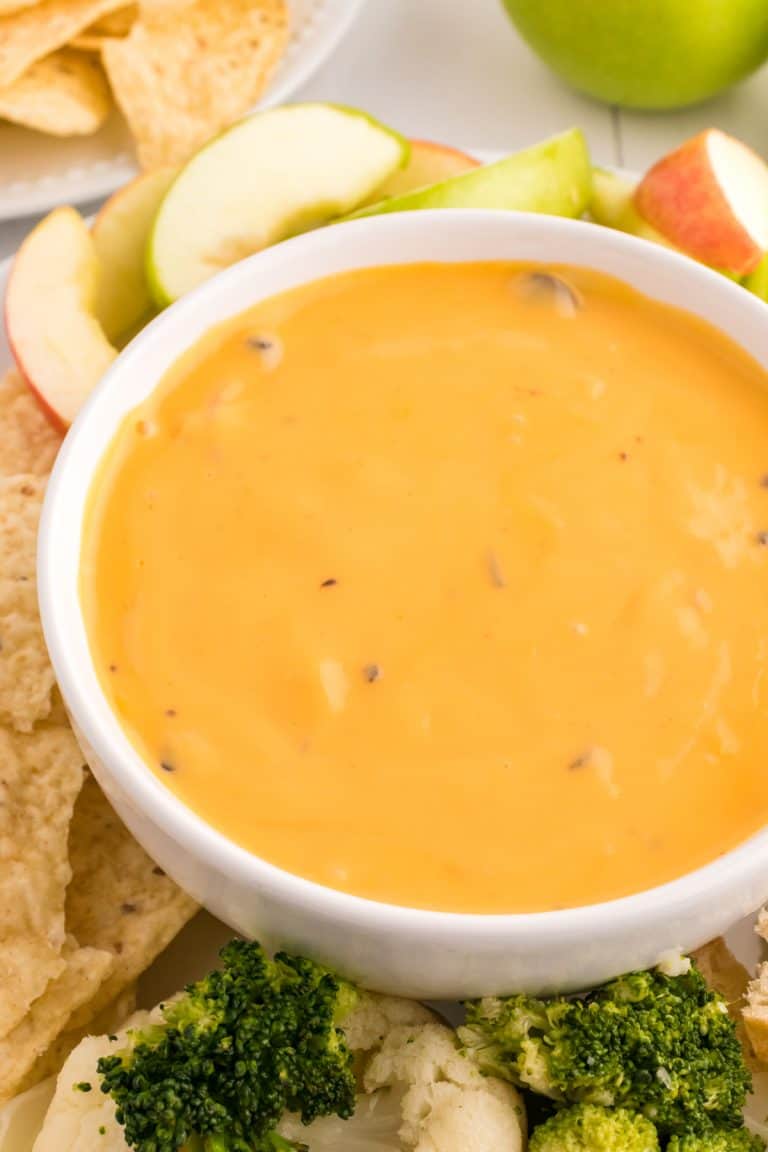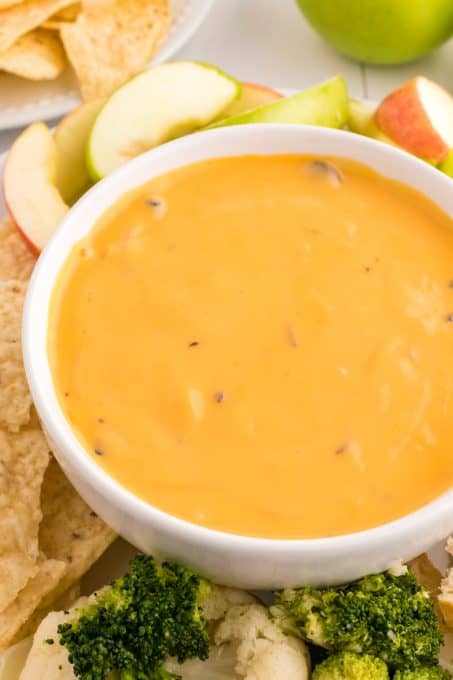 When our kids were growing up, we discovered the Melting Pot restaurant. We all fell in love with their cheddar cheese fondue, and dipping our cubes of bread into the combination of creamy cheeses.
We also had so much fun when it came time for dessert when we dunked our strawberries, slices of cheesecake, and Angel Food cake into the chocolate fondue. YUM!
Fondue is really so much more than just a meal or an appetizer. It's an experience. Everyone gathers around the classic fondue pot to get a taste, sharing, laughing and connecting over one of life's greatest joys–cheese!
Here's another thing to love abut cheese fondue: it's super quick and simple to make with the right recipe.
My Quick and Simple Cheese Fondue recipe is exactly that. It takes a few basic ingredients and melts them together to create a hot cheese fondue that tastes like it came from a fancy restaurant.
There are plenty of other sites out there that claim to have the best cheese fondue made with a variety of cheese, a little wine, little bit of white pepper, some dijon mustard, etc. Don't get me wrong, those are definitely good options, but whether it's your first time, you don't want to go to all that trouble of using grated cheese or are nervous your end result won't be a smooth fondue, then this easy appetizer recipe is just the one you need!
Once you learn how to make fondue at home, you'll always be able to make a delicious party dip or family-style meal at a moment's notice!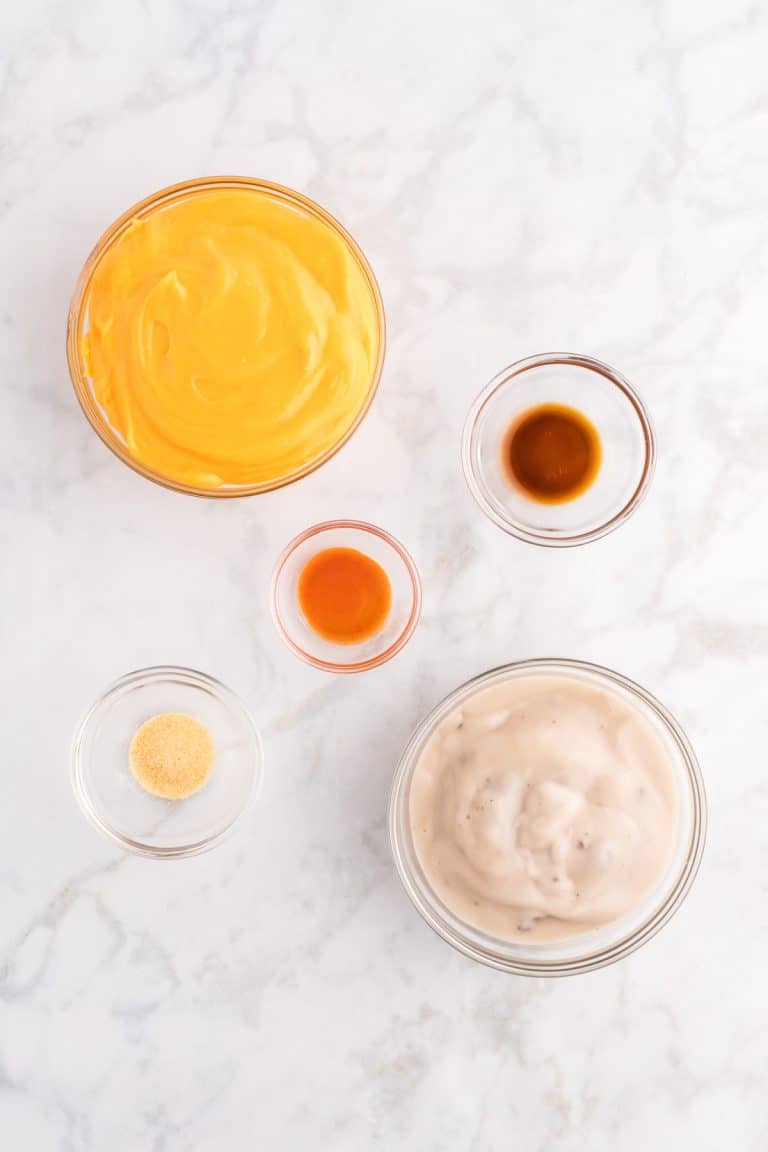 What essential ingredients do I need?
Put down the different types of cheese and rest assured that you won't be spending a lot of money for some good quality cheese. You only need a few simple ingredients for this easy fondue recipe. 
Cheese Whiz –
Yes, the kind that comes in a spray can. Trust me; it tastes amazing here! But of course, you'll want the jar. 
Cream of mushroom soup 
Worcestershire sauce 
Hot sauce –
Use your favorite brand!
Garlic powder – or swap it out for garlic salt or even a minced garlic clove or two if that's what you have on hand.
You can even get creative and give it a Mexican spin by adding some diced jalapeños to it. 
Do I need a fondue pot?
You don't need electric fondue pots or a fondue burner to make this fondue recipe. A crockpot or slow cooker works just as well, and you can also make it stove top using a double boiler. 
To make cheese fondue in the crockpot, stir everything together and heat on low, stirring continuously until the fondue thickens and bubbles.
It takes a few minutes of stirring for the mixture to come together. As the cheese melts, it distributes heat through the other ingredients, making them easier to combine.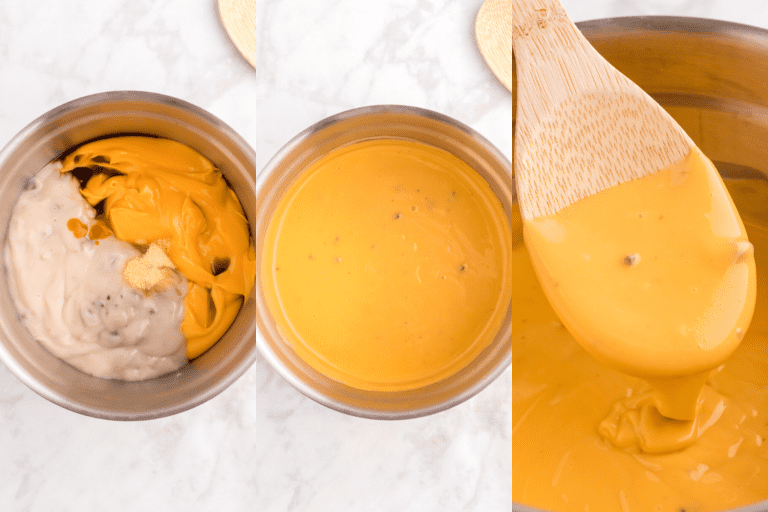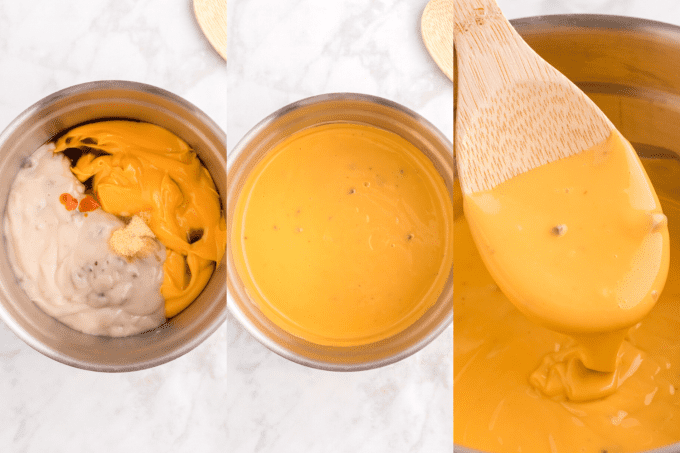 What to serve with cheese fondue?
I love serving fondue with large bowl of bread cubes for dipping. All those nooks and crannies in good bread are perfect for soaking up the creamy fondue. We especially like French bread and enjoy rye bread as well. 
It's also amazing with crackers, steamed or raw cauliflower florets, pearl onions, broccoli or even apples! Just about everything is better when it's dipped in hot melted cheese, so you almost can't go wrong.
How should I store this cheese sauce?
Let the cheese completely cool down, then store it in the refrigerator in an airtight container for 2-3 days. To reheat leftover cheese fondue, place it in a microwave safe container and heat in the microwave for 30 seconds. Stir, then continue heating in 30 second increments until warmed through.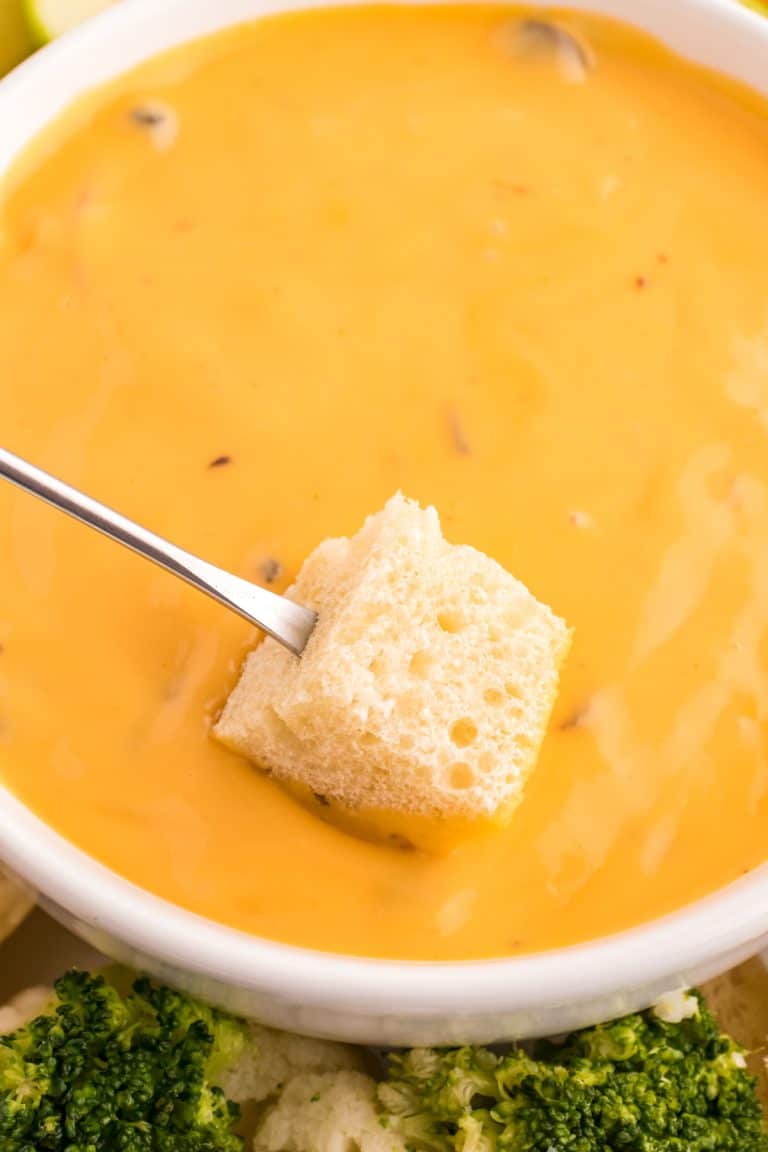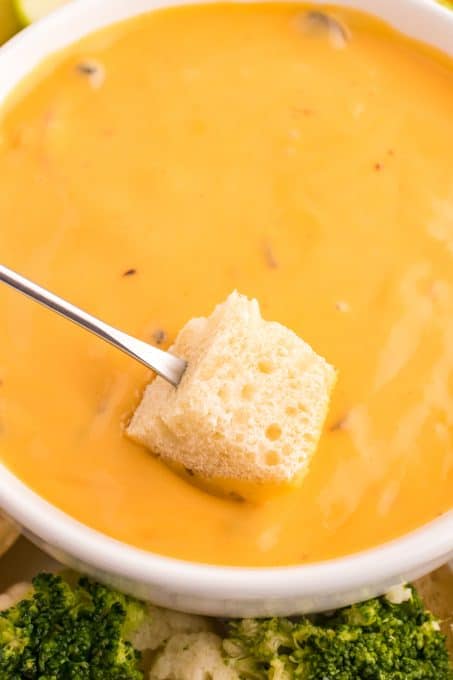 Should I eat this hot or cold?
Fondue is best enjoyed warm! I like to serve it right after I make it for that irresistibly rich, creamy, cheesy taste. 
The good news is that leftovers are easy to reheat, so don't worry if you end up with some extra. 
Appetizer Recipes
My quick and easy fondue recipe makes an ideal meal for two, served with plenty of dippers (and maybe a bottle of wine!). Consider adding it to your next at-home date night menu.
Most of the time I make cheese fondue, I serve it as an appetizer or party snack. Add it to your spread along with these Sausage Balls or a tray of Cream Cheese Stuffed Mushrooms and your guests will have plenty to munch on while they wait for dinner.
If you're into appetizers with an Italian flare, Breaded Baked Ravioli will make your taste buds very happy indeed. You'll love this easy Pepperoni Bread appetizer, too!
For a more elegant hors d'oeuvres option, impress your guests with a Poached Pear and Goat Cheese Appetizer. It looks as good as it tastes!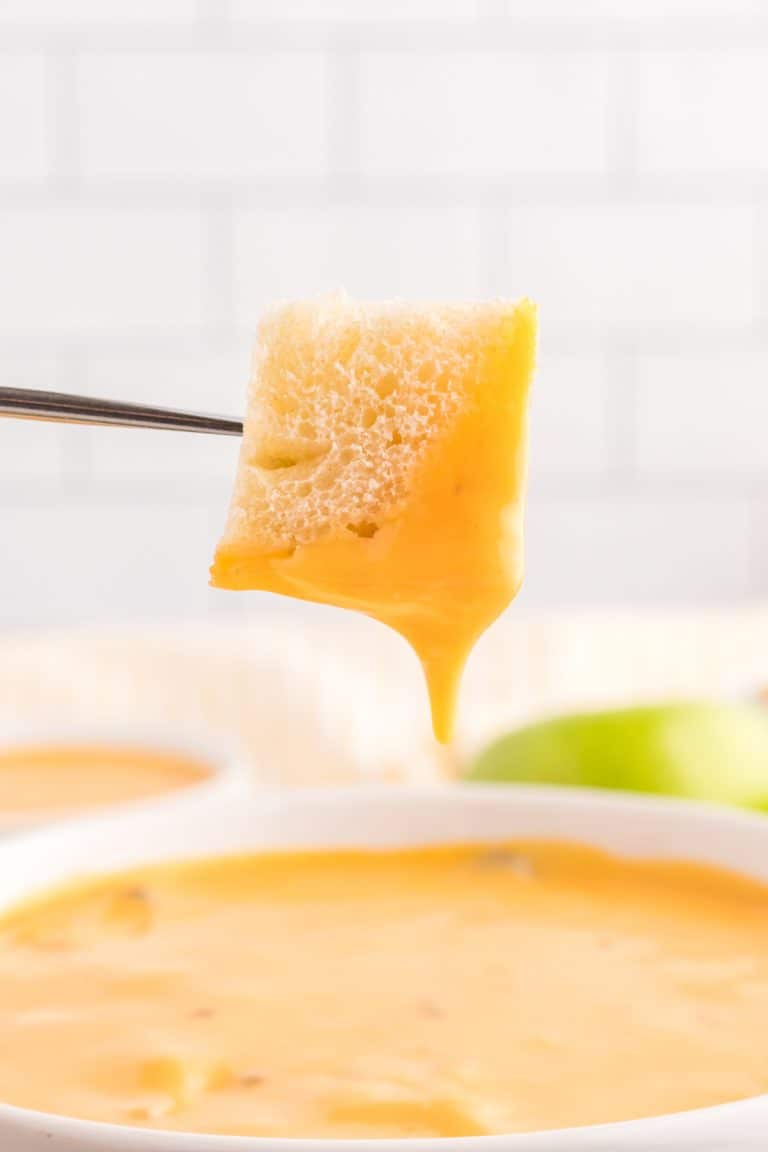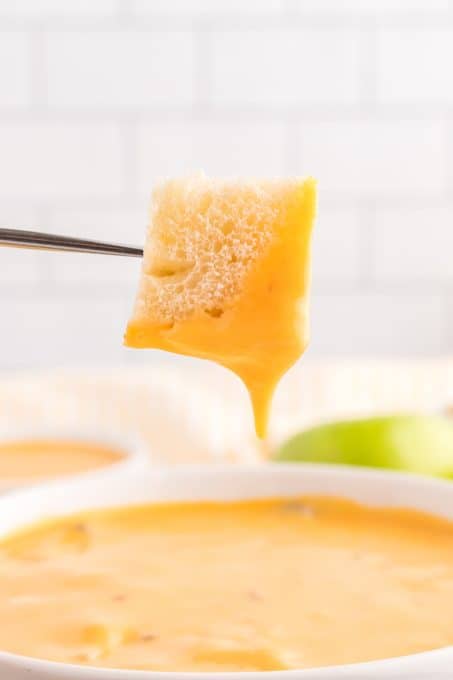 Cheese Recipes
You might have gathered by now that I'm slightly obsessed with cheese. And I know I'm not alone!
Today's quick and simple cheese fondue recipe is just the latest in a long line up of favorite cheese recipes. From homemade cheese crackers to classic Chicken Mozzarella Pasta, my site is packed with fun and family-friendly ways to cook with cheese!
A family and reader favorite is this Beer Cheese Dip made with shredded cheese. The homemade soft pretzels used for dipping are sooo good, too! It's been on a lot of our game day menus and will continue to be.
When you don't feel like cooking, or want to keep the goodness of cheese front and center without all those pesky distractions, you can always make a cheeseboard! I have a guide for how to make cheese boards that are both beautiful and delicious, to help you get started.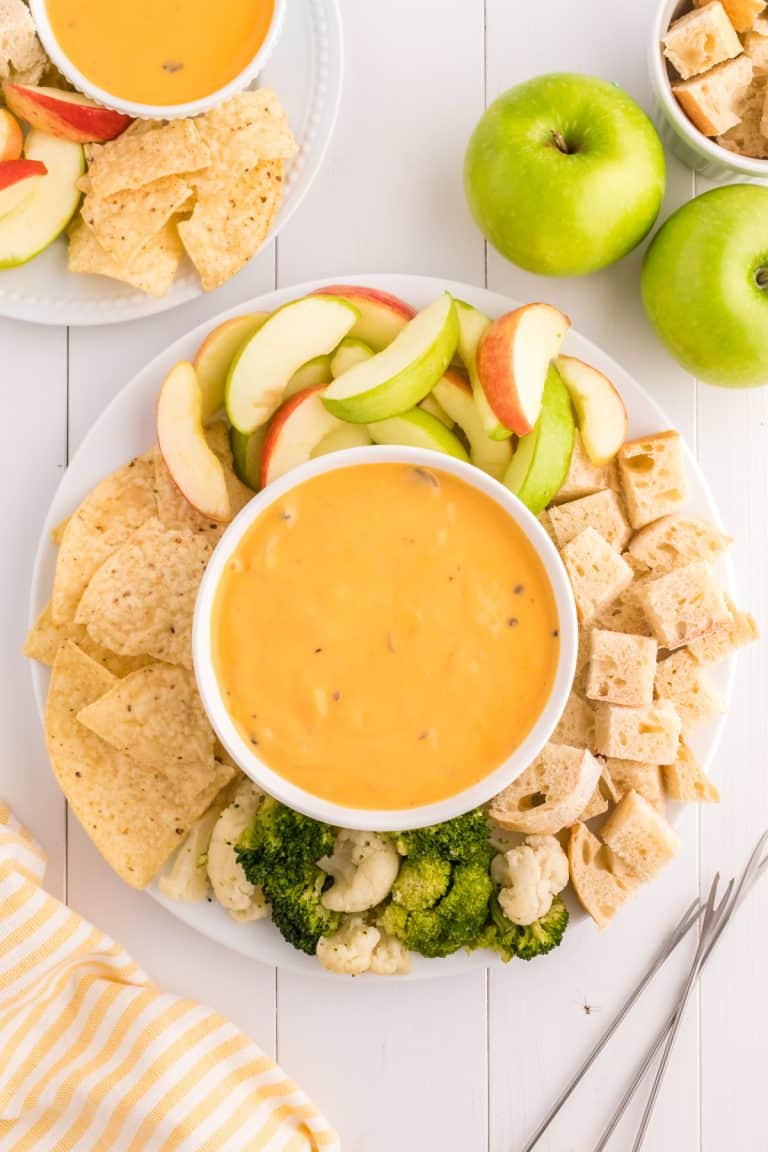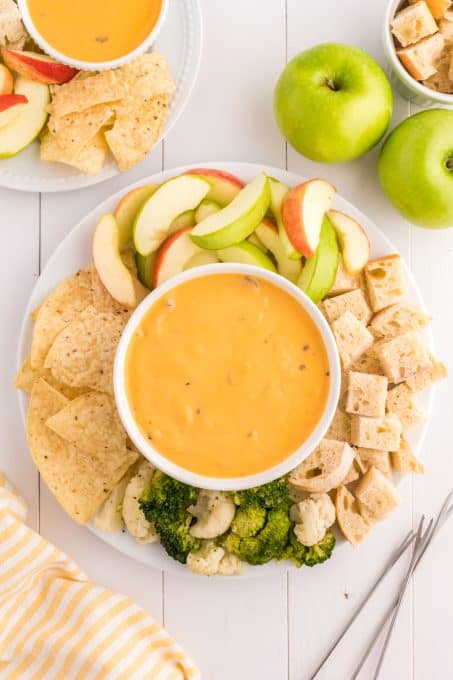 From game day to holidays like New Years Eve to an impromptu dinner party with friends, this easy cheese fondue recipe is a delicious appetizer that everyone will enjoy dipping into!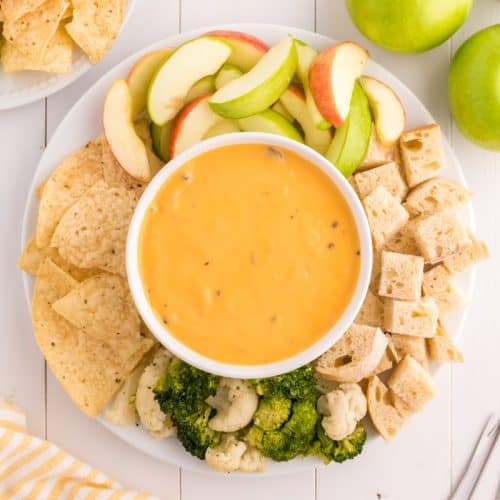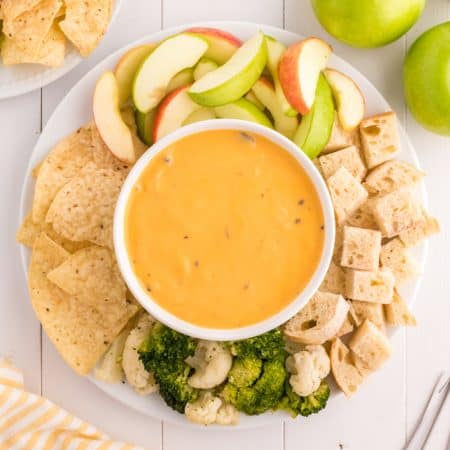 Quick and Simple Cheese Fondue
This easy Cheese Fondue recipe lives up to its name! It's one of the quickest and easiest ways to make Swiss fondue for any party or get-together. A creamy, flavorful crowd pleaser!
Ingredients
15 ounces Cheese Whiz
10.5 ounces cream of mushroom soup
½ teaspoon Worcestershire sauce
¼ teaspoon hot sauce
¼ teaspoon garlic powder or garlic salt
Instructions
In a crockpot or fondue pot, all all of the ingredients. On low heat, stir constantly while cooking until the sauce is bubbling and well combined.

Serve with cubed bread, chips, steamed cauliflower & broccoli, apples, crackers, or any food to dip that you like.
Notes
This recipe makes 2 cups. It will serve 4 people as an appetizer, 2 people if served for dinner. Nutritional information is based on 2 people.
Nutrition
Serving: 2cups | Calories: 680kcal | Carbohydrates: 28g | Protein: 32g | Fat: 48g | Saturated Fat: 30g | Polyunsaturated Fat: 0.1g | Monounsaturated Fat: 1g | Cholesterol: 167mg | Sodium: 4571mg | Potassium: 715mg | Fiber: 1g | Sugar: 14g | Vitamin A: 1382IU | Vitamin C: 1mg | Calcium: 771mg | Iron: 2mg
Did you make this recipe?
Share it with me on Instagram and make sure to follow me on Pinterest for more recipes.
Reader Interactions