This Pepperoni Bread with easy homemade pizza dough, pepperoni, and provolone cheese makes one heck of an easy and delicious appetizer. Remember the marinara or Good Season's Italian dressing for dunking!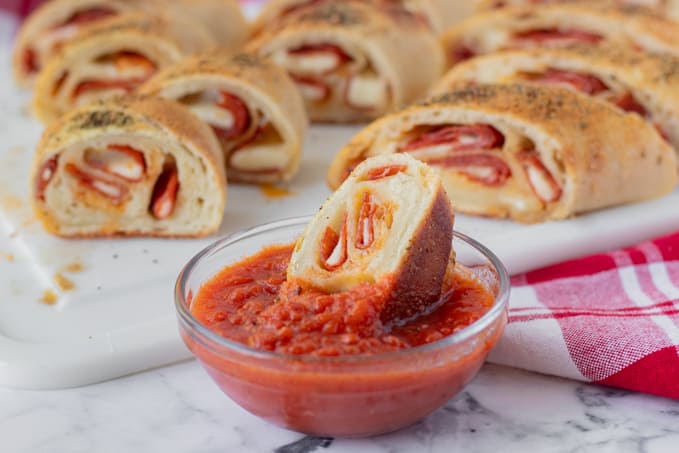 Serve this as a game day appetizer or pair your it with a salad, and some buttered pasta and you've got a great and easy weeknight dinner.
This recipe is sure to be a hit with family and friends if it isn't already.
SAVE THIS PEPPERONI BREAD TO YOUR FAVORITE PINTEREST BOARD!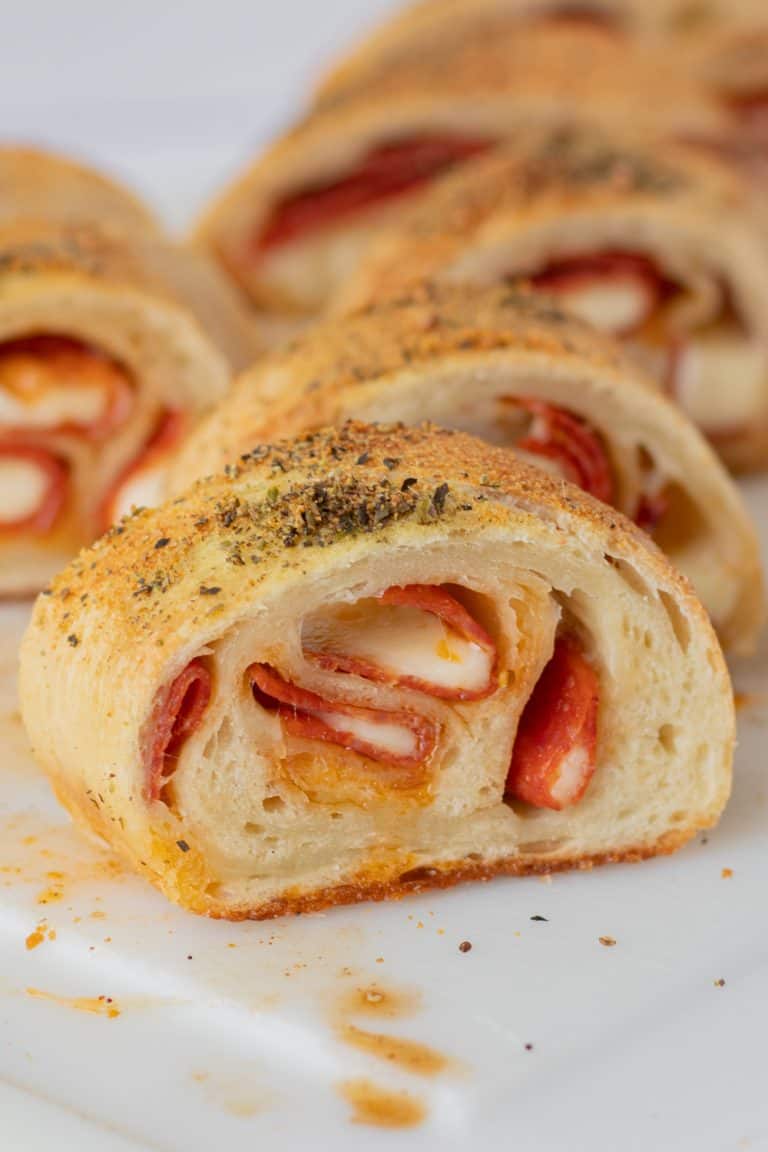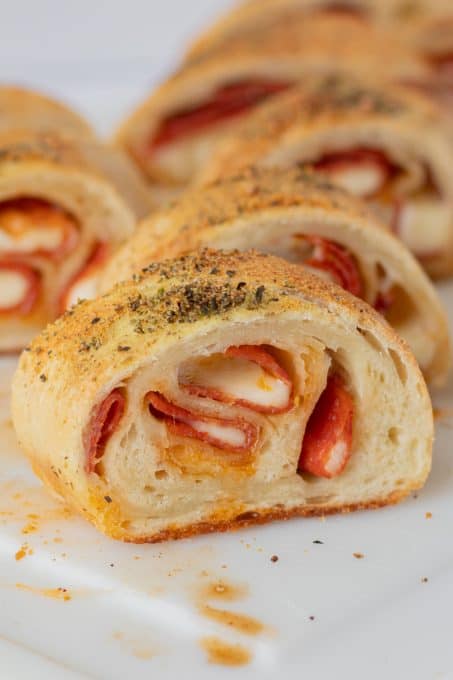 Pepperoni Bread
This recipe is one that I ALWAYS serve on Game Days.
This pepperoni bread is just something that is so great to snack on during the big game and there's never any left when I make it.
I make pepperoni bread when we go to parties because it's great finger food. Everyone loves when I bring this to tail gaiting parties!
Pepperoni bread is a fantastic easy appetizer served with your favorite dipping sauce. I'll also serve it with a salad and some buttered pasta for dinner. Either way, the family and any friend who's eaten some love it.
We've also eaten our pepperoni bread with some bottled marinara, but our preferred dipping sauce is just a bottle of Good Seasons Italian Dressing. It's SOOOO good!!
SIGN UP FOR THE WEEKLY
365 DAYS OF BAKING & MORE
NEWSLETTER BELOW!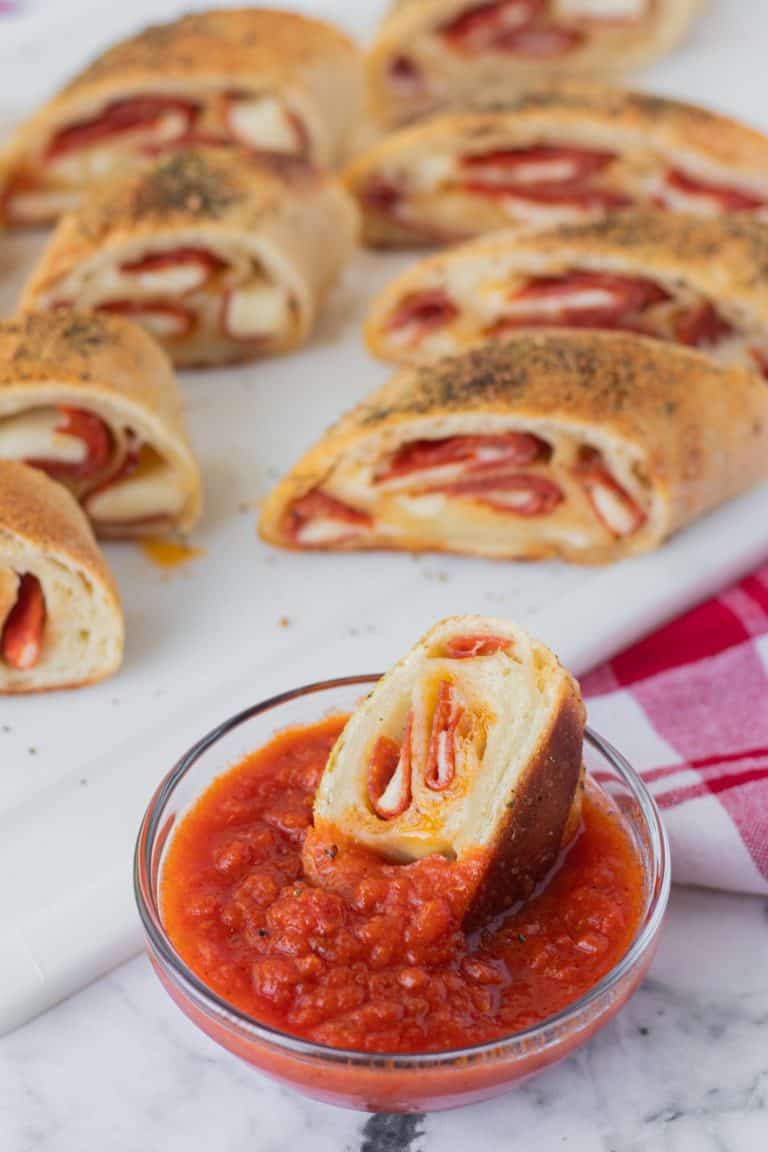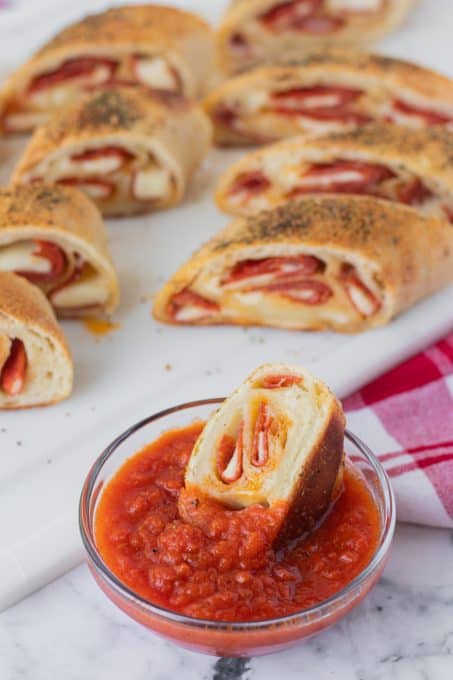 Game Day
This Sunday, I'm also looking forward to serving these Touchdown Taco Cups, and Sheet Pan Loaded Chicken Nachos. Of course, no game day menu is complete without wings, so we'll be eating these Black & Blue Chicken Wings too.
For the rest of the season, we have these Ham and Cheese Party Sandwiches and this Buffalo Chicken Cheese Ball
on deck.I'm also looking forward to trying this Pepperoni Pizza Dip.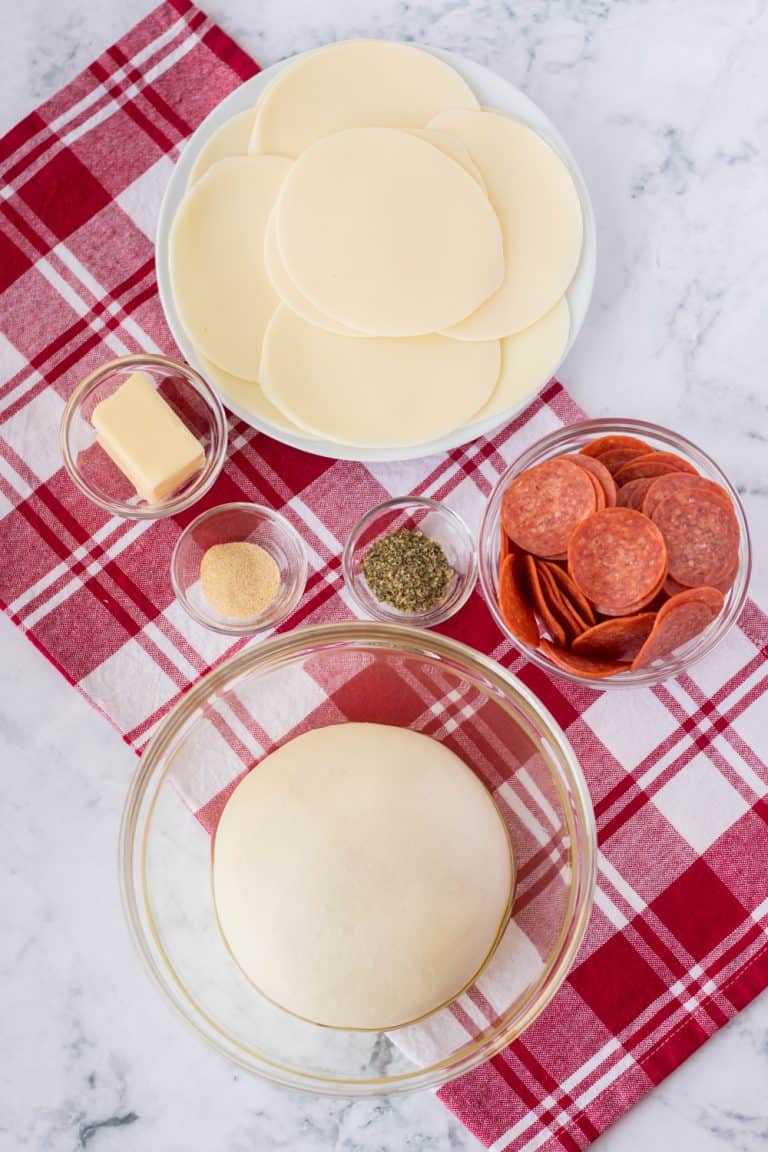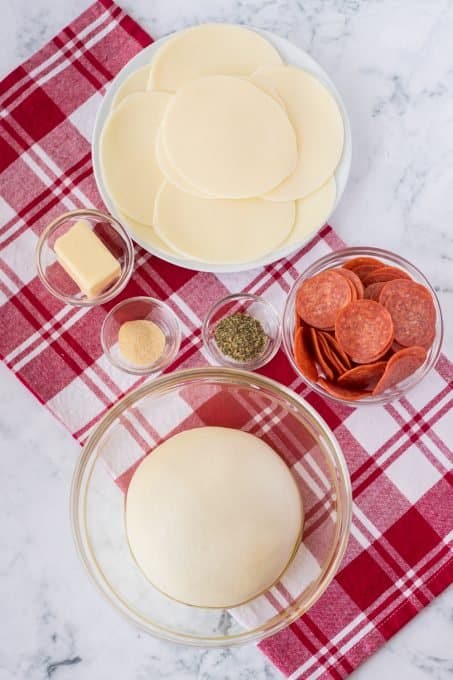 Pepperoni Bread Recipe
In the past, I have used Pillsbury French Bread loaves to make our pepperoni bread but wasn't nuts about the taste. I've gotten good results with packaged bread dough or the canisters of pizza dough I've gotten from grocery stores.
My best results have been with pizza dough from restaurants or from dough that I've made myself. If you have a favorite place just ask them if they'll sell some to you.
There's a great pizza place that we fell in love with up near my daughter's college and I asked them if they sold their dough. They charged me $5 per bag which I thought was worth it because it saved me the trouble of making it and I LOVED the taste.
Confession time: I have this habit which drives my kids nuts when we go out for pizza. When I get down to the crust, I tear it open, stick my nose in it and take a deep whiff.
Aaaaahhhhhhhh, it's so awesome! Many times I've heard from the kids as they're rolling they're eyes, "Here she goes again". It's a ritual, what can I say!
So if you find a place you like, ask them!
For a pizza dough lover like me, it doesn't get any better than pepperoni bread made with a delicious and freshly made pizza dough.
Want to make your own pizza dough for this recipe? The dough from my Grilled Margherita Pizza recipe works great!
Here's one of my first pictures showing you how to place the pepperoni and cheese on the dough.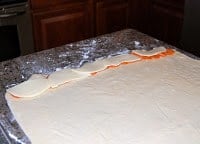 Thankfully for us all my photography skills have improved a lot over the years! But my technique for pizza bread making remains the same.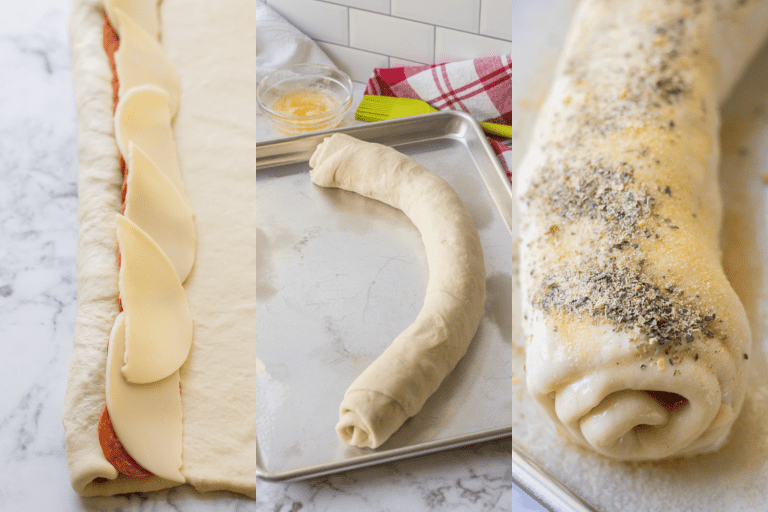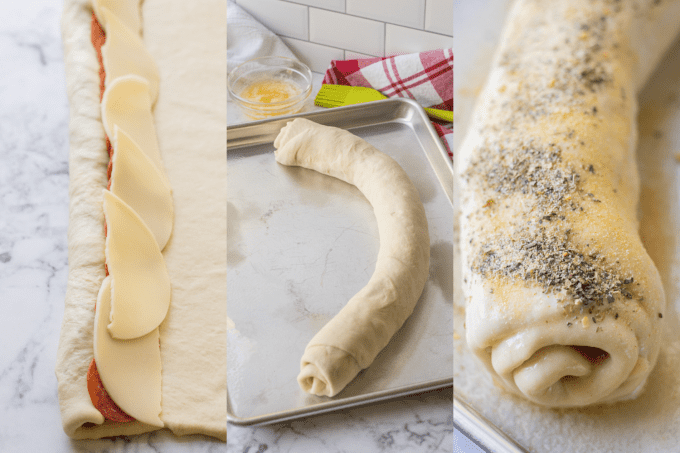 You layer the pepperoni and cheese together one section of the dough at a time, rolling as you go until you get an awesome long tube of pepperoni and cheese stuffed dough like this.
I curved my dough to fit it on my standard sized cookie sheet.
Then comes my favorite part; the thing that takes this pepperoni bread from "good" to "HOLY COW!
You brush melted butter over the entire roll and then sprinkle with Italian seasoning and garlic powder before baking it in the oven. After about 25 minutes in the oven and a couple minutes of cooling, your pepperoni bread is ready to be cut.
I cut this into even rectangles and serve it on a big platter for sharing. We enjoy this bread dipped in Italian dressing or marinara sauce. I've heard from pizza-and-ranch lovers that this pepperoni bread is also delicious dipped in ranch dressing.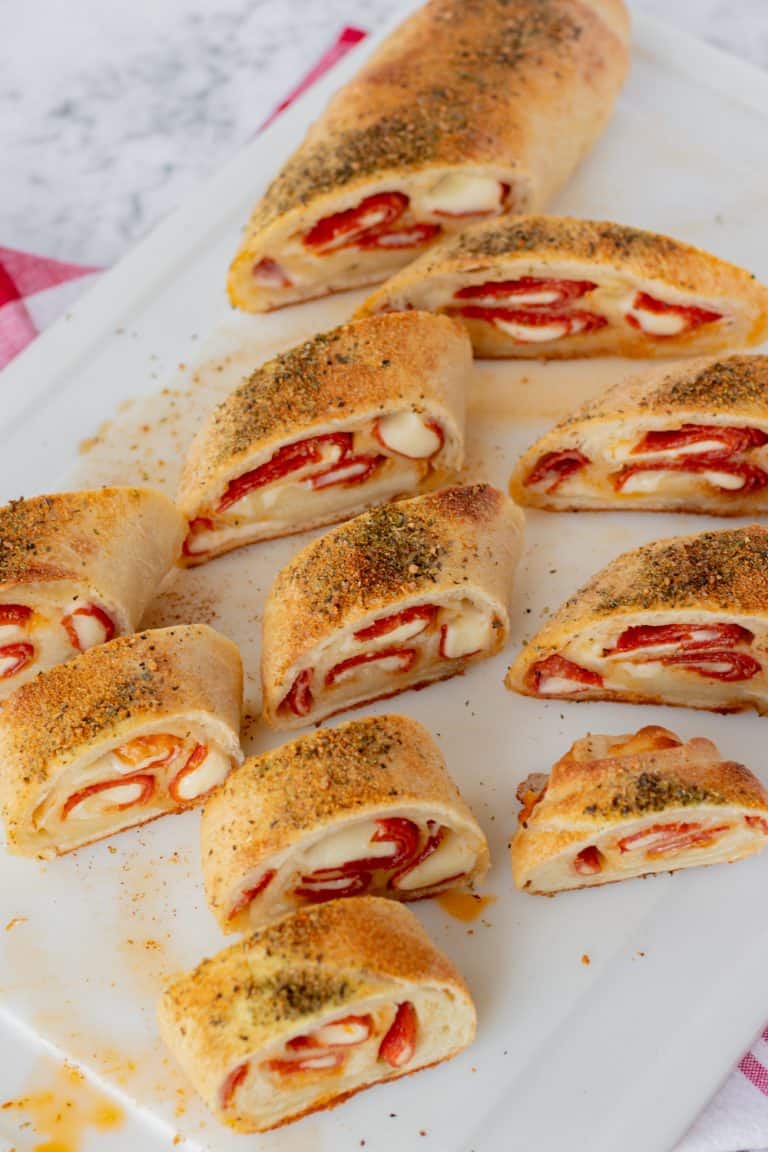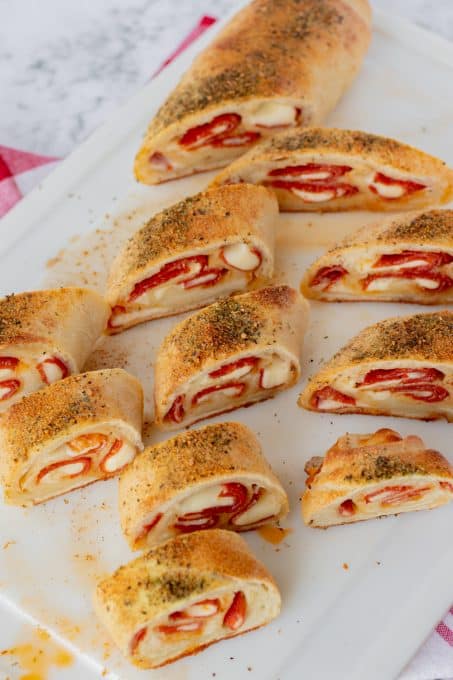 Appetizers
No party is a party without a table full of appetizers, finger foods and dips to enjoy. This Roasted Garlic Hummus and Roasted Garlic and Red Pepper Hummus are delicious served with crackers, chips, veggies or Grandma's Italian Bread for any occasion.
Sweet and Spicy Coca-Cola Shredded Pork Bites are sure to steal the show at your next get-together. They're often one of the first appetizers to disappear when I bring them to a potluck! 'We also love Buffalo Chicken Meatballs and a bowl of Baked Spiced Almonds for sharing.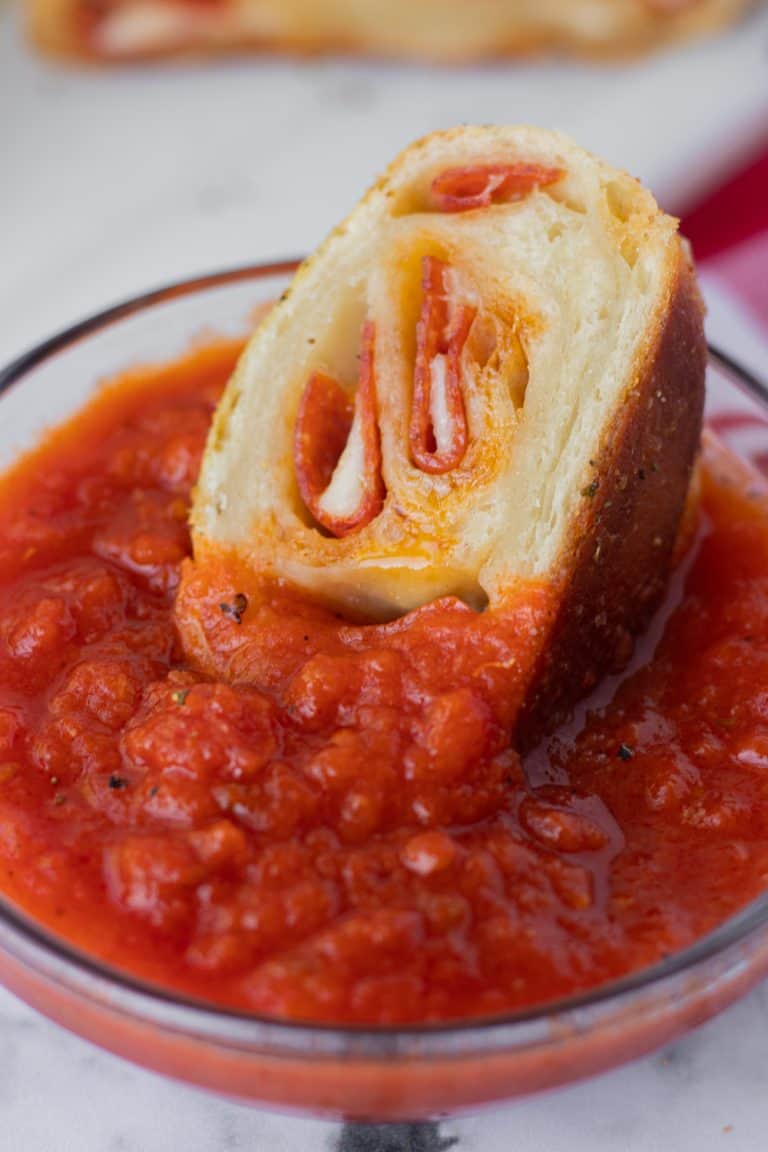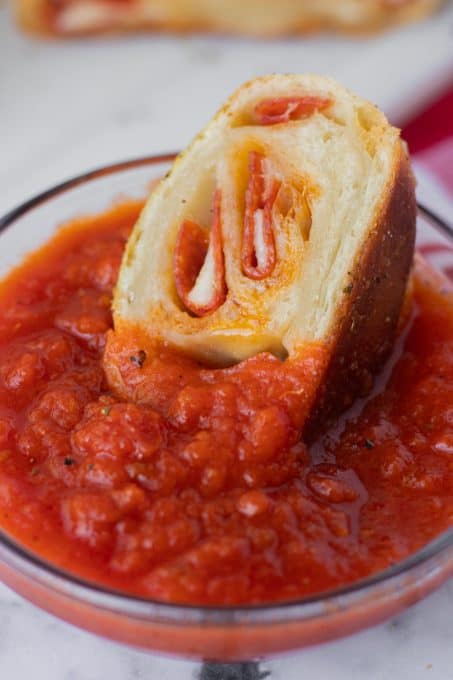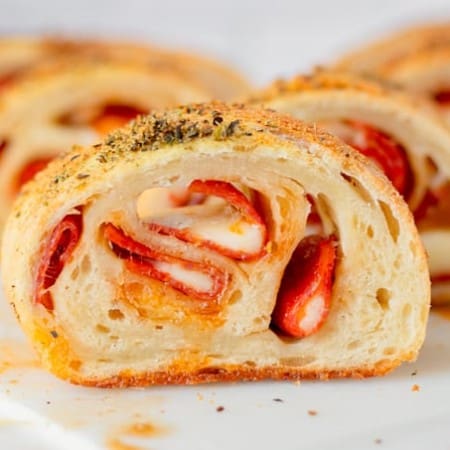 Pepperoni Bread – refrigerated pizza dough, pepperoni and provolone cheese rolled up to make one heck of an appetizer. Remember the marinara for dunking!
Ingredients
13.8 ounces package refrigerated pizza dough
6 ounces sliced pepperoni
8 ounces sliced provolone cheese
3 tablespoons butter
1 teaspoon garlic powder
1 teaspoon Italian seasoning
Instructions
Preheat oven to 375 degrees F. and prepare a rimmed baking sheet by spraying it with cooking spray.

Remove the pizza dough from the canister and roll it out onto a lightly floured surface or parchment so that it measures into a rectangle about 10 X 15 – inches.

Beginning at one of the longer ends, place the pepperoni in an overlapping layer down the length of the dough.

Tear a few of the provolone slices in half and place over the pepperoni.

Pull the dough up from under the pepperoni and roll it over the cheese so that it sticks to the dough beyond the pepperoni.

Repeat adding the pepperoni and cheese and rolling until you have completely rolled the dough.

Place the roll seam side down onto the prepared rimmed baking sheet. You may have to curve it so that it fits.

In a microwavable-safe bowl, melt the butter for about 30 seconds.

Mix in the garlic powder and Italian seasoning.

Brush completely over the Pepperoni Bread.

Bake for 20 – 25 minutes or until lightly golden.

Remove to a large cutting board to set for about 3 – 5 minutes before cutting to serve.
Nutrition
Serving: 1g | Calories: 729kcal | Carbohydrates: 49g | Protein: 32g | Fat: 45g | Saturated Fat: 22g | Cholesterol: 106mg | Sodium: 2028mg | Potassium: 206mg | Fiber: 2g | Sugar: 6g | Vitamin A: 761IU | Vitamin C: 1mg | Calcium: 449mg | Iron: 4mg
Did you make this recipe?
Share it with me on Instagram and make sure to follow me on Pinterest for more recipes.
Looking for even more delicious appetizer recipes like this pepperoni bread? Give this Spaghetti and Meatball Braid and this Taco Braid a try, too.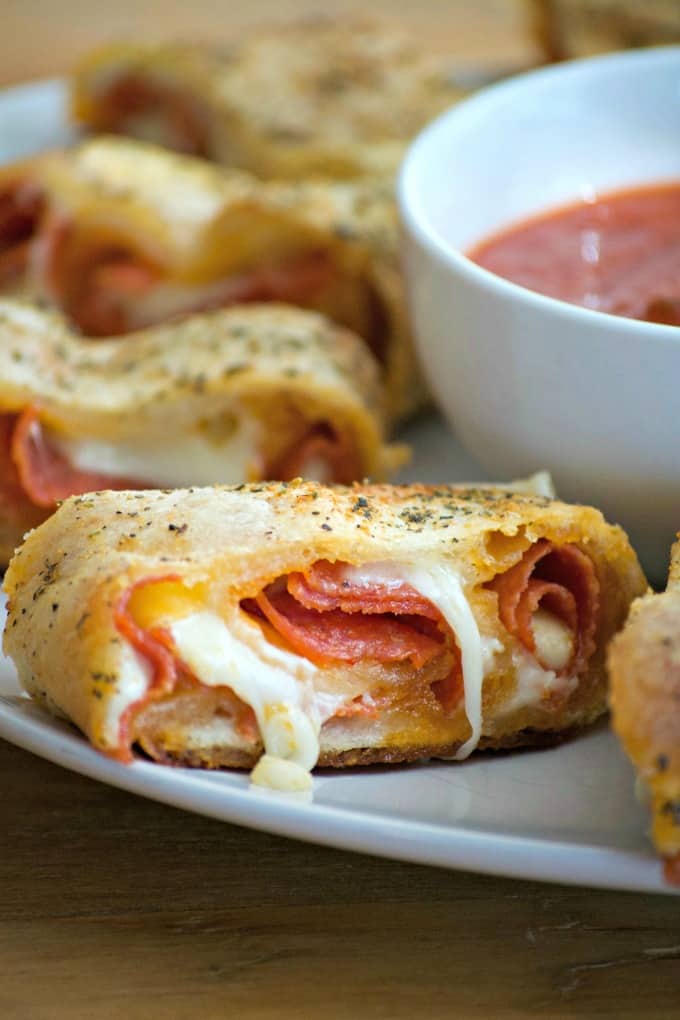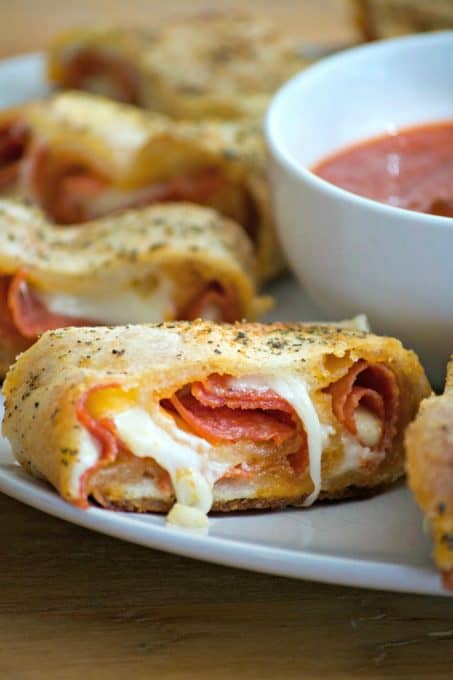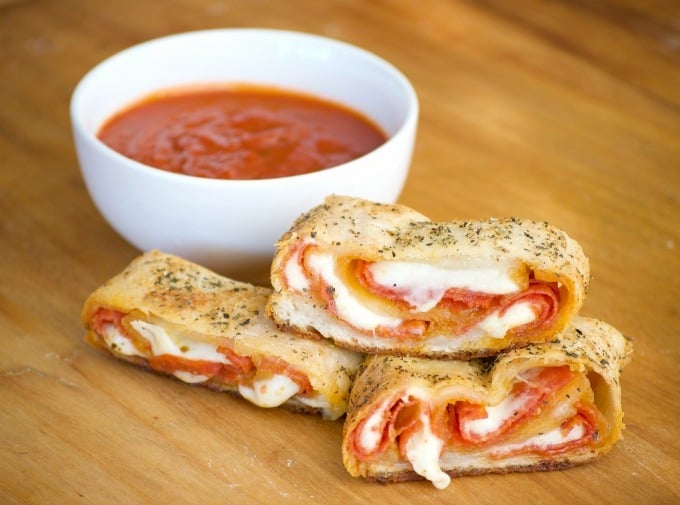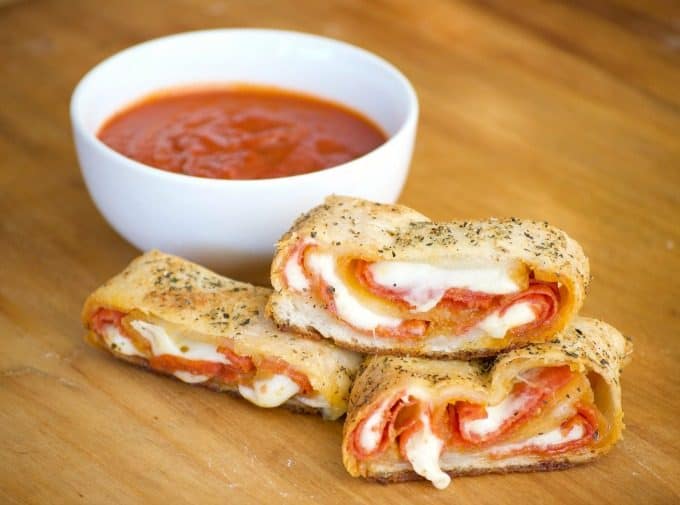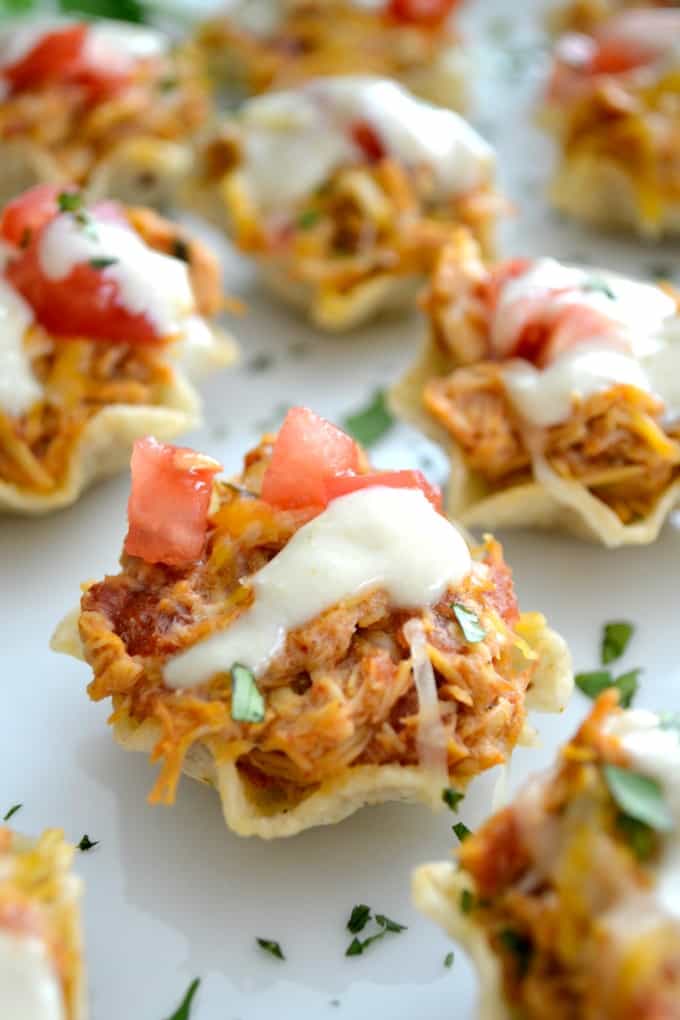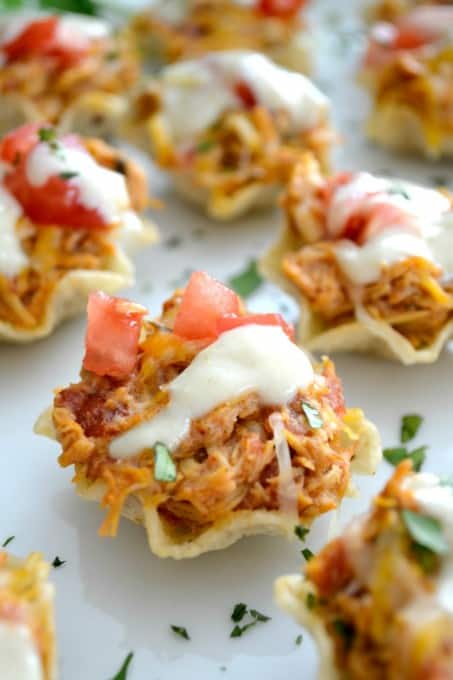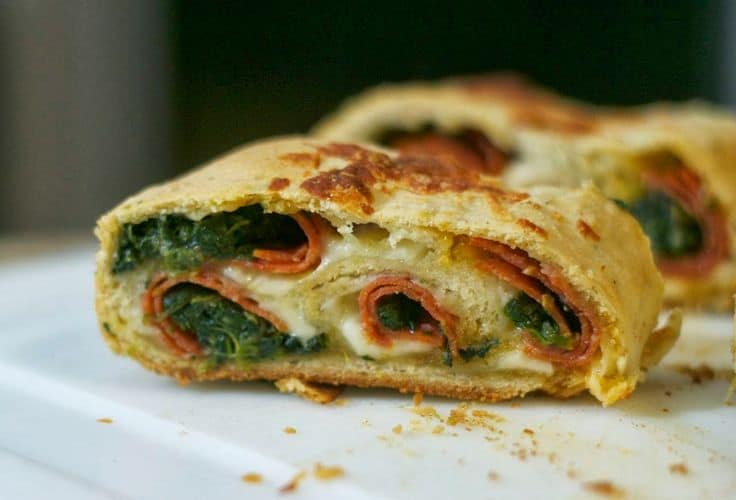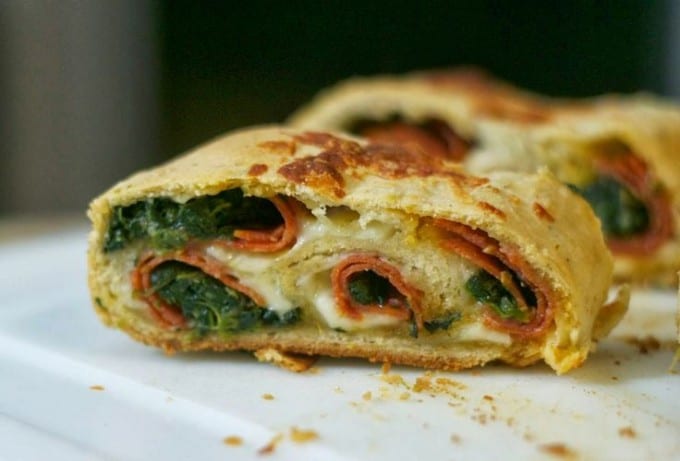 This spin on classic pepperoni bread is a must for veggie lovers! Fresh spinach adds a delicious element to the pepperoni bread.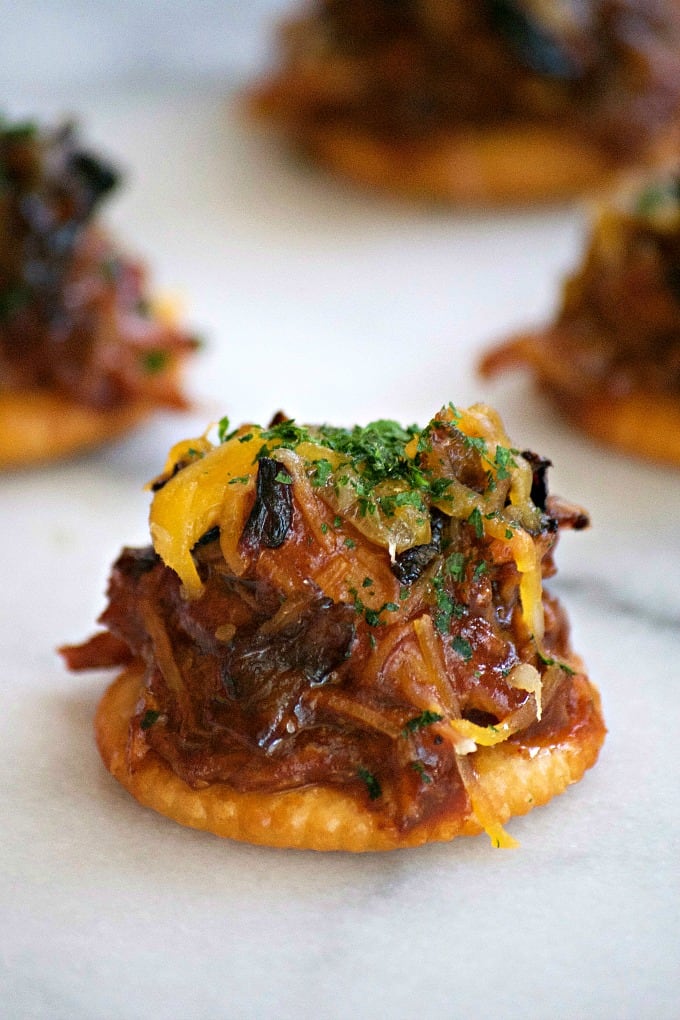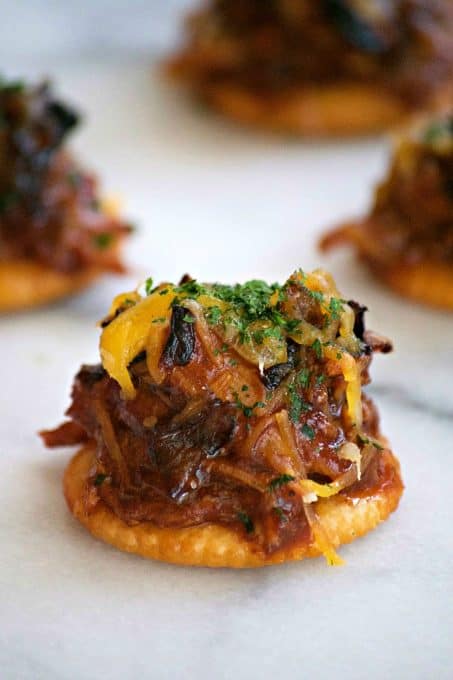 This appetizer keeps everyone coming back to the table for "just one more." Shredded pork marinated in cola and served on top of crackers makes an unforgettable finger food.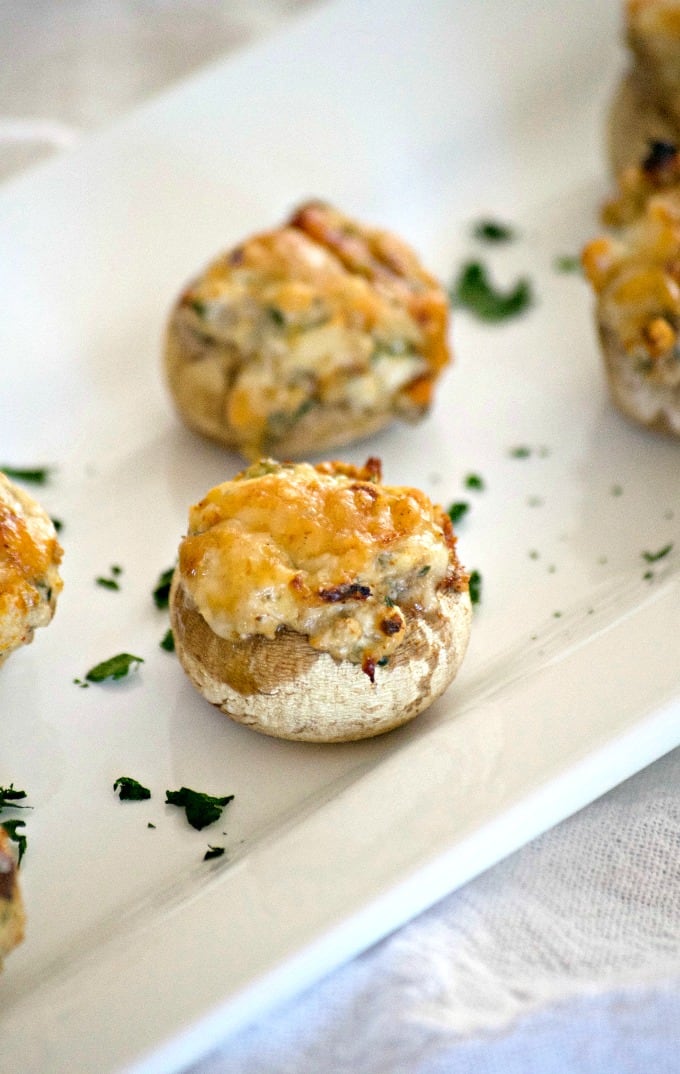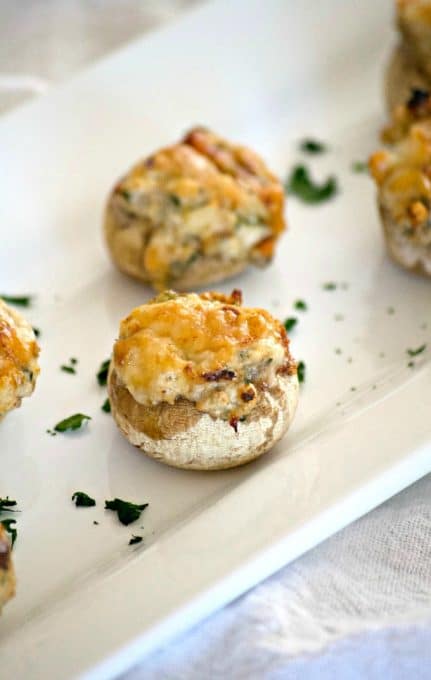 Mushroom lovers will go nuts for these bite sized mushrooms stuffed with cream cheese and topped with even more cheese.
Be sure to check out my 25 Best Game Day Eats before you go!
This post was Day 3 in my original 365 Days of Baking. It has been updated with new pictures on 1/18/17, and again on 6/8/22.
Reader Interactions