This Spinach Pepperoni Bread is pizza dough filled with spinach, pepperoni, and provolone. It makes a great weeknight dinner, is the perfect finger food for Game Day and is a recipe you'll be asked to bring again to that next potluck!

Who can resist such an easy and delicious recipe?
THIS POST CONTAINS AN AFFILIATE LINK(S).**
This post was originally posted on Day 19 of what I hoped would be my second go 'round with 365 days of baking back in February of 2014!
Can you believe it?
I can't. And unfortunately, I couldn't complete it. It was a massive undertaking the first time I did it and I was too busy working full-time to complete it for a second. I also thought it might be best to discontinue for the sake of my sanity, my marriage, and my family.
You know, some things are just too gosh darn important!
SAVE THIS SPINACH PEPPERONI BREAD TO YOUR FAVORITE PINTEREST BOARD!
Below is an excerpt from the original post complete with original pictures, too. It's kind of cool to look back to see how my photography has improved. Yikes!
Roll that dough out onto a lightly floured surface.
Don't worry about the shape, it's not going to matter all that much if this edge doesn't meet up with that one or even if it's a square or a rectangle. Either shape will do.
Just don't go for a triangle. I think that will just give you a headache.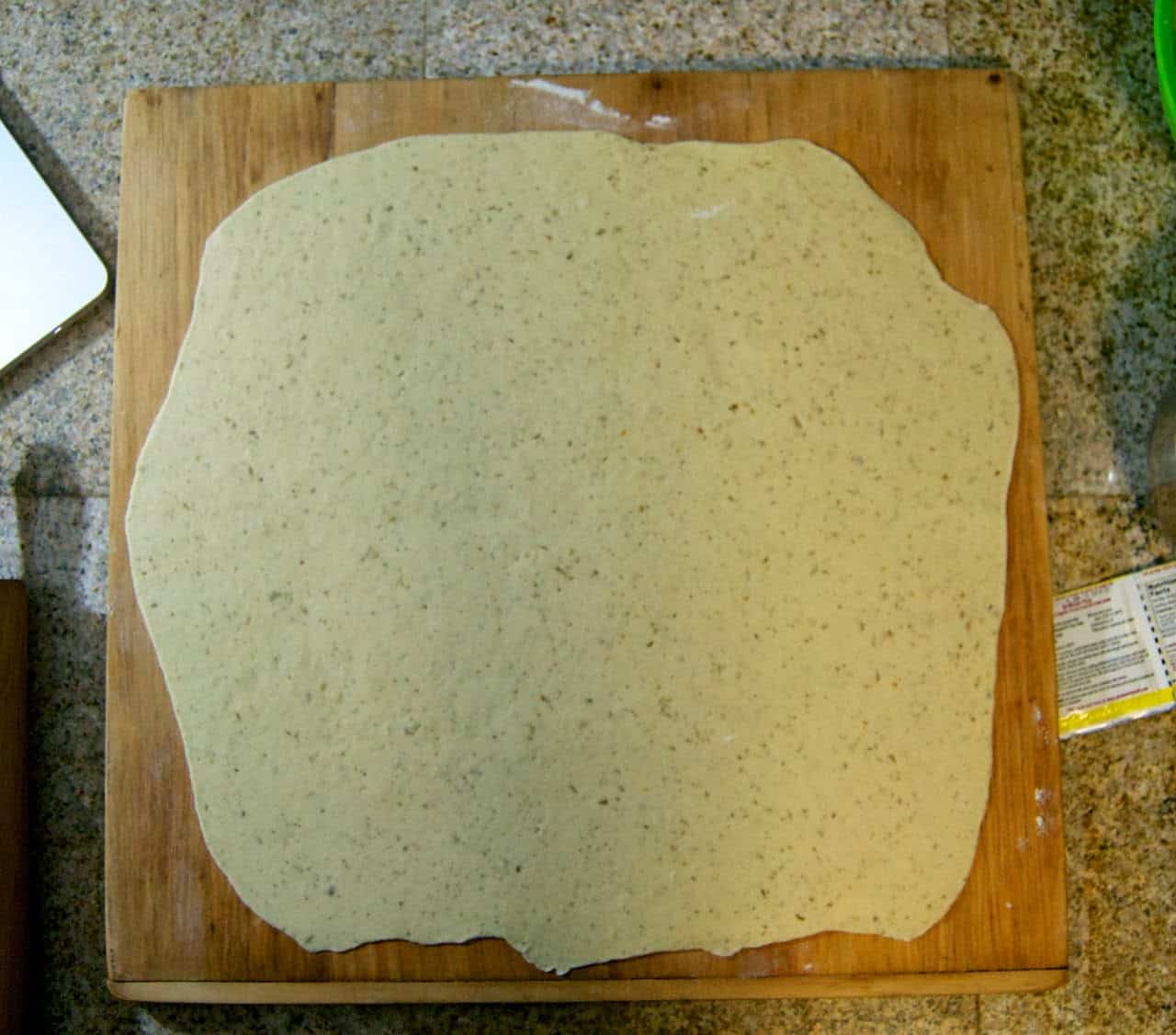 Start by placing some halves of the Provolone along the edge closest to you.
I know, that it is the edge away from me, but I moved for picture taking purposes.
Then line some pepperoni on top of the cheese and cover that with some of Popeye's favorite food.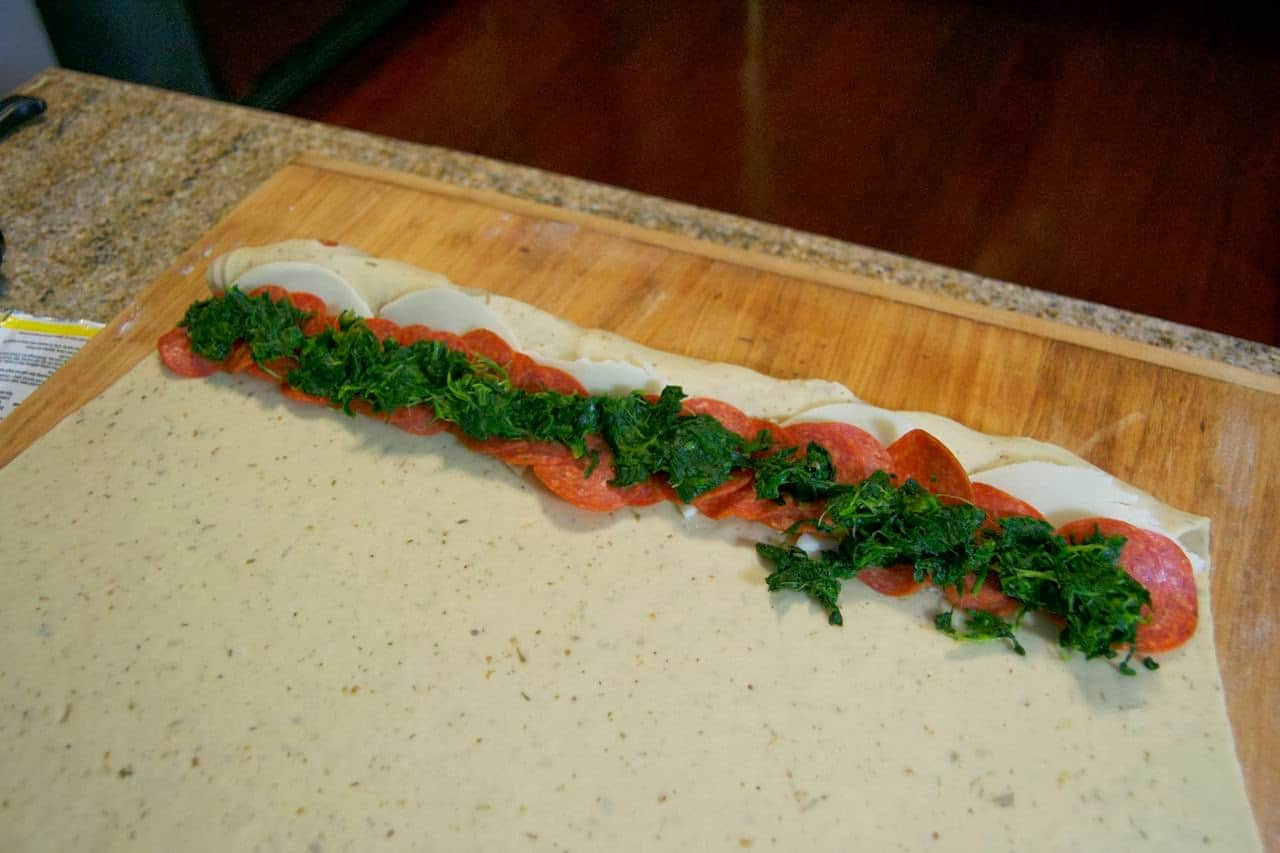 Carefully roll the dough over the cheese, pepperoni, and spinach.
Repeat the layering and then the rolling, and then some more layering, and then more rolling, more layering, and more rolling until you've either run out of ingredients or are out of dough space.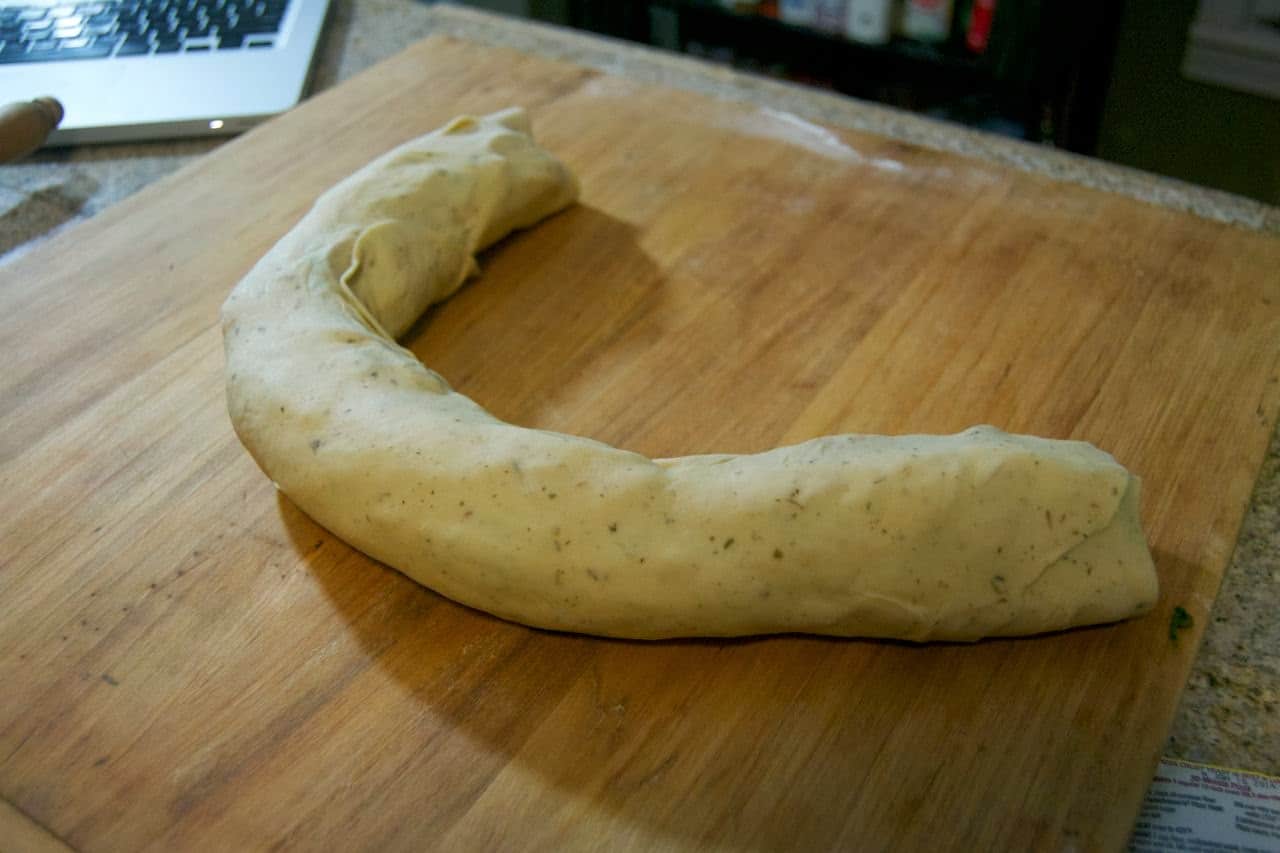 It doesn't have to look like a work of art. You're just going to eat it, not enter it into the Spinach Pepperoni Bread Hall of Fame.
Wait, but if you get that call, let me know and we'll fine-tune our rolling skillz.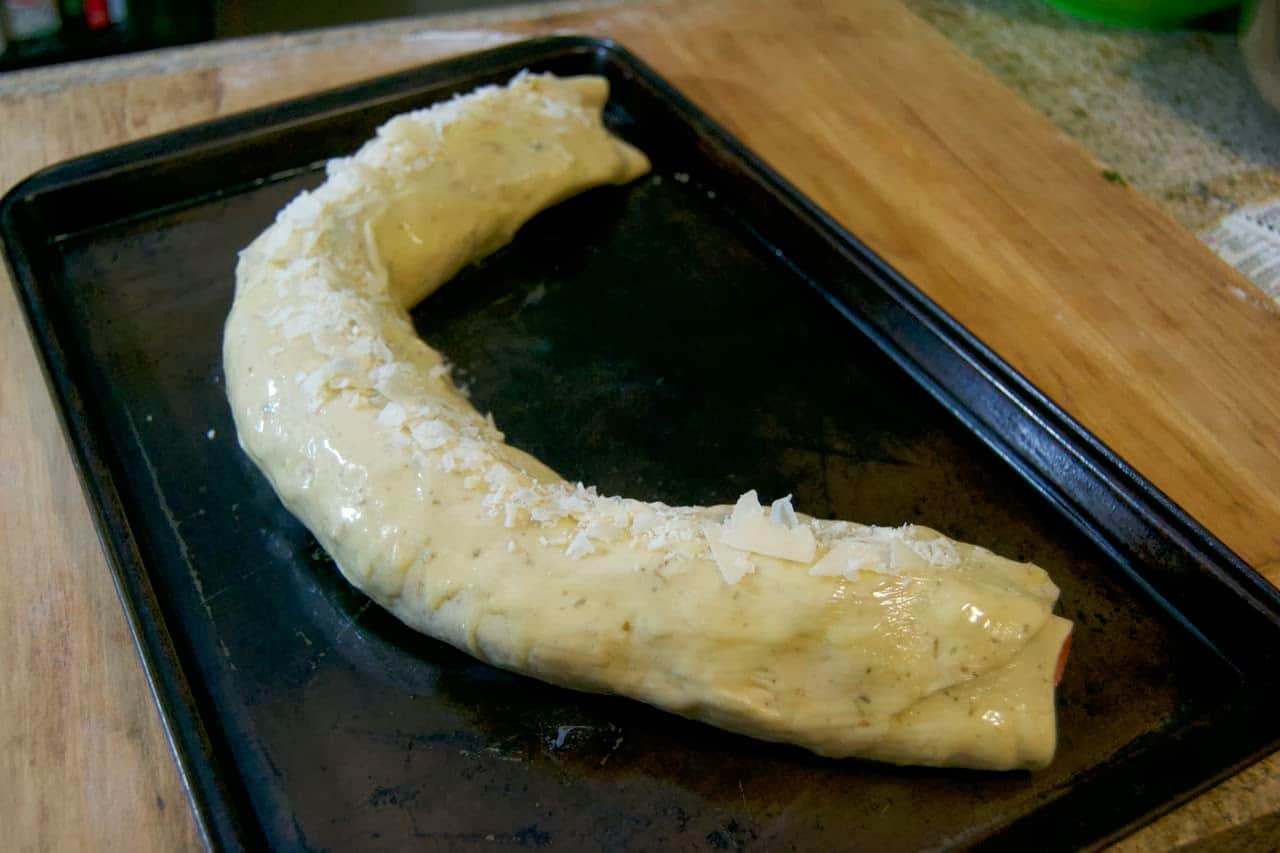 You can sprinkle it with some shaved or grated Parmesan, but I think it's better without it.
The cheese browned too quickly and tasted just a tad bit overdone.
Not burnt, but like it was teetering on the edge.
I don't think having it on top added anything to it and that it tastes just fine without it. Your choice.
Do what you want, but don't come back at me saying I didn't warn ya.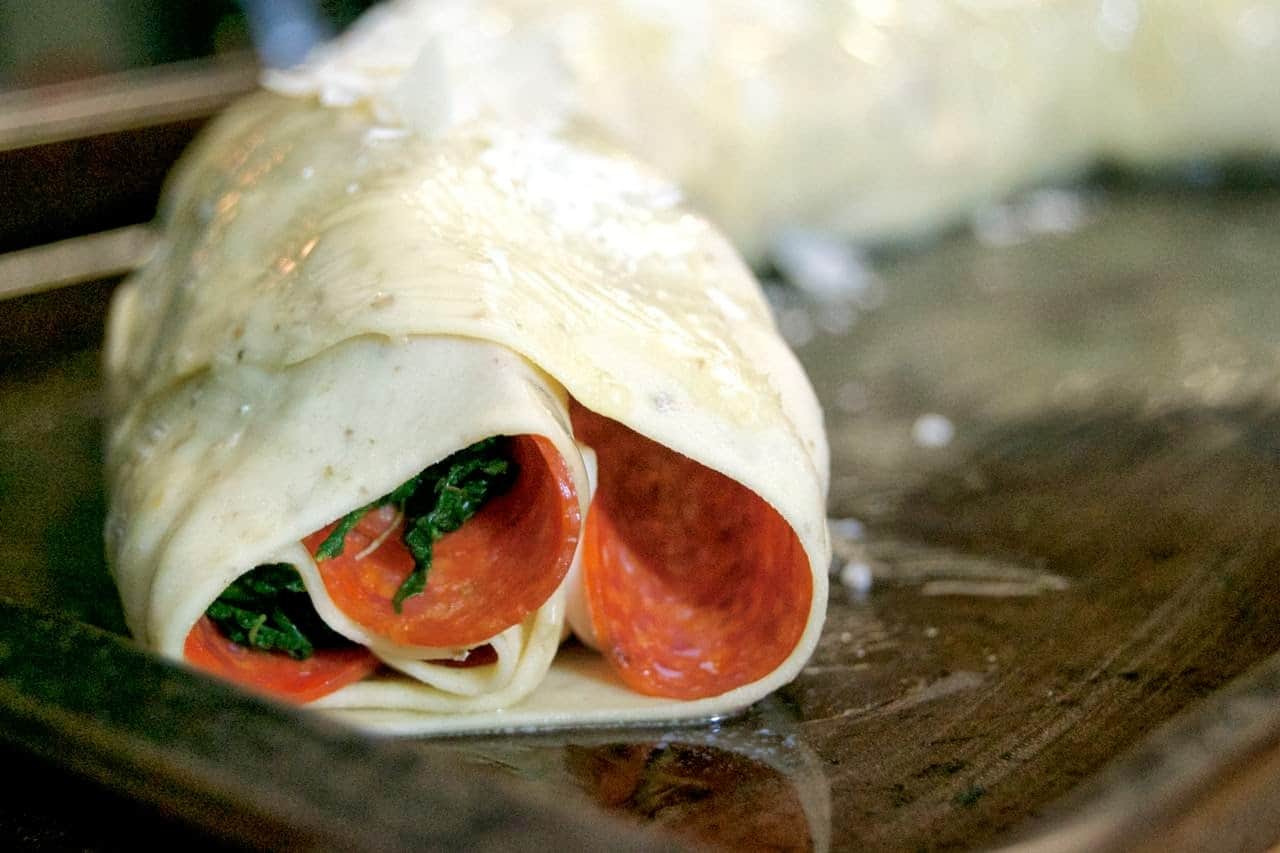 Not the most perfectly rolled up thing, but your stomach isn't going to care about the aesthetics, is it?

Tips for making a great Spinach Pepperoni Bread –
Most important I think, is to make sure you squeeze all of the excess water out of the frozen spinach! Be sure to make sure that it is completely thawed and then using your hands, squeeze out as much of the moisture as possible. There won't end up being a lot of spinach, but this will prevent your bread roll from being soggy.
You don't need to make the dough from scratch, either! To save time, you can purchase the canisters of pizza dough at your local grocery store and or even the store's packages of frozen dough.
If you have a favorite pizza place where you LOVE their dough, don't be afraid to ask if you can purchase some. I've bought a couple of balls at a time, use one immediately and put the others in the freezer so that I have them when needed.
Before the bread roll is ready to go into the oven, I like to sprinkle it along the top with some Italian seasoning, garlic powder and shaved parmesan, giving it some great additional flavor.
I've found that letting it rest for about 3-5 minutes on a cutting board to cool slightly allows for much neater slices without having to wrestle the cheese.
You can eat it alone or dip it, too! We always accompany it with Good Seasons Italian Dressing. It just tastes SOOOO good! A marinara is a great option, too.
I use this rimmed baking sheet as it prevents the grease from spilling into the oven and is big enough to hold the bread. I do curve it to fit as it usually won't fit into the pan straight.
Make sure you have a good basting brush to slather the butter on before sending it into the oven, too! I like these because I can keep the colored brushes that I use for raw meat separate from the ones I use for pastries, etc.
This Spinach Pepperoni Bread is a great alternative to pizza night, too! Speaking of pizza, I saw this Pepperoni Pizza Grilled Cheese on Pinterest the other day. It seriously had me drooling. This Pizza Pasta Salad is going to be a great dinner when the weather turns warm.
I'll be making it instead of turning the oven on in Phoenix's 115-degree temps for sure! When I make this Pepperoni Pizza Football Cheese Ball it always goes so very quickly! I think I need to start making two of them from now on. For our breakfast this weekend, I'm making this Cheesy Pepperoni Strata. My men are going to love this – I just hope they save some for me!
If I'm not bringing my Spinach Pepperoni Bread to a potluck then chances are it will be either a plain Pepperoni Bread or this Taco Braid. They're both really popular, easy to make and fun to eat, too! I've also been combining our pizza and pasta nights with these Pepperoni Pizza Stuffed Shells.
Mom used to make plain stuffed shells, but I like the flavor of these better. If you're short on time, then this Pepperoni Pizza Pasta is an easy meal that comes together quickly.
SIGN UP FOR THE WEEKLY
365 DAYS OF BAKING & MORE
WEEKLY NEWSLETTER DOWN BELOW!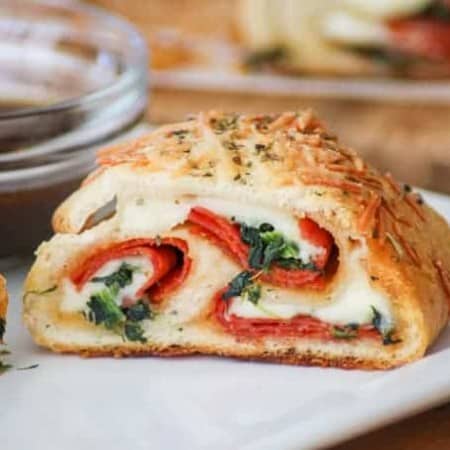 This Spinach Pepperoni Bread is pizza dough filled with spinach, pepperoni, and provolone. It makes a great weeknight dinner, is the perfect finger food for Game Day and is a recipe you'll be asked to bring again to that next potluck!
Ingredients
To Make Crust From Scratch
1 ¾ to 2 ¼ cups all-purpose flour
1 package Fleischmann's Pizza Crust Yeast
1 ½ teaspoons sugar
¾ teaspoons salt
1 teaspoon garlic powder
1 teaspoon dried oregano
⅔ cup very warm water
3 tablespoons olive oil
OR use 1 13.8-ounce package refrigerated pizza crust
9 ounces chopped spinach thawed and drained
8 ounces pepperoni slices
8 ounces Provolone cheese slices
2 tablespoons butter melted
Grated or Parmesan cheese for sprinkling if desired
If not adding herbs into crust sprinkle with Italian Seasoning and Garlic Powder.
Instructions
Preheat oven to 375 degrees F.
Crust from Scratch
In a large bowl, whisk together 1 cup of the flour, the undissolved package of yeast, sugar, salt, garlic powder and oregano.

Add the warm water and the oil. Mix for about one minute until thoroughly combined.

Gradually add enough remaining flour to until a soft ball of dough is formed. It will be sticky though.

Turn the dough out onto a lightly floured surface and knead until smooth and elastic, approximately 4 minutes. Add more flour if necessary.

With a floured rolling pin, roll the dough into a square approximately 17 X 17-inches and so that dough is about 1/8-inch thick

*Don't worry, it doesn't have to be exact – it can even be a rectangle. Also, it doesn't have to be as thin – you can make the shape smaller and have the dough be 1/4-inch in thickness.

Beginning with the end closest to you, tear the cheese slices in half and place 4-6 halves along the bottom edge (depending on how many will fit).

Place pepperoni slices along the bottom edge on top of the cheese.

Take approximately 2-3 tablespoons of spinach and spread that on top of the pepperoni slices.

Roll the dough up towards the top of the square, stopping just as you roll the dough up and over the cheese, pepperoni and spinach.

Repeat the process of placing more cheese, pepperoni and spinach on the dough, this time along the crease of the roll.

Roll and repeat until the ingredients have all been used or can not longer fit into the dough.

Spread a rimmed baking sheet with some of the melted butter.

Place the rolled pepperoni bread seam side down onto the prepared baking sheet.

Pour the remaining melted butter along the top and brush onto the sides to completely cover.

Sprinkle with grated Parmesan cheese, Italian Seasoning and Garlic Powder, if desired.

Bake for 25 – 30 minutes or until lightly golden.

Allow to rest for 3-5 minutes to cool slightly before cutting.
Notes
Refrigerated pizza crust can also be used in place of making your own. Just be sure to watch the baking time because you'll only bake for 20 - 25 minutes, until golden. Also, feel free to leave the spinach out and just make it a Pepperoni Bread!
Nutrition
Serving: 1g | Calories: 850kcal | Carbohydrates: 48g | Protein: 36g | Fat: 57g | Saturated Fat: 23g | Cholesterol: 114mg | Sodium: 2032mg | Potassium: 525mg | Fiber: 4g | Sugar: 2g | Vitamin A: 8155IU | Vitamin C: 3.9mg | Calcium: 540mg | Iron: 5.2mg
Did you make this recipe?
Share it with me on Instagram and make sure to follow me on Pinterest for more recipes.
I rate everything I bake on a scale of 1-4 and this Spinach Pepperoni Bread earned 4 rolling pins.
I like it much better than my standard Pepperoni Bread because it has the added benefit of some healthy spinach in it.
If you've loved this Spinach Pepperoni Bread, then you'll love these other recipes…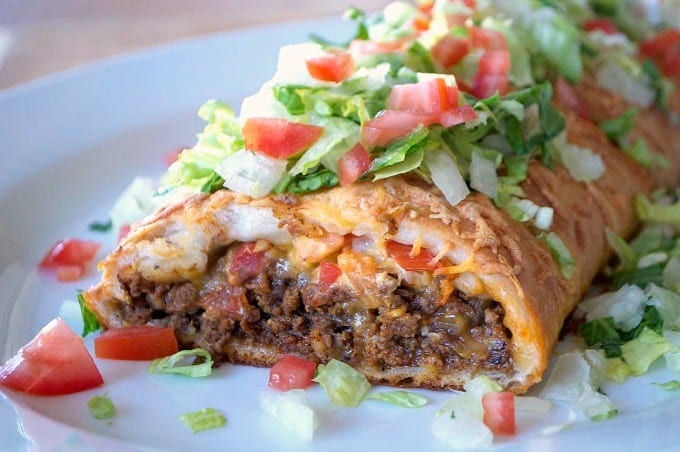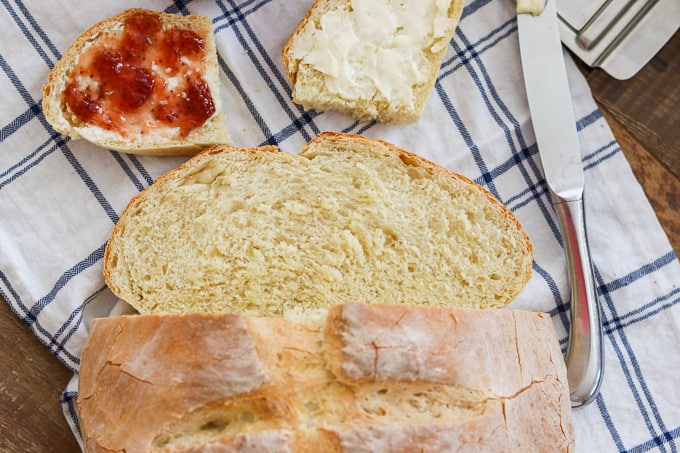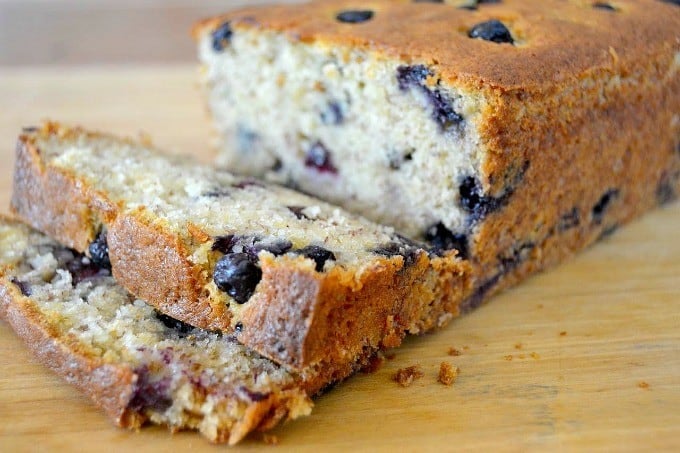 And everyone knows that spinach is a good thing, especially Popeye. You can easily omit the spinach if you'd like to make it without.
** THESE ARE LINKS THAT CAN TAKE YOU TO A PRODUCT (OR PRODUCTS) THAT I RECOMMEND. I DO RECEIVE A PORTION OF THE SALES OR CREDIT FOR MY FUTURE PURCHASES FROM ANY ITEMS PURCHASED THROUGH THOSE LINKS. YOUR PURCHASES ENCOURAGE MY BAKING, COOKING AND BUTTER HABIT, AND CONTRIBUTE TO THE LIFE OF THIS BLOG.
I THANK YOU SO VERY MUCH FOR YOUR SUPPORT. LET'S KEEP HAVING FUN IN THE KITCHEN!!
Reader Interactions