My Grandma's Italian Bread is an easy homemade bread recipe made with flour, water, yeast, salt, some sugar, and shortening. It's got the perfect crust, crunchy with a slight chewiness and is so incredibly soft and delightful on the inside.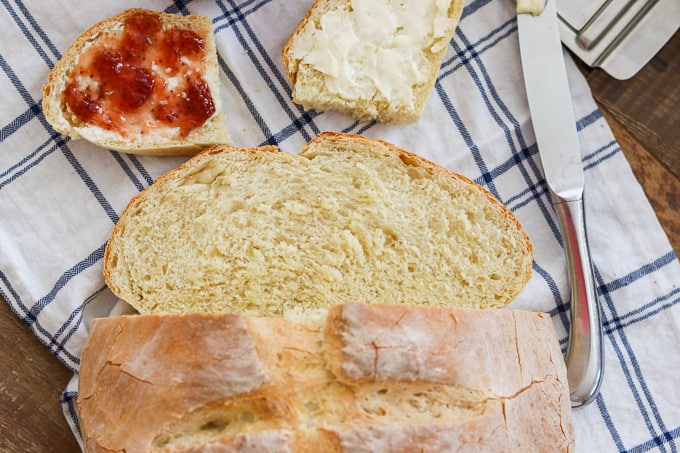 This bread is great out of the oven slathered with butter, as a side with your favorite pasta dinner, used for your panini sandwich at lunch or even toasted for breakfast!
*This post contains an affiliate link(s).
I grew up eating this bread at my grandparent's house growing up so often that I honestly don't remember a time when she didn't have a loaf in her kitchen.
She made two loaves just about every week. We ate it with her Chicken Cacciatore, Manhattan Clam Chowder and with just about every dinner.
However, my most favorite way of eating it was right out of the oven completely covered in butter.
SAVE MY GRANDMA'S ITALIAN BREAD TO YOUR FAVORITE PINTEREST BOARD!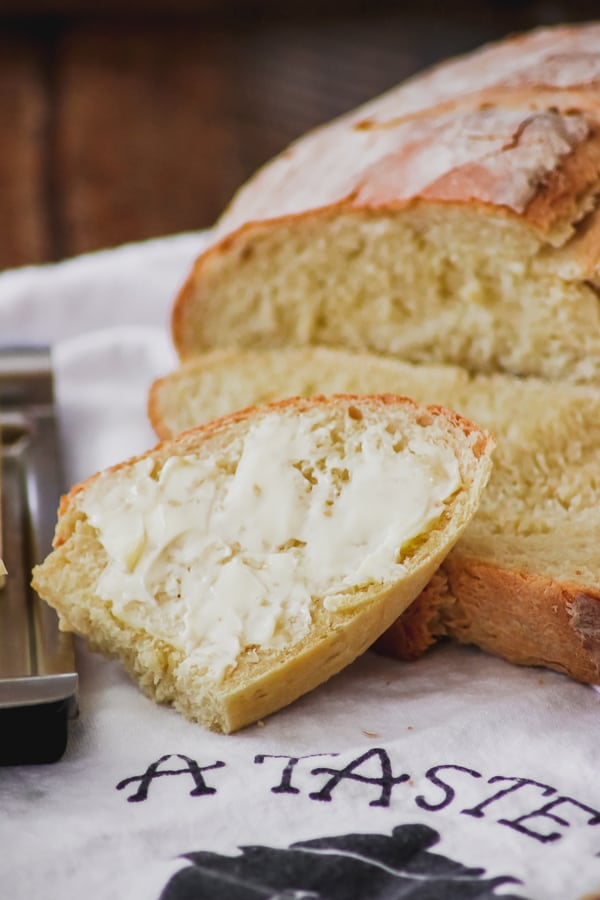 The butter would just melt into the small holes of the bread, it'd be warm and my hands would get greasy as I savored every. single. bite.
That slightly chewy crust and soft insides still make me swoon. Memories of Grandma's kitchen will always hold a very special place in my heart.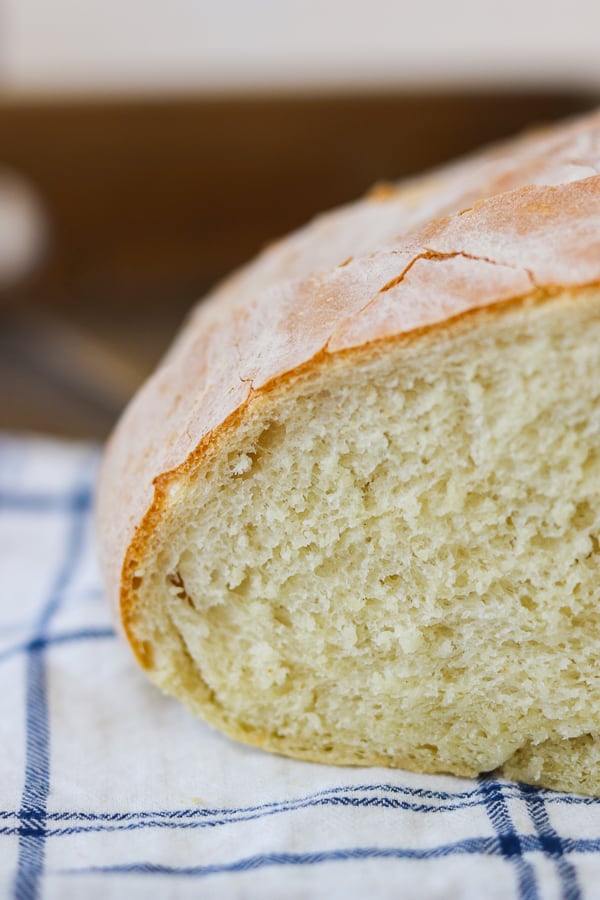 To this day, I still see her standing at the counter kneading the dough on the wooden board that I now proudly own. I'd peek at the dough rising in the oven in the green bowl (oh, how I wish I had that relic), and would then watch it bake through the oven window.
When she thought it was done she'd make sure by tapping the bottom and listening for that hollow sound.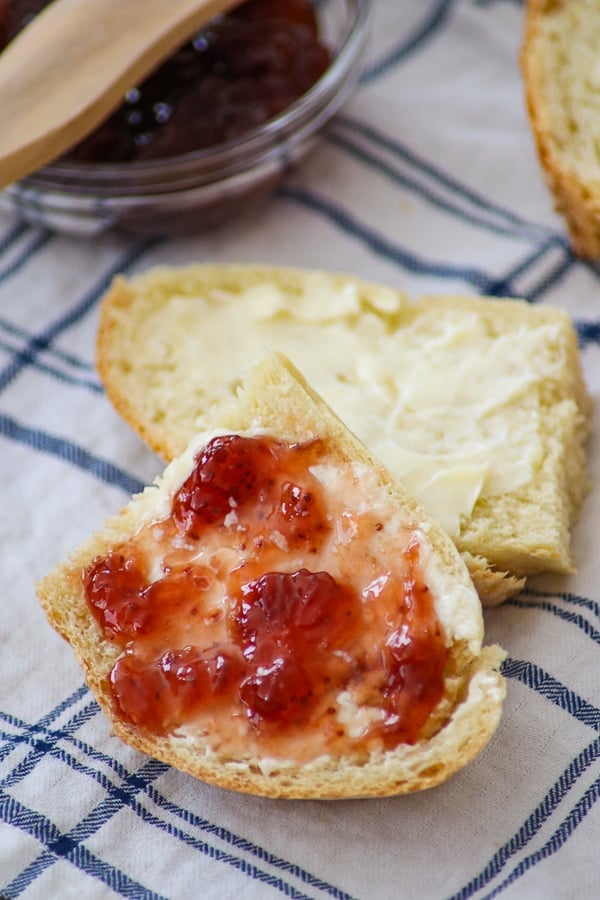 And the smell.
That incredible, incredible aroma of freshly baked homemade Italian bread just completely permeated every air molecule in the house, intoxicating me and casting me under its' spell.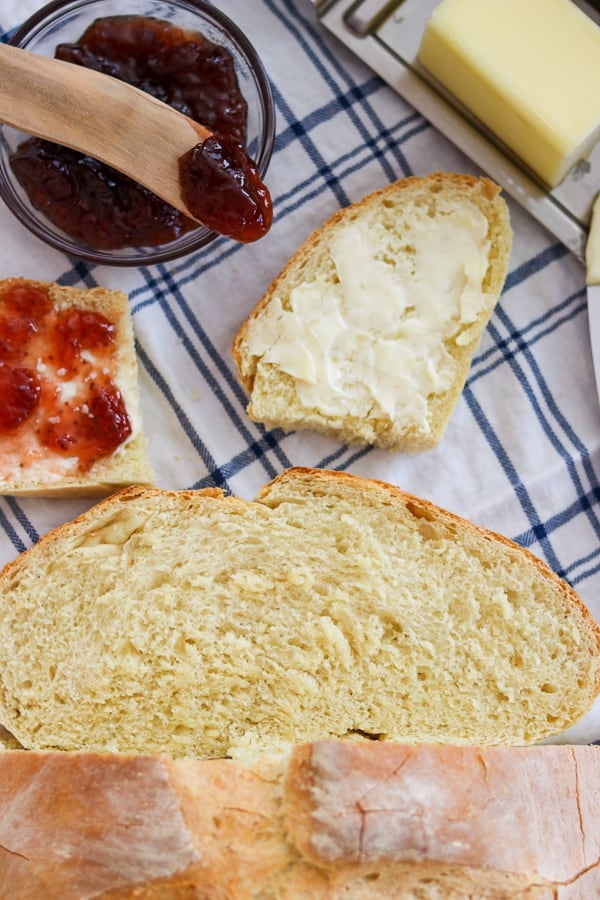 And the torture it was waiting for the dough to not only rise, but then to also wait for the final countdown for it to come out of the oven. That darn timer would not go off fast enough!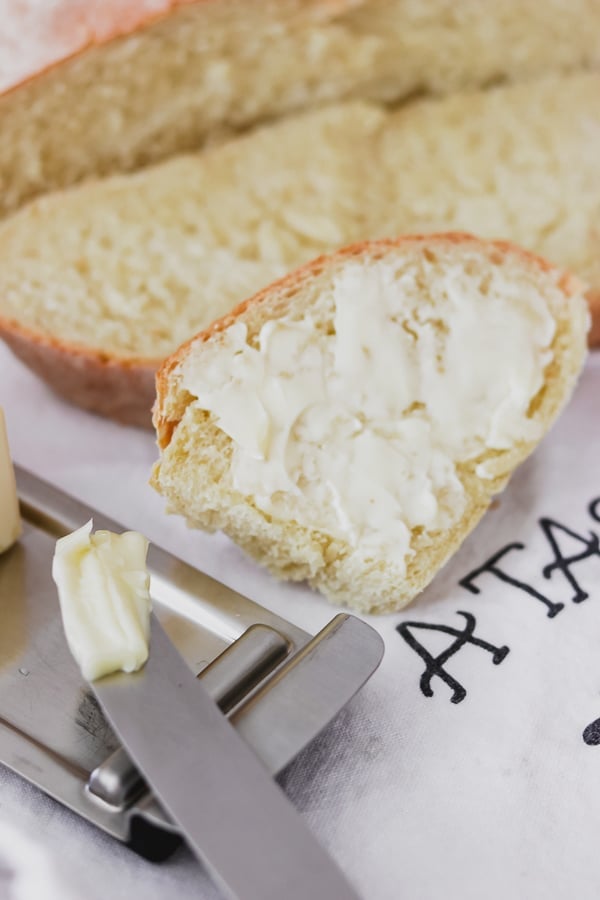 When she did cut me a piece, and before she buttered it, I always had to hold it up to my nose to smell the yeasty goodness. Oh, how wonderful it was. Deep, deep long breaths I'd take, enjoying each and every moment.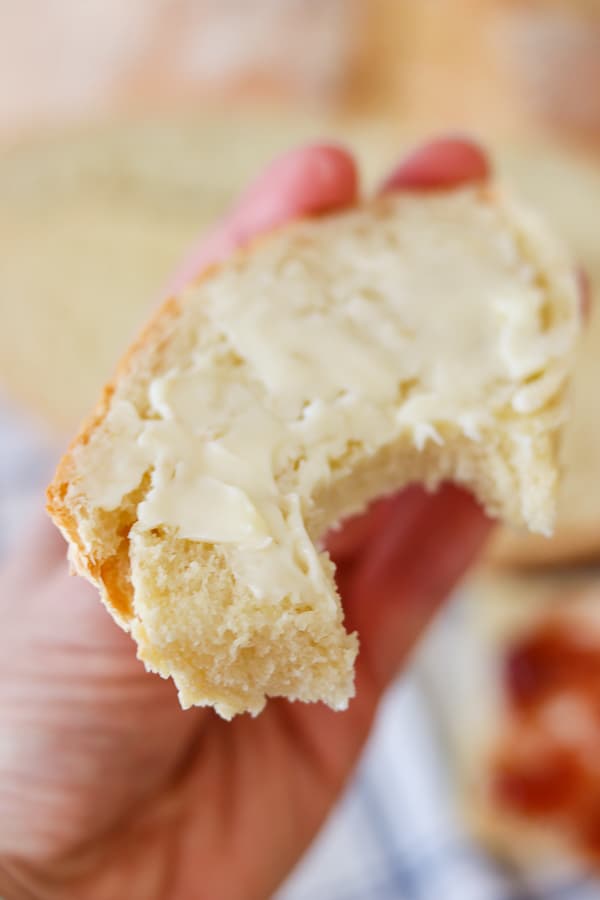 To this day, when I get fresh bread or even pizza crust, I have to smell it. The kids think I'm weird, but it's something I'll never stop doing.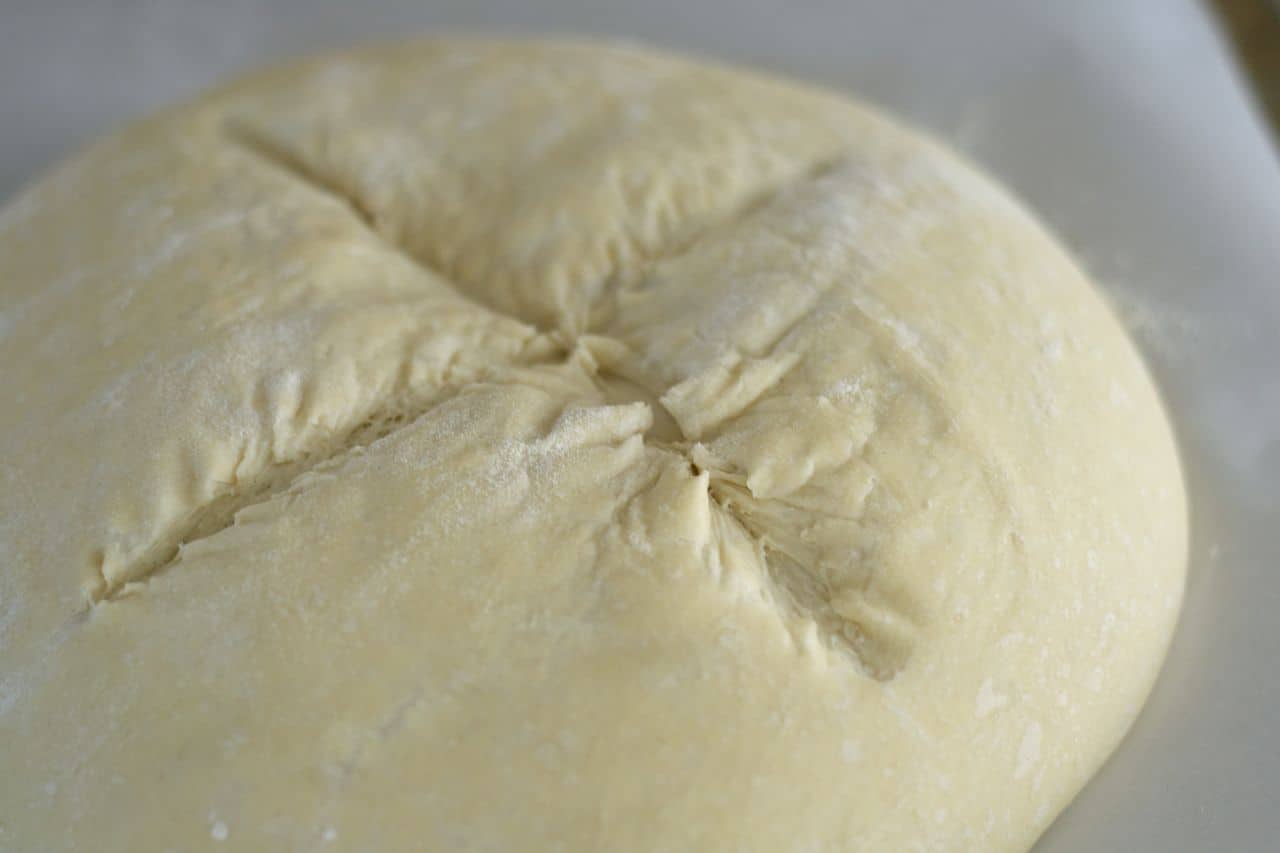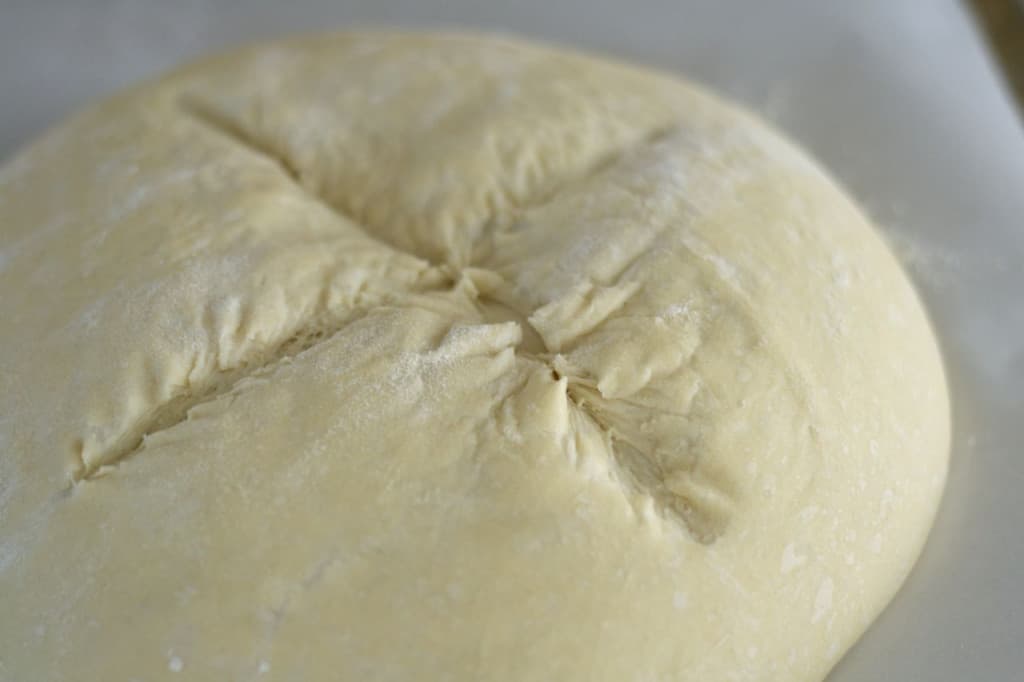 Even though I didn't bake with her often, I know without a doubt that her kitchen is where my love for food began. All that can be done in a kitchen began to grow in those moments.
She was French Canadian, not even Italian, but man could she cook. And bake, too!
Looking back now, I so wish I'd paid more attention and spent more time with her, learning her secrets, writing down all of her recipes.
There are definitely a couple I wish I had.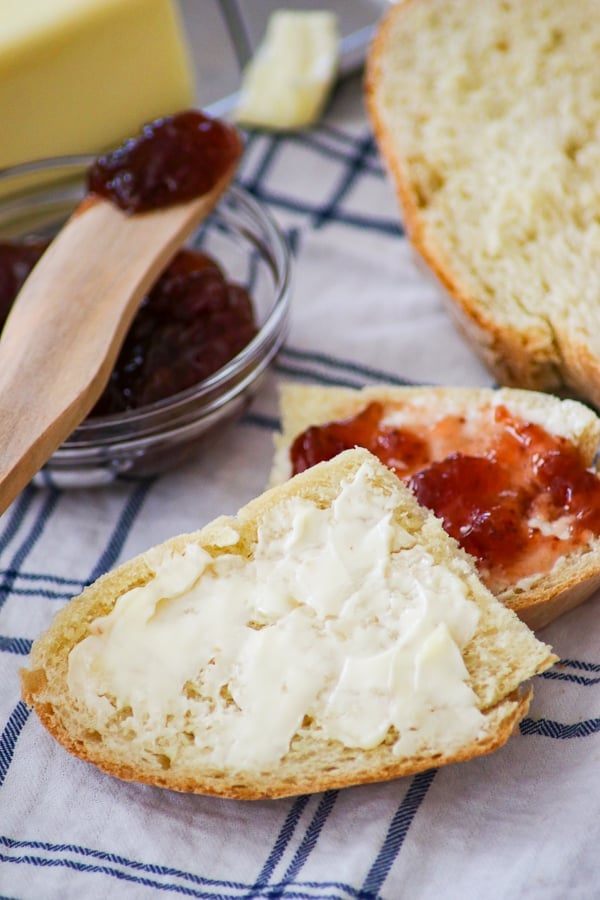 When I started my original 365 Days of Baking, I had two recipe cards for my Grandma's Italian Bread that I'd found in my mother's recipe box. I was very excited when I came across them, but the recipes stopped after it said to knead for about 7 minutes.
There were no instructions as to how long it was supposed to rise, rest, or bake.
NOOOOO!!!!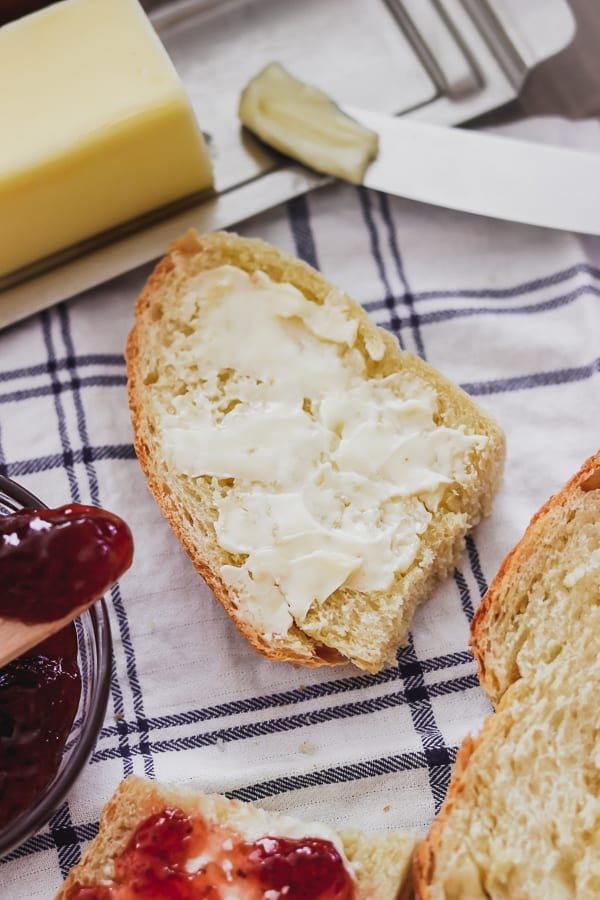 I was devastated. This was a recipe I so wanted to make and share with my family. There's something about sharing that experience of how delicious the freshly baked bread truly is.
So it sat. And it sat for over twenty years.
Until I found what turned out to be the "rest" of the recipe over at Mel's Kitchen Cafe.
So, the ingredients and the beginning of the directions are Gram's with the finishing touches being Mel's.
Oh, and just a side note.
There's a reason Mel says to use your broiler pan or a similar pan made of metal while baking the bread. That's because you don't want to use a glass one.
Do you know what will happen if you put a glass pan into a 450 degree F. oven and then pour hot water into it just before baking the bread?
Tips for making Grandma's Italian Bread Recipe –
Be patient!
This recipe is super easy to make, but you must have patience. There are times when the dough has to both rest and rise. It can be a struggle, but it's well worth the wait, believe me!
Divide the 3 cups of flour into a separate bowl. That way, you won't have to take the time to remeasure when you're adding it to the yeast mixture.
When I can't find a warm enough spot in my house for the dough to rise, I turn my oven to bake at 170°. I do it when I mix and knead the dough then turn it off. Then allow it to rise in the oven.
I've had success both baking it on the pizza stone, like this one, as well as on a cookie sheet upside down. Both work, I think I just prefer the way it turns out on the cookie sheet best.
For the life of me, I cannot remember what Grandma used. Weird, isn't it?
Listen for that hollow sound when you tap on the bottom to know that the loaves are completely baked. This is key. There have been many a time that I've been impatient to bite into a slice that I've taken it out too early. So, the middle needs to be completely done.
If you don't devour both loaves in the first week, the second loaf can be frozen. Wrap it up tight in plastic wrap once it's completely cooled and then again in aluminum foil. Then freeze for no more than three weeks.
There's just something about making a loaf of homemade bread – the kneading, the baking. I just find it so comforting, don't you?
My Grandma's Italian Bread is great to use for sandwiches as well, but if you're looking for more of a subway shaped loaf, then this Homemade Subway Bread Recipe from Melissa at Bless This Mess will be perfect! These will be great for feeding the crowd on game days!
Homemade Garlic bread is always a winner at our house. We eat it with a lot of different recipes when I don't have a loaf of Italian bread on hand. The pictures that Becky from The Cookie Rookie has on her blog will make you drool. It makes me wish I had some on hand, and you will too.
If you're looking for more a flatbread say for your next taco night, then these Best Ever Flour Tortillas from Sandra at Dash of Sanity are for you. You'll be able to use them in a variey of recipes, too not just for tacos.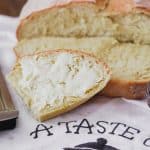 Grandma's Italian Bread
This recipe from my childhood, my Grandma's Italian Bread is soft on the inside with a crunchy crust. It is a bread you will be making over and over again.
Keyword:
Bread, Homemade Bread, Italian bread
Ingredients
2 1/4

teaspoons

dry yeast

3 1/2

cups

warm water

8

cups

all-purpose flour

divided

1

tablespoon

shortening

3

teaspoons

salt

1

teaspoon

sugar

1

cup

of hot water for baking
Instructions
In a large bowl, dissolve yeast in the 3 1/2 cups warm water.

Add 3 cups flour and the shortening, salt and sugar.

Beat with an electric mixer for 2 minutes, then add the rest of the flour, beating until all flour is incorporated and a sticky dough ball is formed.

Turn out onto a floured surface, putting a little bit more flour on the top to prevent sticking.

Knead for about 7 minutes, adding as little flour as possible, but enough to prevent it from sticking.

Allow the dough to rest for 5 minutes before transferring to a well-greased bowl.

Turn the dough over in the bowl once to get it coated.

Cover lightly with a clean kitchen towel and let rise for at least two hours.

Punch dough down.

Divide dough in half.

On a lightly floured surface and with floured hands, gently form it into a ball and place on a sheet of parchment. Do the same with the second half.

Let both loaves rest for 40 minutes.

Place a pizza stone in the oven on the middle shelf. On the lower rack, place the broiler pan or another metal pan. You will use this to hold the water during baking.

Preheat to 450° F. If you do not have a pizza stone, you can also use a rimmed baking sheet turned upside down - see note*. Allow the stone to sit in the oven for 20 minutes at 450° F before placing the dough on top of it. If using a baking sheet, only place it into the oven for 10 minutes prior to baking, not the 20 as with the pizza stone.

Lightly dust the top of the first loaf with flour and then, with a sharp knife, score an X into the top.

Place the dough with the parchment onto the pizza stone or upside down baking sheet in the oven.

Pour the one cup of water into the broiler pan. Quickly shut the oven door to contain the steam.

Bake for 24 - 28 minutes, until golden brown.

Do the same with the second loaf.

The loaves can be tested for doneness by tapping on the bottom. They should sound hollow.
Recipe Notes
Instead of using the dry yeast from a jar, you can also use 1 package of dry yeast which will yield you the amount needed.
For rising, I usually turn my oven to the lowest temperature and then turn it off before I place the dough into the oven to rise.
Here are some ideas that you can enjoy Grandma's Italian Bread with…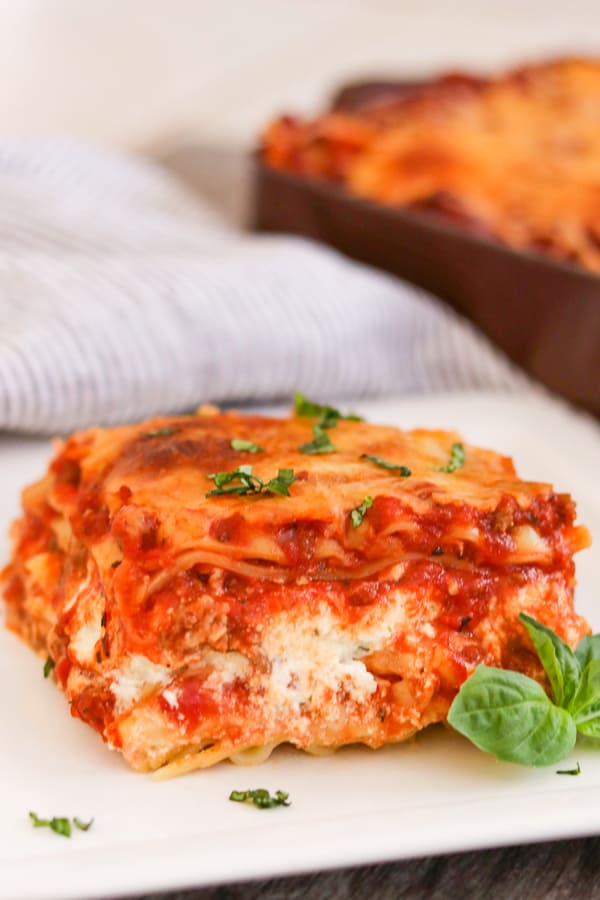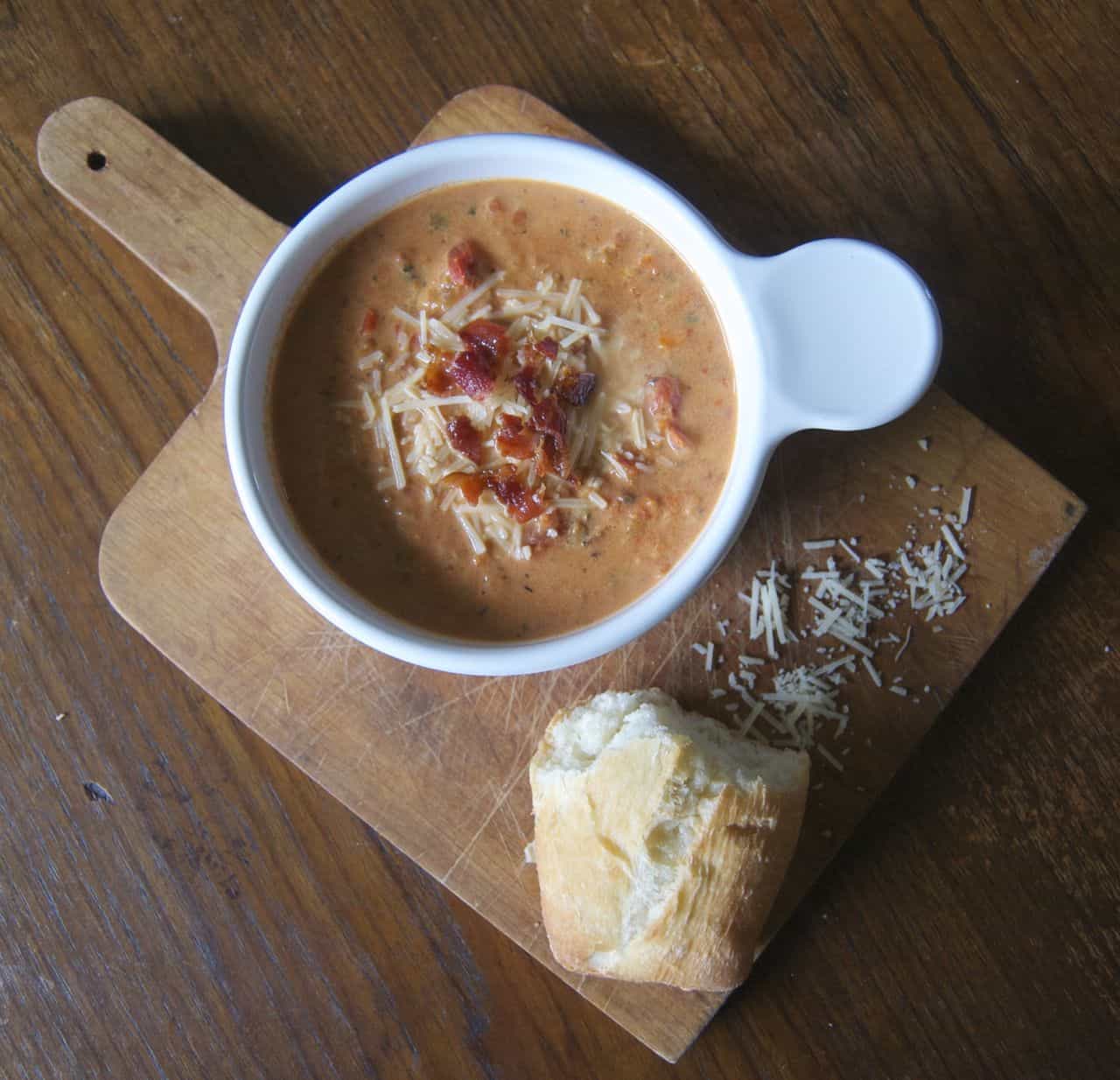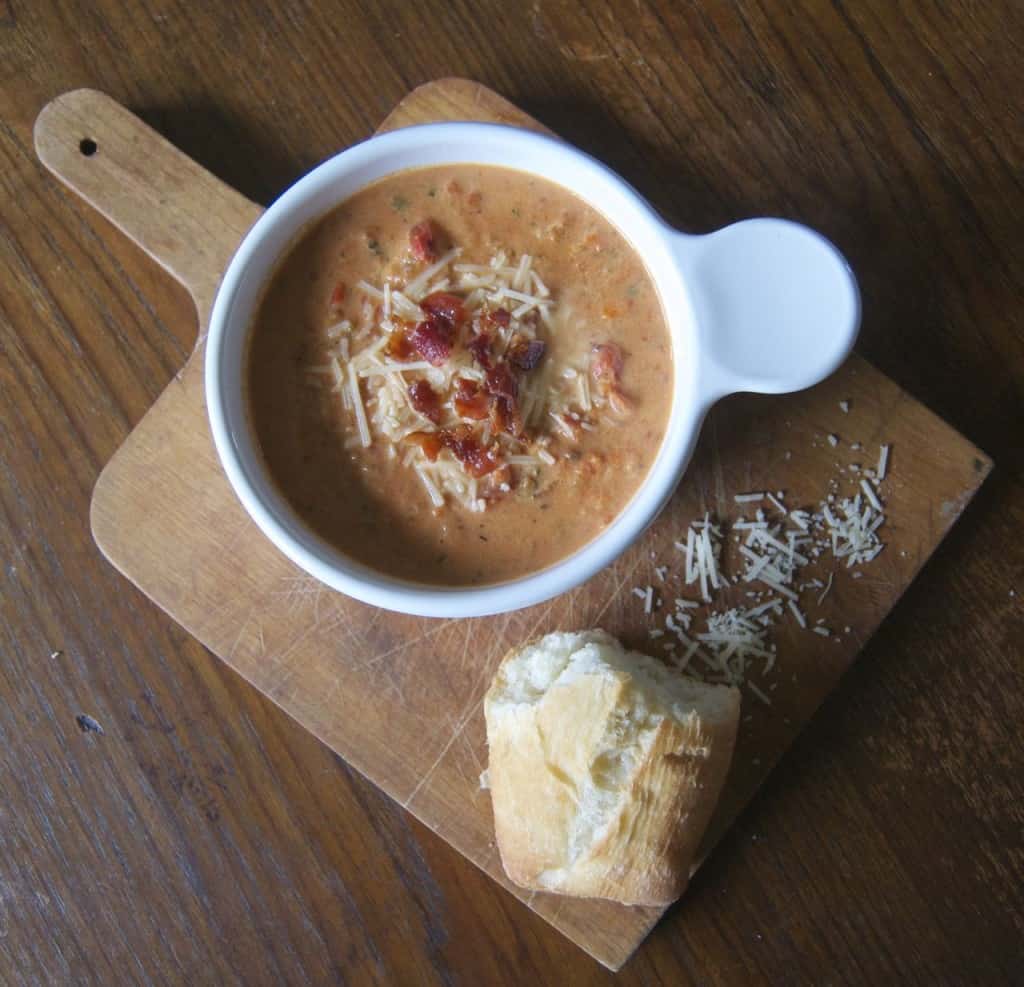 I used to rate everything I baked on a scale of 1-4 with 4 being the best. This Grandma's Italian Bread recipe definitely earned 4 rolling pins!!
*We are a participant in the Amazon Services LLC Associates Program, an affiliate advertising program designed to provide a means for us to earn fees by linking to Amazon.com and affiliated sites.
These are links that can take you to a product (or products) that I recommend. I do receive a portion of the sales or credit for my future purchases from any items purchased through those links. Your purchases encourage my baking, cooking and butter habit, and contribute to the life of this blog. I thank you so very much for your support. Let's keep having fun in the kitchen!!