Grandma's Italian Bread – an easy bread made with flour, water, yeast, salt, some sugar and shortening. It's got the perfect crust, crunchy with a slight chewiness and is so incredibly soft and delightful on the inside. Great out of the oven slathered with butter, as a side for dinner or used for your panini sandwich at lunch!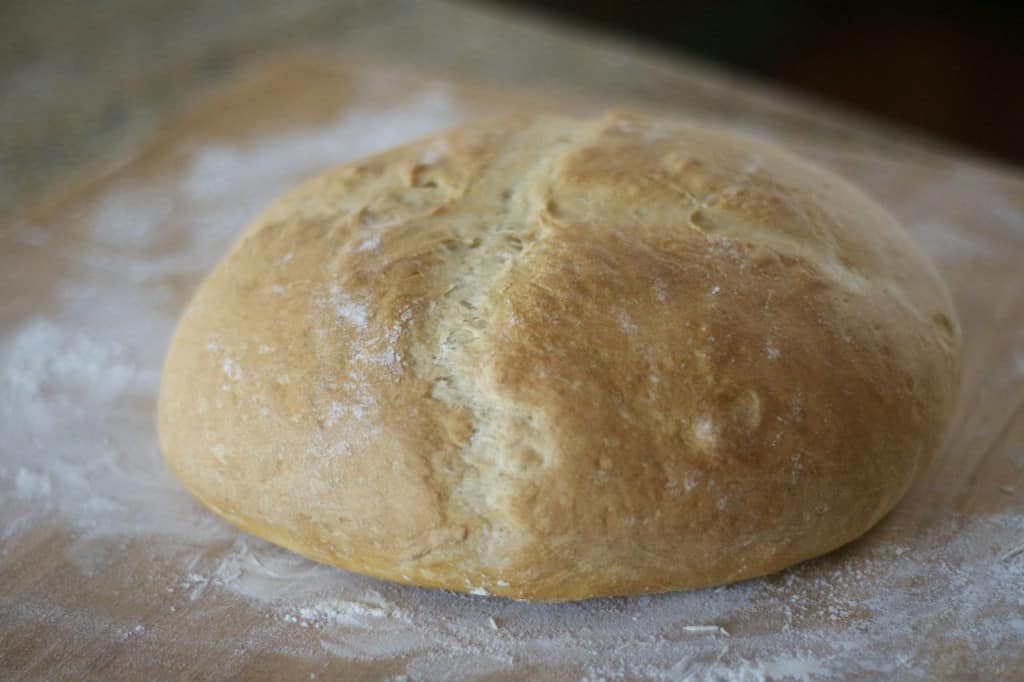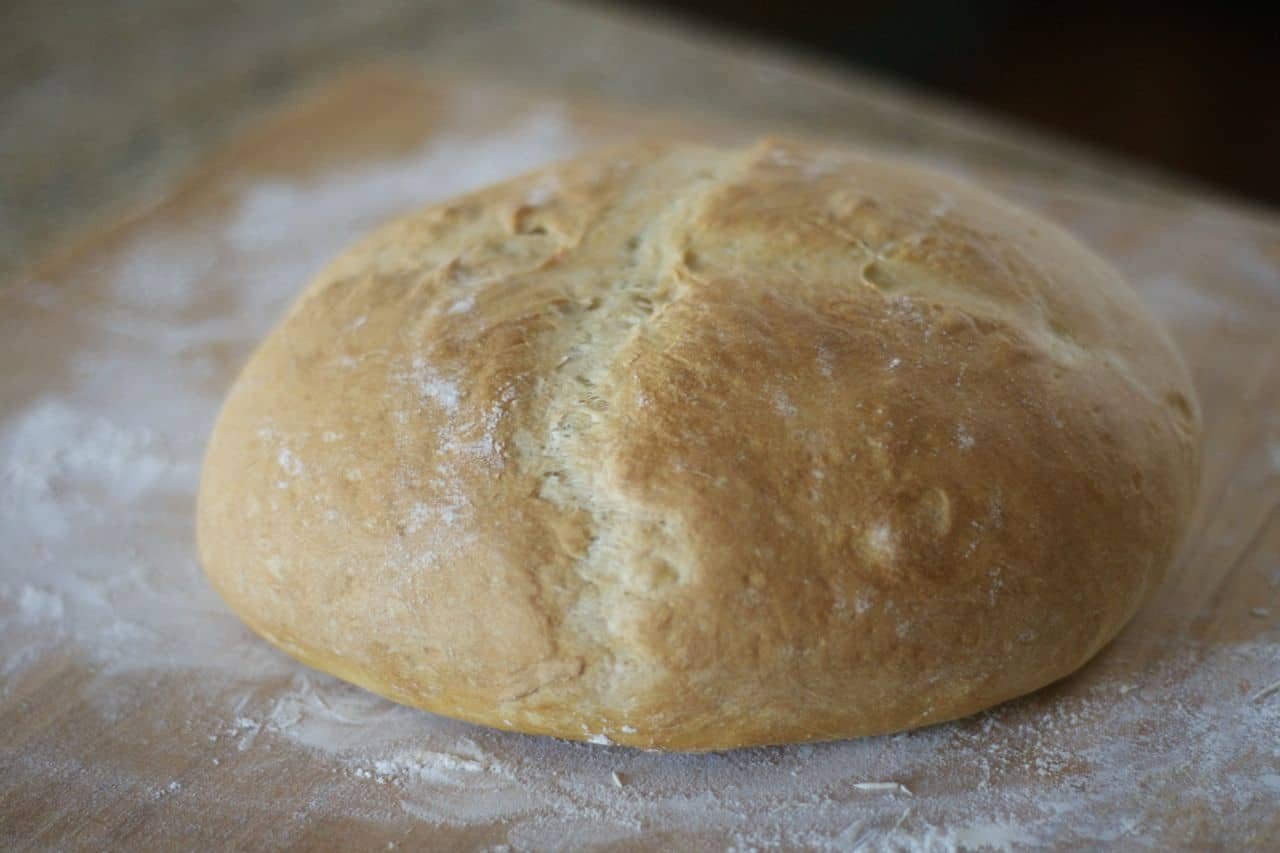 I grew up eating this bread (or at least something similar to this bread) at my grandparent's house growing up so often that I honestly don't remember a time when she didn't have a loaf in her kitchen.
She made two loaves just about every week in her kitchen. We ate it with her Chicken Cacciatore, Manhattan Clam Chowder and with dinner at just about every meal, but my most favorite way of eating it was right out of the oven completely covered in butter.
The butter would just melt into the small holes of the bread, it'd be warm and my hands would get greasy as I savored every last bite.
That slightly chewy crust and soft inside. Memories of Grandma's kitchen will always hold a very special place in my heart.
So clearly can I see her standing at the counter kneading the dough on the wooden board that now sits in my kitchen, the dough rising in the oven in the green bowl (oh, how I wish I had that relic), and watching it bake through the oven window. When she thought it was done she'd make sure by tapping the bottom and listening for that hollow sound.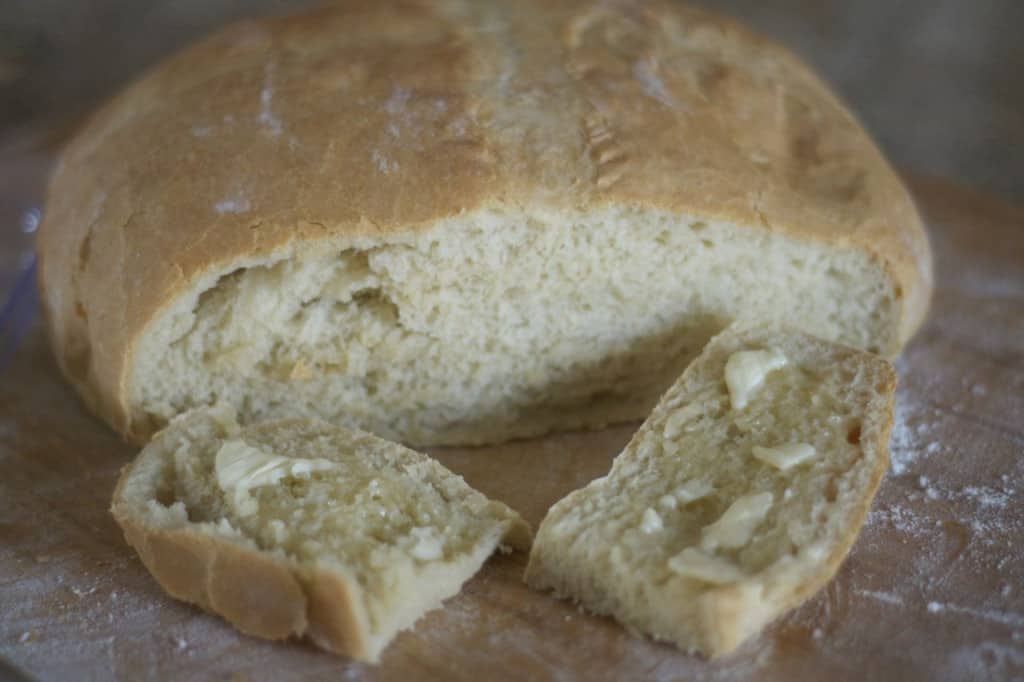 And the smell.
That incredible, incredible aroma of freshly baked bread just completely permeated every air molecule in the house, intoxicating me and casting me under its' spell.
And the torture it was waiting for the dough to not only rise, but then to also wait for the final countdown for it to come out of the oven. That darn timer would not go off fast enough!
When she did cut me a piece, and before she buttered it, I always had to hold it up to my nose to smell the yeasty goodness. Oh, how wonderful it was. Deep, deep long breaths I'd take, enjoying each and every moment.
To this day, when I get fresh bread or even pizza crust, I have to smell it. The kids think I'm weird, but it's something I'll never stop doing.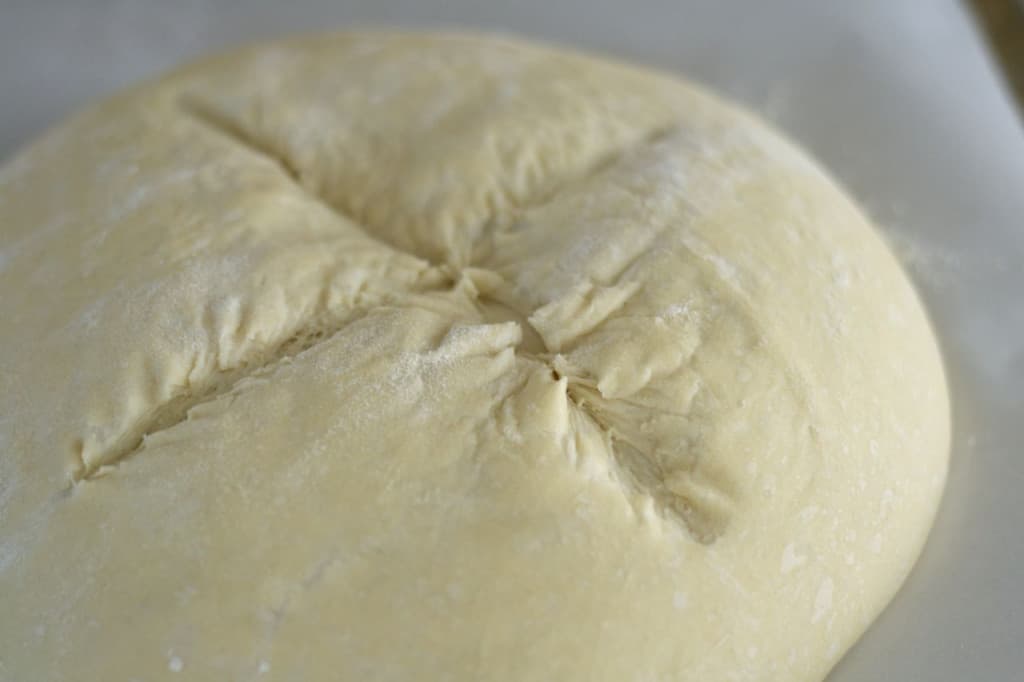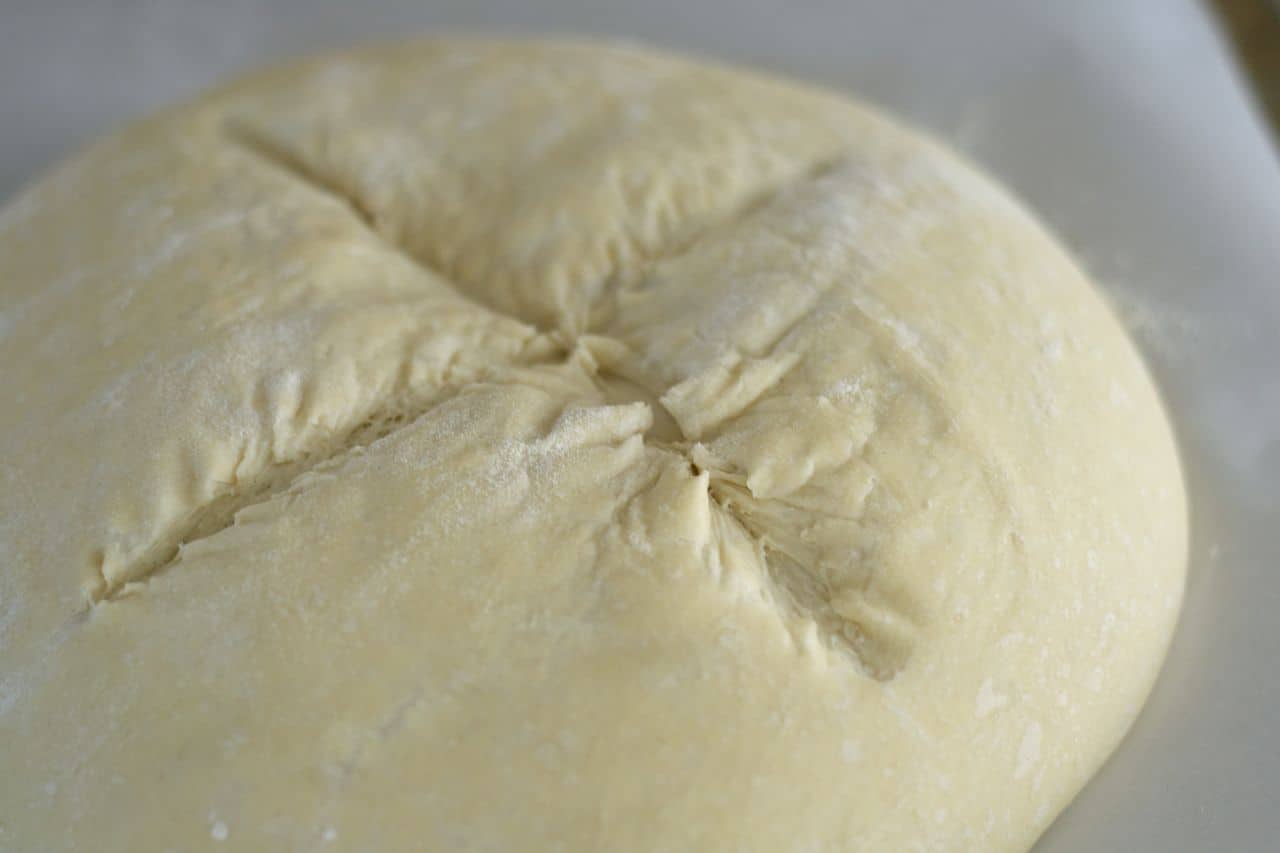 Even though I didn't bake with her often, I know without a doubt that her kitchen is where my love for food and all that could be done with it, began to grow.
She was French Canadian, not even Italian, but man could she cook. And bake, too!
Looking back now, I so wish I'd paid more attention and spent more time with her, learning her secrets, writing down all of her recipes.
There are definitely a couple I wish I had, especially this one.
I do have this recipe card of her bread that my mother wrote. Actually, I have two that I'd found in my mother's recipe box and I was very excited when I came across them. There was only one issue – the recipe stops after it says to knead for about 7 minutes.
There are no instructions as to how long it's supposed to rise for, rest, or bake.
WHAT?! I NEED THIS IN MY LIFE!!! It's been TOO long and I am now going through Grandma's bread withdrawal.
I may need a self-help group.
I was devastated because this was a recipe I so wanted to make and share with my family so that they could experience the deliciousness and smell the aroma of freshly baked bread.
So it sat. And it sat for over twenty years.
Until now.
I found what I really hope is the "rest" of the recipe over at Mel's Kitchen Cafe and I'm hoping with my fingers doubly crossed that it turns out as my grandmother's did.
So, the ingredients and the beginning of the directions are Gram's with the finishing touches being Mel's.
Oh, and just a side note.
There's a reason Mel says to use your broiler pan or a similar pan made of metal while baking the bread – it's because you don't want to use a glass one.
Do you know what will happen if you put a glass pan into a 450 degree F. oven and then pour hot water into it just before baking the bread?
You can go here to my Instagram account to see the result!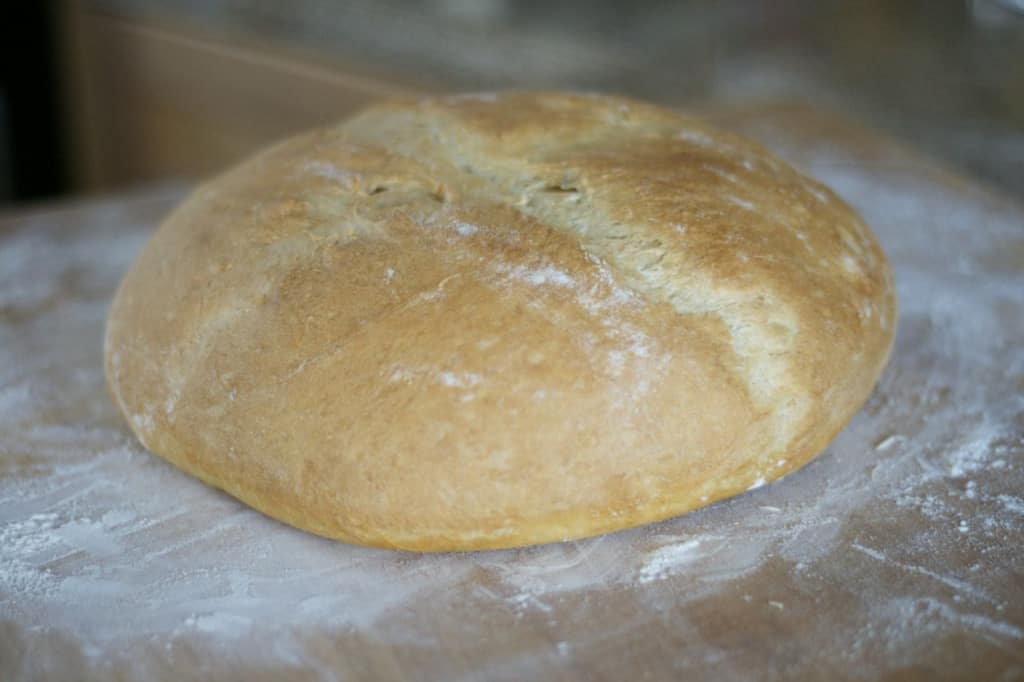 Ingredients
1 package dry yeast
3 1/2 cups warm water
8 cups all-purpose flour, divided
1 tablespoon shortening
3 teaspoons salt
1 teaspoon sugar
1 cup of hot water for baking
Instructions
In a large bowl, dissolve yeast in the 3 1/2 cups warm water.
Add 3 cups flour and the shortening, salt and sugar.
Beat with an electric mixer for 2 minutes, then add the rest of the flour, beating until all flour is incorporated and a sticky dough ball is formed.
Turn out onto a floured surface, putting a little bit more flour on the top to prevent sticking.
Knead for about 7 minutes, adding as little flour as possible, but enough to prevent it from sticking.
Allow to rest for 5 minutes before transferring to a well-greased bowl.
Turn the dough over in the bowl once to get it coated.
Cover lightly with a clean kitchen towel and let rise for at least two hours.
(I usually turn my oven to the lowest temperature and then turn it off before I place it into the oven to rise. It's the warmest place I have in the house, especially this time of year.)
Punch dough down.
Divide dough in half.
On a lightly floured surface and with floured hands, gently form it into a ball and place on a sheet of parchment. Do the same with the second half.
Let both loaves rest for 40 minutes.
Place a pizza stone in the oven on the middle shelf. On the lower rack, place the broiler pan or another metal pan. You will use this to hold the water during baking.
Preheat to 450 degrees F. If you do not have a pizza stone, you can also use a rimmed baking sheet turned upside down - see note*. Allow the stone to sit in the oven for 20 minutes at the 450 degree temp. before placing the dough on top of it. If using a baking sheet, only place it into the oven for 10 minutes prior to baking, not the 20 as with the pizza stone.
Lightly dust the top of the first loaf with flour and then, with a sharp knife, score an X into the top.
Place the dough with the parchment onto the pizza stone or upside down baking sheet in the oven.
Pour the one cup of water into the broiler pan. Quickly shut the oven door to contain the steam.
Bake for 24 - 28 minutes, until golden brown.
Do the same with the second loaf.
The loaves can be tested for doneness by tapping on the bottom. They should sound hollow.
https://www.365daysofbakingandmore.com/grandmas-italian-bread/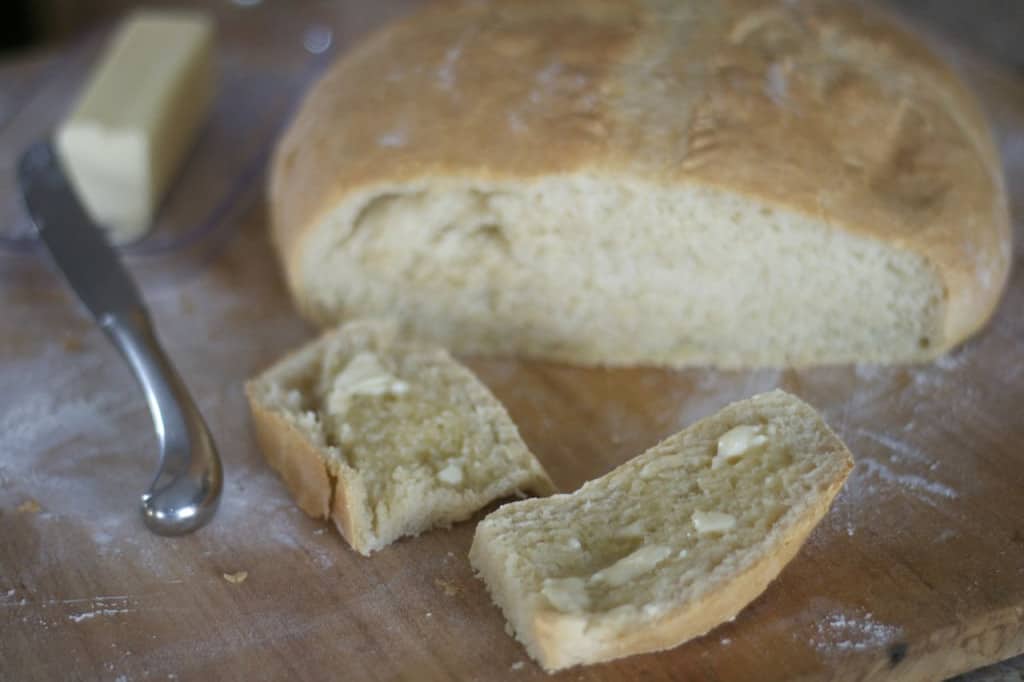 I rate everything I bake on a scale of 1-4 with 4 being the best and Grandma's Italian Bread earned 4 rolling pins!!
I am SO very excited that I can now make the bread I grew up with and enjoyed so very much.
It really was quite wonderful and delicious.
The first loaf I baked I took out just as the timer went off at the 24 minute mark.
Screw it, I said, I'm not waiting another minute for this stuff.
It was very good, but could have used a few minutes more as the hollow sound when I tapped the bottom wasn't really there. I just couldn't wait.
Probably twenty five years I've been waiting for this stuff. It's not going to sit in my oven another minute. Besides, it was a golden brown.
Now I'm off to clean the mess I made up in my oven. As I told you, check out my Instagram page to see what I'm talking about and be sure to follow me so that you can see pics of my daily 365 life!
I give you BIG baking hugs and muffins!!