Get that oven ready for this amazing Texas Roadhouse Rolls recipe! Soft on the inside with a buttered top, nothing will compare to these homemade dinner rolls.
They'll be even more delicious when you spread some of the Easy Cinnamon Honey Butter on them!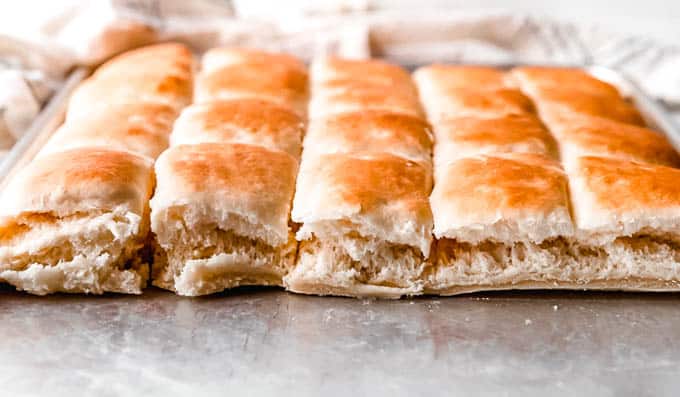 There are no words to describe a Texas roadhouse roll. I mean, eating them gives you everything you need to know.
If you've never had one of those fluffy buttery rolls, then let me tell you–you're in for a treat. I'm so excited to share this copycat recipe with you so you can make your own copycat Texas Roadhouse rolls at home.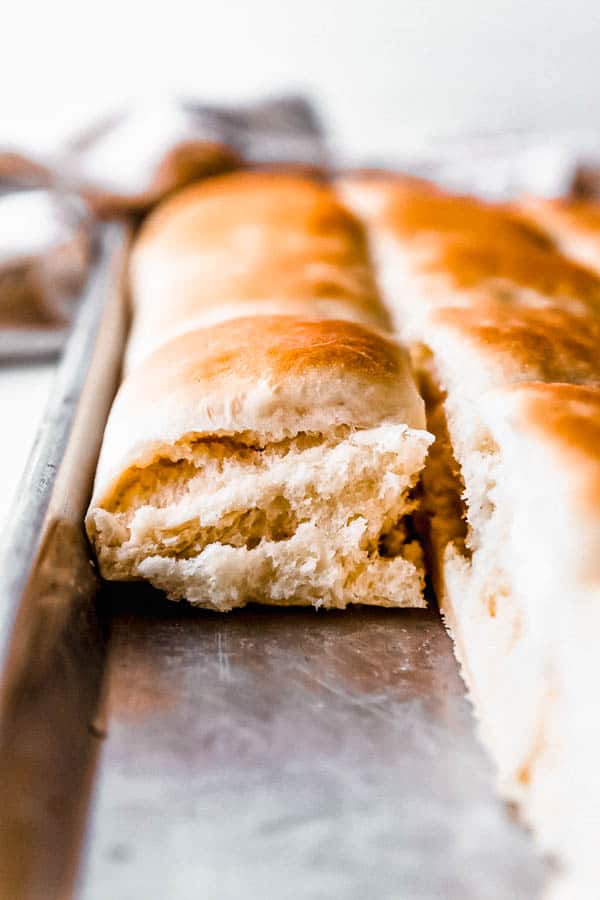 Don't you just want to reach right into your screen and grab one of those soft, fluffy rolls??
SAVE THIS TEXAS ROADHOUSE ROLLS RECIPE TO YOUR FAVORITE PINTEREST BOARD!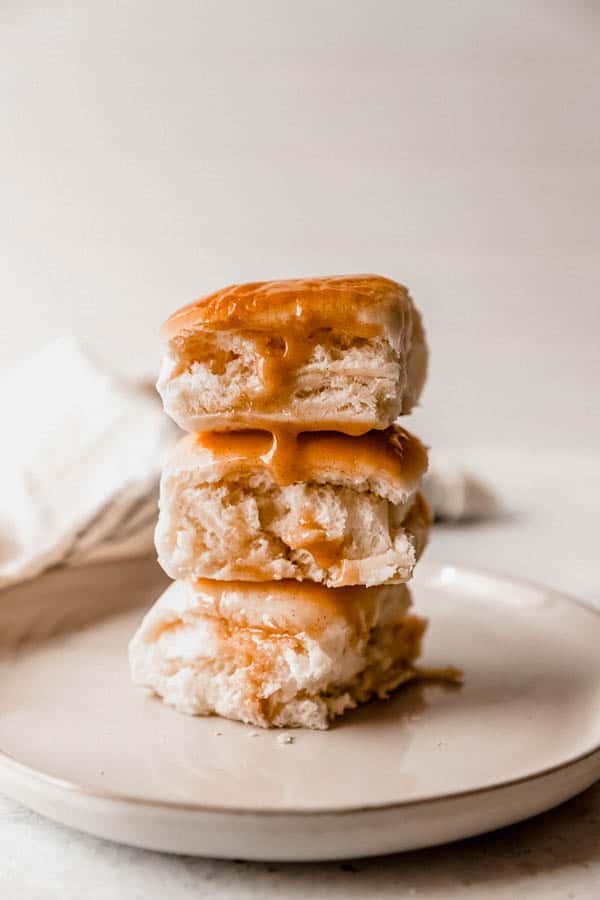 Texas Roadhouse Rolls Recipe
If you've never been to a Texas Roadhouse, you need to go. It's a chain restaurant that brings a basket of giant rolls with honey butter to your table before your meal.
Well, actually now that you know how to make these rolls, maybe you really don't need to go. I think these rolls are the best things on their menu.
Come to think of it, and coupled with the fact that we haven't been there in quite some time, I don't even think these are on the menu.
SIGN UP FOR THE
365 DAYS OF BAKING & MORE
NEWSLETTER BELOW!
If I remember correctly, they're complimentary. And the best part of this whole thing is that they are to die for when spread with that cinnamon honey butter. Oh. My. Goodness!
When the craving hit for these rolls and that cinnamon honey butter we'd head to the restaurant and then end up with a whole dinner bill to boot.
Now that I know how to make Texas Roadhouse Rolls at home, we might never end up going to the restaurant again. (Although it's not a bad stop if you're on the road and in need of a meal!)
I know I'm not alone in loving these rolls. Those delicious rolls are THE item Texas Roadhouse is best known for.

MAN, I sure do hope you think these taste like the ones in the restaurant or I'm going to be bumming out (does anyone even say that anymore or am I dating myself once again?) BIG time!
I found this Texas Roadhouse Rolls Copycat Recipe at Eat Cake For Dinner, and I'm sure you'll love it as much as I do.
Ingredients in Texas Roadhouse Rolls
active dry yeast
warm water
milk
granulated sugar
unsalted butter
all-purpose flour
large eggs
salt
That's it!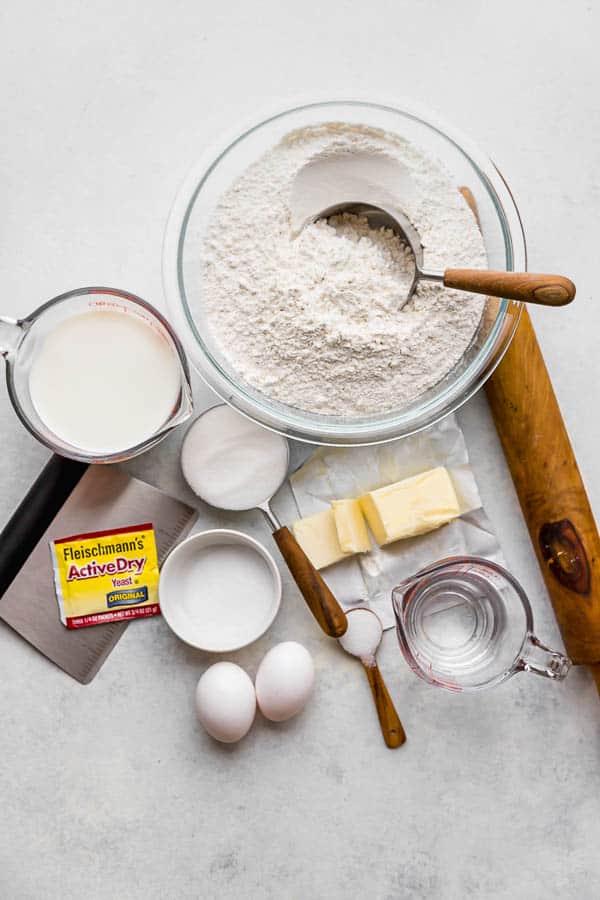 How to Make Texas Roadhouse Rolls
This rolls recipe starts with yeast, sugar and scalded milk. If you've never scalded milk before, it's easy. Just check out this step-by-step guide to making scalded milk for a tutorial.
Then, you add a little flour and let the whole thing sit for just a few minutes until light and foamy. The texture will resemble beaten egg whites.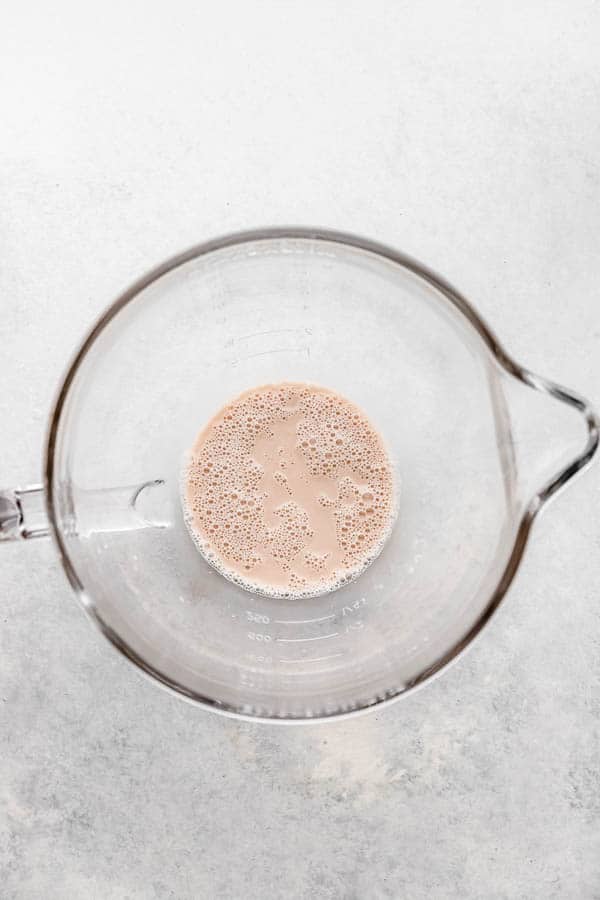 Next comes the melted butter, eggs and flour to form a dough.
The key to making these rolls fluffy is letting that beautiful dough rest for around 10 minutes before kneading it. You can knead the dough by hand or with the dough hook attachment on your electric stand mixer. When the dough is smooth and satiny, it's ready to rise.
I let the dough rise in a greased bowl covered in plastic wrap until it was doubled in size. This took a little more than an hour.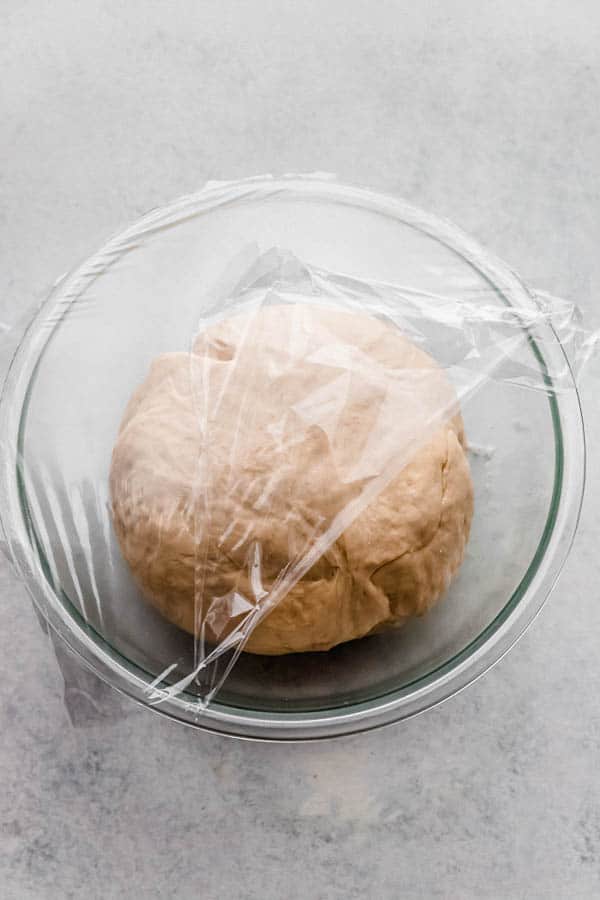 Now comes the fun part: rolling and shaping the rolls!
After rolling the dough into a rectangle and folding the ends together, let the dough rest again for around 10 minutes.All this resting time makes for fluffier rolls.
Use your dough scraper to divide the dough into rolls, then let them rise on a baking sheet for another hour until doubled in size.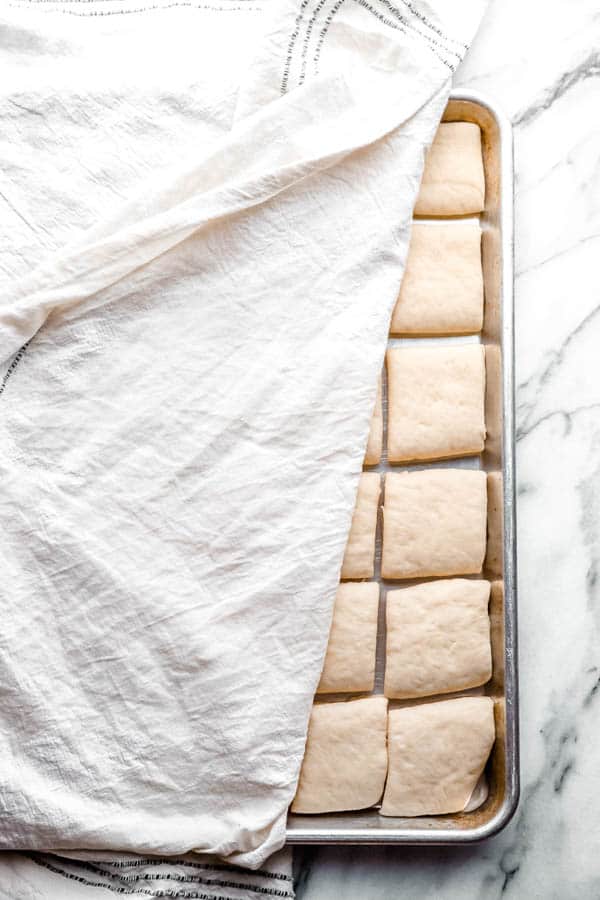 We like our rolls a bit on the large side, so this recipe made about 24 for us.
For really authentic Texas Roadhouse Rolls, be sure to brush to tops with a little more melted butter.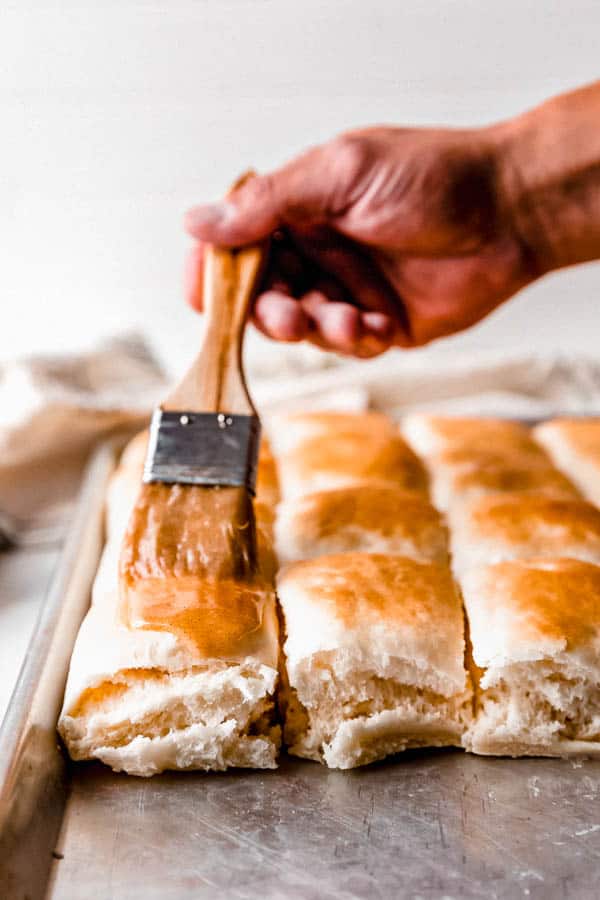 Give it 8 to 10 minutes and the oven and you have hot, fluffy, irresistible rolls to serve with cinnamon honey butter.
Texas Roadhouse Rolls are good ANY time of year but they'd be especially perfect on your holiday dinner table served alongside Herb Roasted Turkey and Maple Roasted Sweet Potatoes.
I know they'll be on my Thanksgiving menu this year and I CANNOT WAIT.
How do you make cinnamon honey butter?
Have you had cinnamon honey butter? It's even better than plain ol' butter or honey butter on these rolls, in my opinion.
It's also SUPER easy to make! All you do is beat butter with confectioner's sugar, a little cinnamon and honey.
This butter and these rolls were made for each other. A pat of cinnamon honey butter melting into one of these rolls is one of the best things in the world.
Once you try this cinnamon honey butter, I wouldn't be surprised if you start making it all the time. It would be great on toast, bagels, muffins, biscuits. . . .you name it. We GO NUTS for this cinnamon butter recipe on Pumpkin Biscuits, especially around Thanksgiving time.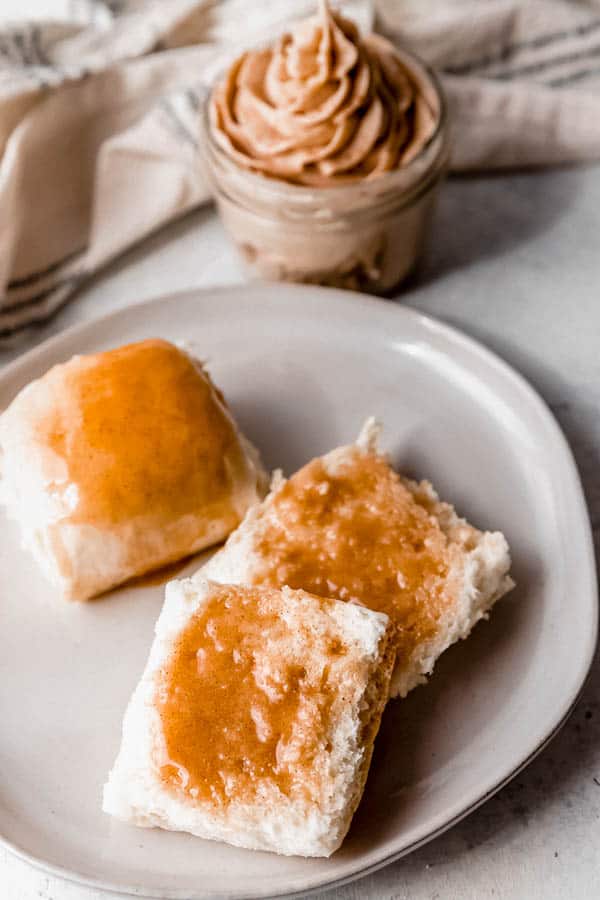 What's the verdict on these rolls?
These were SOOOOOOOO unbelievable good. This is how the conversation went with Mr. 365 after I made these for the first time:
Me: So what'd you think of the rolls?
Him: They were REALLY good! They tasted just like the real thing and they were so good I couldn't believe you'd made them!
Wow. thanks a lot, Mr.
But I did! And I have to admit that even I was surprised at how well they turned out! I've had some mishaps lately in the kitchen (I'm thinking about that french bread I made the other day that did NOT turn out well) and I'm glad I didn't mess these up too.
These were just absolutely the most bestest, stupendous, delicious, incredulous, dynamitous, I-can't-think-of another-word-that-ends-in-ous-to-describeous how incredibly awesome these babies were! They were so soft and airy it was like biting into a cloud of sweet yeasty goodness.
Make. These. Rolls
This is one of those recipes on the 365 blog that I STRONGLY recommend that you make!! I'm not trying to force you into anything here, but I really don't think you'll be sorry.
These should be served at EVERY special occasion!! Even when there isn't a special occasion you just NEED, yes you NEED to have these in your life. They. Are. Almost. Better. Than. Chocolate.
Almost.
And don't you DARE serve them without that cinnamon honey butter.
Oh my goodness!
Because if you do, you are only hurting yourself and the ones you love. It is such a disservice to give those to anyone plain.
Don't. Even. Think. About. It!
Make them. NOW!
Oh, and if you don't want really HUGE muffin-like rolls, you can just divide the dough into smaller squares.
If you follow this protocol it'll make about 5-6 dozen.
Enjoy your rolls! You need to come back and tell me what you think. I want to hear about them!
Copycat Recipes
Recreating favorite restaurant dishes at home is so much fun. I'm always amazed and excited when I manage to nail a "copycat" recipe! Along with these Texas Roadhouse Rolls you might like these other recipes inspired by popular restaurant items: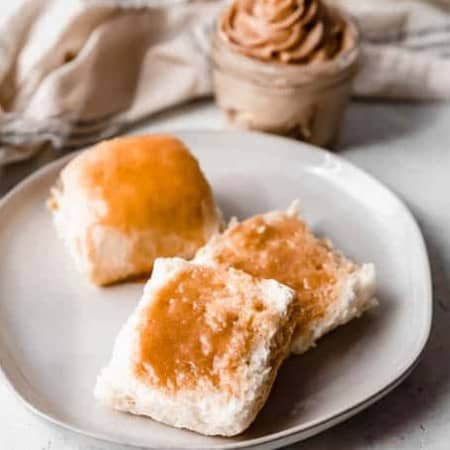 This easy Copycat Texas Roadhouse Rolls recipe smeared with Cinnamon Honey Butter is just like the restaurant's, and is melt-in-your-mouth delicious!
Equipment
medium saucepan

2 large mixing bowls

medium mixing bowl

large baking sheet
Ingredients
Texas Roadhouse Rolls
4 teaspoons active dry yeast
½ cup warm water
2 cups milk scalded and cooled to lukewarm
½ cup plus 1 teaspoon sugar separated
3 tablespoons melted unsalted butter cooled slightly, plus additional for brushing
7-8 cups all-purpose flour
2 eggs
2 teaspoons salt
Cinnamon Honey Butter
½ cup unsalted butter room temperature
¼ cup confectioners' sugar
¼ cup honey
1 teaspoon cinnamon
Instructions
Texas Roadhouse Rolls
In an electric mixer bowl, dissolve yeast in the warm water with the teaspoon of sugar. With the dough hook attached, mix in the milk, remaining 1/2 cup of sugar, and enough flour to make a medium batter.

Mix thoroughly. Allow standing until light and foamy. About 8-10 minutes. Add 3 tablespoons melted butter, eggs, and salt. Beat well. 

Add enough flour to form a soft dough. Turn dough out onto a lightly floured surface, and allow it to rest for about 10 minutes.

While the dough is resting, prepare a large bowl by spraying it with cooking spray. Knead dough until it is smooth and satiny.

Place into a prepared bowl and turn over, coating with oil. Cover bowl tightly with plastic wrap and set to rise in a warm area until it doubles in size. About 1-1 1/2 hours.

Punch dough down. On a lightly floured surface, and with a lightly floured rolling pin, flatten dough into a rectangle until it is a 1/2-inch thick.

Fold the rectangle in half the short way so that it is about 1-inch thick, and lightly roll together to seal the sides together. Allow resting for 10 minutes.

With a dough scraper, cut into rolls and place them on a greased baking sheet. Cover with a damp towel and allow to rise in a warm area for about an hour more.

Preheat oven to 350 degrees and bake rolls for 10-15 minutes, or until lightly browned.

Brush top of the rolls with the additional melted butter.
Cinnamon Honey Butter
In a medium mixing bowl, beat the butter for about 30 seconds until lightly whipped.  

Add sugar, honey, and cinnamon and beat until smooth and combine, scraping down the sides of the bowl.

Continue beating on medium-high speed until light and fluffy, about 2-3 minutes.

Serve with warm rolls.
Nutrition
Serving: 1g | Calories: 235kcal | Carbohydrates: 38g | Protein: 6g | Fat: 7g | Saturated Fat: 4g | Cholesterol: 30mg | Sodium: 211mg | Potassium: 92mg | Fiber: 2g | Sugar: 9g | Vitamin A: 215IU | Calcium: 33mg | Iron: 2mg
Did you make this recipe?
Share it with me on Instagram and make sure to follow me on Pinterest for more recipes.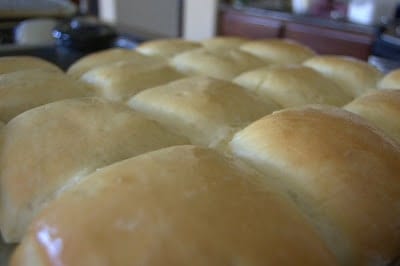 If you love this Copycat Texas Roadhouse Rolls recipe, then you'll love these delicious bread recipes, too…
Grandma's Italian Bread is everything you love about a classic rustic loaf from the bakery, made right at home.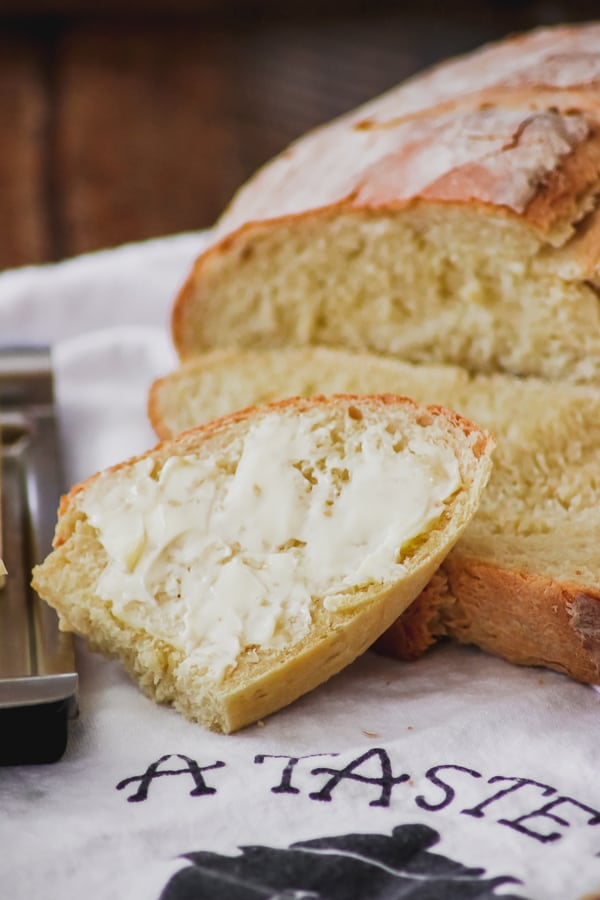 Looking for a delicious quick bread to make?
Try this Pineapple Bread that always puts me in a tropical mood!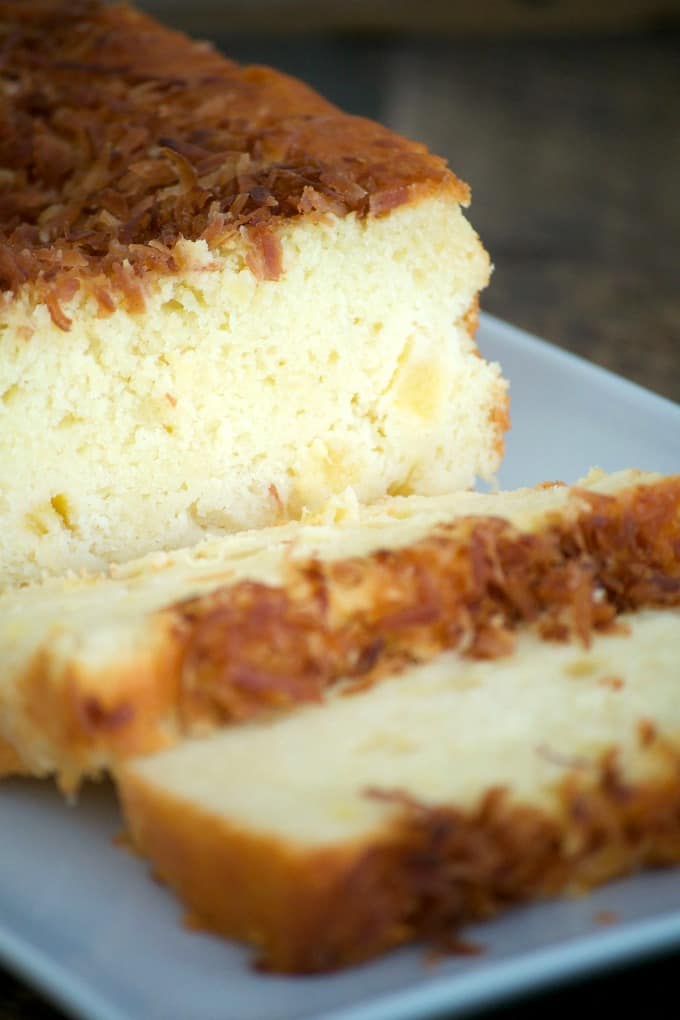 This Pepperoni Bread is an easy and delicious dinner favorite.
It's what I always take to parties and is the first thing to disappear!
It's great for Game Days, too!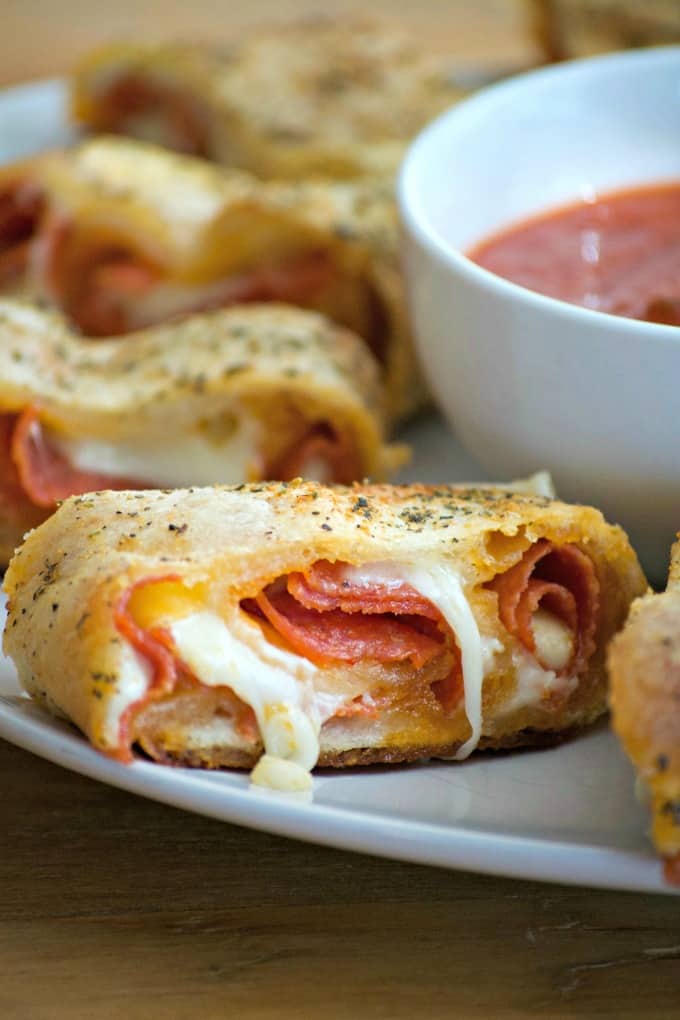 Looking for another fantastic bread recipe for your dinner menu? Check out these Asiago Herb Biscuits, too!
Reader Interactions