Get that oven ready for this amazing Texas roadhouse rolls recipe! Soft on the inside with a buttered top, nothing will compare to this bad boy.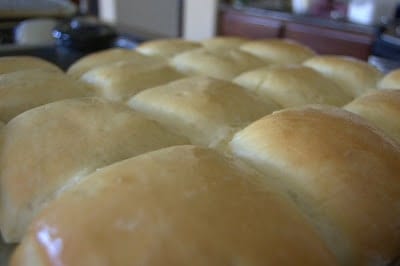 There are no words to describe a Texas roadhouse roll. I mean, eating them gives you everything you need to know.
I'm very tired today. We didn't get much sleep here last night. Mr. 365 and I went to bed around midnight, he was reading and I was blogging (and ok, was on Pinterest – SO addicting!). But I have a question for you.
Why the heck is it that the smoke alarm batteries die only at night when you're sleeping? Does somebody program either the smoke alarms or the batteries on purpose? Seriously.
And I say smoke alarms too because I just changed two batteries of the four alarms a week ago and this was after Mr. 365 changed three of the four last month. Oh my gosh, I thought my Mr. was going to lose it. He'd change a battery, we'd get into bed, lights out… "Low battery. Beep!"
SAVE THIS TEXAS ROADHOUSE ROLLS RECIPE TO YOUR FAVORITE PINTEREST BOARD!
Grumble, grumble, grumble with a not so nice word inserted here and there. The ladder (and it's a full-size one because we don't own a small step ladder) was banging together and into the walls. Lights were being turned on and off, and our poor children were awakened by their father causing a ruckus in their rooms at 3 am with all of his battery changing paraphernalia.
Poor guy, he also had to drive to the store around 2:45 to buy some more 9 volts. Batteries replaced, and the doggone things are STILL going off. Finally, he pulled the main one off the ceiling. I think a can of compressed air is in order to spray those puppies clean and if that doesn't work, they'll be replaced ASAP. It wasn't a good night.
If you've never been to a Texas Roadhouse, you need to go. Well, actually now that you know how to make these roll, you really don't. I think these rolls are the best things on their menu. Come to think of it, and coupled with the fact that we haven't been there in quite some time, I don't even think these are on the menu.
If I remember correctly, they're complimentary. And the best part of this whole thing is that they are to die for when spread with that cinnamon honey butter. Oh. My. Goodness!

MAN, I sure do hope these taste like the ones in the restaurant or I'm going to be bumming out (does anyone even say that anymore or am I dating myself once again?) BIG time!
I found this at Eat Cake For Dinner.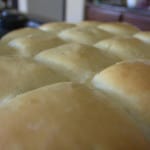 Texas Roadhouse Rolls
These easy to make Copycat Texas Roadhouse Rolls are just like the restaurant's and are melt-in-your-mouth delicious. Remember to the Cinnamon Honey Butter!
Keyword:
Texas Roadhouse Rolls
Ingredients
4

teaspoons

active dry yeast

1/2

cup

warm water

2

cups

milk, scalded and cooled to lukewarm

1/2

cup

plus 1 teaspoon sugar, separated

3

tablespoons

melted butter, cooled slightly, plus additional for brushing

7-8

cups

flour

2

whole

eggs

2

teaspoons

salt
Cinnamon Honey Butter
1/2

cup

butter, room temperature

1/4

cup

confectioners' sugar

1/4

cup

honey

1

teaspoon

cinnamon
Instructions
In an electric mixer bowl, dissolve yeast in the warm water with the teaspoon of sugar. With the dough hook attached, mix in the milk, remaining 1/2 cup of sugar, and enough flour to make a medium batter.

Mix thoroughly. Allow standing until light and foamy. About 8-10 minutes. Add melted butter, eggs, and salt. Beat well.

Add enough flour to form a soft dough. Turn dough out onto a lightly floured surface, and allow it to rest for about 10 minutes.

While the dough is resting, prepare a large bowl by spraying it with cooking spray. Knead dough until it is smooth and satiny.

Place into a prepared bowl and turn over, coating with oil. Cover bowl tightly with plastic wrap and set to rise in a warm area until it doubles in size. About 1-1 1/2 hours.

Punch dough down. On a lightly floured surface, and with a lightly floured rolling pin, flatten dough into a rectangle until it is a 1/2-inch thick.

Fold the rectangle in half the short way so that it is about 1-inch thick, and lightly roll together to seal the sides together. Allow resting for 10 minutes.

With a dough scraper, cut into rolls and place them on a greased baking sheet. Cover with a damp towel and allow to rise in a warm area for about an hour more.

Preheat oven to 350 degrees and bake rolls for 10-15 minutes, or until lightly browned.
Cinnamon Honey Butter
In the electric mixer fitted with the whisk attachment, beat the butter for about 30 seconds until lightly whipped.

Add sugar, honey, and cinnamon and beat until smooth and combine, scraping down the sides of the bowl.

Continue beating on medium-high speed until light and fluffy, about 2-3 minutes.
Recipe Video
Nutrition Facts
Texas Roadhouse Rolls
Amount Per Serving (1 roll)
Calories 230
Calories from Fat 54
% Daily Value*
Total Fat 6g 9%
Cholesterol 16mg 5%
Sodium 251mg 10%
Potassium 86mg 2%
Total Carbohydrates 38g 13%
Protein 5g 10%
* Percent Daily Values are based on a 2000 calorie diet.
These were SOOOOOOOO unbelievable good that this is how the conversation went with my Mr. Me, "So what'd you think of the rolls?" Him, "They were
REALLY
good! They tasted just like the real thing and they were
so
good I couldn't believe you'd made them!"
Wow. thanks a lot. But I did! And I have to admit that even I was surprised at how well they turned out!! Yeah, they were NOTHIN' like that French Bread I made the other day (fortunately, and which post I still have yet to finish!)!
These were just absolutely the most bestest, stupendous, delicious, incredulous, dynamitous, I-can't-think-of another-word-that-ends-in-ous-to-describeous how incredibly awesome these babies were!! AND they were SO SOFT and AIRY!!! Ah,… it was like a cloud of sweet, yeasty goodness!
Attention!! BE ON THE ALERT!! This is one of those recipes on the 365 blog that I STRONGLY recommend that you make!! I'm not trying to force you into anything here, but I really don't think you'll be sorry.
These should be served at EVERY special occasion!! Even when there isn't a special occasion you just NEED, yes you NEED to have these in your life. They. Are. Almost. Better. Than. Chocolate. Almost.
And don't you DARE serve them without that cinnamon honey butter.
Oh my goodness!
Because if you do, you are only hurting yourself and the ones you love. It is such a disservice to give those to anyone plain. Don't. Even. Think. About. It!
Make them. NOW!
Oh, and if you don't want 19 really HUGE muffins, you can just divide the dough into smaller rectangles, let the dough rest and then divide it into smaller rolls totaling 5-6 dozen. It'll be fine. Enjoy your rolls! You need to come back and tell me what you think. I want to hear about them! I am going to bed doing a very happy dance~Sweet dreams Y'all!!
If you love this Copycat Texas Roadhouse Rolls recipe, then you'll love these delicious bread recipes, too…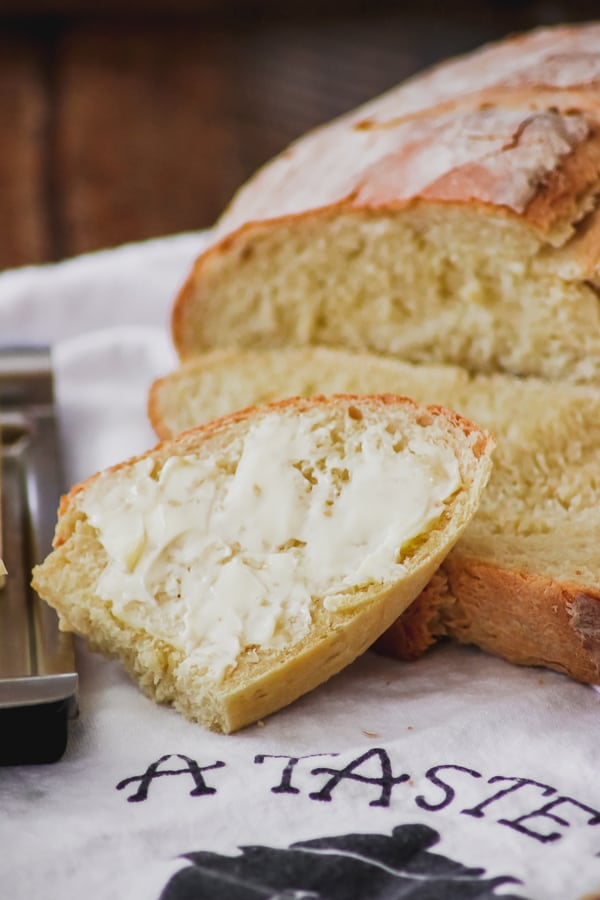 Looking for a delicious quick bread to make, then try this
Pineapple Bread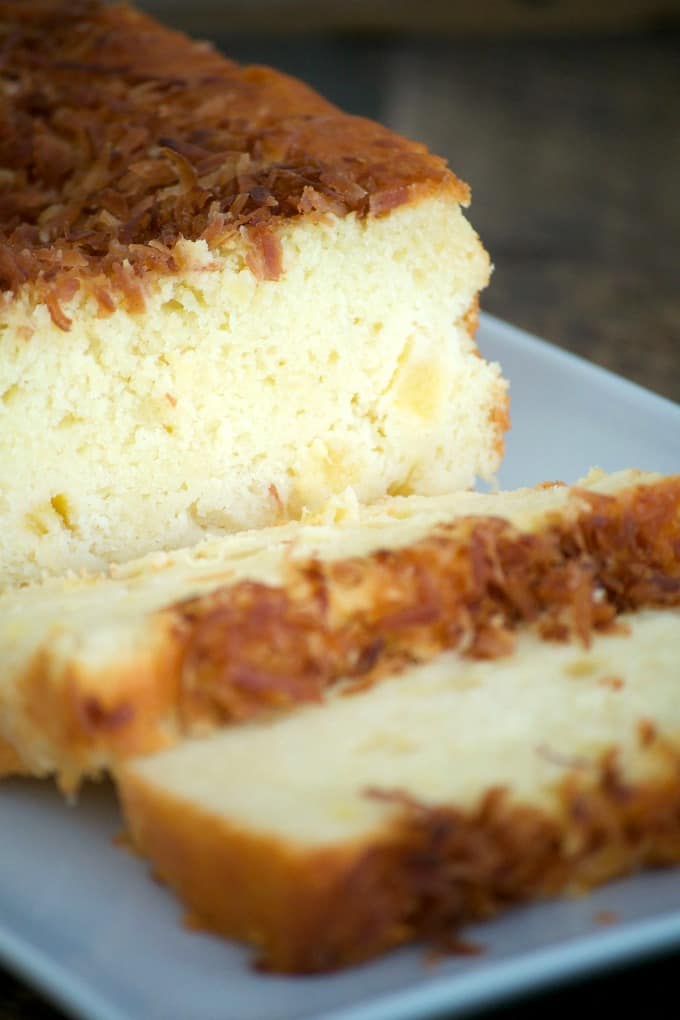 This Pepperoni Bread is an easy and delicious dinner favorite.
It's what I always take to parties and is the first thing to disappear!
It's great for Game Days, too!