Maple Roasted Sweet Potatoes – Diced sweet potatoes tossed with olive oil, fresh sage, and thyme, drizzled with pure maple syrup and roasted to perfection deserve a place at your holiday table.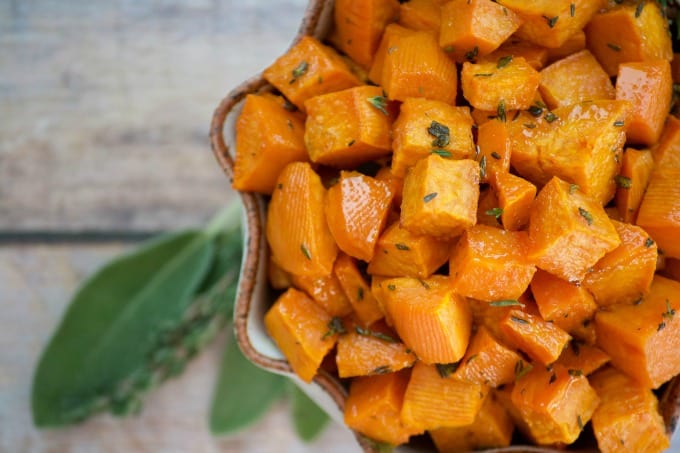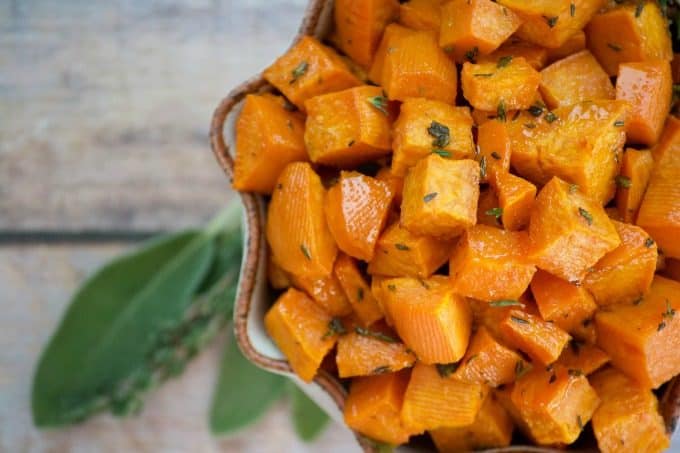 I know yesterday I said we'd have a cookie recipe with today's review of my favorite eats when I was on vacation in Kauai…
I lied.
Ok, well, I guess I didn't really lie, I had just forgotten that I said last week during my live video that when I did today's live video that I'd be making a side dish that you all could make for the holidays. So of course, I had to get this recipe up in order for people to access it during the video.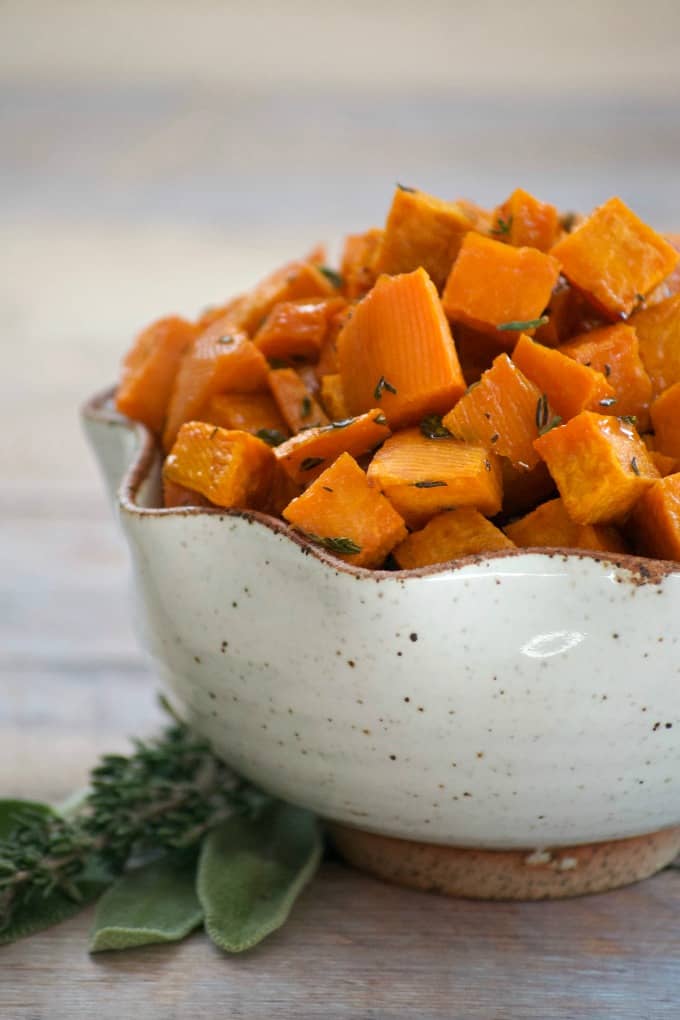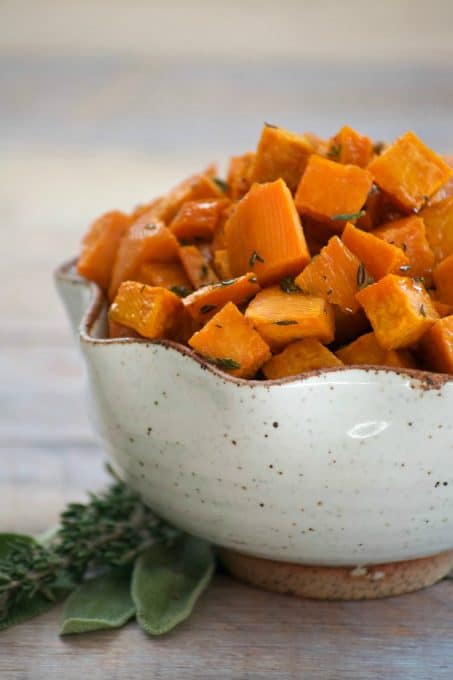 Aaaannnnndd… now as it turns out, I won't be going live today because I'm sneezing like crazy and running a fever. So, we'll have to reschedule. And about that Kauai post and those cookies? Look for that on Wednesday.
But, THIS recipe!!!
See that bowl of sweet potatoes? I ate the WHOLE thing all by myself, I did after I took the pictures. They were SO delicious!! I seriously hit it out of the park today with this one, boys and girls!
You like that baseball reference, seeing as how we're into October baseball! I'm pretty smart there, ain't I? 😉

Believe me, you need to add these to this week's menu and most definitely to your holiday table. I know everyone likes the sweet potatoes with the brown sugar, marshmallows, and pecans, but THESE are just so much better for you and just naturally delidious…delilicious…deddiicious…
Man, how many times is it gonna take me to spell DELICIOUS right?? I think I need to go to bed.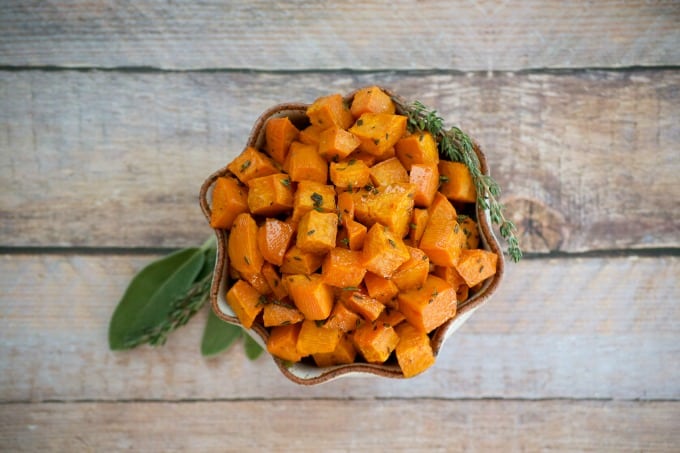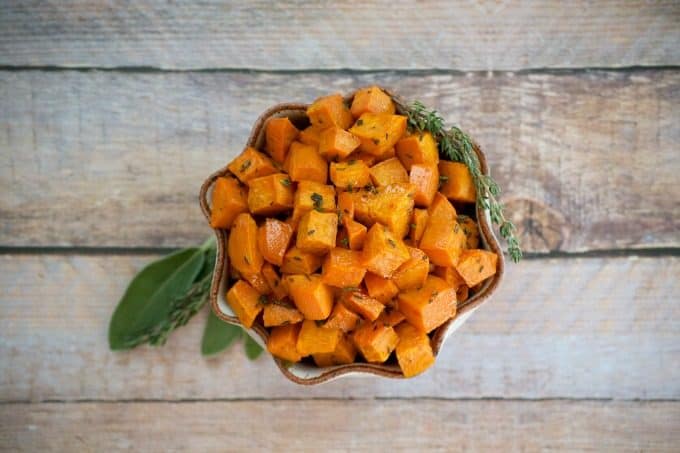 SIGN UP FOR THE
WEEKLY 365 DAYS OF BAKING & MORE
NEWSLETTER BELOW!
Seriously though, make them. You won't be sorry.
Roasted Sweet Potatoes
I'll be honest here. Those traditional Thanksgiving yams with all the sugar and marshmallows on top? Not my favorite.
I like them just fine but they were never the dish I got most excited about for the big holiday meal. Now, roasted sweet potatoes tossed with herbs and spices? I can eat a whole bowl of those by myself in one sitting.
My blog friend Rebecca's Melting Sweet Potatoes are the ultimate super savory take on a roasted sweet potato with the addition of fragrant garlic. I also really enjoy this Molasses Glazed Sweet Potatoes when I'm in the mood for a sweeter roasted sweet potato.
The recipe I'm sharing today is a nice balance between sweet and savory that everyone will enjoy.
How to Make Maple Roasted Sweet Potatoes
Making this irresistible side dish takes just a few simple steps.
Peel and dice the sweet potatoes into even cubes. I like to make them between half an inch and one inch big.
Toss the sweet potatoes in olive oil, fresh sage, thyme, salt and pepper and bake until tender.
Drizzle a few generous spoonfuls of pure maple syrup over the pan of potatoes then bake for about seven more minutes.
Every bite of sweet potato is bursting with maple flavor and complimented by the aroma of fresh herbs! They're just sweet enough to be reminiscent of a "traditional" sweet potato side dish but so much more flavorful.
I know these will be perfect on my Thanksgiving and Christmas tables but I liked these roasted sweet potatoes so much that there's NO WAY I won't be making them all year long.
While we ate every last cube of these sweet potatoes before they even had a chance to cool, I know the leftovers would be fantastic either warmed up or eaten cold tossed in a salad.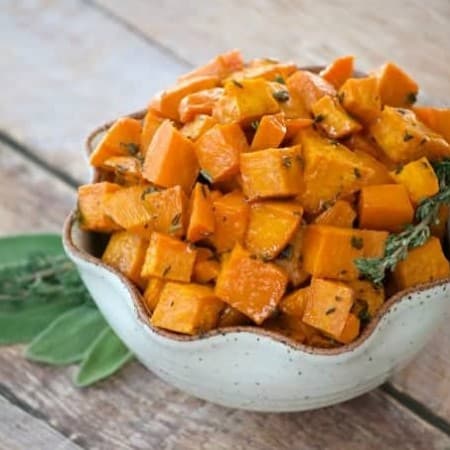 Maple Roasted Sweet Potatoes
These Maple Roasted Sweet Potatoes are diced sweet potatoes tossed with olive oil, fresh sage and thyme, drizzled with pure maple syrup and roasted to perfection. They're the perfect side dish for your holiday table!
Print
Pin
Rate
Ingredients
2

large sweet potatoes

¼

cup

olive oil

1

teaspoon

fresh chopped sage

1

teaspoon

fresh chopped thyme

¼

teaspoon

kosher salt

freshly ground pepper

2 - 3

tablespoons

pure maple syrup
Instructions
Preheat oven to 425 degrees F. and prepare a rimmed baking sheet by lining it with parchment.

In a large bowl, combine the olive oil, sage, thyme, salt and pepper.

Peel the sweet potatoes and cut them into 1/2 - 1 inch cubes.

Place the diced potatoes into the bowl and toss to completely coat.

Pour onto the prepared baking sheet, making a single layer.

Bake for 15 minutes or until potatoes are fork tender.

Drizzle with the maple syrup and mix.

Return to oven to bake for an additional 7 - 10 minutes.
Nutrition
Serving:
1
g
|
Calories:
244
kcal
|
Carbohydrates:
30
g
|
Protein:
1
g
|
Fat:
14
g
|
Saturated Fat:
2
g
|
Sodium:
184
mg
|
Potassium:
275
mg
|
Fiber:
2
g
|
Sugar:
18
g
|
Vitamin A:
9245
IU
|
Vitamin C:
2
mg
|
Calcium:
50
mg
|
Iron:
1
mg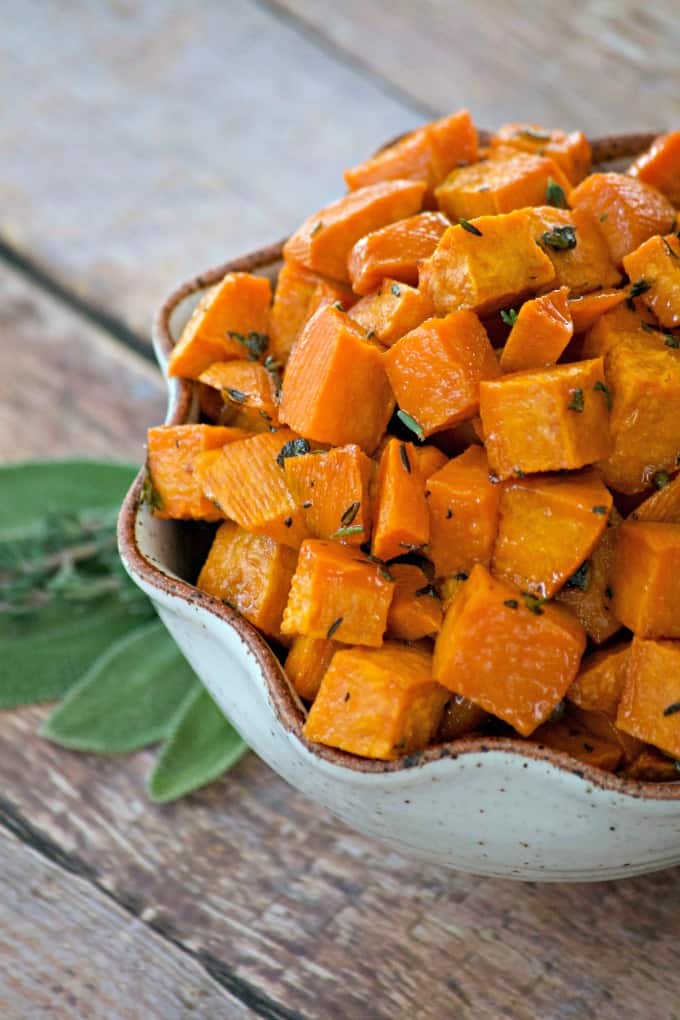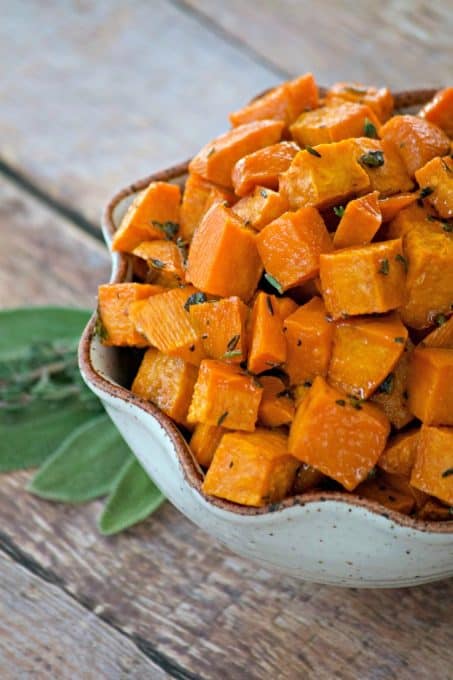 If you like these Maple Roasted Sweet Potatoes then you'll enjoy…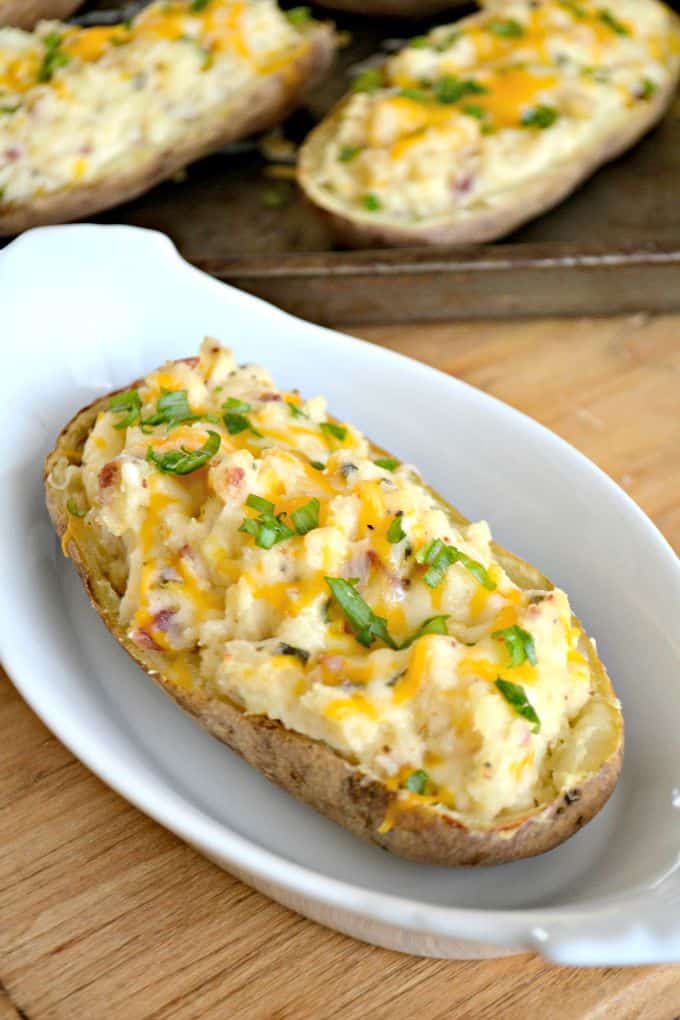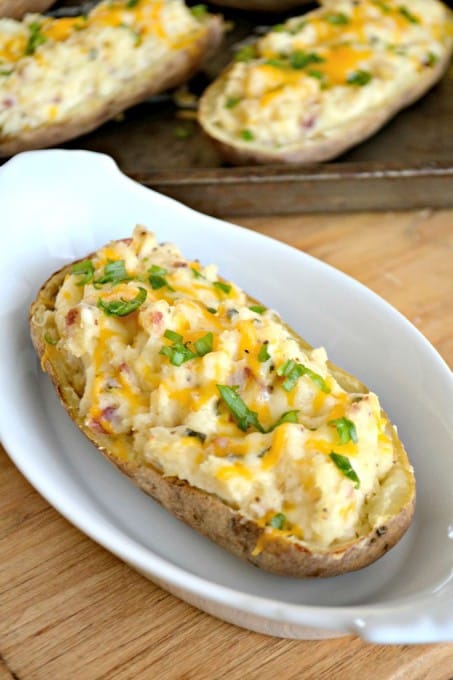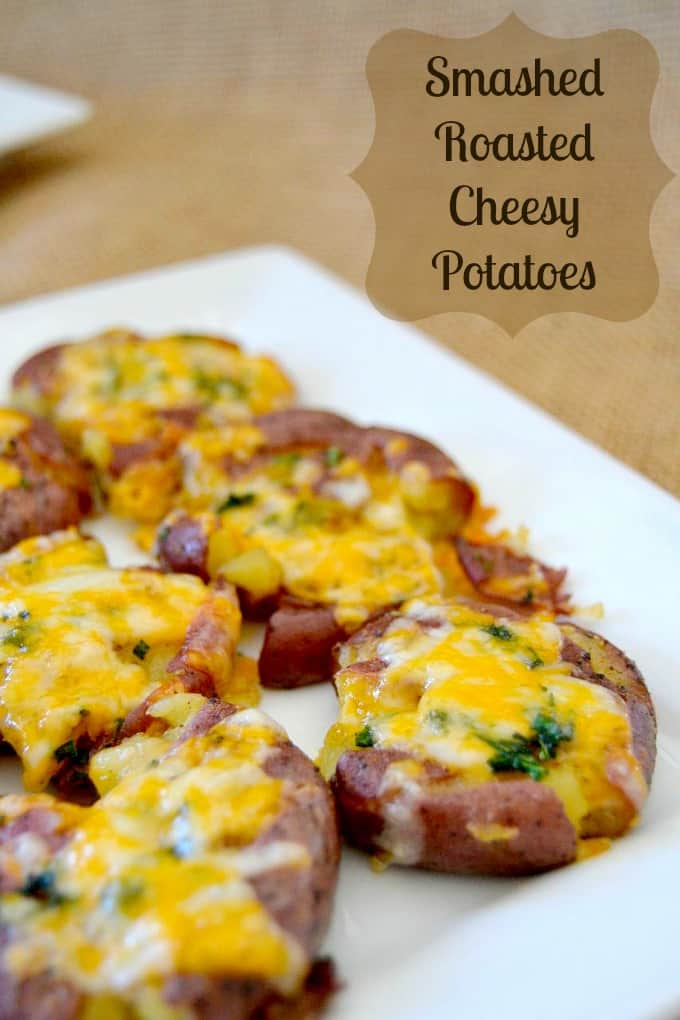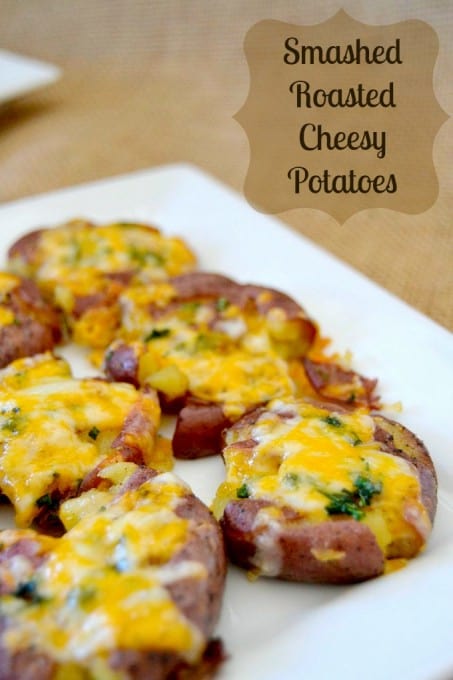 Even more potato side dish recipes . . .