Maple Roasted Sweet Potatoes – diced sweet potatoes tossed with olive oil, fresh sage, and thyme, drizzled with pure maple syrup and roasted to perfection.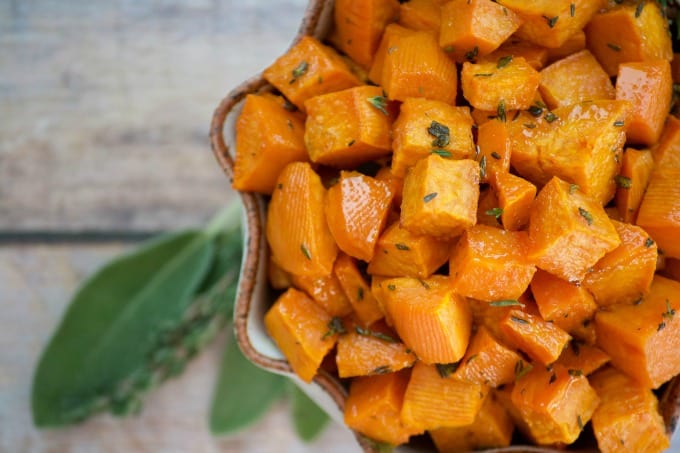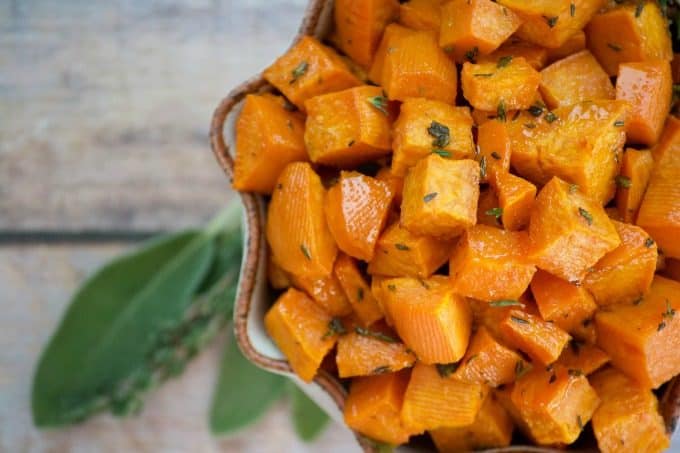 I know yesterday I said we'd have a cookie recipe with today's review of my favorite eats when I was on vacation in Kauai…
I lied.
Ok, well, I guess I didn't really lie, I had just forgotten that I said last week during my live video that when I did today's live video that I'd be making a side dish that you all could make for the holidays. So of course, I had to get this recipe up in order for people to access it during the video.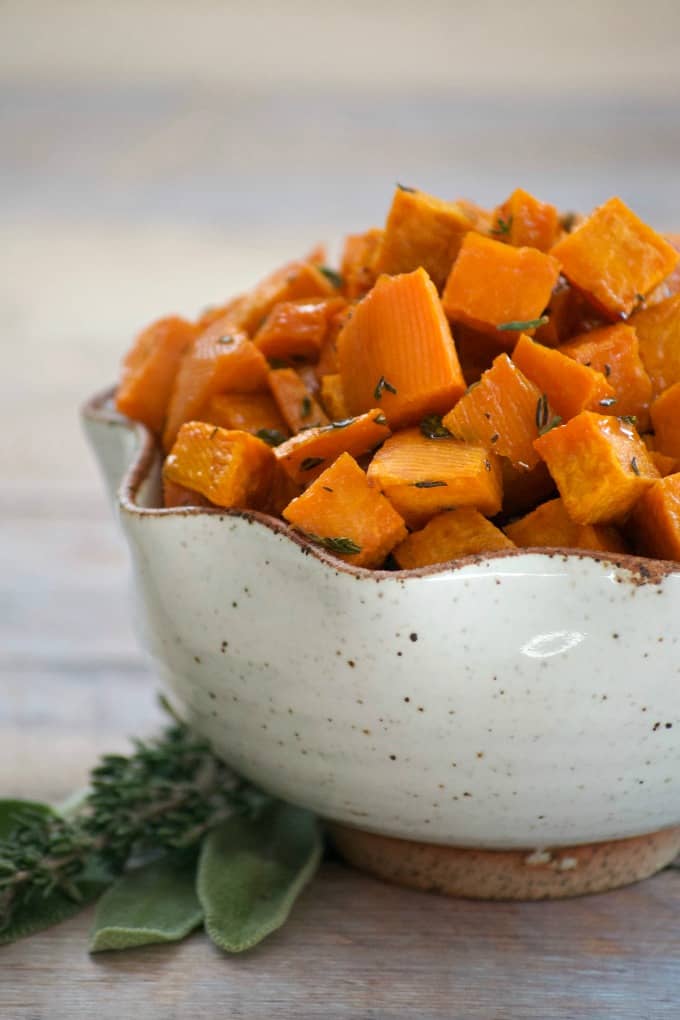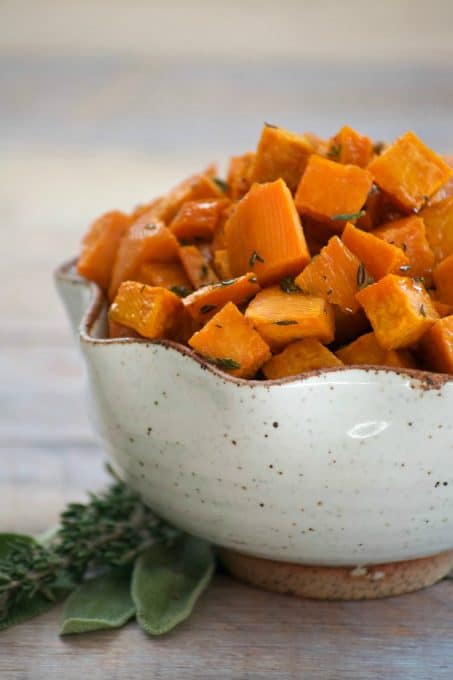 Aaaannnnndd… now as it turns out, I won't be going live today because I'm sneezing like crazy and running a fever. So, we'll have to reschedule. And about that Kauai post and those cookies? Look for that on Wednesday.
But, THIS recipe!!!
See that bowl of sweet potatoes? I ate the WHOLE thing all by myself, I did after I took the pictures. They were SO delicious!! I seriously hit it out of the park today with this one, boys and girls!
You like that baseball reference, seeing as how we're into October baseball! I'm pretty smart there, ain't I? 😉

Believe me, you need to add these to this week's menu and most definitely to your holiday table. I know everyone likes the sweet potatoes with the brown sugar, marshmallows, and pecans, but THESE are just so much better for you and just naturally delidious…delilicious…deddiicious…
Man, how many times is it gonna take me to spell DELICIOUS right?? I think I need to go to bed.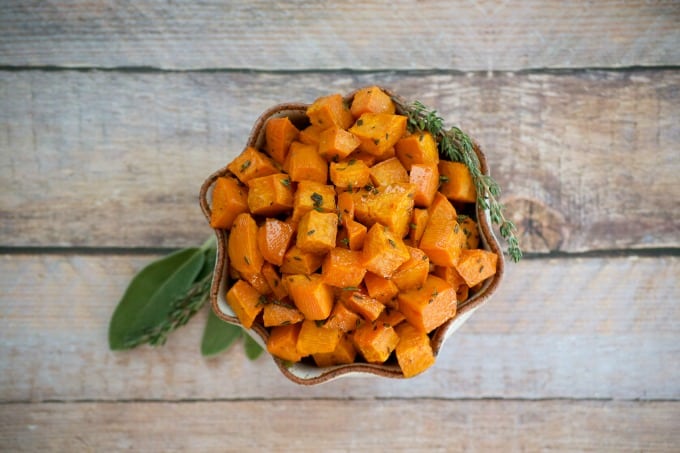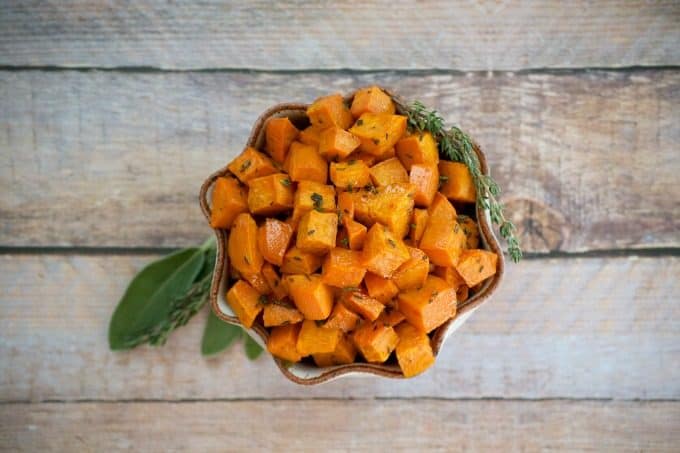 Seriously though, make them. You won't be sorry.
Maple Roasted Sweet Potatoes
These Maple Roasted Sweet Potatoes are diced sweet potatoes tossed with olive oil, fresh sage and thyme, drizzled with pure maple syrup and roasted to perfection. They're the perfect side dish for your holiday table!
Ingredients
2

large sweet potatoes

1/4

cup

olive oil

1

teaspoon

fresh chopped sage

1

teaspoon

fresh chopped thyme

1/4

teaspoon

kosher salt

freshly ground pepper

2 - 3

tablespoons

pure maple syrup
Instructions
Preheat oven to 425 degrees F. and prepare a rimmed baking sheet by lining it with parchment.

In a large bowl, combine the olive oil, sage, thyme, salt and pepper.

Peel the sweet potatoes and cut them into 1/2 - 1 inch cubes.

Place the diced potatoes into the bowl and toss to completely coat.

Pour onto the prepared baking sheet, making a single layer.

Bake for 15 minutes or until potatoes are fork tender.

Drizzle with the maple syrup and mix.

Return to oven to bake for an additional 7 - 10 minutes.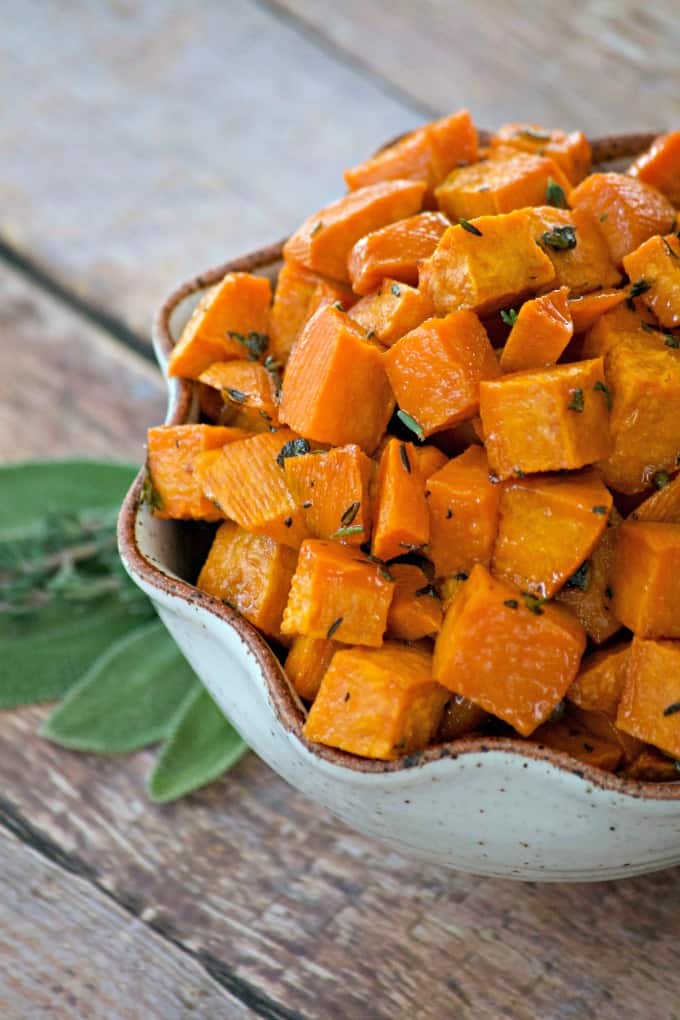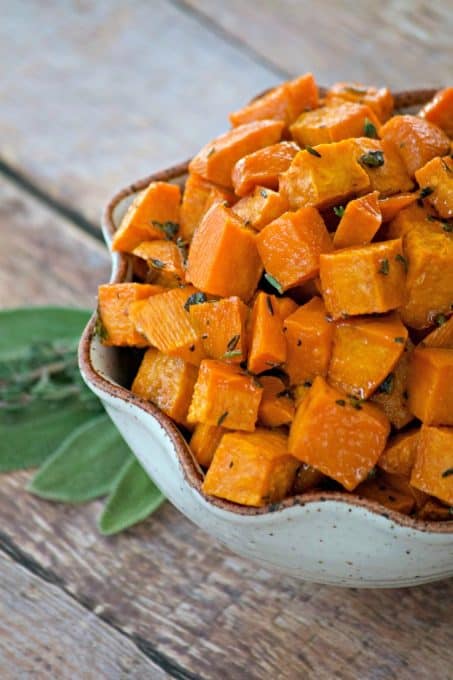 If you like these Maple Roasted Sweet Potatoes then you'll enjoy…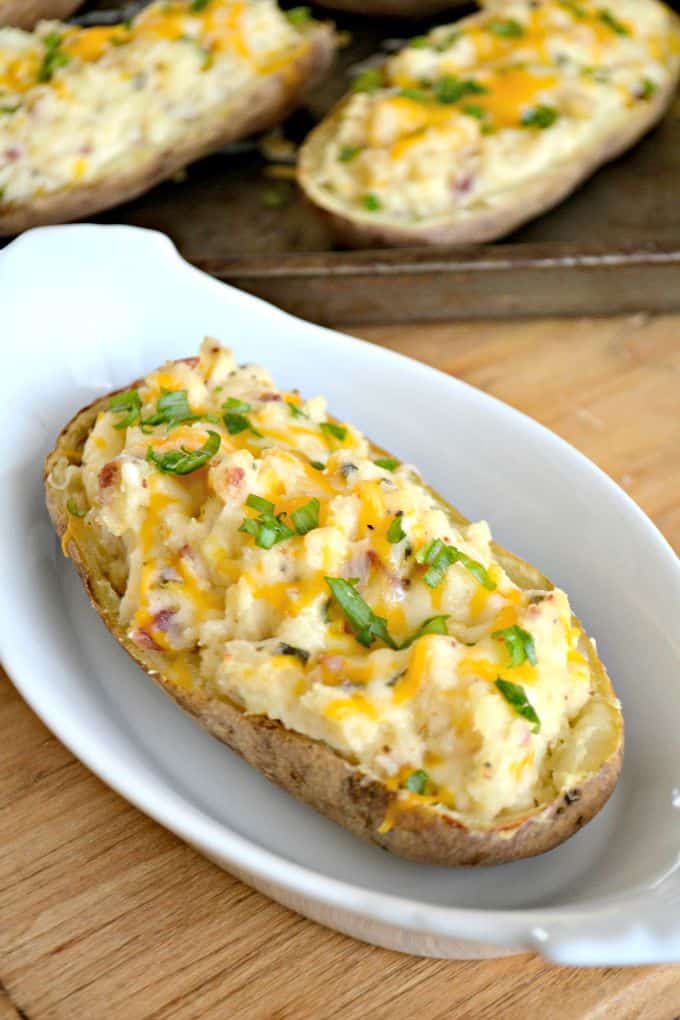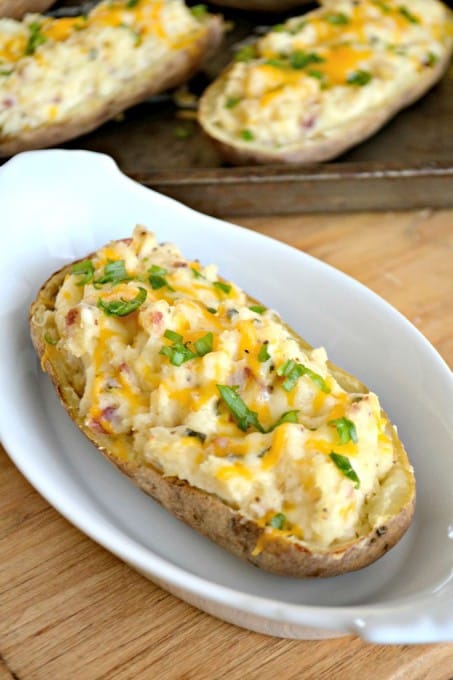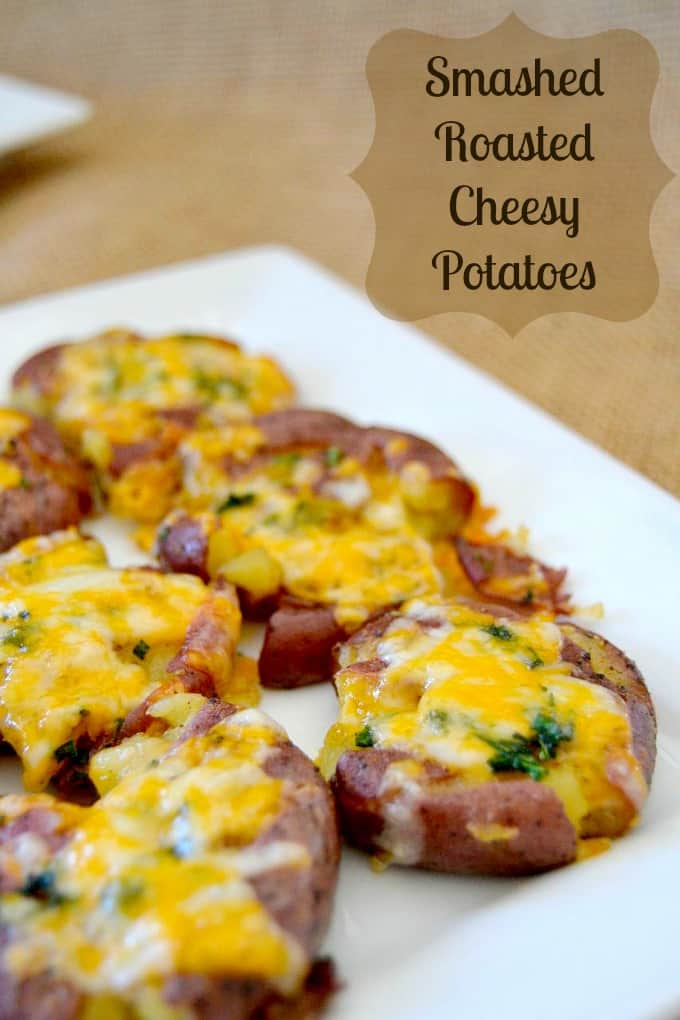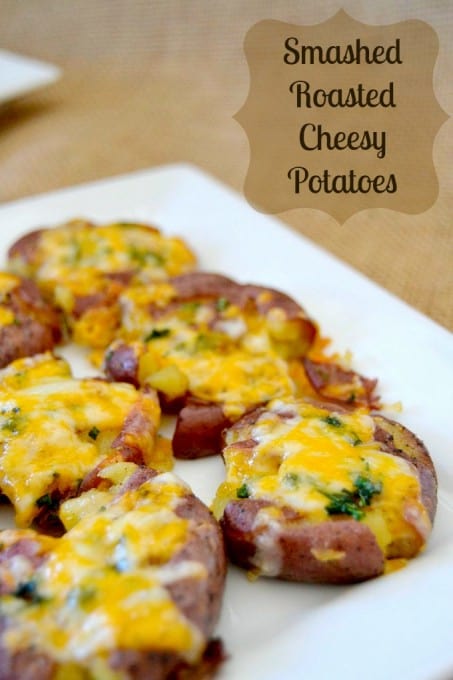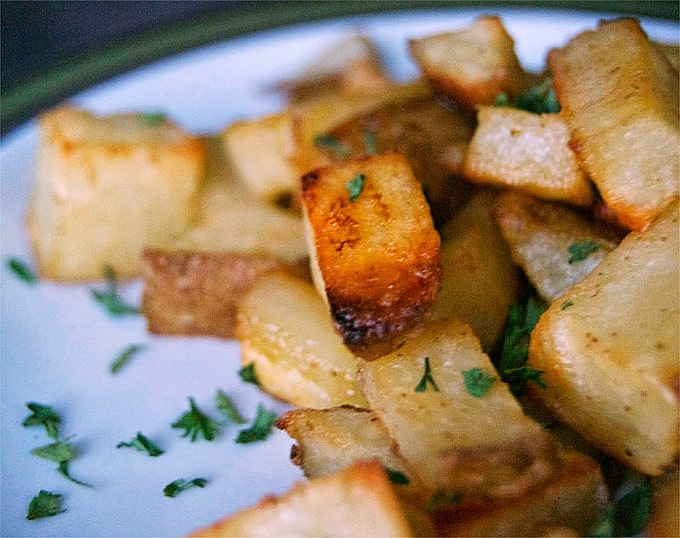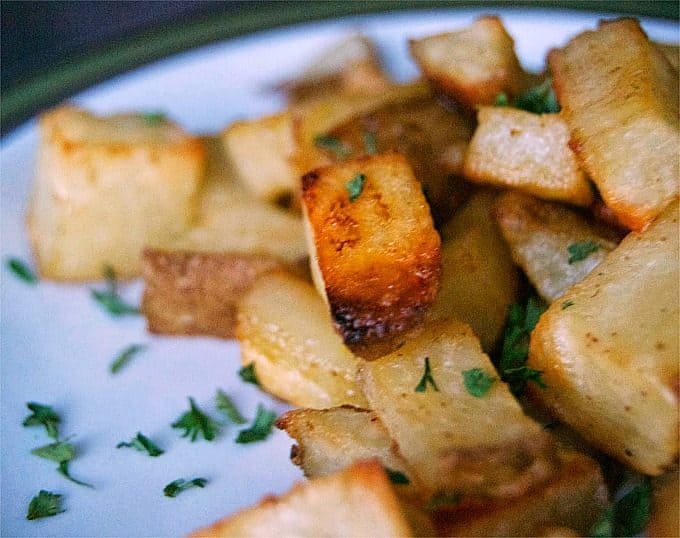 Take a look at these great ways to make your potato recipes for dinner and/or over the holidays!