Fluffernutter Cookies are inspired by the classic childhood sandwich! The sweet combination of a peanut butter cookie with marshmallow fluff in the middle makes everyone feel like a kid again!
If you love Fluffernutter Sandwiches, this cookie version is a must try.
Warning: these Fluffernutter Cookies are addictive!
These Peanut Butter Cookies filled with marshmallow fluff are Day 1 of our 12 Days of Cookies!
Be sure to check out all of the other days for more goodies!
Day 1 – You're on it!
Day 2 – Toffee Coconut Oatmeal Bars
Day 3 – Double Chocolate M&M Christmas Cookies
Day 4 – Lace Cookies
Day 5 – Whipped Shortbread
Day 6 – Chocolate Spritz Cookies
Day 7 – 3 Ingredient Sugar Free PB Cookies
Day 8 – Wasabi Chocolate Crinkles
Day 9 – Christmas Sprinkle Cookies
Day 10 – Stained Glass Cookies
Day 11 – Cream Cheese Meltaways
Day 12 – Peppermint Sugar Cookie Cups
SAVE THIS FLUFFERNUTTER COOKIE SANDWICH RECIPE TO YOUR FAVORITE PINTEREST BOARD!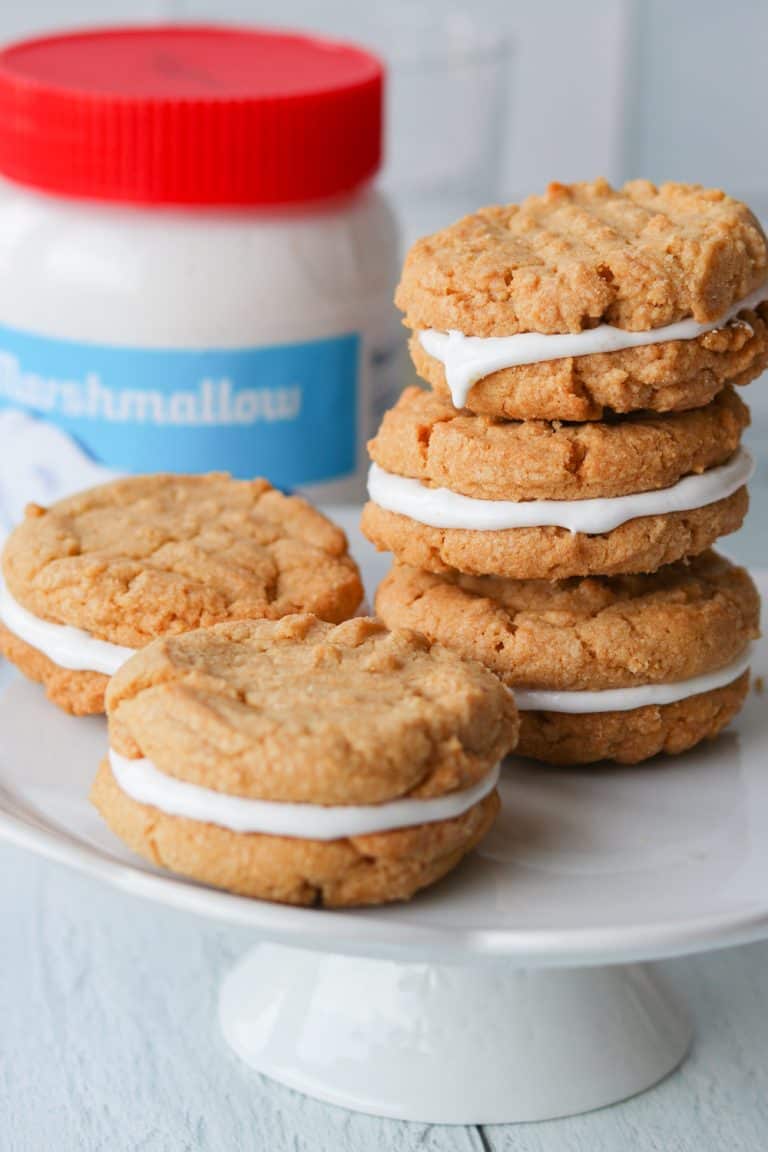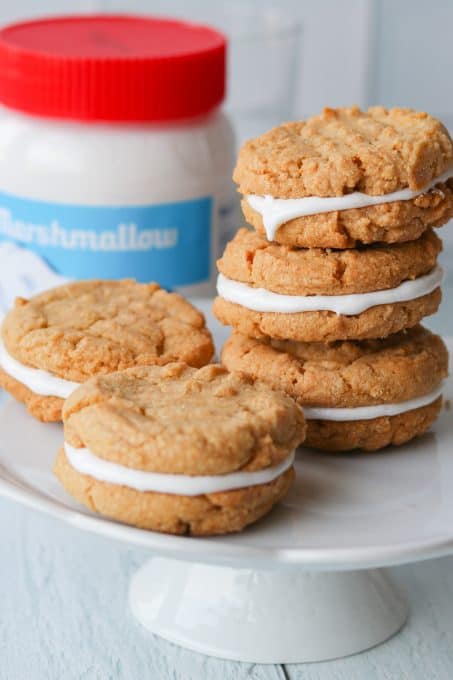 This recipe features the irresistible flavor combination of creamy peanut butter and marshmallow fluff. The fluff is sandwiched between two homemade peanut butter cookies for an easy dessert that adults love as much as kids!
These Peanut Butter Cookies with Marshmallow Fluff are Day 1 of our 12 Days of Cookies
Be sure to check out all of the other days for more goodies!
Day 2 – Toffee Coconut Oatmeal Bars
What is a Fluffernutter?
A fluffernutter, or as we New Englandahs pronounce it, "fluffahnuttah", is a sandwich made with peanut butter and marshmallow fluff on white bread. Some variations include additions like sliced fruit or chocolate but I love it in its simple original form.
My love for fluffernutters started in childhood and inspired this cookie recipe. The creamy layer of fluff between two peanut butter cookies makes these cookies taste extra impressive. No one suspects how easy Fluffernutter Cookies are to make!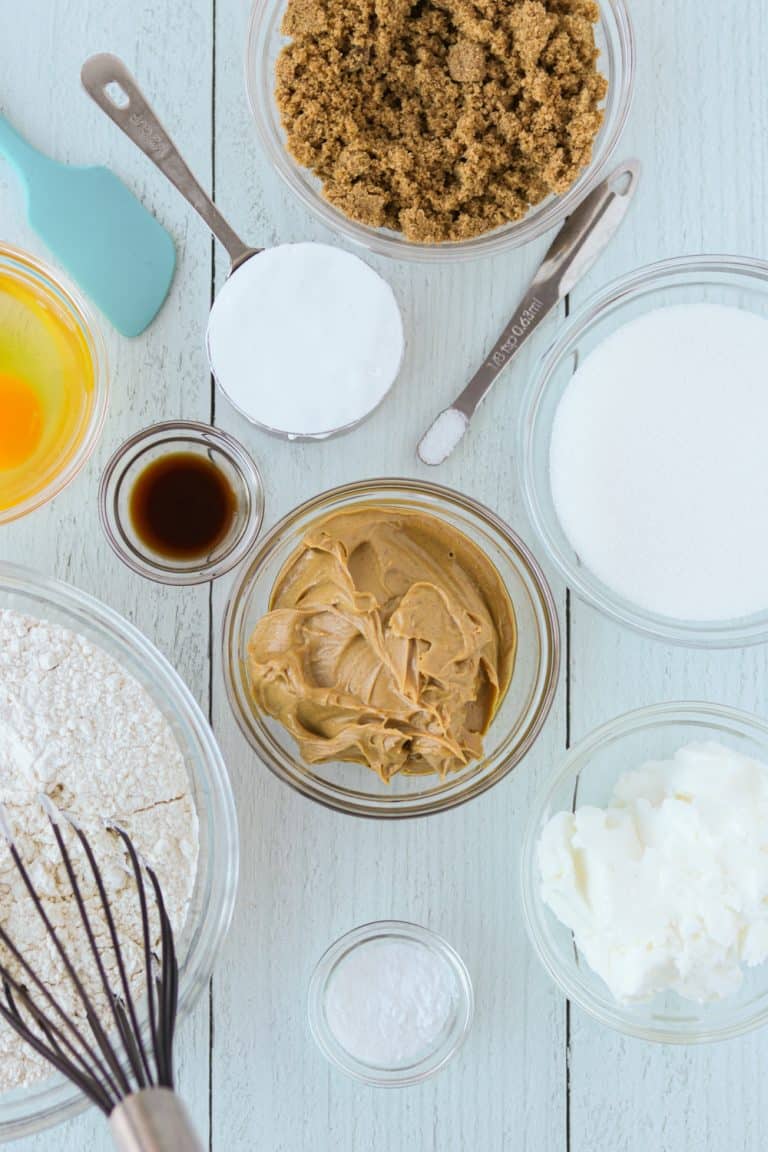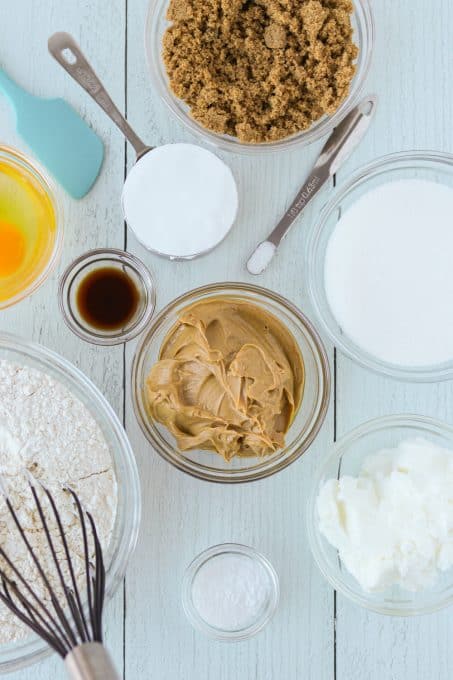 What do I need?
marshmallow fluff – This homemade marshmallow fluff recipe works beautifully in these cookies!
peanut butter – I prefer creamy but crunchy is delicious here too.
flour
baking soda
salt
shortening
granulated sugar
brown sugar
eggs
vanilla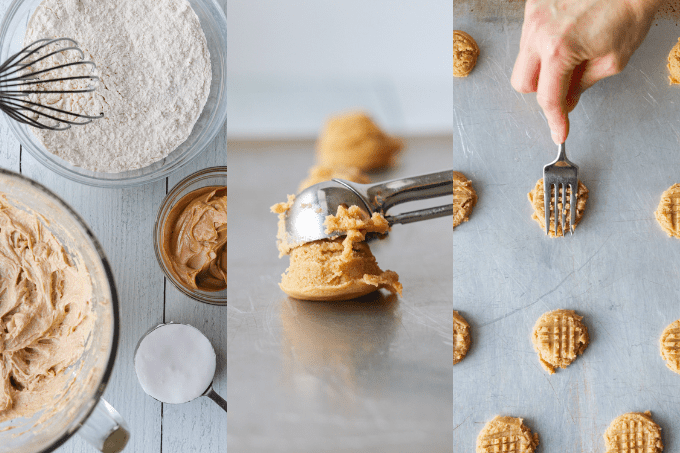 How to Make Fluffernutter Sandwich Cookies
Start by making a simple peanut butter cookie dough. Next, beat together the sugars with shortening and vanilla. Then, mix in the eggs, peanut butter and the dry ingredients.
Shape the dough into balls and place them on a baking sheet. Use the tines of a fork to press a criss-cross pattern onto each cookie.
Bake them for about 10 minutes or until golden brown. When the cookies are cooled spoon a little marshmallow fluff onto the flat side of half the cookies. Finally, top them with the remaining cookies and enjoy!
Can I freeze these cookies?
Yes, these cookies are freezer friendly! Store the sandwich cookies in an airtight container or freezer bags. They will stay good in the freezer for about 3 months.
The marshmallow fluff won't become solid in the freezer but it will stay fresh until you're ready to enjoy your fluffernutter cookies.

Then just thaw on the counter or in the refrigerator before you're ready to enjoy.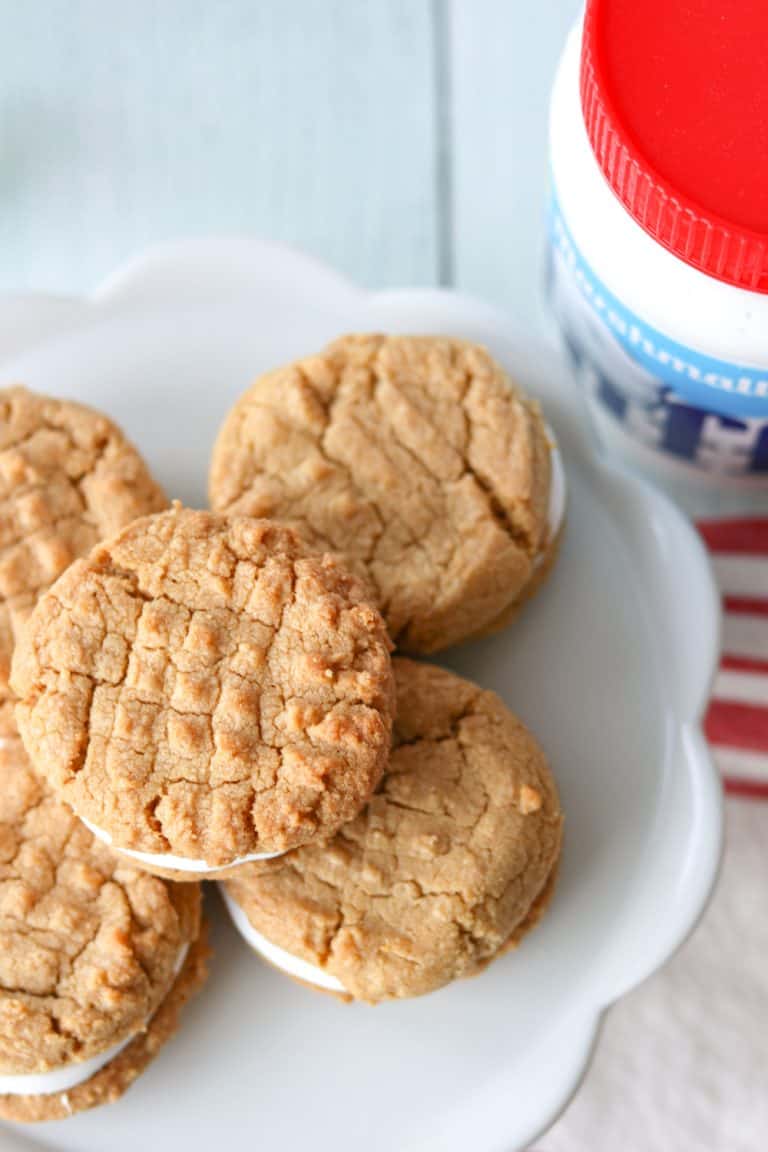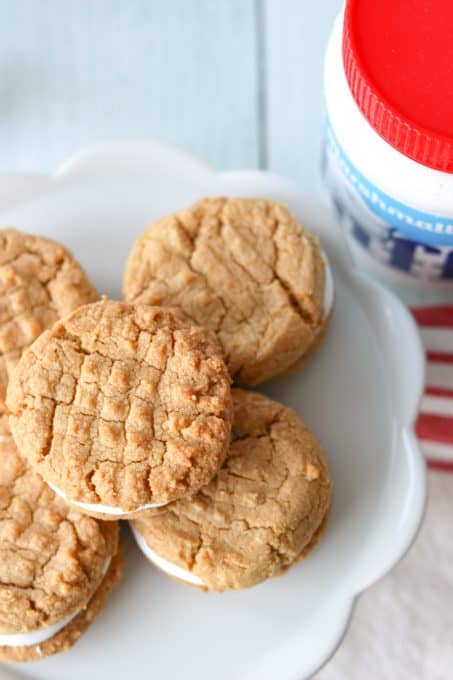 Peanut Butter Recipes
Peanut Butter Desserts are some of our most popular recipes on the blog, and it doesn't take a genius to figure out why. Everything is better with peanut butter!
Every home baker should have this 3 Ingredient Peanut Butter Cookies recipe up their sleeve. They're ready in just 13 minutes and just happen to be gluten free too. For a chewier peanut butter cookie, check out these Apple Peanut Butter Oatmeal Cookies next.
Like today's fluffernutter cookies, both this Peanut Butter and Jelly French Toast Casserole and these Peanut Butter and Jelly Thumbprints were inspired by a childhood lunch box staple.
Love chocolate and peanut butter together? My Chocolate Peanut Butter Dream Bars are a longtime favorite. No bake bars with peanut butter, chocolate, cookies AND cool whip? Yes, please!
For more inspiration, here are a few more delicious peanut butter recipes to try.
Cookie Recipes
Every season is cookie season around here! If you liked my Fluffernutter Cookies, you'll love these other easy cookie recipes too.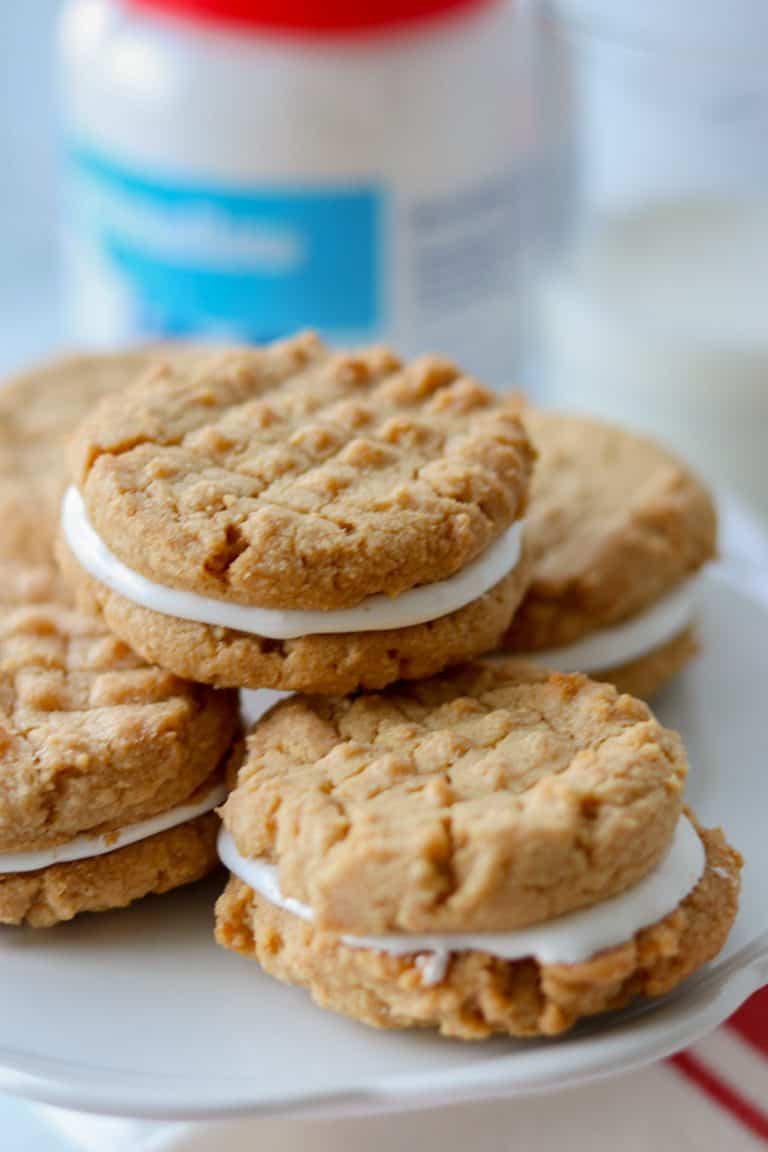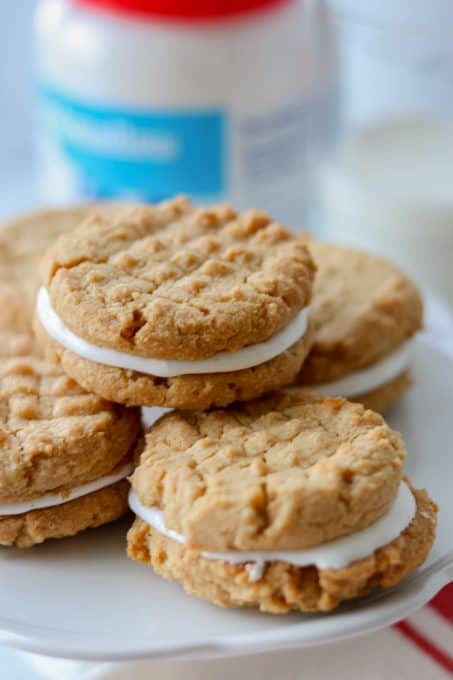 Craving cookies yet? These Fluffernutter Sandwich Cookies are deliciously satisfying and so easy to make!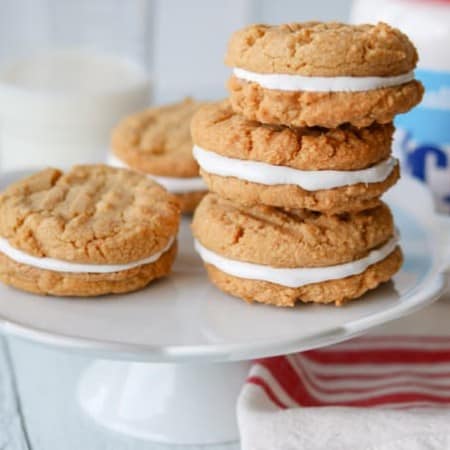 Fluffernutter Sandwich Cookies are inspired by the classic childhood sandwich! The sweet combination of a peanut butter cookie with marshmallow fluff in the middle makes everyone feel like a kid again!
Ingredients
3 cups all purpose flour
2 teaspoons baking soda
⅛ teaspoon kosher salt
1 cup shortening
1 cup granulated sugar
1 cup brown sugar
1 teaspoon pure vanilla extract
2 eggs
1 cup creamy peanut butter can use crunchy peanut butter
1 cup marshmallow fluff
Instructions
Preheat oven to 350°F.

In a small bowl, whisk together the flour, baking soda and salt.

In a mixing bowl, cream the shortening, vanilla and sugars for about 3 minutes.

Add the eggs and beat well. Mix in the peanut butter, scraping down the sides of the bowl as needed.

Add the flour mixture to the peanut butter mixture and beat until combined.

Using a tablespoonful of dough or a cookie scoop, form the dough into a ball and place onto the cookie sheet. Using the back of a fork, press down into the dough to make a criss cross pattern.

Bake for 10-12 minutes until lightly golden. Let cookies rest on baking sheet for about a minute before transferring to a cooling rack.

Cool cookies completely. Spread 1-1 ½ teaspoons of Marshmallow Fluff on the flat side of one cookie. Place the flat side of another cookie on top.
Nutrition
Serving: 1cookie sandwich | Calories: 180kcal | Carbohydrates: 23g | Protein: 3g | Fat: 9g | Saturated Fat: 2g | Polyunsaturated Fat: 3g | Monounsaturated Fat: 4g | Trans Fat: 1g | Cholesterol: 9mg | Sodium: 102mg | Potassium: 66mg | Fiber: 1g | Sugar: 14g | Vitamin A: 13IU | Calcium: 11mg | Iron: 1mg
Did you make this recipe?
Share it with me on Instagram and make sure to follow me on Pinterest for more recipes.
Reader Interactions