Mini Peanut Butter Cup Cheesecakes – individually sized peanut butter cheesecakes with a Peanut Butter creme Oreo for the crust, surprise mini Reese's Peanut Butter Cup in the middle and drizzled with chocolate. Your chocolate and peanut butter lovers are going to go nuts for this dessert!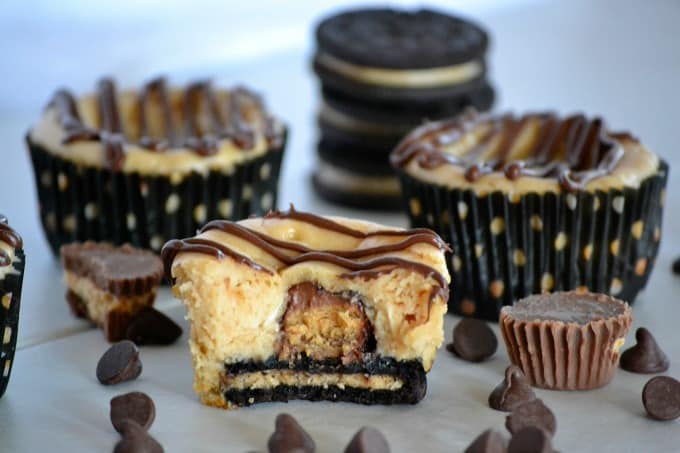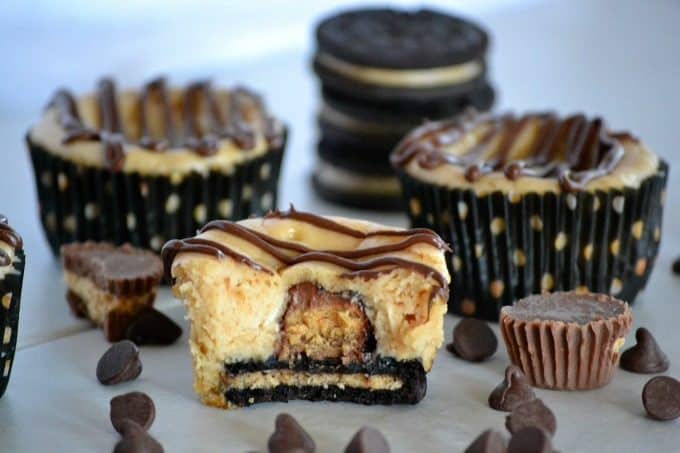 Here it is, the first of a few Oreo recipes.
Yes, we still have different flavored Oreos left over from when my daughter and I did our Oreo taste testing last week. It all started when my daughter, Emma who lives on the east coast posted on my wall that Oreo now had a Swedish Fish Oreo.
SAVE THIS PEANUT BUTTER CHEESECAKE TO YOUR FAVORITE PINTEREST BOARD!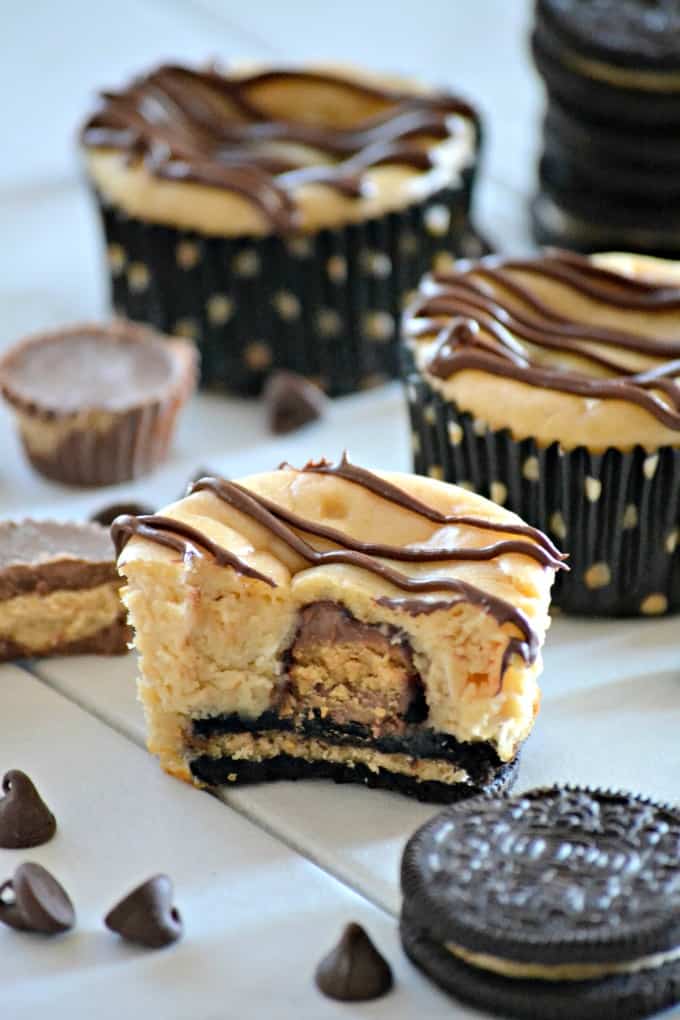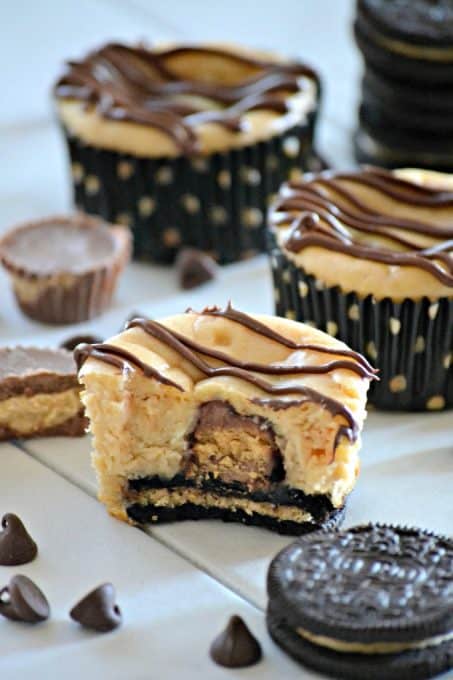 SAY WHA????
I wanted to believe it, but at the same time, really didn't because I just couldn't imagine the two being combined. To be honest, I'm actually starting to pucker and salivate just thinking about them again now.
Altogether, we taste tested about 15 different Oreo flavors. It was sugar overload and we only took a bite or more of each cookie, some two or more, but I don't think we ever ate a whole one.
Here's the video we did.
At the end of September, Emma comes to visit us for a few days so I'll be doing a LIVE video again with both of my daughters where we do the BeanBoozled Game and taste test different flavors of jelly beans. That is, if I can talk Miss Emma into it. She seems a wee bit skeptical that she should participate. haha, Can't imagine why since there are dirt, vomit, soap and the list goes on.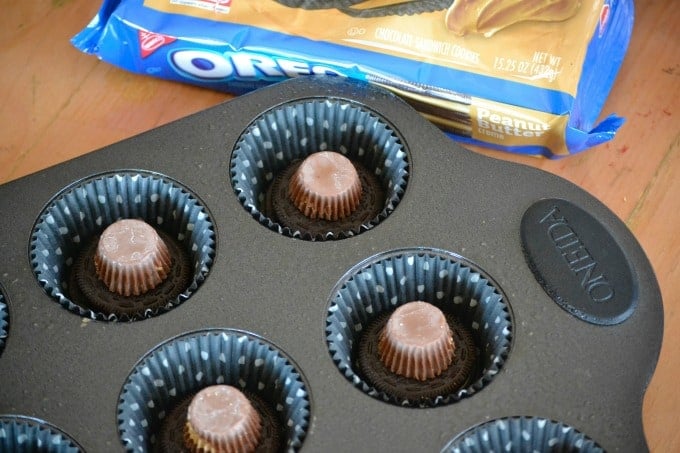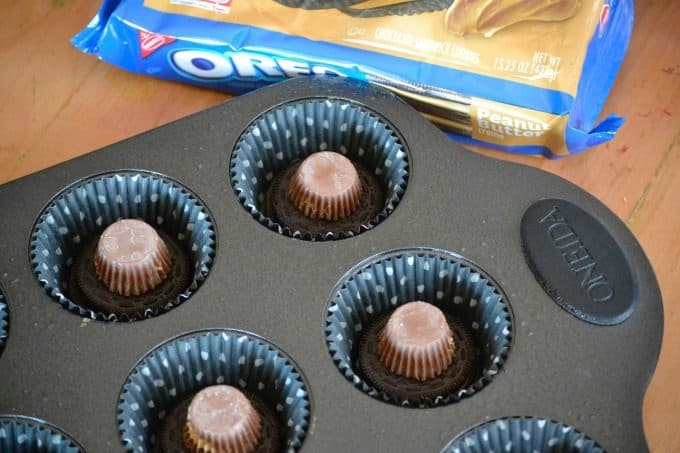 You can tune in for more of my LIVE Facebook videos every Monday and Tuesday, too! Join our 365 Days of Baking and More Facebook group to receive advanced notice of when I'll be going LIVE!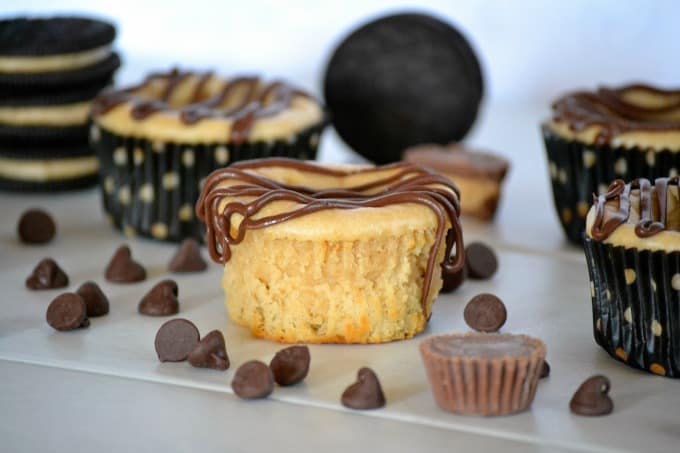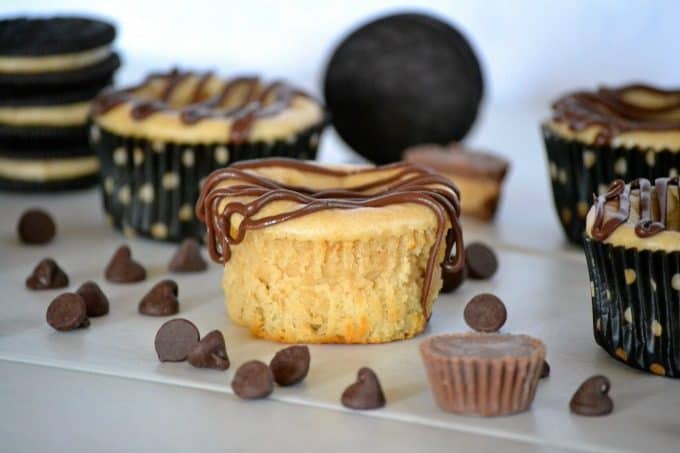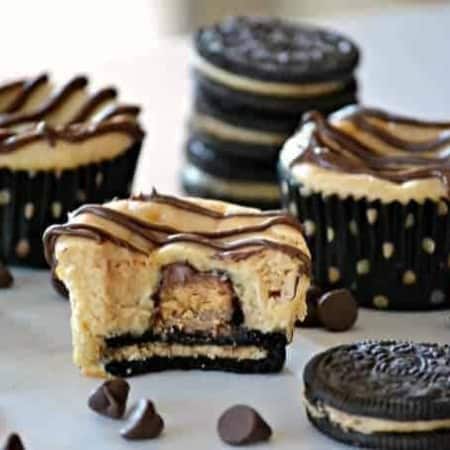 Mini Peanut Butter Cup Cheesecakes
Mini Peanut Butter Cup Cheesecakes - peanut butter cheesecakes, a Reese's Peanut Butter Cup, and chocolate drizzle. Chocolate, peanut butter lovers unite!
Ingredients
12 Peanut Butter Creme Filled Oreos
12 Mini Reese's Peanut Butter Cups
12 ounces cream cheese room temperature
⅓ cup creamy peanut butter
½ cup sugar
1 teaspoon vanilla
2 eggs
⅓ cup semi-sweet chocolate chips
Instructions
Preheat oven to 350 degrees F. and fill a 12-cup muffin tin with cupcake papers.

Place one Peanut Butter Oreo in the bottom of each cup.

Place one Reese's Mini Peanut Butter Cup upside down in the center of each Oreo.

In a mixing bowl, cream the cream cheese and peanut butter until well combined.

Scrape down the sides of the bowl and add the sugar and vanilla. Mix well.

Add the eggs and beat until will combined.

Distribute less than 1/4 cup of cheesecake batter evenly into each muffin cup.

Gently tap the muffin tip on the counter to settle the contents.

Bake for 20 minutes.

Cool on a wire rack for 10 minutes before placing in the refrigerator to set for an hour.

In a microwave-safe bowl, place the chocolate chips and microwave for 30 seconds.

Stir and microwave for an additional 30 seconds.

Pour chocolate into a sealable sandwich bag. Cut a tiny piece of one corner and drizzle the chocolate over the cheesecakes.
Did you make this recipe?
Share it with me on Instagram and make sure to follow me on Pinterest for more recipes.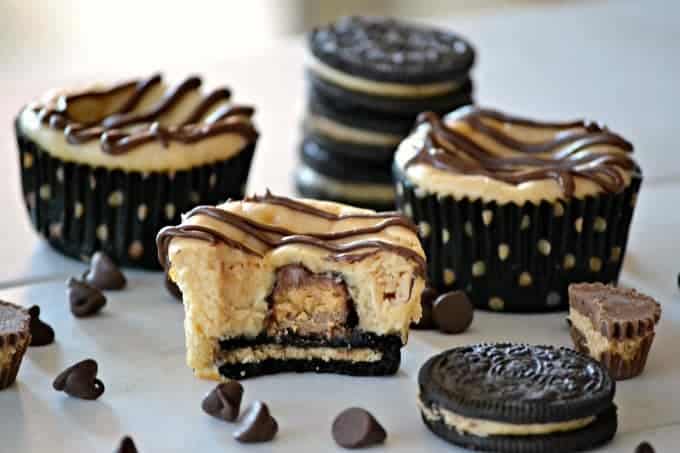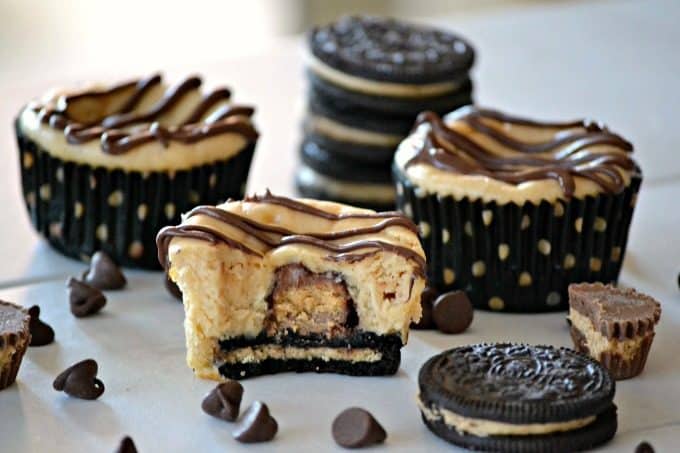 If you like these Mini Peanut Butter Cup Cheesecakes then you'll love…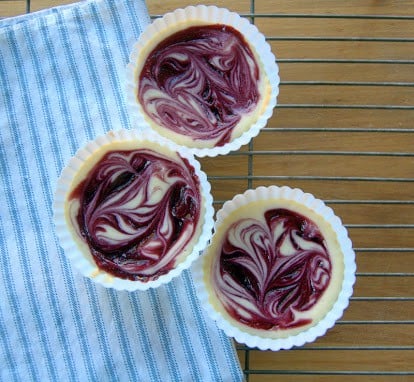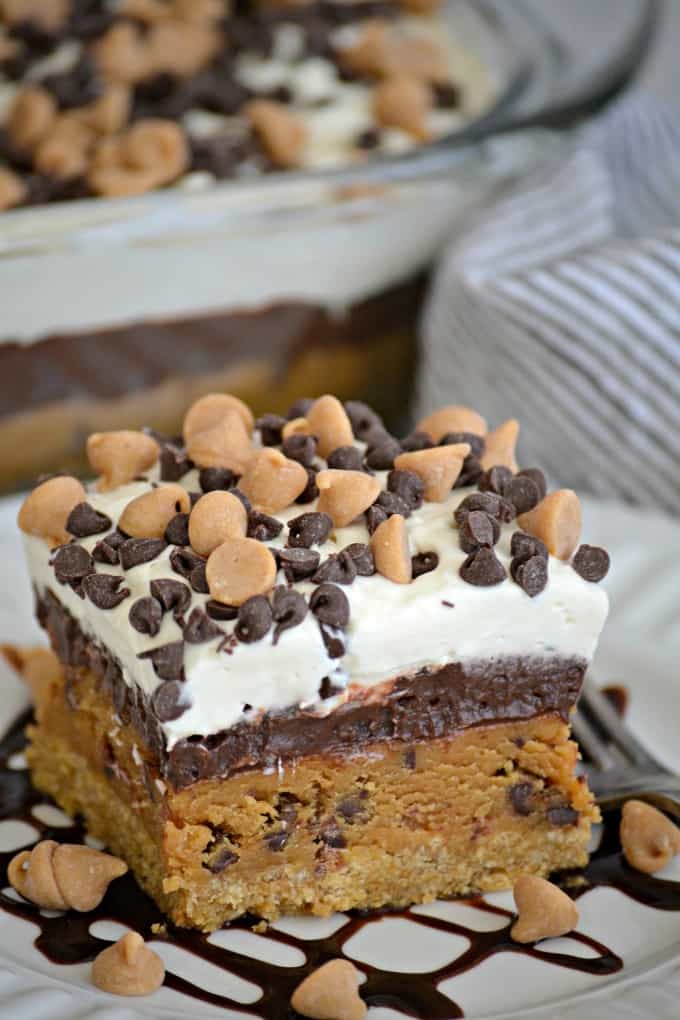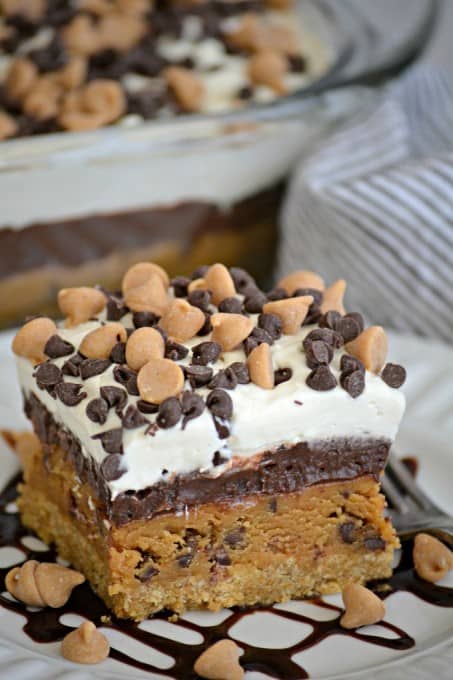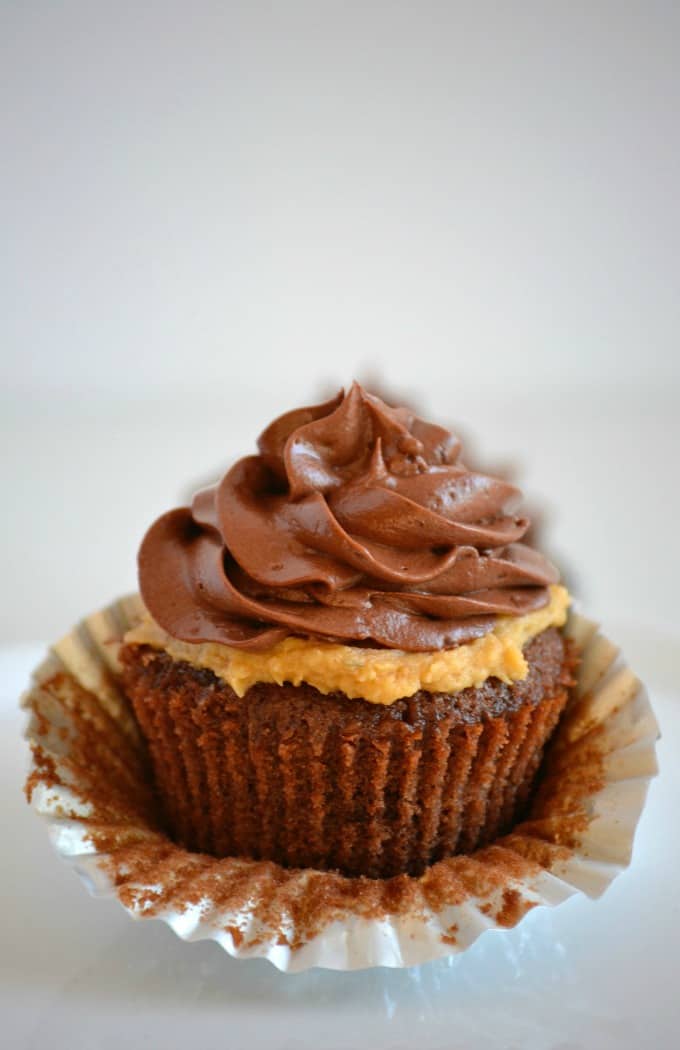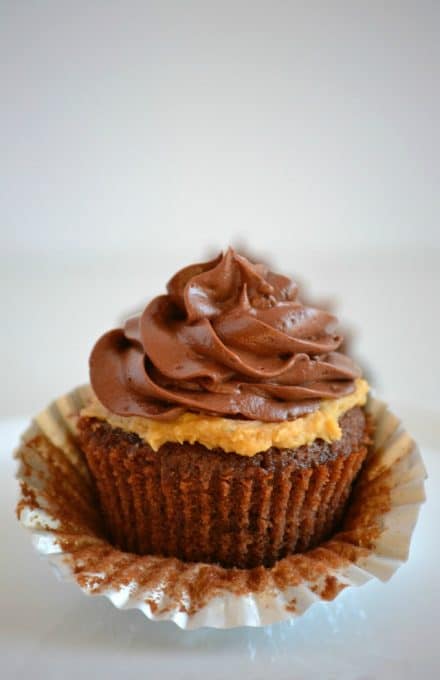 Reader Interactions