First of all, I know I have a lot of new readers, so I like to send you each a BIG baking hug 'cause that's how we welcome!!
Not sure what I'm going to send out when 365 Days is over since I won't be baking every day, and plain ol' hugs just don't seem to cut it. I'll have to ponder that a fortnight.
I don't know how the heck I came up with "fortnight". Let's just run with it, shall we?
Humor me, anyway.
So, there is this 'beep' that goes off in the house every half hour or so.
I don't know what it is because I can't FIND it.
It is driving me NUTS!!!!
It's not my phone because I have it set to vibrate when I get texts. It isn't anyone else's phone because they have took them to school and work.
(WHOA!!! Back the truck up!!! "have TOOK them"??? OMG!! Where did I learn grammar? )
Good grief.
*cleariing throat* "They have taken them to schoool and work."
Oh, now I can't seem to spell.
I just tore apart the couch only to find a pen, and some crubs (that's crumbs when your nose is stuffed up. Mine isn't, but it seemed like a good excuse for my poor spelling one again.) which need to be vacuumed.
I looked under the couch and found the dog's ball which made him very happy, but haven't found the culprit.
I've been here all. day. listening. to. one. single. beep. every. half. hour.
Ok, people who planted the bomb in my house?
Fess Up!
Is my baking really that bad? Have those recipes you've tried made you ill or were they too difficult?
Here, lie down on my couch *vacuuming crumbs, fluffing pillows*
We can talk about it. I want to help. Let's make amends.
'BEEP'
UUGGHH!!!!!!!
I adapted this recipe from Annie's Eats. She has such a wonderful blog, so many delicious looking recipes that I am excited to try.
She made her cheesecakes with raspberries, but I wanted the purple of the blackberries 'cause we all know that purple is my favorite color!
Or at least you do now.
And I was thinking as I was swirling…aaah, I'll tell you later.
Blackberry Swirled Cheesecake Cupcakes – makes 18
3/4 cup graham cracker crumbs
2 tablespoons butter melted
1 1/2 tablespoons sugar
6 oz. blackberries
1 tablespoon sugar
16 oz. cream cheese, room temperature
3/4 cup sugar
pinch of salt
1 teaspoon vanilla
2 eggs, room temperature
Preheat oven to 325 degrees F.
Line two cupcake tins with liners and fill the empty cups with water to ensure even baking.
In a small bowl, melt butter in microwave for 30 seconds to 1 minute. Add graham cracker crumbs and the 1 1/2 tablespoons of sugar. Mix together until thoroughly combined.
Using a tablespoonful of the crumb mixture, place it into each cupcake liner and press it down using the bottom of a small drinking glass to flatten.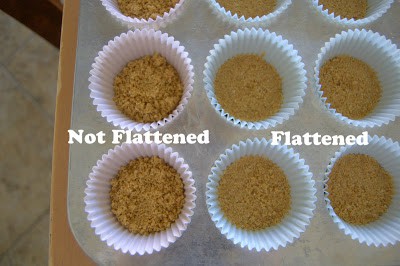 Bake for 5 minutes so that the crusts are just set and allow them to cool on a wire rack.
In a blender, combine the blackberries and 1 tablespoon of sugar.
Puree until smooth. Pour into a small bowl through a fine mesh sieve to discard the seeds.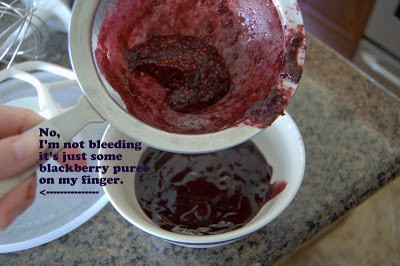 In the bowl of an electric mixer fitted with the paddle attachment, beat cream cheese on medium-high until fluffy.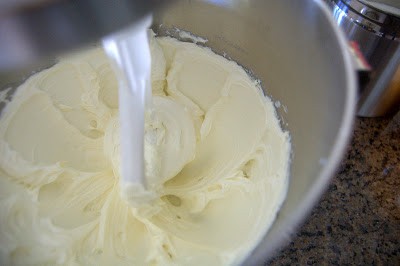 Gradually add the 3/4 cup sugar and beat until smooth.
Mix in vanilla and salt.
Add eggs, one at a time, blending well after each addition.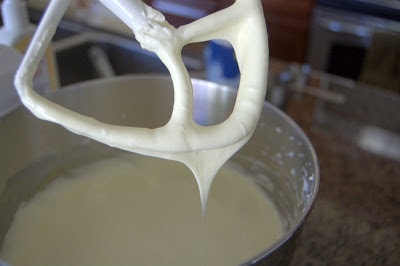 Place 3 tablespoons of batter into each muffin cup.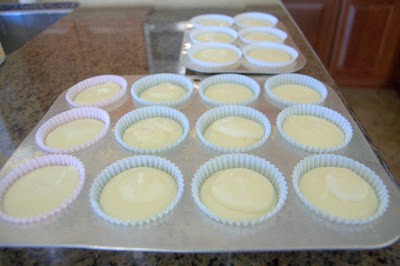 Put 1/4 teaspoon of blackberry puree in three different places on top of each cheesecake.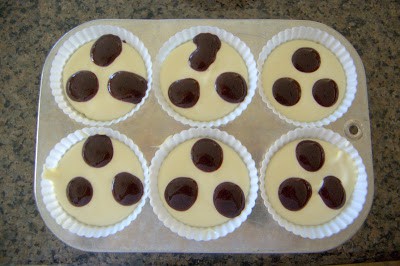 Using a toothpick, swirl the puree into the cheesecake so that it makes pretty little designs.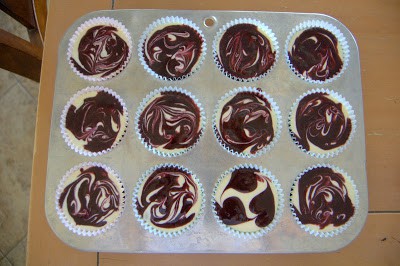 THIS was what I was thinking before…*If you choose to use raspberry or strawberry puree, these would make GREAT Valentine's Day treats. Place the three dots of puree onto each cheesecake. Insert the toothpick into the middle of one of the dots and pull it in a counterclockwise motion into the other two dots finishing in the one you started.*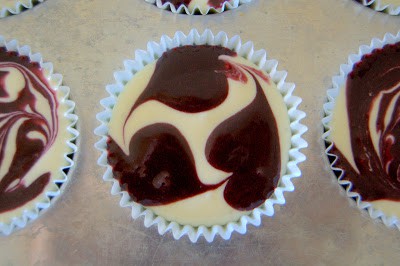 How pretty!
Bake for 22 minutes. Transfer to a wire rack to cool to room temperature.
Refrigerate for at least 4 hours before serving.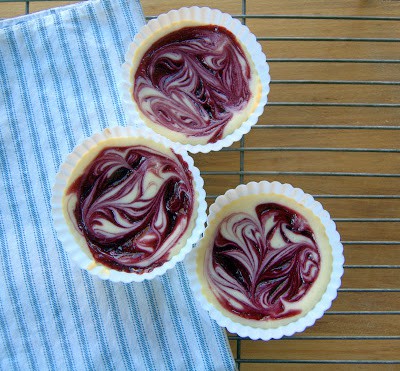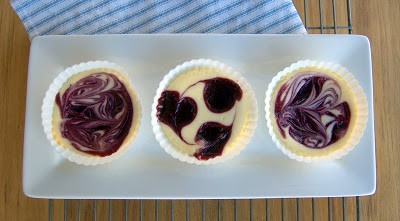 I rate everything I bake on a scale of 1-4 with 4 being the best and these Blackberry Swirled Cheesecakes earned 4 rolling pins!
Dah, dah dah duh duh DAH! I hope that sounded the same way in your head that it did in mine. It's supposed to be a trumpet. Better? Good.
Yeah, these were truly da BOMB!
I gave some of them to the neighbors and one of them, without me even prompting them said they should be given two thumbs up, but she corrected herself and said 4 rolling pins!
The other neighbor I've yet to hear from.
I hope I didn't give them the poisoned batch.
KIDDING!
Aye. Now I'm starting to get giddy. I'm tired.
One thing I changed from the original recipe was that Annie said to use 1/2 teaspoon for each drop of puree, but I found that it was too much on the top and I wasn't able to swirl them nice and pretty like. They kind of blobbed. Like this.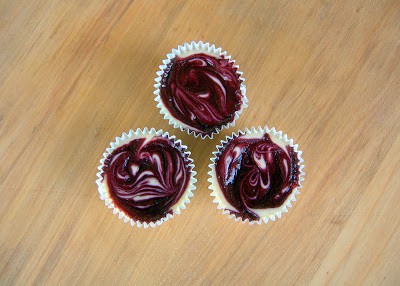 Blobbity, blob, blob, blob!
And I don't want blobby cupcakes of cheesecake. That's not attractive.
So I changed it to 1/4 teaspoon and the very little I had left will be going on top of some vanilla ice cream tomorrow.
Also, Annie stated in the recipe to turn the pans halfway through baking, but I didn't want to open the oven door for fear of them collapsing or cracking. They turned out fine leaving the pans alone.
Enjoy them! I'm sure whoever you make them for this Valentine's Day will be very pleased!
I give you BIG baking hugs and muffins!!