I went into the store of my dreams today.
I could have stayed there for hours and spent SO. MUCH. MONEY.
But I refrained.
I was a good girl.
The store was the Le Creuset OUTLET!!!
And I HIGHLY recommend that if you have a store near you and you haven't already discovered it that you go there immediately.
Do not pass Go, do not collect $200.
JUST.
GO.
NOW.
Oh my goodness. That place is heaven for cooks!
And I'm not even being paid for this plug. I just really liked the store!!
I bought this little baby…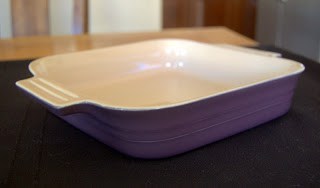 Isn't she purdy??!!
I LOVE HER!
She was discounted because it is an outlet and then she was an additional 40% OFF!!
WOO HOO! SCORE!! YEAH, ME!!!
I love purple, too, so it was such a no-brainer when I saw it was on sale.
I also bought some silicone baking cups.
Just a very exciting day!
Ginger Honey Salmon – serves 4
1 lb. salmon fillet
zest and juice of one orange
zest and juice of one lemon
1 tablespoon honey
1 teaspoon soy sauce
1 teaspoon fresh cilantro, chopped
1/8 teaspoon salt
freshly ground pepper
Preheat oven to 450 degrees F.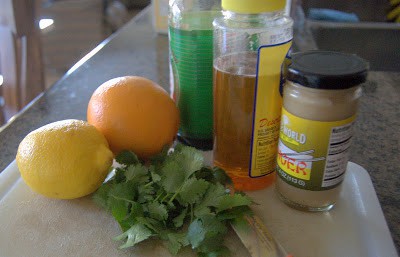 Prepare a rimmed baking sheet by covering it with tin foil and spraying the tin foil with cooking spray.
Place the salmon fillet, skin side down, in the prepared sheet.
In a small bowl, whisk together the juices, zest, honey, soy sauce, cilantro, salt, and pepper.
Baste the fillet with half of the marinade.
Place into oven and bake for 12 minutes per inch of thickness. (I only cooked ours for a total of 12 minutes since it was only about an inch at its' thickest point.)
Also when an internal thermometer is inserted, it should read 140 degrees F. to ensure it is fully baked.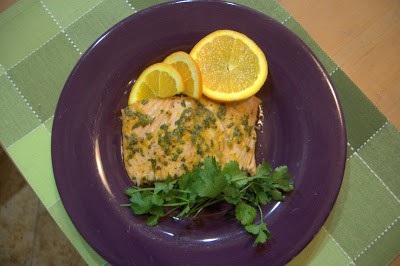 I could have made this look more appetizing, but really, I'm not going to lie.
Yup, not too good.
I rate everything I bake on a scale of 1-4 with 4 being the best and this Ginger Honey Salmon certainly didn't earn a 4.
No, by golly.
This entree earned 2 rolling pins.
It was not exciting. It was kind of blah. I don't think you should try this.
I like honesty.
Yeah, those recipes were much better and I would make them again.
Tomorrow, no fish. I don't think I'll be making salmon for a while either.
The family wouldn't be happy with me.
I give you BIG baking hugs and muffins!!