Peanut Butter Cookie Dough Dream Bars – a graham cracker crust, chocolate fudge pudding, a peanut butter chocolate chip cookie dough layer made with Davidson's Safest Choice™ Eggs and topped with a stabilized whipped cream.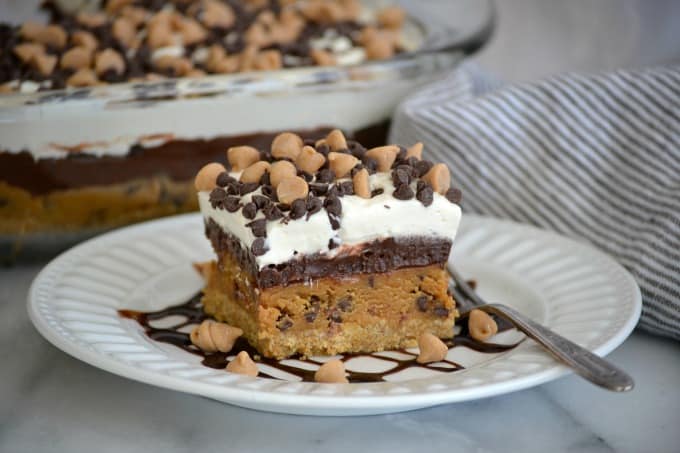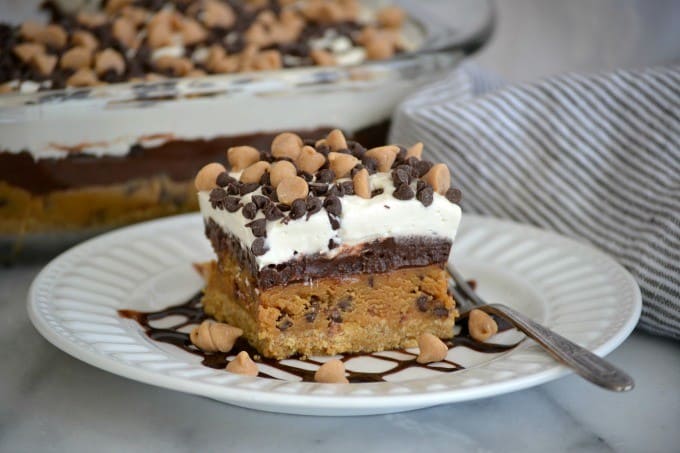 Finish it off with some mini chocolate chips and peanut butter chips and you've got a fabulous NO-BAKE dessert to wow family and friends!
You guys!!!!! Take a DEEEEEEP breath!!
I'm SO excited to share this recipe with you! You have absolutely NO idea how challenging this has been, but I do believe I've created my best dream bar recipe to date.
*BIG sigh of relief*
Oh, yeah, haha breathe if you haven't already. 😉
SAVE THIS PEANUT BUTTER DREAM BAR TO YOUR FAVORITE PINTEREST BOARD!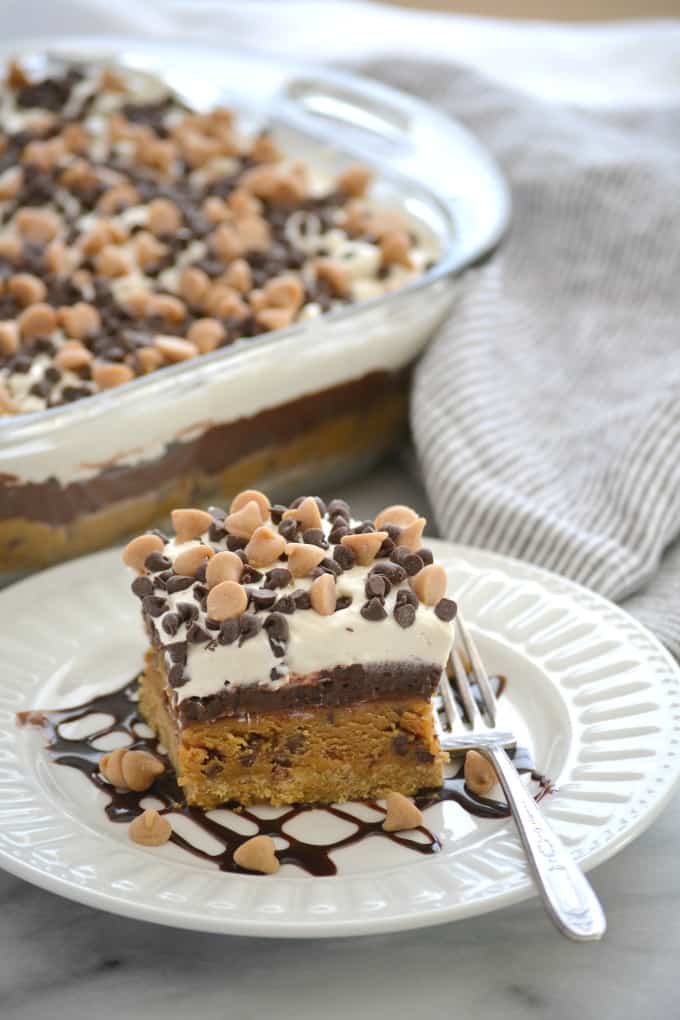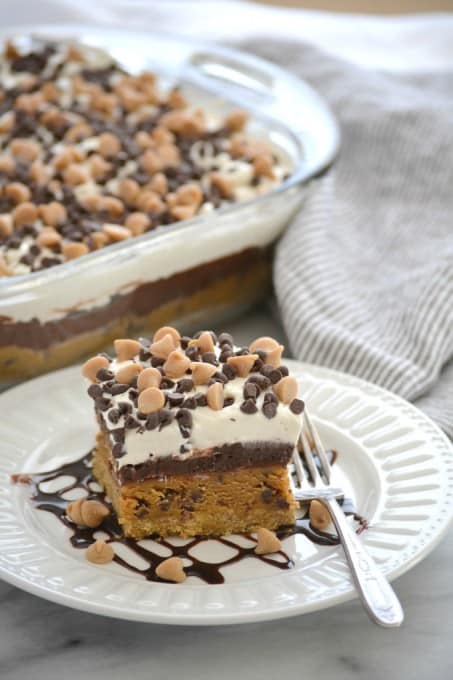 So, I've partnered with Davidson's Safest Choice™ Eggs to create a couple of recipes using their product and to tell you a bit about them if you may not already be familiar.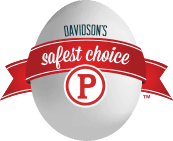 My grandmother's recipe for Homemade Bailey's Irish Cream had been sitting in my recipe box for years because it used three raw eggs. I know in this day and age people have concerns about digesting raw eggs and the threat of salmonella.
So, there wasn't any way I was going to post something that might be harmful to you and your family or something that I didn't feel 100% comfortable with. If I'm anxious in my gut about it, it's not going up here on the blog. Period.
So, the Irish Cream recipe is incredible. We had it for St. Patrick's day and can serve it to family and friends during the holidays. I'm eggs-cited (haha, get it? 😉 It's just so appropriate though! ) because it will also make a great hostess gift! The taste is great and the eggs make it really creamy. I like it much better than the bottled and it's less expensive.
Use Davidson's Safest Choice Eggs to make these Bruléed Eggs for breakfast!
The other recipe I wanted to use the eggs for which I hadn't yet tackled is cookie dough and I know everyone loves cookie dough.
BUT…
Now there's this thing about eating raw flour and how that might make some people sick. Can't a girl get a break around here? Good grief. It seems as if everywhere we look we can't eat this or ingest that because it will kill us.
I'm all for being careful and conscientious about what we're putting into our bodies, but if we all obsess over it we aren't going to be living life!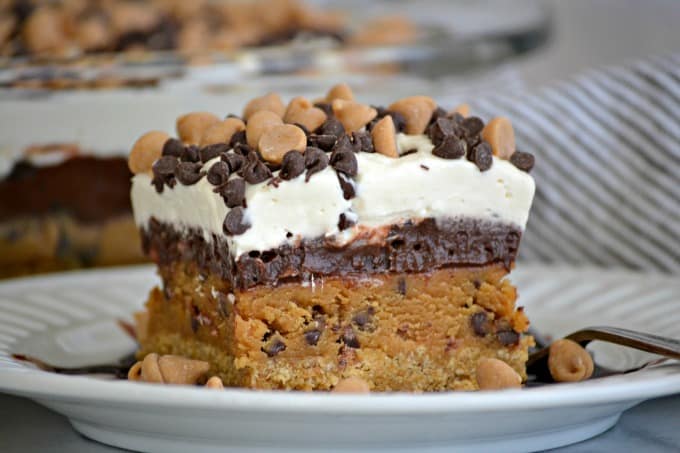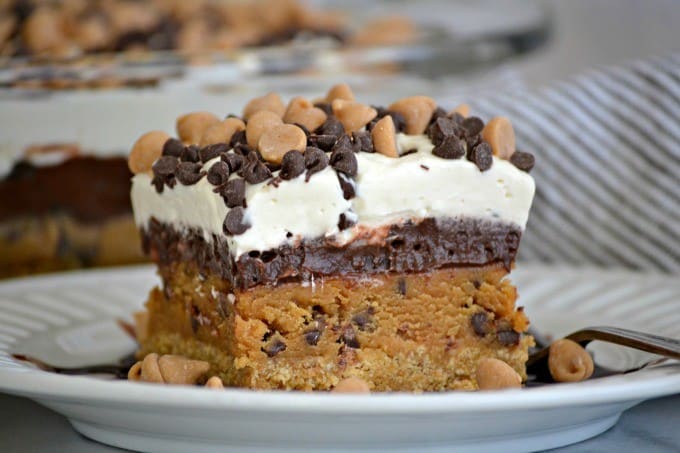 That's where Davidson's Safest Choice Eggs and a flourless cookie dough come in!
I have to admit that I was disappointed that I couldn't get a regular chocolate chip cookie dough down because believe me, I tried.
I attempted using ground oats, but the texture was not up to par, so I scrapped it. Finally, I remembered my 13-minute 3-Ingredient Peanut Butter Cookies because they don't have any flour, but they do use an egg to hold it all together! I knew it would be the perfect choice with a few chocolate chips thrown in because chocolate and peanut butter always go so well together anyway.
And it was the bomb. The BOMB, I tell ya! I think you'll be pleased with how these bars turned out as my family certainly was!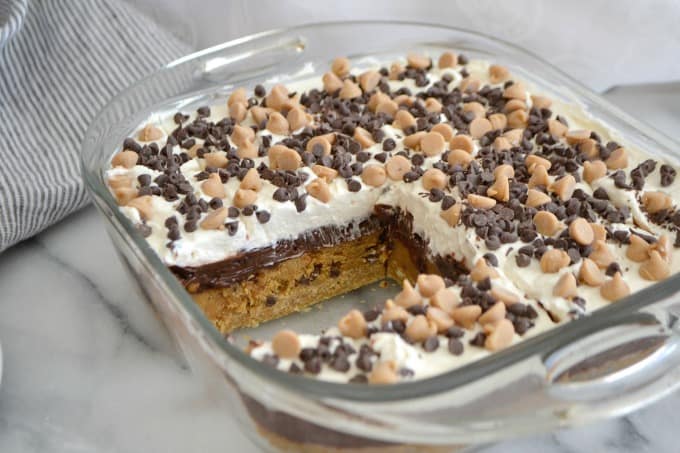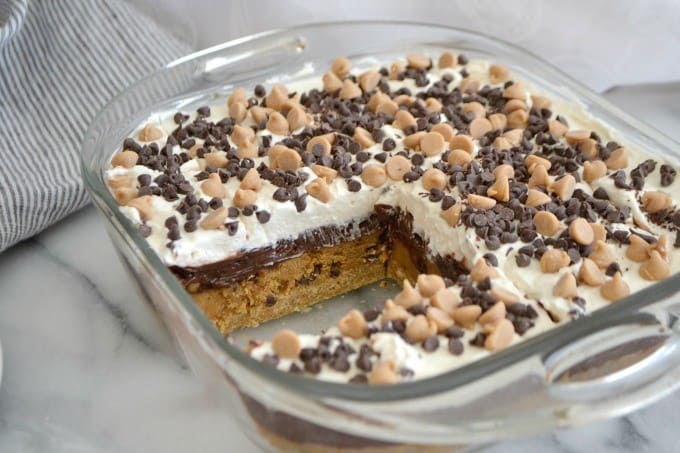 I also know how some of you don't like to use that whipped cream that comes in a tub that you find in your grocer's freezer section. Fret no more!! I found a recipe to replace that. SO much goodness all rolled into this one recipe. WOO HOO! Here's the recipe for the Stabilized Whipped Cream.
This recipe calls for two cups and the recipe will give you about three, so feel free to use more if you'd like. I'm not stopping you. 😉
Also, take a look at their store locator to find out where Davidson's Safest Choice Eggs are at a store near you!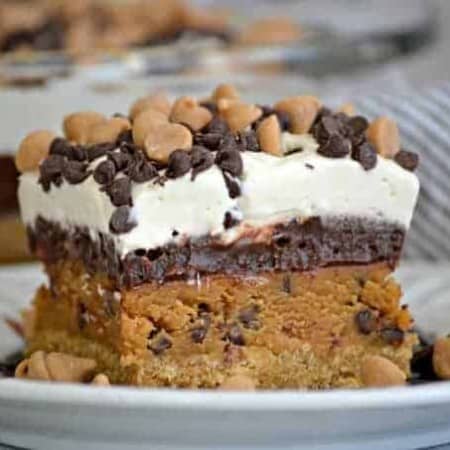 Peanut Butter Cookie Dough Dream Bars
Peanut Butter Cookie Dough Dream Bars topped with mini chocolate and peanut butter chips for a fabulous no bake dessert to wow family and friends!
Ingredients
Crust
1 ⅓ cups graham cracker crumbs
5 tablespoons unsalted butter melted
1 Davidson's Safest Choice egg beaten
Cookie Dough Layer
1 cup creamy peanut butter
1 Davidson's Safest Choice egg
1 cup granulated sugar
1 teaspoon pure vanilla extract
Pudding Layer
1 3.9- ounce package chocolate fudge pudding mix
1 ½ cups milk NOT the 2 cups called for on the package
2 cups of Stabilized Whipped Cream
⅓ cup mini chocolate chips
⅓ cup peanut butter chips
chocolate syrup if desired
Instructions
Prepare an 8 X 8-inch baking dish by spraying it with cooking spray.
Crust
In a medium bowl, mix together the graham cracker crumbs, unsalted butter and egg until all is moist and sticks together. Press into the bottom of the prepared baking dish and place into the freezer for at least 30 minutes.
Cookie Dough
Place a piece of parchment on to a clean work surface.

In a mixing bowl, combine the peanut butter, egg, sugar and vanilla. Mix until thoroughly combined and turn out on to the parchment.

Shape the dough into a 7 X 7-inch square and cut into quarters.
Pudding
In a medium mixing bowl, mix the pudding with the 1 1/2 cups of milk and refrigerate for at least 5 minutes to set.
Assembly
Place the quarters of cookie dough into the baking dish and gently press down to form and smooth incisions.

With an offset spatula, spread the pudding on top of the cookie dough to completely cover.

Evenly distribute the mini chocolate chips and peanut butter chips on top.

Drizzle with chocolate syrup, if desired.
Did you make this recipe?
Share it with me on Instagram and make sure to follow me on Pinterest for more recipes.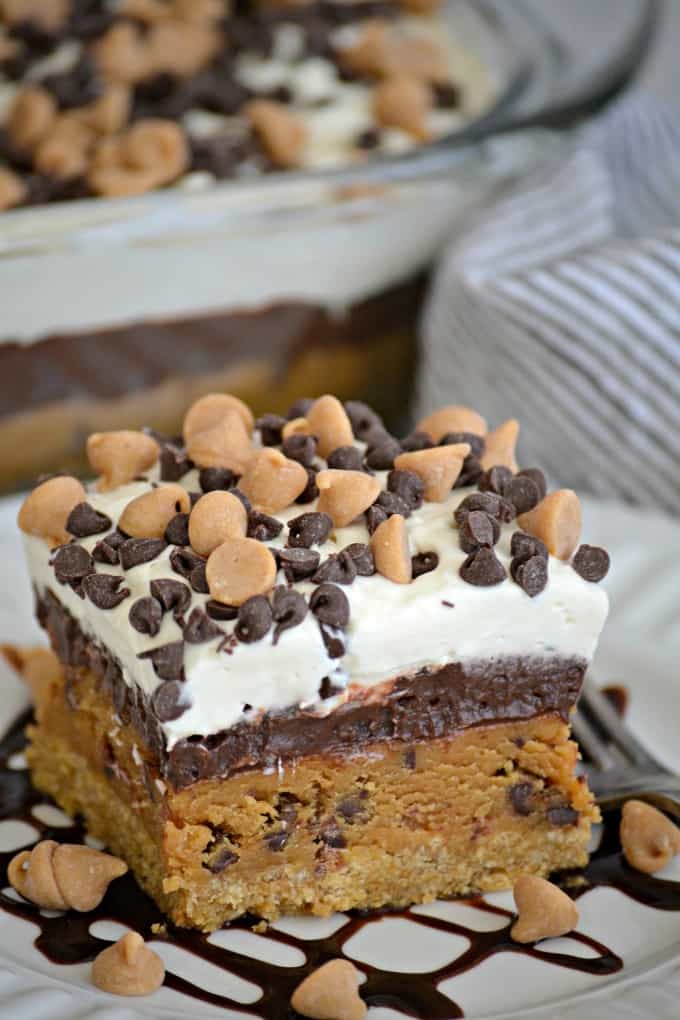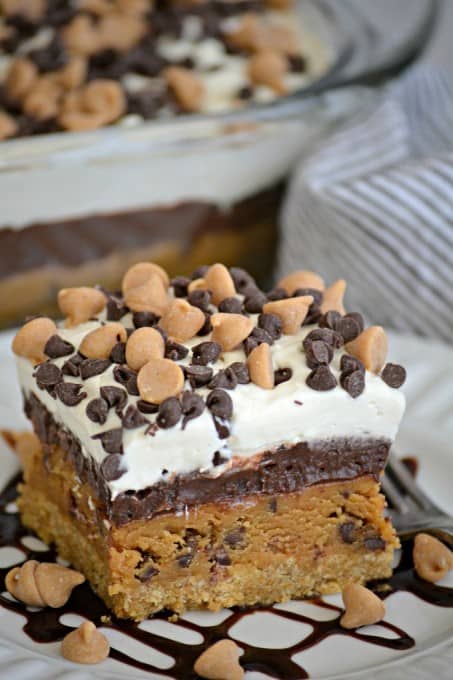 If you liked these Peanut Butter Cookie Dough Dream Bars, then you'll love…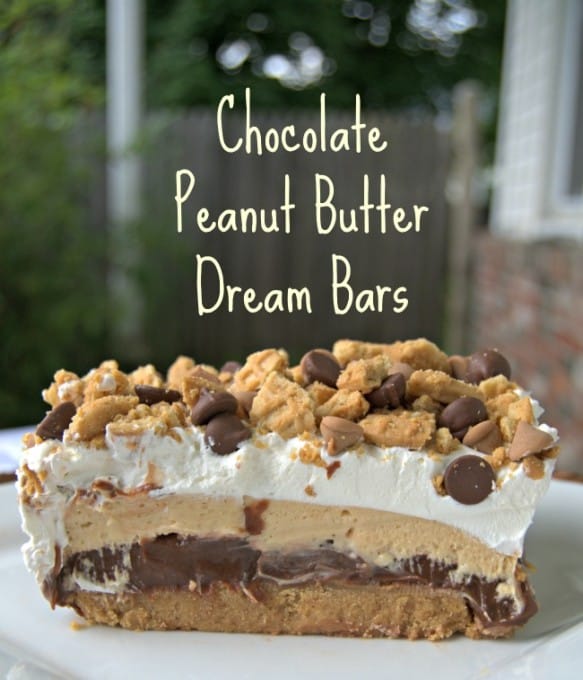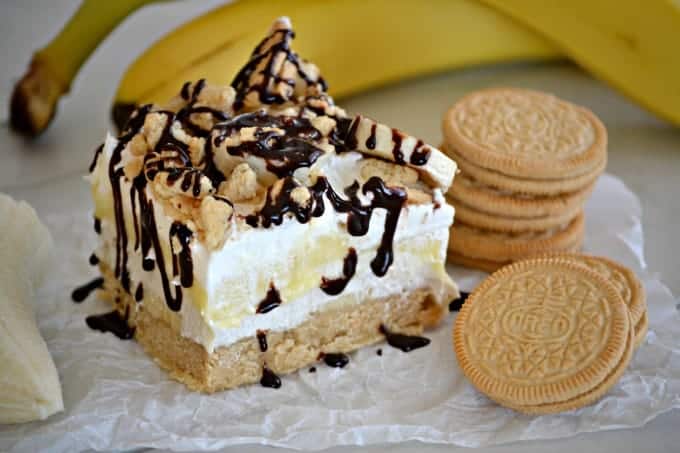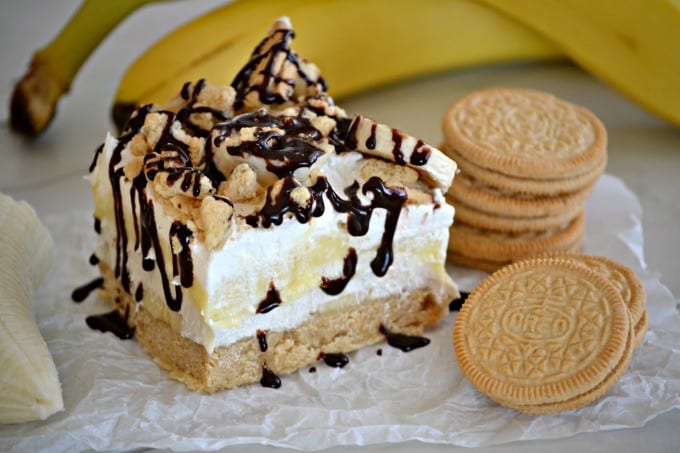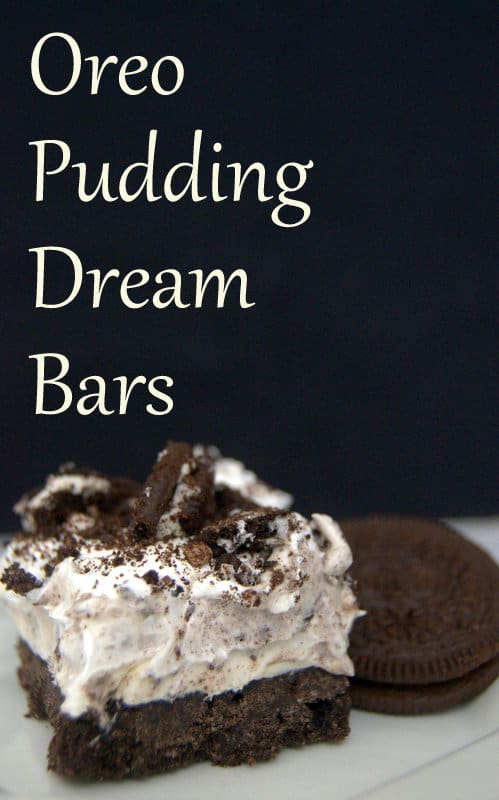 I am proud to be partnering with Davidson's Safest Choice™ Pasteurized Eggs to bring you this post. I have been compensated, but as always, all opinions are 100% my own. Thank you for reading and supporting those brands that I believe in so that I can continue to bring you great content and delicious recipes here at 365 Days of Baking and More!
Reader Interactions