These Oreo Pudding Dream Bars are a cookies and cream dessert. They have an Oreo cookie crust covered with layers of cream cheese, Oreo pudding, Cool Whip, and are topped with the crushed Oreos. You'll love this NO BAKE dessert because these cookies and cream bars are ones you'll be dreaming about for nights to come!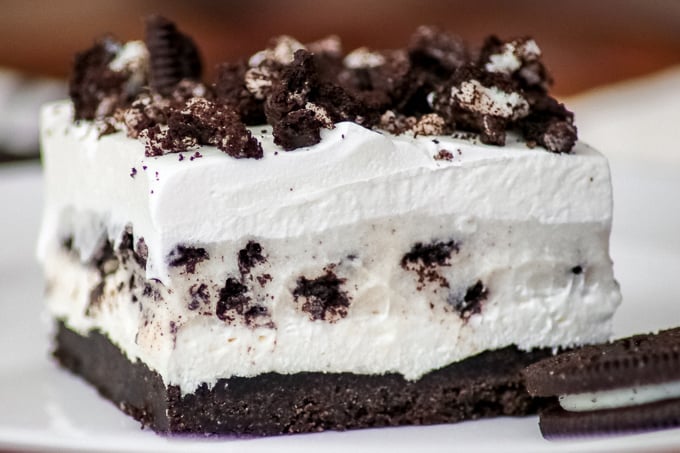 I've got nothin' to say.
*This post contains an affiliate link(s).
I know it's a surprise. haha
Sometimes I can go on and on and talk your ear off with my nonsensical gobbledy gook, but today, I'm at a loss for words.
I guess maybe because nothin' much has been going on which of course, you could say is a good thing.
There hasn't been a strange woman trying to get in our front door at 11:30 at night. YIKES!
We haven't been living in a hotel for 5 days as we're in between rental moves.
And we aren't moving to the other side of the country, so it's all good.
SAVE THESE OREO PUDDING DREAM BARS TO YOUR FAVORITE PINTEREST BOARD!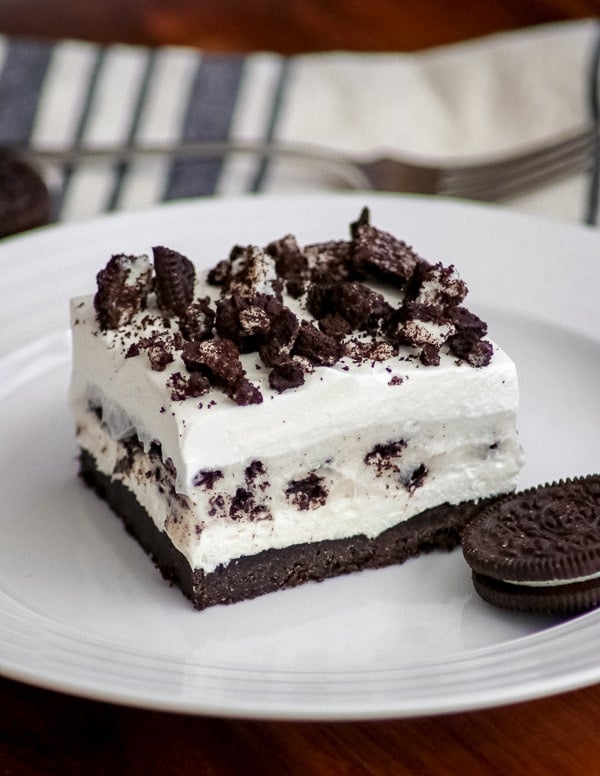 Here's the original Pin you might have seen floating around Pinterest.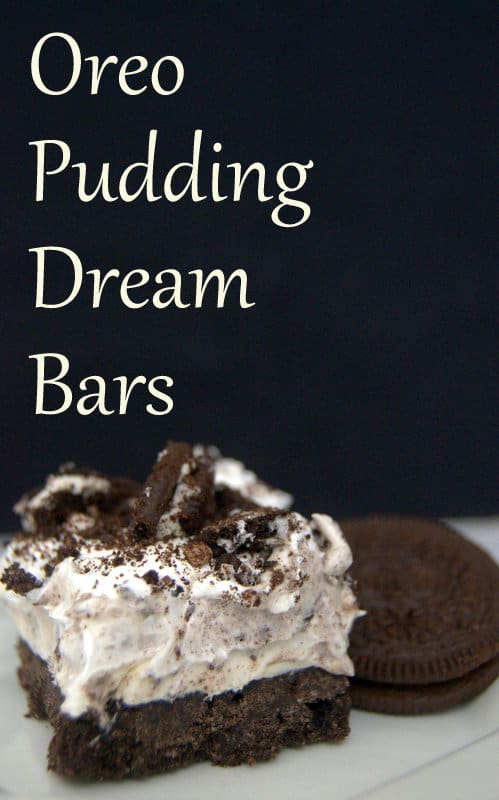 Having the two pictures above so close together is an eye opener, really.
What a difference a few years can make in your photography skillz!
Wow!
It just goes to show you that you CAN teach yourself new things and that you CAN improve over time.
I'm here to tell you ladies and gentlemen, don't give up on your dreams!!
SIGN UP FOR THE
365 DAYS OF BAKING & MORE
NEWSLETTER
BELOW!
Use these items to make your own Oreo Pudding Dream Bars – Oreo Pudding Mix, and this baking dish.
How to make these Oreo Pudding Dream Bars –
Crush some Oreo cookies and mix them with butter to form the cookie crust.
Place into the freezer to harden. Yes, this is a NO bake dessert!! You're welcome.
Cream the cream cheese, confectioners' sugar and vanilla together.
Mix the Oreo pudding with only 1 1/2 cups milk, NOT the two cups called for on the pudding box. We want the pudding to be a bit more stable when it sets.
If you are a Cool Whip hater, you can use this recipe for Stabilized Whipped Cream. It's got a thicker consistency than plain whipped cream and holds up really well in all of my Dream Bar recipes.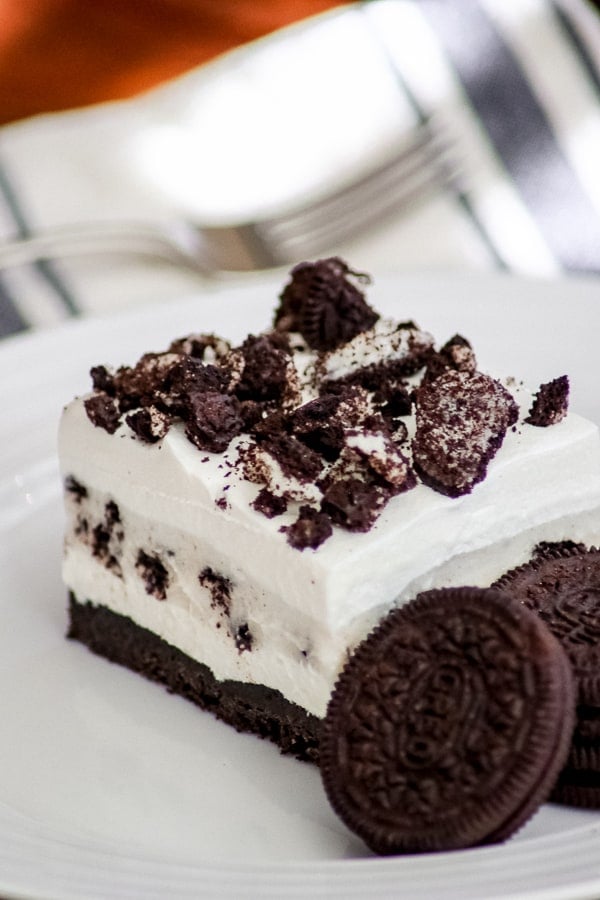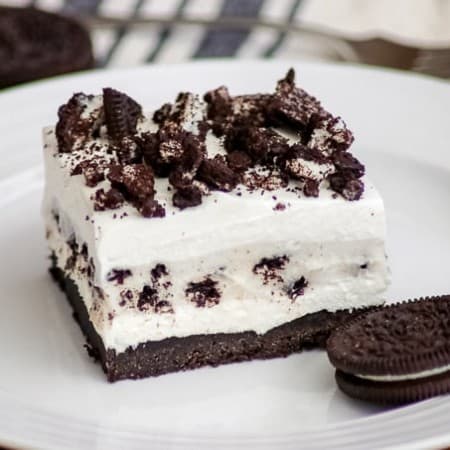 My Oreo Pudding Dream Bars have an Oreo crust, sweet cream cheese, Oreo pudding, Cool Whip topped with crushed Oreos. The perfect cookies & cream dessert!
Ingredients
1 package Oreo cookies divided
4 tablespoons butter 1/2 stick butter, melted
4 ounces cream cheese
½ cup confectioners' sugar
½ teaspoon pure vanilla extract
1 8- ounce container Cool Whip divided
1 4.2 ounce package instant Oreo pudding mix
1 ½ cups milk
Instructions
In a blender or food processor, finely crush 18 of the cookies.

In a medium bowl, mix together the melted butter and finely crushed cookies until well moistened.

Press into an ungreased 8 X 8-inch baking dish.

Place into the freezer for at least 30 minutes to harden.

Allow crust to cool completely before proceeding.

In the meantime, mix the package of pudding with the milk in a small bowl. Refrigerate until ready to use.

In mixing bowl, beat cream cheese, confectioners' sugar, and vanilla together.

Fold in one cup of the Cool Whip.

Spread cream cheese mixture over the cooled crust.

Spread pudding over the cream cheese layer.

Spread remaining Cool Whip over the pudding layer.

Refrigerate for at least two hours or place into the freezer for one.

Eat 4 of the wonderful cookies while you're waiting. This is a must. haha

In a plastic bag, break up the 14 remaining cookies. Sprinkle over the top just before serving.
Notes
Be sure to put the larger crumbled cookies on top before serving and not before refrigerating for the two hours. They will soften and nobody likes them soft.
Nutrition
Serving: 1g | Calories: 251kcal | Carbohydrates: 32g | Protein: 3g | Fat: 12g | Saturated Fat: 7g | Cholesterol: 36mg | Sodium: 356mg | Potassium: 102mg | Fiber: 1g | Sugar: 27g | Vitamin A: 440IU | Calcium: 90mg | Iron: 1mg
Did you make this recipe?
Share it with me on Instagram and make sure to follow me on Pinterest for more recipes.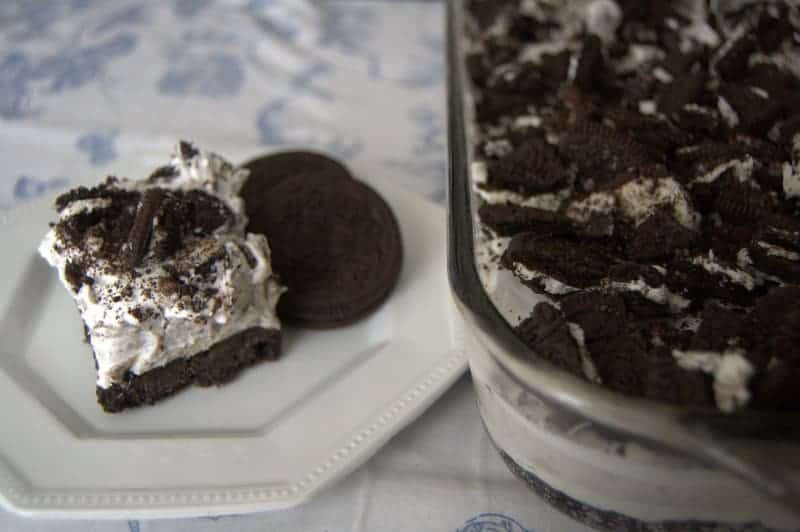 I rate everything on a scale of 1-4 with 4 being the best and these Dream Bars earned 3 1/2 rolling pins.
They were really good.
I didn't even know that this pudding existed until I saw it at the store and then decided to make this wonderful creation.
Although I'm sure it's been made somewhere on the internet.
Hasn't everything?
*Affiliate Disclosure – This post contains an affiliate link which means that if you click the link it will take you to where you can purchase the pudding and from your purchase, I will receive an affiliate commission. Please know that I only recommend cookbooks, products and services that I personally use and believe will benefit my readers. I am disclosing this in accordance with the Federal Trade Commission Guidelines. Thank you.
This post has been updated with new photos and some content. Originally published 5/24/14.
Reader Interactions