Blueberry Ginger Galette – An easy to make dessert with a tasty crust, fresh blueberries, and crystallized ginger. It's perfect with a scoop of vanilla ice cream.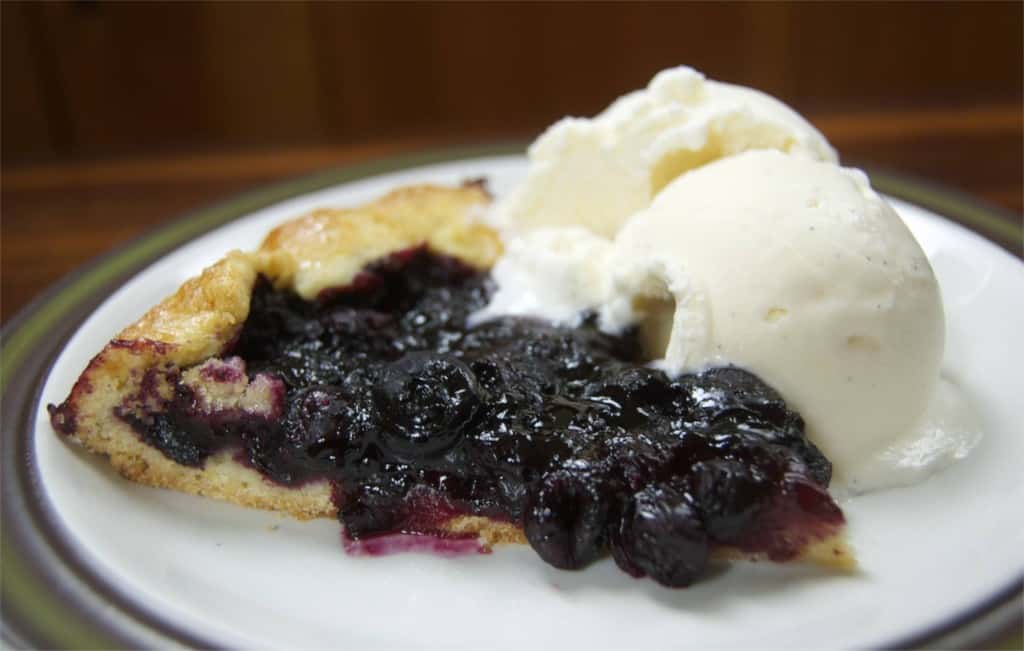 We had an interesting night here at the 365 homestead last week. Let me tell you about it…
I had gone to bed about 9 or so and I was told the kids went up about 10 or 11. Mr. 365 stayed up and had just turned the lights off, ready to call it a night. He thought it would be best for him to sleep on the couch because we'd had a slight disagreement. I was in a rotten mood due to some things that had happened and decided to go to bed early in the hopes that the following day would be better.
C'mon, it happens at your house, too, doesn't it?
Lights are off and he's just settling in on the comfy couch when our daughter's 6-month-old Golden Retriever, Keiser, starts to growl slightly. Not a big deal, he's done it before. He's a very vocal dog and is a grumbler. We also have a 9-year-old Golden named Brady who is extremely laid back and most often will only bark when Keiser gets him started.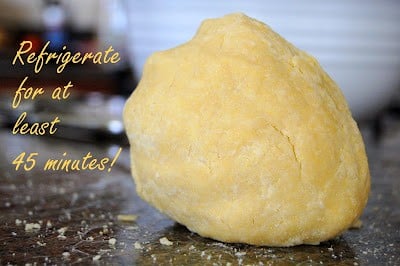 So, about 11:30 Keiser starts grumbling, then growling, and then ramps up into a full fledge non-stop bark. Of course, not wanting to be left out and being the Big Man on Campus, Brady joins in. They are both facing the side door and proceed to become really agitated
With only the outside porch light on, Mr. gets up off his comfy couch and moves to see what the dogs are in such a tizzy about. As he comes within about a foot of the door, he sees the doorknob start to turn. (insert scary music!!)
A woman has come up the steps, opened the screen door and is trying to get into the house without. Even. Knocking. Not paying any attention to the dogs, she starts to yell, "Help, I'm hurt and I need some help." She yells it a couple of times while continuously attempting to open the door.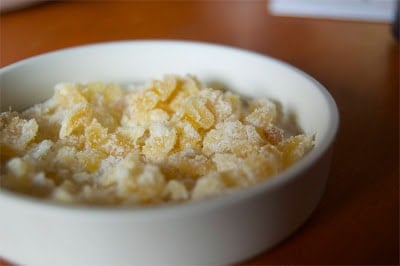 They make eye contact, but she continues to yell, not even asking for help or saying what's wrong. Mr. 365 then begins to bang on the door window, trying to get her attention and yells back, "We're not doing this tonight!" (Really? I thought as he told me later. Tonight? Why would you use that one particular word?
Tonight.
Odd.
She then retreats down the steps and heads toward the slider at the back of the house. Hoping that it's locked and not wanting her to see him, my husband gets down on his knees in the dark and crawls towards the slider where both dogs have already positioned themselves while continuing to bark. He no longer sees any sign of her and comes to wake me.
I had heard the dogs barking and thought there might have been deer outside as there had been the day before, so didn't pay much attention and certainly wasn't getting out of bed. The Mr.'s out there, he can take care of it. Besides, I'm mad at him.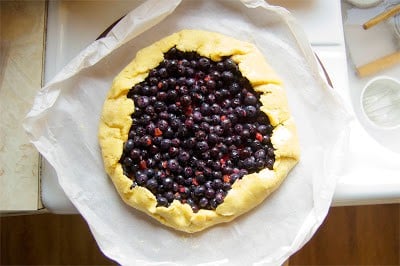 "Lynne, I'm shaking. You've got to get up. There was a woman at the door trying to get into the house!"
"What?!?!?!" Ok, I'm up. And just like that, we join together. A united front. No remnants of any previous argument or anger.
I swear he paid the woman to show up that night. And there we are, both of us. Walking around the house. In the dark.
It's a rental and even though we've been here a month, we still aren't 100% sure of where the furniture is or the location of those little steps in the floor that we so often trip over even when it's daylight. Needless to say, we weren't moving about very gracefully with all the lights out.
We looked out all of the windows, being ever so quiet then went upstairs and didn't see anything from there either. We went into both of our daughters' rooms and asked them if they'd heard anything – they'd been in bed on their computers/iPhone and had said they'd heard the dogs.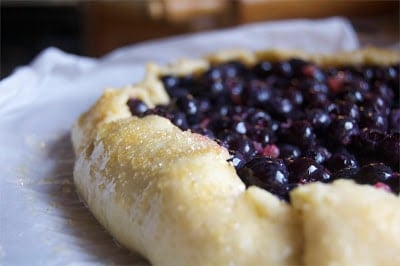 There was no way they were staying alone in their beds and decided to walk around the house with us. We didn't bother to wake our son. We figured if he'd heard anything he would have gotten up.
"I want to go outside to see if she's still around," says Mr. "Are you nuts?!?!" I say, "you aren't going outside!! Stay in here!" Our eldest daughter's shaking while we're all huddled together. Close, quality family time.
With that, we hear the woman yell something four times. Couldn't figure out what it was or exactly where she was, but we knew she was in close proximity. "Dad," says our eldest, "you need to call 911!" So he does.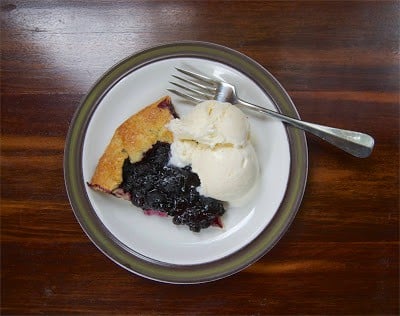 We're on the border of two different towns, so thankfully, an officer came from each town.
I do love small town New England. That may have been the only excitement these two officers had had in a while.
They came, they searched, shone their spotlights on the surrounding woods, pond and field, but didn't come up with anything. The officer from our town walked around the empty house next door, coming back to my husband saying, "Crap, you guys got apple trees! I was looking around when I heard this noise.
Scared the @%$# out of me 'cause I thought a guy was gonna jump me out of the tree." It was an apple that had fallen to the ground.
Poor guy.
SIGN UP FOR THE WEEKLY 365 DAYS OF BAKING & MORE
NEWSLETTER BELOW!
He told us to go to bed but stuck around for about 1/2 hour in our driveway after the other officer left and then seemed to take off rather suddenly. I heard him because my adrenaline was up a wee bit too high to get any zzzz's.
I don't know how much sleep we got that night, but fortunately, we were able to get some. And yes, I was not in bed alone. Forgive and forget, right?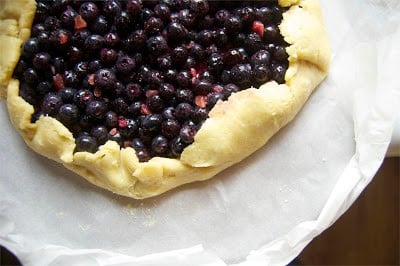 The next day we went down to the police station to see if there was any news. We explained who we were and we asked if they'd found her.
"Yep, we found her," the officer on duty said. "He tried to admit her to the hospital, but she wouldn't go." Oh," I said. "Was she ok?" He paused and then chuckled. "Physically." Then he added, "she's one of those people in town who needs to be taking her medication regularly."
Ok, then. good to know. Well, at least the police in town are aware of who those people are and I doubt we'll be seeing her again. Or at least, I hope we don't. What happened to the days I grew up in where we'd always leave our doors unlocked at night?
Those times are long gone. So much has changed and it's unfortunate. You can't be too safe anymore.
Glad we have two dogs and doors with working locks. I wonder if we'll run into her around town. It's a fun story to tell now, but it certainly wasn't funny that night!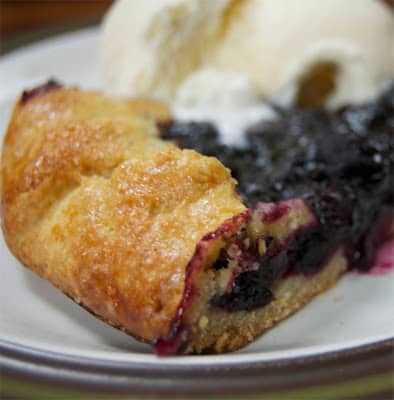 So, I know, I know. All you've seen on this blog are blueberries lately and LOTS of them. Pish posh, I say! You can never have enough blueberries! Alright, well maybe you can. But they're healthy, have those antioxidant thingies and even taste good!
And this isn't just your regular run-of-the-mill blueberry galette or even like the
Blueberry White Peach Galette
I made before. No,
this
has something special inside to give it that extra kick of yumminess.
Trust me on this.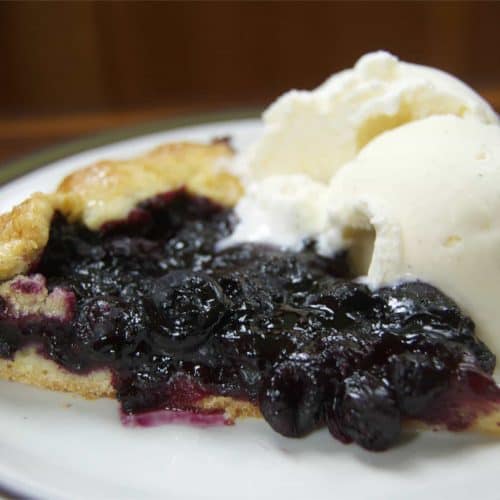 Blueberry Ginger Galette & A Birthday Celebration
Ingredients
Crust
1 ¾ cups flour
⅓ cup granulated sugar
¼ cup yellow cornmeal
¼ teaspoon salt
½ cup cold butter 1 stick, cut into small pieces
⅓ cup buttermilk I used 1/3 cup milk mixed with 1 teaspoon vinegar and let it sit for 15 minutes before using
1 egg beaten
2 tablespoons turbinado sugar
Filling
24 oz. 3 cups fresh blueberries
4 tablespoons granulated sugar
2 tablespoons crystallized ginger chopped
2 tablespoons corn starch
1 tablespoon fresh lemon juice
1 teaspoon fresh lemon zest
¼ teaspoon freshly grated nutmeg
Instructions
For the dough~
In a large bowl, combine the ingredients for the crust: the flour, sugar, cornmeal and salt.

Add butter and with a pastry cutter, blend it in until the mixture resembles coarse meal. (You can also use a food processor for this step and pulse the butter into the mixture 4-5 times.)

Pour the buttermilk (or milk/vinegar mixture) into the bowl and stir until the dough begins to stick together.

In each galette I've made, the dough hasn't stuck together, so I just gather it into a ball as much as possible with my hands and then stick the rest of the dough remnants onto it while it's sitting on the plastic wrap.

(OR with the processor running, slowly pour the buttermilk through the chute, processing until the dough forms a ball.)

If you do have a problem with it consolidating, add just a tiny, and I do mean TINY bit more buttermilk or milk.

Remove the dough ball from the bowl and adhere any remaining pieces of dough to it, then wrap in plastic wrap.

Refrigerate for at least 45 minutes before rolling out.

The galette dough is able to be made in advanced and can be refrigerated up to three days before being used.

Preheat oven to 350 degrees F. when ready to bake.
For the filling ~
In a large bowl, combine blueberries, sugar, chopped crystallized ginger, corn starch, lemon juice and zest, and nutmeg.

Gently mix everything together so that you don't crush the blueberries.

Place a piece of parchment on a baking sheet or pizza stone.

Remove the dough from the refrigerator and roll it out, starting from the center, into a circle (or as close as you can get it) 14 inches across.

Place the filling contents into the center of the circle and then gently spread around the circle to within two inches of the edge.

Fold the edges of the dough up over the filling, overlapping the dough if necessary, and gently pressing the creases to ensure that creases are sealed.

Lightly brush the edge of the dough with the beaten egg and sprinkle with turbinado sugar. (You will have egg left over.)

Bake for 1 hour, until the crust is golden brown and the filling is bubbly.

Transfer baking sheet to a wire rack and allow to cool for 20 minutes before serving.

Serve warm or at room temperature.
Nutrition
Serving: 6g
Did you make this recipe?
Share it with me on Instagram and make sure to follow me on Pinterest for more recipes.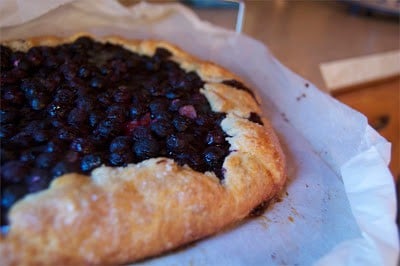 I used my pizza stone because I found that it's the perfect size and bakes it really well. Remove the dough from the refrigerator and roll it out, starting from the center, into a circle (or as close as you can get it) 14 inches across.
That's the great thing about a galette, too, it doesn't have to be a perfect circle. I like to think of it as a "lazy man's pie". It's just super easy and super tasty and doesn't have to look beautiful, but in the end, it always does.
Mine leaked slightly, but I found that by creasing the edges of the parchment paper up against the juices that did leak stayed pretty much contained and didn't drip all over the oven. That would be an icky mess!
And…don't forget that vanilla ice cream (or frozen yogurt)!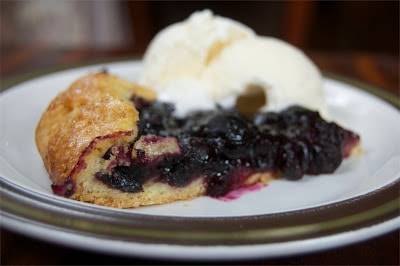 I rate everything I make on a scale of 1-4 with 4 being the best and this Blueberry Ginger Galette earned 4 rolling pins. It was delicious! The blueberries were yummy, the crust was perfect and the crystallized ginger gave it that extra kick of flavor. The family and our guests loved it and I'm sure yours will, too!
THE FOLLOWING CONTEST IS OVER,
BUT PLEASE VISIT ALL THESE WONDERFUL BLOGS!!
NOW
….onto the
other
good stuff!! Please assist me in congratulating Julie from
White Lights on Wednesday
on celebrating her blog's 2nd Birthday!!!!
I, along with some other incredible bloggers, am joining Julie to thank YOU her readers for your love and support throughout these past two years. I also think my readers are pretty special and wanted to thank you myself, too, so I couldn't resist joining in on the fun!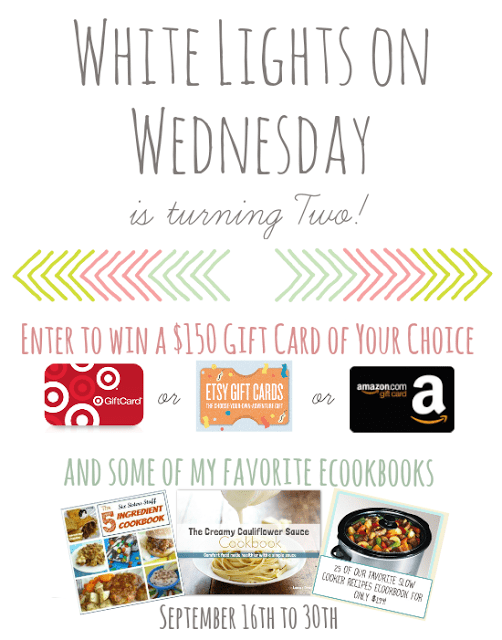 Yesiree, Bob! One lucky person will win a $150 gift card of your choice AND these THREE fantastic cookbooks!! The contest will run from 12:01 Monday, Sept. 16th through Sept. 30th. All entries must be through Rafflecopter and will be verified. Giveaway is for U.S. residents only. Good luck, friends!!!
Reader Interactions