Creamy Tomato Basil Soup

– tomato soup with fresh carrots and celery made creamy with milk and heavy cream. Top it with freshly grated Parmesan cheese and crumbled bacon and you have the perfect soup for a cold Fall day!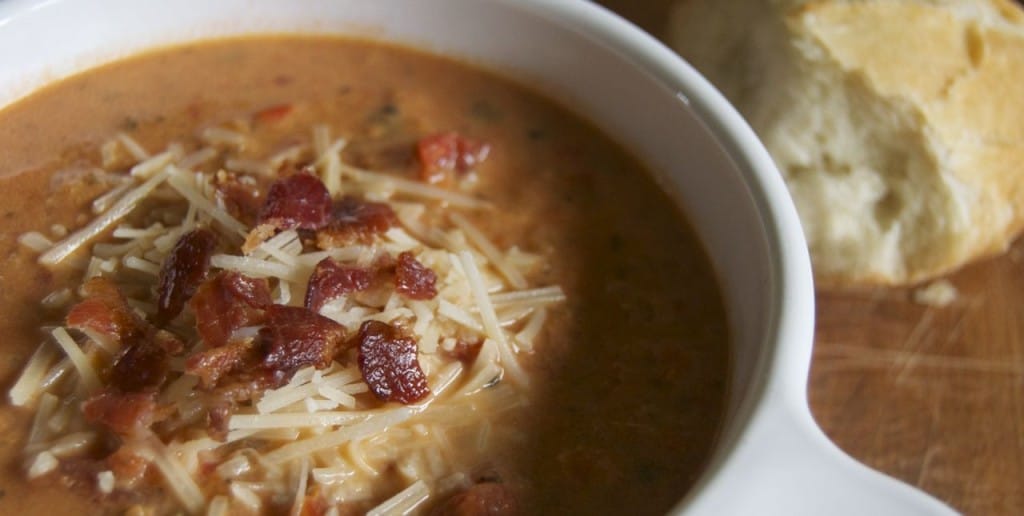 I was definitely in the mood to make soup for dinner.
As many of you may know if you follow 365 Days of Baking on
Facebook
, then you're aware that I really didn't make this soup last night, but that it was more like last week.
See, there's a lapse in between the temporary vacation rental we were in and the rental home we're moving into more permanently, so here we sit in a hotel for 5 days. We're warm, comfortable and a little cramped with four out of the five family members (our oldest is out of state on vacation) and two Goldens, and I'm having major kitchen withdrawal!!
SAVE THIS TOMATO BASIL SOUP TO YOUR FAVORITE PINTEREST BOARD!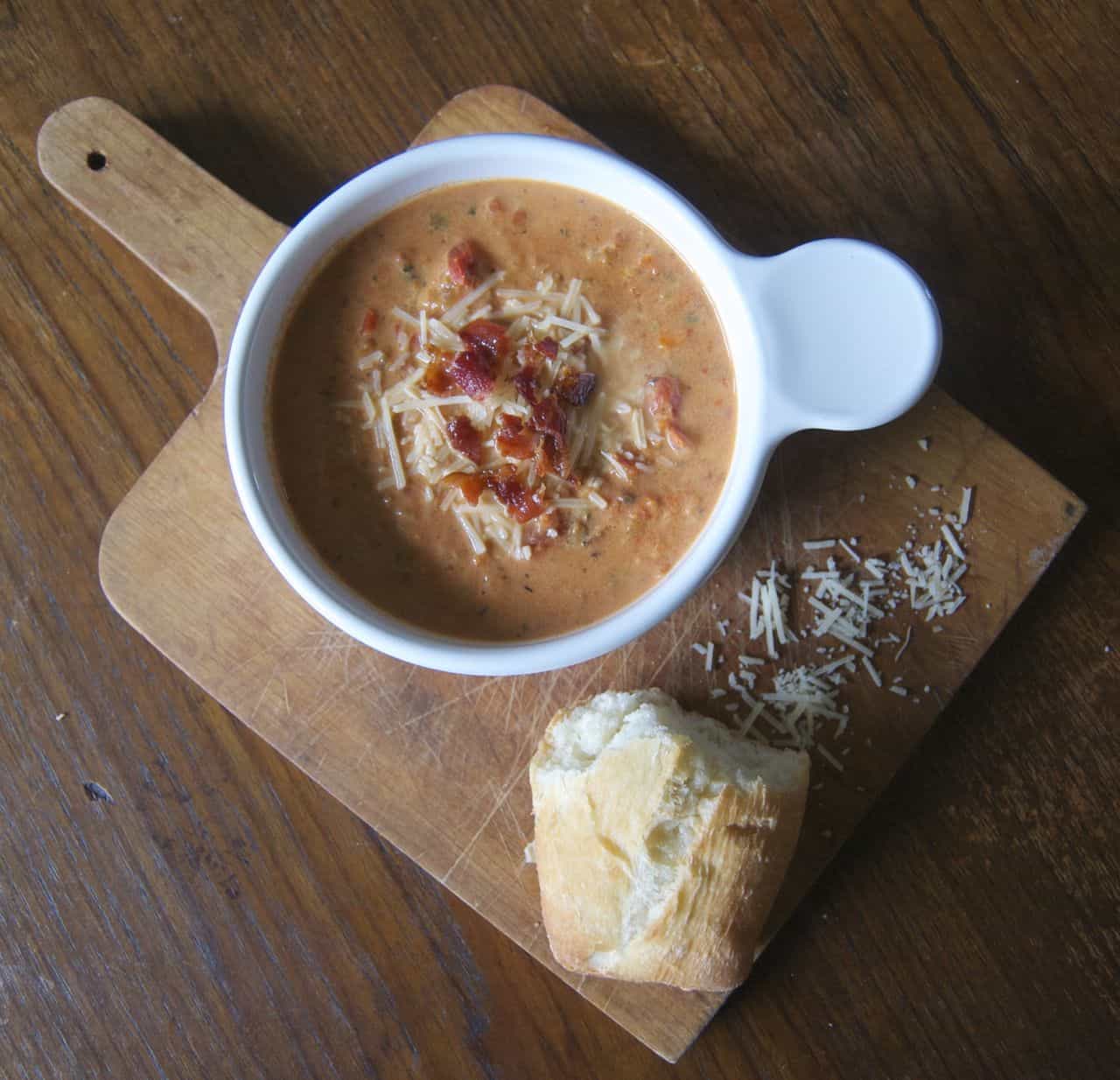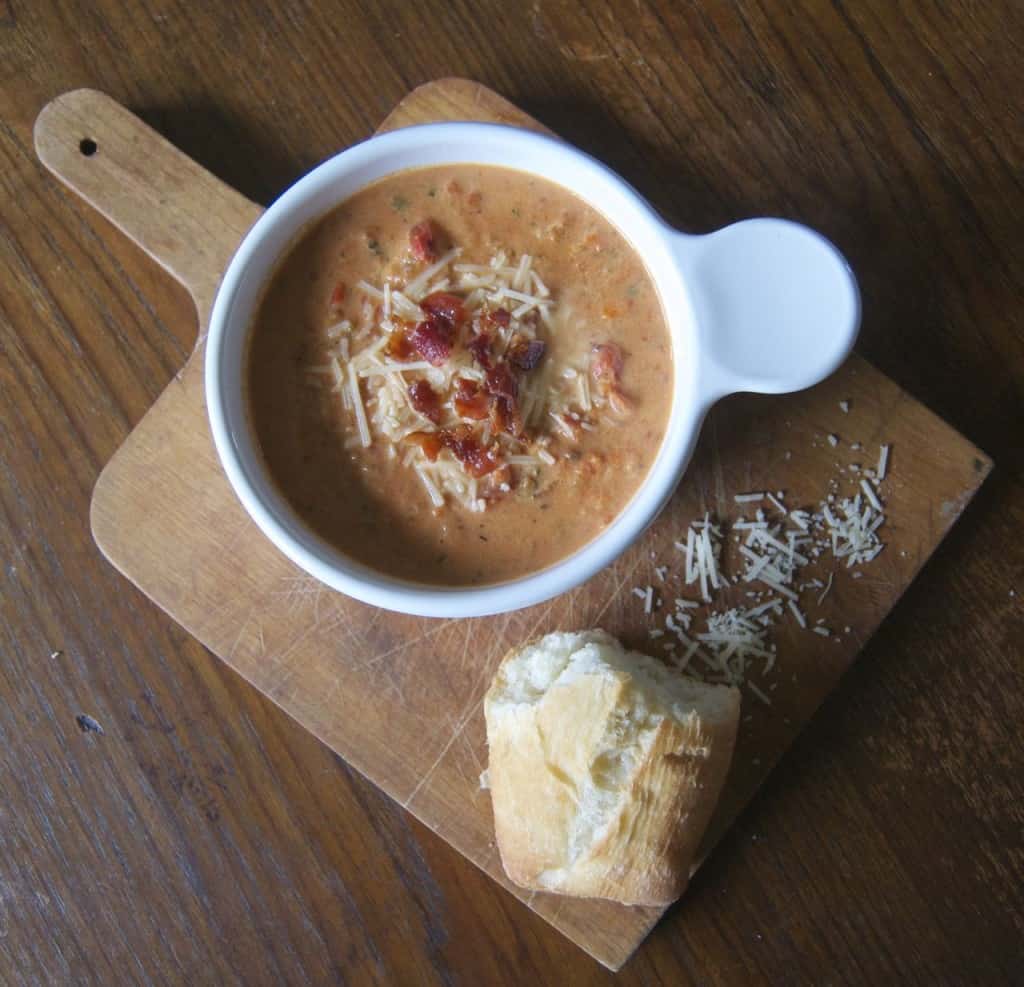 I'm starting to shake, and have hallucinations of baked goods, pot roasts, and homemade meatballs!!!
AAAHHHHHHHHHH!!!!!
No, I'm ok. Seriously, it doesn't help me though looking at this yummy soup. I want some. And I want it NOW!!
Just a note…this is probably one of the few posts where there are no pictures of the process and it killed me to write this without those, BUT… the lighting was so very poor the night I made it, that the pictures looked pretty bad and I didn't think it was worth it.
Besides, how many times have you seen diced carrots and celery here at 365 – a little overkill, don't 'cha think?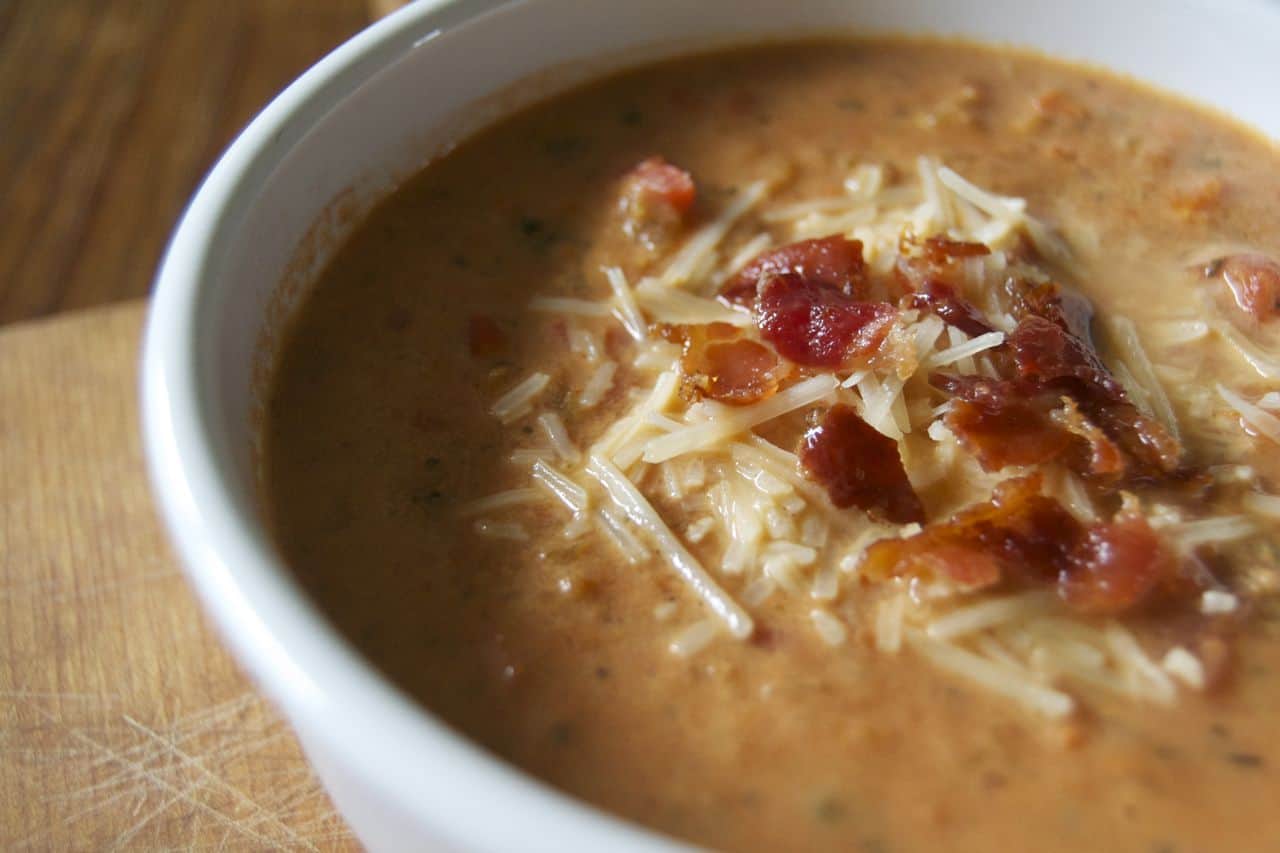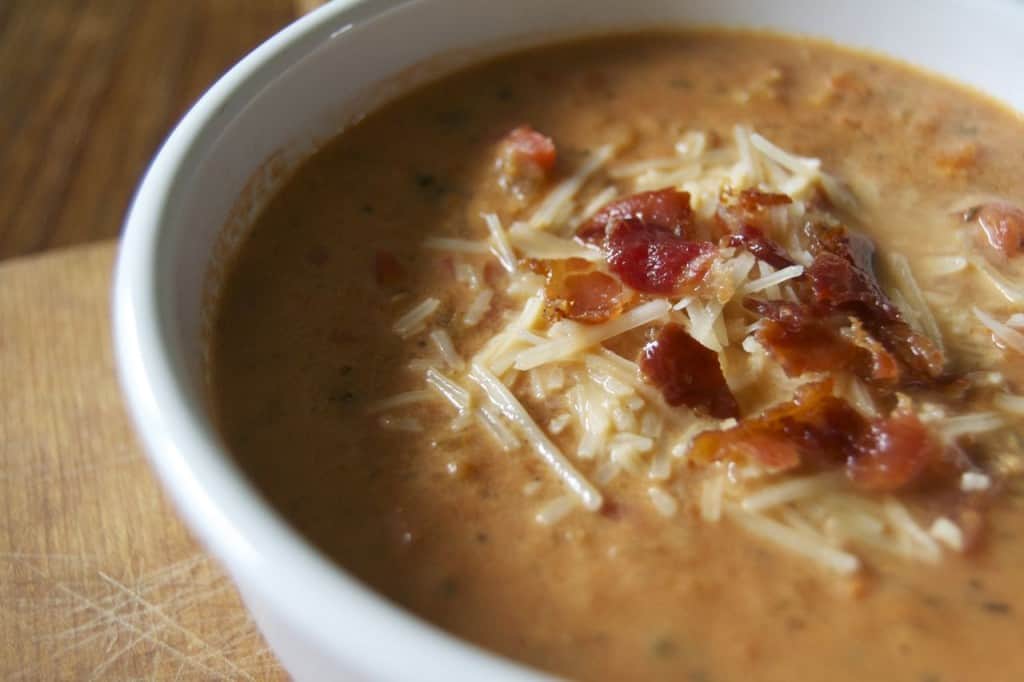 SIGN UP FOR THE WEEKLY 365 DAYS OF BAKING & MORE
NEWSLETTER BELOW!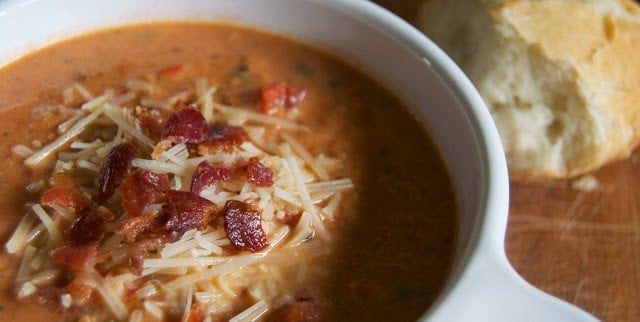 Ingredients
1 28

ounce

can crushed tomatoes with basil

garlic and oregano

2 14

ounce

cans diced tomatoes with basil

garlic and oregano

2 14

ounce

cans low sodium chicken broth

1

cup

heavy cream

1

cup

milk

I used whole

1 ½

cups

5 stalks celery, diced fine

1 ½

cups

about 5 medium carrots, diced fine

1

cup

diced onion

½

cup

fresh basil

chopped

1

teaspoon

dried oregano

1

teaspoon

fresh rosemary

minced

salt and pepper to taste

Parmesan cheese for topping

Crumbled cooked bacon for topping
Instructions
In a large pot, combine the cans of tomatoes, chicken broth, cream, milk, celery, carrots, and onion.

Cook on medium high, covered, for 30 minutes.

Then turn heat to low and simmer for 15 minutes more.

Remove from heat and add basil and oregano, salt and pepper to taste.

Serve, topped with grated Parmesan and crumbled bacon.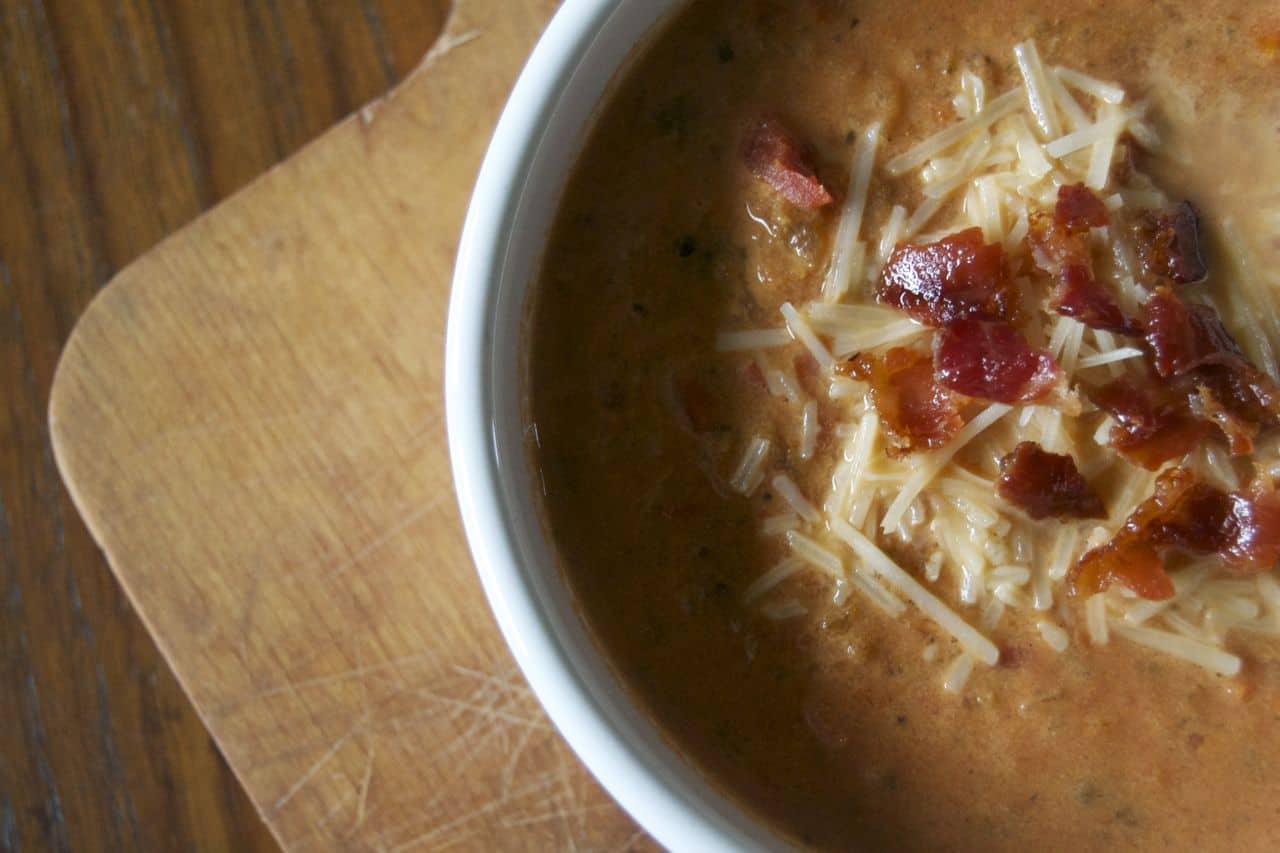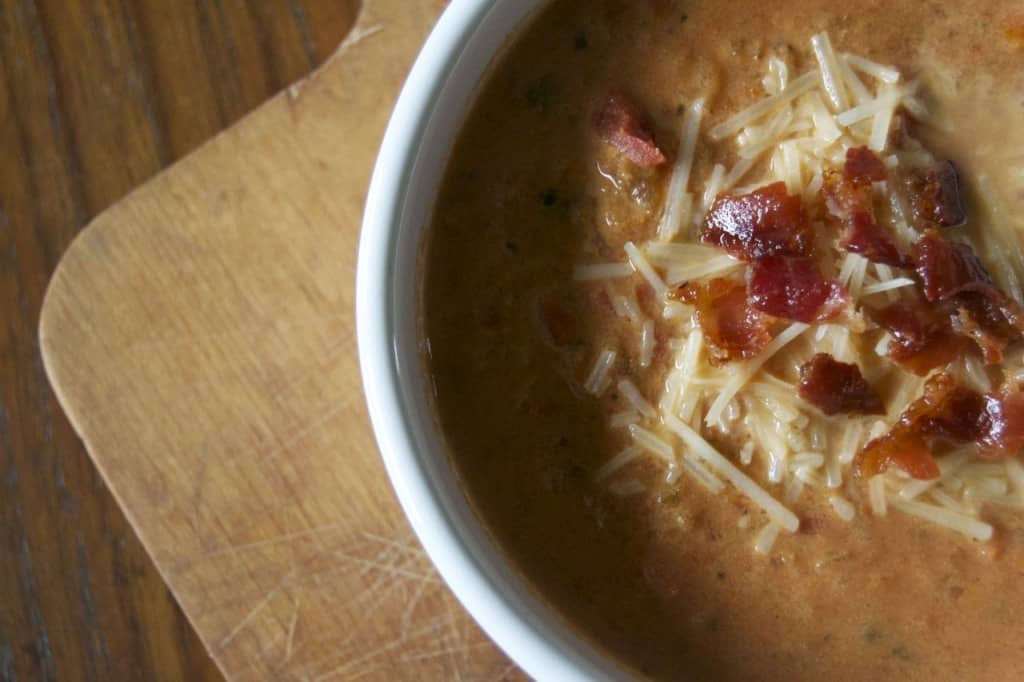 I rate everything I make on a scale of 1-4 with 4 being…oh my goodness…I'm having a brain fart. It's been so long since I posted that I can't remember the rest of that sentence! LOL!
Um…Lynne being Lynne, take TWO!
If you liked this soup recipe, you might enjoy…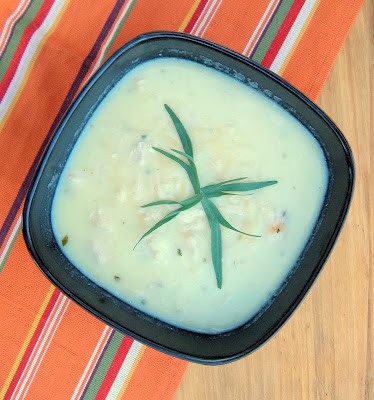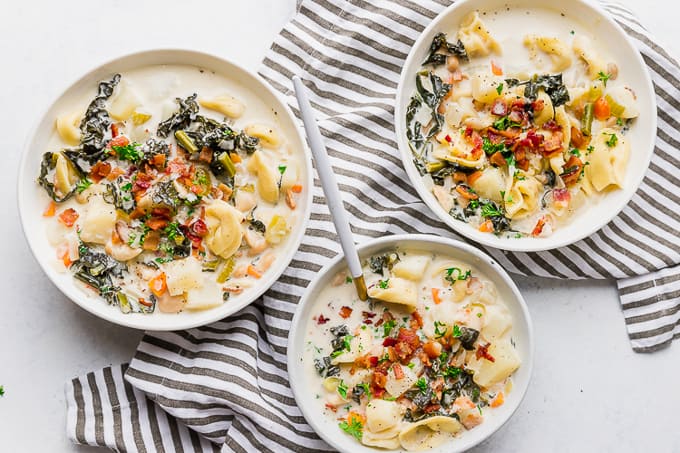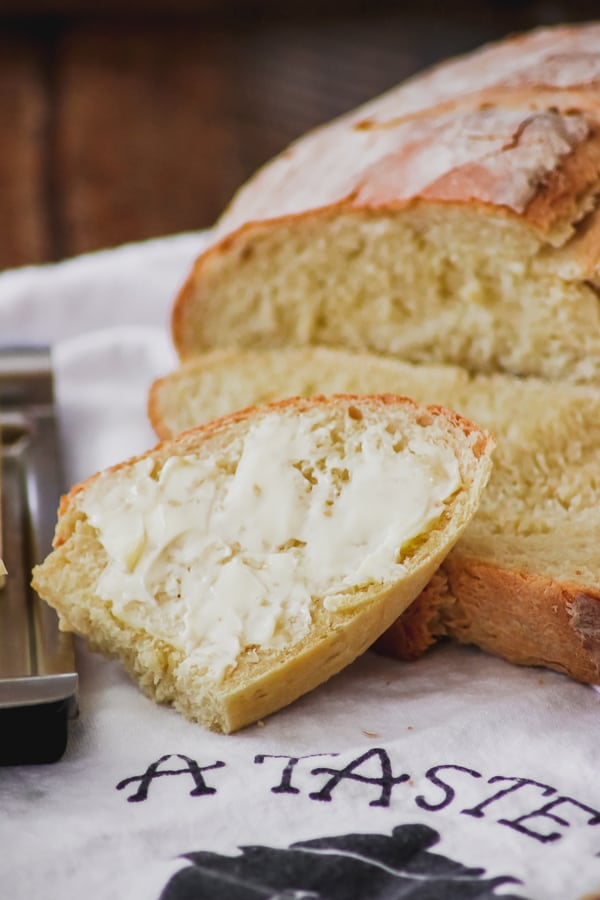 I rate everything I make on a scale of 1-4 with 4 being the best and this Creamy Tomato Basil Soup earned 3 1/2 rolling pins. I thought it was delicious. The only thing holding it back from being a 4 was that it was too chunky.
Next time I make it, I'll use my emulsion blender to smooth everything out. It's in a box. In storage. Until we move into our house this Friday. Then I'll be in a kitchen where I'm using my own supplies, know where everything IS, and have complete access to my blogging props!!
I'm SO excited!!!! It may just take me a little while to get organized, but I'll be BACK in the game in no time!!
WOO HOO!! I give you all BIG baking hugs and muffins!!