These Asiago Herb Biscuits with shredded Asiago cheese, fresh rosemary and sage are a great accompaniment to any dinner, especially a Thanksgiving dinner. They're easy to make, delicious and can be on your table within 30 minutes!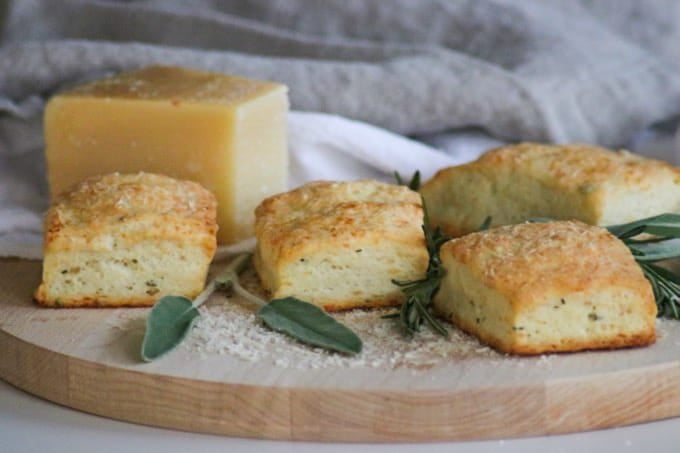 If there are two things I love in this life, it's cheese and bread!
Ok, yes, there are a whole lot of other things I really love as well, but cheese and bread sure are HIGH up on that list!
SAVE THIS BISCUIT RECIPE TO YOUR FAVORITE PINTEREST BOARD!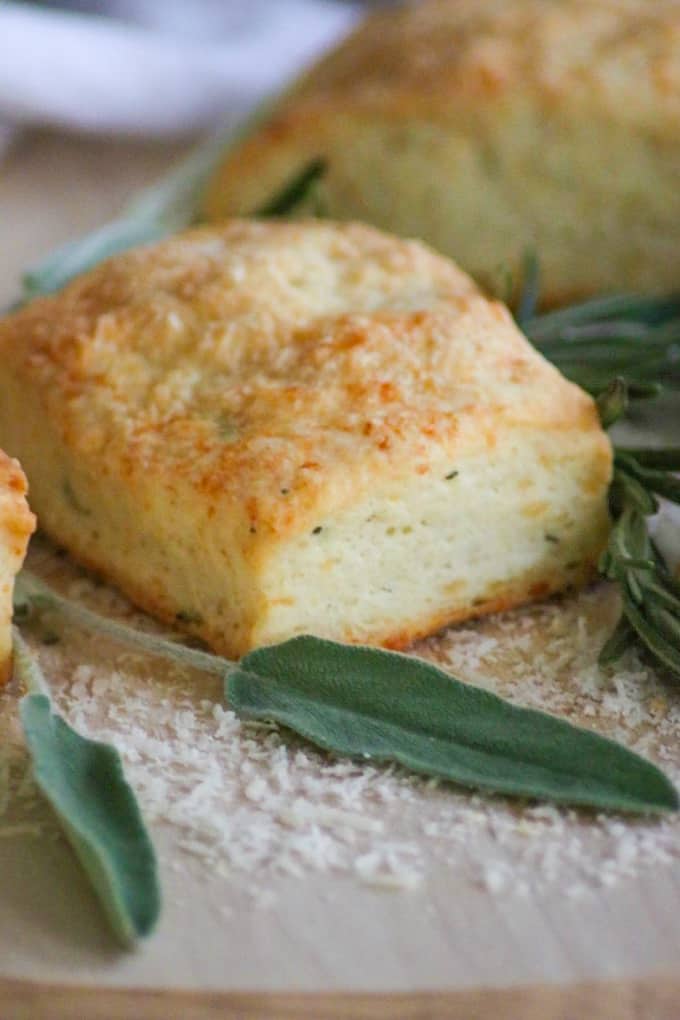 My love of cheese started at a very early age. How early, I can't recall. Yet, I clearly remember my mother sending me to school with cheese sandwiches – white bread, mayo and two slices of American cheese.
That sure does bring back memories! I haven't had one of those in years. It's probably because I no longer buy white bread. haha
Ok, more than likely it's because my tastes have changed. I'm on to bigger and better lunches, especially since becoming a food blogger. *said in my most pretentious, uppity voice* I am now more refined.
HA!

Like Asiago cheese, for instance. I honestly didn't know what it was until I saw I became a food blogger and quickly fell in love with it. Cheese is cheese is cheese, right?
WRONG!
I've always had a love affair with bread. If I had to give it up for the rest of my life, I'd lose it. Seriously.
My bread addiction started when I was a young child, probably before I could even learn to walk and I know I have my grandmother to blame…ahem, rather thankful for that.
Her Italian Bread was TO. DIE. FOR. It smelled soooooo good as it was baking! Talk about torture for a young child – watching, waiting for those two loaves to rise in the oven and then having to wait as they baked. I'd pull my stool right up to the front of the oven and watch them brown.
It drove her nuts! And besides, we didn't have the internet, YouTube (or even cable!) back in those days to occupy our time. The best part… watching the butter melt into a nice warm slice and then taking that first bite – a bit crunchy on the outside, soft and airy inside and nice and warm… oh, man…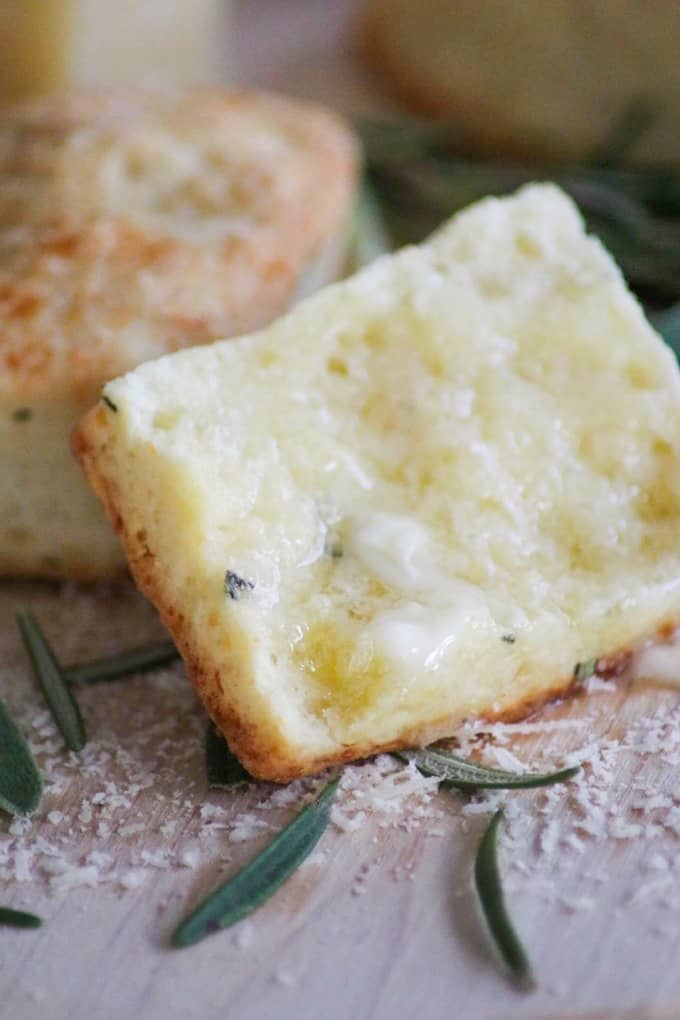 Oh, my goodness, I'm getting hangry just thinking about a buttered slice right now! I mean, doesn't that picture up above have you drooling – the soft, tender biscuit with the butter slightly dripping off?
Oh, yeah, come to momma!
I love incorporating authentic Asiago cheese into a variety of my recipes. The possibilities are endless! You can enjoy it in a softer form or in a form that is firm and has been aged. Both are equally delicious and very versatile.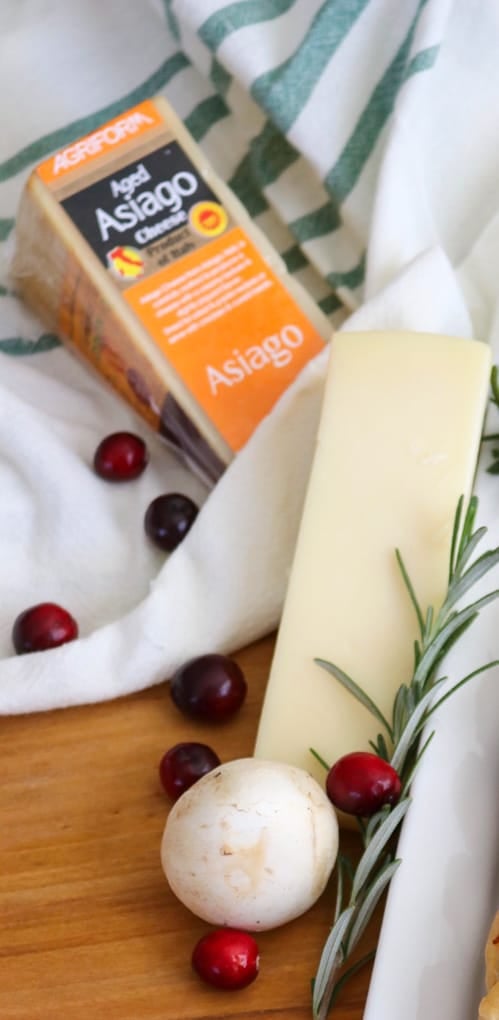 Asiago is cow's milk cheese from the northeastern region of Italy. It is considered a mountain or Alpine cheese and can vary in flavor depending on its aging.
You can find both types at many large grocery chains and Italian import stores. When you go to purchase it, be sure that it says Asiago PDO (Protected Destination of Origin) and that it's made in Italy. This means that the product will have raw ingredients and its' production will come from or within the Asiago plateau in Northern Italy.
This gives it the strongest tie to original historical practices which have been in place dating back to get this, the year 1000! Pretty cool, hunh?
Unless you can see that it clearly states Asiago PDO on the label, it's just going to be an "Asiago style" cheese. Definitely not the same. A true Asiago has a richer, deeper flavor that you'll thoroughly enjoy. So be sure to read those labels!
Besides, isn't authentic better anyway? I don't want to buy a wannabe! Do you? Give me the good stuff with the REAL flavor!
You can learn more about Asiago cheese HERE.
As I said before, there are so many great things you can do with this flavorful cheese! With the holidays quickly approaching, add this Roasted Garlic Asiago Cheese ball to your menu. It will be a wonderful appetizer to start your party.
Who wouldn't like to start their morning off with this Asiago Cheese and Italian Sausage Strata? Give me a good helping of this, some fresh fruit, a cup of coffee, and I'm good to go! This Creamy Alfredo Sauce is full of flavor! I just use one kind of cheese in mine sauce, but this one uses three!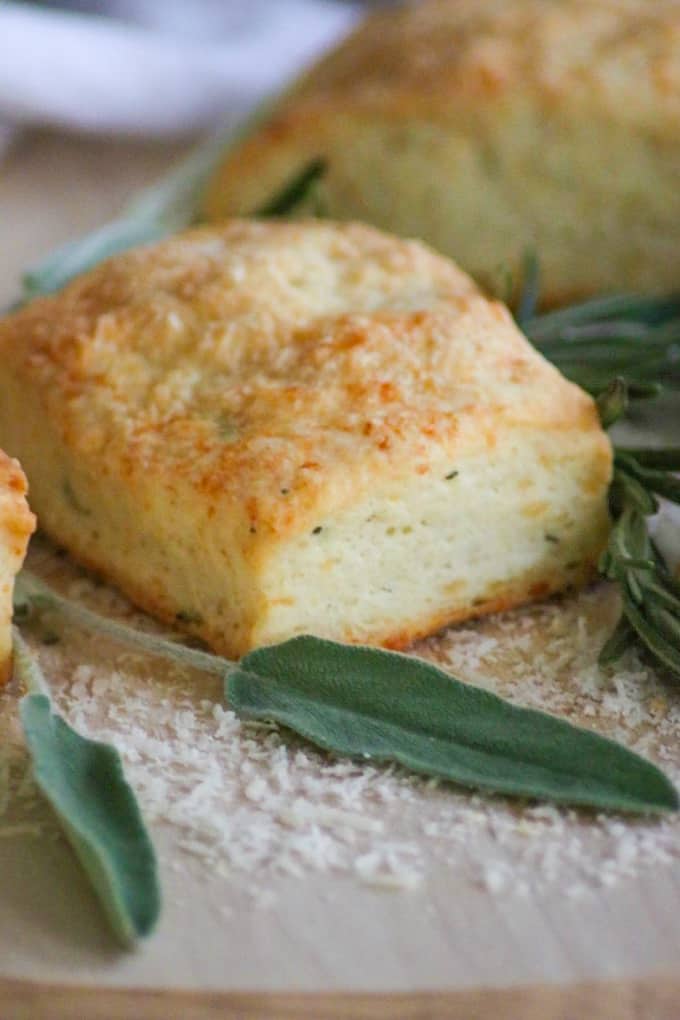 These Asiago Herb Biscuits are going to be great to serve at Thanksgiving or you can serve them as a side with your favorite weeknight dish. They don't take long to make and only take about 15 minutes to bake. So, they'll be on your table in no time and piping hot.
I think you're really going to like these. They've got just the right amount of cheese and herbs and will taste so delicious soaking up some gravy with a beef, chicken or turkey dish.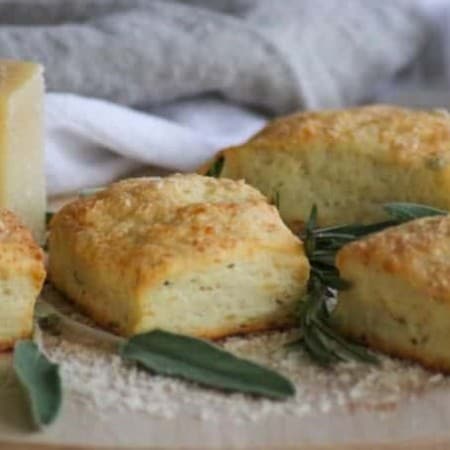 These Asiago Herb Biscuits with shredded Asiago cheese, and fresh herbs are a tasty and easy to make side dish, and they're on your table within 30 minutes! 
Ingredients
2 cups all-purpose flour
¾ cup freshly grated Asiago cheese
1 tablespoon baking powder
2 teaspoons sugar
1 teaspoon Kosher salt
1 teaspoon chopped fresh rosemary
1 teaspoon chopped fresh sage
1 - 1 ½ cups heavy cream
5 tablespoons unsalted butter melted
Instructions
Preheat oven to 425 degrees F.

In a large bowl, whisk together the flour, 1/2 cup of the Asiago cheese, baking powder, sugar, salt, rosemary and sage.

Gradually add 1 cup of the heavy cream while while stirring constantly with a wooden spoon. Dough will be ready to knead when it holds together and no dry pieces remain. Slowly add more additional cream if need be just until it comes together.

On a lightly floured surface, knead the dough for about 1 minute.

Pat the dough into a square so that it is about a 1/2-inch in thickness.

Cut the dough into 12 squares and dip into the melted butter, coating all sides.

Place the biscuits onto an un-greased baking sheet about 2 inches apart and sprinkle evenly with remaining 1/4 cup Asiago cheese.

Bake for 13-15 minutes or until lightly brown.
Did you make this recipe?
Share it with me on Instagram and make sure to follow me on Pinterest for more recipes.
You can also add some Asiago to these other great cheese recipes.
Substitute the Asiago for the sprinkled Parmesan on top!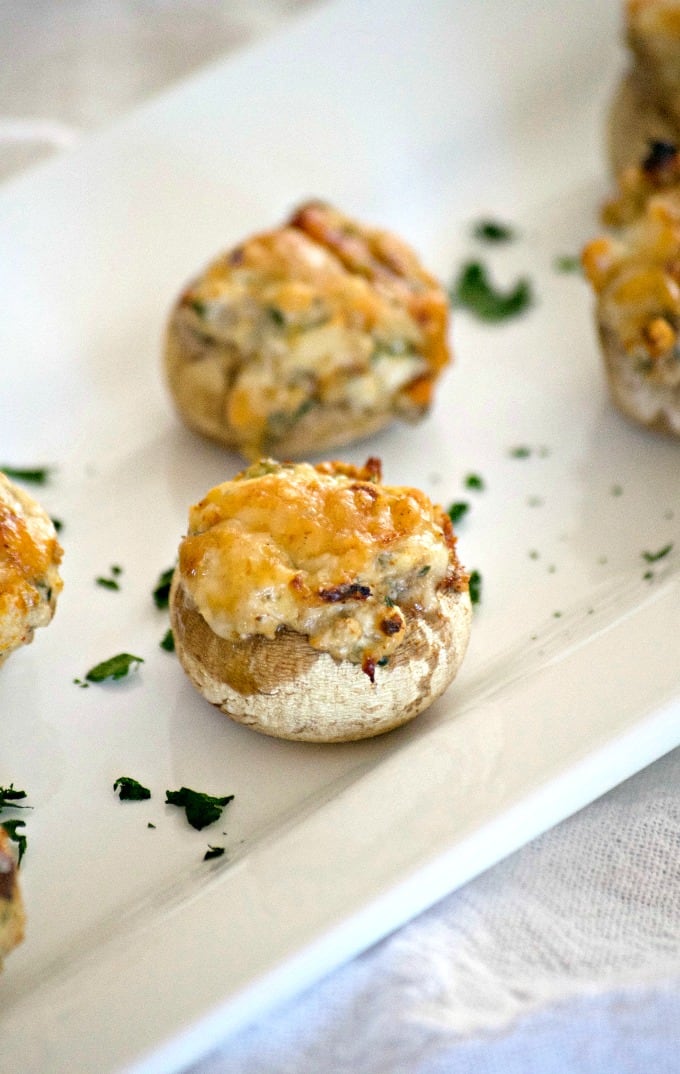 Instead of Swiss, place slices of Asiago on the sandwiches.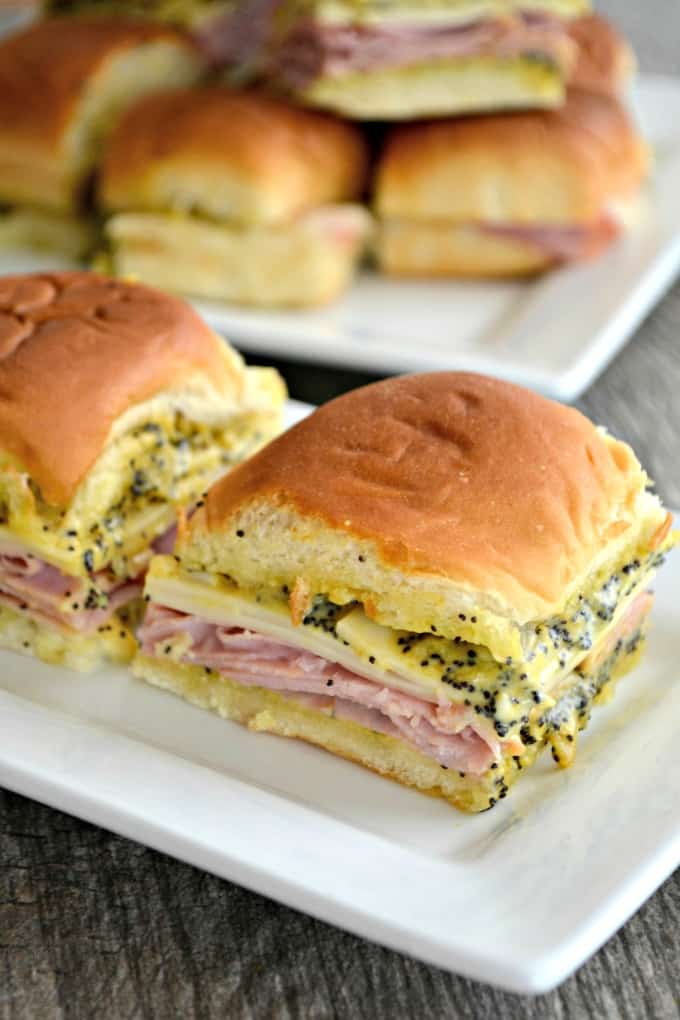 Place a wedge of soft Asiago on your charcuterie board along with some flavored jams and a variety of crackers.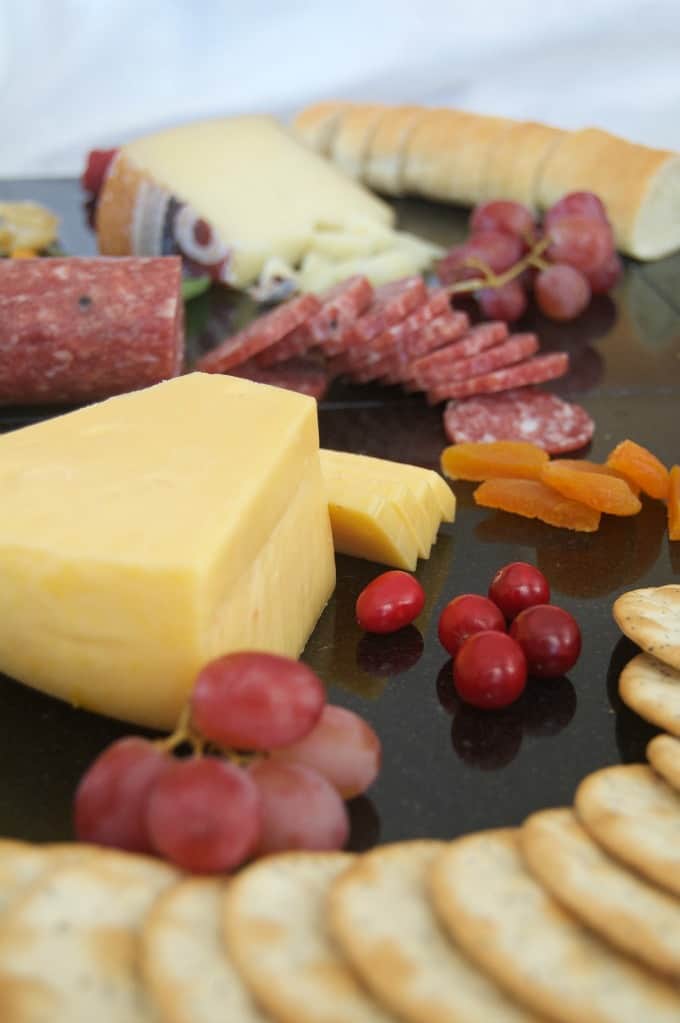 I have partnered with Uncommon Flavors of Europe and The Brand Connection for this sponsored post to bring you information about Asiago cheese. As always, all opinions are 100% my own.
Reader Interactions