This creamy Homemade Chicken Noodle Soup recipe with chicken, noodles, peas and carrots is a flavorful dish that is super easy to make. It can be made with rotisserie chicken, frozen peas, and fresh carrots. This creamy chicken soup is comfort food that will hug you from the inside out, especially when paired with slices of my Easy Italian Bread Recipe!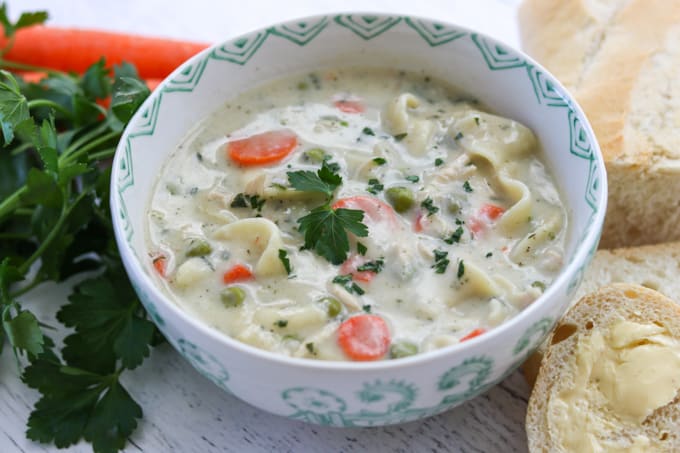 Is soup the ultimate comfort food or what?
The weather is slowly getting warmer, but I like to eat soup all year round.
It's easy to make, can be a hearty meal and just tastes so doggone good!
This is a soup that can be made with items you already have in your pantry.
You can use canned or rotisserie chicken, fresh or frozen carrots, as well as frozen peas.
You can serve it with some slices of my Grandma's Italian Bread. They'll be perfect for dipping.
This soup may not be Italian, but that bread is the best and will make it even more delicious! Trust me.
These Texas Roadhouse Rolls, and Copycat Olive Garden Breadsticks will be a great accompaniment as well.
SAVE THIS CREAMY CHICKEN NOODLE SOUP RECIPE TO YOUR FAVORITE PINTEREST BOARD!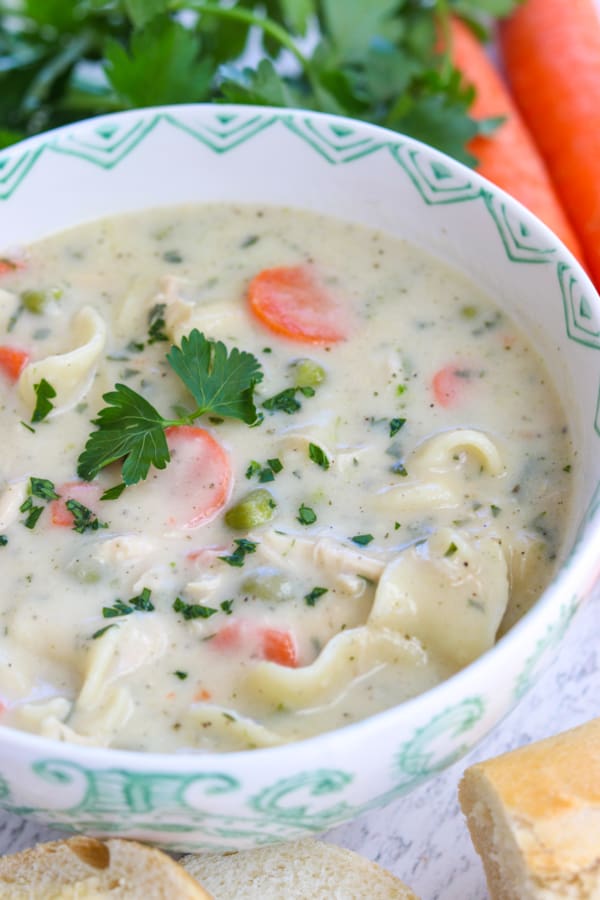 If you're more of a biscuit person then give these Asiago Herb Biscuits, Easy 7-Up Biscuits, or Cheddar Bay Biscuits a try.
What ingredients do I need to make this chicken soup?
salted butter
all-purpose flour
low-sodium chicken broth or stock
heavy cream
milk
cooked shredded or diced chicken – use rotisserie chicken, chicken breasts, even drained canned chicken!
fresh or frozen carrots
fresh or frozen peas
noodles
seasonings – poultry seasoning, nutmeg and Montreal Chicken seasoning – I use this seasoning A LOT in recipes where I need cooked chicken. Like in this Chicken Noodle Casserole and this Greek Quinoa Chicken Salad. It seasons the chicken well and gives the final dish some great flavor.
salt and pepper
fresh parsley
Do I use chicken broth or chicken stock?
You can use either!
I used broth in this recipe, but you can most definitely use stock if you'd like.
Chicken broth is made by simmering both chicken meat and the bones along with herbs and seasonings, and a mirepoix or other vegetables for a few hours.
Mirepoix. Every time I hear that word all I can think about is Julia Child. haha
Mirepoix is a French term which is a mixture of onion, carrots and celery.
Broth is a wonderful ingredient to add to soups as well as side dishes, like stuffing or pastas like this One Pot Sausage Linguine.
Chicken stock is made by simmering roast chicken bones and vegetables together typically twice as long as a broth. While simmering, collagen is extracted from the bones making the liquid a thicken consistency and providing more flavor and depth.
Chicken Stock is used largely in sauces and gravies, and when you want to build a flavor profile in your dish.
Both can be interchanged in recipes, but just a note – watch that salt content. I typically go for the low-sodium because I like the flavor and the regular is just a bit too salty for my taste and can make my final recipe taste saltier than I'd like if I'm adding more salt/seasonings to it.
Does it have to be creamy?
No!
By all means, if you'd like to skip the milk and heavy cream then just substitute those for the same amount of chicken broth.
I love a clear chicken noodle soup, too, but my tummy was telling me to go the creamy route with this one and we ended up really loving it.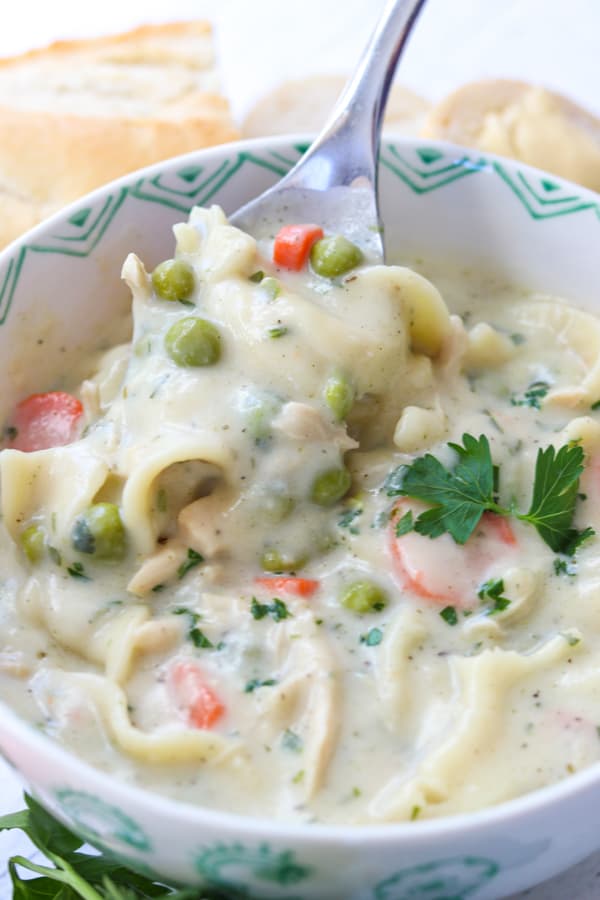 I'm also a lover of soup and salad! I served this Chicken Noodle Soup with this Strawberry Spinach Salad, and the family loved the combination.
I also think it would go well with these Avocado Tuna Salad Lettuce Wraps, and an Egg Salad Sandwich.
Even though you might not want to serve soup during the summer, you'll find a great assortment of salads in this collection of Summer Salad Recipes.
Looking for some more soup ideas?
I've got this delicious and easy One Pot Bacon and Tortellini Zuppa Toscana, my previous favorite before I made this chicken soup – this Creamy Tomato Basil Soup,
What if I don't have the ingredients to make this soup?
First and foremost, DON'T panic. You can always make substitutions and it will still be delicious.
Chicken –
You can easily make this with rotisserie chicken, leftover chicken, and canned chicken.
What if I don't have any chicken? You can easily substitute some turkey.
Heavy cream and/or milk –
You can substitute the heavy cream with a cup of milk.
OR you can omit both of them and use more chicken broth in place of them.
If you do chose to leave them out, then omit the butter and flour since you won't need to thicken the soup.
Peas and carrots –
Substitute one for the other! I'd hate to see you omit these altogether as it's a great way to get some of your daily veggies, so if you can, please add them.
Noodles –
well, then it wouldn't be Chicken NOODLE Soup, but you can still leave them out.
In that case, reduce the chicken broth by two cups.
Poultry seasoning –
Use ½ teaspoon each of thyme, sage, and rosemary. Also marjoram if you have it.
Montreal Chicken Seasoning –
Use ½ teaspoon each of garlic powder, onion salt, and paprika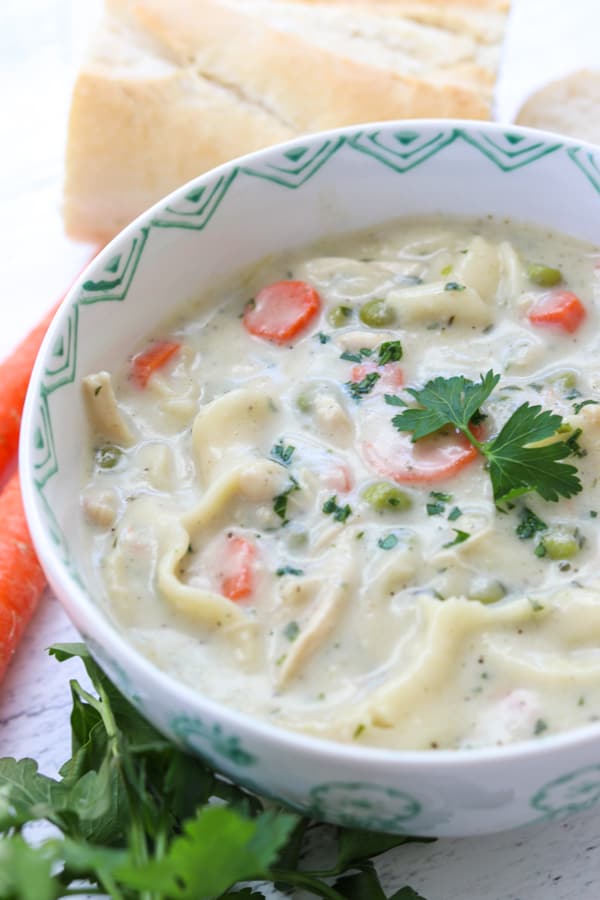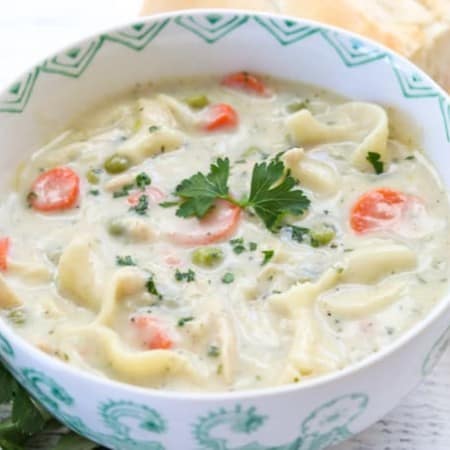 Homemade Chicken Noodle Soup
This creamy Chicken Noodle Soup recipe of chicken, noodles, peas and carrots is so easy, and delicious that you'll be smilling with every spoonful!
Ingredients
4 tablespoons butter
½ cup all-purpose flour
10 cups chicken broth
1 cup heavy cream
1 cup milk
2 cups cooked chicken, shredded
1 cup thinly sliced carrots about 3 medium
9 ounces frozen peas thawed
8 ounces noodles
1 ½ teaspoons poultry seasoning
1 ½ teaspoons Montreal Chicken Seasoning
½ teaspoon kosher salt
½ teaspoon ground pepper
¼ teaspoon nutmeg
¼ cup chopped fresh parsley
Instructions
In a large pot, melt butter over medium heat. Add the flour and cook for about a minute, whisking constantly.

Gently pour in about half of the chicken broth, and continue to stir removing any lumps. Pour in the remaining chicken broth, cream, milk and mix well. Bring to a boil.

Reduce heat and add the chicken, carrots, peas, noodles, poultry seasoning, Montreal Chicken seasoning, salt, pepper, and nutmeg.

Simmer for 25 minutes.

Add chopped parsley, and simmer for an additional 5 minutes before serving.
Nutrition
Serving: 1g | Calories: 414kcal | Carbohydrates: 38g | Protein: 18g | Fat: 21g | Saturated Fat: 12g | Cholesterol: 85mg | Sodium: 1337mg | Potassium: 589mg | Fiber: 3g | Sugar: 5g | Vitamin A: 3771IU | Vitamin C: 37mg | Calcium: 107mg | Iron: 3mg
Did you make this recipe?
Share it with me on Instagram and make sure to follow me on Pinterest for more recipes.
SIGN UP FOR THE
WEEKLY 365 DAYS OF BAKING & MORE
NEWSLETTER BELOW!
Reader Interactions