Need an easy weeknight meal? Love meals that can be made in one pot so there's little cleanup? Then this One Pot Sausage Linguine is for you! Linguine pasta, sweet Italian sausage, tomato sauce, seasonings and some crushed red pepper make this recipe a family favorite. It's a meal that will be on your table in less than 30 minutes!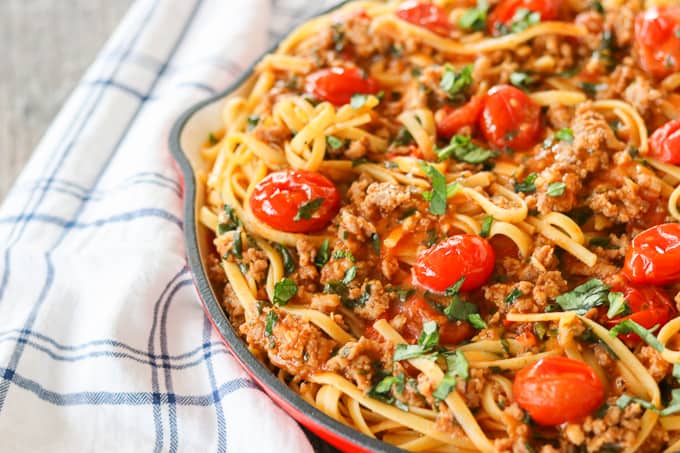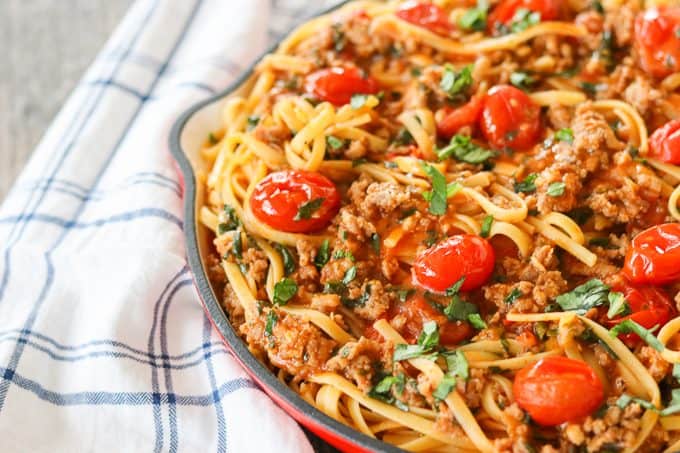 Dinner on your table in just 30 minutes!
Lynne is doing a happy dance!
Don't you love it when you can do that?
I certainly do, and it doesn't matter if it's a weekday or weekend. There are nights I want to make something easy.
So, if I can serve my family a delicious dinner with fresh ingredients I feel good about then it's a win! Bonus points for sure if I can make it in just one pan so there's little cleanup, too.
SAVE THIS ONE POT SAUSAGE LINGUINE TO YOUR FAVORITE PINTEREST BOARD!
We're big pasta eaters over here. My men mainly go for a more (said in my deepest voice) "manly" pasta as I like to call it – the rigatoni or penne-type noodles. I prefer the thin spaghetti, so that would be my choice. I just don't like the thicker pasta.
Also, I must confess that if you're going to give me any pasta, the pappardelle is at THE top of my list. A good bolognese with those babies and I'm one HAPPY girl!
There's just something about those wide noodles that is just so comforting to me. Maybe it's that Grandma made her Chicken Cacciatore with it, so I'm always transported back to her kitchen whenever I eat them.
Either way, whenever I see that pasta on the menu in a restaurant you can bet your bottom dollar that I'll be ordering it!
Change up your One Pot Sausage Linguine –
Add more spice to it! I used only 1/4 teaspoon crushed red pepper flakes, but feel free to add more. The rest of my family enjoys a bit more of a kick, so if you're like them, add 1/2 teaspoon or more even.
Switch out the sausage for some chicken by using 1 lb. of boneless, skinless chicken breasts. Dice the chicken into bite-size pieces and cook through after you saute the onion and garlic, making sure it is no longer pink in the middle.
Live dangerously and use yellow cherry tomatoes. HA!
Yes, you don't need to go with the standard red ones. OR you could even do a mixture of BOTH! That would be cool, too.
If you'd prefer not to use the chicken broth, plain ol' water is fine, too. I just like the added flavor the broth added to it.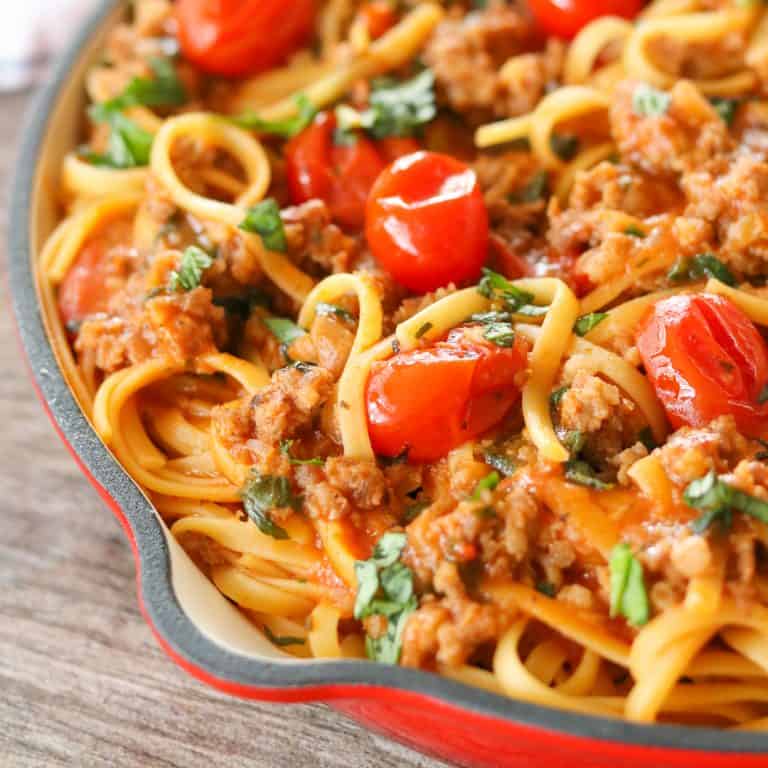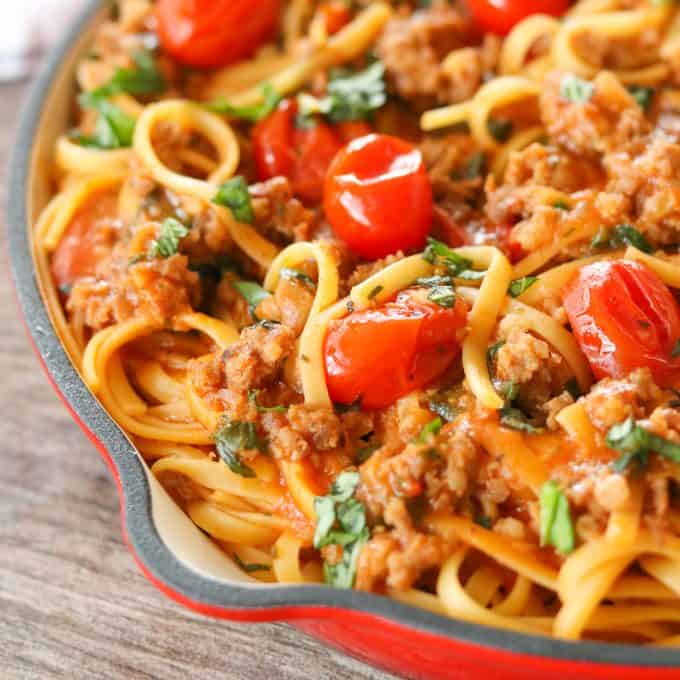 As I said before, one-pot meals are where it's at.
Ok, maybe not really, but they sure do make life a whole heck of a lot easier. They're so easy to make, can be put on the table in a flash, save money from buying take-out, AND clean up is a cinch- it's just one pot!
One pot pasta and one pot recipes were all the rage a few years ago. All the "cool kids" were making them. haha
If you like Alfredo pasta, you're going to love this One Pot Cajun Chicken Alfredo Pasta! The flavor in this must be amazing and so much better than your standard alfredo sauce.
Spinach and mushrooms are always a great combination and this One-Pot Cream Mushroom Spinach Pasta with Beans is perfect. It's a hearty weeknight meal that I'm sure is just as delicious the next day!
Like shrimp with your pasta? Make this One Pot Thai Shrimp Pasta. Thai flavoring with noodles is always so delicious and you'll add even more flavor with the shrimp.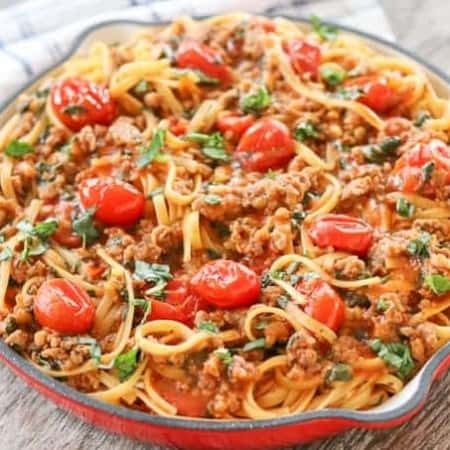 It's One Pot Sausage Linguine for an easy weeknight meal. Pasta, tomatoes, sausage, and more come together quickly, so it's dinner in less than 30 minutes!
Ingredients
1 tablespoon olive oil
1 large onion diced, about 2 cups
4 cloves garlic minced
16 ounces sweet Italian Sausage
4 cups low sodium chicken broth
15 ounces tomato sauce
1 pound linguine
10.5 ounces cherry tomatoes
2 teaspoons Italian seasoning
¼ teaspoon crushed red pepper flakes or more to taste
1 ½ cups chopped fresh spinach
½ cup chopped fresh basil
salt and pepper to taste
Instructions
Heat olive oil n a large pot over medium heat. Add onion and garlic and saute until fragrant, about 2- 3 minutes.

Add the sausage to the pot and cook until completely browned.

Increase the heat to high and pour in the chicken broth, and sauce. Add the linguine, tomatoes, Italian seasoning and red pepper flakes. Bring to boil.

Boil uncovered for about 8 minutes and using tongs, rotate the pasta to cook.

After 8 minutes, add the spinach and basil and cook an additional two minutes or until the liquid has almost completely evaporated. Salt and pepper to taste.
Nutrition
Calories: 946kcal | Carbohydrates: 102g | Protein: 38g | Fat: 42g | Saturated Fat: 14g | Cholesterol: 86mg | Sodium: 1485mg | Potassium: 1407mg | Fiber: 7g | Sugar: 11g | Vitamin A: 2090IU | Vitamin C: 34.1mg | Calcium: 122mg | Iron: 5.8mg
Did you make this recipe?
Share it with me on Instagram and make sure to follow me on Pinterest for more recipes.
Don't worry, if one pot meals don't suit your fancy, I've got plenty of other ideas, too!
Want a delicious salad for dinner? I've got a Greek Quinoa Chicken Salad that is easily made with a rotisserie chicken and tastes super yummy the next day for lunch, too!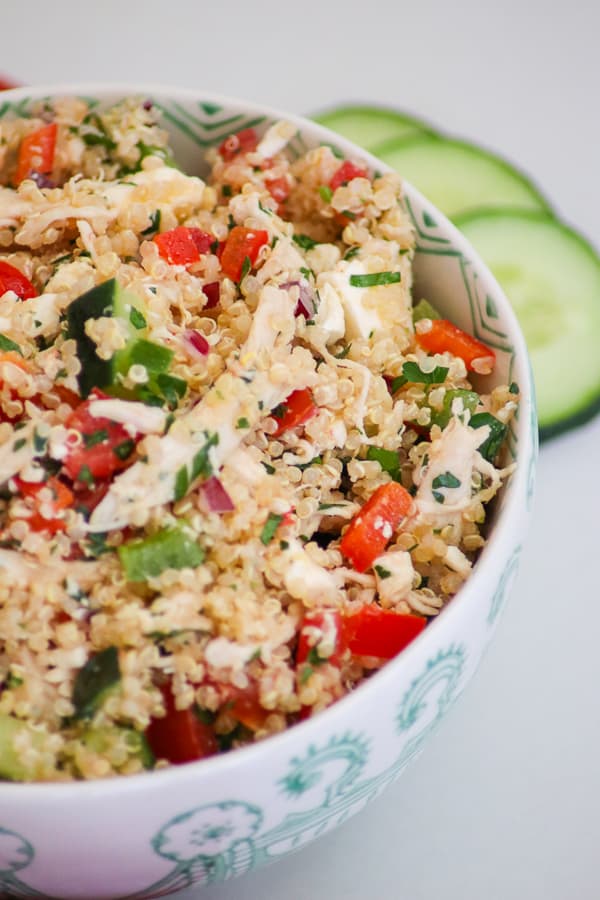 One of THE easiest dinners here on the 365 blog is this Artichoke Tomato Chicken. Seriously. This recipe is on your table in less than a half an hour, too and the combination of cheese, artichoke hearts and tomatoes is really tasty!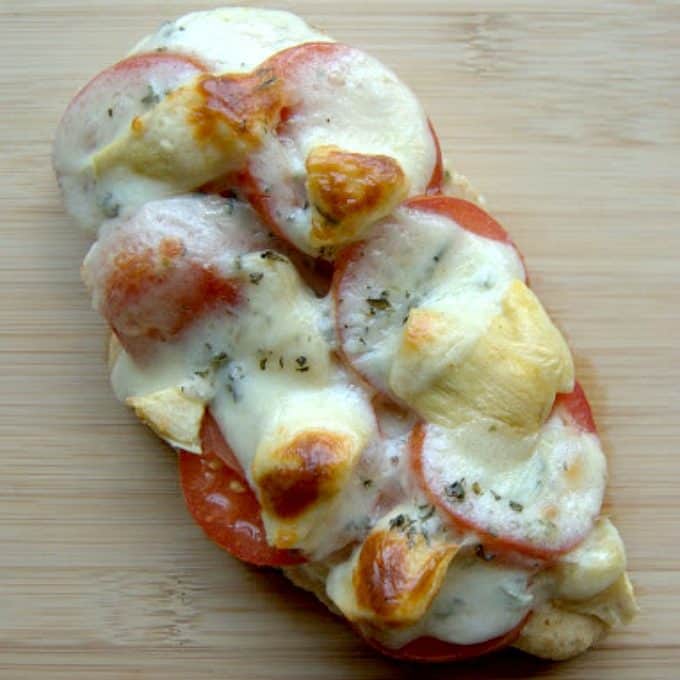 Like lasagna but want an easier version? This Skillet Spinach Lasagna is easily made in one pan so you don't have to go to a lot of trouble making it. Oven ready lasagna noodles are the key to this dish!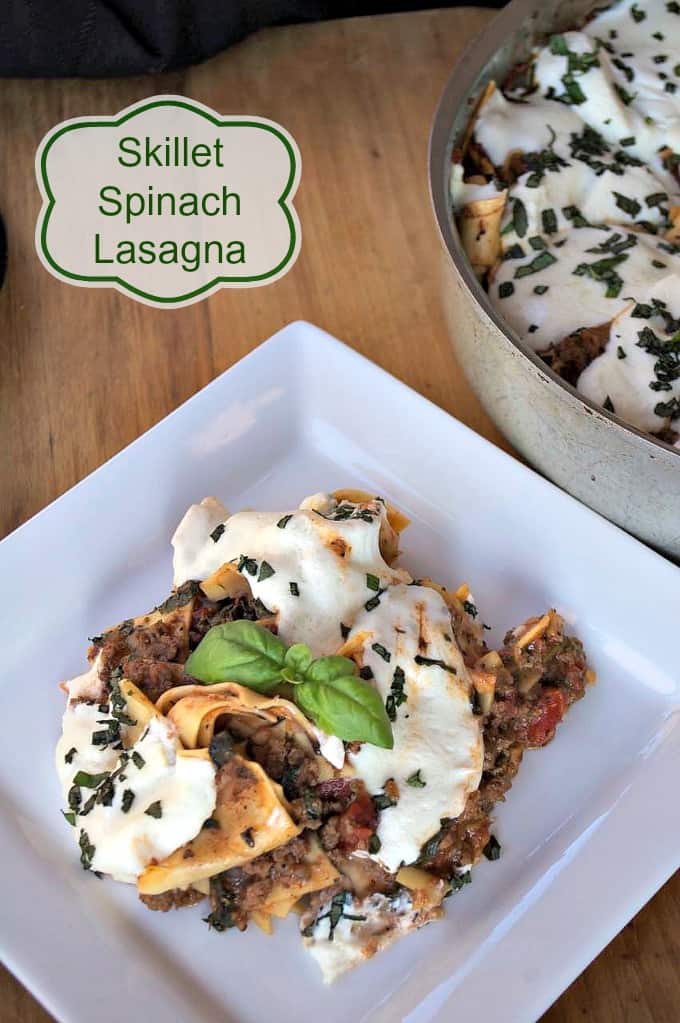 Reader Interactions