I am pleased to be partnering with Zaycon Fresh to bring you this delicious ground beef recipe. I was given product for this recipe, however all opinions are mine.
Skillet Spinach Lasagna – an easy and fast way to make that lasagna you've been wanting on a busy weeknight and it's made even better for you with the addition of fresh spinach.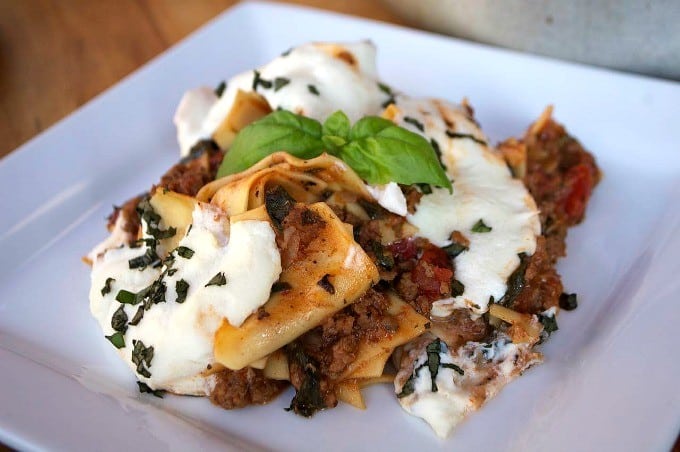 So many nights…
I want lasagna, but either think of it at 4 o'oclock in the afternoon and know I won't get it ready in time or…
Hmmm…forgot where I was going with this. The phone rang and threw me off course.
I've fallen in love with this meal and granted it doesn't taste just like the one my mom used to make, but it's super good, and is quick and easy to put together.
Now I don't have to spend hours layering noodles, spreading sauce and ricotta in the pan. So exciting! Yay, me!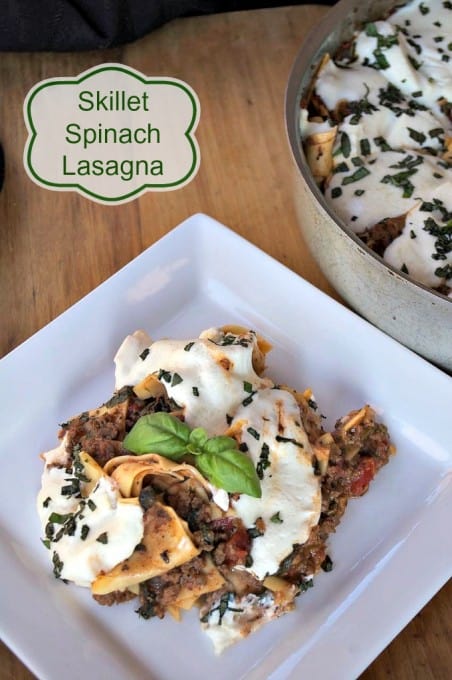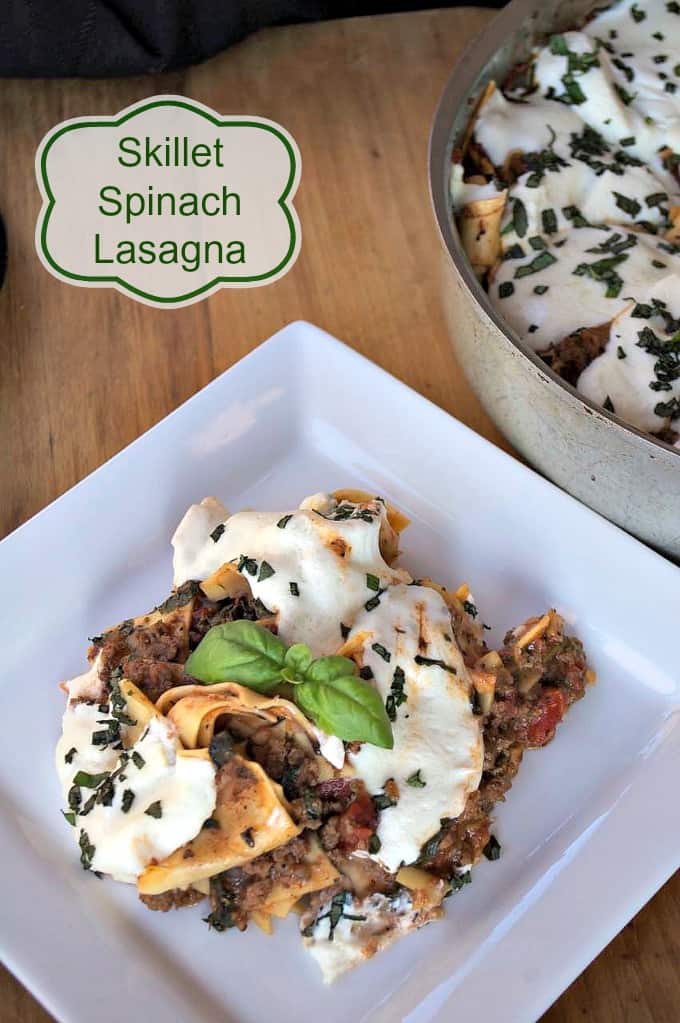 I received the ground beef for the recipe from Zaycon Fresh, formerly Zaycon Foods.

As I told you in this post, I've been purchasing boneless, skinless chicken breasts from them for about four years now and I absolutely love them. It is by far, the freshest and tastiest chicken that we've ever had, so I was eager to try their 93/7 Super Lean Ground Beef.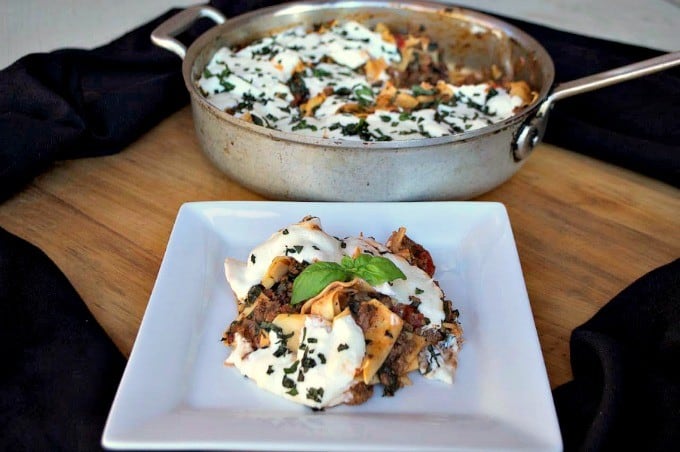 I ordered the beef online and finally the day came to pick it up in the parking lot of a church.
Yes, you read that right.
The driver came with his refrigerated truck, set up the cones and signs and waited for those who had ordered to arrive.
So on the day you chose to pick up your product(s), you'll just follow the cones, pull up next to the truck and show them your receipt. They'll check you off the list and AND load it into your car for you!
Super duper easy peasy!
Then you'll bring your treasure home and start prepping it.
Or at least that's what I did. When the big day arrives, I like to have everything set up on the counter before I go to pick it up. That way when I come home with this 40 lb. box of goodies, I can bag the portions with my FoodSaver, making it super easy for me to pull out the exact amounts I'll need for meals in the months ahead.
The beef came in a box, just like the chicken does, in 4, 10 lb. rolls. I began by cutting each tube in half and then divided the halves as evenly as I could into 5 portions, making 10 one pound portions.
I was very pleased with the look of the beef, it was red and looked fantastic. Many times, the beef I buy at my local grocery stores will be red on the outside, but a bit brown on the inside, like they're trying to hide something. That never makes me happy. I could tell right away that this beef from Zaycon Fresh was most definitely FRESH and I know I'll be ordering it again and again.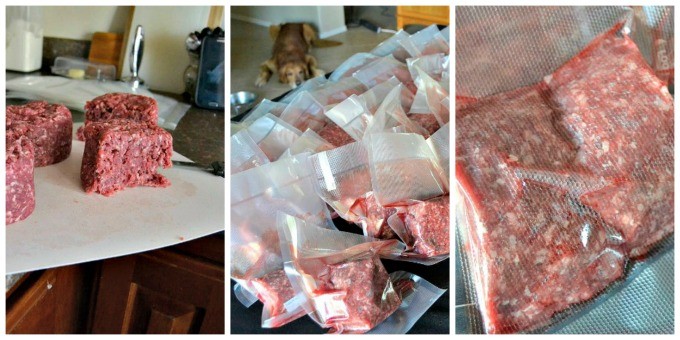 It looks great doesn't it?
Even Brady, in the middle picture above, thought it looked great and kept waiting for me to drop some on the floor. Not this time!
I was eager to make this lasagna recipe with it, and made a few changes to it . I couldn't be happier with the way it turned out. I know we'll be eating this regularly.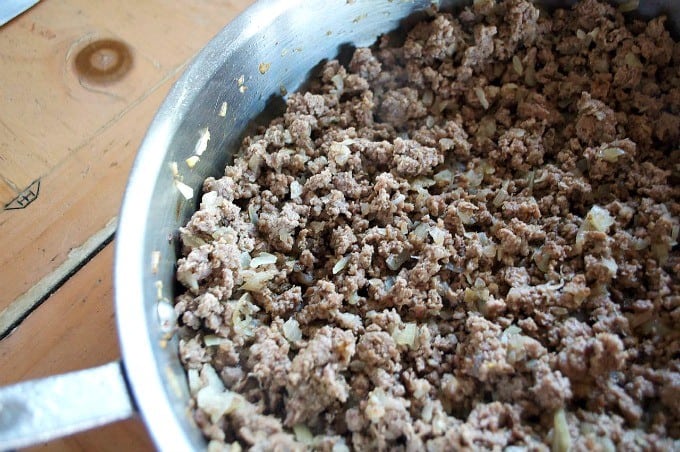 It already looks delicious!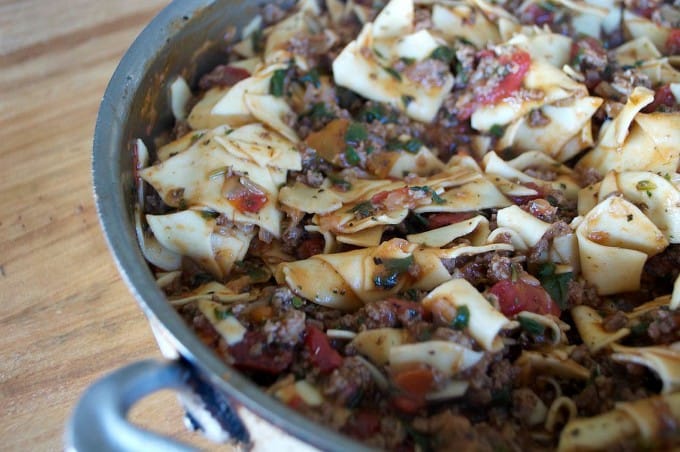 Take a look at this short video to see how it's put together!
Skillet Spinach Lasagna
Skillet Spinach Lasagna is an easy and fast way to make that lasagna you've been wanting on a busy weeknight. It's made even better for you with the addition of fresh spinach.
Ingredients
1

lb.Zaycon Fresh 93 / 7 Super Lean Ground Beef

2

tablespoons

olive oil

1

small onion

chopped

4

cloves

garlic

minced

2

cups

chopped fresh baby spinach

2

teaspoons

Kosher salt

1

teaspoon

freshly ground black pepper

2

teaspoons

oregano

2

teaspoons

basil

1

box Barilla Oven Ready Lasagna Noodles

broken

2

cups

water

1 14.5-

ounce

can diced fire roasted tomatoes

1 15-

ounce

can tomato sauce

2

teaspoons

tomato paste

1 - 2

teaspoons

sugar

depending on taste

1

cup

ricotta cheese

8

ounces

fresh mozzarella

cut into 10 slices

1/4

cup

chopped fresh basil
Instructions
In a large skillet, heat olive oil over medium heat.

Add the onion and minced garlic and sauté until light, about 3 - 5 minutes.

Add the Zaycon Fresh 93 / 7 Super Lean Ground Beef and cook until completely browned. Drain any fat if necessary.

Place the chopped spinach in the pan and stir until spinach has wilted.

Mix in the salt, pepper, oregano and basil.

Preheat the oven broiler to high.

Add the broken lasagna noodles to the pan, followed by the water, tomatoes, sauce, tomato paste, and one teaspoon sugar (add more sugar if desired after tasting).

Stir until well combined and cover.

Reduce heat to medium low and cook for about 8 minutes, stirring occasionally.

Remove from heat and alternately place the mozzarella and ricotta cheese around the pan.

Place the skillet into oven and broil for 3 - 5 minutes, until cheese has melted and bubbles.

CAREFULLY REMOVE FROM OVEN WITH POT HOLDERS!!! IT WILL BE HOT!!

Sprinkle with the chopped fresh basil.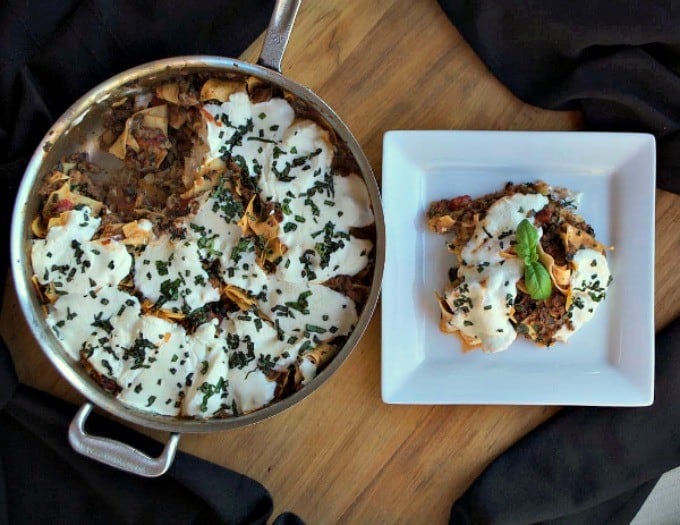 I rate everything I make on a scale of 1 – 4 and this Skillet Spinach Lasagna earned 4 rolling pins!
I absolutely loved that it was so doggone easy AND that I could eat lasagna for dinner in under an hour. SCORE!!
I'll definitely be adding this to our regular menu.
I'm excited because our daughter who is away at college will be able to make it for her friends and will be able to use her skillet instead of purchasing a 9 X 13-inch pan.
I give you BIG baking hugs and muffins!!
This post contains an affiliate link(s). These are links that will take you to a product (or products) that I recommend. I do receive a portion of the sales from any items purchased through those links and your purchases encourage my baking, cooking and butter habit, and contribute to the life of this blog.
I thank you so very much for your support. Let's keep having fun in the kitchen!!