Strawberry Spinach Salad brings fresh ingredients and pop of color to your table! Tossed with poppy seed dressing, this easy salad recipe can be served as a side dish or topped with chicken for a light meal.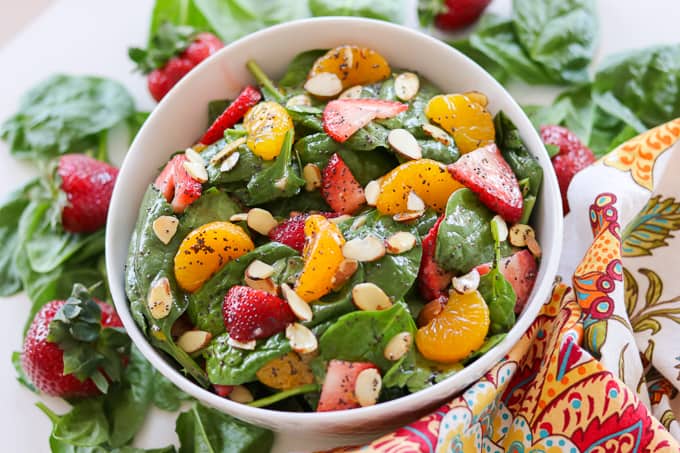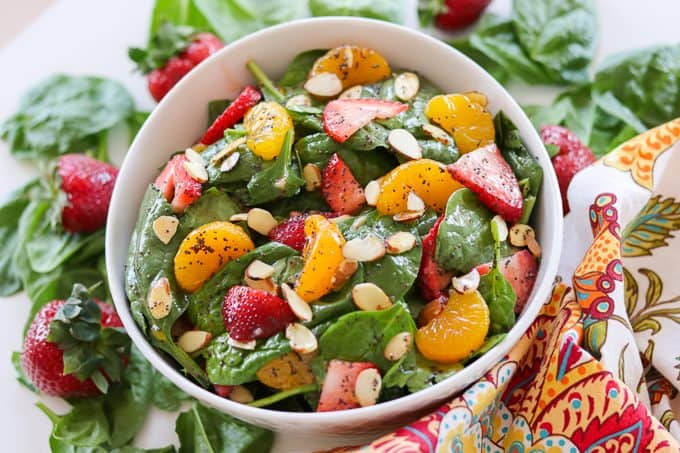 Hold onto your hat. This is a salad you'll actually be EXCITED to eat!

Look, I'm not usually the first person in the room to rave about salad. This Strawberry Spinach Salad, though? It's worthy of all the praise I'm about to heap upon its leafy greens.
The combination of fresh spinach with sweet strawberries and juicy mandarin oranges absolutely explodes with flavor! Add the sweet and sour dressing and a handful of crunchy almond slices and this salad is not only healthy–it's downright crave-able!
SAVE THIS STRAWBERRY SPINACH SALAD TO YOUR FAVORITE PINTEREST BOARD!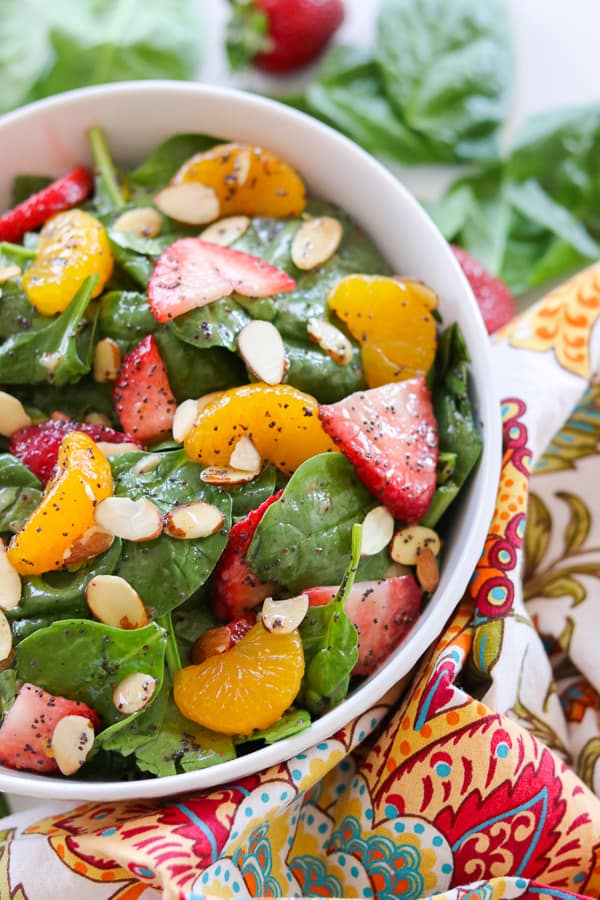 Salad with strawberries and spinach make me think of breezy summer days and gardens overflowing with abundance. It's totally perfect for the warmer weather, but I also love to make this salad in the depths of winter to give me a little morale boost (not to mention a nutritional boost!).
Sitting down to a brightly colored bowl of greens and berries is a great reminder that spring is coming.
Whether you're a total salad enthusiast or looking for new ways to enjoy your greens this year, you're going to love this easy spinach salad with poppy seed dressing.
What do I need?
One of my favorite things about this salad is that there are so many ways to customize it based on your taste preferences, or what's in season. Here's what I put in my basic strawberry spinach salad to start with:
Fresh spinach – Baby spinach leaves are my preference!
Sliced strawberries
Mandarin oranges – The canned variety with juices drained.
Sliced almonds – Slivered almond pieces are perfect.
The poppy seed dressing has these ingredients:
sugar
apple cider vinegar
poppy seeds
minced onion
paprika
Worcestershire sauce
canola oil
I've also made this salad plenty of times with variations like fresh blueberries, walnuts or pecans. It's so easy to mix it up so you never get bored.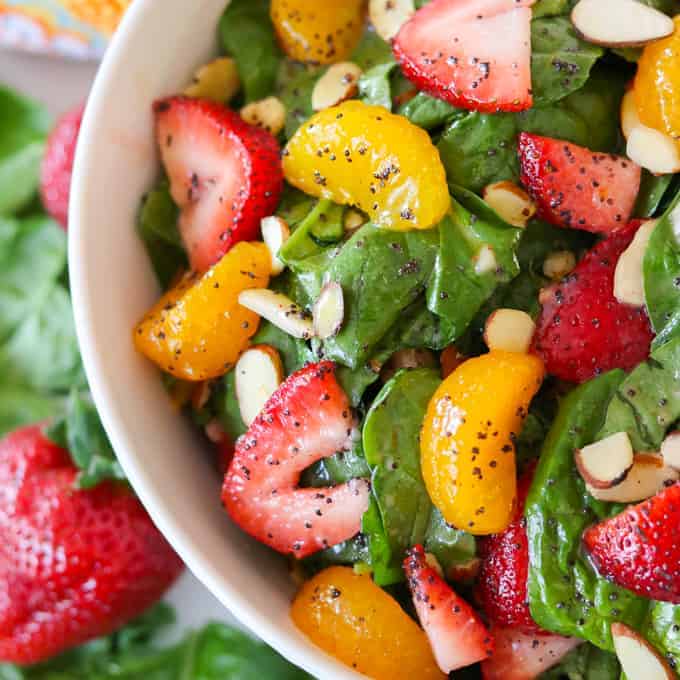 Can I add chicken or another protein?
Absolutely! Grilled chicken turns this spinach salad into a satisfying and healthy meal. You can even go the super easy route and pick up a rotisserie chicken from the grocery store to serve on top of this salad.
I love goat cheese and if you do, too, you'll find that it's a delicious addition to spinach and strawberry salads. Feta cheese is another great option!
Salad Recipes
Gone are the days of squeezing bottled dressing over wilted iceberg lettuce and calling it a salad. Spinach based salads are my go-to for quick and easy side salads these days. They just have so much more flavor and have more nutritional value, too.
Spinach and arugula are the main greens at play in this Couscous Chicken Salad. It's loaded with bell peppers, mushrooms and feta too, then finished with a spicy paprika dressing.
Looking for a great low-carb lunch idea? These Avocado Tuna Salad Lettuce Wraps are delicious and easy to make!
Greek Quinoa Chicken Salad makes a regular appearance on our lunch and dinner menus, especially in the summer. With or without the olives, the flavor is incredible.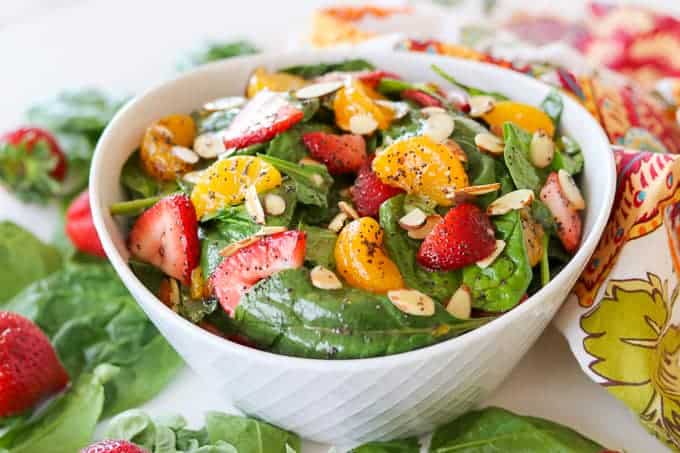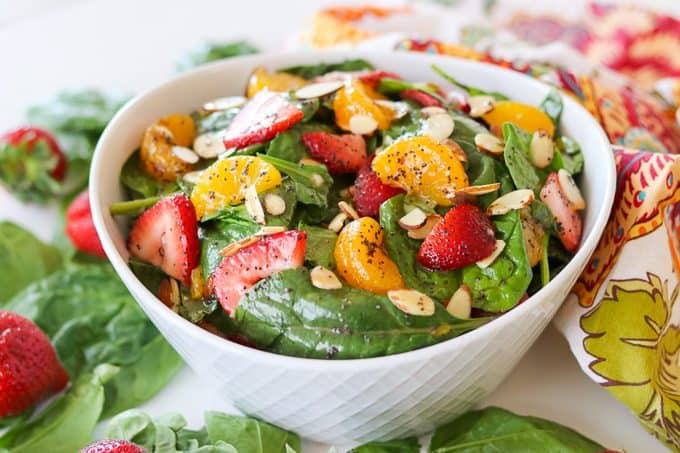 What to serve with Strawberry Spinach Salad?
As a side dish, this spinach salad pairs perfectly with almost any main dish. It's delicious served with Lemon Herb Roasted Chicken and a basket of Dinner Rolls for a Sunday dinner.
Today's salad recipe makes a great addition to a potluck meal too. Bring a big bowl of this salad and some BBQ Pork Mac & Cheese for a balance of hearty and healthy dishes!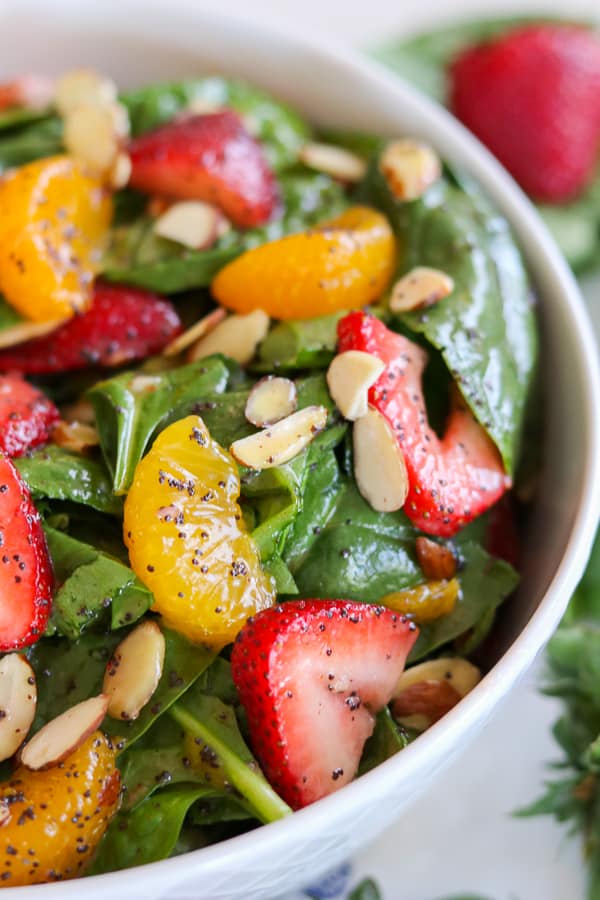 ~ FOLLOW ME ~
~ FACEBOOK ~ PINTEREST ~ INSTAGRAM ~ TWITTER ~
SIGN UP FOR THE WEEKLY
365 DAYS OF BAKING & MORE
NEWSLETTER BELOW!

The best Strawberry Spinach Salad comes together in no time. Bursting with juicy mandarin oranges and sweet strawberries, it's a salad that packs in as much flavor as it does nutrients!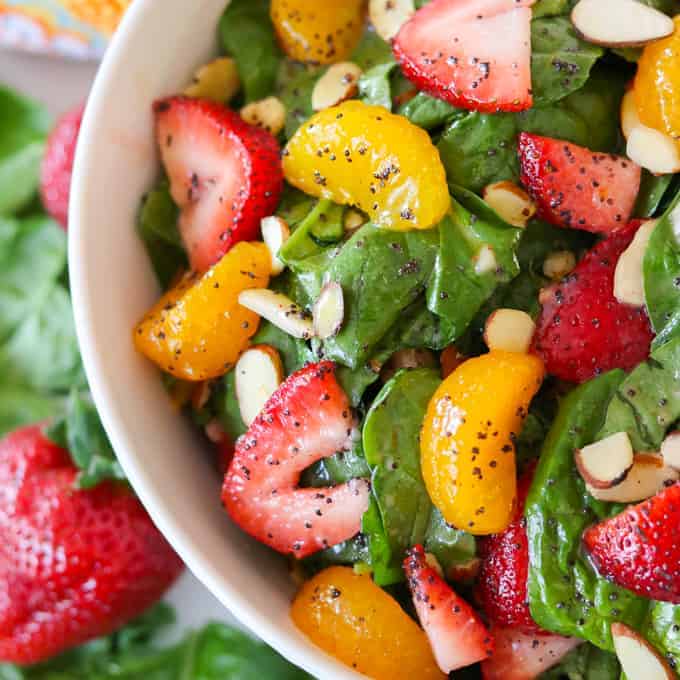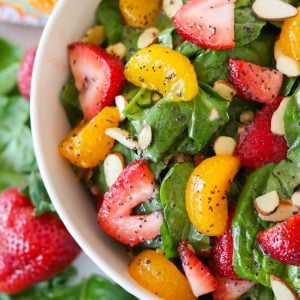 Perfect for summer, this Strawberry Spinach Salad is full of flavor! It makes use of fresh strawberries, spinach, mandarin oranges and sliced almonds. Toss it with the sweet and sour poppy seed dressing and serve it as a side or add chicken to make it a main course.
Ingredients
Poppy Seed Dressing
½ cup granulated sugar
¼ cup apple cider vinegar
2 tablespoons poppy seeds
1 ½ teaspoons minced onion
¼ teaspoon paprika
¼ teaspoon Worcestershire sauce
½ cup canola oil
Salad
9 ounce bag fresh spinach
16 ounces fresh strawberries sliced
15 ounces mandarin oranges drained
½ cup sliced almonds
Instructions
Poppy Seed Dressing
In a blender, combine the sugar, apple cider vinegar, poppy seeds, onion, paprika, and Worcestershire sauce. Blend until well combined.

With the blender on low, slowly pour in the canola oil through the opening of the cover. Mix thoroughly.

In a large salad bowl, place spinach, strawberries, drained mandarin oranges, and almonds.

Just before serving, pour dressing over salad and toss to combine.
Nutrition
Calories: 556kcal | Carbohydrates: 54g | Protein: 7g | Fat: 37g | Saturated Fat: 2g | Sodium: 59mg | Potassium: 844mg | Fiber: 8g | Sugar: 42g | Vitamin A: 6780IU | Vitamin C: 113mg | Calcium: 221mg | Iron: 3.3mg
Did you make this recipe?
Share it with me on Instagram and make sure to follow me on Pinterest for more recipes.
Reader Interactions