Greek Quinoa Chicken Salad is a light, yet satisfying recipe perfect for lunch or dinner. With rotisserie chicken, feta, fresh veggies and a lemon vinaigrette, this dish comes together in no time.
Delicious served warm or cold!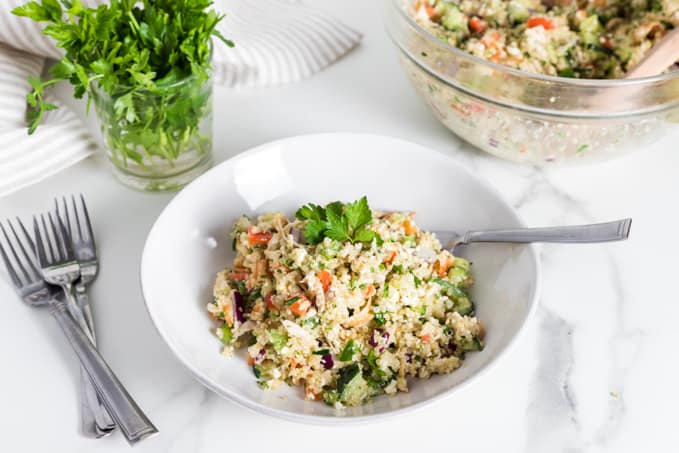 If you're looking for a chicken salad that stands out from the crowd, look no further.
This salad is loaded with fresh Mediterranean flavor from cucumbers, feta cheese, red onion and herbs.
Save this Greek Quinoa Chicken Salad to your favorite PINTEREST BOARD!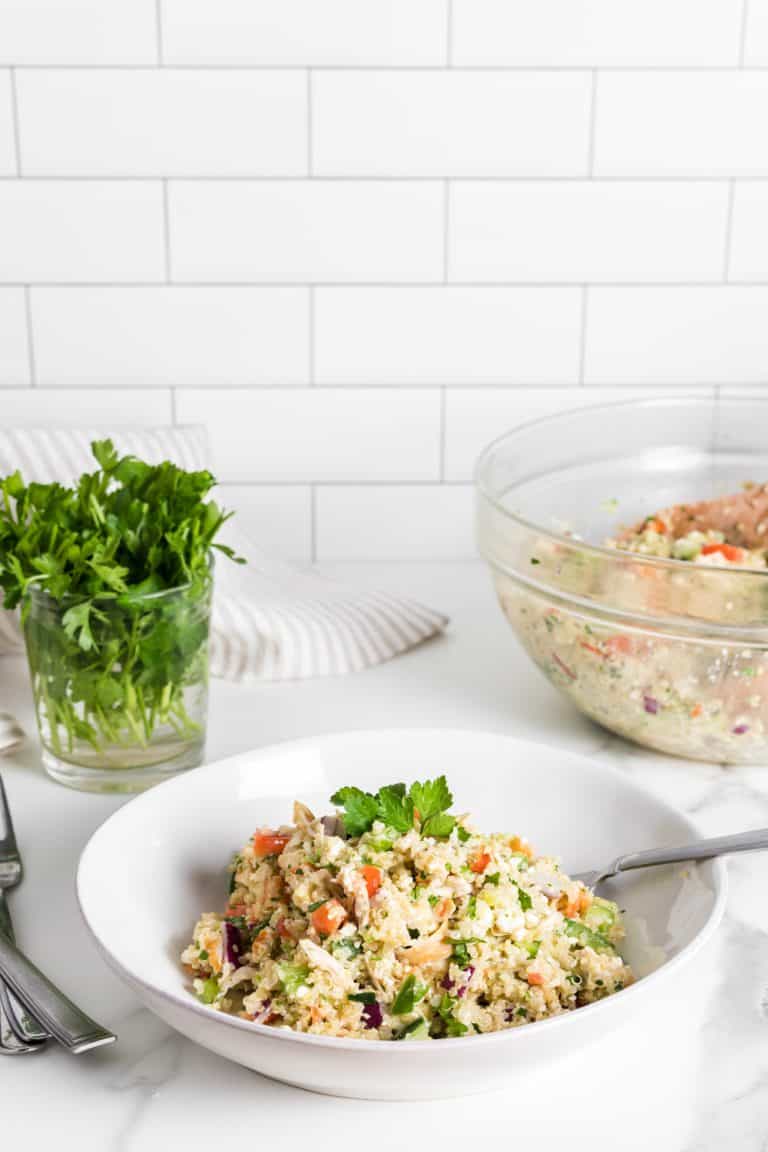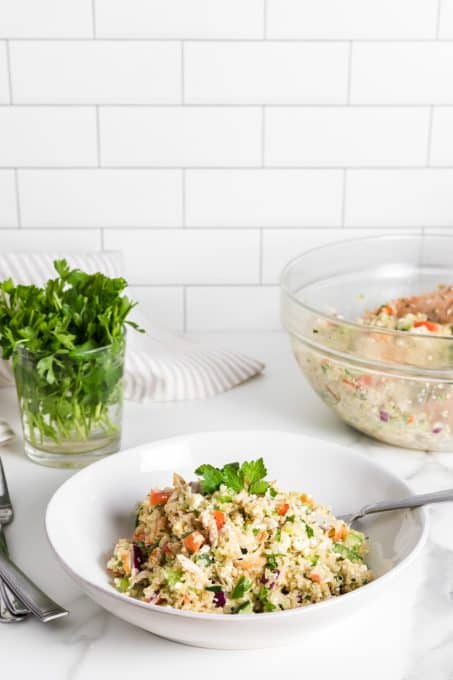 The quinoa and chicken make this Greek salad a protein-rich meal. Tossed with a tangy lemon vinaigrette and crunchy vegetables, it's incredibly flavorful while managing to be both light and hearty. In other words: a healthy salad recipe that won't leave you hungry! The best of all worlds.
Wanna know the BEST thing about this salad? It tastes even better the next day!
As the ingredients mingle with the dressing, the flavors become more developed. You can toss it together for dinner one night, then chill the leftovers and serve them cold for lunch the next day. Eat it warm or eat it cold–you really can't go wrong!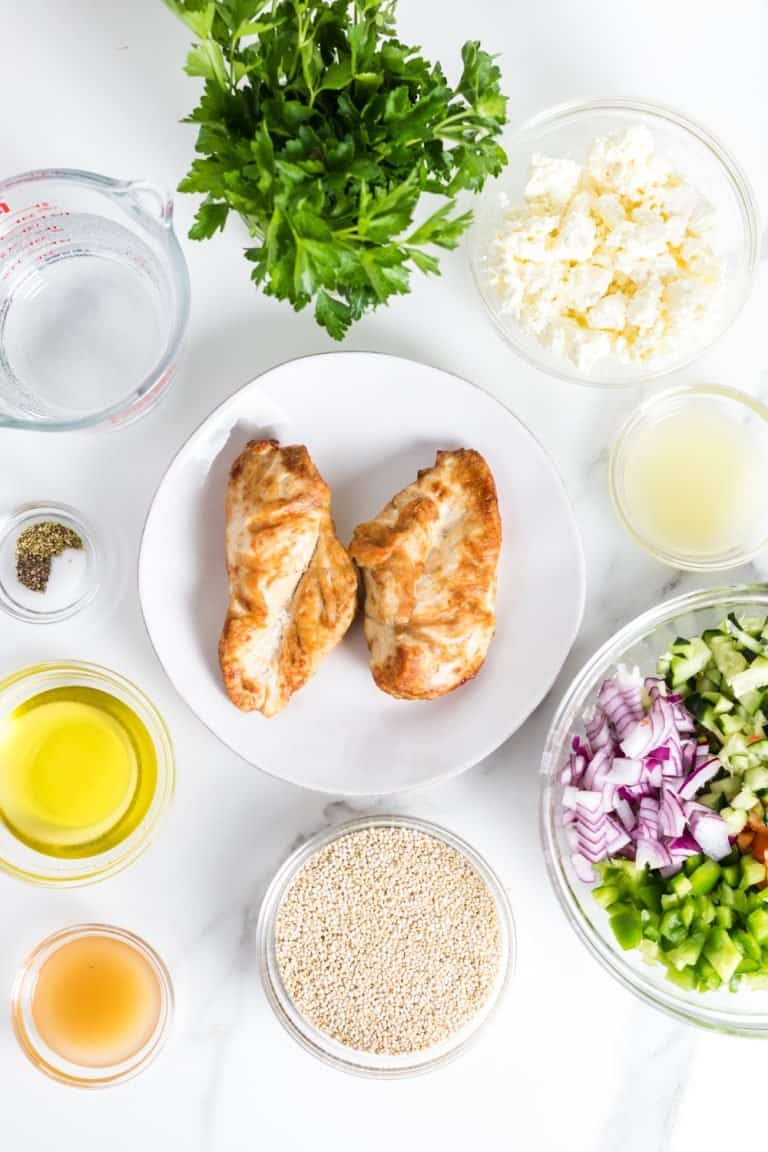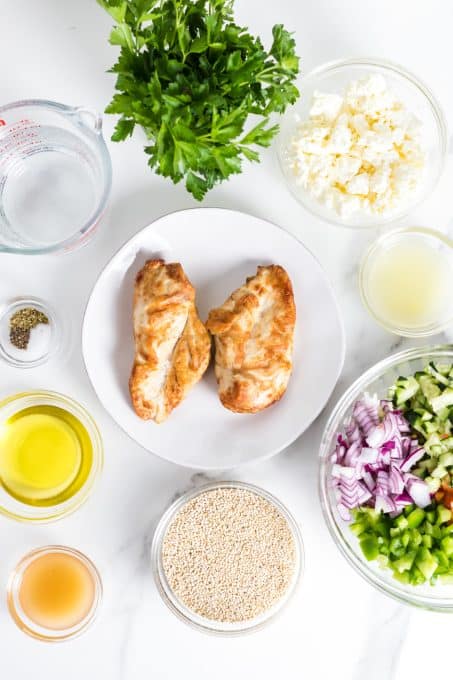 What do I need?
Here's what I included in this Quinoa Chicken Salad.
Quinoa – I cooked the quinoa fresh, but pre-cooked quinoa is a great choice too!
Chicken – Use rotisserie chicken from the grocery store, leftover chicken breasts or cook the chicken fresh before adding it to the salad. Grilled chicken would be delicious, too!
Bell peppers – A combo of green and red adds amazing color variety!
Cucumber
Red onion
Feta cheese
Fresh parsley
Here's what you'll need for the Greek vinaigrette dressing:
Olive oil
Lemon juice
Apple cider vinegar
Oregano
Kosher salt
Pepper
The beauty of salads is that it's so easy to customize them based on your preferences. Love olives? Feel free to add some chopped kalamata to this Greek Chicken Salad too! I didn't include any because we're not the biggest olive fans, but they certainly fit with the Greek theme.
Chopped ripe tomatoes would also be a tasty addition to the quinoa salad, as would avocado. Don't love quinoa? Swap it out for another grain like couscous or bulgur wheat. This Couscous Chicken Salad may be right up your alley too. It's a family favorite at our house!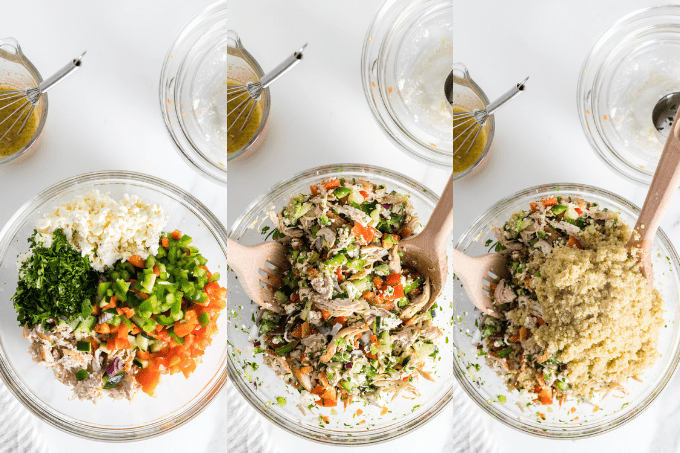 What can I serve with Greek salad?
Turn your salad into a Mediterranean feast by pairing it with some homemade Spanakopita. Serve this Baklava to make your Greek-inspired meal complete. These Honey-Walnut Cookies are another delicious authentic Greek dessert you'll love too.
It might not be Greek, but a slice or two of my Grandma's Easy Homemade Italian Bread would be perfect along side it, as well.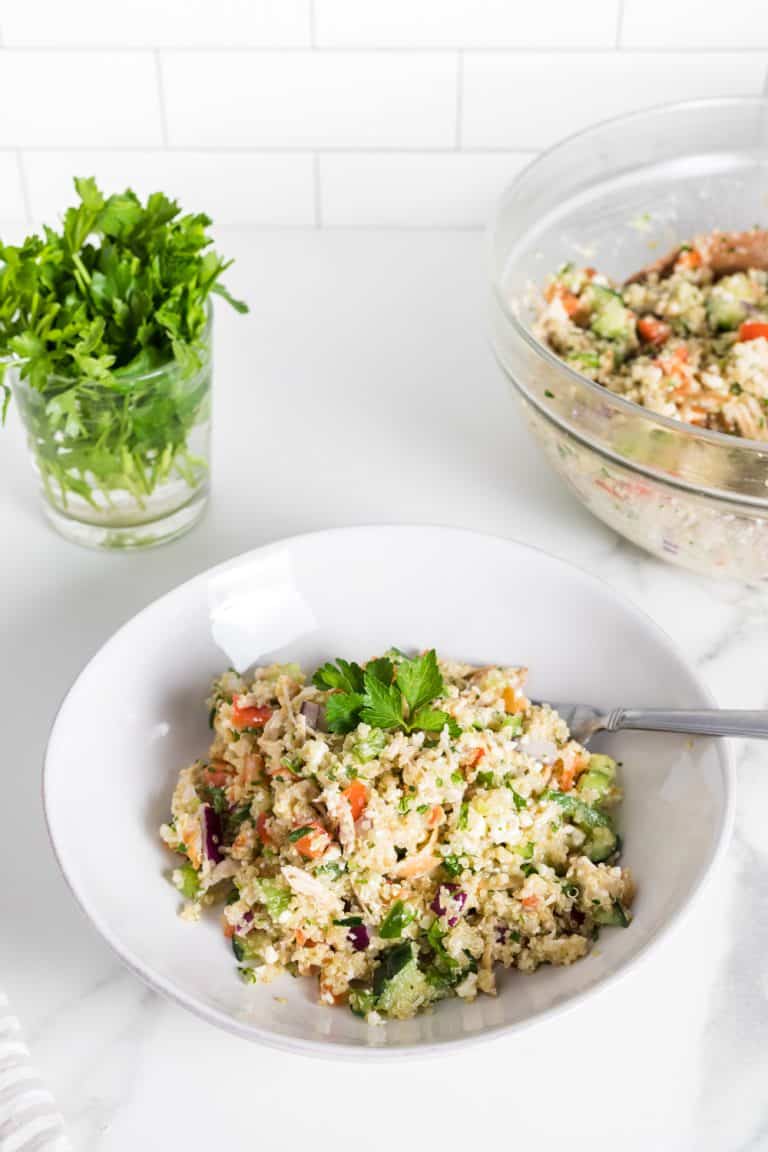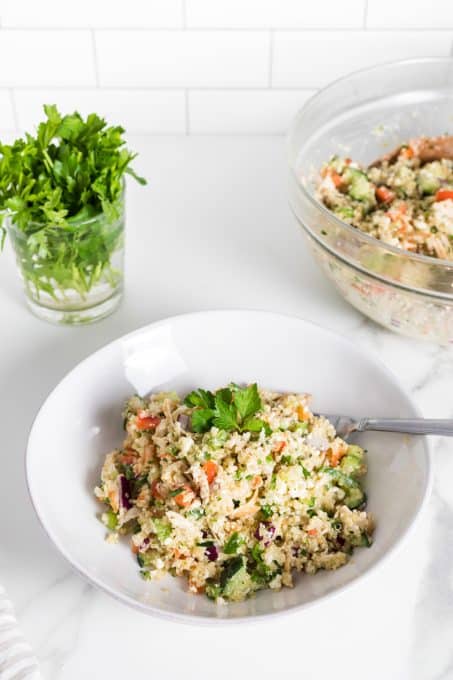 Can I freeze this salad made with chicken?
I don't recommend freezing salads like this one made with fresh veggies and chicken. Freezing and thawing will completely change the structure and consistency of the vegetables, leaving you with a soft, mushy bowl of unappetizing grains and veggies.
The good news is you CAN freeze both quinoa and chicken. Save leftover cooked chicken and quinoa from another meal and store them in the freezer. When you're ready to make this salad, let the chicken and grains thaw in the fridge overnight.
It takes just a few minutes to toss the salad together once all the ingredients are prepped. You can even make it up to one day ahead of time and store it covered in the refrigerator until dinner. My family and I think it tastes even better after it has "marinated" with the dressing for a few hours.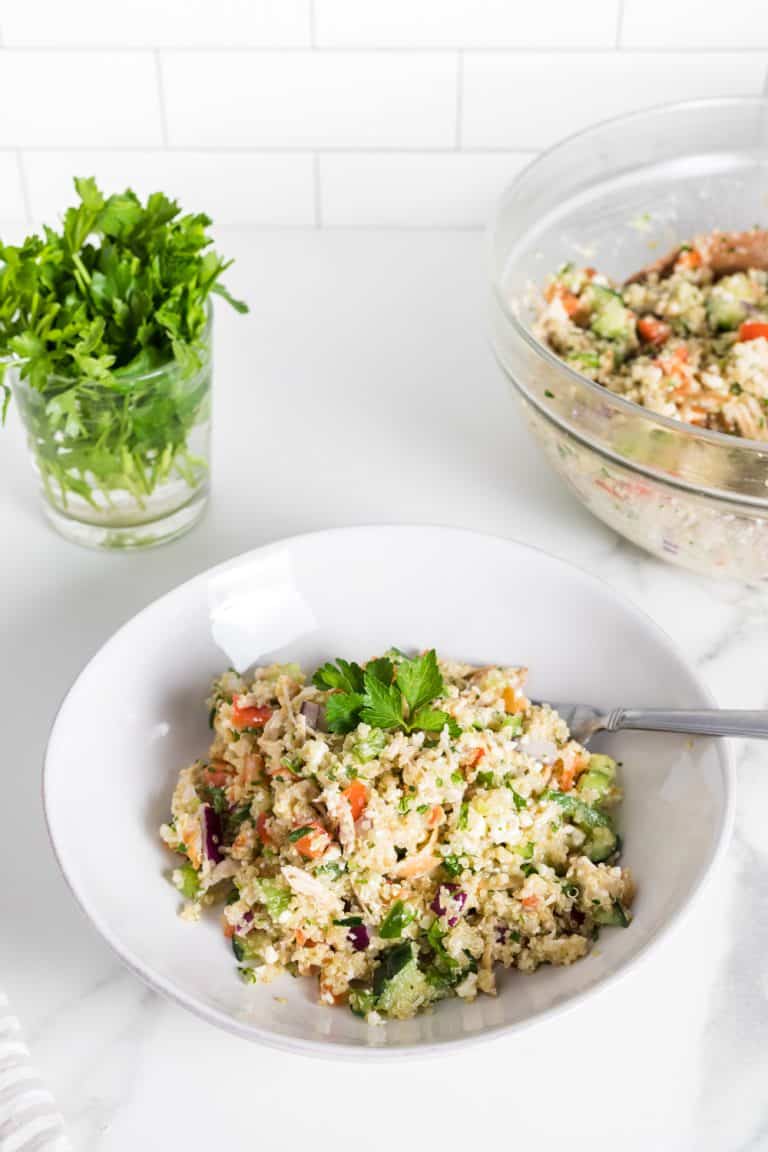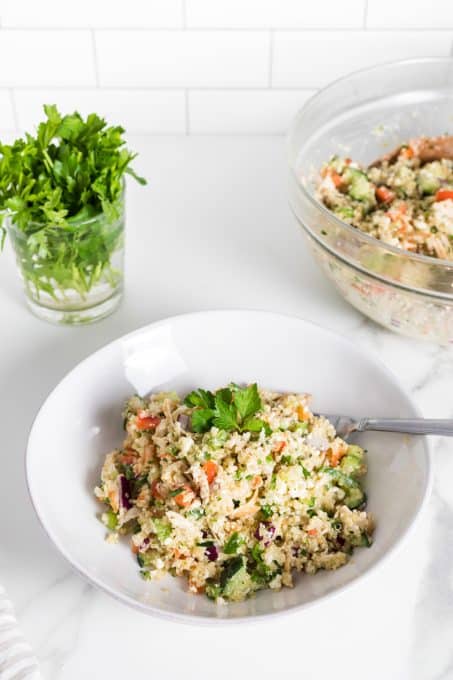 Chicken Recipes
Anyone else forever grateful for the invention of the grocery store rotisserie chicken? You can pick one up on the way home from work to get a homemade meal like Chicken Noodle Casserole on the table in record time!
This Chicken Taco Dip and Homemade Chicken Noodle Soup are two more easy recipes you can make with cooked chicken. If you have some fresh or frozen chicken thighs on hand, use them to make a pan of Roasted Chicken and Vegetables or this Orange, Honey, Soy Baked Chicken Thighs.
Salad Recipes
Salads are a regular fixture of our lunch and dinner menus, especially in the summer time.
This Strawberry Spinach Salad is a staple because you can serve it as a side dish or add chicken for a complete meal. If you like salads with quinoa, checkout my Tropical Quinoa Salad recipe next. It's begging to be enjoyed on a breezy patio accompanied by a refreshing glass of Fresh Strawberry Lemonade.
Today's Greek Chicken Salad is made with a vinaigrette dressing. If you're craving an American-style chicken salad with a mayo based dressing, I've got you covered with this Easy Classic Chicken Salad. It's always a hit at potlucks and picnics! Give this Ranch BLT Pasta Salad a try too.
Even more salad recipes your family will love . . .
Who says salad is boring with so many fun and delicious recipes out there?!
SIGN UP FOR THE WEEKLY
365 DAYS OF BAKING & MORE
NEWSLETTER BELOW!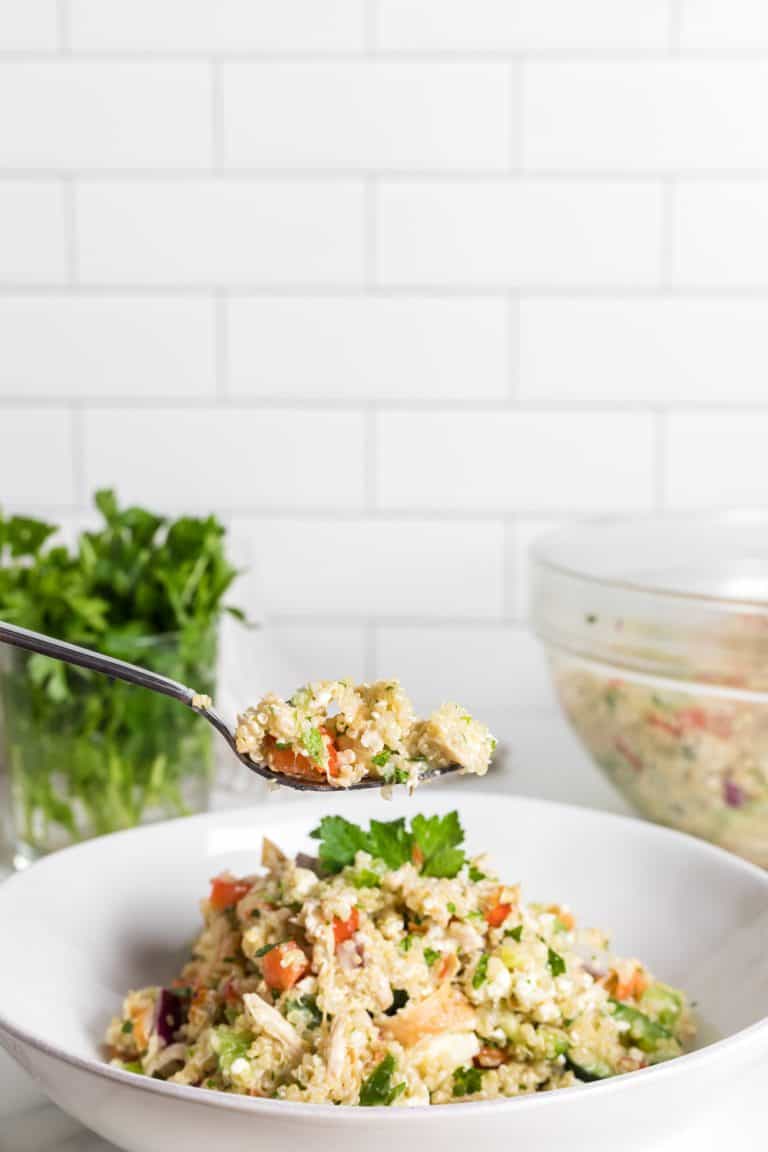 Fresh and healthy, this Greek Quinoa Chicken Salad comes together in minutes! Serve it hot or cold for a tasty lunch or light dinner.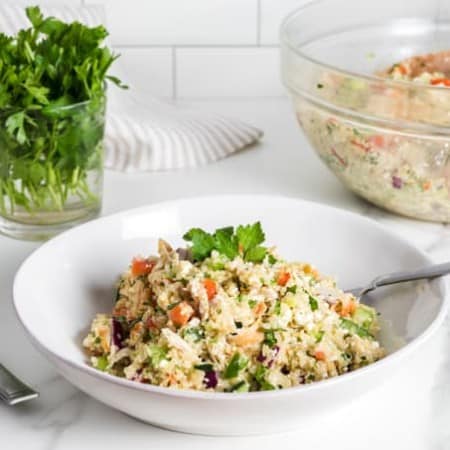 Greek Quinoa Chicken Salad
This Greek Quinoa Chicken Salad is a delicious and easy recipe that's perfect for a summer lunch or dinner. With rotisserie chicken, quinoa, feta cheese, bell peppers, cucumber and a lemon vinaigrette, this dish comes together in no time and is just as good cold as it is served warm. 
Equipment
medium saucepan with cover

large bowl
Ingredients
2 cups water
1 cup quinoa
2 cups cooked chicken shredded or diced
1 green bell pepper chopped (about 1 cup)
1 red bell pepper chopped (about 1 cup)
1 cup chopped cucumber
½ cup chopped red onion
6 ounces crumbled feta cheese
⅓ cup chopped fresh parsley
Dressing
¼ cup olive oil
3 tablespoons fresh lemon juice
2 ½ tablespoons apple cider vinegar
½ teaspoon oregano
¼ teaspoon kosher salt
⅛ teaspoon pepper
Instructions
Dressing
In a liquid measuring cup, combine the olive oil, lemon juice, apple cider vinegar, oregano, salt, and pepper. Mix with a whisk.

In a medium saucepan, boil the water.
Rinse the cup of quinoa in a fine mesh sieve under cold water until the water runs clear. Drain well.


Add to boiling water. Reduce heat to simmer and cover. Cook until the germs have spiraled out of each grain, about 15 minutes.

In a large bowl, combine the chicken, chopped peppers, cucumber, onion, feta, and parsley. Mix well.

Add the cooked quinoa to the bowl and toss gently.

Mix dressing well again and pour over salad.
Toss well to coat.
Nutrition
Serving: 1person | Calories: 538kcal | Carbohydrates: 36g | Protein: 31g | Fat: 30g | Saturated Fat: 9g | Polyunsaturated Fat: 4g | Monounsaturated Fat: 14g | Cholesterol: 90mg | Sodium: 698mg | Potassium: 665mg | Fiber: 5g | Sugar: 4g | Vitamin A: 1706IU | Vitamin C: 76mg | Calcium: 269mg | Iron: 4mg
Did you make this recipe?
Share it with me on Instagram and make sure to follow me on Pinterest for more recipes.

This post was originally published 5/31/18. It has been updated in format and with photos on 3/21/22.
Reader Interactions