Baklava – layers of buttered phyllo dough, with chopped pistachios, almonds and walnuts all covered with a honey syrup. Delicious!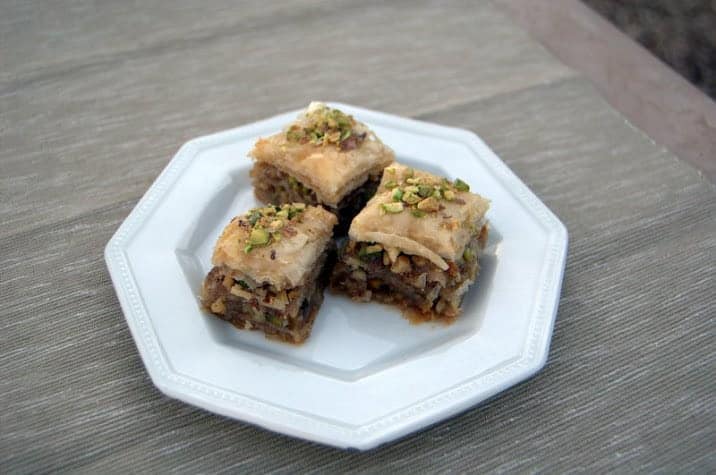 Greek baklava made with phyllo dough is definitely my kind of dessert.
I wish I make baklava more. There's just something about it that none of the other desserts have. Feels like I was Greek in another life since I LOVE Greek food, especially BAKLAVA. The sweet and savory forkful in every bite, and when you get to enjoy it with the family and relatives, that's the BEST part. I read that – cooled syrup + hot baklava = awesome dessert, whereas hot syrup + cooled baklava = not so much. So make sure the syrup is cooled and baklava is hot! It really was not difficult to make and I can understand if you are intimidated at the thought of making it. As I said before, it doesn't have to be made perfect because it will all come together just fine. It was only time-consuming.
BUT, in the end, it was delicious and was well worth the effort. Alright, not
nearly
as delicious as those
cookies
, but it was really good in a different kind of way, especially if you like baklava. I don't think you'll be disappointed. It wasn't the best I've ever had and I think it was because of the rosewater. NOT going to do that next time.
I was going to add two teaspoons as was called for in another recipe but decided to go easy on it and I'm glad I did – I think 1/2 teaspoon would have done it if that! So don't go out and buy rosewater if you don't have it just for this recipe because you don't even really need it.
This was another one of those recipes like yesterday's
cookies
that my eldest daughter had been asking me to make all summer. Wouldn't you know it, mom leaves this one to the VERY last minute as I baked it this morning and we (sniff) moved her into her college dorm this afternoon. I'll be shipping her some in a care package this week. I'm ok. It's just another chapter in the book of life. This year she's a sophomore, so I we went through the traumatic separation anxiety last year. Although it was still more difficult than I expected it to be. I turned to watch her walk into her dorm after we'd said our goodbyes and felt a lump in my throat and the sting of tears fill my eyes. A mother's job is never done.
This brings me to another subject about separation from those we love. If you remember a few weeks ago, I and literally hundreds, if not thousands of other bloggers (and not just food bloggers!) made a peanut butter pie for Mikey. Jennie from
In Jennie's Kitchen
, and her two daughters, ages 8 and 3, lost her husband and their father to a sudden massive heart attack. Needless to say, it's been absolutely devastating emotionally and now as things come to light, financially also. Once again, the food blogging community has made me proud and I am so happy to say that we are coming together once again to show our support for Jennie and her girls. Shauna from
Gluten-Free Girl
has organized through
Bloggers without Borders
a way for donations to be made. In the upcoming week(s) there will also be online bake sales where you will be able to bid on baked goods and items donated by many wonderful bloggers.
I will keep you posted as things develop. If you are feeling compelled to make a donation or want to bid on upcoming items, I encourage you to do so. One never knows when we may be the one in need, be it physically, emotionally or financially. It's wonderful that we can count on others in a time of need even though it may be extremely difficult asking or even accepting the help. People wouldn't do it if they didn't want to. Which leads me to another story of some earthly angels, but I'll save that for tomorrow otherwise this post will be too long. And for you, this may not even be about Jennie and her girls – it could be someone else you know or don't know who might need a little sunshine.
A simple smile to a stranger may be the only bit of happiness they see that day. Just please, do what you can to pay it forward. Thanks!
*Thaw the Phyllo dough by leaving it in the refrigerator overnight. It is sold in your grocer's freezer section.
**The Phyllo dough may and most likely will break apart, especially if it is something you have never worked with before. Try not to become too frustrated and start throwing things around your kitchen! Just put the pieces back together as best you can and continue on. The great thing about this is that in the final result, just like in a lasagna, the perfection of the construction will not matter and it will all taste just as good. It's just important that you attempt to build it as best you can.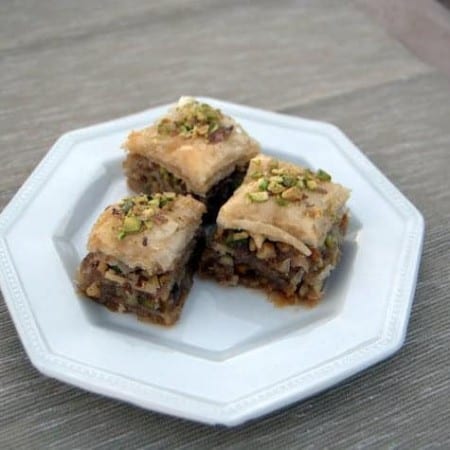 Ingredients
Filling
½ cup pistachios, chopped finely
½ cup almonds, chopped finely
1 cup walnuts, chopped finely
1 lb phyllo dough
¾ cup unsalted butter, melted
⅓ cup sugar
1 teaspoon ground cinnamon
⅓ teaspoon ground cloves
Sryup
1 cup water
1 cup sugar
½ cup honey
2 tablespoons lemon juice
⅛ teaspoon ground nutmeg
1 cinnamon stick
Finely ground pistachios for garnished optional
Instructions
In a small saucepan, combine ingredients for syrup; water, sugar, honey, lemon juice, ground nutmeg, and cinnamon stick.

Bring ingredients to a boil, stirring constantly. Lower heat and allow syrup to simmer for 7 minutes, stirring occasionally.

Set aside and allow to cool completely, removing cinnamon stick.

Prepare a 17 x 11-inch jelly roll pan by lining it with tin foil. Grease it by brushing it with melted butter. Preheat oven to 350 degrees.

In a medium bowl, combine the nuts with sugar, cinnamon, and cloves. Gently roll out the phyllo dough and cover with a damp towel. (It will tend to dry out very quickly when you're working on it.)

Place the first sheet of phyllo dough into the pan. With a pastry brush, brush the phyllo sheet with melted butter. Repeat 7 more times until the bottom layer is 8 layers thick, with each sheet being brushed by butter.

Spoon on a thin layer of the nut mixture.

Cover with two more sheets of phyllo, brushing each one with butter. Continue to repeat: nut mixture and then two sheets of phyllo dough, each brushed with butter, until there is no remaining nut mixture.

Using a sharp knife and starting at one of the corners, very gently make diagonal cuts across the baklava. Repeat process going in other direction so that they criss-cross.

Fold the tin foil up along the sides and ends so that the baklava is encased. This will allow the syrup to soak into the sides easier after it is baked.

Bake for 30-35 minutes, or until lightly golden brown and edges appear slightly crisp.

Spoon the cooled syrup over the hot baklava and let cool for 4 hours.
Nutrition
Calories: 2926kcal | Carbohydrates: 651g | Protein: 33g | Fat: 27g | Saturated Fat: 6g | Sodium: 2215mg | Potassium: 423mg | Fiber: 11g | Sugar: 407g | Vitamin C: 12.5mg | Calcium: 115mg | Iron: 15.6mg
Did you make this recipe?
Share it with me on Instagram and make sure to follow me on Pinterest for more recipes.
Want other dessert recipes? Here are a few that I highly recommend.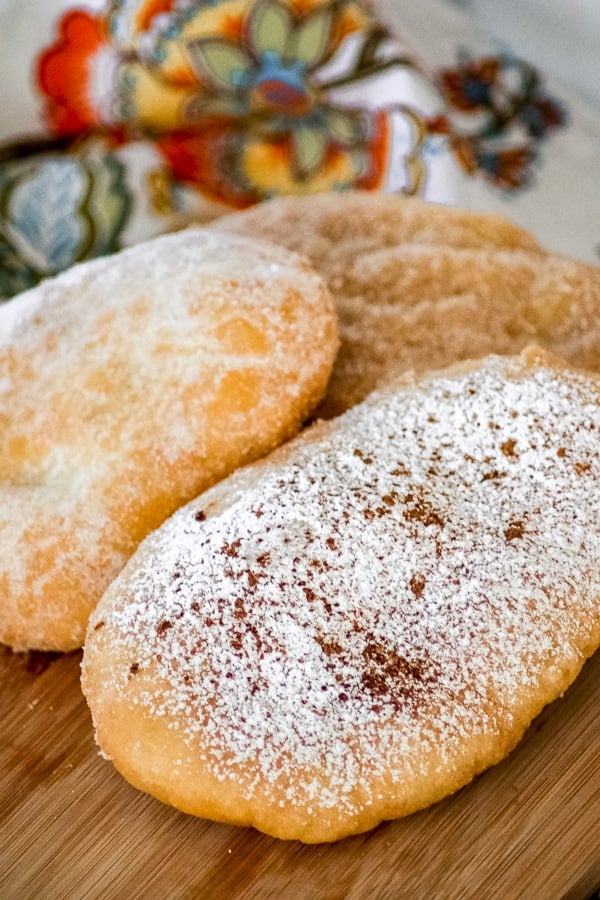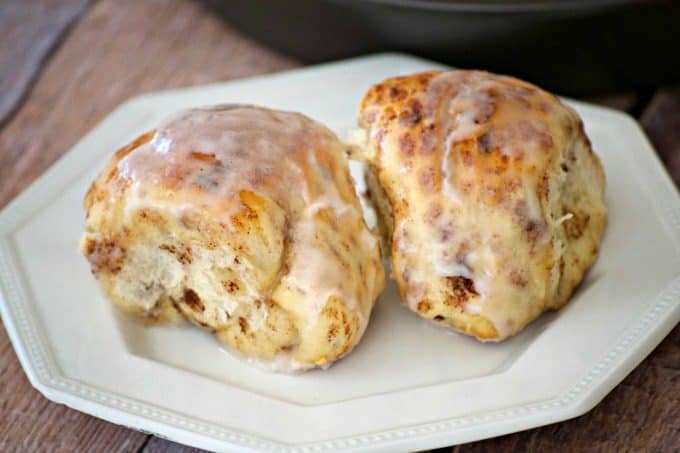 Now, if you have cardamom…you can use that although I'm not sure how much to add as I've never used it. I would suggest searching the internet for baklava with cardamom. Know that is one of the more expensive spices.
I rate everything I bake on a scale of 1-4 with 4 being the best and this Baklava earned 3 1/2 rolling pins.
I think you'll enjoy it!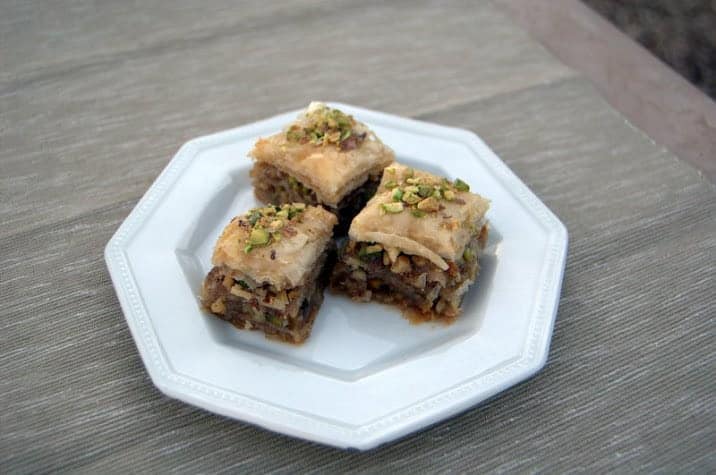 Reader Interactions