Caramel Apple Cheesecake Bars are like two desserts in one! A creamy cheesecake layer is topped with cinnamon apples and a streusel topping. Finished with a caramel drizzle, they're perfect addition to your Thanksgiving dessert table and are loved throughout the year as well!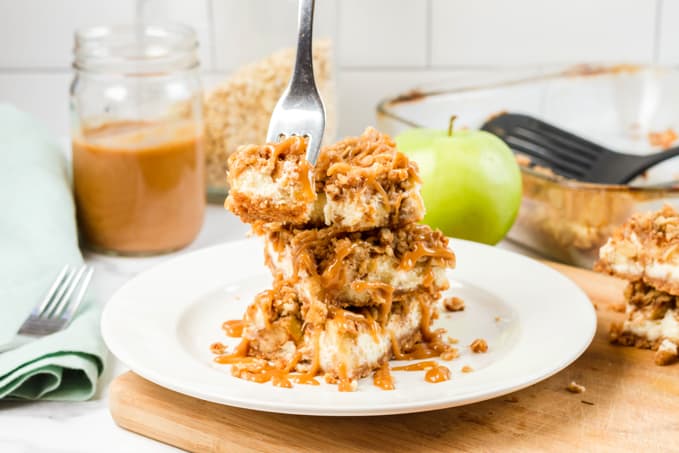 All the best parts of an apple crisp, caramel apple and cheesecake in one bar? Yes, please
I am such a sucker for caramel apples.
Whether I'm dipping slices of fresh apple into caramel sauce or eating them on a stick at a fall festival, this combination of flavors makes me extra happy.
Why it never occurred to me before to drizzle caramel over an apple cheesecake is a mystery.
Now I know what I was missing.
SAVE THIS CARAMEL APPLE CHEESECAKE BARS RECIPE TO YOUR FAVORITE PINTEREST BOARD!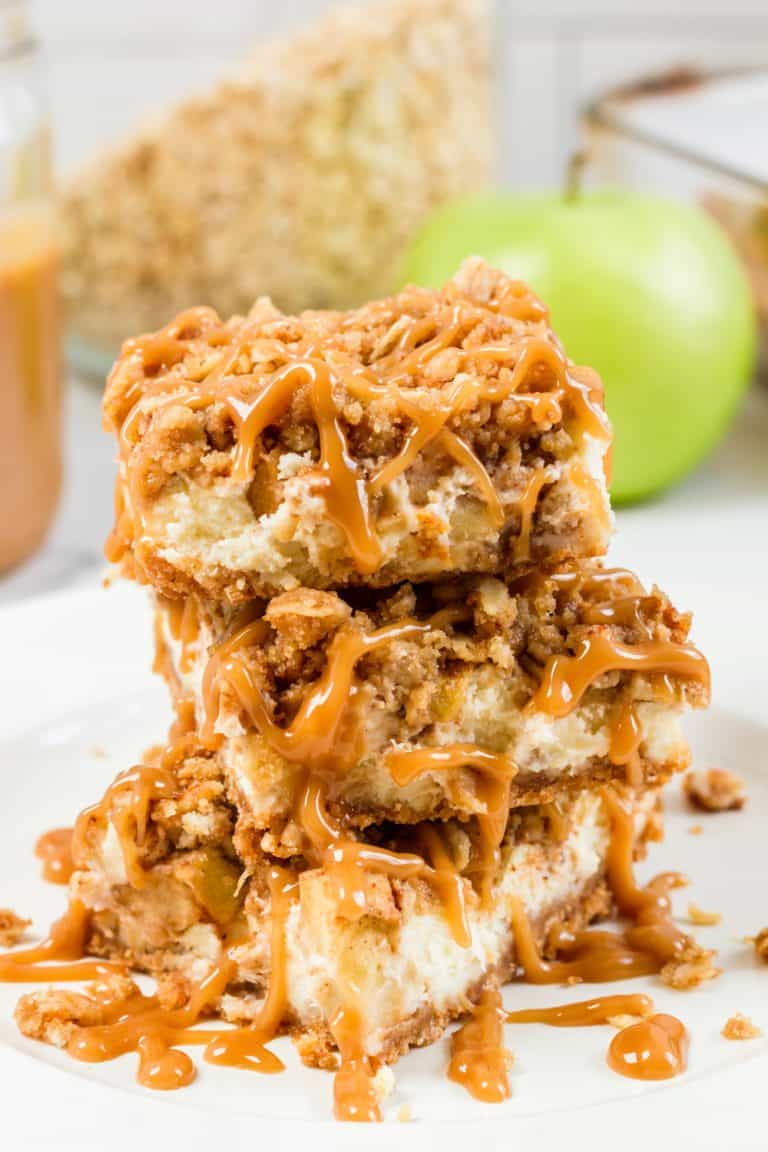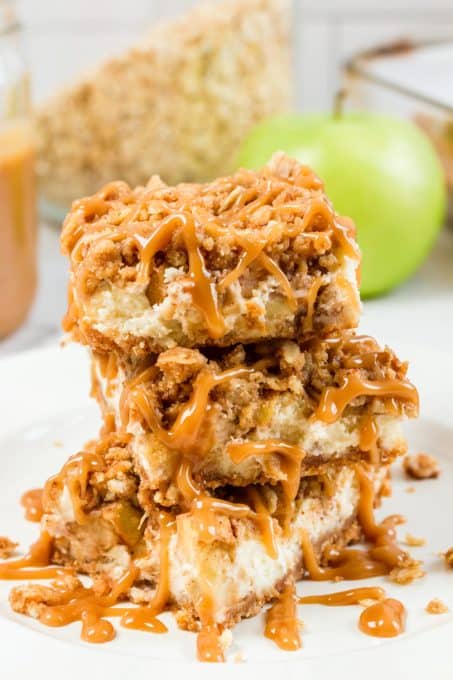 I consider this a fall dessert, but honestly?
Go ahead and make them any time of year.
I've never known anyone to turn down a Caramel Apple Cheesecake Bar no matter what the calendar says.
Everyone NEEDS these cheesecake bars in their life!
We're talking rich buttery caramel over tart cinnamon apples with a cheesecake base and a crumble topping.
Do I have to say more?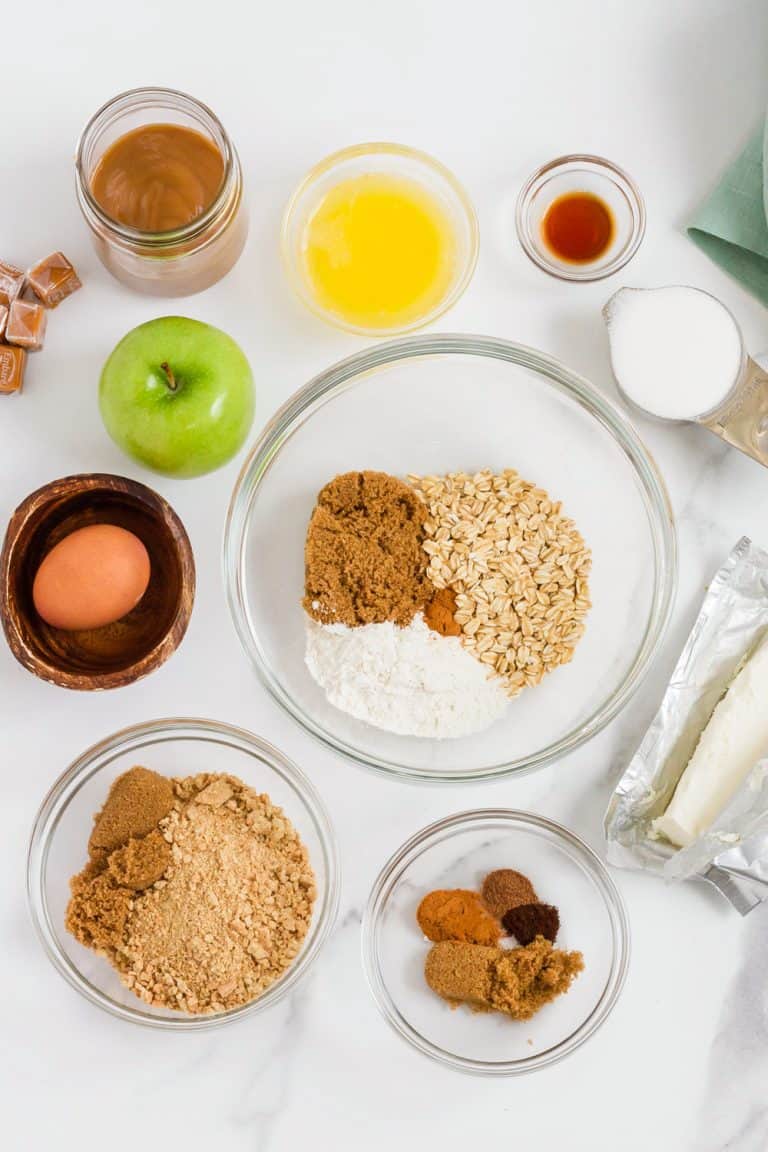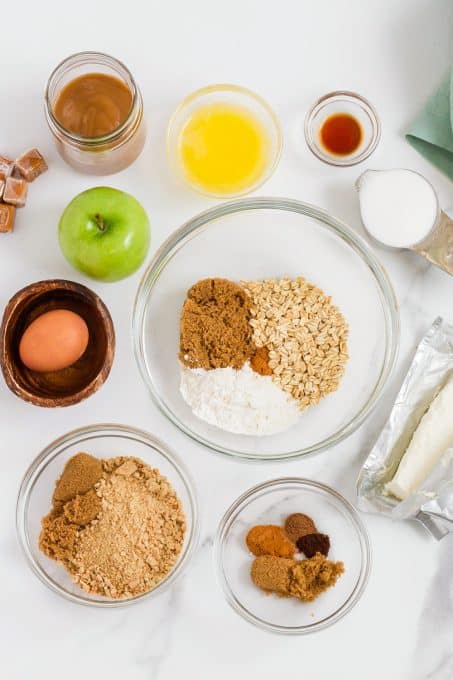 What do I need?
Don't let the long list of ingredients fool you. Once you have everything ready, the bars come together easily.
For the crust:
graham crackers
butter
brown sugar
For the cheesecake layer:
cream cheese
sugar
vanilla egg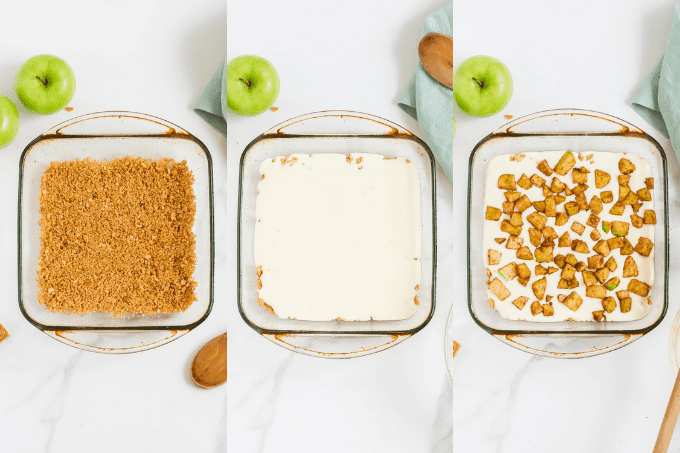 For the apple layer:
sliced apple
brown sugar
cinnamon
nutmeg
cloves
For the streusel topping:
oats
flour
brown sugar
cinnamon
melted butter
I almost forgot about the best part: the caramel drizzle! To make homemade caramel sauce, I melt unwrapped caramel candies in the microwave with a bit of heavy cream.
Don't feel like making your own caramel sauce? Use a bottle or jar of store bought caramel topping instead.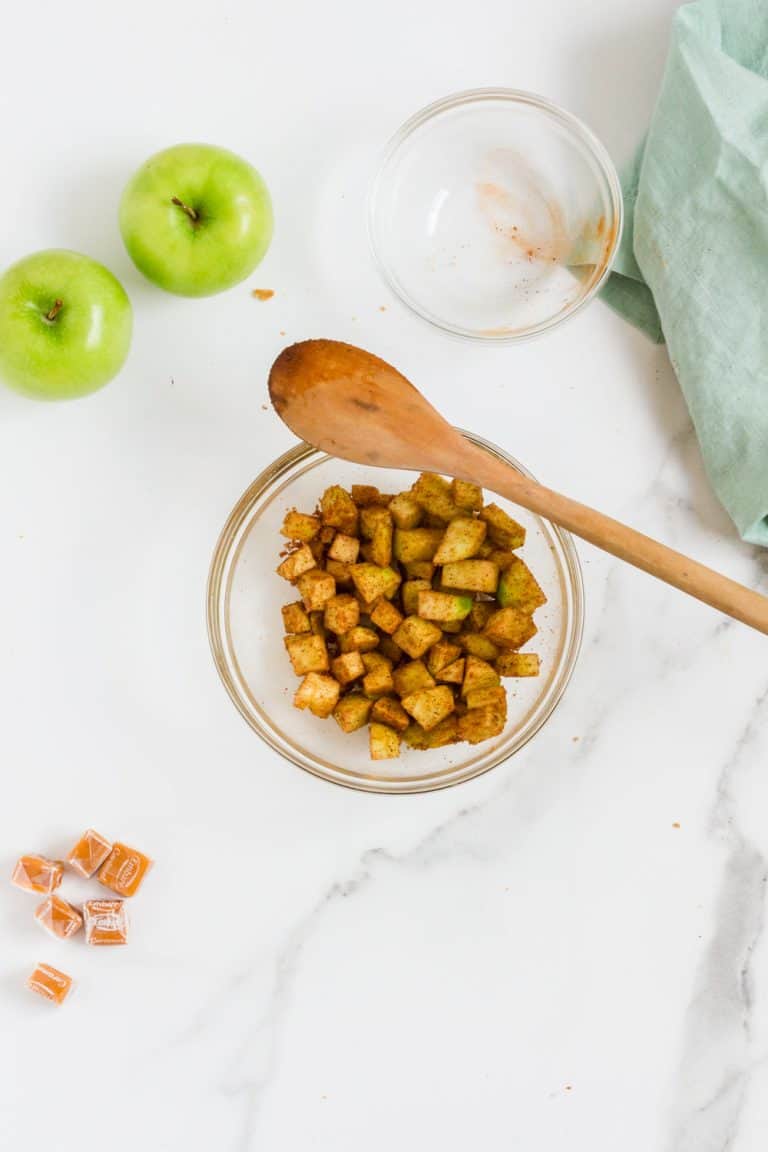 What kind of apples should I use?
Granny Smith are the best apples for these cheesecake bars. With so many sweet layers, it's nice to have that zing of tart flavor to balance everything out.
They're also firmer than other kinds of apples, making them a perfect option for baking.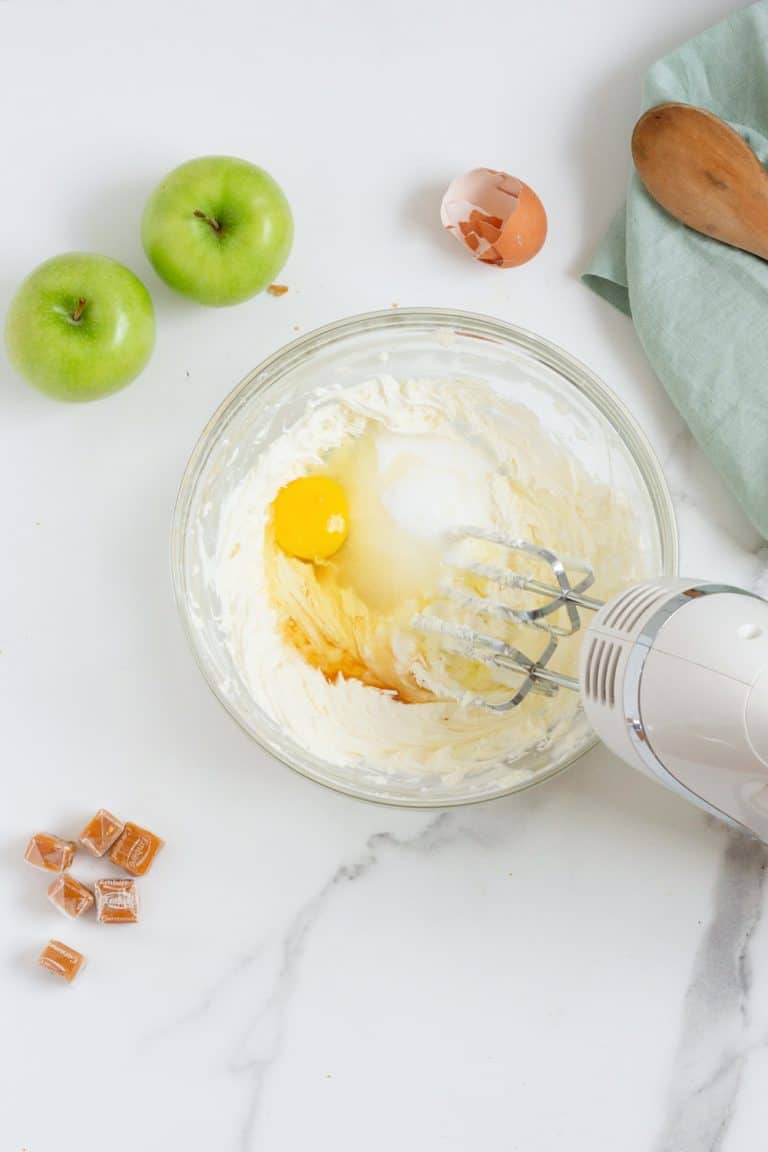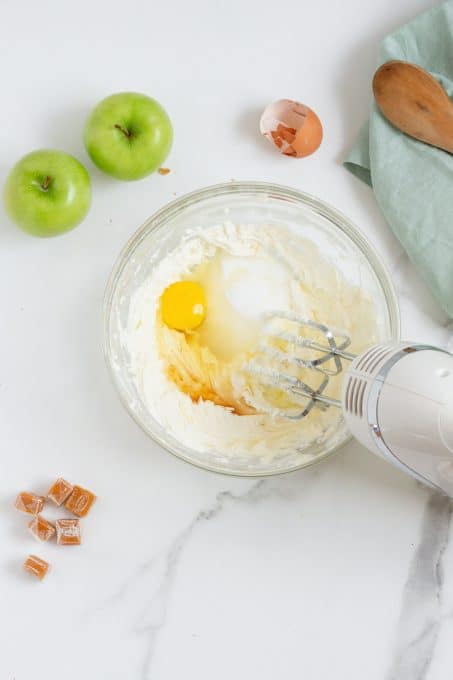 Pro Tips
Make sure to add the caramel AFTER chilling the cheesecake bars. If you drizzle it on before chilling, the caramel will make the bars too hard. Trust me! I made this mistake once and the end result was hard enough to break a tooth.
Use an electric mixer to combine the cheesecake ingredients. The cream cheese, eggs and sugar should be well incorporated, smooth and fluffy.
Spray your square baking dish with baking spray before adding the graham cracker crust.
Store leftovers tightly covered in the fridge. Enjoy within 3 -5 days.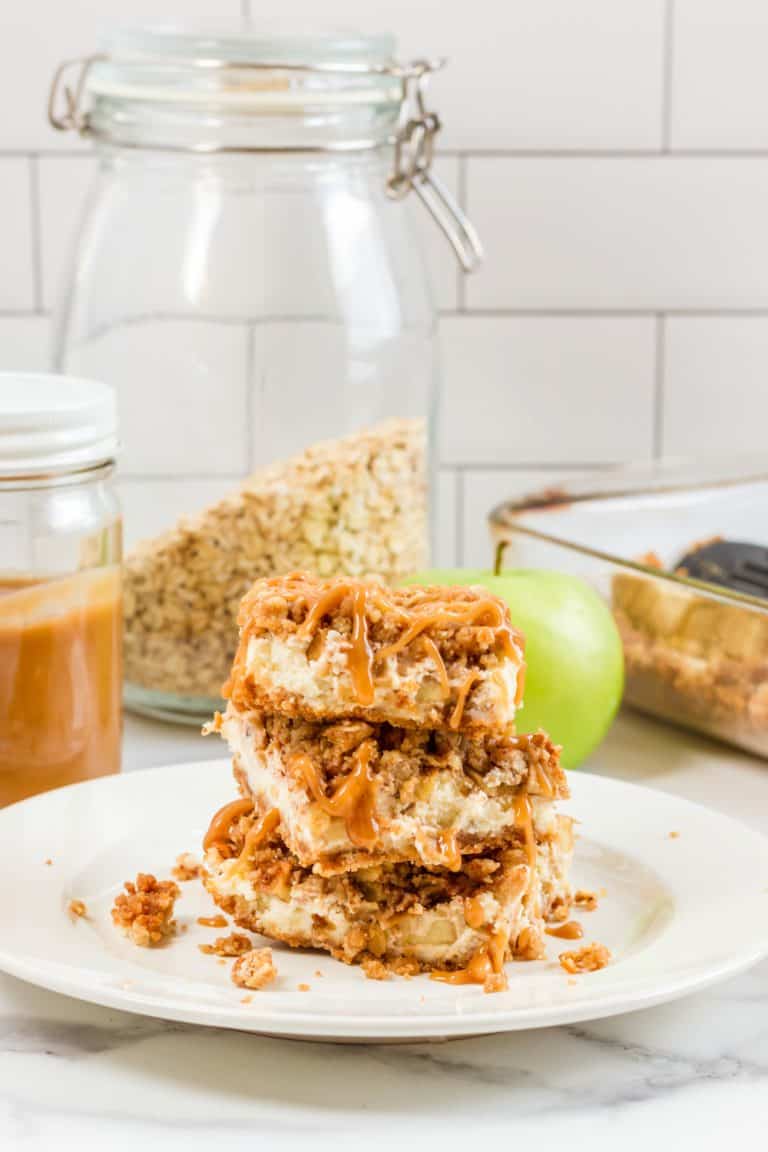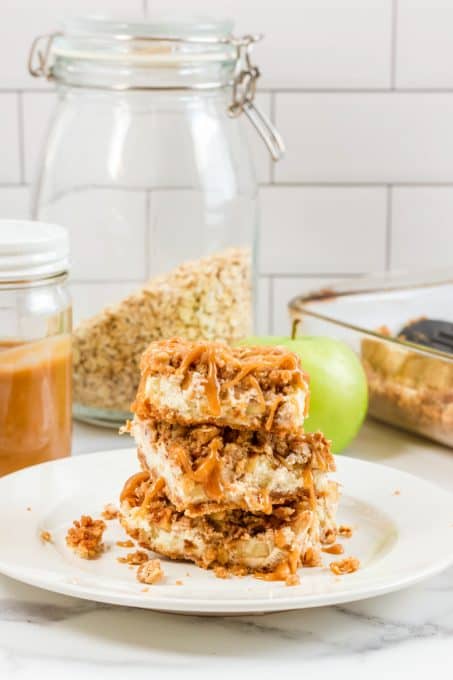 Fair warning: these are going to smell so good as they bake that everyone in your home will scramble to the kitchen hoping for a taste. Waiting for them to chill and set is the hardest part–but it's worth it!
Biting into a Caramel Apple Cheesecake Bar is pure autumn heaven.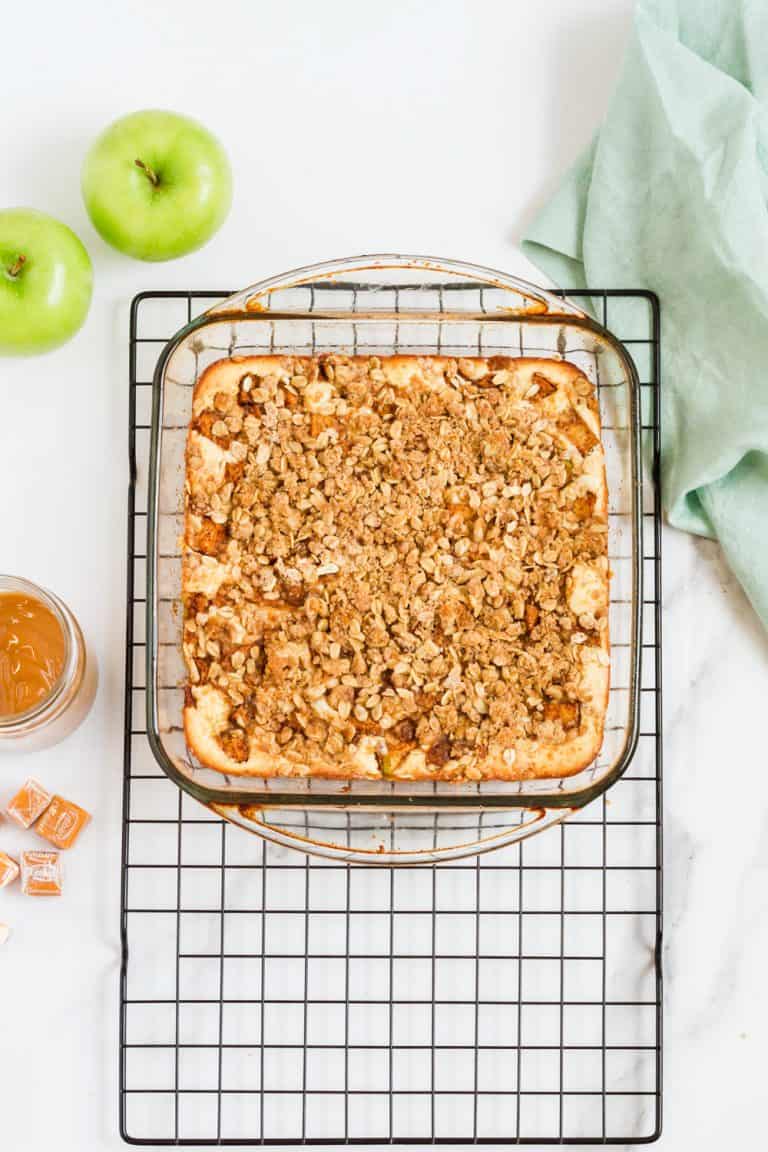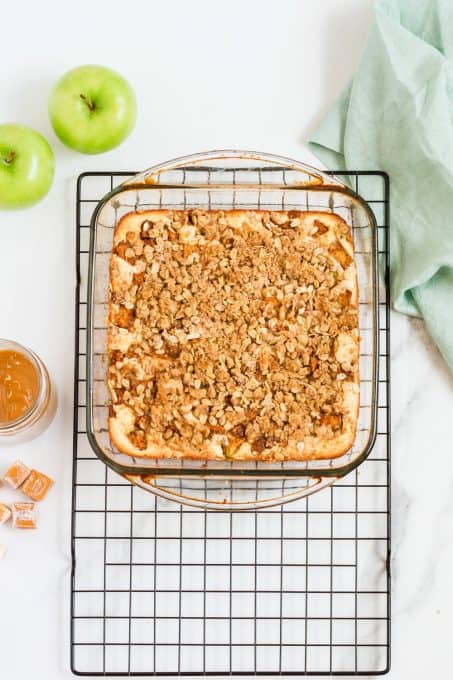 Apple Recipes
This recipe only uses one apple, so if you're looking more ways to put the fall apple harvest to good use, check out these other tasty treats.
SIGN UP FOR THE 365 DAYS OF BAKING & MORE
WEEKLY NEWSLETTER BELOW!
Make these Caramel Apple Cheesecake Bars for your next Fall gathering.
They taste even better than they look!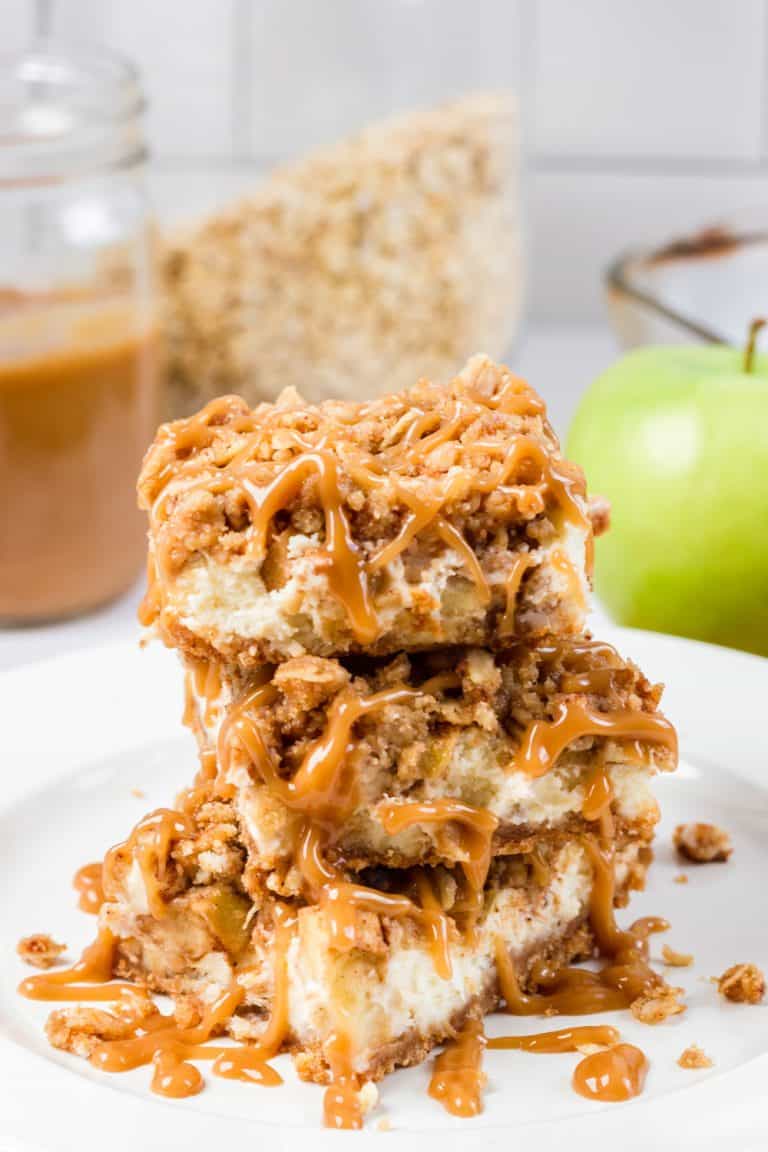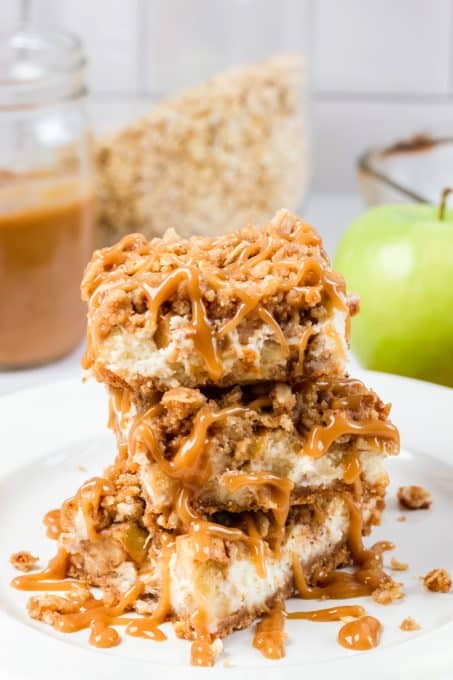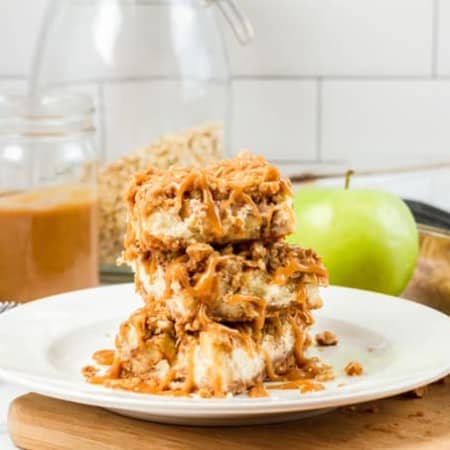 Caramel Apple Cheesecake Bars
These Caramel Apple Cheesecake Bars are a layer of cheesecake over a graham cracker crust covered with cinnamon-spiced apples, a streusel topping and drizzled with sweet caramel. The PERFECT dessert for Fall!
Ingredients
Crust
¾ cup graham cracker crumbs
¼ cup butter melted
2 tablespoons brown sugar
Cheesecake Filling
8 oz. cream cheese room temperature
⅓ cup sugar
1 egg
½ teaspoon pure vanilla extract
Apple Layer
1 Granny Smith apple
1 tablespoon brown sugar
½ teaspoon cinnamon
¼ teaspoon nutmeg
⅛ teaspoon cloves
Streusel Topping
¼ cup brown sugar
¼ cup flour
¼ cup oats
¼ teaspoon cinnamon
2 tablespoons butter melted
Caramel Drizzle
12 individually wrapped caramels
1 tablespoon heavy cream
OR salted caramel sundae topping
Instructions
Preheat oven to 350 degrees F. Prepare an 8 X 8-inch baking dish by spraying it with cooking spray.

In a small bowl, combine the ingredients for the crust: graham cracker crumbs, brown sugar, and melted butter, and mix well with a fork.

Place crust mixture into prepared baking dish, pressing down gently with your fingers.

In the bowl of an electric mixer, beat the cream cheese until soft and smooth, about 2 minutes.

Add the sugar, egg and vanilla and beat until smooth and thoroughly combined.

Pour over crust, spreading evenly.

In a medium bowl, combine ingredients for the apple layer: brown sugar, cinnamon, nutmeg and cloves. Mix well.

Peel, core and dice the apple into small pieces. Add to dry ingredients and toss to coat.

Distribute evenly over the cheesecake layer in the baking dish.

In another medium bowl, combine ingredients for streusel topping: brown sugar, flour, oats, cinnamon, and melted butter. Mix welll until a coarse meal is formed. Sprinkle evenly over apple layer.

Bake for 30-40 minutes until streusel is golden.

Transfer baking dish to a wire rack to cool to room temperature and then refrigerate for an hour or more to set.

For the caramel drizzle, in a microwavable bowl, melt the caramels on increments of 30 seconds, until smooth, stirring in between. Allow to cool slightly and stir in the heavy cream.

Drizzle with homemade caramel sauce or caramel sundae sauce topping before serving.
Nutrition
Serving: 1person | Calories: 347kcal | Carbohydrates: 41g | Protein: 4g | Fat: 19g | Saturated Fat: 11g | Polyunsaturated Fat: 1g | Monounsaturated Fat: 5g | Trans Fat: 1g | Cholesterol: 69mg | Sodium: 238mg | Potassium: 134mg | Fiber: 1g | Sugar: 31g | Vitamin A: 642IU | Vitamin C: 1mg | Calcium: 68mg | Iron: 1mg
Did you make this recipe?
Share it with me on Instagram and make sure to follow me on Pinterest for more recipes.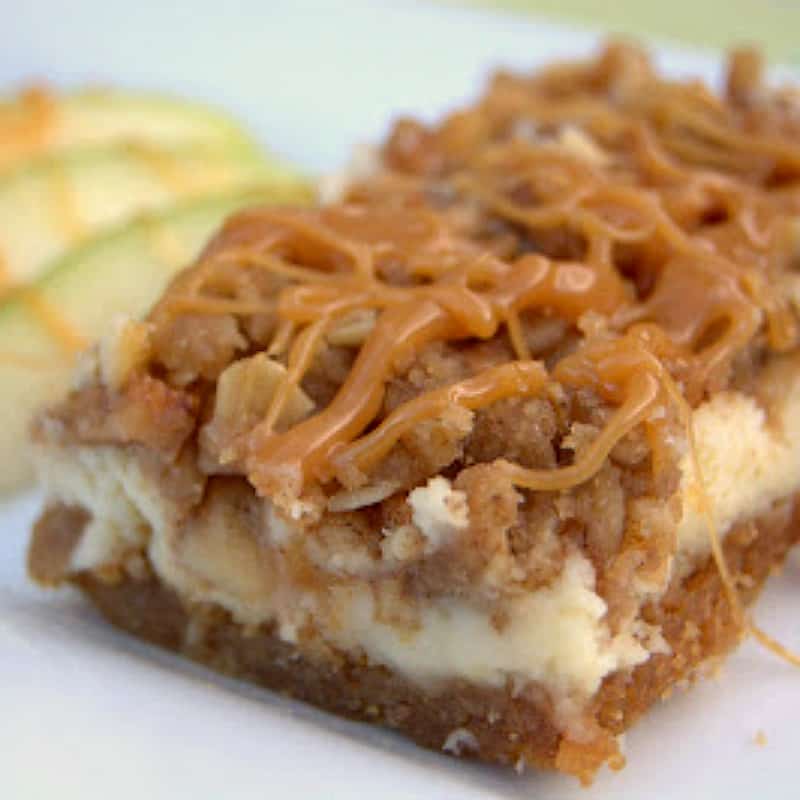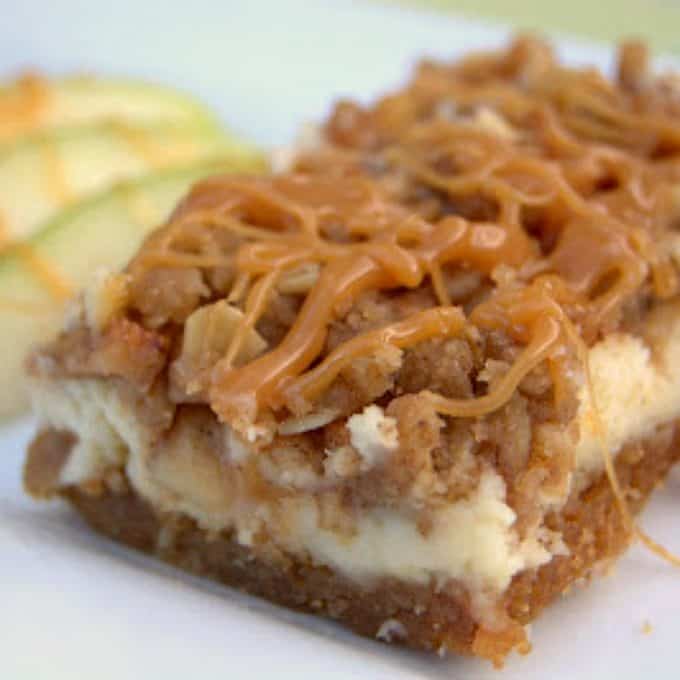 This post was updated on 8/15/16 and was updated again in format and with pictures on 11/3/21
Reader Interactions