Caramel Apple Cheesecake Bars

– cheesecake bars covered with cinnamon-spiced apples, a streusel topping and drizzled with sweet caramel. The PERFECT dessert for Fall!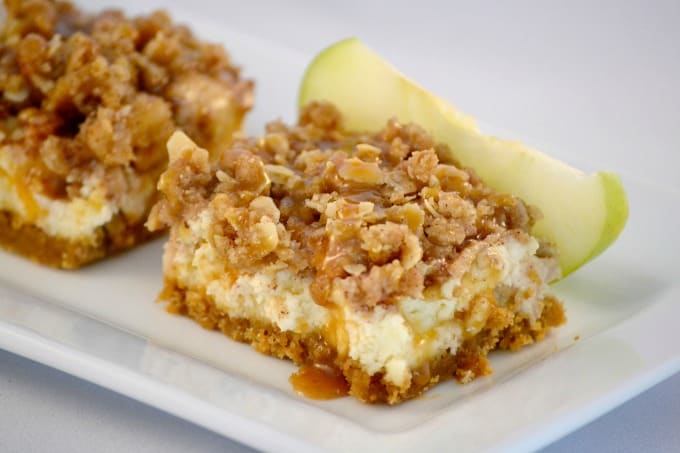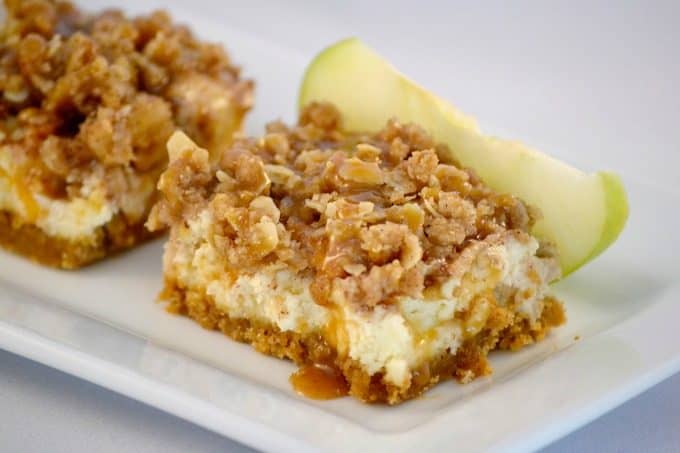 I know it's not Fall yet, but I've been wanting these bars.
Honestly, though, you can eat these bars all year long – they're THAT good! Which is why I'm republishing the post, too. 😉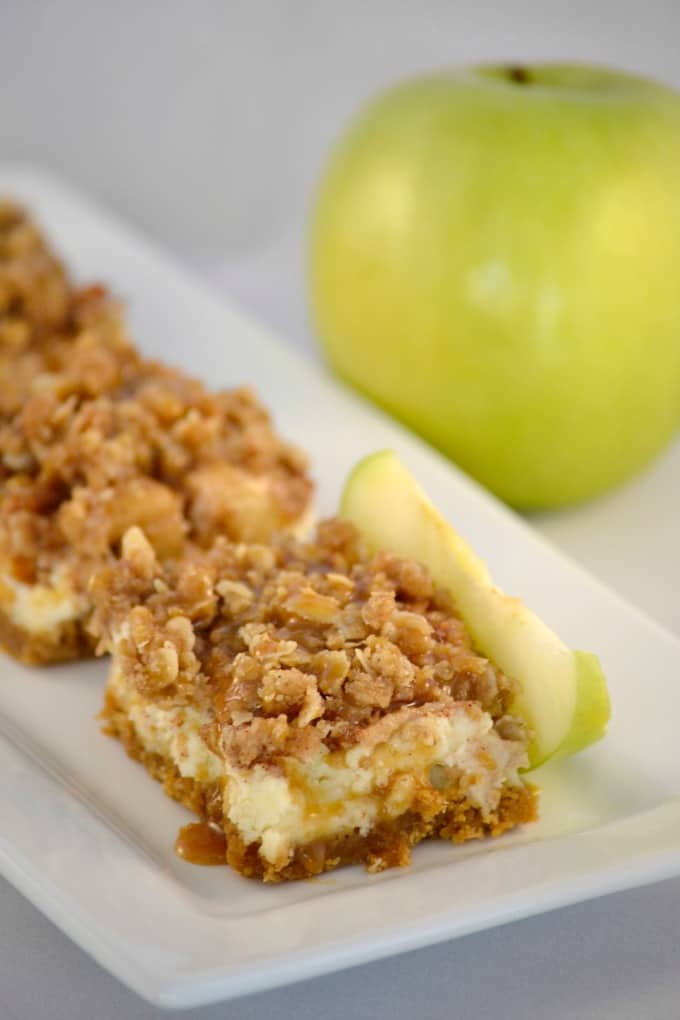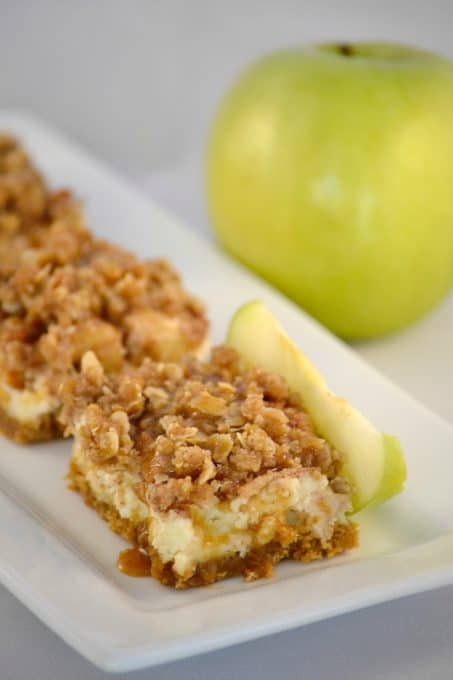 It's that time again!!! Time for our monthly Secret Recipe Club reveal!! So exciting!! The Secret Recipe Club was started by none other than Amanda of
Amanda's Cookin'
. And our wonderful hostess of group C is Angela of
Big Bear's Wife
.
The
Secret Recipe Club
is like Secret Santa. Each blogger is assigned another blog in their group and we then choose a recipe to make and share. It's awesome because we are able to make new friends and try wonderful new recipes! But the best part is that we are not supposed to tell the blogger that we are secretly stalking them until we share our recipes with everyone on reveal day.
It's so exciting!
We took the month of January off, which was probably a good thing so that we could all get back to a sense of normalcy from the holidays. And now the month of February is upon us with today being Group C's reveal.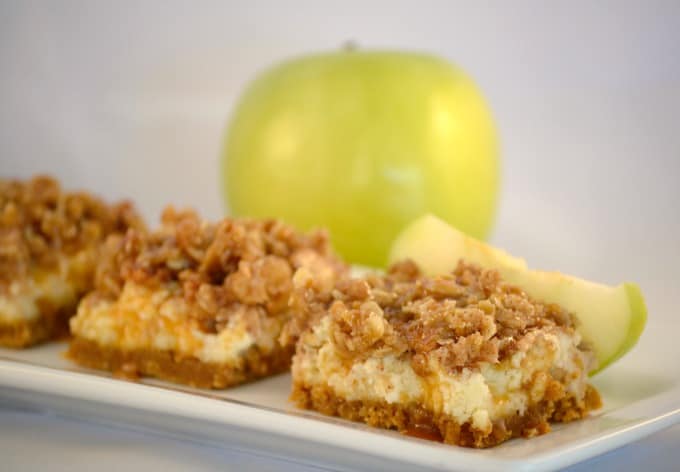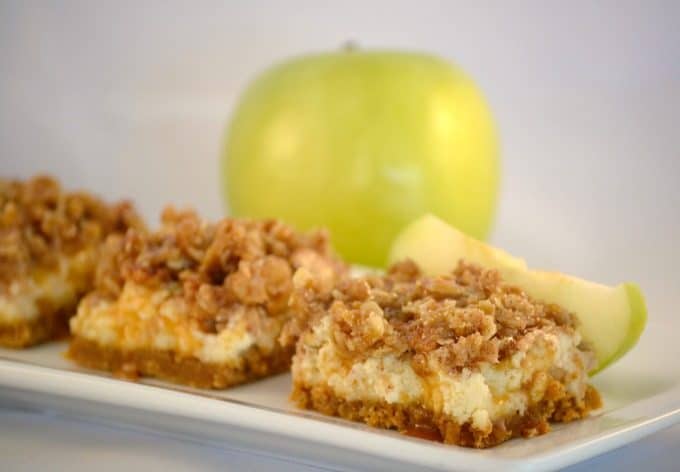 Drum roll, please as I present to you…Delicious Existence!!
This blog was started by Danielle, who is a Health Coach and Lifestyle Motivator. I really like what she says about our lifestyle and diet and I believe it to be very true,
"Ditch your diet. End your obsession with calories and fat grams. Don't count another carb. Throw away those lists of "bad" and "good" foods. Stop restricting and you will start living. Focus on increasing your consumption of real food (fruits, vegetables, quality grains, complete proteins) and water and you will naturally decrease the amount of low nutrient processed foods you might be eating."
I have done this in an effort to shed a few pounds before the 365 is over and I have to tell you that because I've been putting healthier foods into my body and have significantly cut back on the processed foods, I physically feel better and now when I do my stomach just doesn't feel right.
For instance, ice cream, I used to have a pretty good size bowl of it before, but now a couple of spoonfuls will satisfy me.
I NEVER thought THAT would happen!
One recipe that I found on Delicious Existence was for Caramel Apple Cheesecake Bars.
I am such a sucker for caramel apples and since after this recipe made me a lover of cheesecake, I couldn't pass this recipe up!
I did make some substitutions because hers is a vegan recipe, so go there if you're interested in that version.
They were graham cracker crumbs and flour for Namaste Biscuits, Pie Crust & More, granulated sugar for Turbinado sugar, butter for coconut oil, an egg instead of the egg replacer, and cinnamon, nutmeg, and cloves in place of the apple pie spice.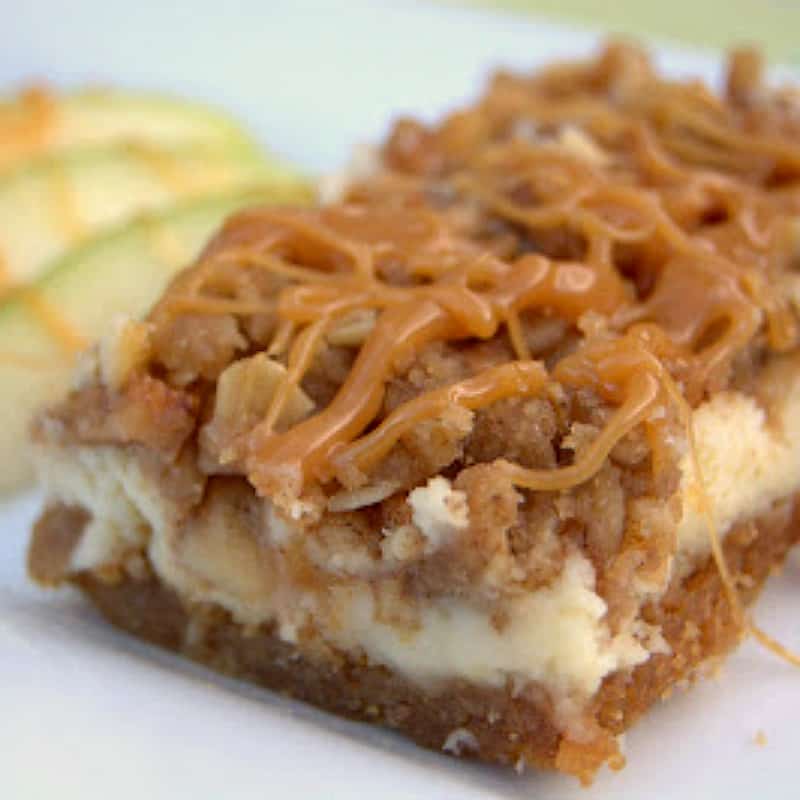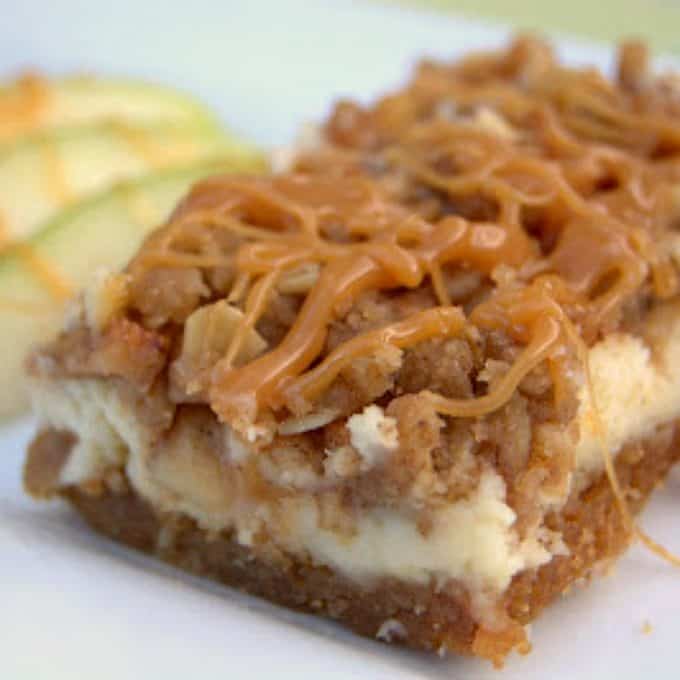 Use these items to make your own Caramel Apple Cheesecake Bars – this baking dish, glass mixing bowls, and this offset spatula.
Caramel Apple Cheesecake Bars
These Caramel Apple Cheesecake Bars are a layer of cheesecake over a graham cracker crust covered with cinnamon-spiced apples, a streusel topping and drizzled with sweet caramel. The PERFECT dessert for Fall!
Ingredients
Crust
3/4

cup

graham cracker crumbs

1/4

cup

butter

melted

2

tablespoons

brown sugar
Cheesecake Filling
1 8

oz.

package cream cheese

softened

1/3

cup

sugar

1

egg

1/2

teaspoon

vanilla
Apple Layer
1

Granny Smith apple

1

tablespoon

brown sugar

1/2

teaspoon

cinnamon

1/4

teaspoon

nutmeg

1/8

teaspoon

cloves
Streusel Topping
1/4

cup

brown sugar

1/4

cup

flour

1/4

cup

oats

1/4

teaspoon

cinnamon

2

tablespoons

butter

melted
Caramel Drizzle
12

individually wrapped caramels

1

tablespoon

heavy cream

OR salted caramel sundae topping
Instructions
Preheat oven to 350 degrees F. Prepare an 8 X 8-inch baking dish by spraying it with cooking spray.

In a small bowl, combine the ingredients for the crust: graham cracker crumbs, brown sugar, and melted butter, and mix well with a fork.

Place crust mixture into prepared baking dish, pressing down gently with your fingers.

In the bowl of an electric mixer, beat the cream cheese until soft and smooth, about 2 minutes.

Add the sugar, egg and vanilla and beat until smooth and thoroughly combined.

Pour over crust, spreading evenly.

In a medium bowl, combine ingredients for the apple layer: brown sugar, cinnamon, nutmeg and cloves. Mix well.

Peel, core and dice the apple into small pieces. Add to dry ingredients and toss to coat.

Distribute evenly over the cheesecake layer in the baking dish.

In another medium bowl, combine ingredients for streusel topping: brown sugar, flour, oats, cinnamon, and melted butter. Mix welll until a coarse meal is formed. Sprinkle evenly over apple layer.

Bake for 30-40 minutes until streusel is golden.

Transfer baking dish to a wire rack to cool to room temperature and then refrigerate for an hour or more to set.

For the caramel drizzle, in a microwavable bowl, melt the caramels on increments of 30 seconds, until smooth, stirring in between. Allow to cool slightly and stir in the heavy cream.

Drizzle with homemade caramel sauce or caramel sundae sauce topping before serving.
*In the original post, I put the caramel sauce on before putting them into the refrigerator to set – BAD idea. The caramel hardened (of course!) and when I went to cut the bars I made a mess of them because the caramel was difficult to cut through, so I highly suggest you put it on right before serving.*
I rate everything I bake on a scale of 1-4 with 4 being the best and these Caramel Apple Cheesecake Bars earned 3 1/2 rolling pins. These were the best of caramel apples, apple crisp and cheesecake combined.
YEE HA!
I had actually doubled the caramel sauce and realized I hadn't needed so much, but it was quite delicious drizzled over the apple slices, too. I'll definitely be making these again. Our eldest daughter who is home from college for a few days just saw my post and is completely bummed she didn't have any.
If you like these Caramel Apple Cheesecake Bars, you'll enjoy…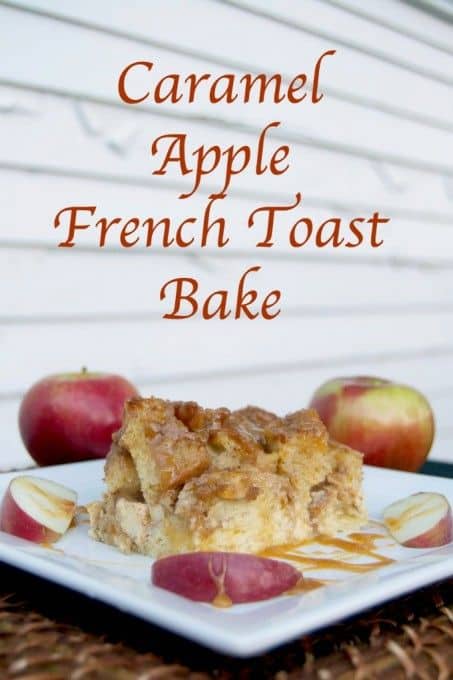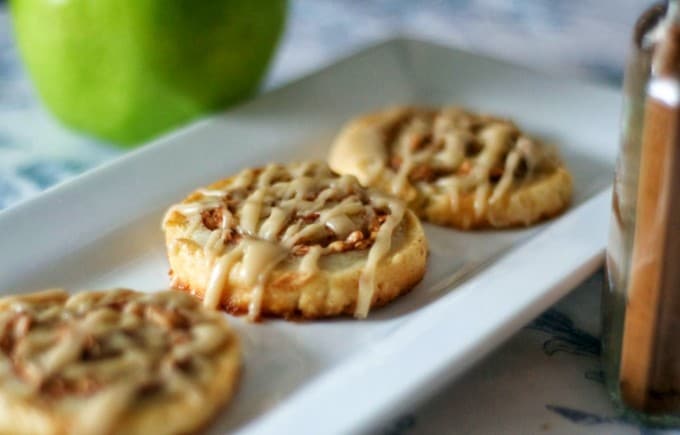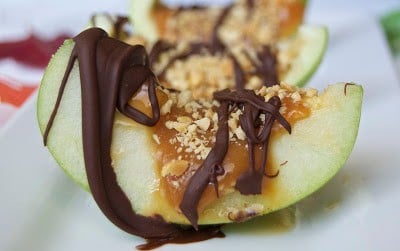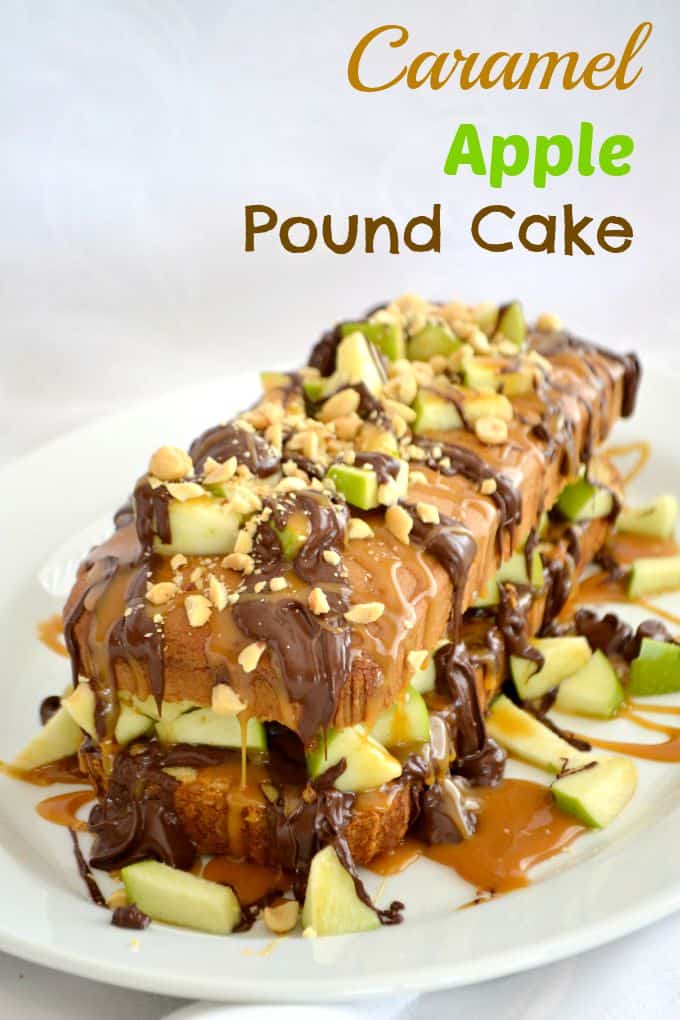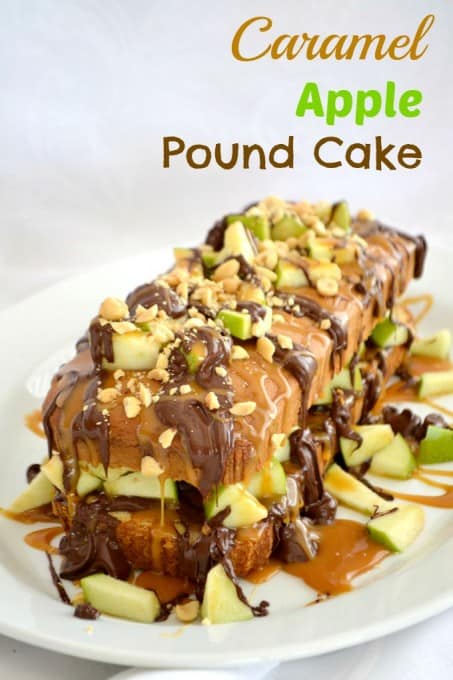 Take a look at these videos for some great recipes with caramel…