Inside Out Caramel Apple Slices – the great taste of a caramel apple, chocolate, and nuts, but easier to eat when in slices, so they're perfect for little hands. They're a tasty treat for Fall, but can definitely be enjoyed any time of year!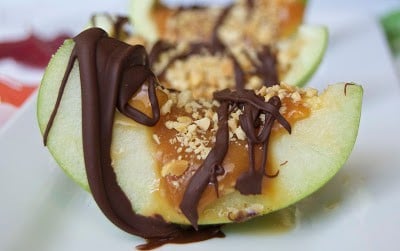 So if you can't wrap your mouth around a honkin' huge caramel apple as in my previous post, here's the solution – make Inside Out Caramel Apples.

They're easy, great for kids, and…they're as yummy as the big ones. And if you eat a couple of slices, you won't feel guilty as with the bigger apples. The only thing is, make sure the inside of the apple is dry, otherwise, you're going to have caramel oozing out of the apple all over your cookie tray.
Ask me how I know. Yeah, makes for a kinda messy thing in your fridge and not really easy to eat.
Actually, not edible at all really cause there's no caramel left on the apple and the nuts have slithered all over the tray because they were on the caramel express. Not fun.
SAVE THESE APPLE SLICES TO YOUR FAVORITE PINTEREST BOARD!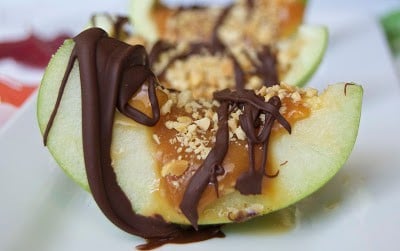 Jackie notes in her post at Domestic Fits that if you buy a caramel sauce, "make sure it is really firm at room temperature." And, when melting the caramels, she says to put 2 tablespoons of corn syrup in it which I didn't do. This would probably harden it a bit more, but I found if I let the apples sit in the fridge for longer than 30 minutes, the caramel didn't run.
She also has a caramel recipe from scratch that she used instead of the store bought wrapped caramels I used.
Disclaimer – I'm not responsible for your runny caramel. It worked for me, not completely because I know I didn't totally dry some halves, but the ones I did, the caramel set quite nicely.
Just don't come and throw your apples at my house if it doesn't work. Like that dessert I made the other night that I burned and completely filled my kitchen with smoke, try, try again.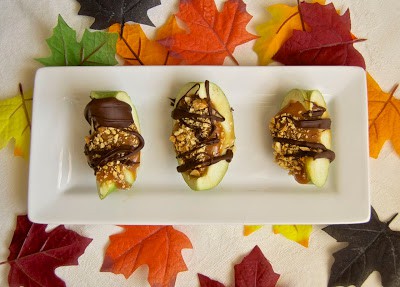 SIGN UP FOR THE WEEKLY 365 DAYS OF BAKING & MORE
NEWSLETTER BELOW!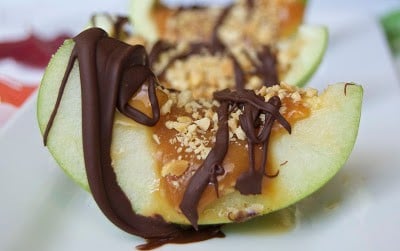 Inside Out Caramel Apples
Make sure the apple halves are as dry as possible, otherwise the caramel will be running amuck once you cut the apple.Believe me.
Ingredients
3 large Granny Smith Apples
1 large lemon
¾ cup caramel sauce I used the leftover caramel from the Bad Butt Caramel Apples and kept it warmed
½ cup semi-sweet chocolate chips melted
⅓ cup chopped peanuts
Instructions
Prepare a rimmed baking sheet by lining it with parchment paper.

Slice apples in half.

With a melon baller, remove the core, seeds and some of the apple to hollow it out enough to hold the caramel, leaving the skin and about 1/4-1/2 and inch of apple.

Squeeze the juice of the lemon onto each of the apple halves. Allow to set for about 5 minutes.

Using a paper towel dry the inside of the apples, removing any lemon juice.

Fill each apple half with caramel just below the rim.

Sprinkle with chopped peanuts, if desired.

Place onto prepared baking sheet and refrigerate for at least 30 minutes, until caramel is well set.

Remove from fridge, cut with a sharp knife and drizzle with melted chocolate.
Did you make this recipe?
Share it with me on Instagram and make sure to follow me on Pinterest for more recipes.
I rate everything I make on a scale of 1-4 and these Inside Out Caramel Apples earned 4 rolling pins. Yeah, they're yummy, and if the apples are dry enough and the caramel doesn't run, it totally works.
See the apple in the back? Yeah, that's what happens if your caramel isn't set or the apple isn't dry when you put the caramel in. It's not easy to eat when it's runny either. You'll have it all over your chin.
Like, totally.
Fer sure. You can do this. I know you can. Learn from me and my mistakes.
If you like these Inside Out Caramel Apple Slices then you'll enjoy…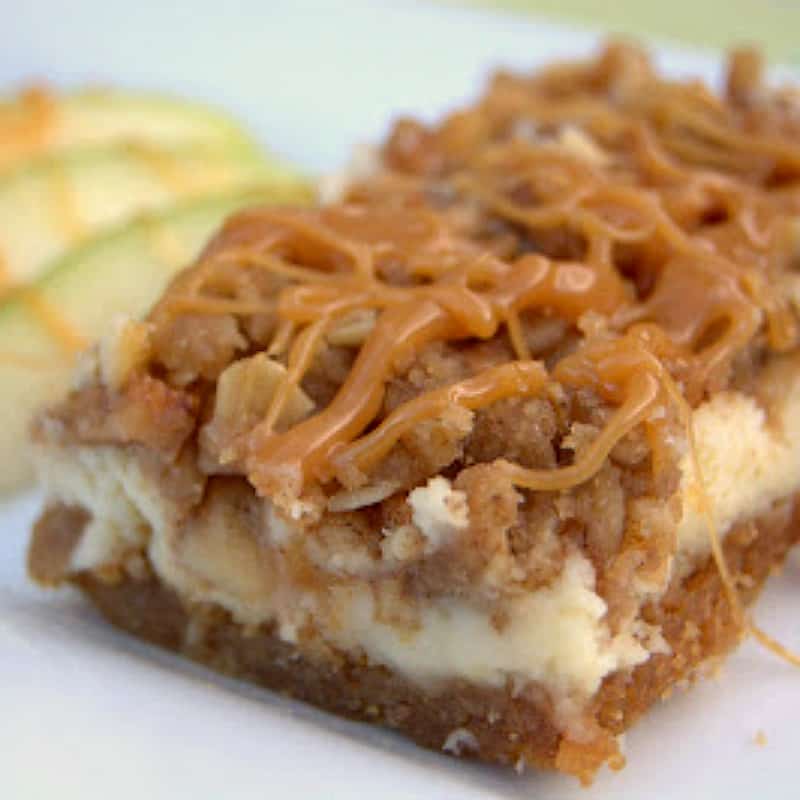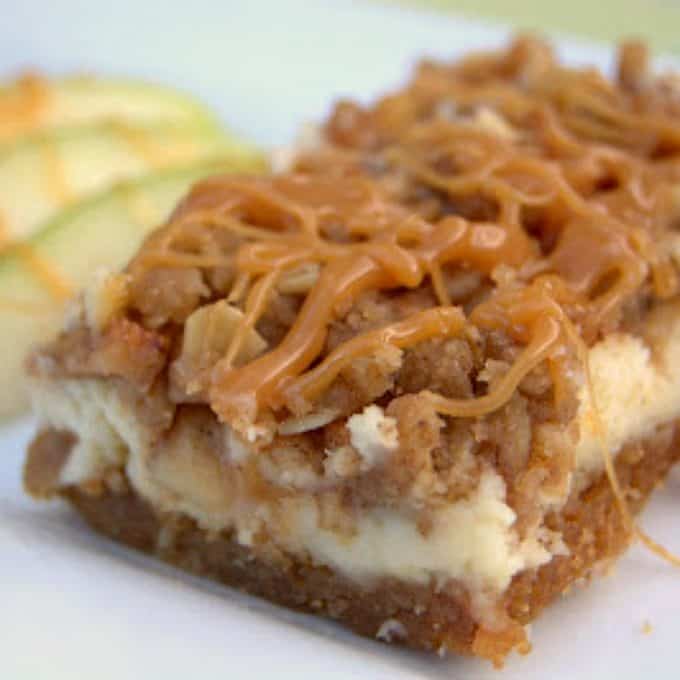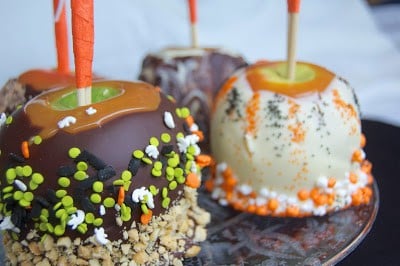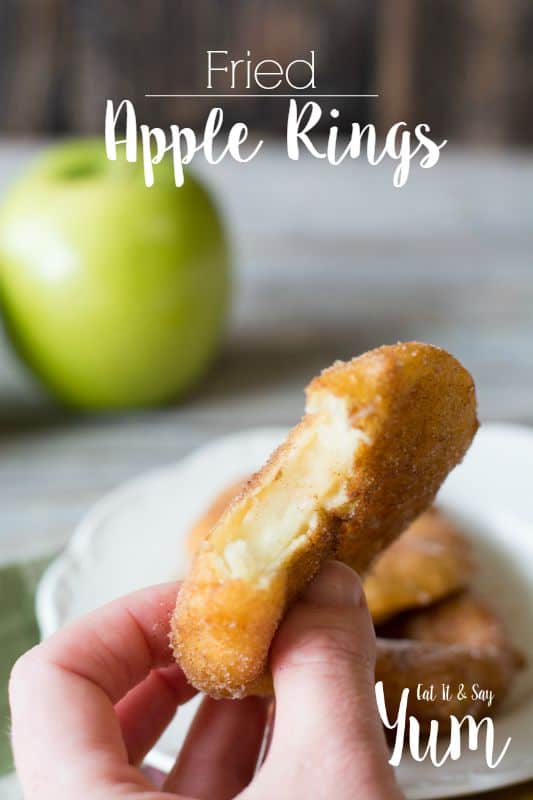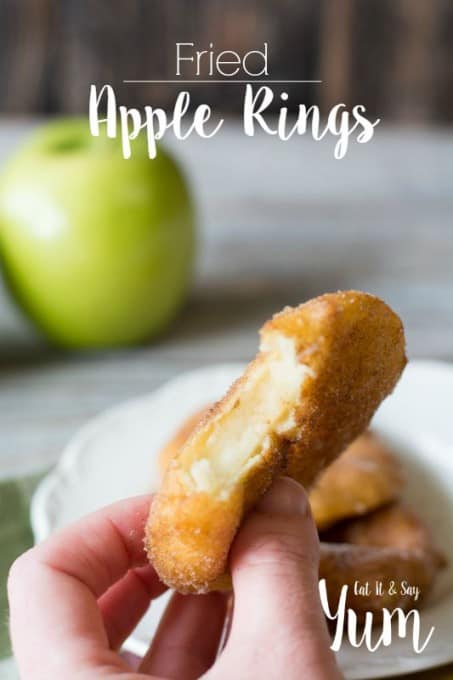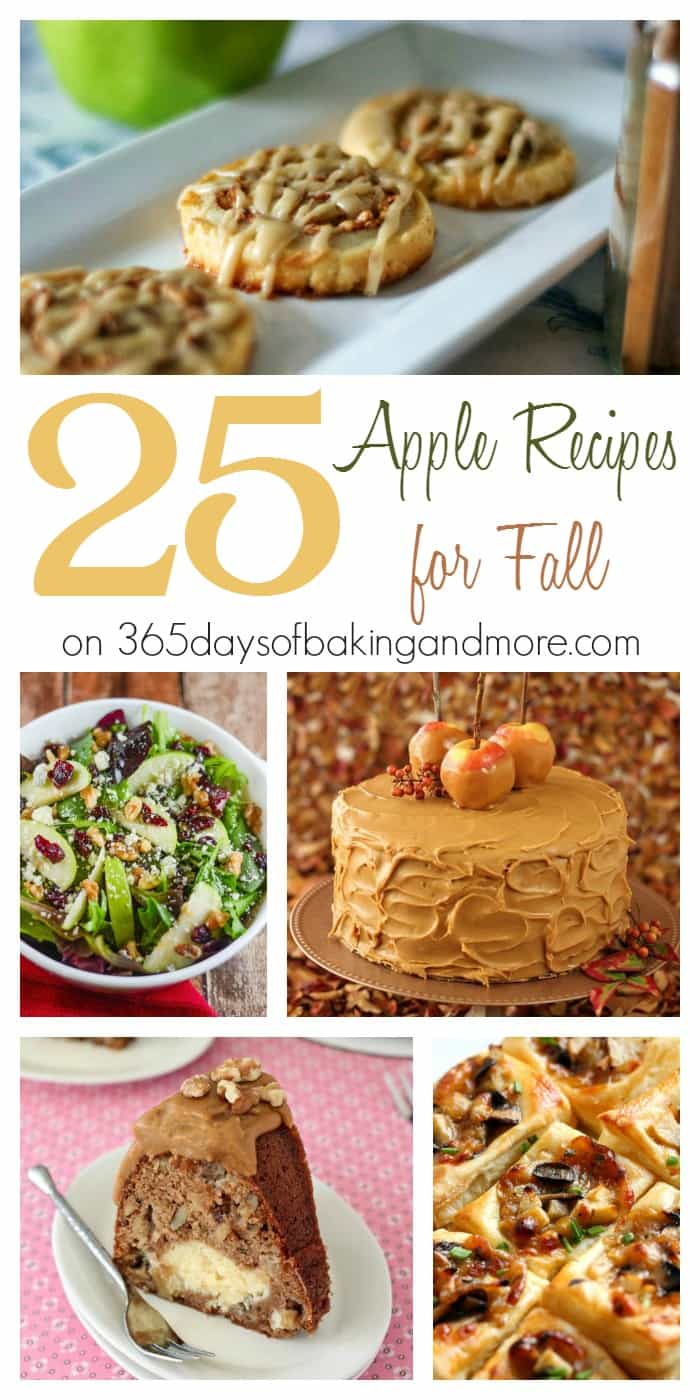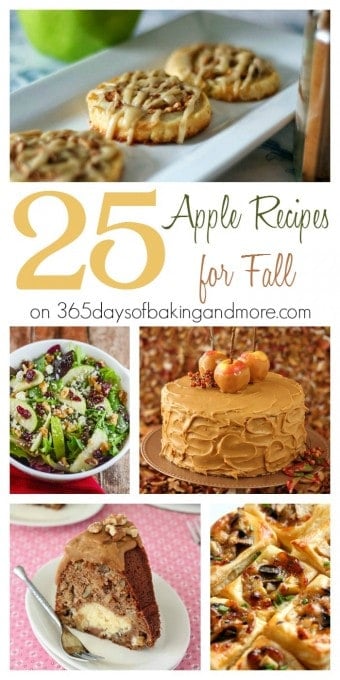 I linked this up to Foodie Friends Friday at one of the host blogs, A'lil Country Sugar.
Take a look at these great videos to make the perfect caramel for all of your dessert recipes…

Reader Interactions