These Cheesy Mashed Potatoes are the BEST potato side dish! Cream cheese, and Colby/Jack cheese along with plenty of butter make them extra creamy, with delicious cheesy garlic flavor in every bite.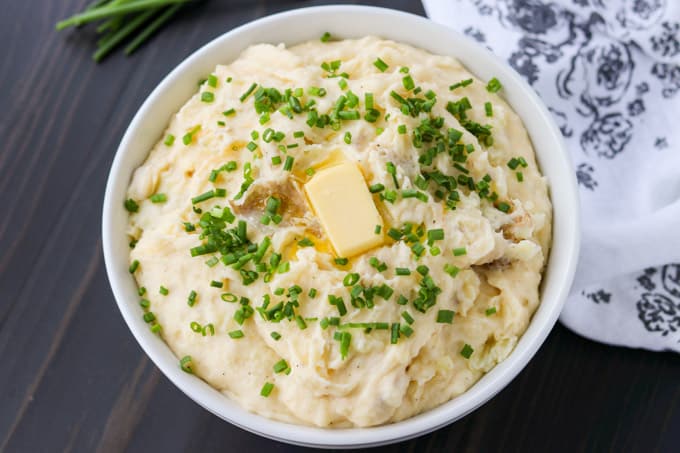 Why serve ordinary spuds this year when you can whip up these fluffy, cheesy mashed potatoes in no time?
No turkey dinner is complete without a big helping of mashed potatoes. I've made all kinds of variations on this classic Thanksgiving side dish over the years and, let me tell you, not all mashed potato recipes are created equal.
Done right, mashed potatoes should be rich and creamy without tasting greasy or watery. You want light and fluffy potatoes on your dinner plate, not a grainy pile of mush OR potatoes that are gluey.
This Easy Mashed Potato recipe walks you through how to make the best ever cheesy potatoes for your holiday meal–or any occasion!
SAVE THIS EASY MASHED POTATOES RECIPE TO YOUR FAVORITE PINTEREST BOARD!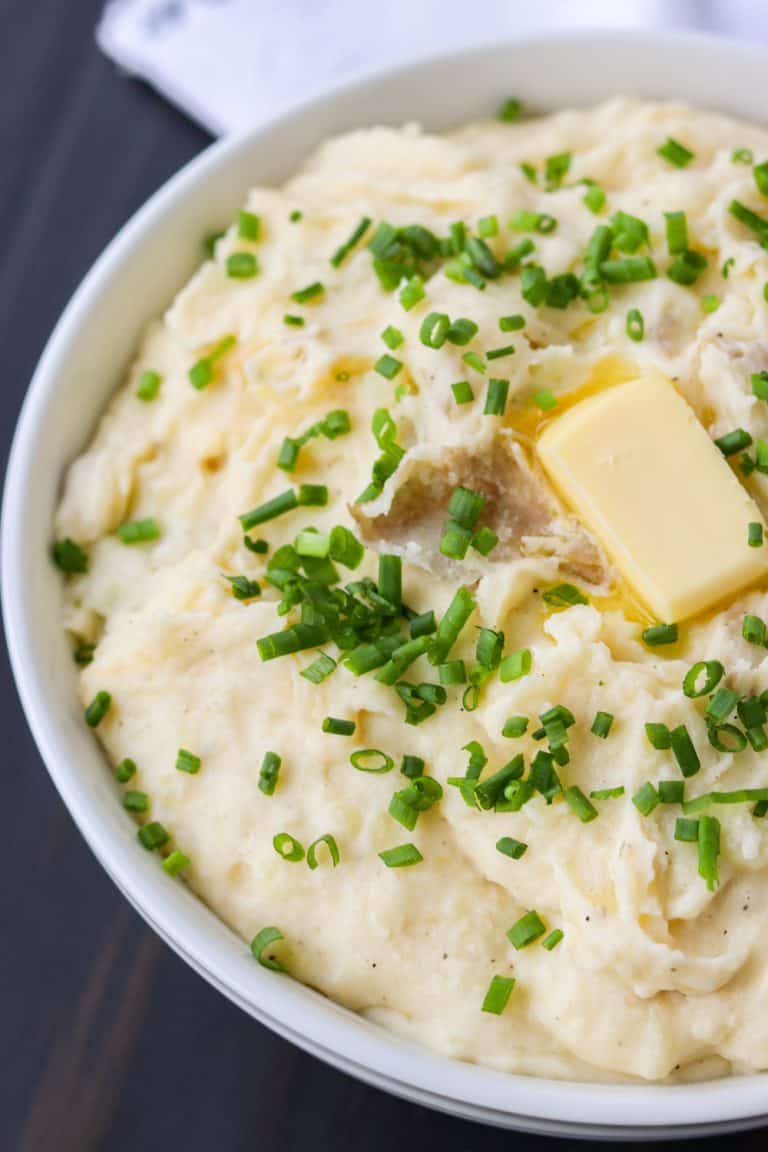 How to make the best mashed potatoes?
Here's what you need to make perfect cheesy mashed potatoes every time.
russet potatoes
Yukon gold potatoes
butter
cream cheese
shredded Colby / jack cheese
milk
garlic
kosher salt
pepper
chives
Before making the mashed potatoes, Cut your butter into cubes, and let it soften to room temperature.
Also, shred the Colby / Jack cheese using a block of cheese and a grater. It will melt better than the pre-shredded cheese you buy in the package.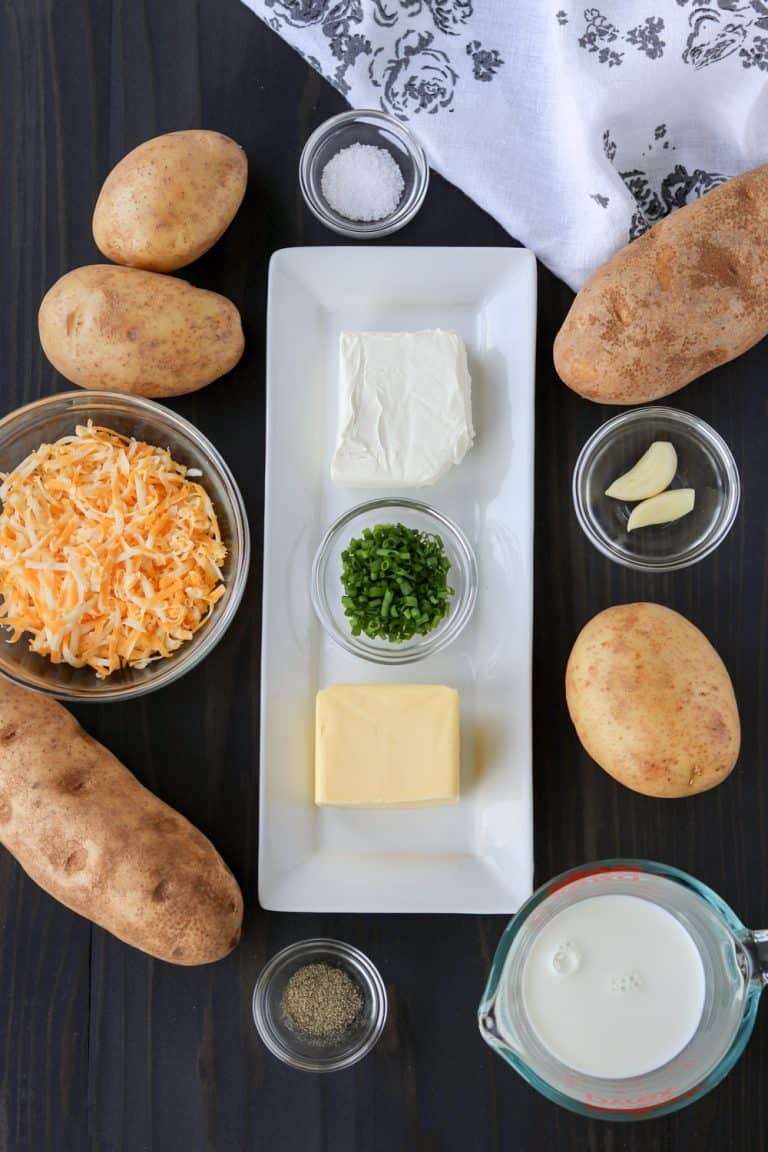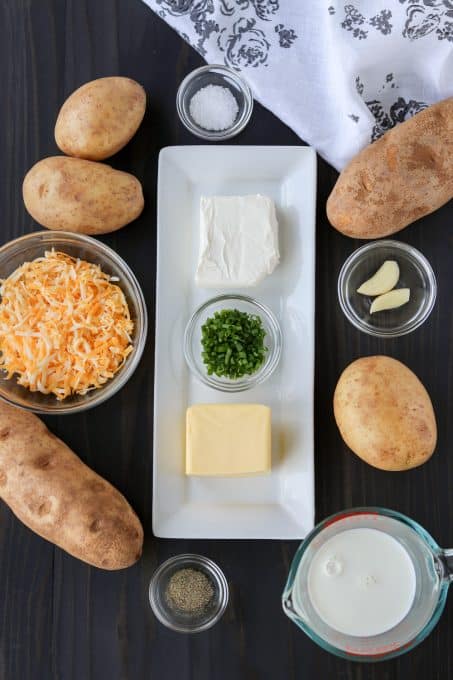 STEP 1. Peel and cut potatoes
Scrub all the potatoes well to remove excess dirt. Peel the Russet potatoes and chop into 2 inch chunks. Chop the Yukon golds with the skin still on.
STEP 2. Boil
Place the potatoes in a large pot. Add water to the pot. There should be enough water to cover the potatoes at least one inch.
Bring the pot to a boil. Once boiling, let the potatoes cook until fork tender and pretty soft. This takes anywhere from 15 to 20 minutes.
STEP 3. Mash
Drain the potatoes. Return them to the pot and mash them with a ricer, handheld potato masher or hand mixer.
Add the cream cheese, warmed milk, butter and shredded cheese. Sprinkle in the minced garlic salt and pepper. Now, use the masher or a large spoon to mix everything together until well combined.
STEP 4. Garnish and serve
Scoop mashed potatoes into bowls (or on plates). Garnish with chopped fresh chives and serve hot!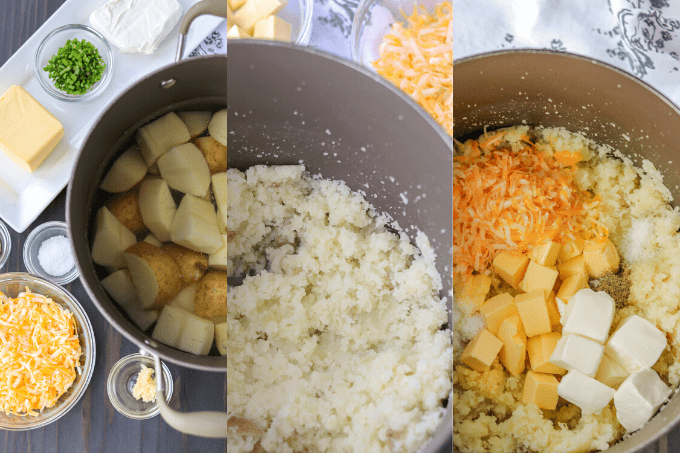 Can I boil the water before adding potatoes?
Whatever you do, do NOT add raw potatoes to boiling water.
The sudden immersion of the potatoes in hot water causes the outside to cook quickly, leaving the insides underdone. This inconsistency gives finished mashed potatoes an unappealing texture.
Instead, make sure to always add the potatoes to the water before bringing it to a boil.
How long to boil water for mashed potatoes?
The amount of time you need to boil your potatoes depends on several factors, including how many potatoes you are cooking and how small you chop them.
For mashing potatoes, you should boil them until they're tender enough to easily pierce with a fork. They shouldn't be so soft that they're falling apart, so check on the potatoes frequently as they cook.
The 3 pounds of potatoes needed for this will cook through in about 15 – 20 minutes at medium-high heat.
Can these be made ahead of time?
Cheesy Mashed Potatoes are best served right away. If you make them too far in advance they can become sticky and lose their amazing velvety consistency.
While these aren't the best make-ahead dish, you CAN do a few steps in advance to make life easier.
Wash, peel and chop the spuds as much as a day ahead of time. Place them in a sealed container covered with water and store in the fridge. When ready to cook, just drain and add to the recipe as directed.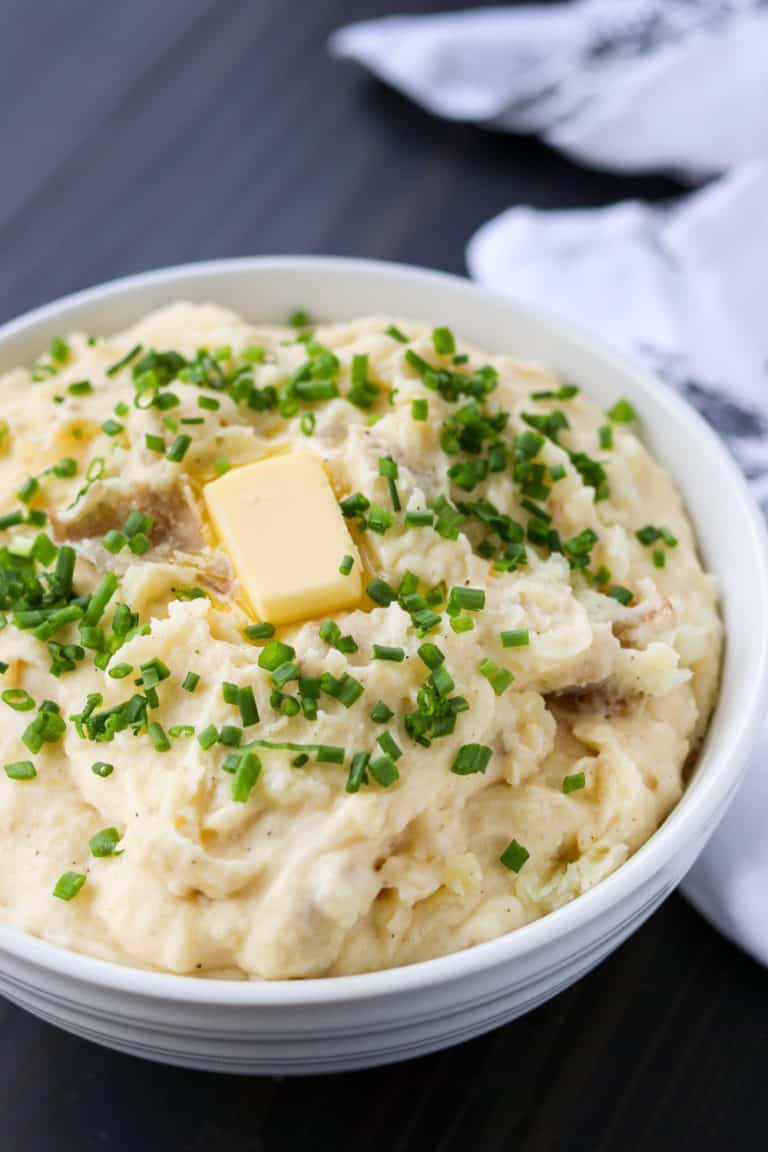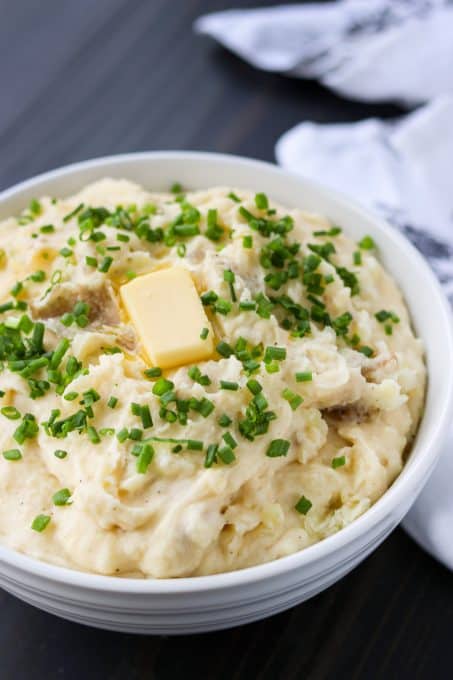 More Tips and Tricks
Warm your milk first. Adding ice cold milk to hot potatoes causes them to seize up. Avoid this common mistake by warming your milk in the microwave for 30 seconds, or until it's the temperature of a tepid bath.
Save some potato water. Potatoes release their natural starch into the water as they cook. To help thicken and soften sticky potatoes, add a tablespoon or two of reserved cooking water to the pot as you mash them.
Best cheeses for mashed potatoes. I use a block of Colby Jack cheese in this easy potato recipe, and shred it myself. That said, it's delicious with shredded cheddar or Monterey Jack cheeses too.
Potato Recipes
Do you have a smoker? Then you most definitely have to put this Smoked Potatoes Recipe on your menu! Full of flavor, you'll have a beautifully crisp skin on the outside with a moist and fluffy inside!

Looking for a mashed potato recipe without cheese? Try my recipe for Vanilla Mashed Potatoes. You have to taste them to understand how amazing they are!
If it's roasted taters you're after, bookmark this Easy Roasted Smashed Potatoes too because it's THE most popular potato recipe on my site. Covered with cheese, they're a family favorite that we never tire of making (and eating!).
Sweet Potato lovers rave over these Maple Roasted Sweet Potatoes and these Molasses Glazed Sweet Potatoes. We love them so much we make them all year long!
Twice Baked Potatoes with all the fixings are roasted potatoes and mashed potatoes all in one. Extra cheese on mine, please.
Side Dish Recipes
If you can put down the fork of fluffy mashed potatoes long enough, don't miss these other spectacular side dish recipes. Impressive enough for a special occasion but easy enough for any meal!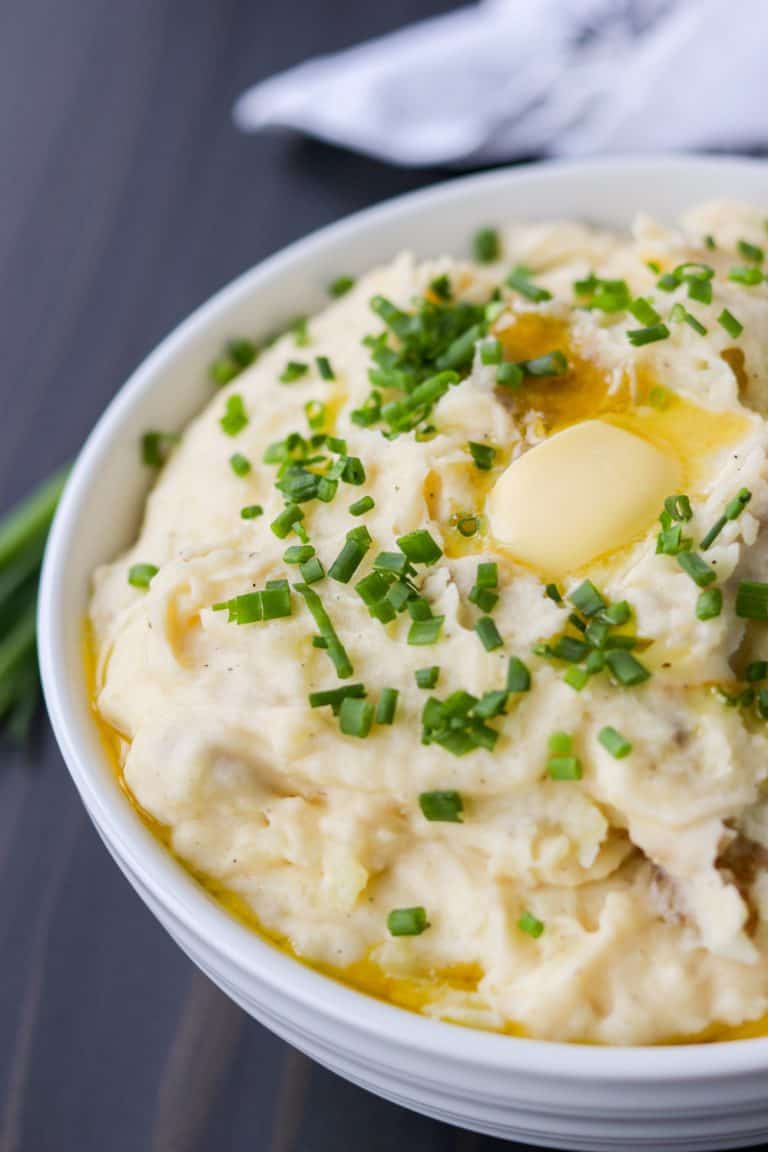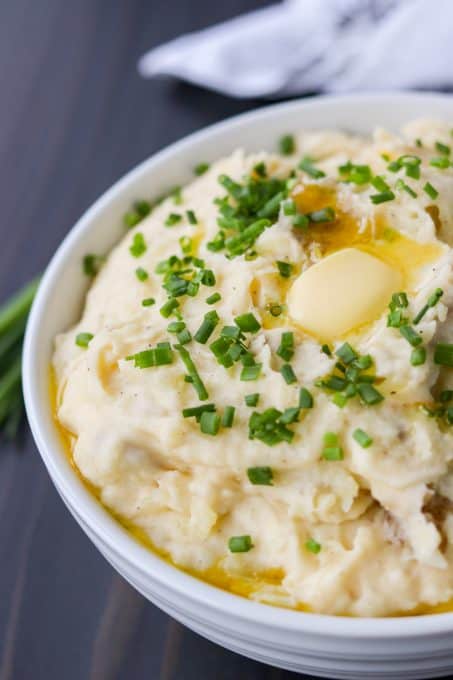 Make sure your Thanksgiving turkey is ready to share the spotlight. Easy Cheesy Mashed Potatoes will steal the show at your next holiday meal!
~ FOLLOW ME ~
Keep an eye out for more of my easy recipes each week!
These Cheesy Mashed Potatoes are the BEST potato side dish! Cream cheese, and Colby/Jack cheese along with plenty of butter make them extra creamy, with delicious cheesy garlic flavor in every bite.
Equipment
Large pot

potato masher, potato ricer, or hand-held mixer
Ingredients
3 lbs. Russet and Yukon Gold Potatoes
10 tablespoons butter room temperature and cut into small cubes
4 ounces cream cheese room temperature and cut into small cubes
1 cup freshly shredded Colby/Jack cheese
½ cup milk
2 cloves garlic minced
1 teaspoon kosher salt plus more to taste
½ teaspoon pepper plus more to taste
1 tablespoon freshly chopped chives
Instructions
Peel the Russet potatoes, but leave the skin on the Yukon Gold. Cut the potatoes into 2-inch slices/cubes and place into large pot. Fill the pot with water to at least an inch above the potatoes.

Bring to boil over medium-high heat and cook for 15-20 minutes until potatoes are very soft, but not completely falling apart.

Drain and return to pot. Mash with a potato masher, ricer or hand mixer.

Add the butter, cream cheese, Colby/Jack cheese, milk, garlic, salt and pepper. Mix thoroughly.

Place into serving dish and garnish with chives.
Nutrition
Serving: 1person | Calories: 512kcal | Carbohydrates: 44g | Protein: 12g | Fat: 33g | Saturated Fat: 21g | Polyunsaturated Fat: 1g | Monounsaturated Fat: 9g | Trans Fat: 1g | Cholesterol: 94mg | Sodium: 768mg | Potassium: 1040mg | Fiber: 3g | Sugar: 3g | Vitamin A: 1114IU | Vitamin C: 14mg | Calcium: 231mg | Iron: 2mg
Did you make this recipe?
Share it with me on Instagram and make sure to follow me on Pinterest for more recipes.
Reader Interactions