Twice Baked Potatoes – potatoes baked then mixed with cream cheese, Greek yogurt, cheese, butter and of course, bacon and baked again! They could almost be a meal in themselves.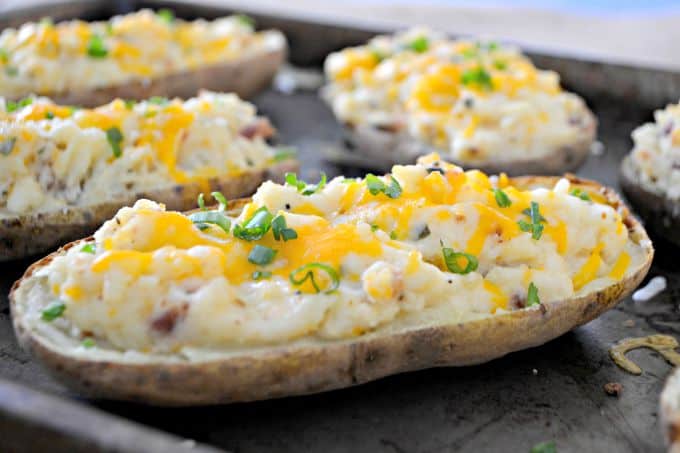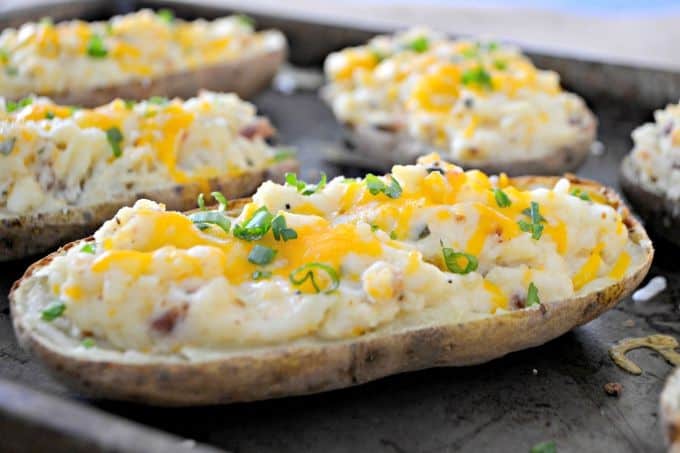 Anyone watch tennis last night?

I'm not a tennis player and have hardly ever played. We don't typically watch it, but I think now I'm hooked. It all started when we watched that awesome men's match the other night between Nadal and Fognini. That was spectacular and it made me want to start playing.
So, after that, we've watched a couple of matches here and there. I watched Cilic and Tsonga yesterday and that was pretty good towards the end, but last night's match with the sisters, man! That was so exciting!
As a mother with two daughters, I can't imagine how their mother was feeling. Chris Evert remarked before it started that Oracene Price said she'd probably go shopping as she didn't know which box she'd sit in to watch it. It's probably much more difficult for the family than the girls.
Overall, I thought it was a great match and a lot of fun to watch. I'm excited now to watch the semis and finals!
SAVE THIS BAKED POTATO RECIPE TO YOUR FAVORITE PINTEREST BOARD!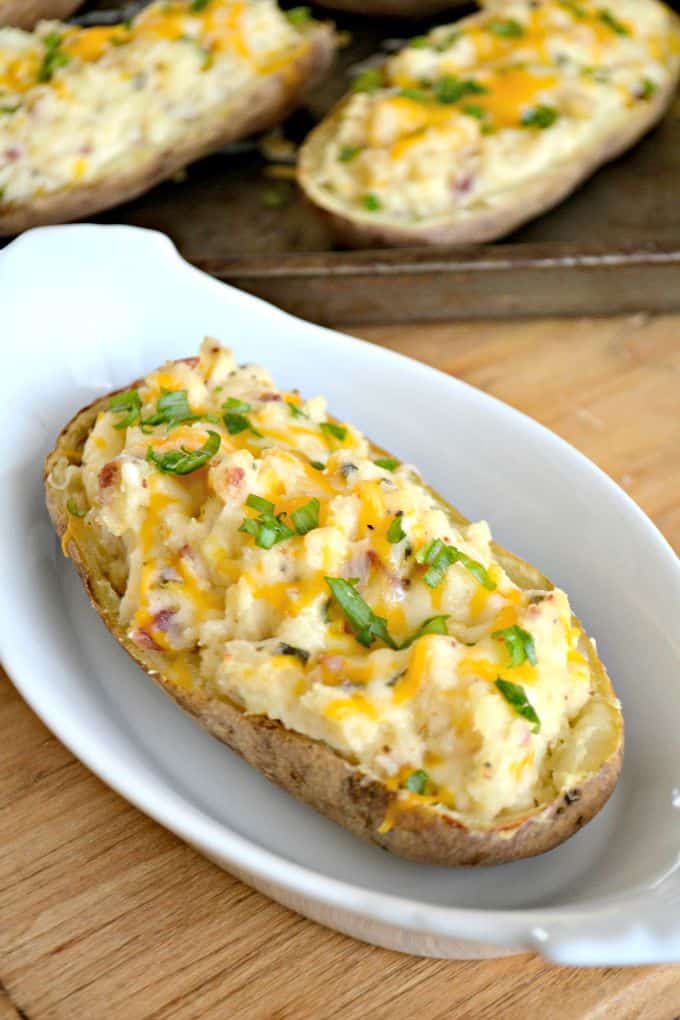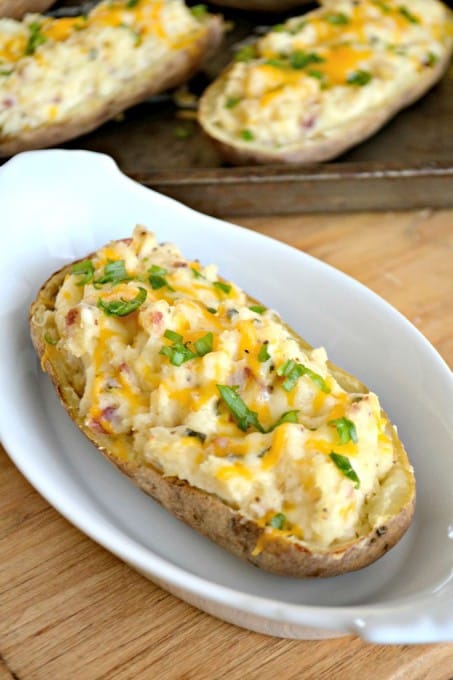 Then we're on to FOOTBALL!!!! Woo Hoo!!
While we're waiting for the games to begin, let's have potatoes! They're hearty and will almost stick to your ribs. They'll be great with a steak, chicken dinner or even on your Thanksgiving table for those who want to try something other than the mashed version.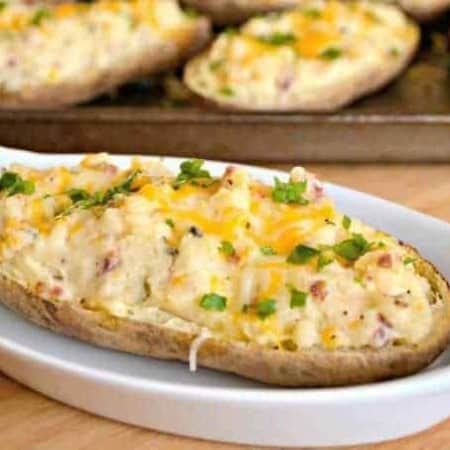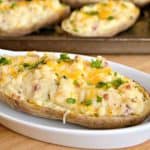 Twice Baked Potatoes
These Twice Baked Potatoes are baked then mixed with cream cheese, Greek yogurt, Old Bay Seasoning and bacon. They'll complement your meat dish very well!
Ingredients
4

Russett potatoes

8

tablespoons

salted butter

cut into tablespoons and room temperature

1

cup

shredded cheddar / Monterey Jack cheese

divided

1/2

cup

chive and onion cream cheese

1/2

cup

plain nonfat Greek yogurt

1

teaspoon

Old Bay seasoning

1/4

teaspoon

black pepper

4

pieces

bacon

cooked and chopped

2

green onions

chopped
Instructions
Preheat oven to 400 degrees F.

Wash and dry the potatoes.

Prick each potato generously all over with a fork. We don't want those puppies exploding in the oven. They need to breathe - it's hot in there!

Place on a baking sheet and bake for 1 hour and 15 minutes, or until a fork is easily inserted into them.

Reduce heat to 350 degrees F. and remove sheet from oven and allow to cool slightly.

In a large bowl, place the pieces of butter, 1/2 cup of the cheese, cream cheese, yogurt, Old Bay seasoning, pepper and bacon.

Using a serrated knife and holding the potato with an oven mitt (as it may still be a...HOT potato!), Slice the potato in half lengthwise.

With a spoon, scoop out each half of the potato into the mixing bowl, leaving just enough on the inside to support the skin and being careful to not make holes.

Place the 8 halves onto the baking sheet.

With a potato masher (or you can use a mixer), mix all the ingredients together until they're well incorporated.

Evenly divide the mixture between the 8 potato halves.

Place into the 350 degree F. oven to bake for 10 minutes or until heated through.

Sprinkle with remaining 1/2 cup of cheese and bake for an additional 5 minutes.

Garnish with green onions.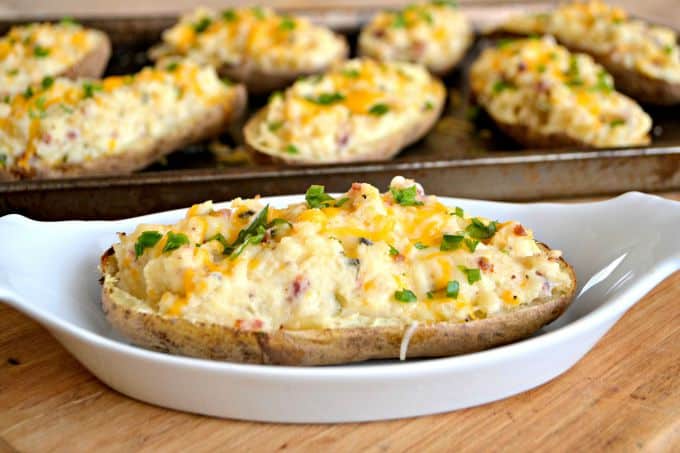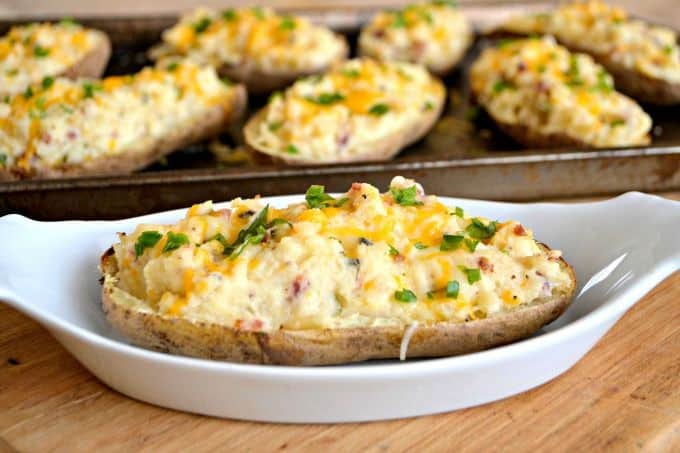 We love baked potatoes and now we love twice baked even more! For some reason, I just don't make them enough. That's about to change.
With so many ways to have potatoes, here are a few that'll do the trick…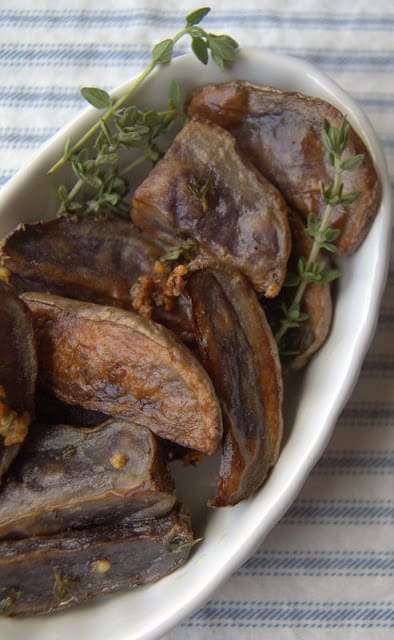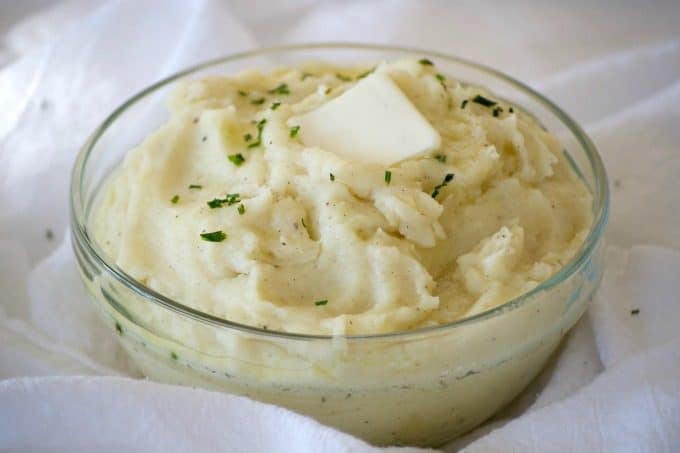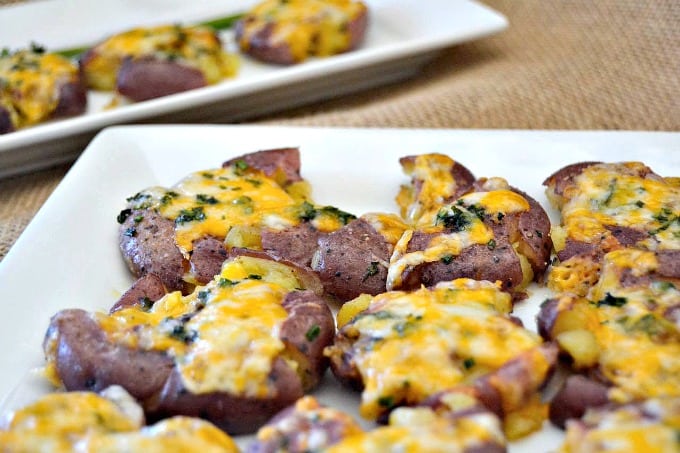 They really are easy, just a tad time consuming because they have to bake for about an hour and a half total, but it's well worth the wait! If you're looking for a healthier version, try these from Yummy Healthy Easy!