Let this seasoned, roasted potatoes side dish help you complete a dinner meal. With these blue potatoes, you'll find how easy it is to make and savor in its uniqueness.
Have a full meal with these blue potatoes coated with fresh thyme, and the good 'ole salt and pepper.
I never heard of blue potatoes until recently, and I'm glad I found them! And with thyme being in the dish, or should I add FRESH thyme. You can't go wrong with this. Potatoes are like the MVP of food. You can make so much out of them and you don't need to do all that much. So, I'm taking full advantage of it when I buy them in bulk. Maybe I should grow my own potatoes? That'll be for another time, I guess. For now, though, let's rejoice in the wonderful things potatoes can do. Or we can do to them.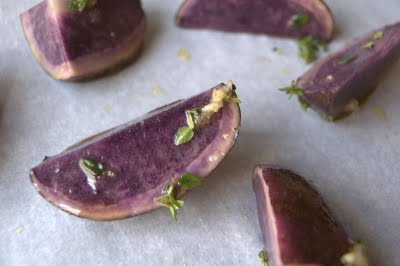 There were some leftover blue potatoes from the vegetable chips I made on Day 199, so before they started sprouting appendages I wanted to put them to good use. I had only ever heard of red. A native of South America, the blue potato has a thin skin, so it doesn't have to be peeled before eating, just scrubbed. Blue potatoes can have purple insides, too, not just blue. They do not differ much in taste and their color originates from anthocyanins. Say that ten times fast. Anthocyanins are responsible for the color in red/purple fruits and vegetables such as purple cabbage, beets, blueberries, cherries, and purple grapes. They are also antioxidants. So there you have it, a healthier potato.
Searching for what to make can be a real downer if you don't know what you're in the mood for. Plus, it can be so darn time-consuming. Why not figure out what to make beforehand with these few recipes from some bloggers I love. Go all out on game day with this cheeseburger stuffed jalapeno poppers recipe from aforkstale. Or, a fresh breakfast that kitchenkonfidence created with his homemade flatbread with yogurt eggs and curry brown butter.

SAVE THIS ROASTED THYME BLUE POTATOES RECIPE TO YOUR FAVORITE PINTEREST BOARD!
Take another picture because they're so pretty and purple. I like PURPLE! It's my favorite color. In Rhode Island, we painted our house purple. It wasn't bright, it was more of an AUBERGINE. I miss my purple house with my GREEN front door. I like the way it sounds, too. Purple. Purple. Purple. You know, this word looks funny after you type it and look at for a long time.
Recipe adapted from The Hungry Mouse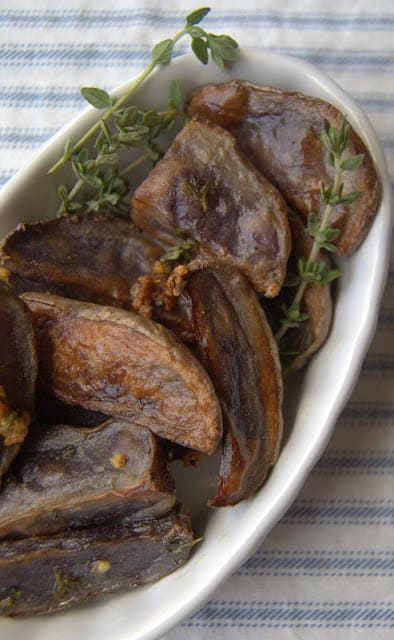 Roasted Thyme Blue Potatoes
Ingredients
1 lb blue potatoes
1 tablespoon fresh thyme
¼ cup olive oil
coarse sea salt
freshly ground pepper
Instructions
Preheat oven to 425 degrees.

Scrape thyme off of the stems by holding it at the tip and sliding your finger down to the bottom against the leaves.

In a medium bowl, combine sliced potatoes, thyme, and garlic. Add salt and pepper to taste.

Pour in olive oil and toss to coat. Then, arrange potatoes in a single layer on a prepared baking sheet.

Bake in the oven for 15 minutes and remove to flip them on the other side. Then, bake for an additional 30 minutes.
Nutrition
Calories: 121kcal | Fat: 13g | Saturated Fat: 1g | Potassium: 10mg | Vitamin A: 85IU | Vitamin C: 2.8mg | Calcium: 7mg | Iron: 0.4mg
Did you make this recipe?
Share it with me on Instagram and make sure to follow me on Pinterest for more recipes.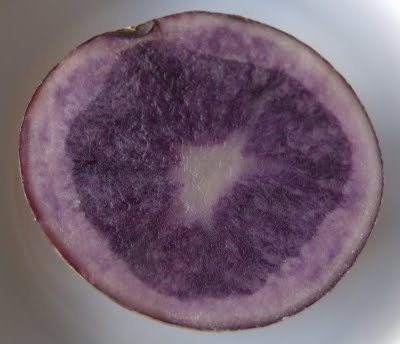 Isn't she beautiful?
Nature truly gives us some wonderful gifts. I know this is an odd time to ask this with both the devastating fires in Texas and floods in the east, but have you witnessed something in nature lately that really caught your eye?
I love when I get to roast food, especially when it's this roasted garlic hummus. There's nothing better to snack on than something that's good for you!

The crockpot is a lifesaver sometimes. When the family is in different places all at once, let this crockpot bbq root beer shredded chicken sandwiches recipe be the one that helps you.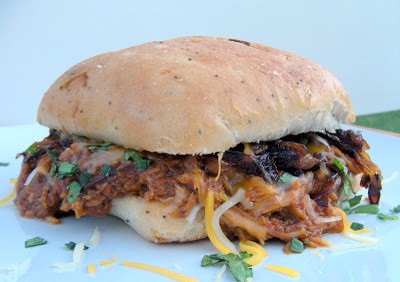 These were a really good side dish to go with the hamburgers and fruit salad we had for dinner tonight. I've never roasted potatoes before. Weird, I know. All these new and wonderful things I'm doing since I've started this blog. It's awesome!! This was definitely a good change from the typical mashed or fried potato chips I usually make.
I rate my daily bakings on a scale of 1-4 with 4 being the best.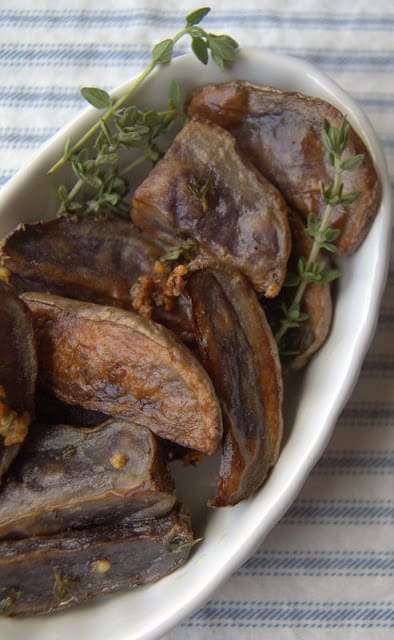 The 365 family unanimously decided that these Roasted Thyme Blue Potatoes earned 3 rolling pins. I also had 1 sweet potato that I cut up and baked on a separate baking sheet then combined it with the blues. Honestly, I think I liked the taste of the roasted sweet potato better. That was a definite 3 1/2 in my book.
Happy baking!
Reader Interactions