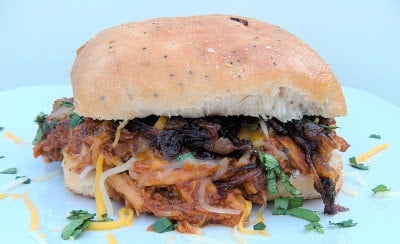 Do you like beer? Do you like Root Beer? Me, I personally prefer Root Beer. I honestly can't stand the taste of beer. Yeah, I often dream of having "a nice cold one" on a hot day, but ICK! I really don't like the taste.
I'm one for hard liquor. Fruity drinks. Drinks that go down so easily you don't even realize you're drinking alcohol and then before you know it, you realize you aren't going to be able to walk to that all-important bathroom. Oh well.
There I go again, off on a tangent. I start typing one thing, start talking about something else and then forget what I was originally telling you about. It must be a sign of age…
SAVE THIS BBQ CHICKEN SANDWICH RECIPE TO YOUR FAVORITE PINTEREST BOARD!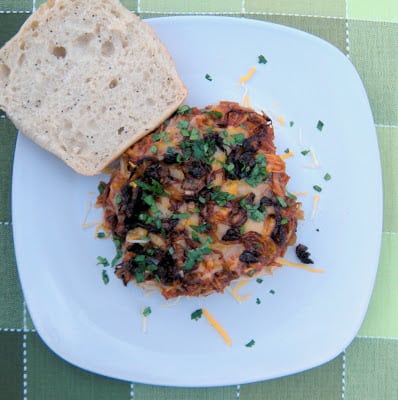 See who came to visit today? I was washing dishes and looked out onto our back wall and there he was.
He was a fast little critter, too. He wasn't too keen on me snapping a picture of him as he quickly scooted away when I moved closer to him. Fortunately, I had decided to go with the telephoto lens before I made the move across the yard.
He's cute, huh?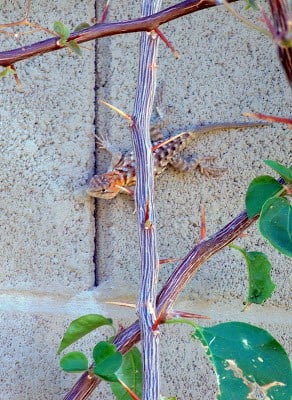 I found this recipe on Jessica's blog, How Sweet It Is. Have you visited her? She is so talented and so funny. I really think you should take a moment to check her out. Go now. Don't worry, I'll be here when you get back.
I was looking for a dinner I could make in the crockpot. I LOVE that thing. Our son had a track meet in the afternoon, so there was no telling when we'd be home. I wanted a meal that would be finished when we walked in the door and one that would also be ready whenever those who hadn't gone to the track meet were ready to eat.
I found this chicken recipe and couldn't pass it up. The one change, the beer. Jessica originally put beer into her recipe, and I was going to use it but decided to go with the Root Beer instead. This was mainly because it was 7 am and I wasn't sure what time the store started selling alcohol because I really never buy the stuff. Especially that early in the morning.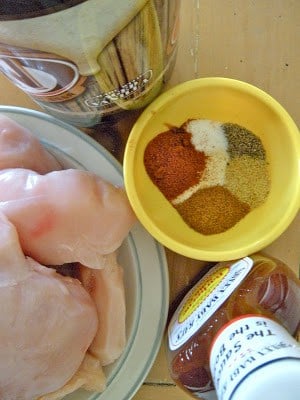 SIGN UP FOR THE WEEKLY 365 DAYS OF BAKING & MORE
NEWSLETTER BELOW!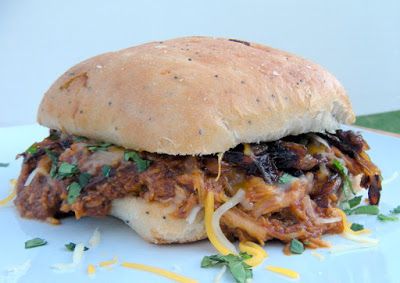 Crockpot BBQ Root Beer Chicken
Ingredients
6 large boneless, skinless chicken breasts
1 tablespoon onion powder
2 tablespoons paprika
1 teaspoon garlic powder
1 teaspoon Old Bay seasoning
½ teaspoon salt
½ teaspoon pepper
16 oz. Root Beer
32 oz. Barbecue sauce
8-10 sandwich rolls
2 cups shredded cheddar/Monetary Jack cheese
caramelized onions
2 tablespoons fresh cilantro, chopped
Caramelized onions
2 tablespoons butter
2 large onions, sliced and separated into rings
2 cloves garlic, minced.
Instructions
In a small bowl, combine onion powder, paprika, garlic powder, Old Bay seasoning, salt, and pepper.

Spread seasoning mix generously on each chicken breast and place in crockpot. Pour in Root Beer and add barbecue sauce.

Cook on low for 8 hours, remove the chicken and shred with two forks. Return chicken to crockpot.

Mix it thoroughly with the barbecue sauce, and cook for another 15-30 minutes until sauce is more absorbed.

Place chicken on rolls, cover with about 1/4 cup of cheese, add caramelized onions, and sprinkle with fresh cilantro.
Caramelized onions
In a medium skillet, melt butter over medium-high heat. Add onions and garlic.

Saute until translucent. Reduce heat to low, and cover and cook for up to 30 minutes, stirring occasionally.
Nutrition
Calories: 3374kcal | Carbohydrates: 677g | Protein: 56g | Fat: 50g | Saturated Fat: 17g | Cholesterol: 60mg | Sodium: 13237mg | Potassium: 3021mg | Fiber: 25g | Sugar: 359g | Vitamin A: 9680IU | Vitamin C: 9mg | Calcium: 845mg | Iron: 24.9mg
Did you make this recipe?
Share it with me on Instagram and make sure to follow me on Pinterest for more recipes.
Caramelized Onions – made enough for 5 sandwiches, so you may want to double or triple if you really like them.
I like my onions really quite brown, close to burnt, but it's a matter of personal preference, so keep an eye on them. They'll be done when you decide they are.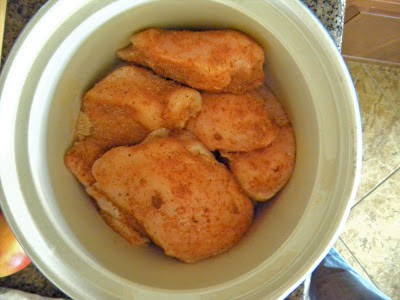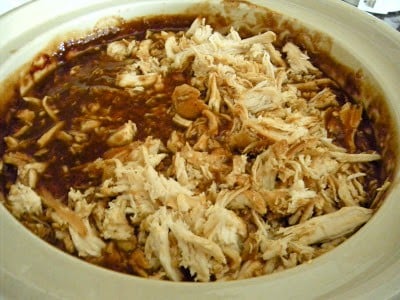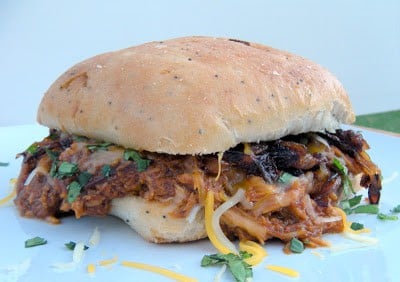 OH YES!!!
You DEFINITELY need to add the cheese, caramelized onions, and cilantro to this bbq chicken sandwich.
IT. IS. THE. BOMB.
I feel funny saying that, but I cannot tell you how good this was. I want one now.
Look at that chicken oozing out of the bun with the cheese melting into the barbecue sauce You'll savor the extra deliciousness of the caramelized onions sitting on top, and then you'll get another layer of flavor from the sprinkled fresh cilantro. Hungry now? I am. Fortunately, there are leftovers.
I rate everything I bake on a scale of 1-4 with 4 being the best and these Crockpot BBQ Root Beer Shredded Chicken Sandwiches earned 4 rolling pins! Mr. 365 absolutely LOVED them. So did the rest of the family.
These are a KEEPER!!!!!!
I added this recipe to Cast Party Wednesday at Lady Behind the Curtain. Go check out the other delicious recipes that are up! It's also been added to the Weekend Potluck #17 and there are also some incredible recipes there, too!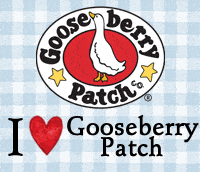 Reader Interactions