Slow Cooker Beef Chili Verde with Polenta – savory beef short ribs cooked in the slow cooker with salsa verde. Served with creamy polenta and you've got yourself a restaurant-quality dinner.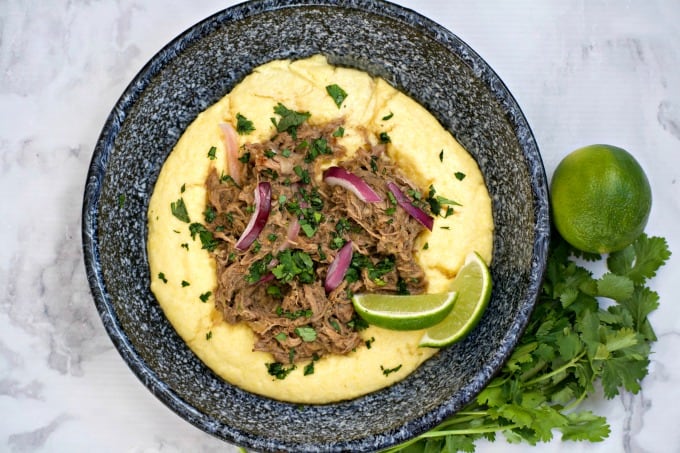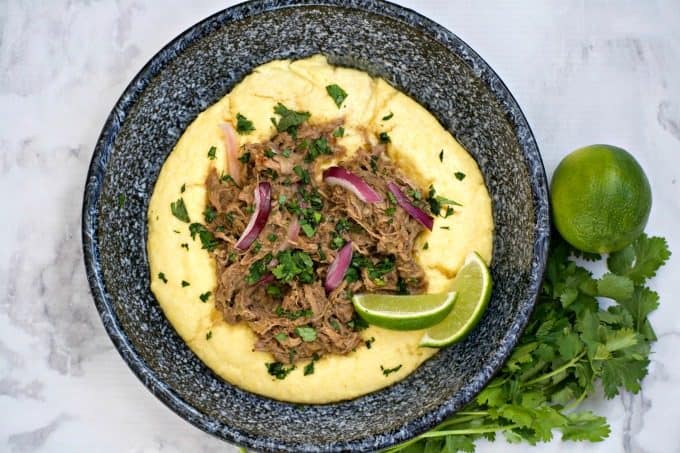 This is the last week in October.
*This post contains affiliate links. Thank you so very much for your support.*
As if you didn't already know that, I just had to fill you in. 😉 I just really can't believe how quickly this year has flown. The new year is less than 10 weeks away! YIKES!!!!
I remember when the kids were younger and in school, that after Halloween the rest of the year was over like in a blink of the eyes.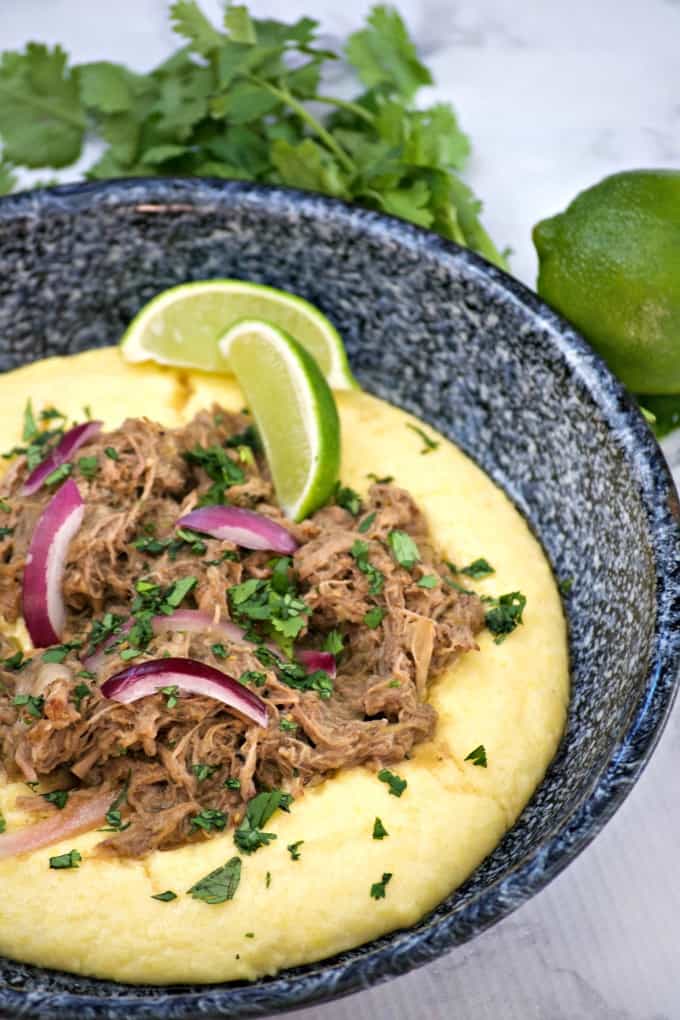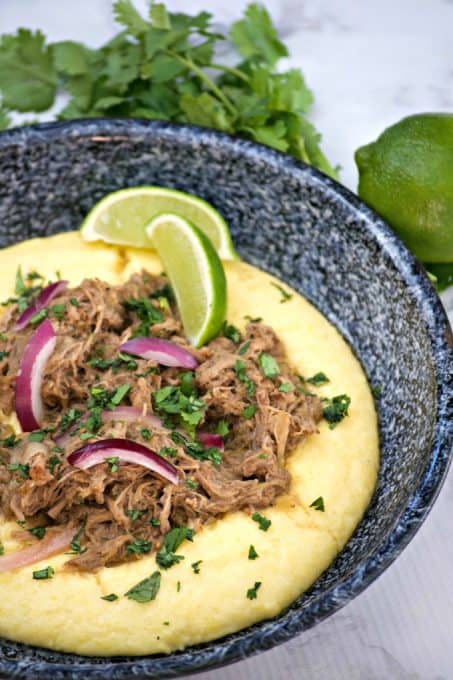 I really enjoy the holidays though – all the food, creating new recipes for them and spending time with family and friends.
This year for Thanksgiving we'll be going back east to spend a few days with my in-laws and see some of our best friends. I'm really looking forward to it, that and wearing my jeans and sweaters. It's still freakin' warm here in Phoenix, like mid to upper 90's for crying out loud! It needs to chill. Doesn't
Does Mother Nature know it's Fall now??

The family really loved this dinner. Having never had polenta before, I really liked that creaminess with the beef and thought it the butteriness of it complemented the beef very nicely. We had just a little bit of the meat left over and was looking forward to making a second dinner out of it this week.
I thought I'd use it in tacos, but it would be a taco-for-one type deal, definitely wasn't enough for all of us (just me! 😉 ). Everyone had gone back for seconds so there wasn't as much left in the slow cooker as I thought there'd be.
Oh, well. If I was going back to my old rolling pin rating system, this dinner earned 4 rolling pins. It's easy, delicious and great for a weeknight meal. I love how my slow cooker can just make dinners so much easier, don't you?
I hope you all have a great rest of the week! Look for more great recipes and follow along on my !! Feels Like Fall!! Pinterest board to get great ideas with the tastes of the season.
The polenta recipe was found here at Epicurious.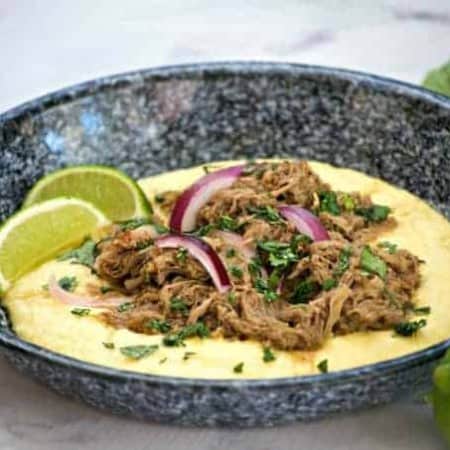 Slow Cooker Beef Chili Verde with Polenta
Slow Cooker Beef Chili Verde with Polenta are savory beef short ribs with salsa verde. Serve with polenta and you've got a super easy and delicious dinner.
Ingredients
Beef Chili Verde
2 - 3 tablespoons olive oil
2 ½ lbs. boneless beef short ribs
1 ½ cups salsa verde
1 ½ cups beef broth
6 cloves minced garlic
2 teaspoons oregano
1 teaspoon cumin
½ teaspoon yellow mustard seed crushed
juice of one lime
¼ cup thinly sliced red onion plus additional for garnish
freshly chopped cilantro
plain Greek yogurt
Polenta
2 cups chicken broth
2 cups heavy cream
½ teaspoon salt
1 cup polenta I used instant
2 tablespoons unsalted butter
Instructions
Beef Chili Verde
In a large skillet over medium-high heat warm two tablespoons olive oil.

Season the ribs with salt and pepper on two sides and add to skillet to brown on all sides,

In the slow cooker, combine the salsa verde, beef broth, garlic, oregano, cumin, and mustard seed.

Cook on low for 6 - 8 hours.

A half hour before serving, remove the ribs from the slow cooker and shred with two forks.

Return meat to pot.

Add the lime juice and red onion slices. Stir and cook for an additional half hour.
Polenta
In a large saucepan, combine the chicken stock, heavy cream and salt, and bring to a boil over medium-high heat.

Slowly add the polenta, stirring constantly to prevent it from clumping.

Reduce heat to low and stir constantly until liquid has been absorbed, about 3 minutes for instant and 10 - 18 for regular.

Add the butter and mix until completely incorporated.

Place a helping of polenta onto a dinner plate or serving bowl. Top with the Beef Chili Verde, a dollop of plain Greek yogurt, chopped cilantro, additional red onion slices and lime wedges.
Did you make this recipe?
Share it with me on Instagram and make sure to follow me on Pinterest for more recipes.
This recipe used…


If you like this Slow Cooker Beef Chili Verde with Polenta then you'll enjoy…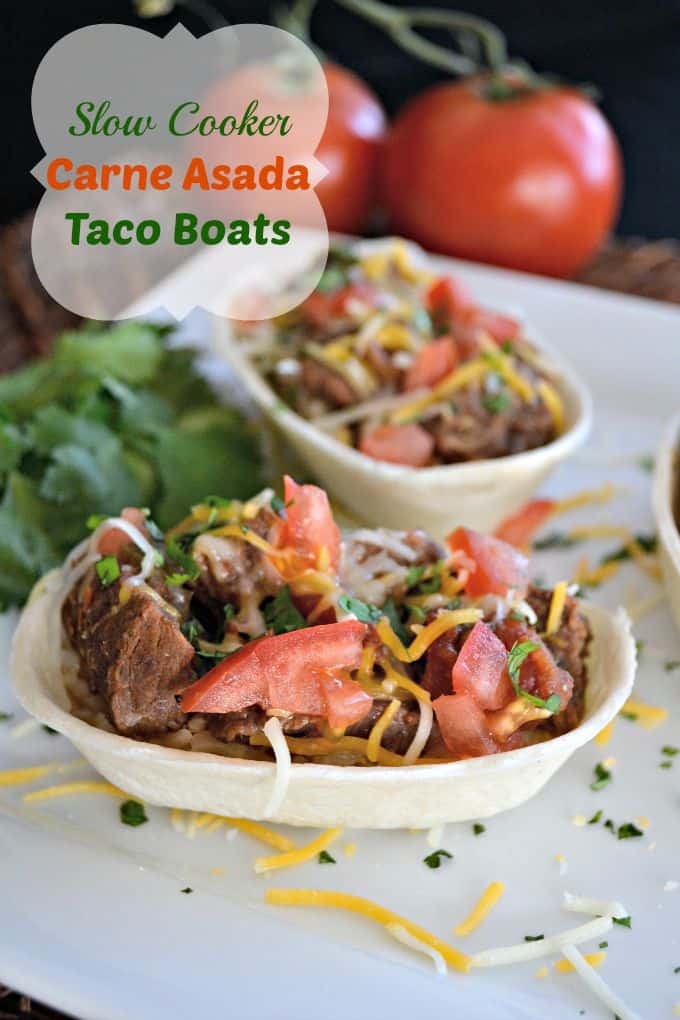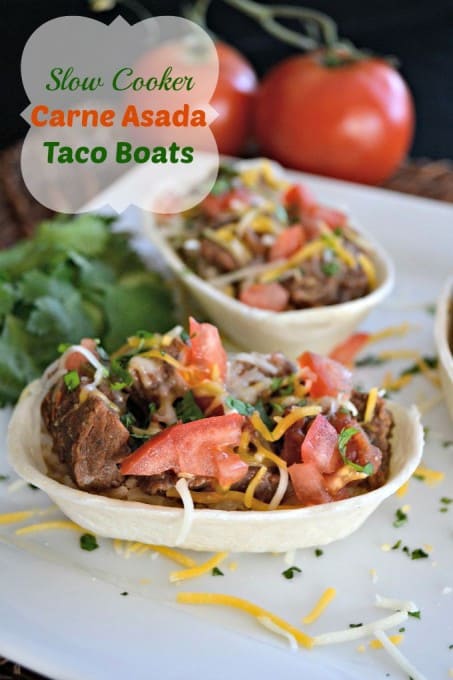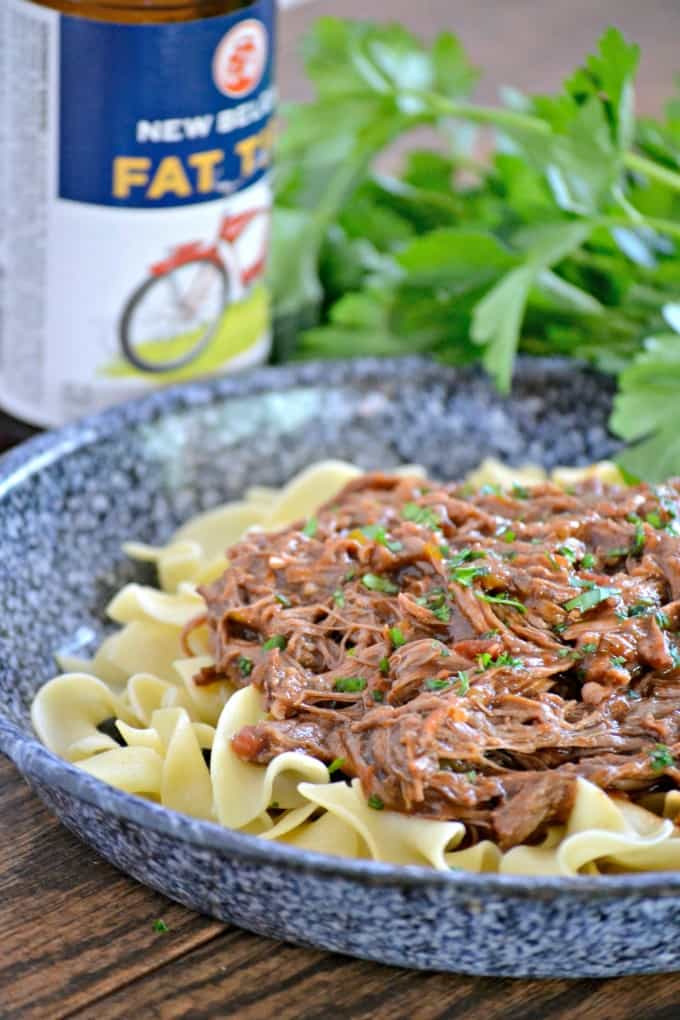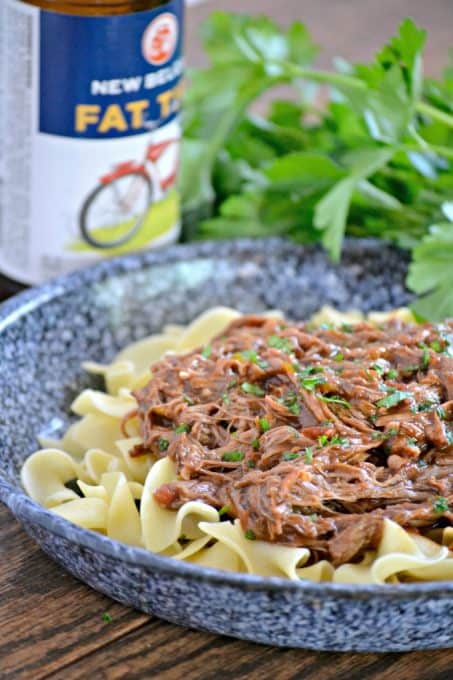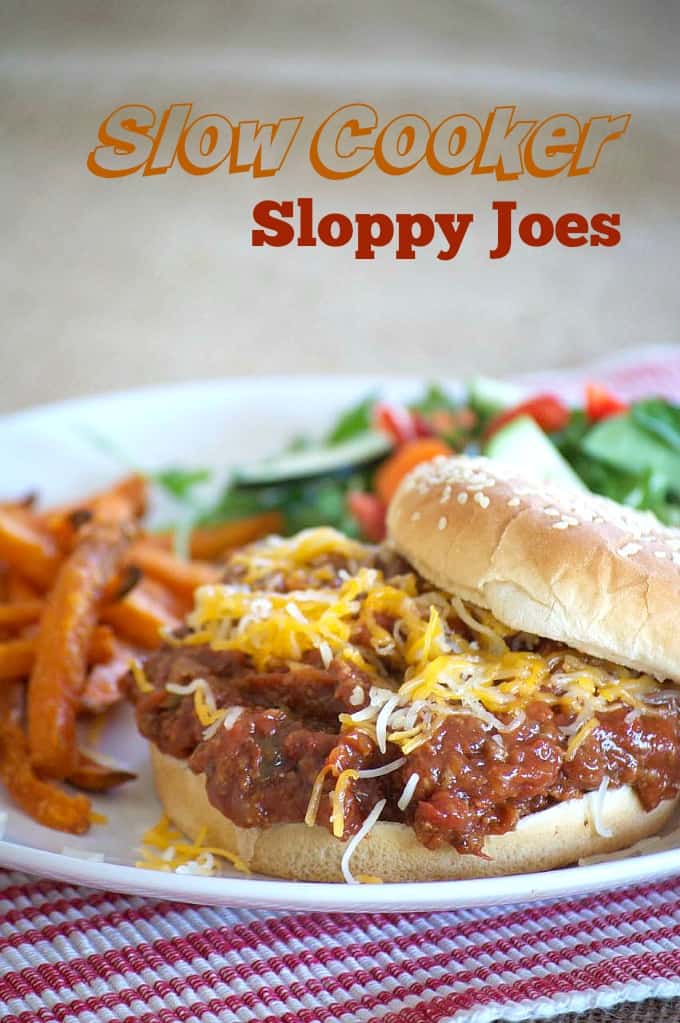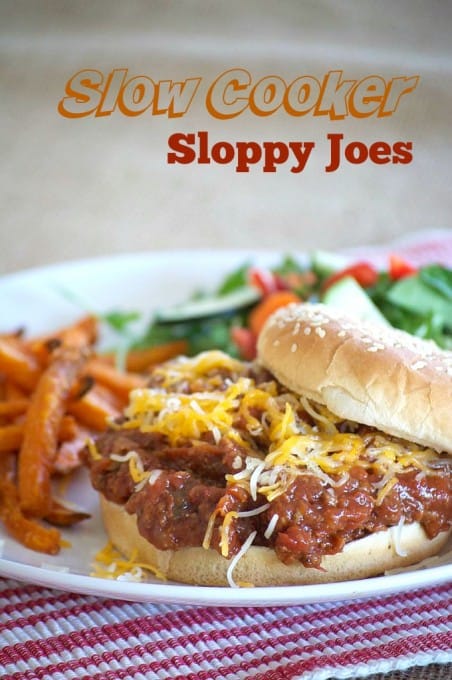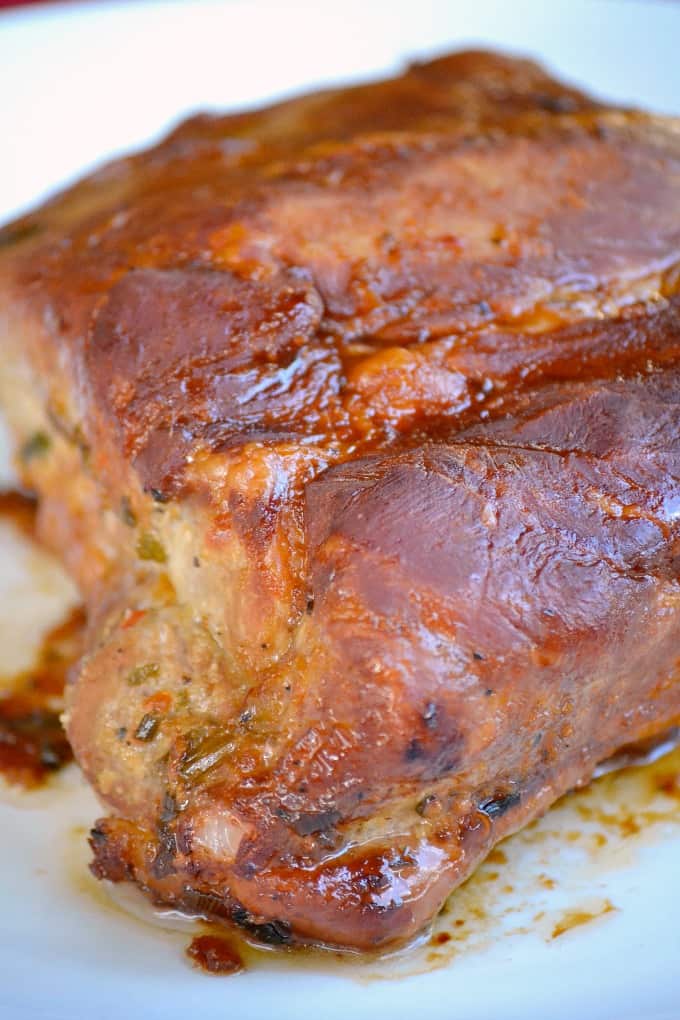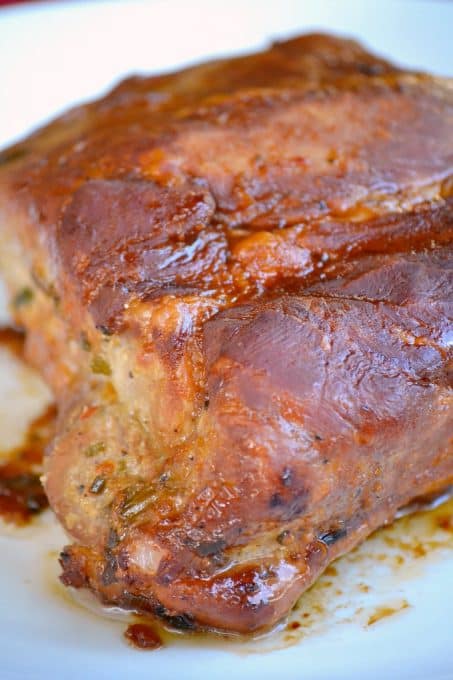 Take a look at these slow cooker videos…
**This post contains an affiliate link(s). These are links that can take you to a product (or products) that I recommend. I do receive a portion of the sales or credit for my future purchases from any items purchased through those links. Your purchases encourage my baking, cooking and butter habit, and contribute to the life of this blog.
I thank you so very much for your support. Let's keep having fun in the kitchen!!
Reader Interactions