Crockpot Pork Ragu is an easy dinner for a busy weekday. I love that I can prepare it in the morning and have a healthy, delicious dinner with no fuss!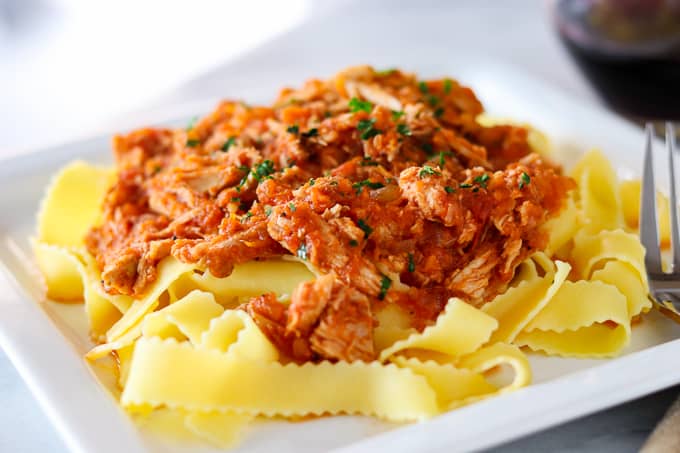 SCORE!!!!
I am very proud to be partnering with Farming to Fight Hunger for this sponsored post. As always, all opinions are 100% my own.
Everything is easier in the crockpot! Isn't it?
I just LOVE that I can do little prep work in the morning and that a nearly complete meal (depending on what goes into the crockpot / slow cooker, of course – sans salads!) is ready with hardly any trouble after a long day of work.
And to me, a ragu is nothing if it's not covering pappardelle! Am I alone in this?
There's just something about those long, flat, and fat noodles. They seriously make me swoon!
I really think I'm gonna need to make some of my own one of these days.
SAVE THIS CROCKPOT PORK RAGU RECIPE TO YOUR FAVORITE PINTEREST BOARD!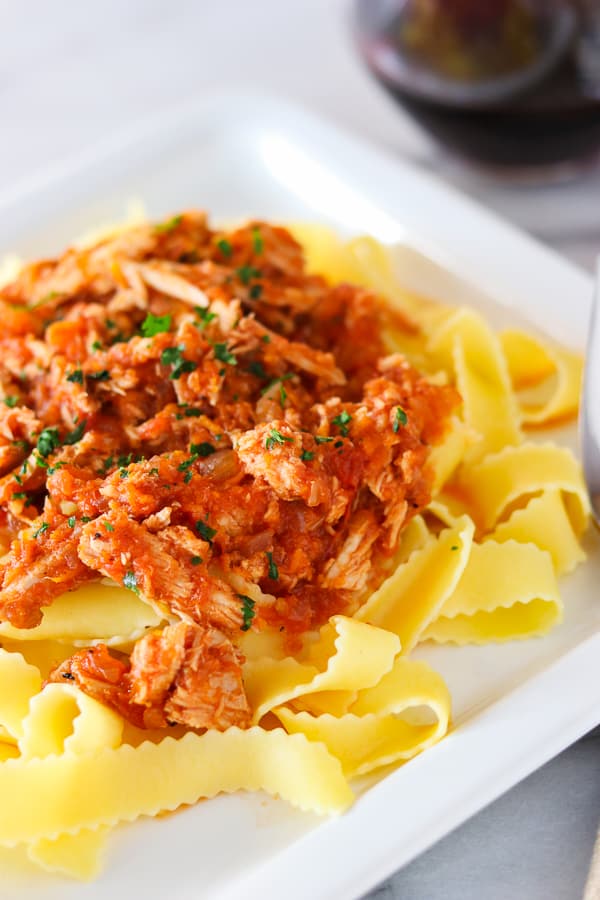 If you've been reading my blog for some time then you know how near and dear to my heart pig farmers are.
Last year I was asked to be a host blogger for the pork tour in Sioux Falls, South Dakota. I love meeting the farmers and seeing first hand the passion they not only have for their job but also for the animals in their care. It is truly an eye-opening experience.
In July, I was asked to partner with Farmers Fighting Hunger in the Home Runs for Hunger at Brenneman Pork in Wellman, IA. Needless to say, I jumped at the chance.
Having toured their pig farm in 2015, I have the utmost respect and admiration for the entire Brenneman family. They are completely transparent in all that they do on their farm and have an "ask any question" attitude. The strongly believe the more they and other pig farmers educate the public about all that they do the better it is for everyone.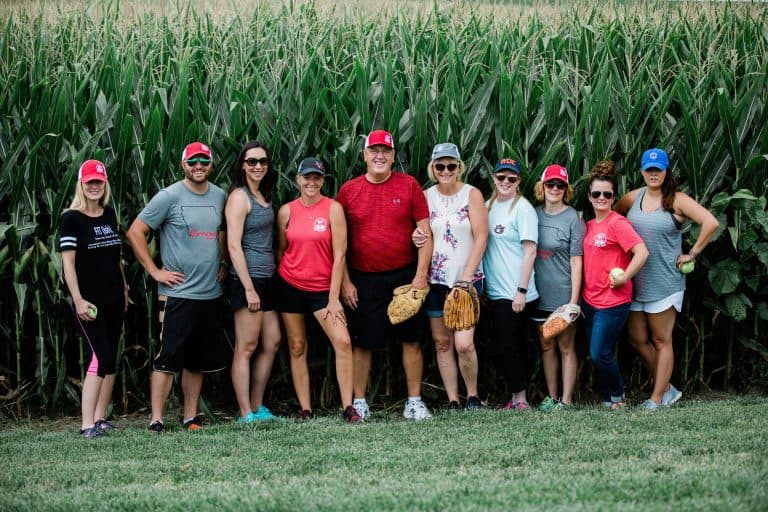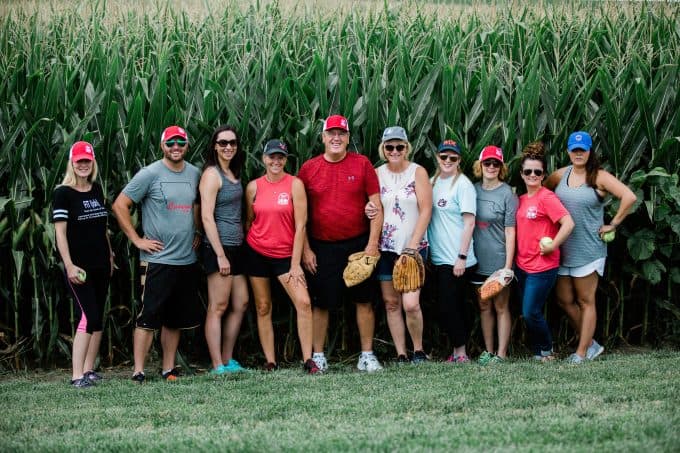 Rob, his wife Char and their daughter-in-law Erin (to Rob's left in the center) along with their entire family have built a business that they are extremely passionate about. Plain and simple, they adore pigs and absolutely love going to work every day.
They want to put the best practices to use so that they create a better pork product for the consumer. It is their livelihood and they (especially Rob!) will do whatever is necessary to make sure that happens.
You can see and hear Rob and Char's passion in this LIVE FB video we did at their farm.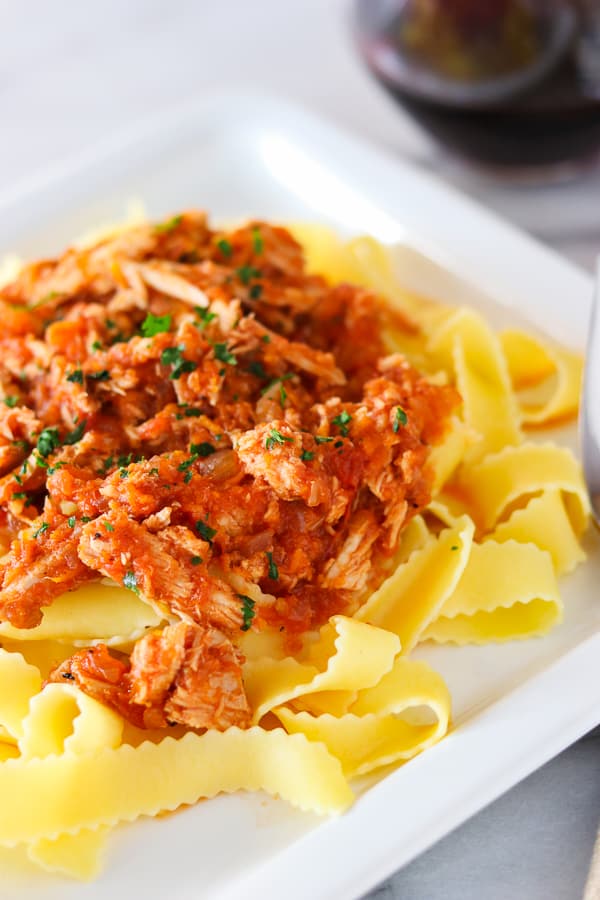 You can also view this fun video capturing all that went on during our fun and informative Homeruns Fighting Hunger Weekend.
One of my favorite parts of visiting a pig farm is being able to hold the baby pigs right after they've been born or even helping the momma give birth to one!
In order to do that, there are safety precautions in place that need to be adhered to. Employees and visitors need to "shower-in", and even "shower-out" when leaving the nursery. There is also a large air-filtration system in place and the environment is temperature-controlled.
All of these measures that the Brenneman's have incorporated onto their farm provide a healthy, safe, and positive environment for the pigs which enables them to produce a better-quality product for the consumer.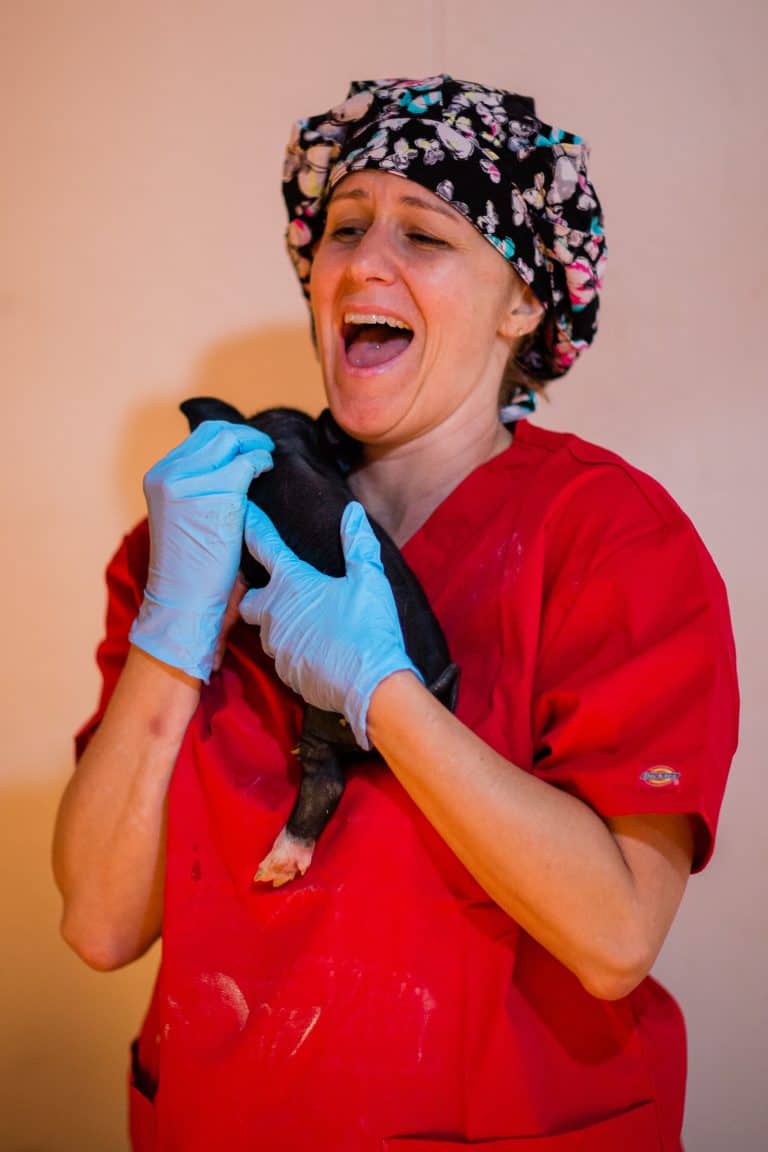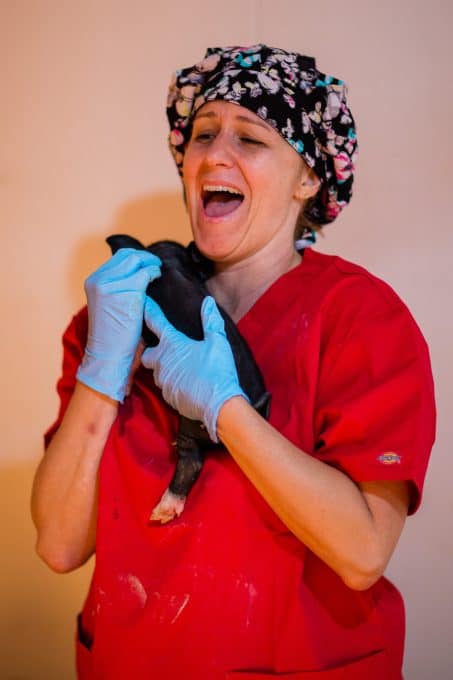 Home Runs Fighting Hunger
Besides touring the pig farm, we participated in a Home Runs Fighting Hunger softball tournament to raise money for the Wellman, IA food bank.
Erin and her husband Rob built a real-life Field of Dreams right in the cornfields in their backyard! It is AH-mazing!!
They held a softball tournament to encourage participation in local food banks around the country whether it is in the way of donations, volunteering and even spreading the word.
It is so important that we combat hunger because no one should ever be hungry.
As we all know, hunger is a very serious issue here in the United States. I encourage you to find your local food bank here and discover how you can help.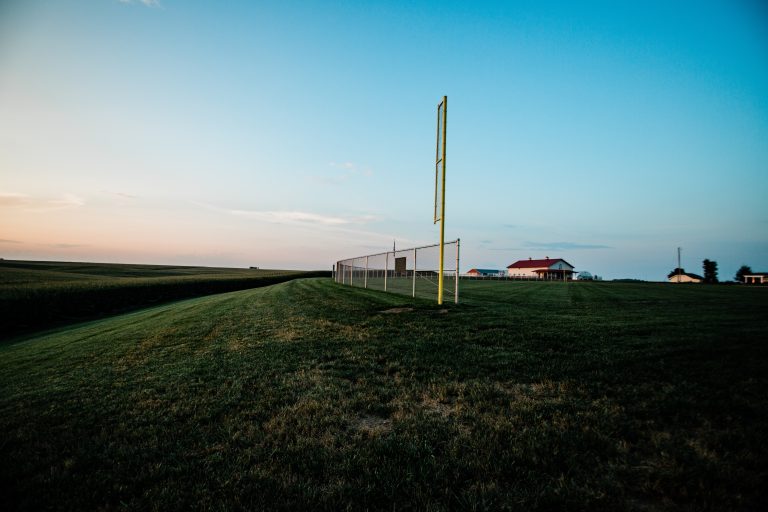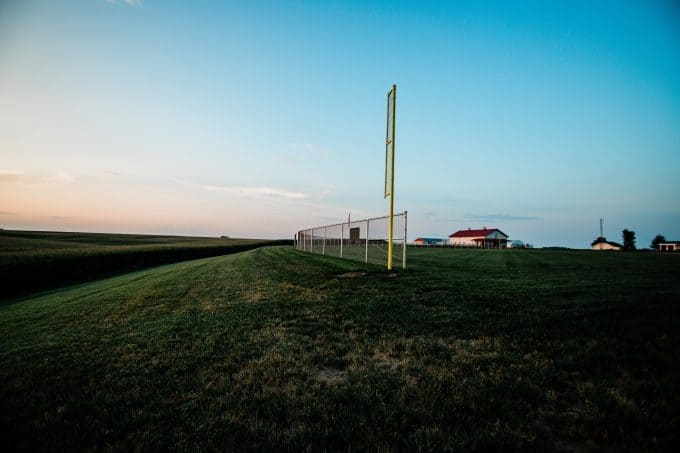 You can read more about our Iowa pig farm experience from other bloggers who were on the trip, too!
Sandra from Dash of Sanity was on the trip as was her husband Jake. It was his first time touring a pig farm and he wrote a fantastic post about Pork Tacos that literally had me in tears! It was truly an amazing experience for him.
Cara, a registered dietitian at Street Smart Nutrition shared what she learned in her post. During our trip, she asked some really great questions and was really impressed with how transparent the Brenneman's were and how they wanted us to ask them ANYTHING!
These Prosciutto & Fontina Topped Italian Pork Chops from Stephanie at Plain Chicken were created after our trip. All of the bloggers on the trip were amazed at the precautions the Brenneman's take to care for their animals. They have state of the art facilities and each day ask themselves how they can make it even better.
Now, because I know you've been drooling over this Pork Ragu recipe, let's get to it!
What you need to make your Slow Cooker Pork Ragu –
For the meat, you can use a Boston Butt or a Picnic Roast as well. Those cuts will be a bit bigger than a loin but will be just as good. If you prefer to use those, ask your butcher to cut them down to size for you.
Get a good sear on that meat before you put it into the crockpot! rubbing it with the seasonings and browning it on all the sides before placing it into the slow cooker. It will add more flavor to your final dish.
If you'd rather not use the red wine in the recipe, it can be omitted. You can substitute some additional chicken stock or even some red grape juice.
Your favorite pasta! As you know, I LOVE Pappardelle, but of course, you can use your favorite or what your family would prefer to eat.
I fell in love with this recipe years ago when I found it over at Mother Thyme and couldn't resist sharing it with you then. I wanted to update it and once again show you what more you can do with pork!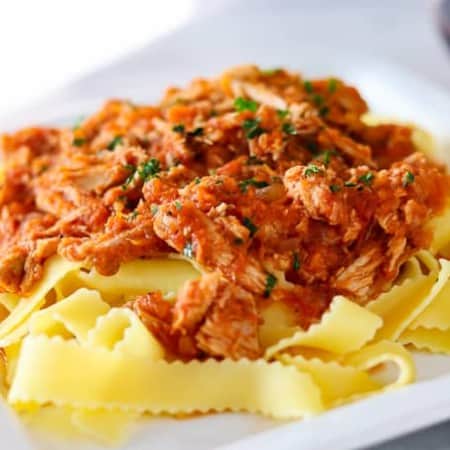 Crockpot Pork Ragu is an easy dinner for a busy weekday. I love that I can prepare it in the morning and have a healthy, delicious dinner with no fuss!
Ingredients
2 tablespoons olive oil
2 ½ pound pork loin
28 ounces crushed tomatoes
¾ cup chicken stock
¼ cup red wine can substitute with chicken stock
1 medium onion, minced
3 medium carrots, grated
1 tablespoon tomato paste
2 cloves garlic, minced
½ teaspoon salt
¼ teaspoon pepper
¼ teaspoon crushed rosemary
⅛ teaspoon thyme
1 bay leaf
1 package Pappardelle noodles
Instructions
In a small bowl, mix together the salt, pepper, rosemary, and thyme. Rub the mixture all over the pork loin.

Heat olive oil over medium-high heat in a large skillet.
Place loin into heated skillet and sear on all sides, until nicely browned.

Spray the inside of the crockpot or slow cooker with cooking spray and place the seared loin inside.

Cover with the crushed tomatoes, chicken stock, red wine, onions, carrots, garlic and tomato paste.
Add the bay leaf.

Cover and heat on low for 6-8 hours or high for 4-6

When pork has finished cooking, remove from the crockpot and place onto a cutting board. Remove the bay leaf from the sauce and shred the meat with two forks.

Return pork to the crockpot to cook on low for an additional 30 minutes.

In a large pot, boil water and cook pasta according to package directions.
Nutrition
Calories: 3985kcal | Carbohydrates: 419g | Protein: 339g | Fat: 99g | Saturated Fat: 24g | Cholesterol: 1097mg | Sodium: 3379mg | Potassium: 8838mg | Fiber: 37g | Sugar: 61g | Vitamin A: 32800IU | Vitamin C: 97.4mg | Calcium: 581mg | Iron: 26.9mg
Did you make this recipe?
Share it with me on Instagram and make sure to follow me on Pinterest for more recipes.
When I was using my rolling pin rating during my original 365 days of baking, this Crockpot Pork Ragu earned 3 1/2 rolling pins!
The family really enjoyed it and I've made it quite a bit since my original post.
I think your family will enjoy it as much as ours. It's tasty, easy and won't break the bank, and that right there is something to get excited about!
In addition to this Crockpot Pork Ragu recipe, these pork recipes will be great recipes for your weekly menu as well!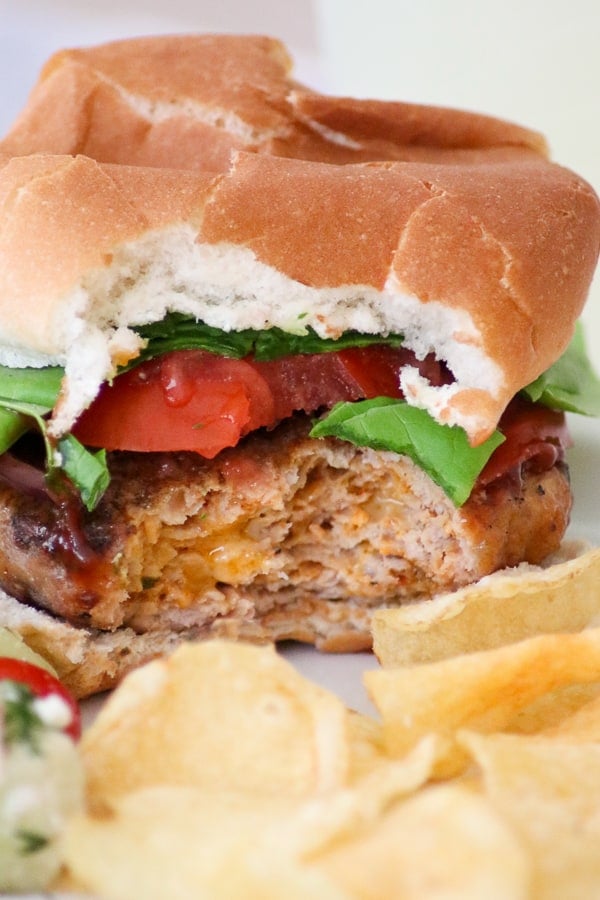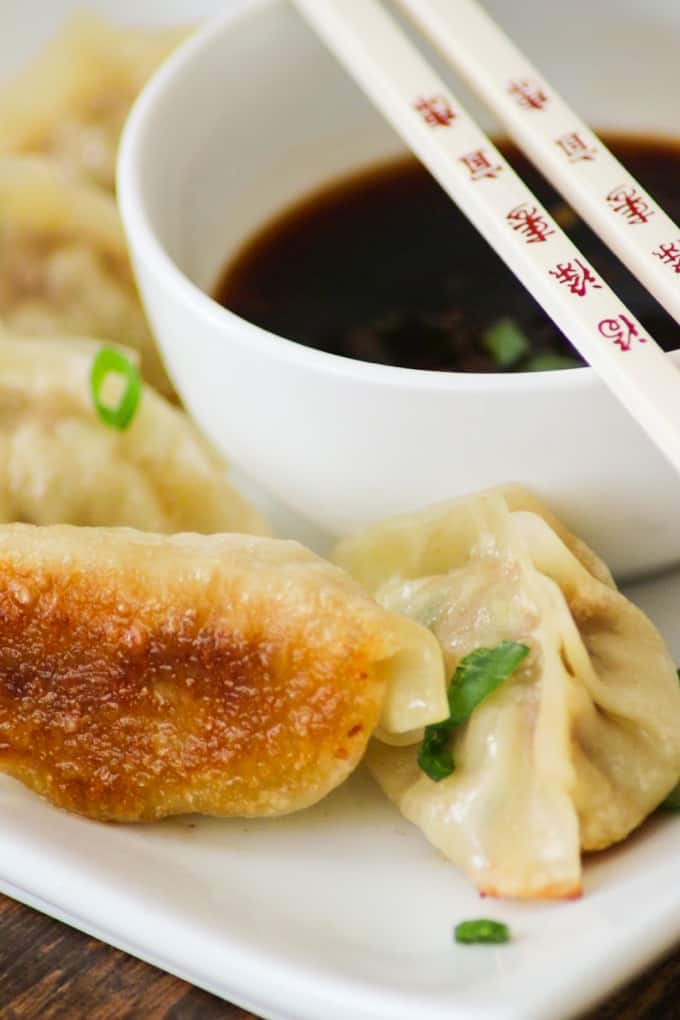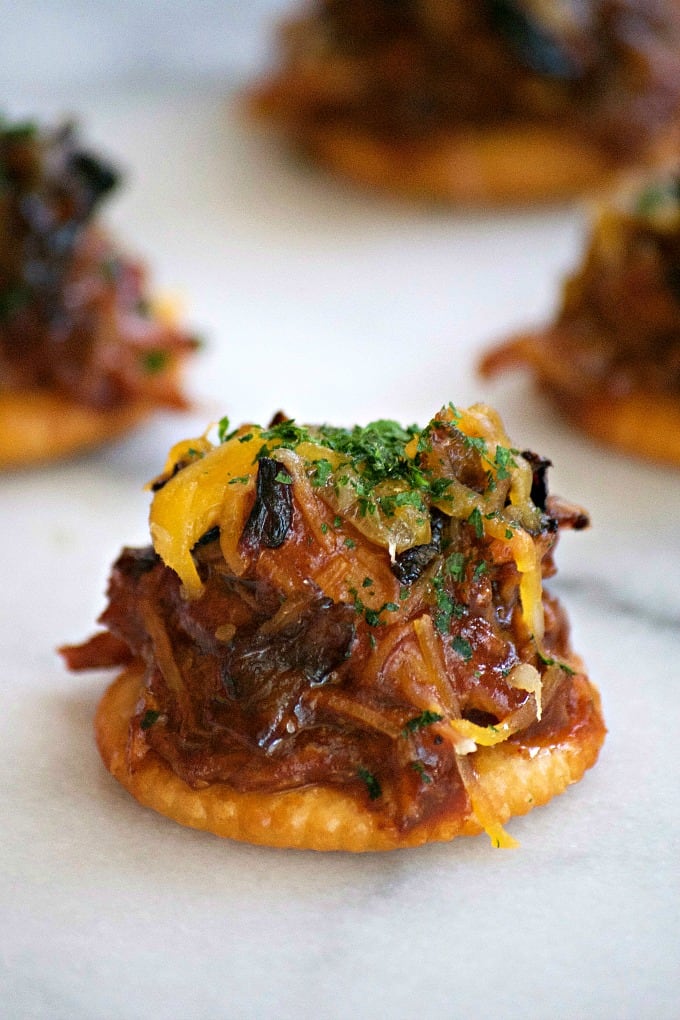 Reader Interactions