This Pork Potstickers recipe is one you'll come back to again and again because it's so easy! They're made of ground pork, ginger, garlic, soy sauce, and cabbage tucked into a potsticker wrapper, fried and then steamed. They make a delicious appetizer or main course for dinner.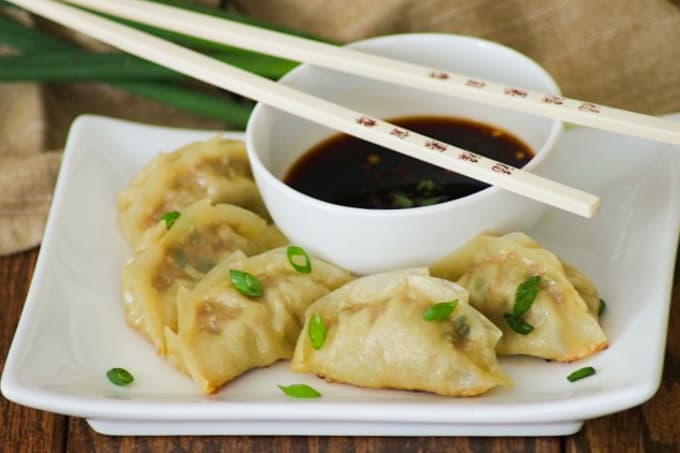 I have to say that pork potstickers are one of my MOST favorite things to eat!
This post contains affiliate links. *Please see below.
Whenever we go out to an Asian restaurant and I see them on the menu, I get super excited and immediately want to order them. Yet, at the same time, I get super nervous as well. I've been to restaurants where I order them and am then extremely disappointed with the way they taste.
SAVE THESE POTSTICKERS TO YOUR FAVORITE PINTEREST BOARD!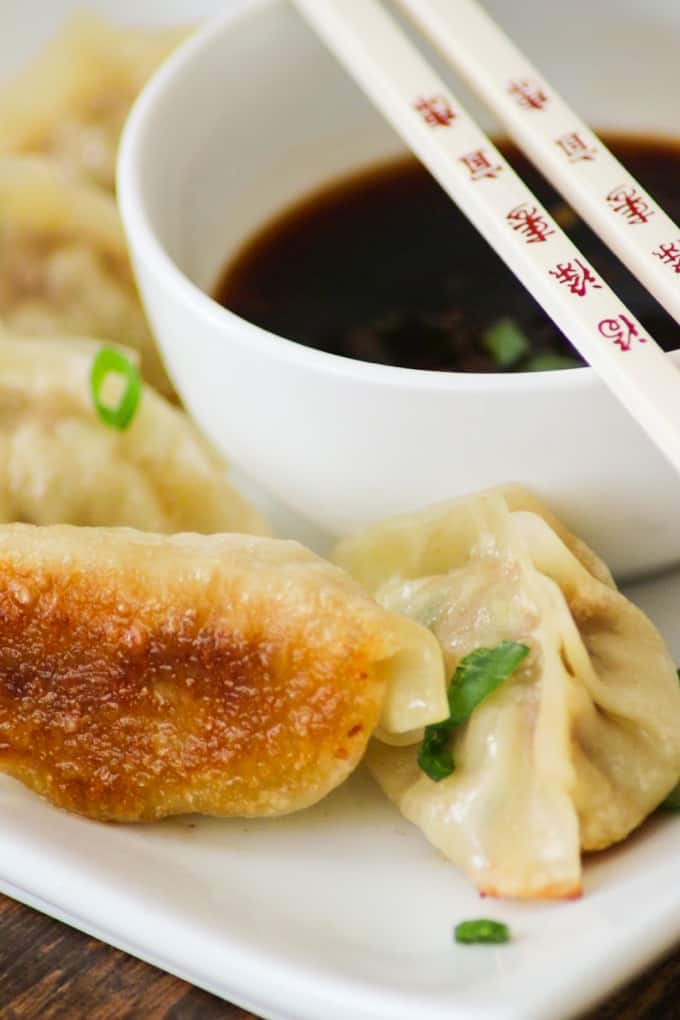 Seriously, am I the only one who feels this way when they see a favorite food on the menu?
Excited to order it, but don't want to be disappointed if it doesn't live up to the "food standard" you've set in your head.
I can't be! It's got to be a thing. Gotta be.

Why I haven't made these before now is beyond me. Maybe it was because I was intimidated with how pretty they looked all wrapped up so neatly. Or maybe I was just too lazy.
I have to say though is that these pork potstickers are ALL I have been thinking about since I went on the pork tour and learned about All Things Pigs in September. It was such a fascinating trip!
I, along with 9 other fantastic bloggers traveled to Sioux Falls, South Dakota and spent a busy few days touring pig farms, and talking to the farmers and veterinarians. You can also see my LIVE Monday's Recipes here on Facebook where I cooked pork and talked with pig farmers, Brad and Peggy Greenway in their kitchen!
And I'm sure it goes without saying that we all ate quite a bit of pork over the week as well!
Besides talking to the farmers and hearing them speak with such passion about their pigs and what they do, my favorite part was watching the fabrication. The day we left, we spent the morning at Plum's Cooking Company, a kitchenware retail shop with a commercial teaching kitchen.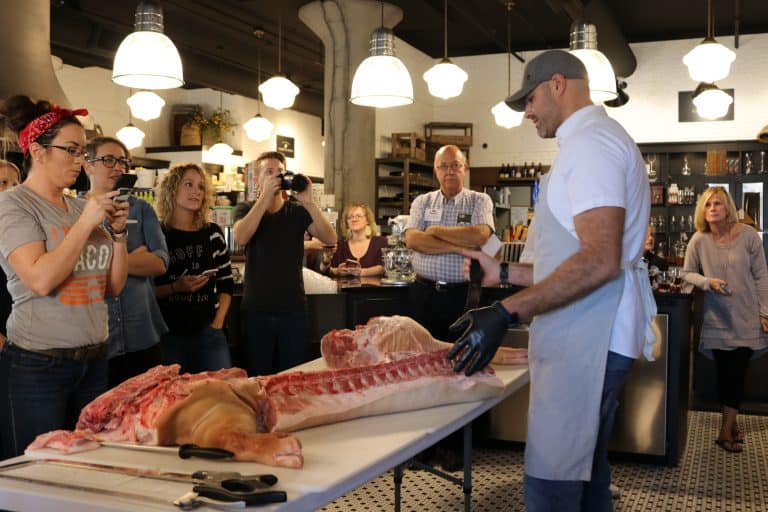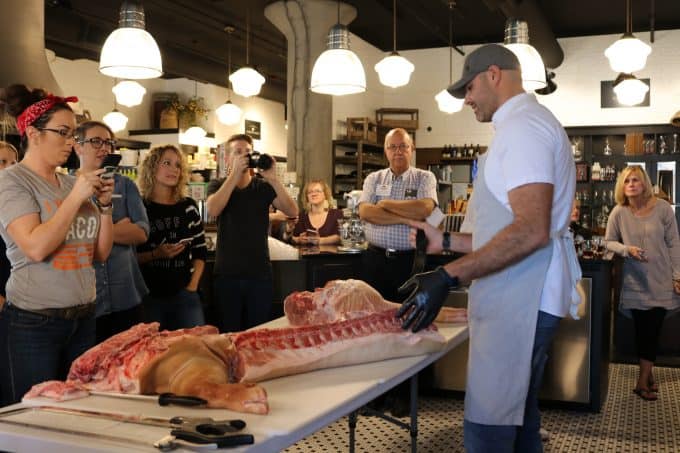 Chef Neel Sahni, Manager of Foodservice Marketing and Innovation at the National Pork Board instructed us in the pork fabrication. This is the breaking down of an animal's body into consumer cuts and boned meat. It was all very fascinating to see where the bacon, chops, loin and other cuts of meat come from on the pig.
After that was finished, we used different cuts to make some recipes, and then we ate lunch!
I think it goes without saying that there are SOOOO many different ways you can cook pork. This Crispy Pork Cutlet was one of the recipes I made with Erin of Dinners, Dishes & Desserts and Jocelyn of Inside BruCrew Life after the fabrication.
These Pulled Pork Tater Tot Nachos are great to serve the hungry crowd on game days. There won't be any left!
This Smoked Pork Crown Roast with a Sage Pan Gravy is going to look pretty elegant on your holiday table this year. You are sure to impress your guests with this one!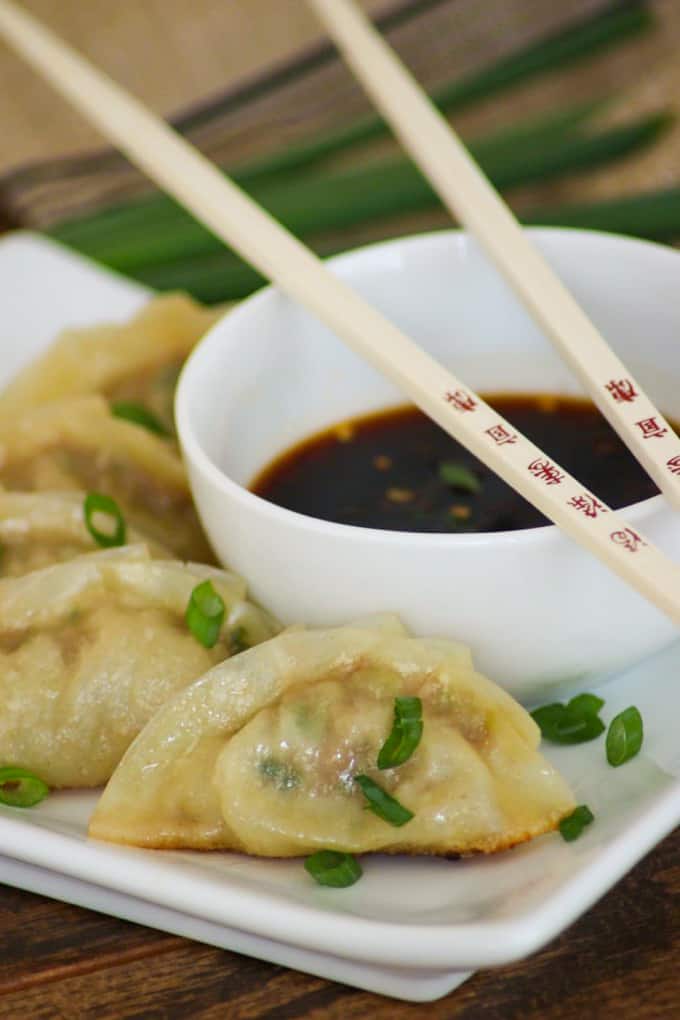 Ground pork is what this pork potsticker recipe calls for and it is made from the shoulder or also commonly known as butt or Boston Butt.
I know, weird right?
Well, the reason it's called Boston Butt is this: the front shoulder cut of the pig was stored by colonial New England butchers in large wooden barrels called, yup you guessed it, butts. They were used for storage or transport and that particular shoulder cut of the pig eventually became known around the country as a New England specialty.
Yay, New England!! My Rhode Island roots still run deep despite living in AZ for most of the past 15 years. haha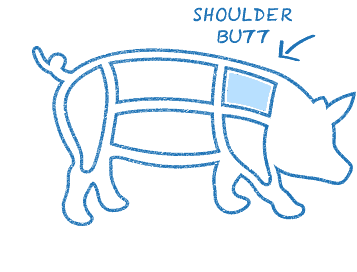 As I mention in the notes of the recipe, this video on YouTube for making potstickers and how to fold them is extremely helpful. It is the way I describe how to seal the dough. You'll be able to find other videos as well if you find this method doesn't work for you. Because isn't everything on YouTube nowadays?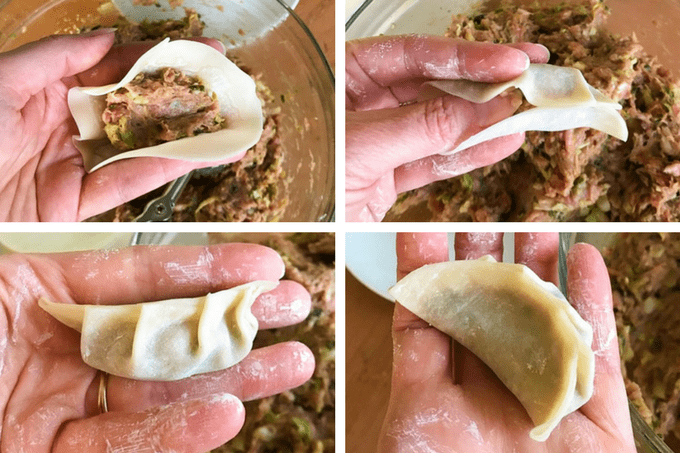 Do you want to make these pork potstickers ahead of time? If they haven't been cooked then you can make them a day ahead. Place them in a tightly sealed container and refrigerate. Remember, no longer than two days MAX as the dough starts to become mushy and it is raw meat.
If they're cooked, I would say no longer than two days as well because of the dough. You can even freeze them!
Place them on a parchment-lined baking sheet after you've filled them, so they aren't touching and freeze for at least 8 hours. When frozen, place them in a plastic bag and seal. You'll be able to enjoy them whenever you'd like. Just know that it will take a few minutes longer for them to cook, and there's no need to thaw them first.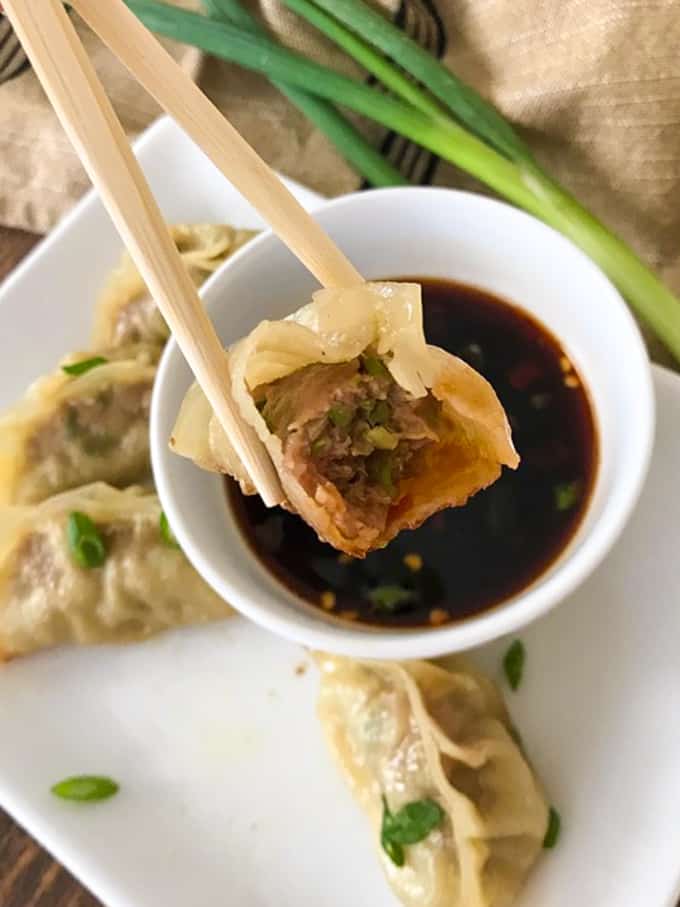 Helpful Items-
I used the following ingredients and tools when I made this recipe and you might find them useful as well.
This light soy sauce and Hoisin sauce were the exact ones I used. This dark sesame oil is similar to the one I put into the recipe. This two-teaspoon cookie scoop was super helpful when filling the pork potstickers.
You'll notice that I use cornstarch and baking soda in the filling. The cornstarch makes for a smooth filling and the baking soda helps to tenderize the meat.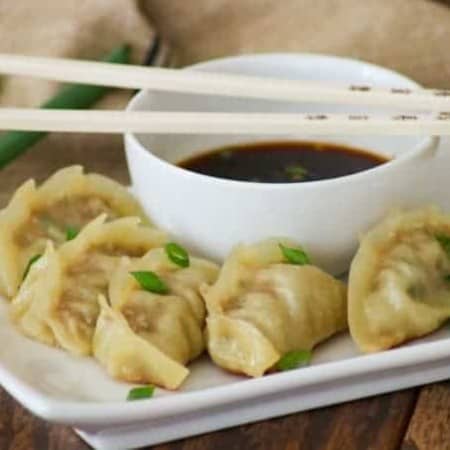 These easy Pork Potstickers with ground pork, ginger, garlic, cabbage and soy sauce wrapped in a light dough are perfect as an appetizer or main course!
Ingredients
Potstickers
1 teaspoon cornstarch
1 teaspoon sugar
¾ teaspoon baking soda
¼ teaspoon white pepper
1 lb. ground pork
3 cloves garlic minced
1 tablespoon soy sauce
1 ½ teaspoons freshly grated ginger
1 teaspoon Hoisin sauce
1 teaspoon dark sesame oil
1 cup shredded cabbage chopped
2 green onions - greens and whites chopped
50 potsticker wrappers
small bowl of water
1 tablespoon olive oil
¼ - ⅓ cup water
Dipping Sauce
3 ½ tablespoons low sodium soy sauce
1 tablespoon rice vinegar
¾ teaspoon chili paste
Instructions
In a small bowl, whisk together the cornstarch, sugar, baking soda and white pepper.

In a large bowl, combine the pork, garlic, soy sauce, ginger, Hoisin sauce, sesame oil, cabbage, green onions and cornstarch mixture. Mix with a wooden spoon until well combined.

Cover with plastic wrap and refrigerate for at least 30 minutes.
To Assemble
Cradle one of the potsticker wrappers in your non-dominant hand. Lightly dip your finger in the bowl of water and wet all around the edge.

Using a small cookie scoop, or two teaspoons of filling, place filling into the center of the wrapper.

Fold the edges up, but do not put them together yet.

Pinch one end of wrapper together.

Place the thumb of the hand holding the potsticker just above the filling in the wrapper. Push the side of the wrapper furthest away from you slightly towards the sealed end, grabbing and sealing it together with your opposite hand. By doing this, you'll create a small fold each time and form a natural crescent shape.

Do that for another three or four folds, sticking the dough together as you go and seal the other end.

When finished, they should have a body that is slightly curved, and a flattened bottom with about 4 - 5 pleats on the top.
Cooking
When ready to cook, heat a non-stick skillet over medium-high heat and add the tablespoon of olive oil.

Place the potstickers flat side down into the pan. I can fit about 15 comfortably into my 10-inch non-stick skillet.

Cook for one minute without touching or until the bottoms are golden brown.

Pour the 1/4 cup (or 1/3 cup - I use 1/3 cup when cooking 15 at a time) of water into the pan and immediately cover with a lid.

Reduce heat to medium and cook for 3 - 4 minutes or until all the water has disappeared.

Remove lid and cook for an additional minute.
To Make the Sauce
In a small bowl, whisk together the soy sauce, rice vinegar and chili paste.

Drizzle with sauce or serve it on the side for dipping.
Notes
I highly recommend this video on YouTube to fold them up. There are also others if you find that you're struggling with that method.
Did you make this recipe?
Share it with me on Instagram and make sure to follow me on Pinterest for more recipes.
If you like these Pork Potstickers, then you'll enjoy…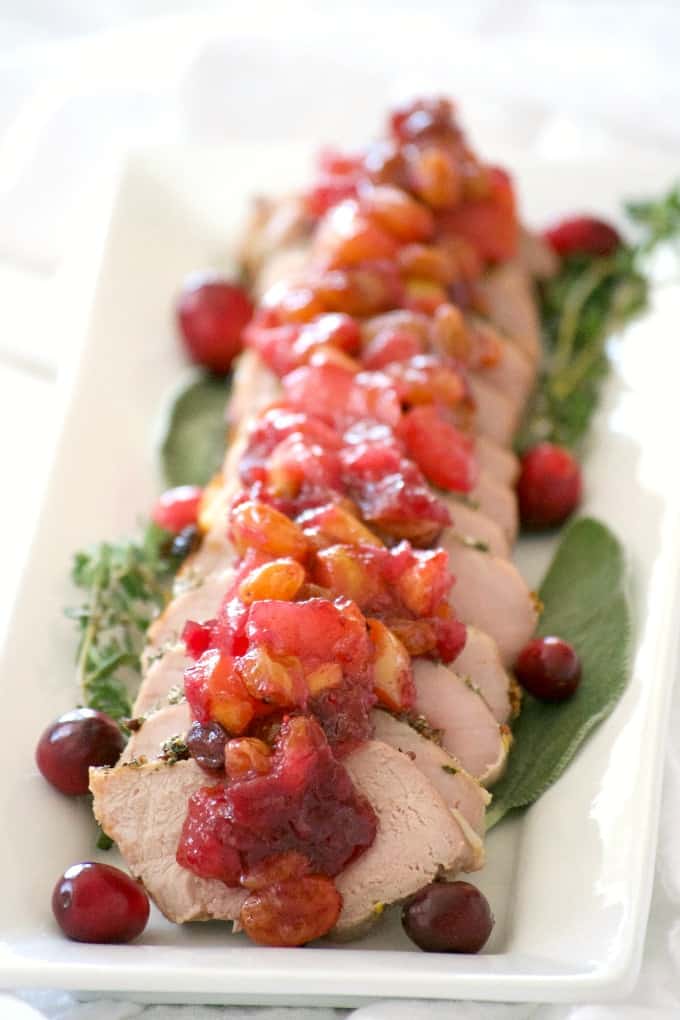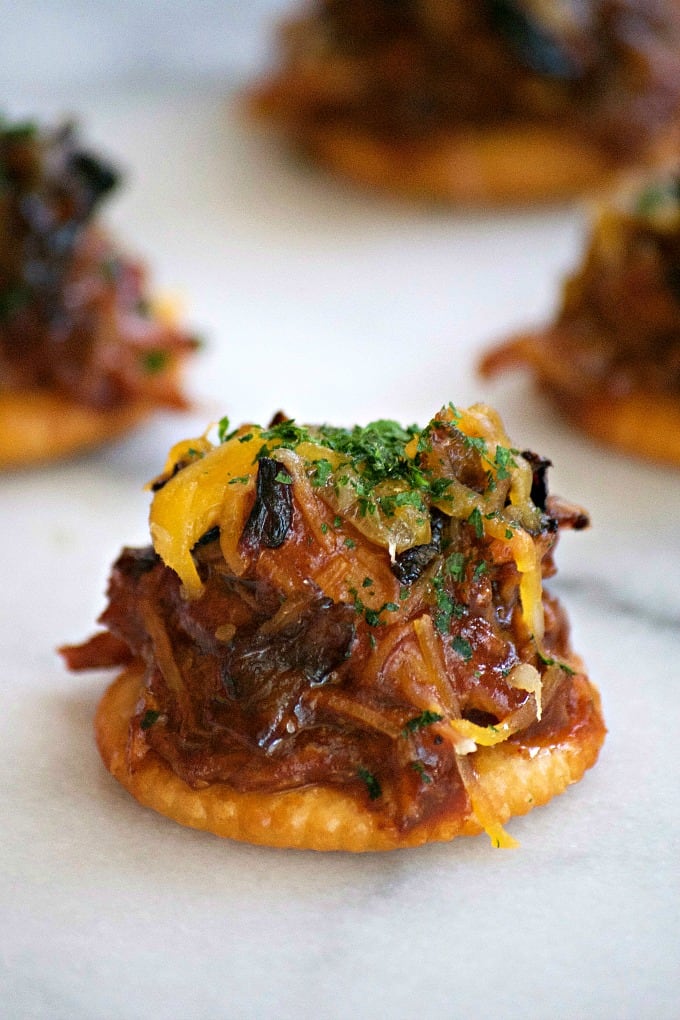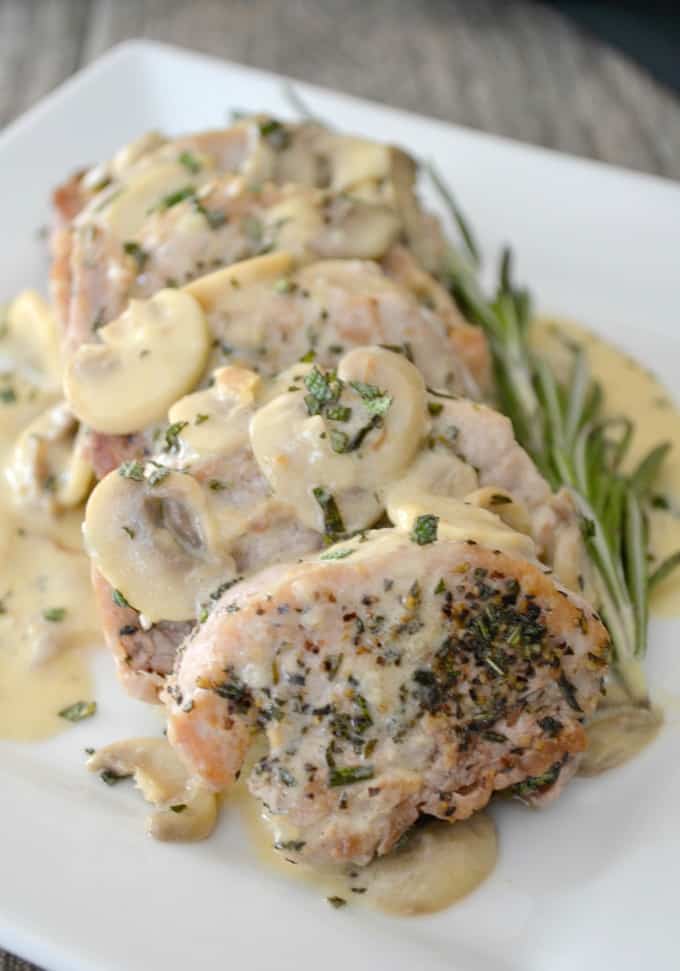 I have partnered with the National Pork Board to bring you this recipe. As always, all opinions are 100% my own. I thank you for your support of 365 Days of Baking and More and of the brands I believe in and promote.
*AFFILIATE LINKS ARE LINKS THAT CAN TAKE YOU TO A PRODUCT (OR PRODUCTS) THAT I RECOMMEND. I DO RECEIVE A PORTION OF THE SALES OR CREDIT FOR MY FUTURE PURCHASES FROM ANY ITEMS PURCHASED THROUGH THOSE LINKS. YOUR PURCHASES ENCOURAGE MY BAKING, COOKING AND BUTTER HABIT, AND CONTRIBUTE TO THE LIFE OF THIS BLOG.
I THANK YOU SO VERY MUCH FOR YOUR SUPPORT. LET'S KEEP HAVING FUN IN THE KITCHEN!!
Reader Interactions