Rosemary Pork Medallions with Mushroom Wine Sauce – sliced pork tenderloin pan-fried and covered in a savory mushroom wine sauce. This pork is soft and juicy, definitely not the pork your mother overcooked.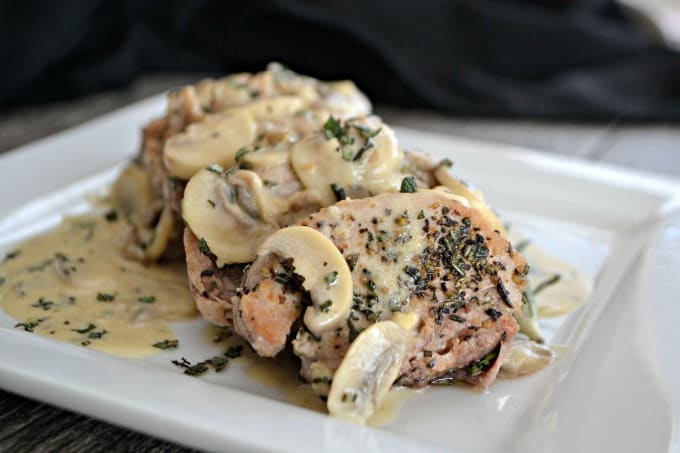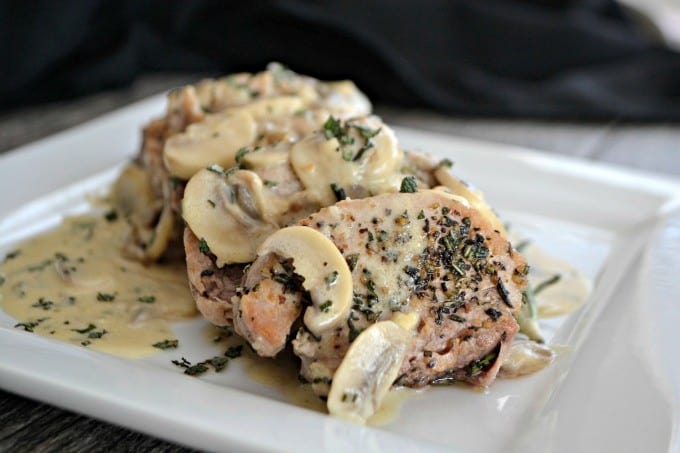 Remember a few weeks ago…
Did I share with you my trip to Iowa to visit a pig farm? I learned SO much on that trip…like how to cook pork the RIGHT WAY!!!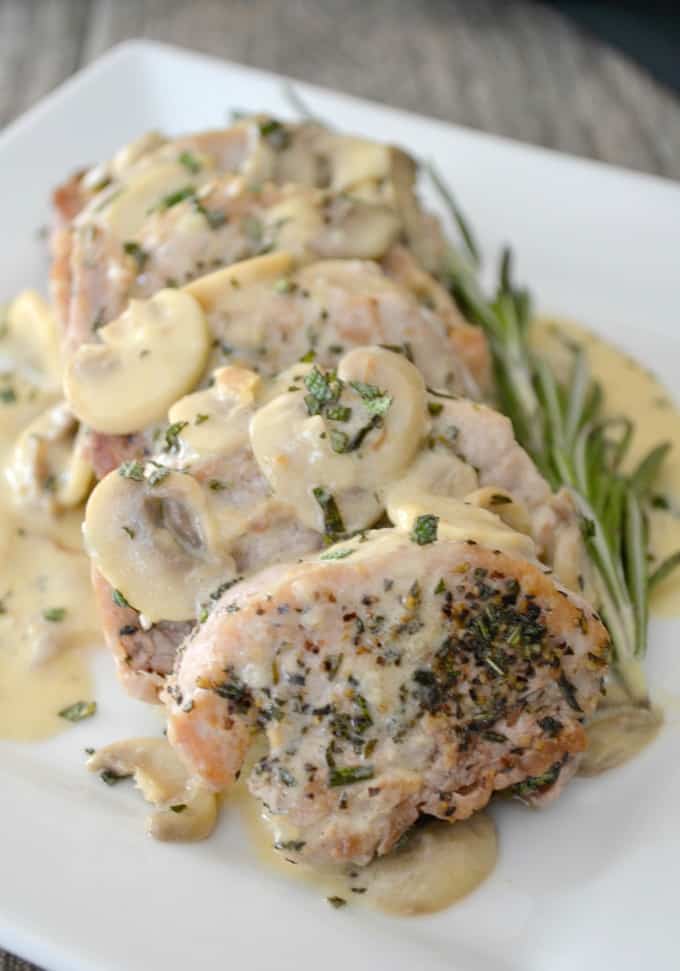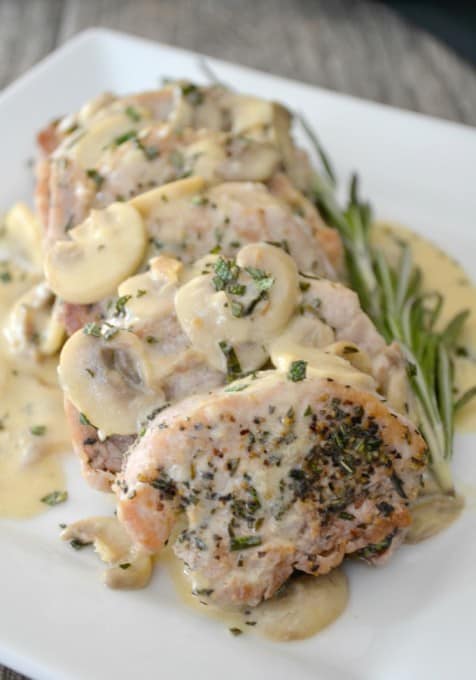 Did you know that because of safe pork practices now while raising pigs, the National Pork Board now recommends cooking pork tenderloin to an internal temperature between 145° F. (medium rare) and 160° F. (medium), followed by a 3-minute rest??
Gone are the days of the dried out meat. You can now enjoy pork that is tender and juicy!!
See how gorgeous that is?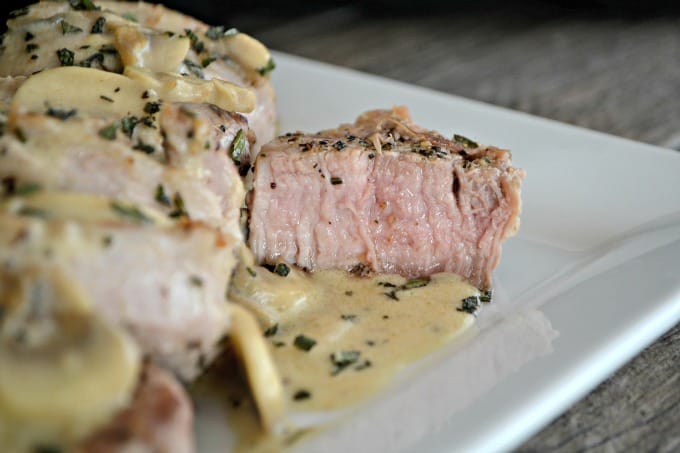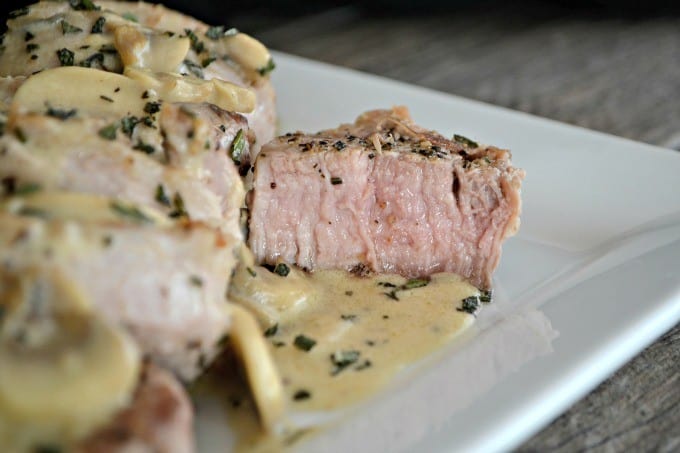 It was so much more flavorful, too! Mr. 365 doesn't like pork tenderloin, but he loved this dish.
It was inspired by my great friend, Mary from Barefeet in the Kitchen. She has a really great cookbook coming out next year, so be sure to watch for it!
While we were in Iowa, besides visiting the pig farm, we were able to have lunch at Nina's. BUT…Not only did we eat lunch, but we also cooked it as well with one very special guest.
Before we ate lunch we were treated to a pork fabrication where we learned the different cuts of pork. A pig is SO much more than bacon and pork chops!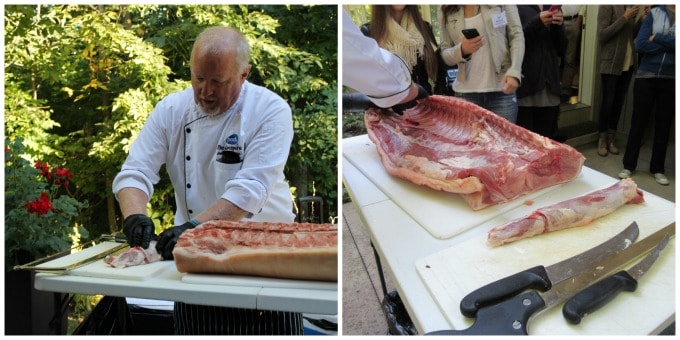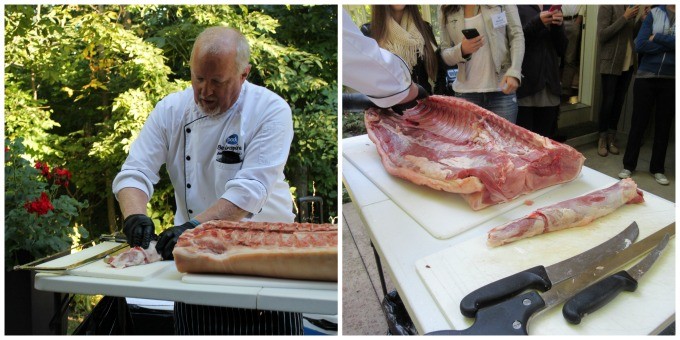 THEN…
there was this guy who was on some sort of tv show called The Bachelor, I think it is…girls go nuts for him…This is the show where he gives out roses to the girls and that lets them know they're able to stay in the house a little longer, hoping they'll be the final one picked by him or something like that.
So into the kitchen walks none other than The Bachelor himself, Chris Soules, and he starts handing out BACON roses to every single one of us – 10 bloggers. You can see my video here on Instagram.
He was funny and very, very patient with us because we were all picking on him quite a bit. We prepared 5 recipes, so we split it where two bloggers would cook at a time and poor Chris had to make each one and put up with all of us.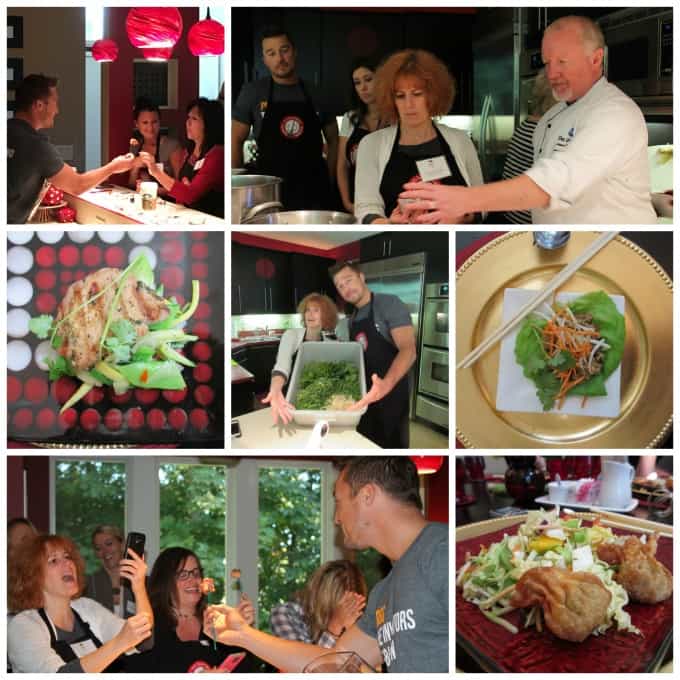 At one point, I saw him swipe his finger on the side of the cookie batter bowl and then lick it. Being extremely conscious about cleanliness in the kitchen, I quickly said, "you're going to wash your hands, right?!" He looked at me, paused and said, "yes, I'll go wash them!", and then walked over to the sink.
A little while later when cooking another dish he did the same thing and must have felt my burning eyes upon him. He looked right at me and said, "don't worry, I'm going to wash them!" He did, but as he was walking to the sink, he turned to me and smiled, calling me the "Sanitation Nazi".
We laughed. It was all in good fun. After we cooked, we were all able to enjoy the food and it was all absolutely delicious!


See that picture on the right? I was pretty impressed that we rubbed off on Chris. I've only ever seen food bloggers stopping before a meal to take a picture of what they're about to eat!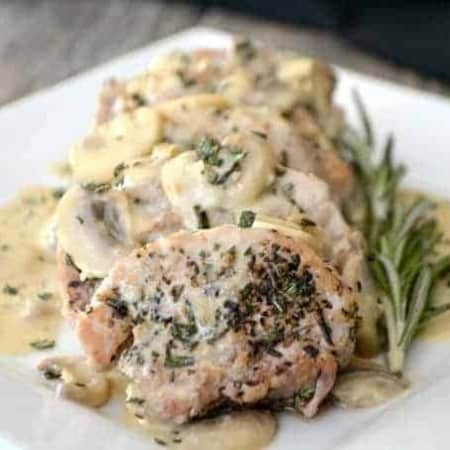 Rosemary Pork Medallions with Mushroom Wine Sauce
Soft, juicy and very flavorful, these Rosemary Pork Medallions with a Mushroom Wine Sauce will be an easy and delicious weeknight dinner!
Print
Pin
Rate
Ingredients
1 1.5

lb.

pork tenderloin

3 ½

teaspoons

finely chopped fresh rosemary

separated

½

teaspoon

ground black pepper

¼

teaspoon

kosher salt

2

tablespoons

olive oil

3

tablespoons

butter

8

ounces

button mushrooms

sliced

1 ½

teaspoons

flour

¾

cup

white wine

½

teaspoon

chicken base

¼

cup

heavy cream

1

teaspoon

freshly chopped sage
Instructions
Rosemary Pork Medallions
In a small bowl, combine 2 1/2 teaspoons of the fresh rosemary, pepper and salt.

Slice the tenderloin into 1-inch thick slices. and distribute the rosemary mixture of the pork tenderloin, making sure to coat both sides of the medallions.

In a large skillet on medium high heat, pour olive oil.

Oil will be ready when a small drop of water placed into it sizzles.

Place the medallions into the skillet and cook for 3 minutes without touching.

With a small hard spatula or offset spatula, gently flip the medallions to cook on the other side for an additional 3 minutes and cover.

Transfer the medallions to a plate and cover with tin foil while making the sauce.

Reduce the temperature of the skillet to medium.
Mushroom Wine Sauce
In the skillet, melt the butter.

Sauté the mushrooms until soft, about three minutes.

Add flour and mix until well combined, any moisture will be absorbed.

Whisk in the wine and chicken base and bring to a boil.

Reduce heat and add cream, remaining teaspoon of rosemary, and sage.
Notes
If you'd rather not use the wine in the sauce, here are some things you can substitute it with - chicken broth/stock, vegetable stock, white grape juice, ginger ale, canned mushroom liquid, or diluted white wine or cider vinegar.
It was an absolutely wonderful trip and I learned so much both at the Brenneman Farm and when we were at Nina's for lunch. I cannot thank the National Pork Board enough for sponsoring both the trip and both posts.
Check out #RealPigFarming to learn more about pork!