Rosemary Pork Medallions with mushroom wine sauce is an easy pork recipe with delicious results. Rounds of sliced pork tenderloin are pan fried to perfection and covered with a savory mushroom gravy. It's a one pan meal that's impressive enough for a special occasion but easy enough to make any night of the week!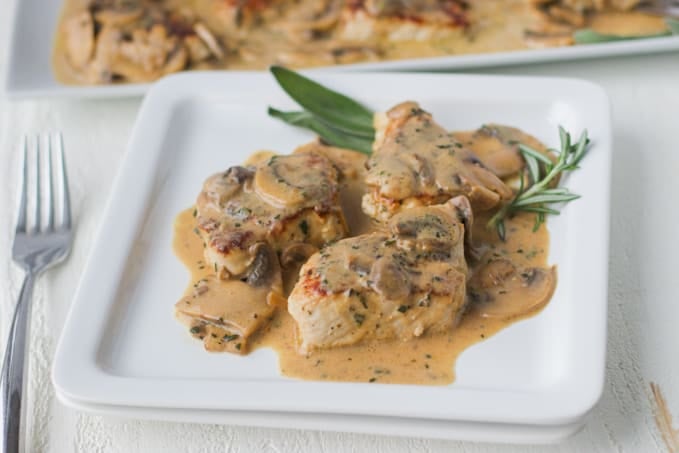 Tired of dry, overcooked pork? Me too.
A little while ago, I took a trip to Iowa to visit a pig farm? I learned SO much on that trip, including the best ways to cook pork.
SAVE THIS SAVE THIS EASY PORK MEDALLION RECIPE TO YOUR FAVORITE PINTEREST BOARD!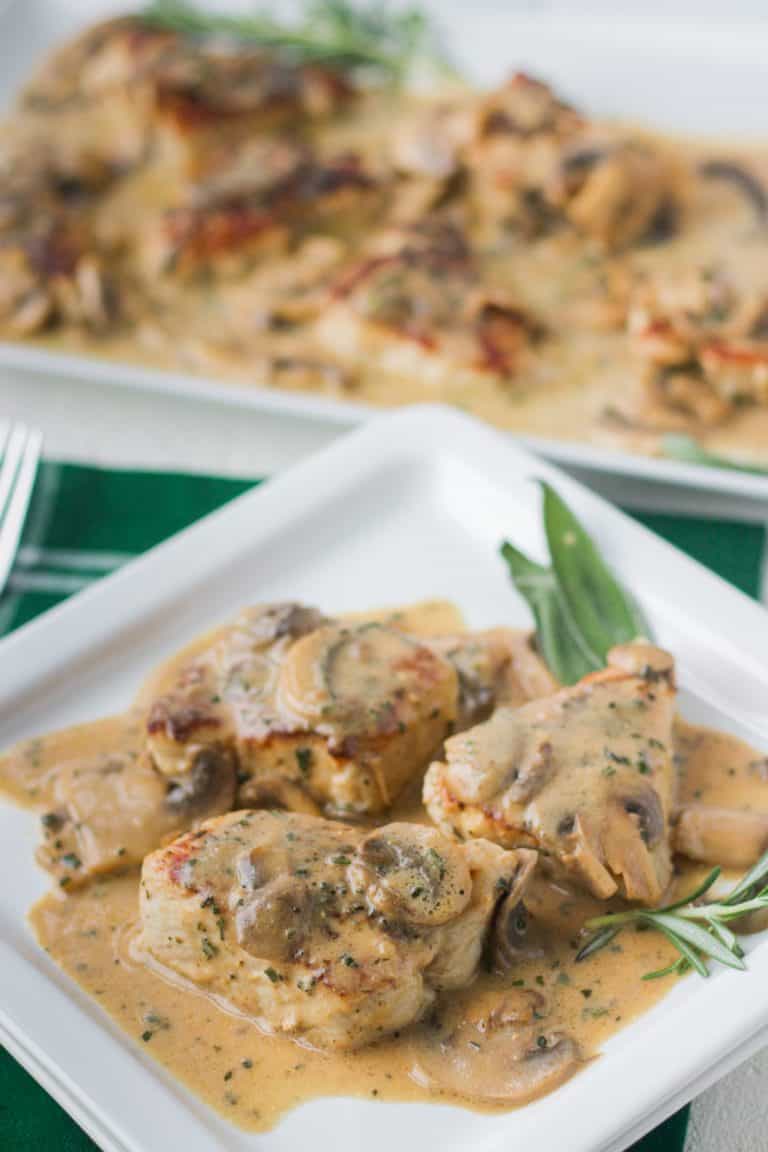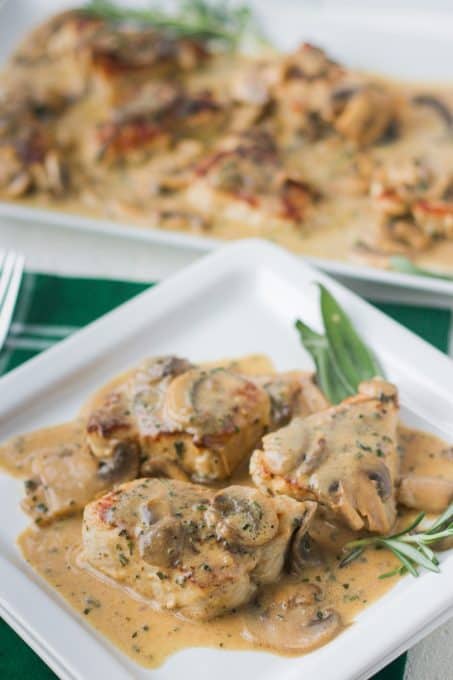 For years, I thought pork tenderloins had to be cooked to a full 165 F (like chicken) to be safe to eat. The result was tough, flavorless meat that needed to be drowned in sauce to taste halfway decent.
It turns out it doesn't have to be that way! The National Pork Board now recommends cooking pork tenderloin to an internal temperature between 145° F. (medium rare) and 160° F. (medium), followed by a 3-minute rest. I used their recommendations to make these Rosemary Pork Medallions.
Rubbed with fresh rosemary and quickly pan fried, the pork itself is juicy and flavorful even before adding the mushroom wine sauce. The gravy-like sauce covers the pork with even more rich, savory flavor that enhances the aromatic rosemary and makes every bite of pork even more tender.
Gone are the days of the dried out meat. You can now enjoy pork that is tender and juicy!!
See how gorgeous that is?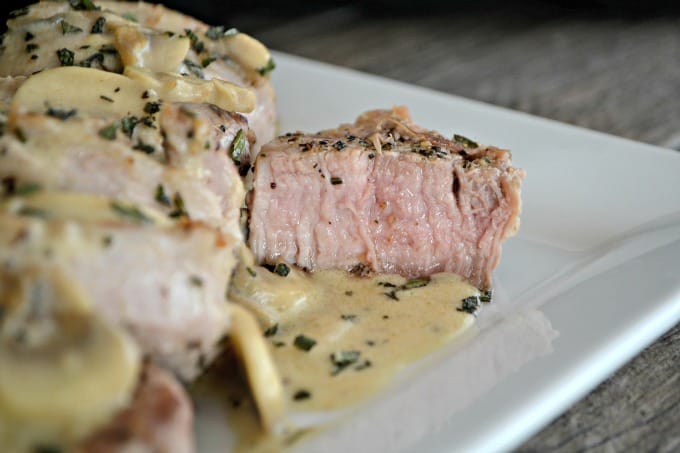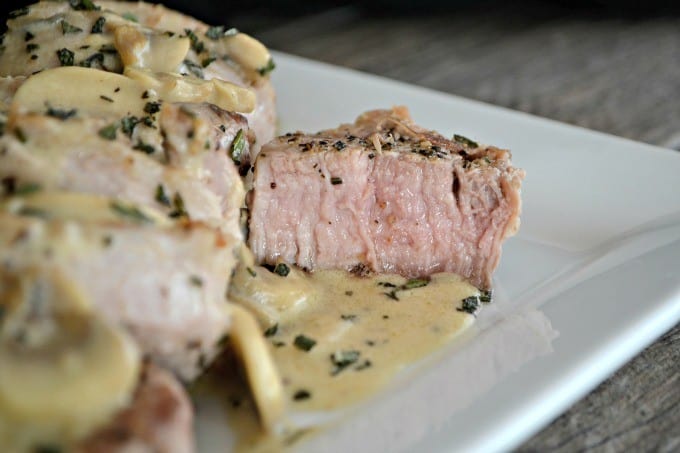 The best part is how quick and easy this recipe is! As much as I love slow cooker pork, I love that I can make great tasting easy pork recipes in no time on the stove too. I know you'll love these Rosemary Pork Medallions!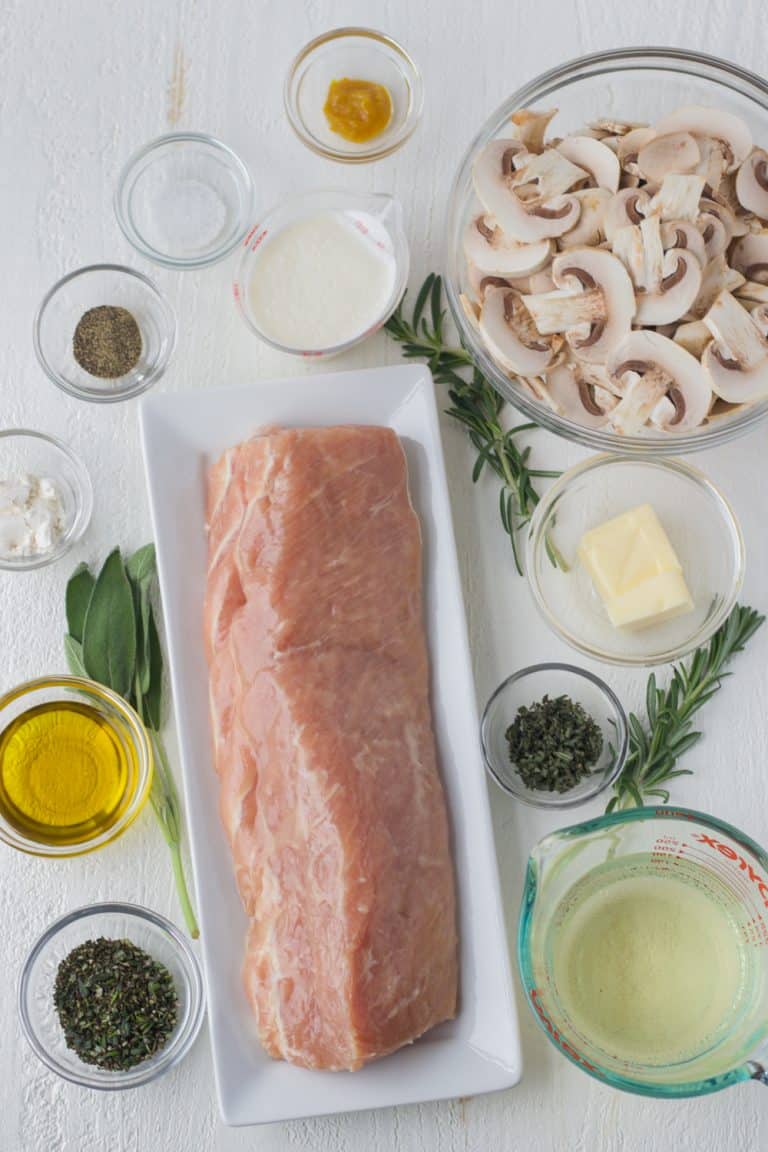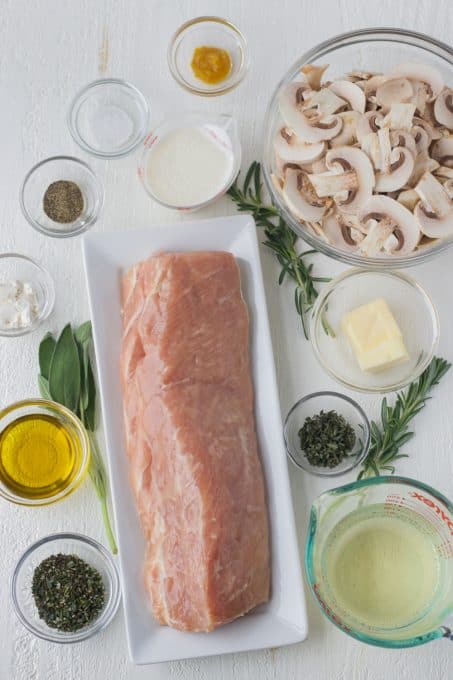 What do I need?
You will need these ingredients to make the pork tenderloin medallions:
pork tenderloin – Slice them into1 inch medallions yourself or ask your butcher to do it!
fresh rosemary leaves
salt
pepper
olive oil
For the mushroom wine sauce, you will need:
button mushrooms
white wine
butter
chicken base
heavy cream
fresh sage
What can I use in place of wine?
If you'd rather not use white wine in the sauce, you can substitute with another liquid. Chicken stock or vegetable broth will both work well. You can also use diluted white wine vinegar or diluted apple cider vinegar.
For a sauce with a little sweetness, make this recipe with white grape juice or ginger ale instead of white wine.
You can even use the liquid from a can of mushrooms for a more savory mushroom flavor.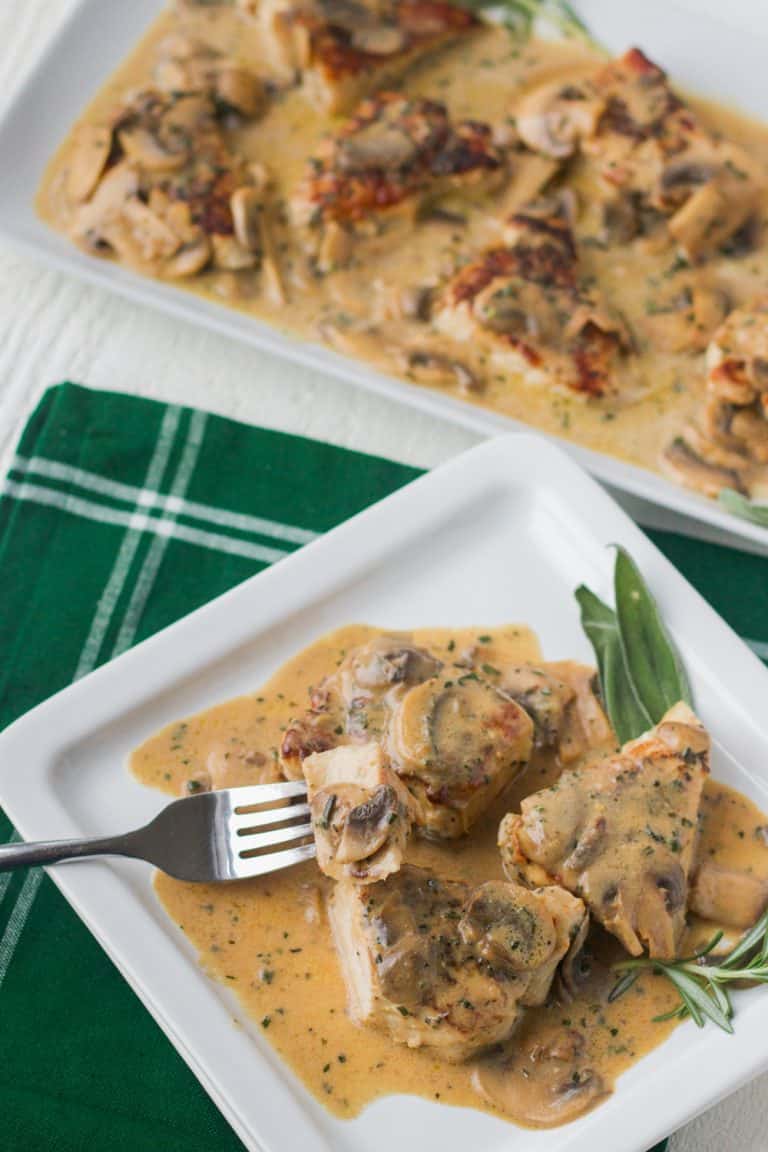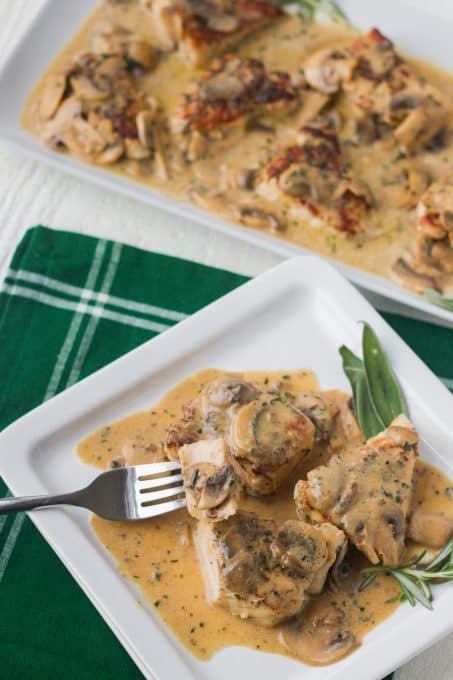 Pork Recipes
Once you learn how to cook pork medallions on the stove, go ahead and explore the wide world of pork recipes! Pan cooking is quick but I also enjoy the oven baking method in this Roast Pork Tenderloin recipe.
These Parmesan Pork Chops with Pesto are a cheesy, garlicky twist on classic pork chops. If you're more into sweet and spicy pork, you'll love these Coca-Cola Shredded Pork Bites.
Love barbecue? Try this Easy BBQ Pork Mac & Cheese recipe. The kids always gobble it up, no questions asked. While not barbecue, these Cheesy Spiced Pork Burgers are another kid approved favorite.
Check out even more pork recipes I've made and loved on this site over the years: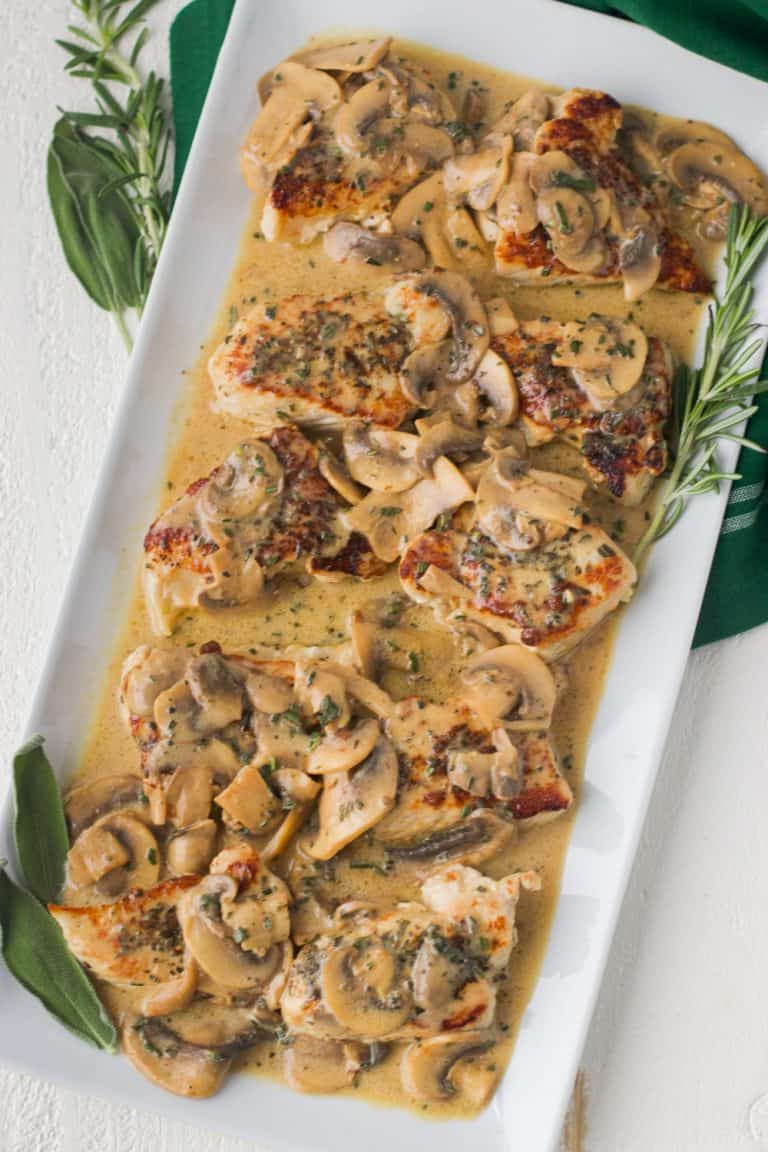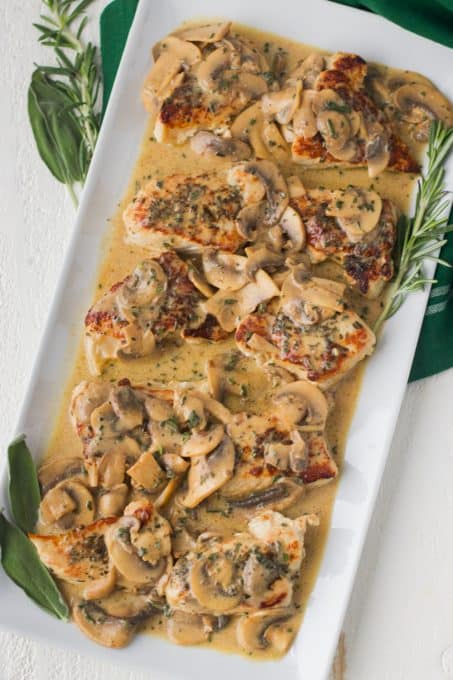 What to Serve with Pork?
The versatility of pork makes it delicious with all kinds of different side dishes. I love today's Rosemary Pork Medallions served with a helping of Mashed Potatoes and a lighter side of steamed vegetables or a green salad.
Baked potatoes are a perfect accompaniment to pork dishes too. Try these Twice Baked Potatoes or these Easy Roasted Smashed Potatoes for something different.
When I make pork chops, I always serve them with an apple side dish. This Baked Applesauce is always a delicious choice. Fried Apple Rings taste amazing with pork too. The combo of sweet apple with savory pork is perfection!
Make the juiciest pork medallions ever with this quick and easy pork recipe! Served with a rich creamy white wine sauce, these Rosemary Pork Medallions are a perfect meal for a weeknight dinner or special occasion.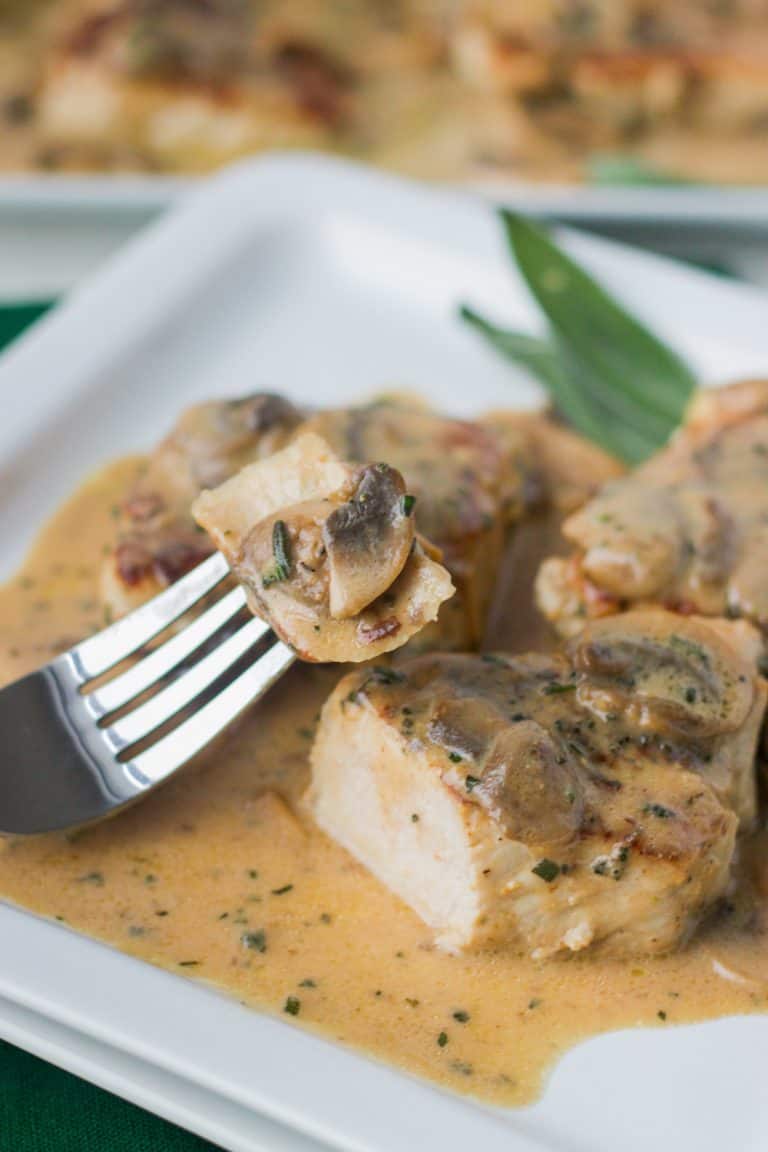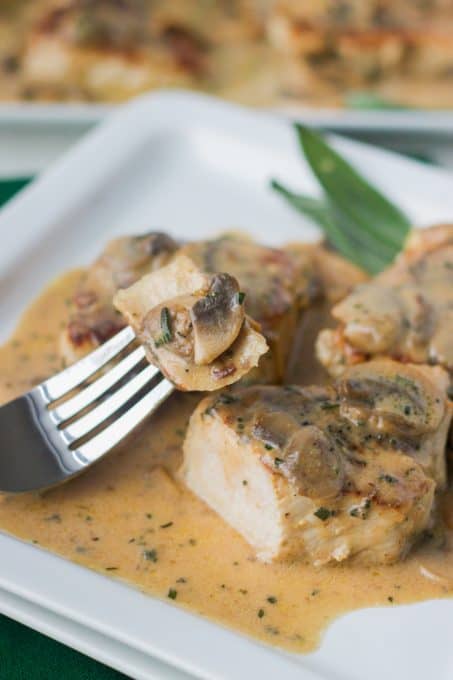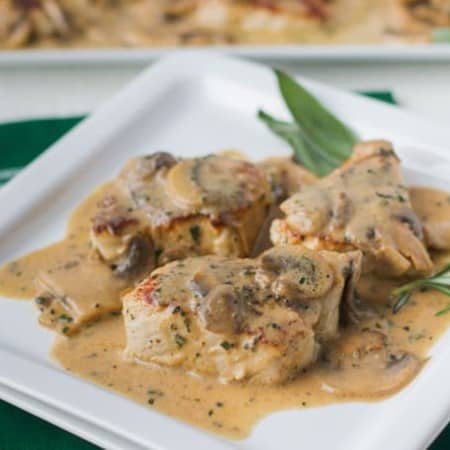 Rosemary Pork Medallions with Mushroom Wine Sauce
Rosemary Pork Medallions with mushroom wine sauce is an easy pork recipe with delicious results. Rounds of sliced pork tenderloin are pan fried to perfection and covered with a savory mushroom gravy. It's a one pan meal that's impressive enough for a special occasion but easy enough to make any night of the week!
Equipment
1 small bowl

1 spatula

1 Large skillet
Ingredients
1 1.5 lb. pork tenderloin
3 ½ teaspoons finely chopped fresh rosemary separated
½ teaspoon ground black pepper
¼ teaspoon kosher salt
2 tablespoons olive oil
3 tablespoons butter
8 ounces button mushrooms sliced
1 ½ teaspoons flour
¾ cup white wine
½ teaspoon chicken base
¼ cup heavy cream
1 teaspoon freshly chopped sage
Instructions
Rosemary Pork Medallions
In a small bowl, combine 2 1/2 teaspoons of the fresh rosemary, pepper and salt.

Slice the tenderloin into 1-inch thick slices. and distribute the rosemary mixture of the pork tenderloin, making sure to coat both sides of the medallions.

In a large skillet on medium high heat, pour olive oil.

Oil will be ready when a small drop of water placed into it sizzles.

Place the medallions into the skillet and cook for 3 minutes without touching.

With a small hard spatula or offset spatula, gently flip the medallions to cook on the other side for an additional 3 minutes and cover.

Transfer the medallions to a plate and cover with tin foil while making the sauce.

Reduce the temperature of the skillet to medium.
Mushroom Wine Sauce
In the skillet, melt the butter.

Sauté the mushrooms until soft, about three minutes.

Add flour and mix until well combined, any moisture will be absorbed.

Whisk in the wine and chicken base and bring to a boil.

Reduce heat and add cream, remaining teaspoon of rosemary, and sage.
Notes
If you'd rather not use the wine in the sauce, here are some things you can substitute it with – chicken broth/stock, vegetable stock, white grape juice, ginger ale, canned mushroom liquid, or diluted white wine or cider vinegar.
Nutrition
Serving: 1person | Calories: 583kcal | Carbohydrates: 4g | Protein: 61g | Fat: 31g | Saturated Fat: 13g | Polyunsaturated Fat: 3g | Monounsaturated Fat: 13g | Trans Fat: 1g | Cholesterol: 227mg | Sodium: 438mg | Potassium: 1348mg | Fiber: 1g | Sugar: 2g | Vitamin A: 491IU | Vitamin C: 1mg | Calcium: 40mg | Iron: 3mg
Did you make this recipe?
Share it with me on Instagram and make sure to follow me on Pinterest for more recipes.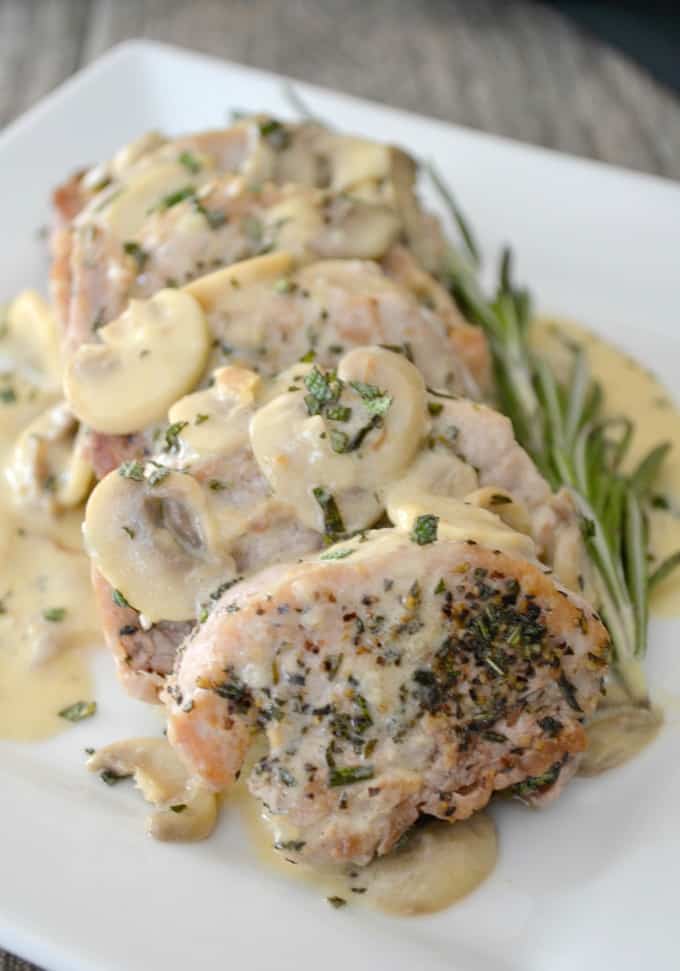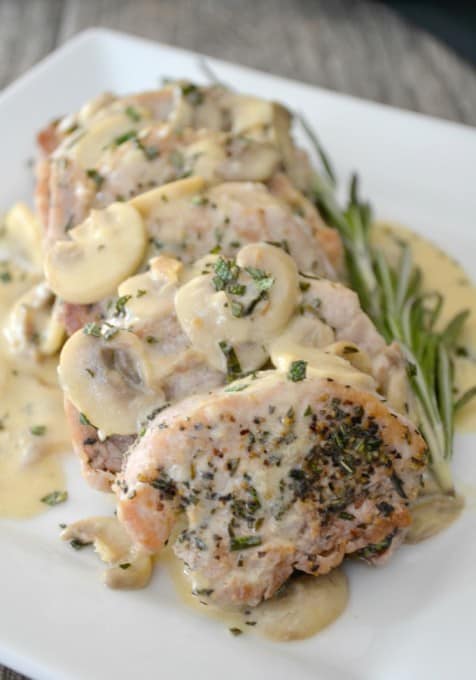 This posts was originally published on 10/28/15. It has been updated in format and with pictures on 2/7/22.
Reader Interactions