Homemade applesauce that you'll enjoy so much more than the store bought ones.
I've wondered, who made up the criss-cross applesauce jig. It's really darn creative and perfect for the little kidos when they need to pay attention. And, it's actually fun to say, too. Anyways, about this food that I baked today. APPLESAUCE! This applesauce recipe I actually am a fan of more. The ones at the store are too smooth, or the ones that I've always bought. I much prefer having apple chunks in my applesauce. It gives it a more realness to it if that makes any sense at all. Oh, brother, it's been a day!
I wish we had access to apple picking as easily here in Arizona as we used to when we lived in Rhode Island. It was something we did quite a bit and if we didn't do it as a family, most often the kids would have school field trips to an orchard. Apple picking is a definite sign of fall. Going to the grocery store to buy a bag of apples just doesn't do it for me. And the cider bought in the store just doesn't taste like the stuff we used to buy. I'm going through New England Fall withdrawal. Can you tell? I like how that sounds, too, New England Fall withdrawal.I'm missing the change of seasons more than I thought I was, especially this time of year.
Don't worry about not having breakfast or dinner thought up. Let these recipes think for you. All you have to do is follow and cook. This easy teriyaki shrimp rice bowl by theflavorbender never disappoints when our family chows down on it. Breakfast can be a piece of cake sometimes, and that's why it's my favorite meal. Cookieandkate has a simple breakfast tostadas recipe that is sure to please the growing kids of yours.
So, to bring a taste of New England to Arizona today I decided to make some applesauce. I was originally going to cook it in the crock pot because I thought that would be the thing to do and then I was like, "Duh, why couldn't it be baked?" I had my daughter Google it on the internet, and…wouldn't you know it, somebody's done it. Well, a lot of somebodies have done it. But I went with this one from 
AllRecipes
.
(ok, I ate a lot of it. It was just THAT good) Besides, who was the one who peeled and cut ALL those apples, hunh? I worked for it. Everyone else sat there and expected it to be given to them just so they could rate it for me. Sheesh.
SIGN UP FOR THE WEEKLY
365 DAYS OF BAKING & MORE
NEWSLETTER BELOW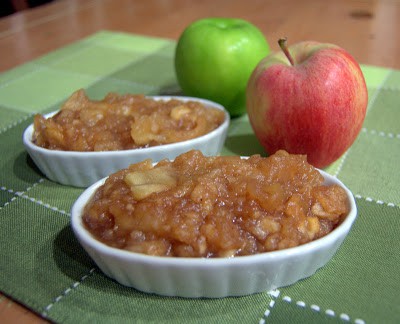 Ingredients
8

large apples

I used 4 Granny Smith and 4 Honeycrisp

½

cup

sugar

1

teaspoon

cinnamon

1

teaspoon

vanilla extract
Instructions
Preheat oven to 350ºF.

Prepare a 2 1/2 quart baking dish by spraying it with cooking spray.

In a small bowl, combine sugar, cinnamon and vanilla. Mix well.

Peel, core and cut apples into slices.

Place apples into a large bowl.

Pour sugar mixture over apples and toss to coat.

Pour apples into prepared baking dish and cover with tin foil.

Bake for 45-60 minutes, or until apples are tender.

Uncover and use a potato masher to crush the apples.

Serve warm.
I rate everything I bake on a scale of 1-4 with 4 being the best and this Baked Applesauce earned 3 1/2 rolling pins! It was so good and SO EASY that the store-bought stuff doesn't even come CLOSE!! Sorry, Mott's. I'm really interested to try making it in the crockpot now and see how that tastes compared to the baked version. It was just a tad bit too sweet which is the only thing holding it back from being a 4, so when I make it this way again, I'll cut out a few tablespoons of sugar and maybe add a touch more cinnamon. It was truly delicious.
I'm sure you get cravings a lot, and right now I'm on an apple binge. If that's not a thing it should be. I'm looking forward to making this during the winter months. Or summer months. It really doesn't have to be restricted because it's that good.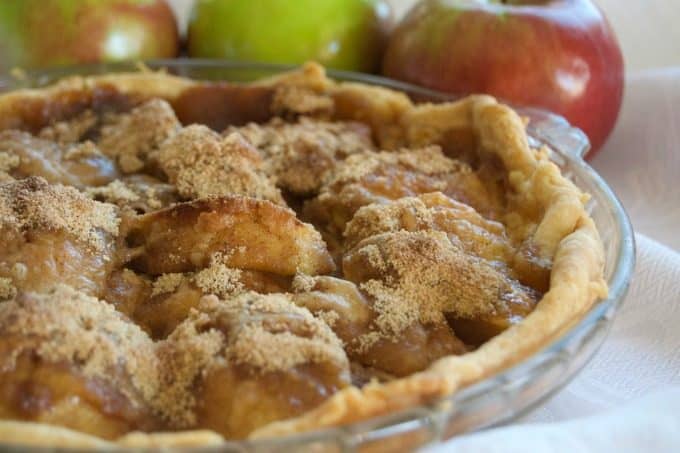 Here's a great snack for after school when the kids are doing their homework.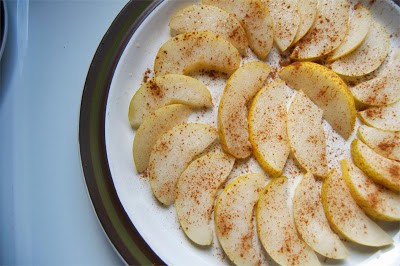 Now I really want to go get me some more apples. I had taken it out of the oven after 45 minutes and while mashing, found that there were some apple slices that were resisting the breakdown, so put it back into the oven for another 10 minutes. I didn't break all of it down, but I liked the fact that there were some apple chunks in there.
Making this brought me back to kindergarten when we made applesauce. I loved kindergarten. Life was so easy then – coloring, learning to read, learning to tie my shoes, running smack dab into a wooden plank on the playground which knocked me out. Yikes! I still have that vision of the board coming at me or rather, me running full force toward it while chasing a friend. I hit it just above eye level and then came to with teachers and fellow students looking down at me.
Good grief. Alright, what can I say? I am an only child and do like to have ALL the attention focused on me. Wasn't I talking about applesauce? How the heck did I get off on this tangent? Today's been like that.