Viennese Crescents are a light, rich, buttery cookie traditionally made with almonds and shaped into crescents.
Lightly dust them with some powdered sugar and they look like they've been covered in snow. Your holiday cookie tray won't be complete unless this traditional Viennese Crescent Christmas cookie is on it!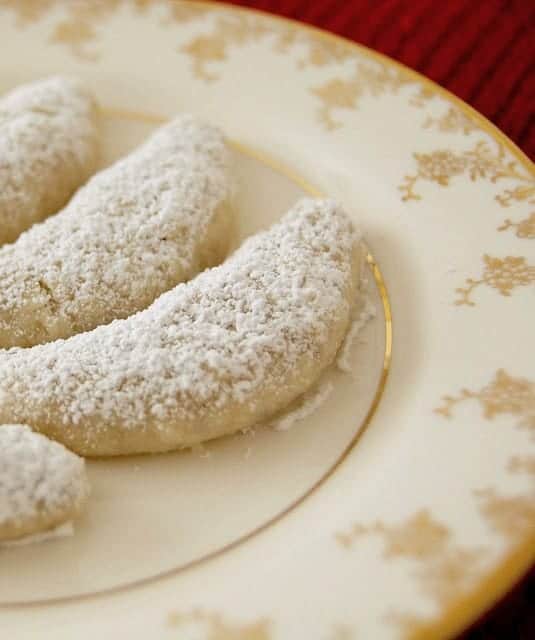 I LOVE making cookies at Christmastime.
Ok, I love making cookies all year long, who am I kidding? Typically at our house, we don't have a huge cookie making party that I know some people do, but I'm thinking that maybe next year it's something I'd like to do with the kids.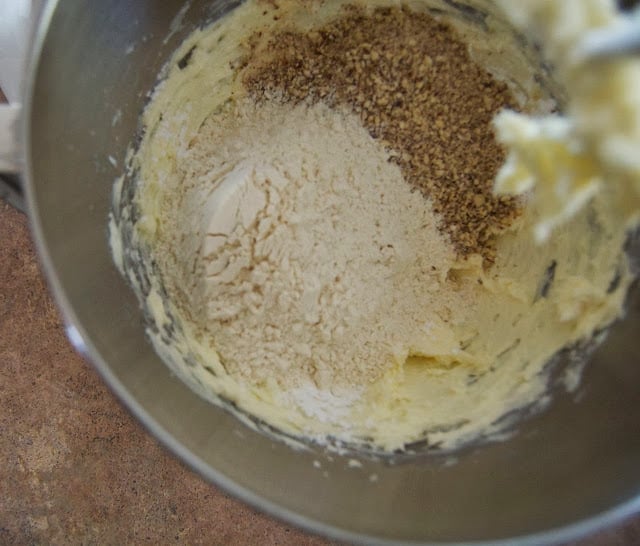 Since moving to New Hampshire, we've lived in a few houses and haven't had the chance to make meet many neighbors and befriend them.
Now we're living in a spot where we have very few neighbors. And I don't know, nowadays do people even bring cookies to your door when you move in or when they move in?
It seems to me like it's a thing of the past that's long been forgotten, but should still be around, like 8-track tapes, Stretch Armstrong, cube acrylic photo boxes with the foam in the middle, the Hoppity Horse and Hee Haw!
Ok, maybe not some of those, but at least a couple. If I've stumped the younger generation with my 70's reminiscing, just Google the stuff, it's sure to come up. But the greeting people with cookies, we need to stage a movement to bring that back.
I know I for one would be thrilled to receive a plate of these Viennese Almond Crescent Cookies from a new neighbor. Heck, I'd be happy for anyone to give me these cookies.
Then again, I think I like baking them just as much, if not more. There's no better way to show love or appreciation for someone than showering them with COOKIES!
SAVE THIS VIENNESE CRESCENT COOKIES RECIPE TO YOUR FAVORITE PINTEREST BOARD!

Yeah, I know people are now paranoid about things being put into their food, not knowing where it's coming from or who's making it and all those food allergies people have now that I never heard about while growing up.
I'm not saying that you or your loved ones don't have them. It's just why didn't we ever hear about peanut allergies or people allergic to eggs when I was a kid? I know times have changed and people are more paranoid careful and it's not as free and easy-going as it was back then…in the old days.
So then, it's all the more reason to start this cookie movement.
Old days? Did I really just say that? I know it's that time of year when we are already bringing cookies to friends, neighbors and loved ones, but how about making an extra plate for that grumpy woman down the street who lives alone and never says hello. You might just be the breath of fresh air she's been needing to turn that corner.
Add these Viennese Fingers to her plate. They're even in the shape of a smile!
SIGN UP FOR THE WEEKLY
365 DAYS OF BAKING & MORE
NEWSLETTER BELOW!
I used this recipe from my Fannie Farmer Cookbook, Thirteenth Edition, p. 625; author, Marion Cunningham; publisher, Alfred A. Knopf, Inc., division of Random House; ISBN 0-394-56788-9.\
Crescent Cookies
If you asked me to name my ultimate favorite Christmas cookie, I'd probably blurt out about twenty different kinds. I love baking and eating cookies, especially at Christmastime, so over the years I've made dozens and dozens of cookie recipes.
Of course, I love a good chocolate cookie like these Double Chocolate Peppermint Kisses and decadent dreamy Oreo Chocolate Chip Cookies. Everyone loves sugar cookies so I make sure to bake a few batches of Peppermint Frosted Sugar Cookies every holiday season, too.
From Double Peanut Butter Oatmeal Chocolate Chip Cookies to Mexican Wedding Cookies, chances are if it's a cookie, I've tried it.
These Viennese Crescents get the honor of being one of the most, well, elegant cookies I make during the holidays. The crescent shape looks pretty on a platter and the powdered sugar dusted on top completes the picture.
Viennese Almond Crescent Cookies
Okay but if you know me at all you know I don't care how pretty a cookie is if it doesn't taste good. And let me tell you. . .these cookies are DELICIOUS.
The cookies have a light texture with a buttery taste. Using ground almonds in the dough gives the cookies an almond flavor heightened by a touch of vanilla.
The Viennese crescent shape plus the powdered sugar on top makes these cookies look a little extra special. To me, these are one of the ultimate Christmas cookies! Christmas isn't Christmas to me without Viennese Crescents.
Every December I look forward to baking a batch of these lovely treats and sharing them with family and friends. I hope you like them as much as I do!
Cookie Recipes
After you make Crescent Cookies, give some of my other favorite holiday cookie recipes a try.
Salted Caramel Thumbprints are a hit on any Christmas cookie platter but will make people happy any time of year. Checkerboard Cookies and Stained Glass Cookies are more fun additions to your holiday dessert tray.
When you need a good peanut butter cookie with minimal ingredients, you need these 13 minute, 3 Ingredient Peanut Butter Cookies. This is another recipe perfect for just about any cookie baking occasion!
Baking for kids? You need Peanut Butter Reindeer Cookies and Apple Peanut Butter Oatmeal Cookies sure. (Although I think I like them as much as the kids I've served them to.)
Crescent Cookies have gotten rave reviews from both kids and grown-ups alike!
Almond Cookies
If you like the almond flavor in these crescent cookies, I know you're going to go crazy for Double Chocolate Frosted Almond Cookies. I mean, it's almonds + chocolate. . . what's not to love?
Another combo I love is toffee and almond like in Toasted Almond Toffee Cookies. Crunchy, buttery and sweet, they're a hit at the dessert table.
Viennese Crescent Cookie Recipe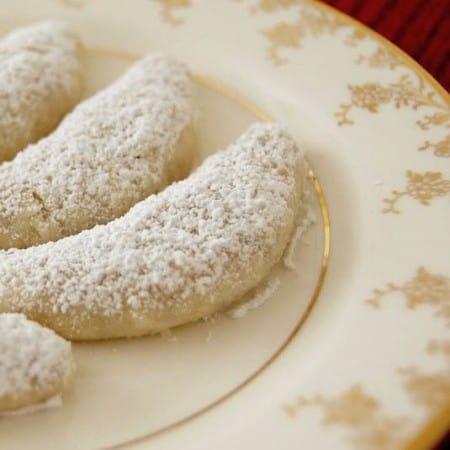 Viennese Crescents
Viennese Crescents are a light, buttery cookie made with almonds and shaped into crescents. Dusted with powdered sugar, they're a beautiful holiday cookie.
Print
Pin
Rate
Equipment
mixing bowl

Mixer

Baking Sheet
Ingredients
1

cup

unsalted butter

room temperature

¾

cup

confectioners' sugar

plus additional for coating

2

cups

all-purpose flour

1

cup

ground almonds

1

teaspoon

pure vanilla extract
Instructions
Preheat oven to 300 degrees F. C

ream butter until it is light and fluffy.

Add the confectioners' sugar, flour, nuts,

and

vanilla.

Mix thoroughly.

With your fingers, shape into crescents about 2 inches long, 1/4 inch wide and thick.

Roll each cookie in confectioners' sugar.

Place on an ungreased cookie sheet for 12-15 minutes, until just slightly golden.

Place on a wire rack to cool and roll in more confectioners' sugar before serving.
Nutrition
Serving:
1
g
|
Calories:
70.64
kcal
|
Carbohydrates:
6.1
g
|
Protein:
1.03
g
|
Fat:
4.84
g
|
Saturated Fat:
2.42
g
|
Cholesterol:
9.76
mg
|
Sodium:
0.64
mg
|
Potassium:
6.44
mg
|
Fiber:
0.37
g
|
Sugar:
1.87
g
|
Vitamin A:
113.45
IU
|
Calcium:
6.54
mg
|
Iron:
0.32
mg
Viennese Crescents
I rate everything I make on a scale of 1-4 with 4 being the best and these Viennese Crescents earned 3 1/2 rolling pins. I love their delicate flavor and really can't see eating them any other time of year. To me, and this is only my opinion, they are a holiday cookie.
In need of more cookies for the winter season? Here are some popular ones from the 365 blog!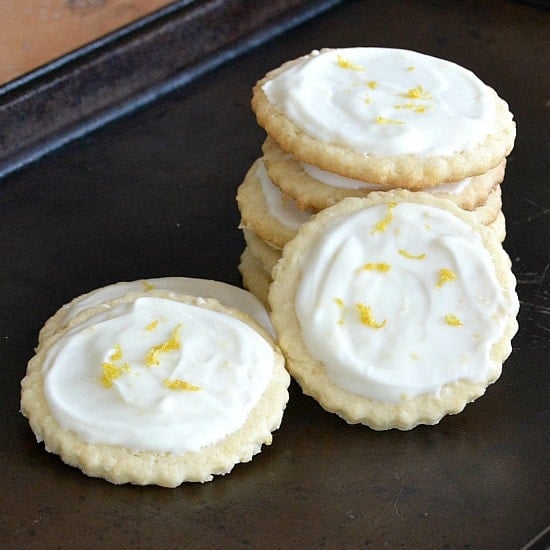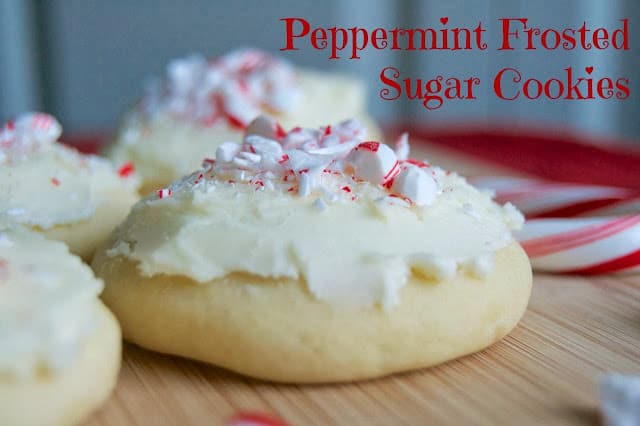 I don't think I've ever seen them besides at Christmas. Oh well, they're like that one yearly special treat. I like those. Remember to enter that cookie contest! I want to see you win!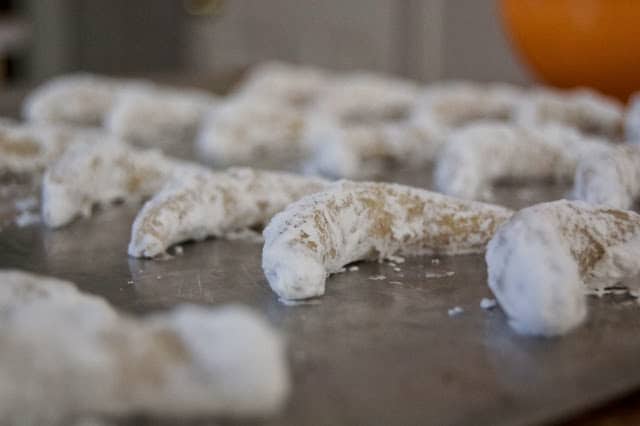 And a few more from some fellow bloggers. . .
Happy baking!