Viennese Crescents are a light, rich, buttery cookie traditionally made with almonds and shaped into crescents. Lightly dusted with powder sugar, they look like they've been covered in snow. Your holiday cookie tray won't be complete unless this traditional Viennese Crescent Christmas cookie is on it!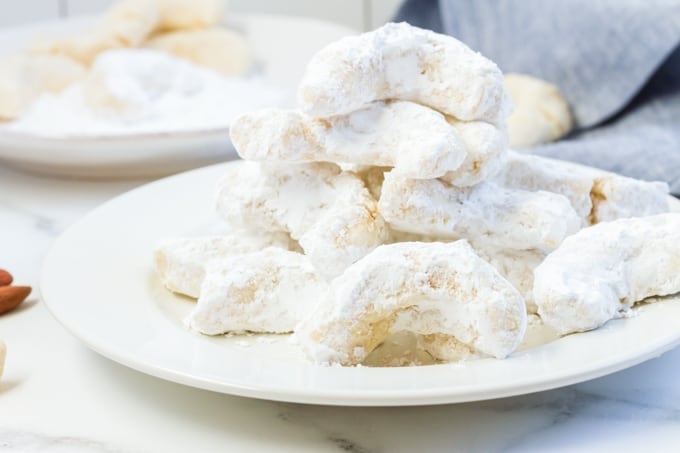 I LOVE making cookies at Christmastime.
Ok, I love making cookies all year long, who am I kidding? The other 11 months of the year, you'll find me baking all the Peanut Butter Cookies and Chocolate Chip Cookies I can.
But Viennese Crescents I save for Christmas! It makes them feel extra special that I only make them this time of year.

They look as pretty as they taste, making them ideal for parties or holiday cookie trays.
SAVE THIS VIENNESE CRESCENT COOKIES RECIPE TO YOUR FAVORITE PINTEREST BOARD!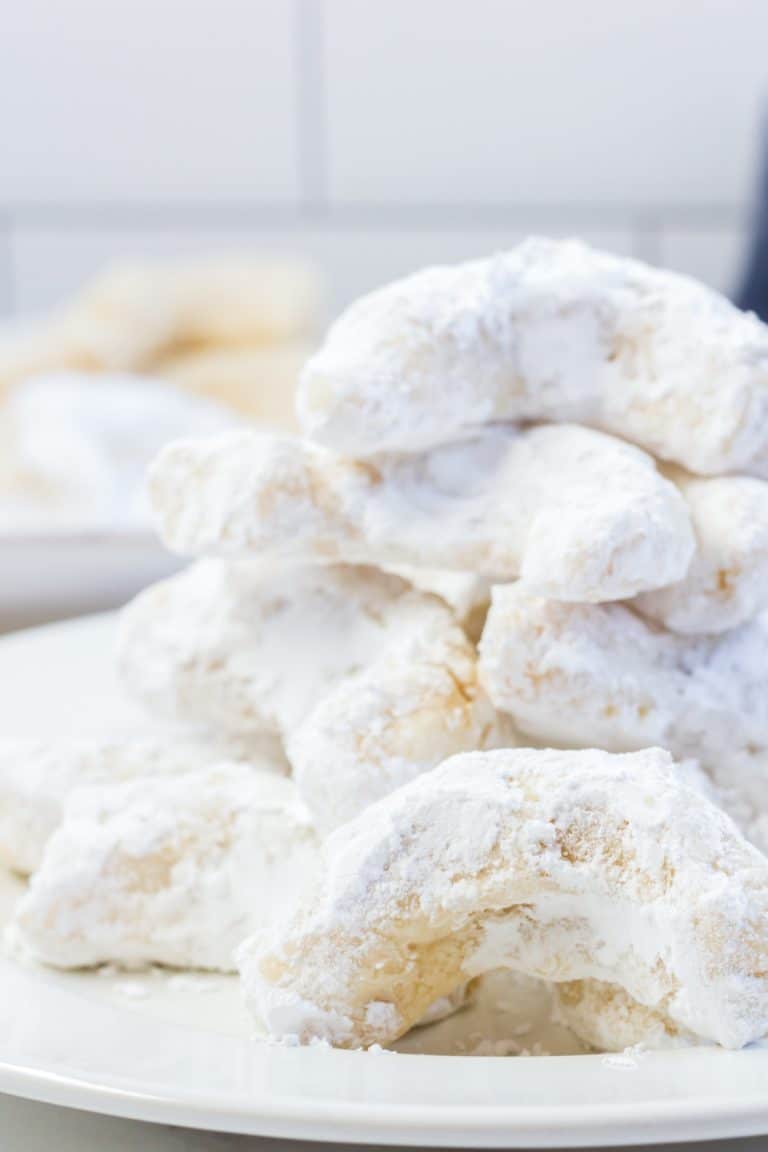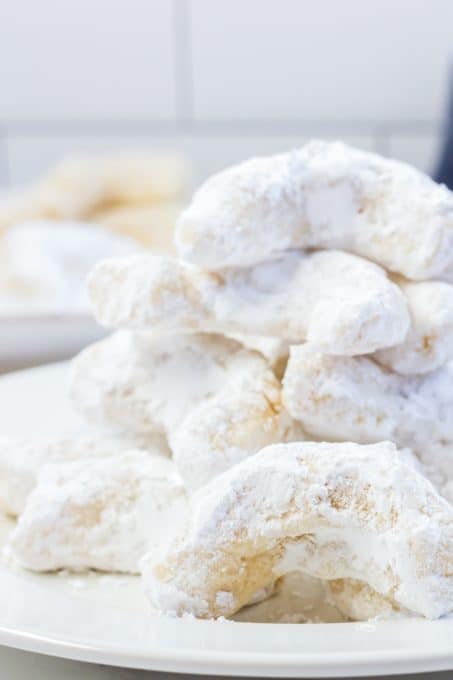 Do people still make plates of Christmas cookies give to their neighbors? It seems to me like it's a thing of the past that's long been forgotten, but should still be around, like 8-track tapes, Stretch Armstrong, and cube acrylic photo boxes!
I know I for one would be thrilled to receive a plate of these Viennese Almond Crescent Cookies from a neighbor around the holidays. Heck, I'd be happy for anyone to give me these cookies.
Then again, I think I like baking them just as much, if not more. There's no better way to show love or appreciation for someone than showering them with COOKIES!
Almond Crescents
Viennese almond crescents cookies make a nice change from all the sprinkle-covered sugar cookies this time of year. Not that I don't adore sugar cookies. Sometimes I want something that feels a little fancier–like I could nibble on it at a tea party.
These Viennese Crescents get the honor of being one of the most, well, elegant cookies I make during the holidays. The crescent shape looks pretty on a platter and the powdered sugar dusted on top completes the picture.
Okay but if you know me at all you know I don't care how pretty a cookie is if it doesn't taste good. And let me tell you. . .these cookies are DELICIOUS.
Using ground almonds in the dough gives the cookies an almond flavor heightened by a touch of vanilla. Sweet and light, they have a melt-in-your-mouth buttery crumb that's impossible not to love. They're even in the shape of a smile!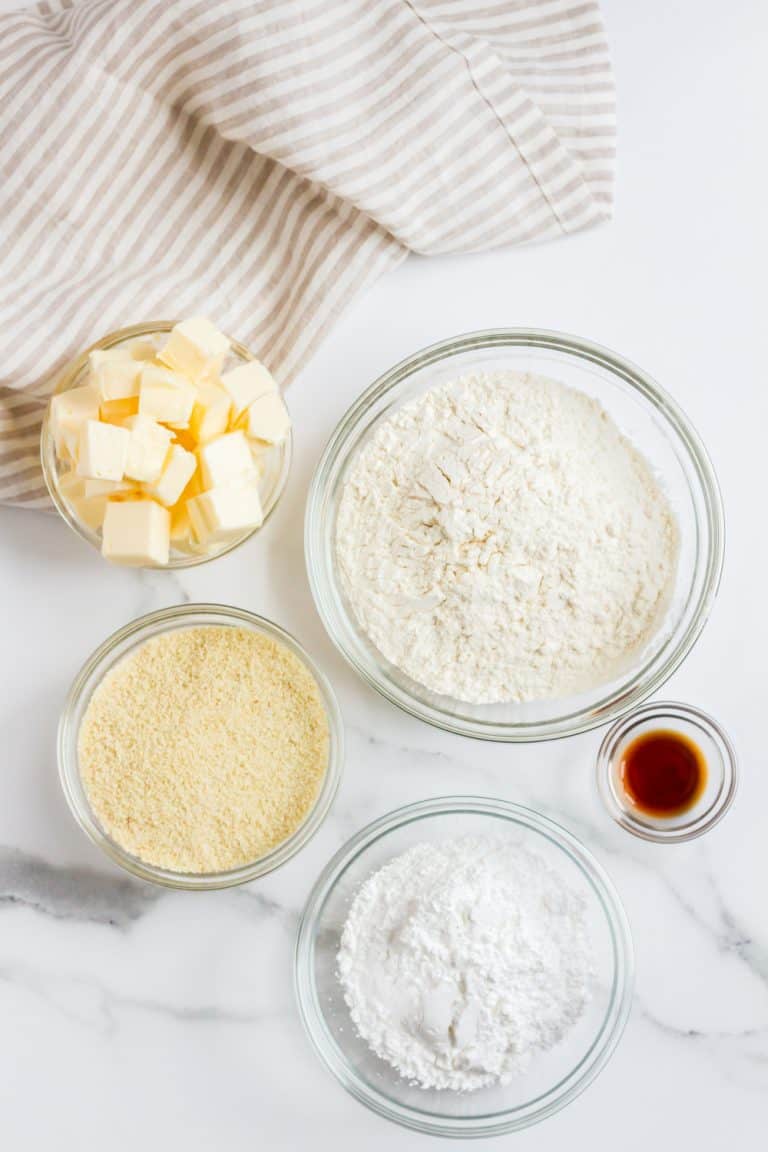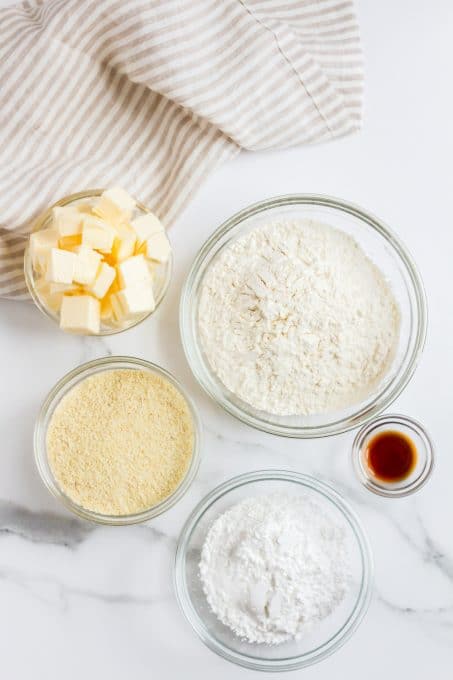 What do I need?
You only need five ingredients to make these cookies:
unsalted butter
confectioner's sugar
all purpose flour
ground almonds
vanilla extract
That's it. Simplicity at its finest.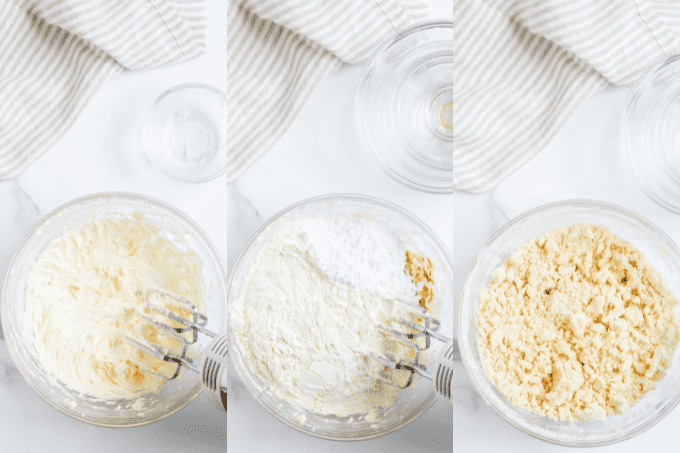 How to Shape Viennese Crescents
I use my hands to form the cookie dough into its signature half-moon shape. If the dough is too soft to work with, you can chill it in the fridge for a few minutes to firm it up.
Pinch off a ball of dough. Stretch and mold it into the crescent shape about 2 inches long and an inch wide. Now, roll the unbaked cookies in confectioner's sugar and bake!
After the cookies cool, roll them in more confectioner's sugar before serving.
Can you freeze them?
Yes, these almond crescent cookies keep well in the freezer for up to 1 month. Make sure to wrap them in freezer bags to preserve the freshness.
If you asked me to name my ultimate favorite Christmas cookie, I'd probably blurt out about twenty different kinds. I love baking and eating cookies, especially at Christmastime, so over the years I've made dozens and dozens of cookie recipes.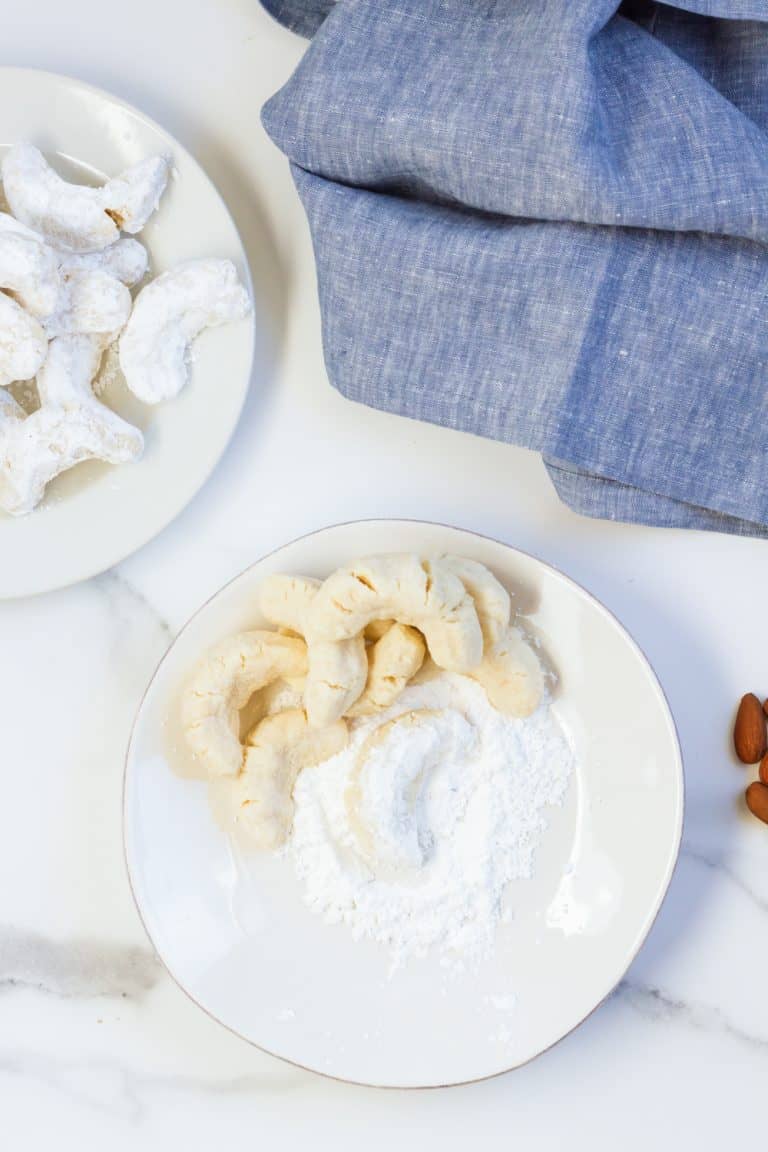 Holiday Cookie Recipes
I Iove a good chocolate cookie like these Double Chocolate Peppermint Kisses and decadent dreamy Oreo Chocolate Chip Cookies. No one can turn down sugar cookies so I make sure to bake a few batches of Peppermint Frosted Sugar Cookies every holiday season, too.
After you make Crescent Cookies, give some of my other favorite holiday cookie recipes a try. For fans of buttery cookies, French Butter Cookies are a must when December comes around.
Salted Caramel Thumbprints are a hit on any Christmas cookie platter but will make people happy any time of year. Checkerboard Cookies and Stained Glass Cookies are more fun additions to your holiday dessert tray.
Baking for kids? You need Peanut Butter Reindeer Cookies! Although I think I like those just as much as the kids I'm baking them for.
.
Cookie Recipes
From Double Peanut Butter Oatmeal Chocolate Chip Cookies to Mexican Wedding Cookies, chances are if it's a cookie, I've tried it.
If you like the almond flavor in these crescent cookies, I know you're going to go crazy for Double Chocolate Frosted Almond Cookies. I mean, it's almonds + chocolate. . . what's not to love?
Another combo I love is toffee and almond like in Toasted Almond Toffee Cookies. Crunchy, buttery and sweet, they're a hit at the dessert table.
These Apple Peanut Butter Oatmeal Cookies make me think of fall, but there's never a wrong time to bake up a batch. Kind of like Chai Snickerdoodles, they're always in season at my house.
It doesn't have to be Christmastime to bake homemade cookies for the people you love! Here are even more easy cookie recipes our readers rave about.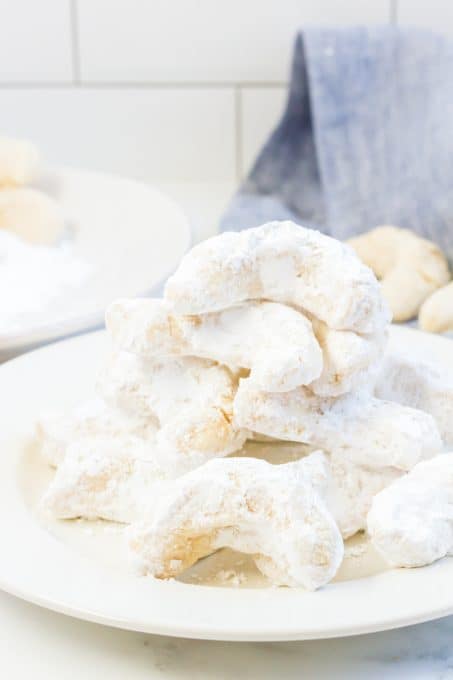 Don't let Christmas come and go without making Viennese Almond Crescents. Extra powdered sugar on mine, please!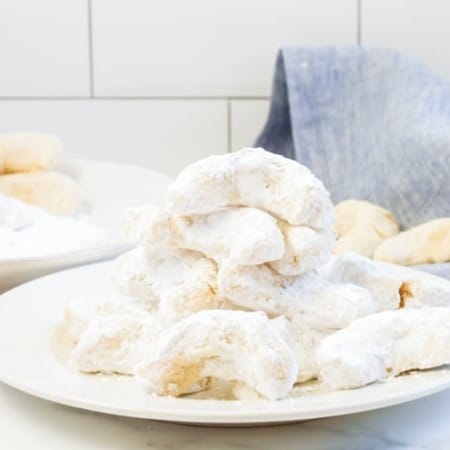 Viennese Crescents are a light, buttery cookie made with almonds and shaped into crescents. Dusted with powdered sugar, they're a beautiful holiday cookie.
Ingredients
1 cup unsalted butter room temperature
¾ cup confectioners' sugar plus additional for coating
2 cups all-purpose flour
1 cup ground almonds
1 teaspoon pure vanilla extract
Instructions
Preheat oven to 300 degrees F. Cream butter until it is light and fluffy. Add the confectioners' sugar, flour, nuts, and vanilla.

Mix thoroughly. With your fingers, shape into crescents about 2 inches long, 1/4 inch wide and thick.

Roll each cookie in confectioners' sugar. Place on an ungreased cookie sheet for 12-15 minutes, until just slightly golden.

Place on a wire rack to cool and roll in more confectioners' sugar before serving.
Nutrition
Serving: 1cookie | Calories: 78kcal | Carbohydrates: 7g | Protein: 1g | Fat: 5g | Saturated Fat: 3g | Polyunsaturated Fat: 1g | Monounsaturated Fat: 1g | Trans Fat: 1g | Cholesterol: 11mg | Sodium: 1mg | Potassium: 7mg | Fiber: 1g | Sugar: 2g | Vitamin A: 126IU | Calcium: 7mg | Iron: 1mg
Did you make this recipe?
Share it with me on Instagram and make sure to follow me on Pinterest for more recipes.
This recipe comes from my Fannie Farmer Cookbook, Thirteenth Edition, p. 625; author, Marion Cunningham; publisher, Alfred A. Knopf, Inc., division of Random House; ISBN 0-394-56788-9.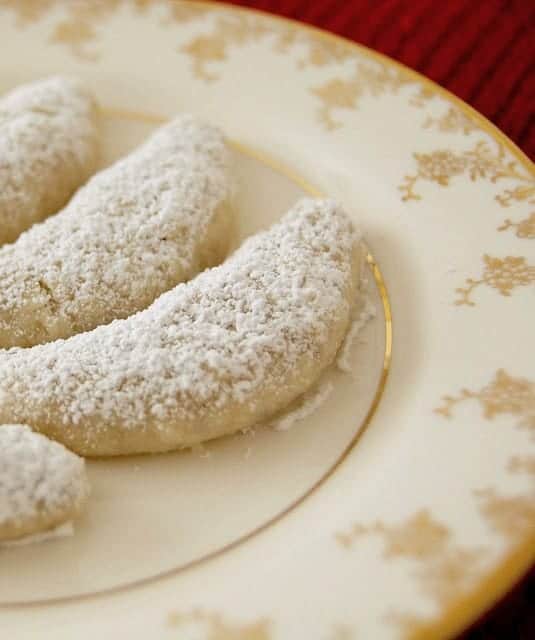 This post has been updated with pictures on 12/24/21, and was originally published 12/16/13.
Reader Interactions