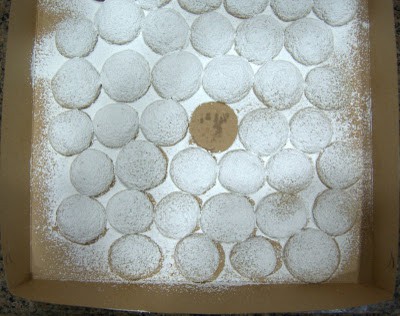 Good grief, I've got writer's block. Perhaps it's because I'm sitting in front of the tv watching a football game that I care nothing about or because my son is sitting here next to me goofing off. He's pushing our Golden Retriever into me…Ok, we're done. I just got his knee into my left eyebrow. My son's, not the dog's. Ouch! Ok, that'll teach me to wrestle with a 14 year old who's an inch taller than me.
I guess I should focus on finishing this post… Anywho… Mexican Wedding Cakes are also known as Polvorones in Mexico, Russian Teacakes or Viennese Crescents. They can be made with pecans, hazelnuts, walnuts or almonds.
These I made with pecans and adapted them from
Pati's Mexican Table
. I figured if I'm going to be making these things I should probably go straight to the source. Ironically, she had never even heard them referred to as Mexican Wedding Cookies until she moved to the States, AND had never eaten them at a wedding, even her own!
Mexican Wedding Cookies – makes about 44
1/2 cup pecans
3/4 cup confectioners' sugar plus additional for dusting
2 cups flour
1/8 teaspoon salt
3/4 cup (1 1/2 sticks) butter, chilled
1/4 cup vegetable shortening, chilled
1 egg
Preheat oven to 350 degrees F.
In a food processor, finely ground the pecans.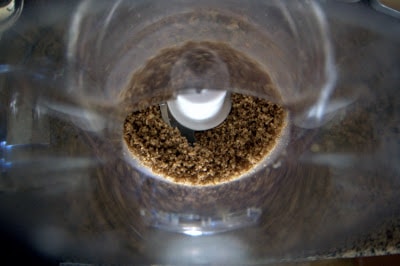 Add confectioners' sugar and mix completely.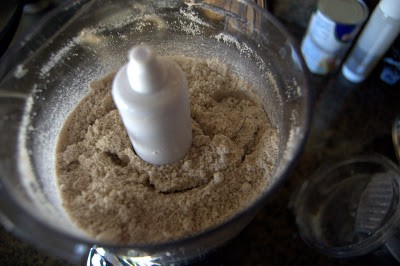 In a large bowl, combine flour and salt. Whisk to combine.
Add the butter and shortening to the flour in small pieces.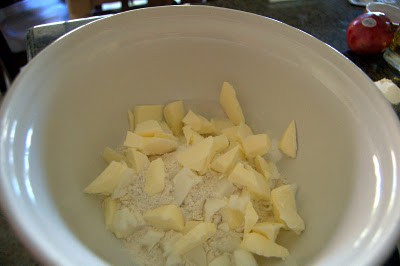 Using your hands, mix together the butter, shortening, flour, salt until it comes together into a coarse meal.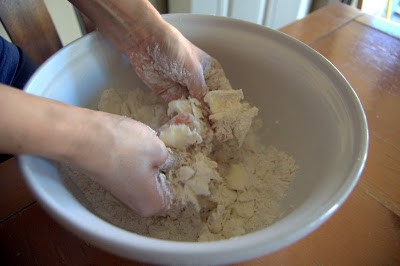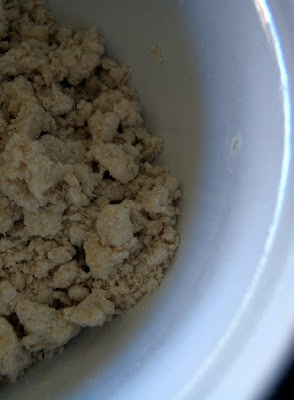 It is tempting to overwork the dough, especially if you're a tactile person like me, but try not to do so.
Add the pecan/sugar mixture, working it into the coarse meal.
Add the egg, and again working with your hands, blend it in.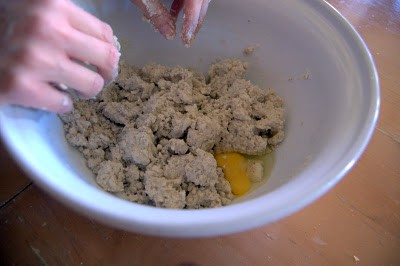 In less than a minute, the dough should from into a ball.
If it is too sticky, refrigerate it for 15 minutes or longer before the next step.
Roll the dough into balls about 1-inch or 1 1/2-inches.
Place onto cookie sheet about 1-inch apart.

Bake for 15 minutes or until slightly golden.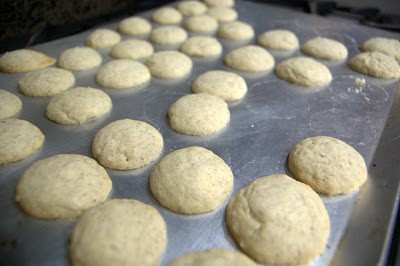 Sift additional confectioners sugar over the tops of the cookies.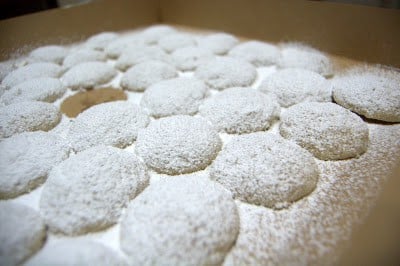 I rate everything I bake on a scale of 1-4 with 4 being the best and these Mexican Wedding Cookies earned 3 rolling pins. They were good, with a great nutty taste, very light and not too sweet, even with all that extra confectioners' sugar I put on at the end. I guess I may have been a little sugar happy when I dusted them. To be honest, I was mesmerized by the sugar falling from my fine sieve. It reminded me of snow, so I was kind of lost in the moment and forgot what I was actually doing. And is it me, or are these usually made into balls? Well, I formed them into balls and then they collapsed in the oven. Pati's were shaped like mine, too, so I figured that's what they were supposed to look like, but in past holiday seasons when I've eaten these, I thought they were ball-shaped. I don't know, maybe it was a different cookie.
It's back to a regular week after a four day weekend. After last week and as busy as I was, I'm REALLY looking forward to getting back into our regular routine and giving the house a good cleaning once the kids are off to school tomorrow. I didn't want the weekend to end because I thoroughly enjoyed having all of the kids here. We had a wonderful time. I am completely blessed and extremely thankful for it.