These Oreo Chocolate Chip Cookies combine two long time favorites – Oreos and Chocolate Chip Cookies. They're delicious alone, but are over the top when dunked in milk!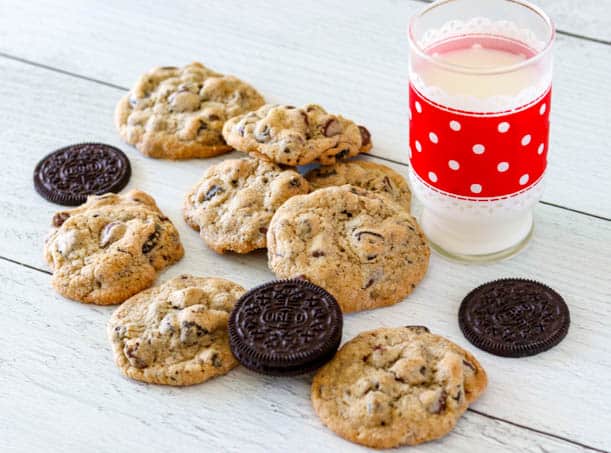 Here at the 365 household we love chocolate chip cookies.
*This post contains an affiliate link(s).
We also love Oreo cookies, too, regular or the Goldens!
I especially love the Golden Oreos.
They both go so well with a big glass of cold milk, don't they?
SAVE THIS OREO CHOCOLATE CHIP COOKIES RECIPE TO YOUR FAVORITE PINTEREST BOARD!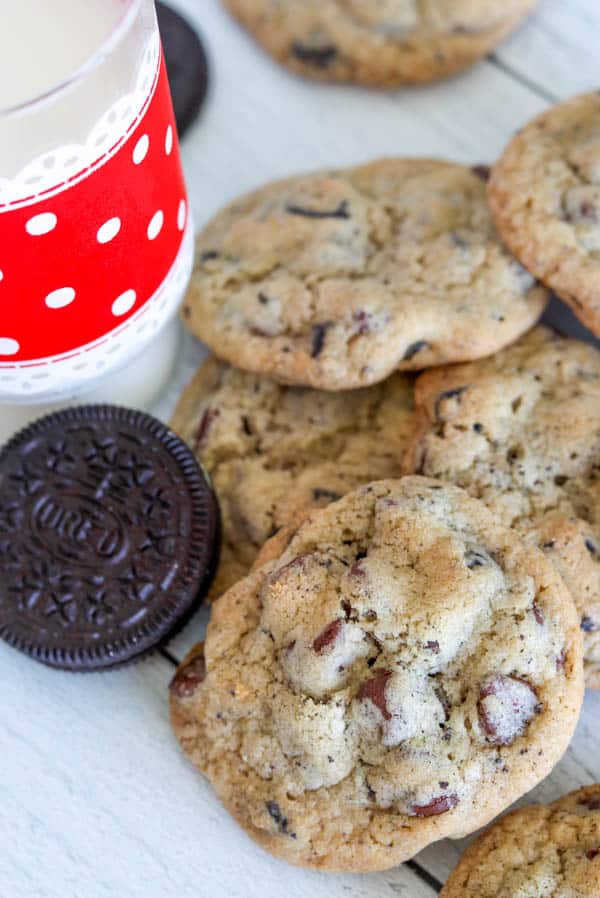 I don't know about you, but I only have the dark Oreos with a glass of milk. The Goldens I can happily eat without.
Since we love Oreos so much here it goes without saying that I've made quite a few Oreo desserts! Some are baked and some are no-bake, so there's something for everyone.
These Cookies and Cream Cheesecake Bars are a HUGE hit with anyone who makes them! They're even better drizzled with some white and semi-sweet chocolate, too!
Going with my Dream Bar desserts, I created these Oreo Pudding Dream Bars. I saw Oreo Pudding in Walmart one day and it was seriously a no-brainer.
If there's an Oreo lover in your life, why not celebrate their birthday with this Oreo Cake? It was SOOOO delicious!!
It has crushed Oreos on the outside, a creamy vanilla filling in between the chocolate layers and even a surprise inside!
I think everyone will love it.
I love these Chocolate Cookies and Cream Cheesecakes. They're the perfect size for a dessert table and the chocolate flavor is perfect with the Oreos. And that mousse on top? WHOA!!
Or if you just like A LOT of cookies, I've got a bunch of them here on the blog. My favorite are these Cream Cheese Cookies.
I'm also in love with these Dark Chocolate Cherry Oatmeal Cookies when cherries are in season.
More cookie recipes include my Soft and Chewy Chocolate Chip Cookies, Chocolate Coconut Cookies, Double Chocolate Frosted Almond Cookies, Double Peanut Butter Oatmeal Chocolate Chip Cookies, Double Chocolate Oatmeal Cookies.
There are so many cookie recipes to choose from and you'll be able to fill those cookie trays up when the holidays roll around. One of the easiest and fastest cookies I've ever made are these 13 minute, 3 Ingredient Peanut Butter Cookies.
Everyone loves them and they're perfect when you want a quick sweet treat.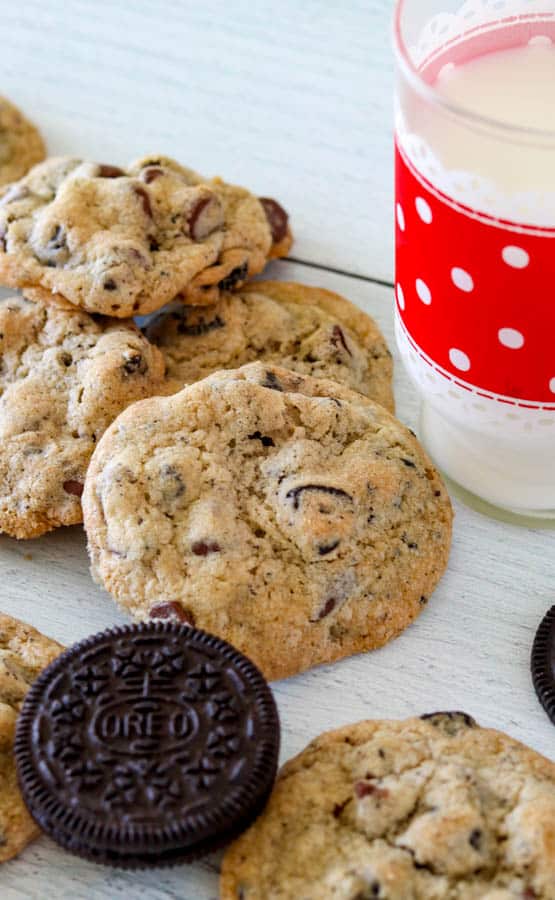 I'm sure you've seen the Oreo Stuffed Chocolate Chip Cookies from Jenny at Picky Palate, right?
Those things are the BOMB!!
This Oreo Pudding Poke Cake from Brandie at The Country Cook has my name written ALL over it. I could go for a big slice right now with a glass of milk.
You can even combine Oreos with your Rice Krispies for a delicious snack. These Oreo Krispies from Jill at Foodtastic Mom certainly wouldn't last long in our house that's for sure! WOW!!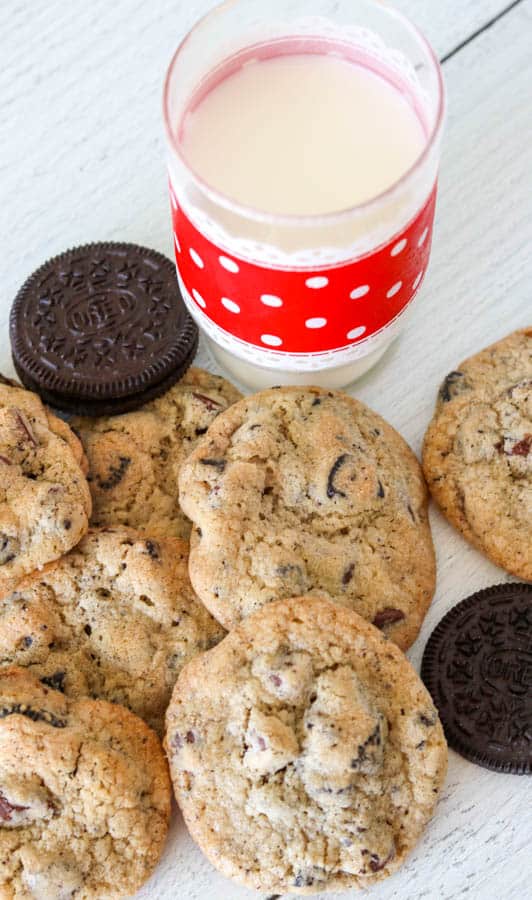 A few years ago, our oldest daughter, Lexi, made Jenny's Oreo Chocolate Chip Stuffed Cookies and they were HUGE!!
It was like you had to cut the cookie in half to eat it because they were SO big and filling.
Yet it goes without saying that they were absolutely delicious!
So those cookies were the inspiration for these and I adapted the recipe from my Fannie Farmer Cookbook Thirteenth Edition.
How to Make Oreo Chocolate Chip Cookies –
I used one 3.5-ounce container of Mini Oreos. You know, the small snacking container with the lid on it.
If you have a bag of them, you'll want to use about one cup of crushed Oreos.
Use a combination of butter and shortening. When I originally made them, I used just butter, but the cookies were flat, tasty but flat. I liked this combination much better!
I used regular semi-sweet chocolate chips, but next time I think I'll go with the mini's. I think the regular size might be just a but too big with the crushed Oreos. If you try it, let me know.
When measuring the cookie dough for the baking sheet, I use a cookie scoop. I get an even amount of dough and it's consistent every time.
~ FOLLOW ME ~
~ FACEBOOK ~ PINTEREST ~ INSTAGRAM ~ TWITTER ~
SIGN UP FOR THE WEEKLY
365 DAYS OF BAKING & MORE
WEEKLY NEWSLETTER DOWN BELOW!
JOIN THE 365 DAYS OF BAKING AND MORE
FACEBOOK GROUP TO RECEIVE ADVANCE NOTICE
OF MY LIVE FB VIDEOS, SHARE RECIPES AND MORE!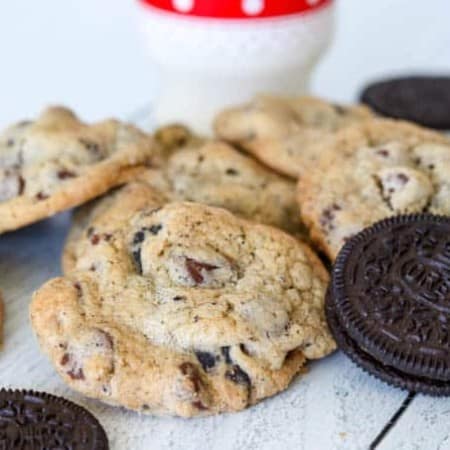 Oreo Chocolate Chip Cookies
These Oreo Chocolate Chip Cookies combining two long time favorites - Oreos and Chocolate Chip Cookies are delicious alone, but even better dunked in milk!




Ingredients
1 cup flour
½ teaspoon baking soda
½ teaspoon salt
¼ cup unsalted butter room temperature
¼ cup shortening
¼ cup granulated sugar
⅓ cup packed light brown sugar
1 teaspoon vanilla
1 egg
1 cup semi-sweet chocolate chips
3.5 ounces mini Oreos about 1 cup
Instructions
Preheat oven to 350 degrees F.

Place Oreos in a plastic bag and coarsely crush.

Sift flour with baking soda and salt; set aside.

Cream butter and shortening together. Add both sugars and vanilla, and beat until light and fluffy, about two minutes.

Beat in egg until incorporated.

Mix in dry ingredients.

Add chocolate chips and Oreos and mix until combined.

Drop by rounded tablespoonfuls onto baking sheet about 2 inches apart.

Bake for 10-12 minutes or until edges are lightly golden.

Transfer to a wire rack immediately to cool. Store in an airtight container.
Nutrition
Serving: 1g | Calories: 112kcal | Carbohydrates: 13g | Protein: 1g | Fat: 6g | Saturated Fat: 3g | Cholesterol: 10mg | Sodium: 76mg | Potassium: 51mg | Fiber: 1g | Sugar: 8g | Vitamin A: 58IU | Calcium: 8mg | Iron: 1mg
Did you make this recipe?
Share it with me on Instagram and make sure to follow me on Pinterest for more recipes.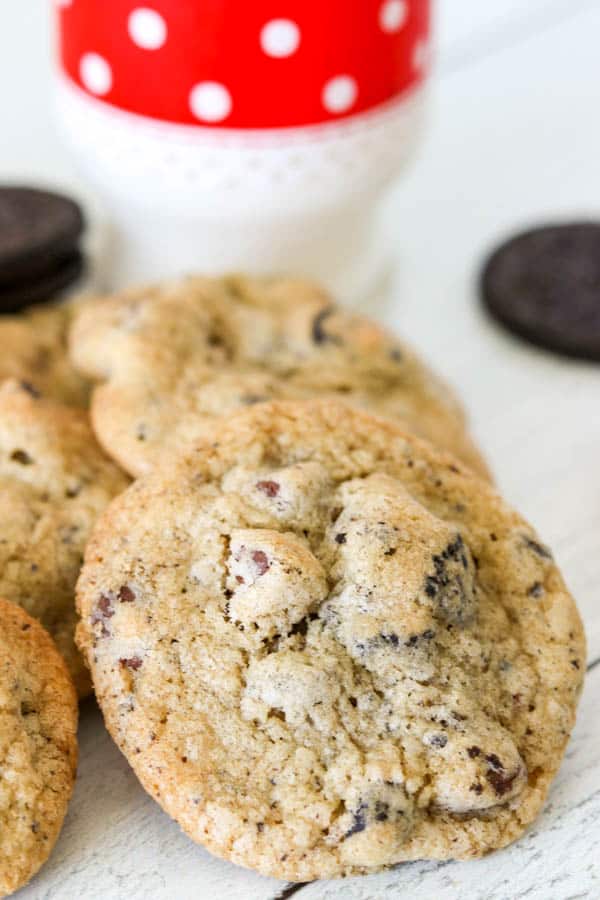 Here's one of the pictures from my original post dated 9/12/11. It was Day 208 of my original 365 Days of Baking.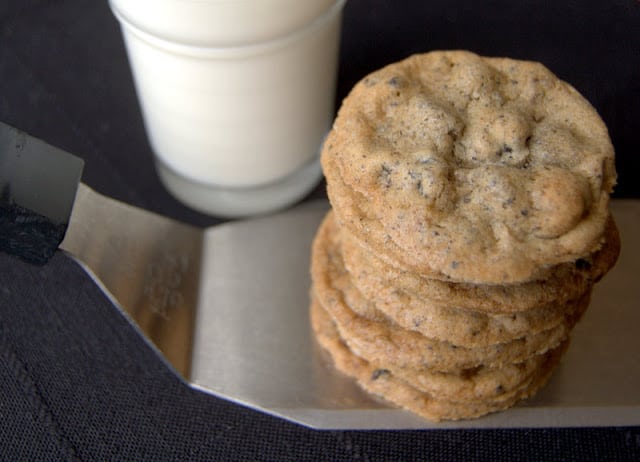 *We are a participant in the Amazon Services LLC Associates Program, an affiliate advertising program designed to provide a means for us to earn fees by linking to Amazon.com and affiliated sites.
These are links that can take you to a product (or products) that I recommend. I do receive a portion of the sales or credit for my future purchases from any items purchased through those links. Your purchases encourage my baking, cooking and butter habit, and contribute to the life of this blog. I thank you so very much for your support. Let's keep having fun in the kitchen!!
Reader Interactions