Double Chocolate Oatmeal Cookies – You have to love this chocolate lovers' spin on the old-time favorite oatmeal cookie. The addition of cocoa to the batter and dark chocolate chips make this an irresistibly chocolatey cookie.
Today's oatmeal cookie recipe comes with a little bit of embarrassment. Not embarrassment about the recipe–I'm pretty proud of this one, if I do say so myself.
No, I'm embarrassed because it's taken me a whole lifetime to make a chocolate oatmeal cookie! WHY did I never think of adding chocolate to my oatmeal cookies before this???!!
I mean, REALLY! Chocolate in anything is good. In an oatmeal cookie?!
Perfection.
Seriously.
Sure, I've made my share of oatmeal cookie recipes with chocolate chips. That combo of chewy soft oatmeal and sweet chocolate is pretty much universally loved, right?
This is the first time I've taken my oatmeal cookies to the next level of chocolate decadence by putting cocoa powder in the actual dough. And ohmygoodness I have no regrets.
SAVE THIS OATMEAL COOKIE RECIPE TO YOUR FAVORITE PINTEREST BOARD!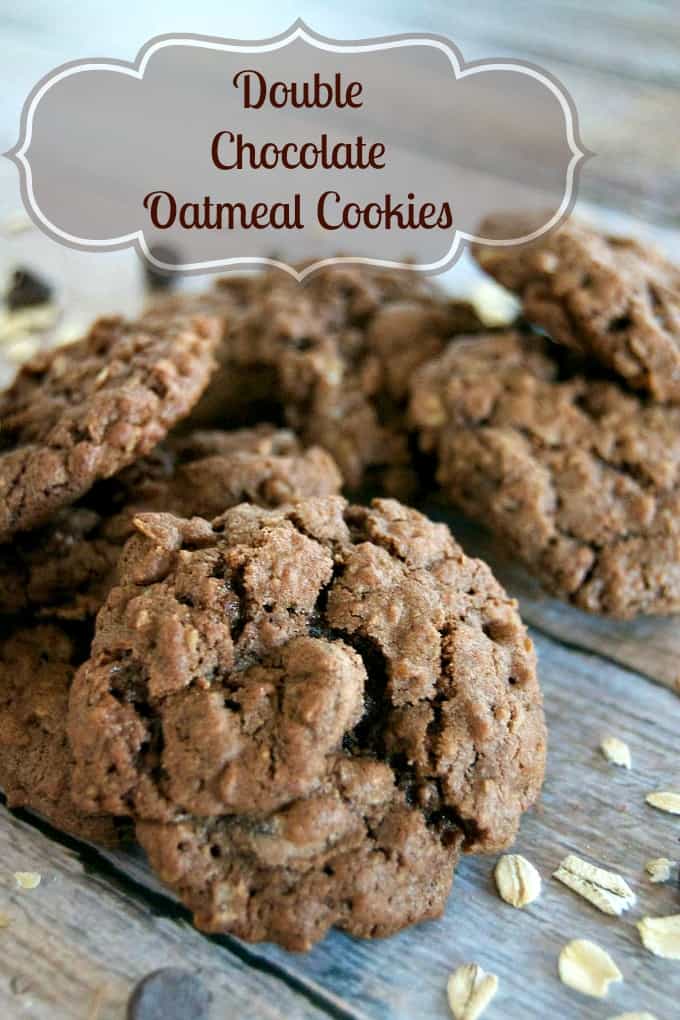 I'm posting this recipe as the first installment to a wonderful new group that I've joined with some pretty sensational bloggers called 'Cookie of the Month'!
We are a group of bloggers who have gotten together to bring our fantastic readers one cookie recipe a month. This cookie recipe has to contain a certain ingredient and we need to come up with a recipe using it.
This month…no, it wasn't chocolate. It was oatmeal!
Chocolate Oatmeal Cookies
This oatmeal cookie recipe starts with a basic drop cookie dough. It has a little less flour than some oatmeal cookie recipes since the cocoa powder adds a little extra volume to the dry ingredients. Uncooked oats and dark chocolate chips folded into the batter make the cookie dough complete.
Drop onto a cookie sheet, bake, cool and enjoy! Just a warning. . . these can truly be irresistible if you're a chocolate lover. If you're making these for a party, you may need to hide them from yourself to keep them from "accidentally" disappearing.
While I highly recommend using the dark chocolate chips, if you're not a fan of dark chocolate you can definitely swap them out. Semi-sweet chocolate chips would taste wonderful in these oatmeal cookies and so would milk chocolate!
I love white chocolate chips in these Pecan Oatmeal White Chocolate Chip Cookies so I imagine they'd make a delicious substitute for the dark chocolate in this recipe, too.
At the end of the day, though, I'm pretty over the moon about the dark chocolate goodness in this recipe! If you love dark chocolate as much as I do, you need to make these Dark Chocolate Cherry Oatmeal Cookies and these Oreo Chocolate Chip Cookies next.
Cookie of the Month
I'm excited to see what next month brings. The group was started by Jennifer of Jen's Favorite Cookies and you'll be able to see what she and other bloggers have made by clicking the links below! This month is a little sparse because of the holidays and all, January 5th came up REAL quick like!
Next month we'll have plenty of yummy cookies for you to drool over.
In the mean time, get your cookie baking fix with these other oatmeal cookie recipes. . .
Apple Cinnamon Oatmeal Cookies taste like fall baked into a cookie. And if you like the combo of apples and oats, you absolutely must try my Apple Peanut Butter Oatmeal Cookies!
Speaking of peanut butter, I've made my share of peanut butter cookies over the years (they're my husband's all time favorite). Easy 13 minute, 3 Ingredient Peanut Butter Cookies are the simplest classic peanut butter cookie you'll ever make. Peanut Butter Oatmeal Cookies are delicious just as is or with the addition of chocolate chips.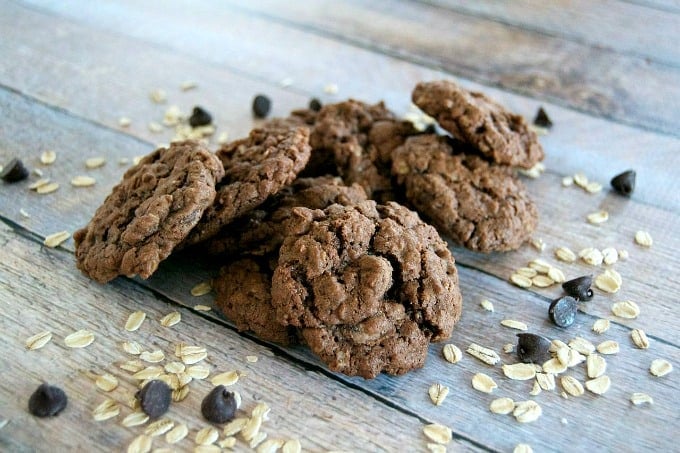 SIGN UP FOR THE WEEKLY
365 DAYS OF BAKING & MORE
NEWSLETTER BELOW!
Double Chocolate Oatmeal Cookies
Rich, chocolatey and chewy, these chocolate oatmeal cookies with chocolate chips are a sweet treat everyone loves.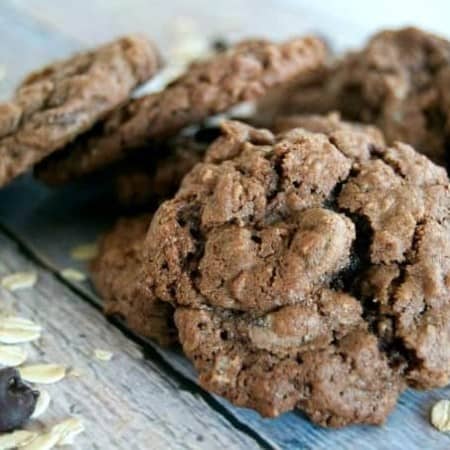 Double Chocolate Oatmeal Cookies
Ingredients
¾ cup unsalted butter room temperature
½ cup granulated sugar
1 ½ cups packed brown sugar
2 eggs
1 teaspoon pure vanilla extract
1 ½ cups all-purpose flour
⅓ cup unsweetened cocoa powder
1 teaspoon baking powder
¼ teaspoon baking soda
¼ teaspoon salt
2 cups rolled oats
1 cup dark chocolate chips
Instructions
Preheat oven to 375 degrees F.

In the bowl of a mixer fitted with the paddle attachment, cream butter and sugars together, about 4 minutes.

Add the eggs and vanilla and beat until thoroughly combined.

In a medium bowl, whisk together the flour, cocoa powder, baking powder, baking soda, and salt.

Add the flour mixture to the butter mixture, beating just until combined.

Mix in the oats.

Mix in the dark chocolate chips.

Drop by rounded tablespoonfuls onto a baking sheet and bake for 8-10 minutes, until set.

Allow to cool on the baking sheet for a few minutes before transferring to a wire rack to cool completely.
Did you make this recipe?
Share it with me on Instagram and make sure to follow me on Pinterest for more recipes.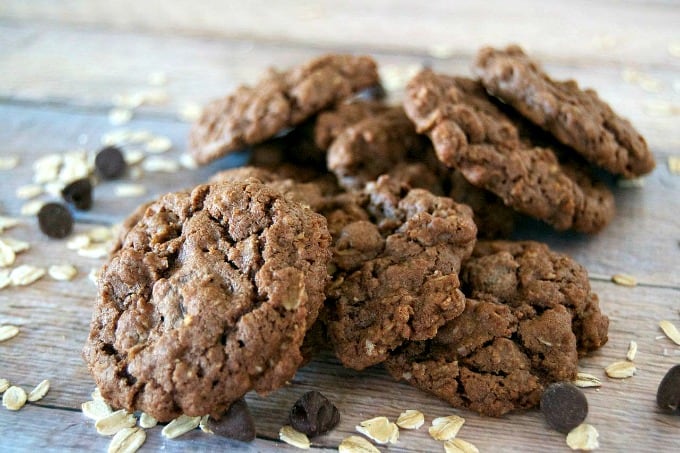 If you like these Double Chocolate Oatmeal Cookies, you'll enjoy…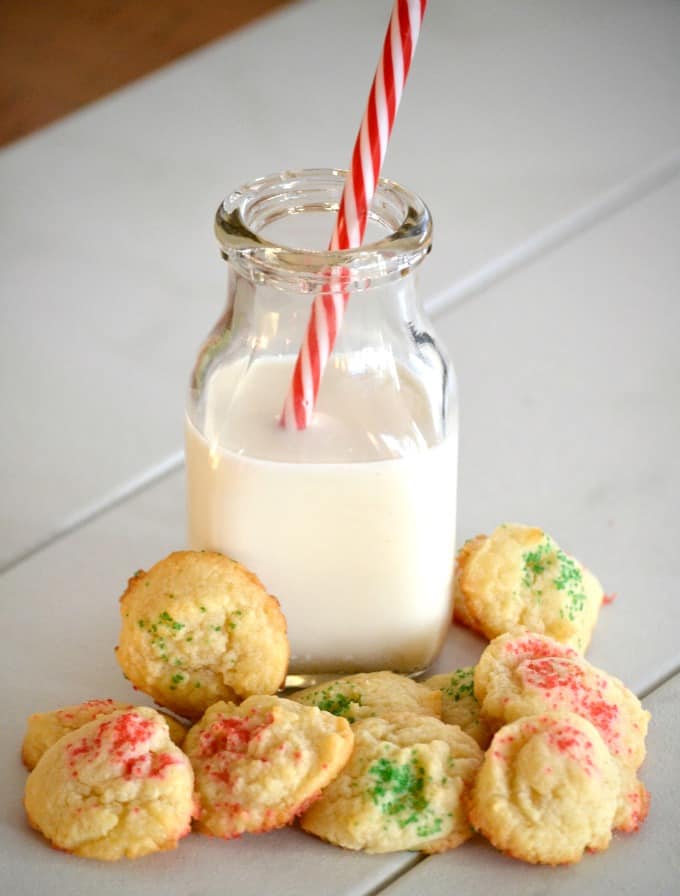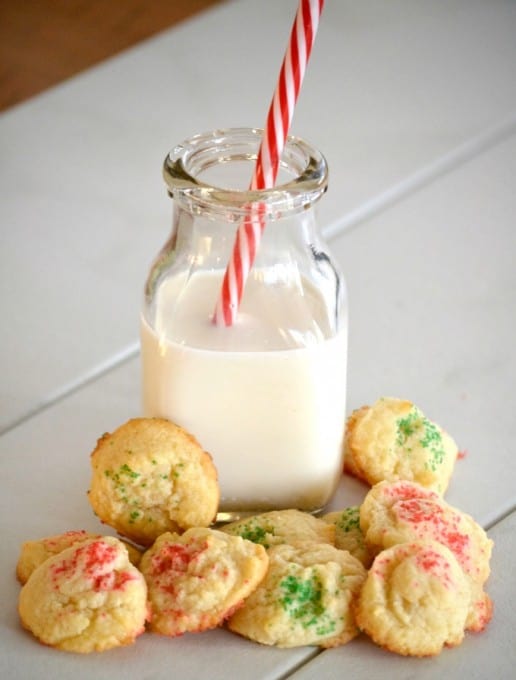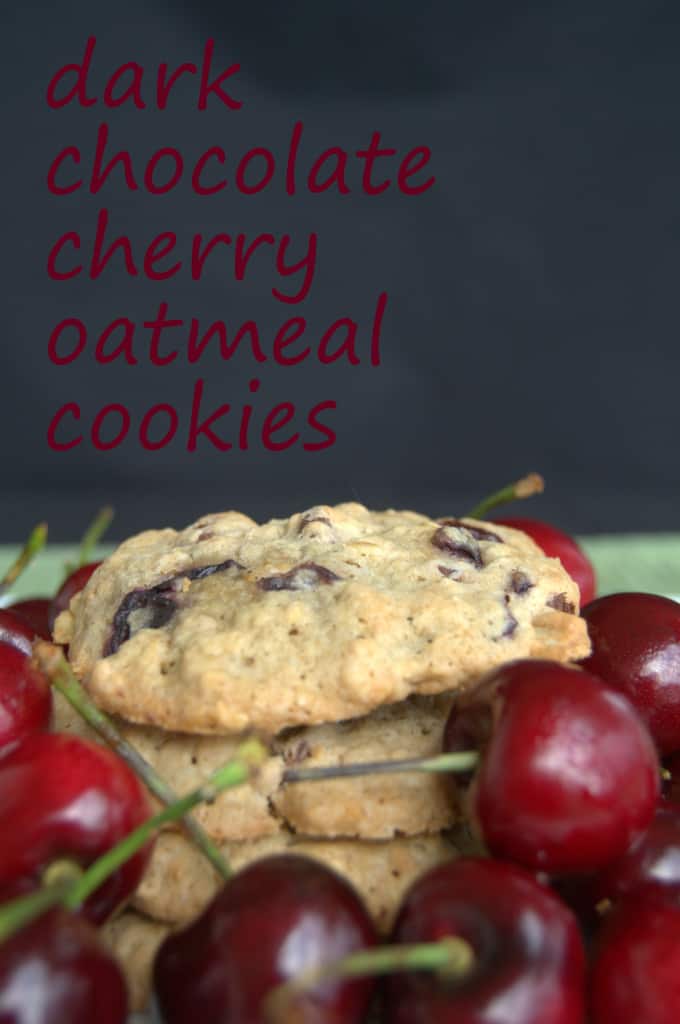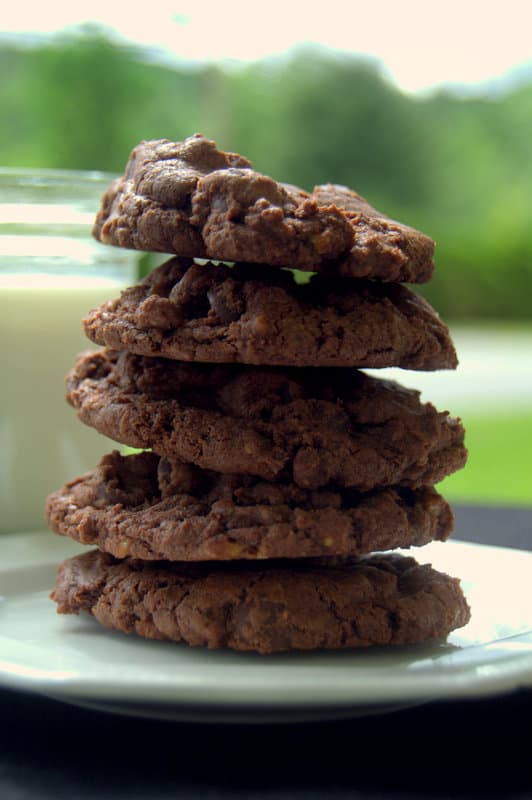 When Christmas rolls around next, you'll also want to whip up a batch of these Peanut Butter Reindeer Cookies!
I sometimes rate things I make on a scale of 1-4 with 4 being the best and these Double Chocolate Chip Cookies earned 3 1/2 rolling pins! I just really cannot believe I haven't made these before now.
Well, I suppose there's a right time for everything and these wonderful cookies weren't supposed to be a part of my life until now, so there you go. At least they came into my life eventually! I know they'll be a regular feature in my kitchen from now on.
Mmmm. .. I might just need to bake another batch of these right now. I hope you like them as much as I do!
This recipe has been shared at the link party, Time To Sparkle #94 at Inside BruCrew Life! Check all of the incredible recipes and ideas shared from other bloggers there!
Reader Interactions