Apple Cinnamon Oatmeal Cookies are sweet cookies with a chewy texture and are full of fall apple flavor. Lightly spiced with cinnamon and nutmeg, these oatmeal cookies have real apple bits in every bite! Whip up a batch for your friends and family today!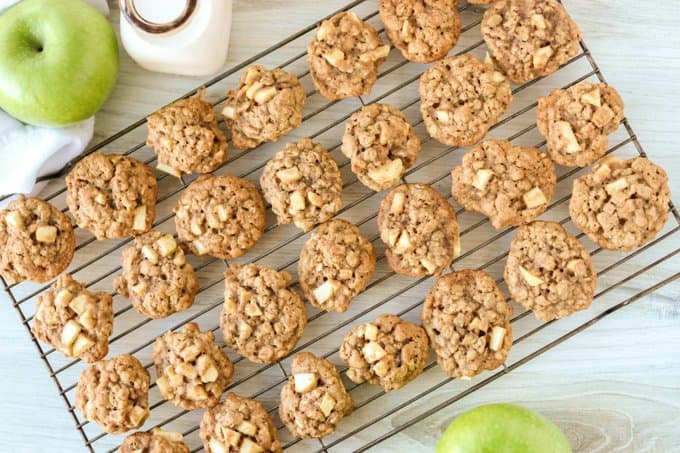 Crisp Fall days call for warm apple cider and delicious cookies!
 But heck, I'll eat cookies all year long, I don't have to wait for a particular season! I'm sure you don't, either.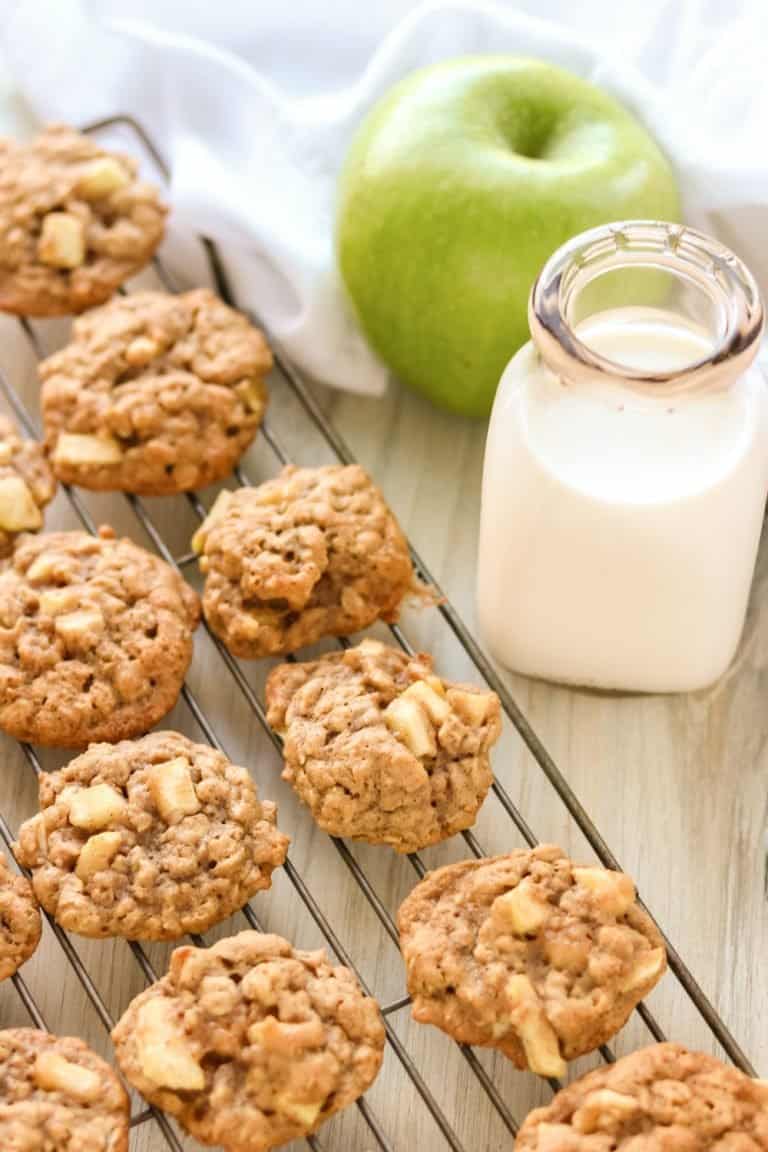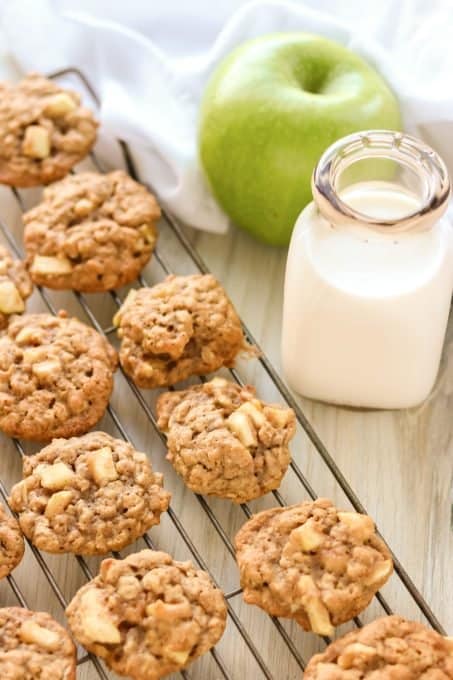 This is one of my all-time favorite oatmeal cookie recipes. I first shared these Apple Oatmeal Cookies on the blog years ago and it's still my go-to cookie when fall arrives. The recipe brings together the chewiness of a classic oatmeal cookie with juicy apple chunks and a touch of cinnamon apple pie spice. 
The apples soften as the cookies bake, releasing incredible fragrance and flavor. While I think of them as fall cookies, they're just as delicious any time of year! 
If you like apples and cinnamon, then you need these easy cookies in your life.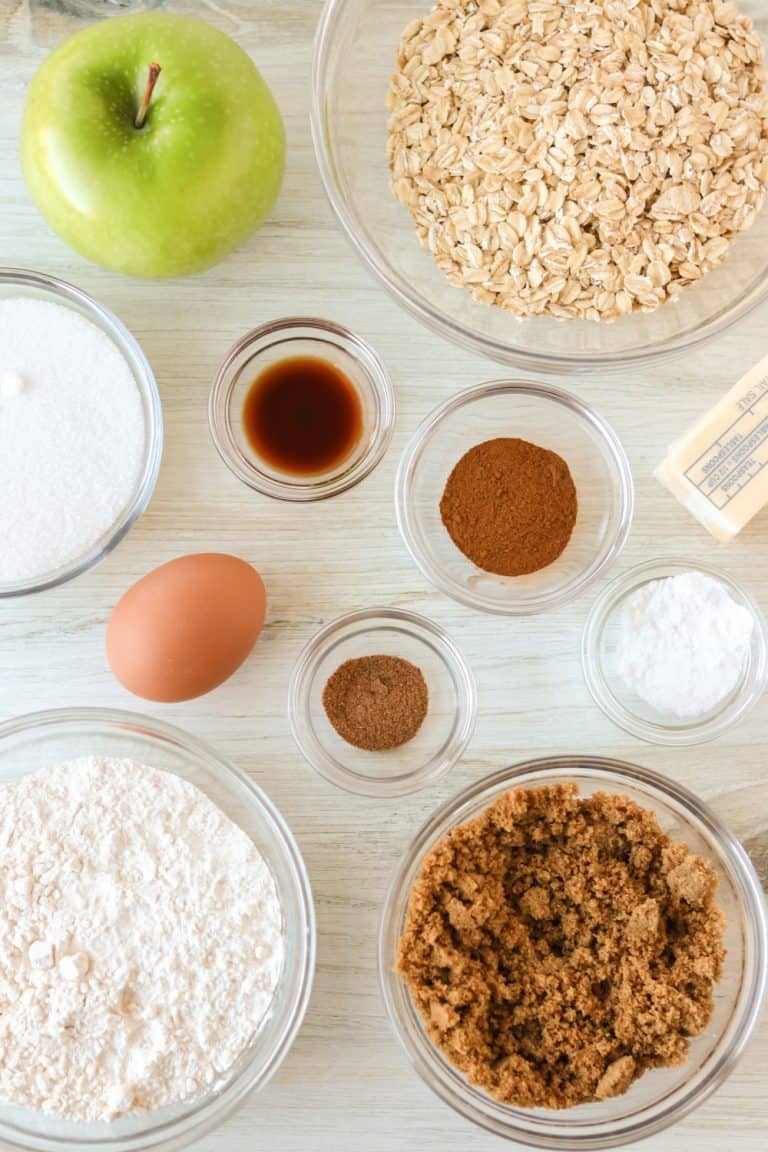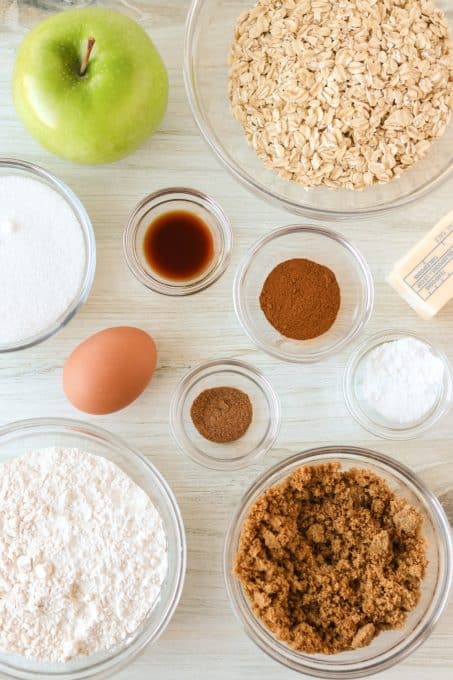 What do I need to make Apple Cinnamon Oatmeal Cookies?
These simple ingredients for apple oatmeal cookies are pretty straightforward.
Unsalted Butter
Granulated sugar
Brown sugar
Large Egg
Vanilla Extract
All-Purpose Flour
Old-fashioned oats
Baking soda
Baking powder
Salt
Cinnamon
Nutmeg
Fresh Apples
Lemon juice
See the recipe card for exact amounts and step-by-step directions!
How to make Apple Cinnamon Cookies with Oatmeal
Making these apple cookies is a cinch! Follow this easy recipe for good, chewy cookies:
First, preheat the oven to 350 degrees and line your baking sheet with parchment paper.
Peel, core, and dice your apple into small pieces. Toss diced apples with lemon juice to keep them from browning.
In a mixer, cream together the room temperature unsalted butter, brown sugar, and white sugar until soft and fluffy, about 3-4 minutes. Add the egg and vanilla and mix until combined.
In a medium bowl, whisk together the dry ingredients. Add them to the wet ingredients and beat until just blended. Mix in the chopped apples with a wooden spoon or rubber spatula until well incorporated. Use a medium cookie scoop to place a cookie dough ball on the prepared baking sheet. Continue, keeping the cookies about 1 inch apart.
Bake cookies for 10-13 minutes or until lightly golden brown. Let them cool for a few minutes on the cookie sheet, then transfer them to a wire rack to cool completely.
These delicious treats can be stored in an airtight container at room temperature and are best within 2-3 days.
What kind of apples are best?
I recommend Granny Smith apples for this oatmeal cookie recipe. The tartness helps balance out the sweetness of the sugars for a well-rounded dimension of flavors.
If you don't have Granny Smith, any apple on the tarter side of the spectrum will do. Honeycrisp or Pink Lady apples would be good choices too.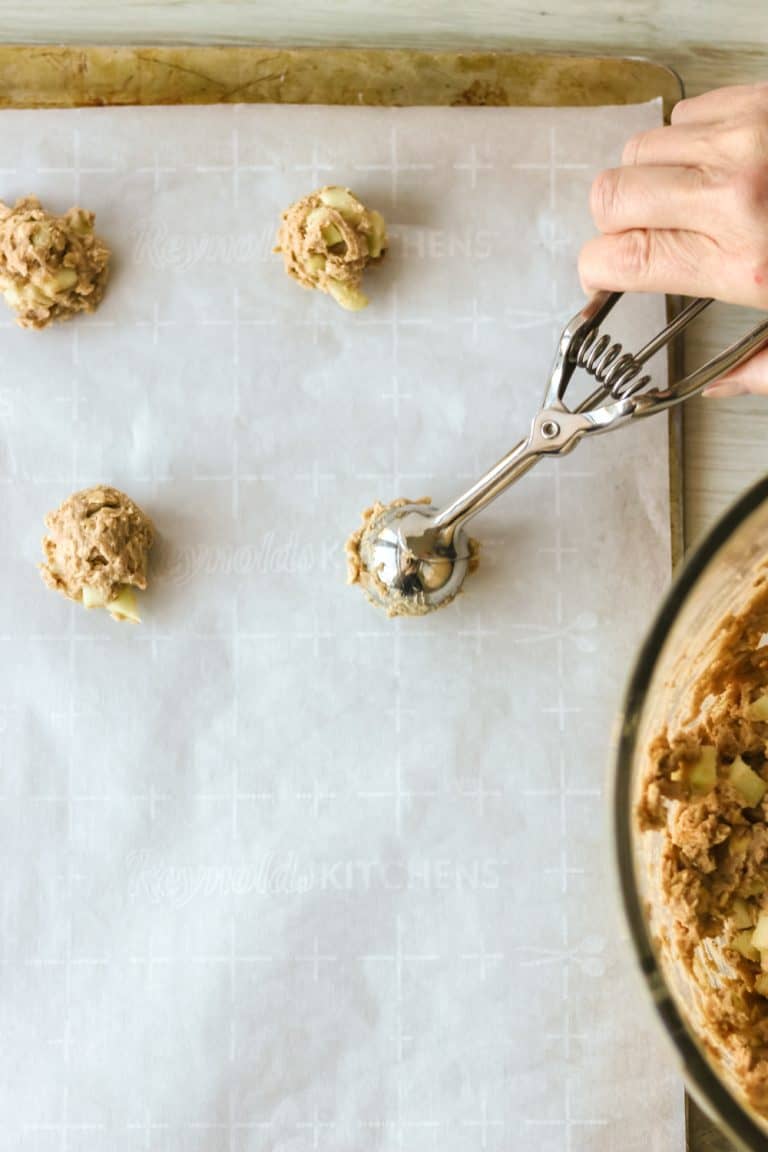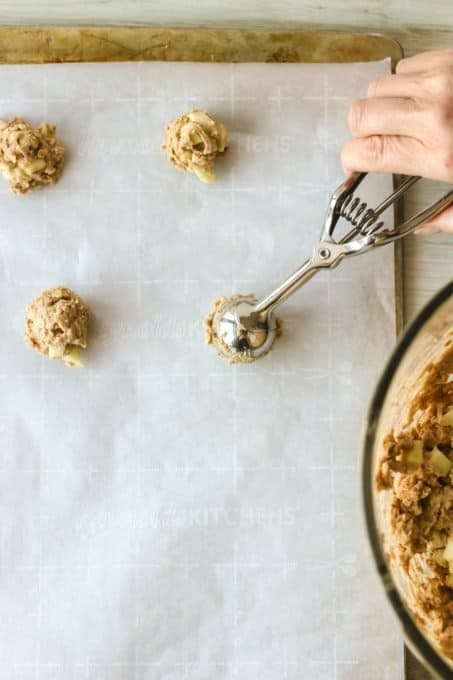 Can I use quick-cooking oats instead of old-fashioned oats in oatmeal cookie recipes?
Most oatmeal cookie recipes will tell you exactly what kind of oats you should use. In these Apple Oatmeal cookies, we used old-fashioned rolled oats. Quick oats (or instant oats) will not work well here.
They absorb moisture more quickly and would make these cookies dry and crumbly. In general, it's always best to use the type of oat a recipe was tested with for the best results!
Can I freeze oatmeal cookies with apples?
Yes, you can definitely freeze these oatmeal cookies! Store them in a freezer bag or other airtight container. They stay good in the freezer for up to several months. 
When ready to thaw, just leave them on the counter overnight before serving.
Apple Recipes
Another thing I love about this recipe is that puts apples in the spotlight! Lately, it seems that apple desserts have been overshadowed by pumpkin when it comes to fall flavors.
I try to keep a healthy balanced. You might say my version of a "balanced diet" is making an apple recipe for every pumpkin one!
This Baked Applesauce is by far the best applesauce you'll ever try. It's so easy too! You could even use your homemade applesauce to make a batch of my Cinnamon Applesauce Cookies.
When you need a cozy weekend breakfast, it's hard to beat this Baked Apple Cinnamon Pancake! Or try these Apple Streusel Muffins for a delicious treat with your morning coffee.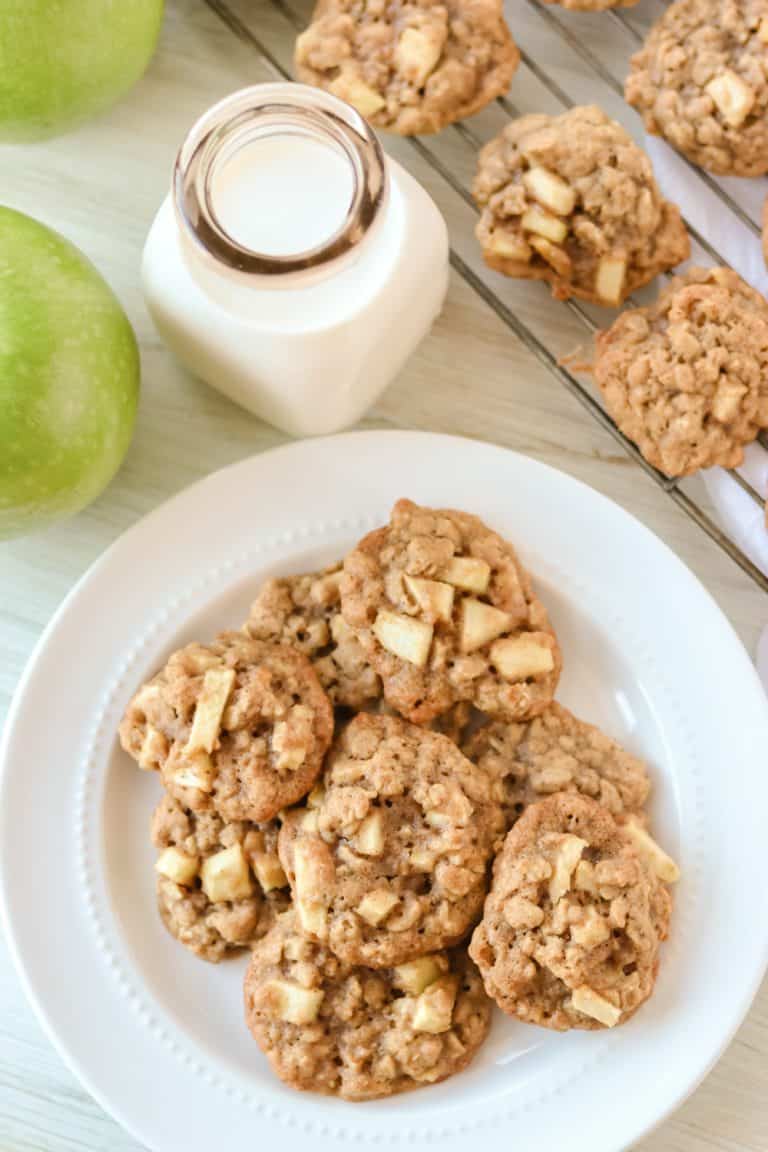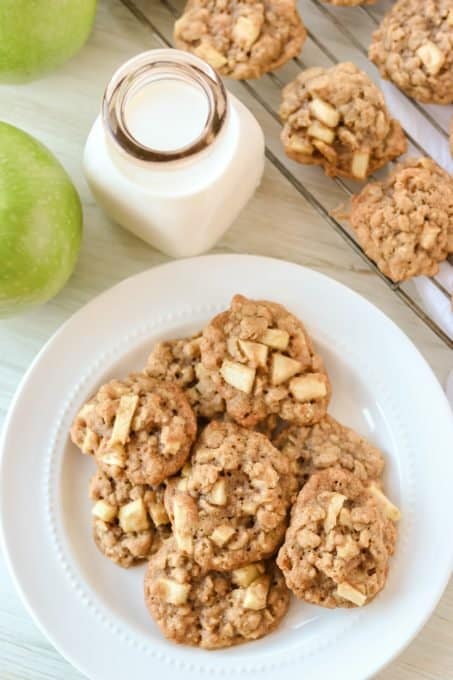 Whether you're craving pie, cake, or something entirely different, I'm positive we have the perfect apple recipe!
Cookie Recipes
After you try today's recipe, make another favorite that combines apple with oatmeal: Apple Peanut Butter Oatmeal Cookies! The peanut butter adds a fun twist to the already delicious cookies.
These Dark Chocolate Cherry Oatmeal Cookies are especially popular with chocolate fiends. So are these Double Chocolate Oatmeal Cookies!
Check out these other recipes our readers love.
SIGN UP FOR THE WEEKLY
365 DAYS OF BAKING & MORE
NEWSLETTER BELOW!
Today's recipe was originally adapted from Joy the Baker.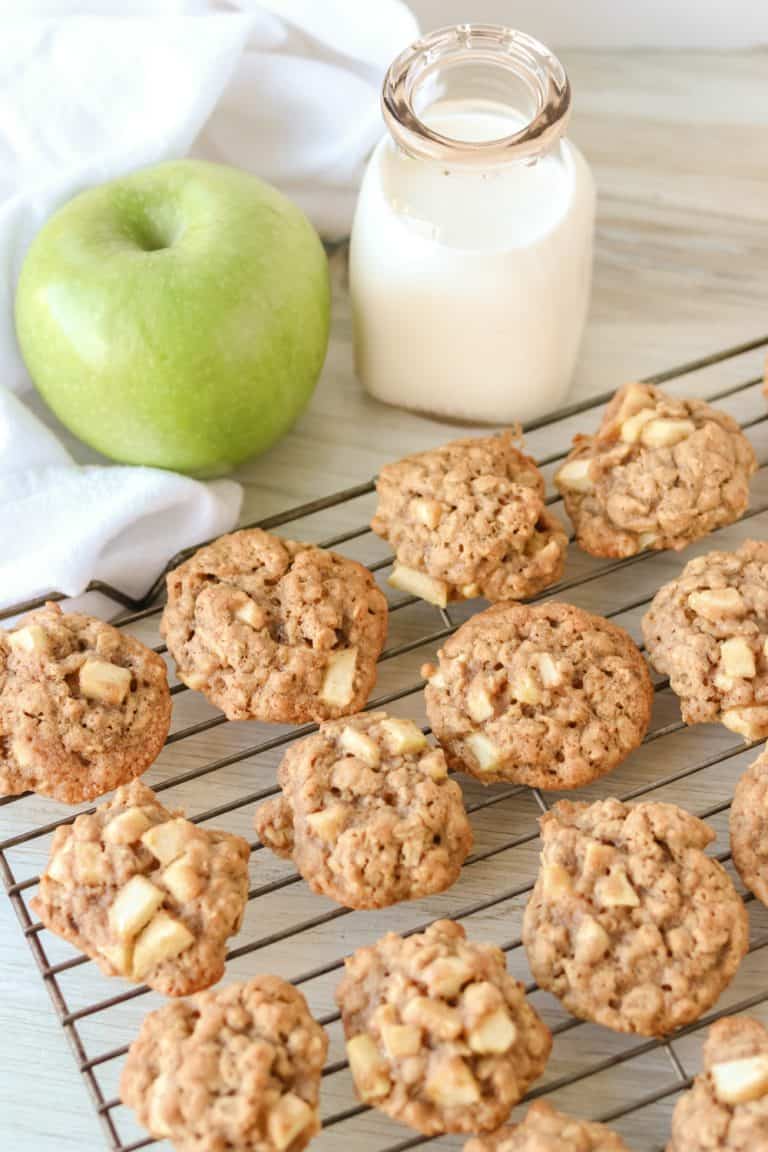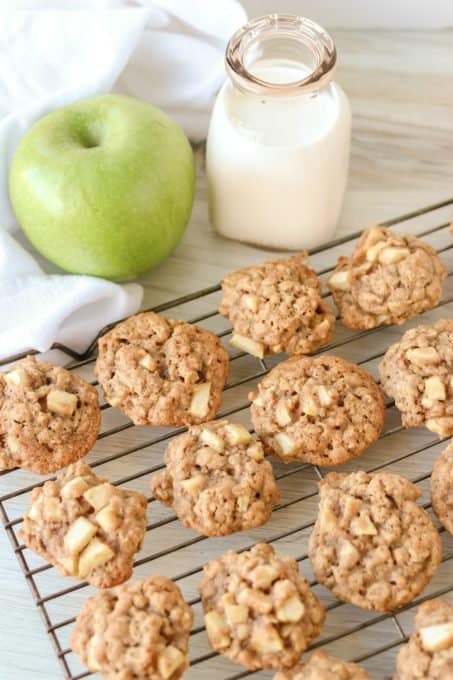 Toasty on the outside and chewy on the inside, these Apple Cinnamon Oatmeal Cookies will have you ready for fall!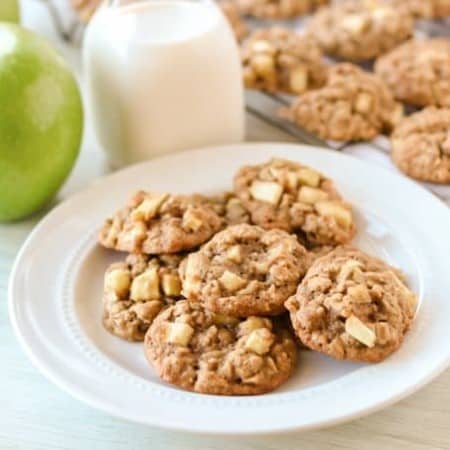 Apple Cinnamon Oatmeal Cookies
Apple Cinnamon Oatmeal Cookies are chewy, sweet cookies full of fall flavor. Lightly spiced with cinnamon and nutmeg, these oatmeal cookies have real apple bits in every bite!
Equipment
parchment paper or silpat liner

cooling rack
Ingredients
½ cup butter room temperature
½ cup sugar
½ cup light brown sugar packed
1 egg
1 teaspoon vanilla
1 cup flour
1 ¼ cups old fashioned oats
½ teaspoon baking powder
½ teaspoon baking soda
½ teaspoon salt
1 teaspoon cinnamon
¼ teaspoon freshly grated nutmeg
1 large Granny Smith apple
1 teaspoon lemon juice
Instructions
Preheat oven to 350 degrees F. Prepare a baking sheet by lining it with parchment or a Silpat pad.

Peel, core, and dice the apple into small pieces. Place into a small bowl and toss with the lemon juice.

In a mixer, cream the butter and sugars until soft and light, about 3-4 minutes.

Add the egg and vanilla. Beat until well combined.

In a medium bowl, whisk together the flour, oats, baking powder, baking soda, cinnamon, nutmeg, and salt.

Add the dry ingredients to the butter mixture and beat until just blended. Mix in the apple. Using a cookie scoop, place dough onto prepared cookie sheets.

Bake for 10-13 minutes or until desired doneness. Cool for 5 minutes on baking sheet then transfer to wire rack to cool completely.
Nutrition
Serving: 1cookie | Calories: 111kcal | Carbohydrates: 17g | Protein: 1g | Fat: 4g | Saturated Fat: 3g | Polyunsaturated Fat: 1g | Monounsaturated Fat: 1g | Trans Fat: 1g | Cholesterol: 17mg | Sodium: 109mg | Potassium: 50mg | Fiber: 1g | Sugar: 10g | Vitamin A: 133IU | Vitamin C: 1mg | Calcium: 14mg | Iron: 1mg
Did you make this recipe?
Share it with me on Instagram and make sure to follow me on Pinterest for more recipes.
This recipe was first published on 11/29/12. It has been updated on 3/10/22 in format and with pictures.
Reader Interactions